Best wireless headphones 2016 – reviewed
We rate the top in-ear and on-ear Bluetooth headphones you can buy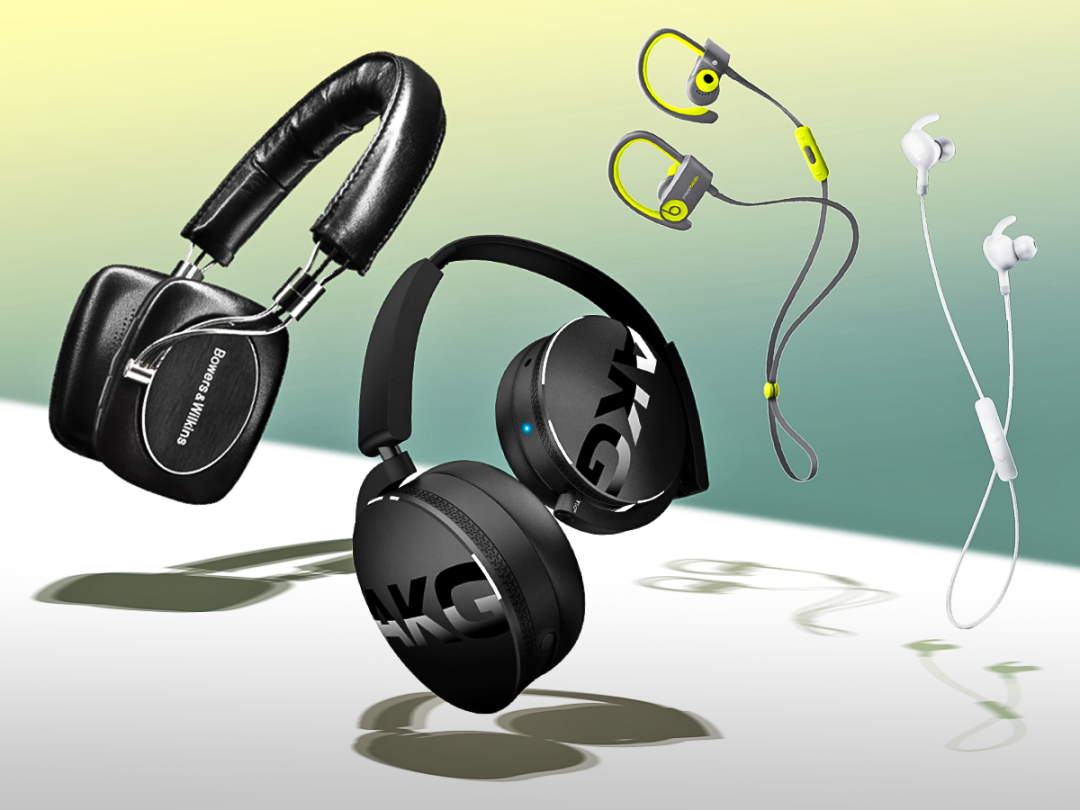 Wireless headphones have been around for almost a decade now, but they're set to be more popular than ever in 2016. Why? One word: Apple.
Throwing caution to the wind, the tech giant has ditched the universal 3.5mm headphone jack in favour of its own lightning connector on the iPhone 7. That means Appleites (there are a lot of them, don't you know?) will have to buy wired headphones compatible with the lightning port, use a seriously ugly adapter… or go wireless, which seems the shrewdest move for most folk.
Now it's your turn to cut the cord, and we're here to help you break free.
Bose QuietComfort 35 (£290)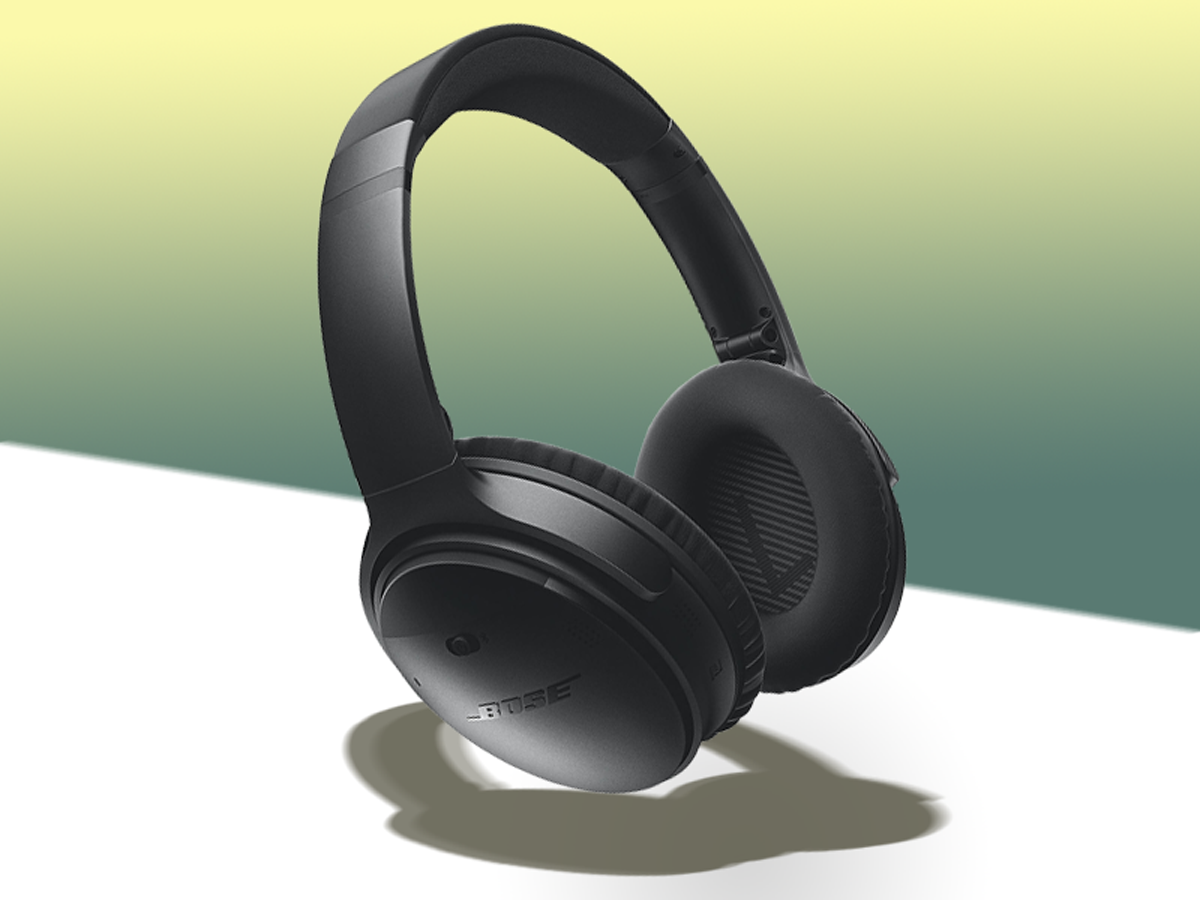 What's the story?
These babies have more than enough battery life to get you through the longest non-stop passenger flight in the world (Emirates flight EK449 from Auckland to Dubai, plane nerds). Enough said?
OK, we'll go into a bit more detail. Bose has been knocking out noise-cancelling cans for years, but the QC35s are the first to cut the cord and move to Bluetooth. Don't panic, frequent flyers, the wireless signals won't bring down your plane.
With a fairly simple design, built that feels like plastic (even if it's actually glass-filled nylon), and matte black or silver colour choices, they don't exactly look like £280 cans. That's because all your cash has gone into the tech inside.
The AAA battery has been ditched for a rechargeable lithium cell that'll keep going for 20 hours. Active noise cancelling mutes the world around you, so you can listen in peace. They're a comfy fit, too, sitting tight to your head without feeling like you're trapped in a vice.
Sound good?
Sure, you'll get more bass from other headphones, but that's the point of a pair of Bose cans. They're tuned to stay neutral, and so you get nothing but clarity.
The treble is probably just a tad too sharp but stay away from low bitrate MP3s and you won't have to suffer. With decent quality tracks, you'll get a crisp and clear sound.
iPhone owners won't notice the lack of aptX Bluetooth, but you'll miss it if you're on Android and have tried a pair of aptX cans before.
STUFF SAYS: ★★★★★
Frequent flyers and long distance commuters: these are the headphones for you.
Tech specs
Weight: 310g ● Claimed battery life: 20hours ● Colours: 2 ● Supplied cable length: 1.2m ● Charging: microUSB
AKG Y50BT (£150)
What's the story?
If anything shows how the standard of wireless headphones has evolved from ape to man in recent years, it's the AKG Y50BTs. These booming beauties are proof that you don't have to pay a pretty penny for great wireless sound and are easily good enough to pass for a solid wired performance.
Essentially they're carbon copies of their wired cousins, the AKG Y50s, meaning 'AKG' is still boldly brandished across the cups. While more subdued than, say, the white-on-red or black-on-yellow finishes of the Y50s, this branding won't be up everyone's street. What will be are the dapper blue, black and silver finishes, though. Gorgeous.
The Y50BTs simply carry a bit more holiday weight (the ear cups are a few millimeters thicker), and have buttons for volume, play/pause and power/pairing nestled into the right ear cup. The intuitive layout doesn't require the permanent carrying of a pocket mirror; you'll soon be reaching for the right button without hesitation.
Sound good?
They're no slouch in the sound department. With none of the horrid hiss and whine, crack and pop that's often a glitch of Bluetooth headphones, they're clear as a bell, serving up truckloads of detail, and a much cleaner, refined and agile listen than past faves, the Philips M2BT.
They walk through Belle & Sebastian's Nobody's Empire with a skip in their step. There's space and openness to keyboards, with melodious guitars and tuneful vocals never fighting for room. It shows its musical hand and knack for rhythms as we switch to Macklemore & Lewis' Can't Hold Us while timing is punctual, even when we try to trip it up with Radiohead's Paranoid Android.
A full charge (using the microUSB charging cable included promises 20 hours of juice, although a flat battery doesn't mean game over. The included headphone cable lets you carry on listening passively, which is a slightly more refined experience, if not quite as powerful.
Stuff says: ★★★★★
Proof that good wireless sound doesn't have to cost the earth
Tech specs
Weight: 190g ● Claimed battery life: 20hours ● Colours: 3 ● Supplied cable length: 1.2m ● Charging: microUSB
JBL Reflect Mini BT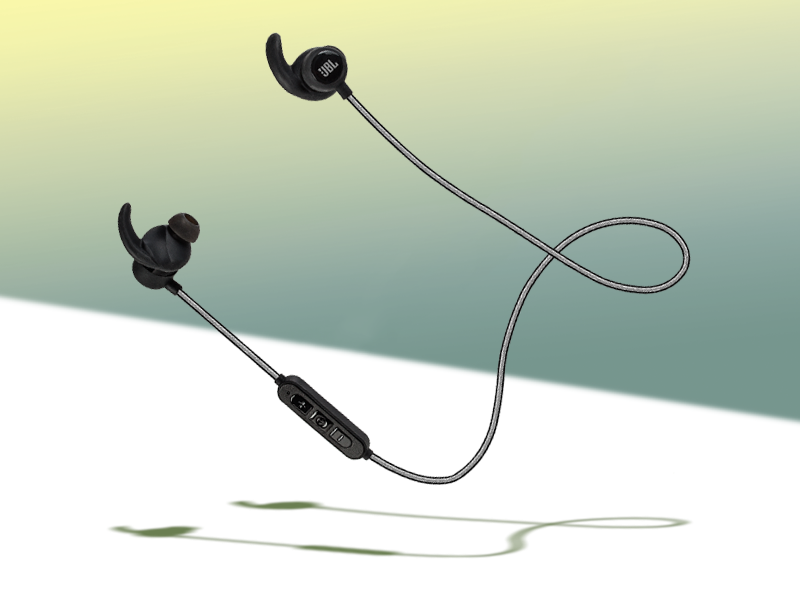 What's the story?
JBL calls the Reflect Mini BTs one of the the lightest in-ear headphones in the world. We can definitely believe it.
They're so light and comfortable that you'll easily forget you had anything in your ears at all while you're on the move – even at jogging or running pace.
The specially designed buds, which come in different sizes, have a secure fit. There's no need to fear them jumping out of your lugholes at any point. They're so secure, in fact, that it can be a hassle taking them out when someone's trying to grab your attention.
They're super light, but that doesn't mean JBL has ditched handy extras like an in-line remote. The three button mic has the usual play/pause and track skip controls, and happily takes calls while you're outside, putting those miles in.
The actual wire connecting both earphones is reflective too, making it ideal for late-night runners. The eight hour battery life will even get you through a marathon – or an entire day out of the office for us non-sporty types.
Our only complaint is the internal voice which informs you that the headset is paired, or when the battery is low. It's a little too strict for us, JBL. Get Morgan Freeman in there, and you're golden.
Sound good?
The Reflect Mini BTs aren't the bassiest pair of headphones around, but that's hardly a bad thing.
While there's enough bass to let you hear the thumping heartbeat of each and every song, the highs and the mids aren't washed out, and the overall result is very balanced.
From melodic trance to massive club bangers, the Reflect Mini BTs do a great job of keeping everything neutral, and while they're not invading your ears, they still do a very decent job of reducing leakage and keeping out external noise.
They aren't exactly built for critical listening, so if you like working out to Wagner, maybe look elsewhere, but if that BPM has got to be high, these will suit you well.
Stuff says: ★★★★★
Ticks almost every box you can think of when it comes to a dependable pair of sporty in-ear headphones.
Tech specs
Weight: 170g ● Claimed battery life: 8hours ● Colours: 4 ● Supplied cable length: 48cm ● Charging: microUSB
Bowers & Wilkins P5 Wireless (£330)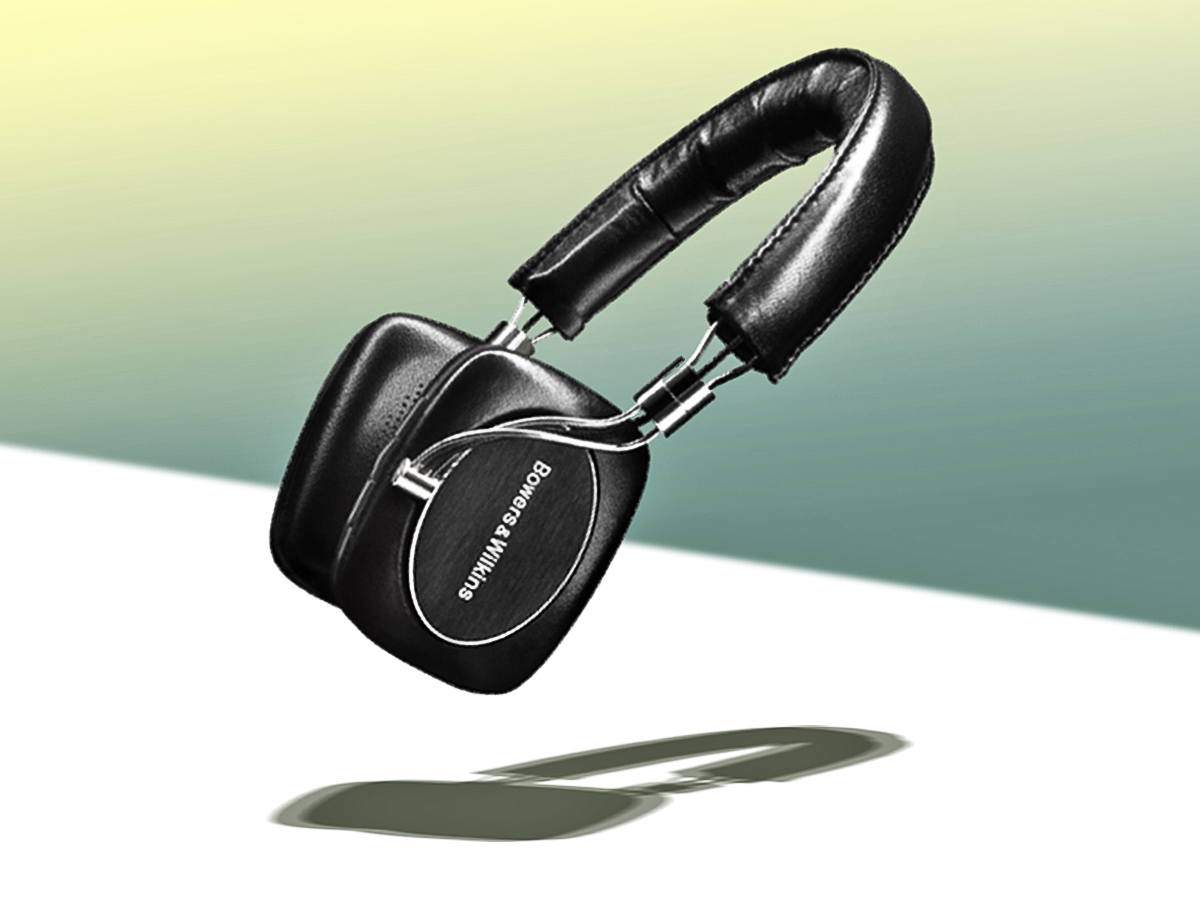 What's the story?
What do you get if you cross Bowers & Wilkins' successful P5 Series 2 headphones with Bluetooth functionality? Why, the P5 Wireless of course. Or, as we've knighted them, the Aston Martin DB10s of wireless headphones.
They're the brand's first fray into wireless cans and, truth be told, we haven't seen a better debut since Frank Darabont's big-screen directorial one with The Shawshank Redemption. Being the brainchild of the P5 S2s (or any of the B&W's well established P Series headphones) can only mean one thing: success.
If these look luxurious, it's because they are. Discerning listeners, pay heed. They share the same design language: strong twisted aluminium headband; cushy sheep's leather-coated ear pads (attached by magnets and easily replaceable); and compact, rounded rectangular earcups, which hide 40mm drivers and a hidden socket for wired use when the 17 hours of wirelessness has been drained.
To score top points in a spot the difference next to they're wired counterpart, you'll have to circle the right earcup, which has a three-button volume/play/pause/call design, along with a power/pairing slider. Your ears may get a little toasty during a transatlantic flight, but the pads cling onto your head firmly enough to brook the occasional headbang.
Sound good?
If you like your sound authoritative, dynamic and subtle (and who doesn't?), you'll feel right at home with these P5s. With the solidity and weight to handle the sturm und drang of Massive Attack's Angel, the B&Ws tear through electrics with va-va voom, and the determination of a lion with a steak between its chops.
That bassline is taut and deep, and sweeping dynamics and scale give that welcome impression of power. In Leonard Cohen's Suzanne, there's all manner of texture to acoustic plucking, and the sombre and strain intended in his deep brooding vocal is plain for the ears to hear.
Stuff says: ★★★★★
Luxury for your ears, inside and out
Tech specs
Weight: 214g ● Claimed battery life: 17hours ● Colours: 1 ● Supplied cable length: 1.2m ● Charging: microUSB
JBL Everest 100 (£80)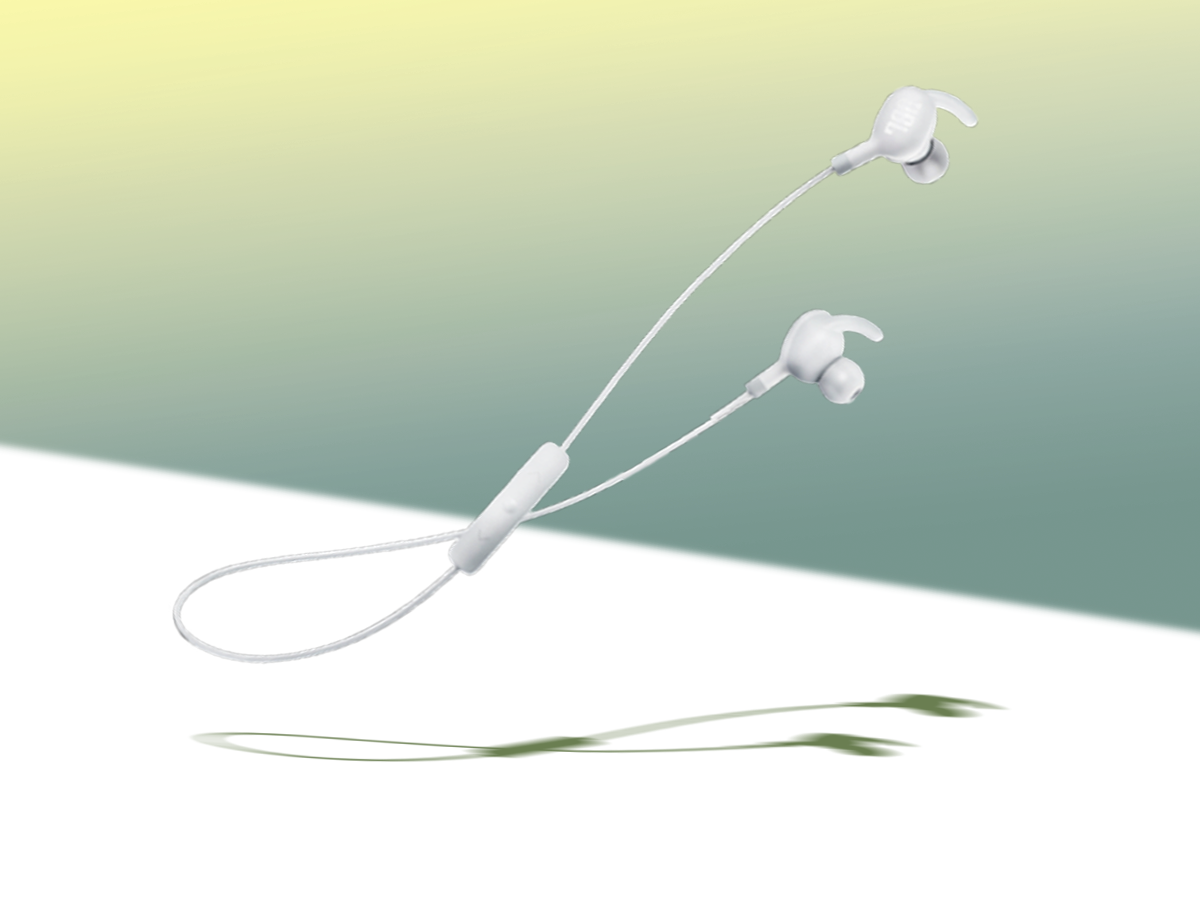 What's the story?
The size of a pear drop, JBL's brand spanking new wireless buds are all about fuss-free fit. So whether you're strutting the streets to Vanessa Carlton or hitting the gym to Kanye West (or even hiking Everest?), you don't have to waste time lodging them in and wiggling them around to get a good fit – three sizes of ear tips help too. Just pop them in and a small hook helps them nuzzle (and stay put) in your ear.
As unshakeable as rivals with wraparound hooks? Maybe not, so gym bunnies beware – the Everest 100s aren't sweatproof or waterproof either, so be wary on wet days. Still, they have a more discreet design (they come in subdued white or black), and are easier to put in and out if your gossipy mate on the bus keeps butting in.
An in-line remote for hands-free calls and Bluetooth pairing also hangs just below your cheek too so you wont ever be fumbling around for it.
Sound good?
Their eight-hour battery life will help get you through the daily grind (a microUSB charging cable can then restore order), and their sound is one you could easily listen to for that long too… if you don't mind your music on the rich and meaty side.
When Jack Garratt drops his funky electro beats and wobbling synths in Worry, the JBLs dig down deep, bass hogging the limelight. It lends a weighty hand to the rest of the sound so it exhumes solidity and confidence – it handles Muse's The 2nd Law album with its head held high.
They aren't exactly the roadrunner of in-ears though, not quite as quick on the draw or punctual as we'd like. Still, there's the dynamics and insight to carry the burden and harmonics of each struck piano note in Joni Mitchell's River. Her soaring vocals are a perfect fit amid the piano-playing, her angelic tone unmistakeable.
Stuff says: ✭✭✭✭✩
Mountainous-sounding buds with peak fit
Tech specs
Weight: 16g ● Claimed battery life: 8 hours ● Colours: 2 ● Supplied cable length: N/A ● Charging: microUSB
Beats Powerbeats2 (£170)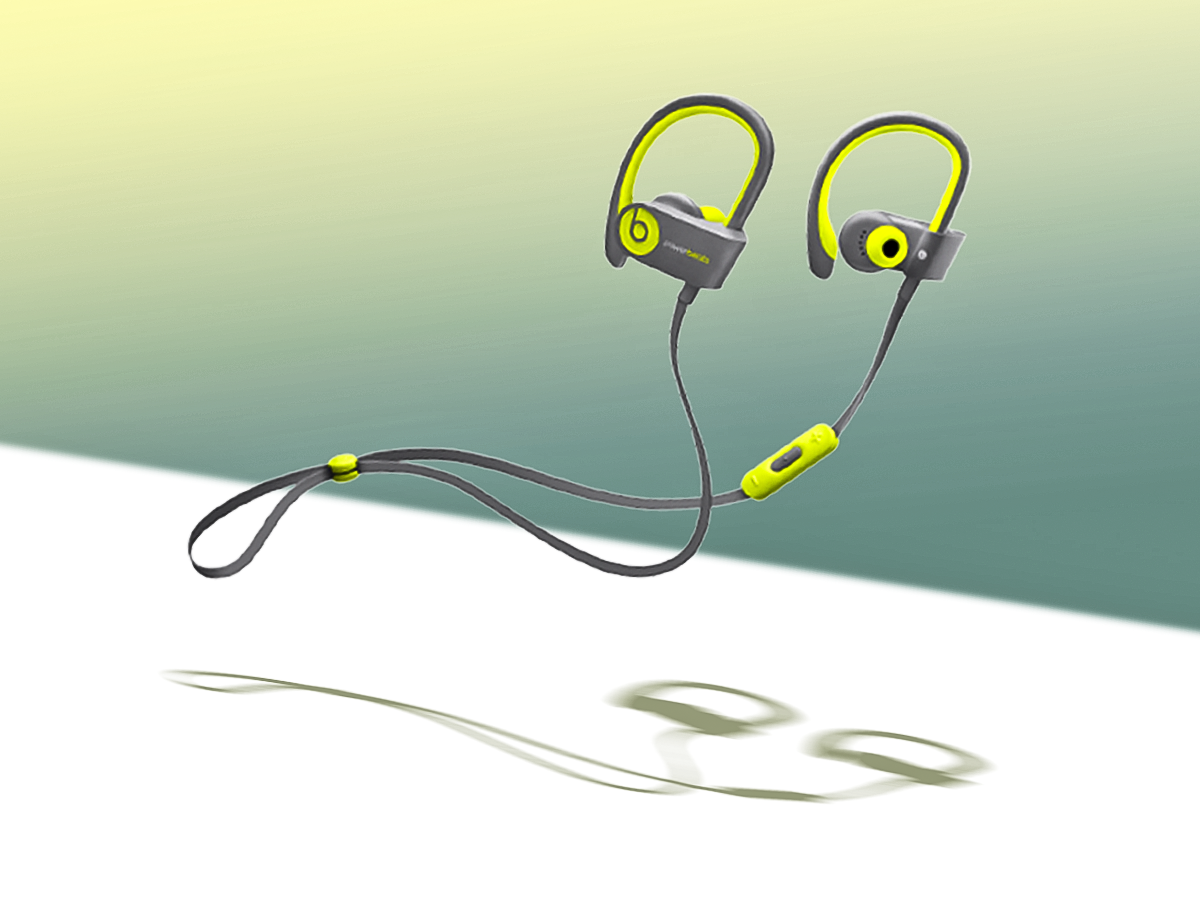 What's the story?
Raise your hand if you've ever had buds fall (or tugged) out of your ears during exercise? Yes, us too.
Beats sympathizes and, to show some compassion, has come up with these sport-friendly in-ears. Bluetooth playback means no wires (except from the short, discreet one linking the two buds together), and ear hooks make sure they stay burrowed deep.
In fact, Beats seems to have thought of everything: they're a true featherweight (a pinky-finger-liftable 24g) and sweat and water-resistant – though we wouldn't swim lengths wearing them. Even the in-line remote has a 'no-slip' moulding for extra grip, so you'll never miss a meal call from your mum again. The hard shell carry case, the size of a large pebble, won't take up room in your man bag, nor will the dinky USB charging cable.
It goes without saying that the Powerbeats2 look every bit the fashion accessory – they are a pair of Beats, after all. The logo is big enough to catch the judgmental eyes of passers by, and they come in everything from two-tone black and red or yellow and grey to single green, pink and blue. Those who mean business can get straight up black or white.
There's a change of buds to suit your clappers, and we reckon they'll sit tight and comfy for marathon duration. The 6 hour battery wouldn't get in the way, although that's still a little stingy – remember that, unlike with on-ears, it's game over when the juice is up.
Sound good?
Getting us in the mood is Survivor's Eye of the Tiger (if it's good enough for Rocky…) and the Powerbeats2s bask in the brand's signature sound: show-stealingly rich bass and clear vocals. They have the clarity and energy to take the punchbag bassline right to you, and the knockout riff has enough punch to kick you into gear.
They take no prisoners; any Eminem rap will bully you into getting your legs going. We'd trade some aggressiveness for an ounce of finesse and subtlety, though – both of which are nowhere to be seen. Highs lack detail and sparkle too. A case of good but not good enough? You betcha.
For £170, the price of a healthy six-month gym membership, we'd take our chances with a less bank-breaking, more sound-centric pair.
Stuff says: ✭✭✭✩✩
Great for gym bunnies but average sound makes them too big-ticket
Tech specs
Weight: 24g ● Claimed battery life: 6 hours ● Colours: 10 ● Supplied cable length: N/A ● Charging: microUSB