Beats Fit Pro review: some of the finest fitness buds around
Beats workout buds pack Apple AirPods tech with a fitness-friendly fit
When it comes to soundtracking workouts, with its unshakeable ear hook design and punchy, gym-bossing sound, the Powerbeats Pro was the best true wireless headphone option from the Apple-Beats stable. But with the new Beats Fit Pro, there's a new all-action alternative to the Apple AirPods Pro. These compact true wireless buds are out to rival the likes of the Jaybird Vista 2 and the Jabra Elite 7 Active in the sporty stakes.
The Beats Fit Pro ditch the ear hook design. Instead, they feature a wingtip and gels combo that's based on 1,000s of lugholes. Beats says this digitally crafted design offers the most secure fit and best comfort going. Chuck in a competitive 30 hour total battery life, Active Noise Cancellation (ANC), transparency and spatial music modes – all powered by the same H1 headphone chip you find in the Apple AirPods Pro – and you've got a compelling new contender for that best workout headphones crown.
So are they really the beast mode king? We put them to the test to find out in our Beat Fit Pro review.
Price
The Beats Fit Pro are now available in the UK for £199.99 or $199.99 in the US. We had expected them to slot into the same UK price point Jaybird Vista 2 at (£189.99) somewhere towards the top of the fitness-friendly true wireless money tree. Certainly, they're pricier than the Jabra Elite 7 Active (£169.99), but cheaper than the Powerbeats Pro (£219.95) and the Apple AirPods Pro (£249).
But for that money, you get a lot of the features, performance and smarts in some of those pricier true wireless options just with a sportier fit and design.
If you can't wait until next year to get them in your ears, you can pick them up from BigAppleBuddy.com, who will ship them to you right now for around £208 + around £40 tax.
If your budget doesn't stretch that far. You can pick up the older-generation Jabra Elite 75t (£129.99) and the Jabra Elite Active 75t (£149.99) at knock-down prices. Though older, both still offer a strong package of sound performance, battery life and features. Potential bargains if you don't mind last-gen tech.
Features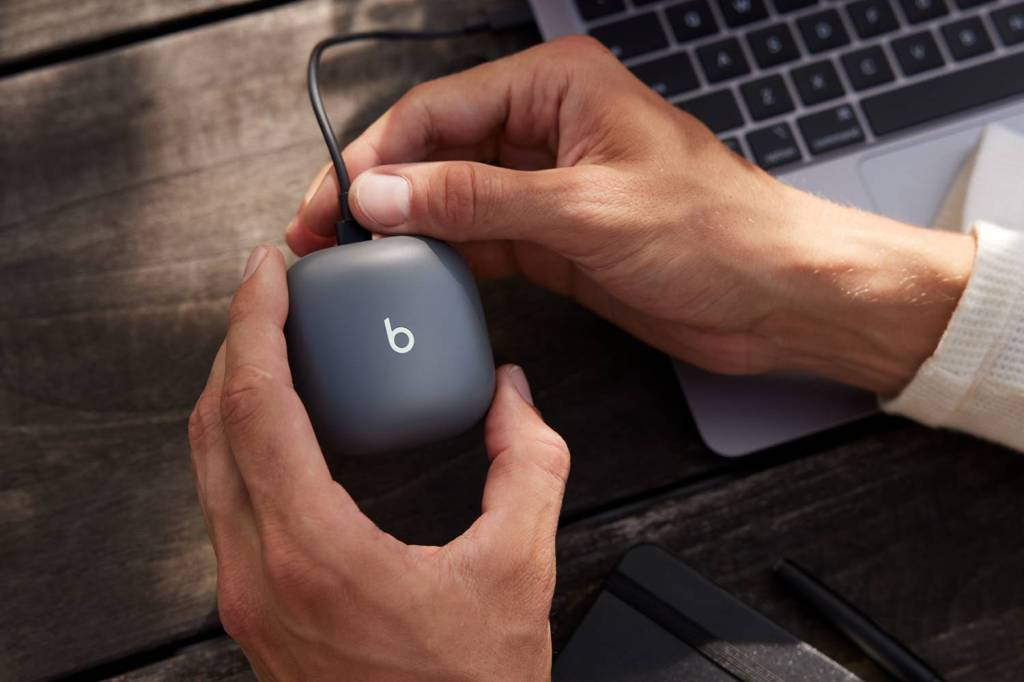 The sweat and water-resistant Beats Fit Pro sound is powered by 9.5mm drivers and they come with the same Apple H1 headphone chip that you find in the AirPods Pro. That means you get the same Active Noise Cancellation (ANC) and Transparency mode performance found on the AirPods Pro.
You also get Adaptive EQ that tailors sound to your environment and spatial audio support – a clever feature that uses gyroscopes and accelerometers to sense where you're looking in relation to the audio action. So you can get a sense you've turned your head away from the bloke ripping that guitar solo. It's a neat feature that adds an extra dimension to your listening experience, at its best during remote-coached sessions like Peleton and watching videos and movies.
The Fit Pro also pack automatic ear detection which uses skin sensors to spot when you're wearing your buds, preventing them from confusing your pockets with your ears. Though somewhat frustratingly there's no off switch on the buds, so they leak battery life unless they're placed back in the case.
Speaking of which, on paper the Beats Fit Pro offers a competitive battery performance that rivals the Vista 2 and Elite 7 Active. (both offer 1 hour more on the buds) and outlasts the Apple AirPods Pro and the Powerbeats Pro.
In our tests, they largely live up to the billing. An hour's use using ANC burned around 15% – a touch less with it switched off. That was with volume whacked right up.
The battery is sold but the killer feature here might be the fit. The combination of wingtips and ear tips works brilliantly, creating an unshakeable fit that'll stand up to the most vigorous workouts. An ear tip fit test helps you find the right gel size for optimum sound and Powerbeats Pro ear hooks aside, only the Jaybird Vista 2 really match the Fit Pro for lock-tight fit. You get some pressure from the wings on longer sessions but nothing crazy. We tested them during a three-hour run and it was as comfortable as any in-ears we've worn.
When it comes to sound quality, the Beats Fit Pro offer good punchy bass, decent clarity and crispness. Top volume isn't quite as loud as some other options but we found it plenty loud at full tilt to deliver a motivating punch and drown the gym's dreaded Euro House.
The ANC was ok. It drowned out some but not all of the worst traffic noise on London's congested rush-hour roads. We found it performed much better cutting out the background noise in the home office and cafe environment. Transparency mode was excellent for amping up the sound around you without suffering from wind distortion. Call quality was up there in our test, thanks to the dual microphones in each bud. And you can use the buds independently for music and for calls and even have ANC working just one bud.
As you'd expect, connectivity with an iPhone was exemplary. The Fit Pro pair like a dream straight out of the box and automatic switching for iOS users means they move seamlessly between iOS devices.
There's also audio sharing to other AirPods and Beats and when it came to reliability on the move, we didn't have any dropouts.
Comparisons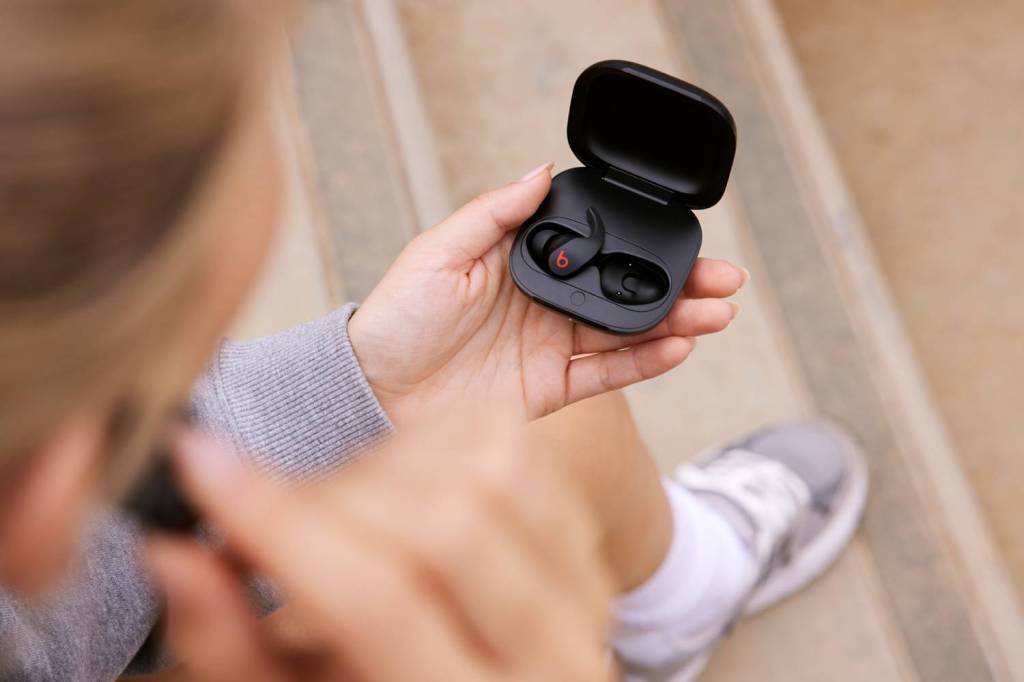 Are the Beats Fit Pro better than the Airods Pro? For working out, definitely. Are they the best true wireless buds going? That's a close call. We'd recommend them over the Jabra Elite 7 Active based on fit but they fall short of the Jaybird Vista in a few areas.
For a start, they lack customisation. Unlike the Jaybird Vista 2 and the Jabra Elite Active 7, there's no custom EQ, no personalised sound test to tweak the audio profile and no option to create and store different sound profiles for different situations e.g. gym vs work Zoom calls. You're relying heavily on that automatic adaptive EQ to do the work, which it does pretty well but we'd like more control.
The same goes for the controls. There's some customisation available in the settings on iPhone and in the Beats app on Android but the Vista and Elite 7 offer much more control over what your taps and presses do. It's frustrating that the Beats force you to choose between controlling volume and ANC/Transparency mode on the buds as well.
The case is underwhelming too. Essentially a miniaturised version of the Powerbeats Pro case, it's still much chunkier and much less pocketable than the AirPods Pro, Vista 2 and the cases in Jabra's true wireless line-up. Unlike the Jaybird Vista 2 case, the Fit Pro case isn't weather protected. Again not so good if you're planning on sticking it in a pocket during a run, ride or other outdoors workout. Plus the Find My functionality is restricted to the Beats Fit Pro buds only and not the case, something the Vista 2 offers. Some people might also resent the lack of wireless charging.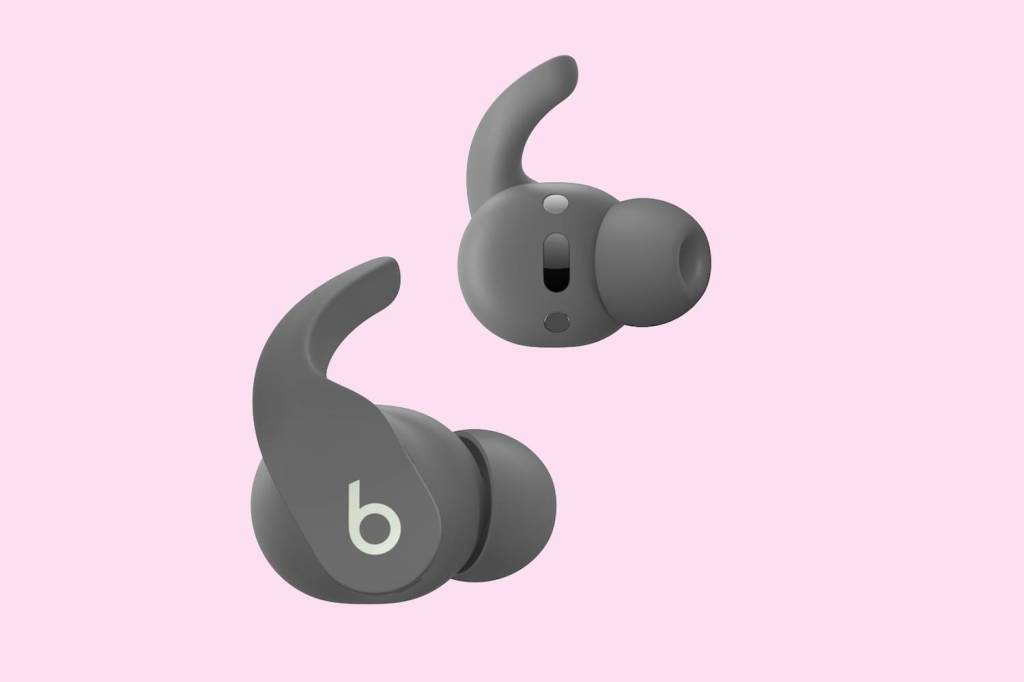 Verdict
When we saw the Beat Fit Pro specs, we had very high hopes and these headphones do not disappoint. They're excellent on many levels and unless you really love the ear hook design of the Powerbeats Pro, they're definitely the best true wireless workout headphones in the Apple-Beats line-up.
The highlight here is the fit that's up there with the best in-ears we've tested. That security and comfort is backed by solid sound, good transparency mode, okay ANC and competitive battery life. If you're in the Apple universe seamless iOS connectivity and switching are lovely and the spatial sound feature is a bonus for use beyond workouts. Altogether an impressive package.
Stuff Says…
Competitive battery, rich and punchy sound plus a lock-tight fit put the Beats Fit Pro among the best fitness-friendly wireless buds going.
Good Stuff
Good battery life & fast rapid charge
Excellent stay-put fit
Responsive controls
Bad Stuff
Bulky case
Lacks customisation
No off switch on the buds
Tech specs
| | |
| --- | --- |
| Battery life | 30 hours; 7 hours (buds), 23 hours (case) |
| ANC Battery life | 27 hours; 6 hours (buds), 21 hours (case) |
| Weight | 5.5g (buds), 54g (case) |
| Durability | IPX4 (buds), case not rated |
| Charge time | 90mins to full or Rapid charge time – 5 mins for 1 hour playback |
| Wireless charging | No |