Beats Powerbeats Pro review
Still the Beats bang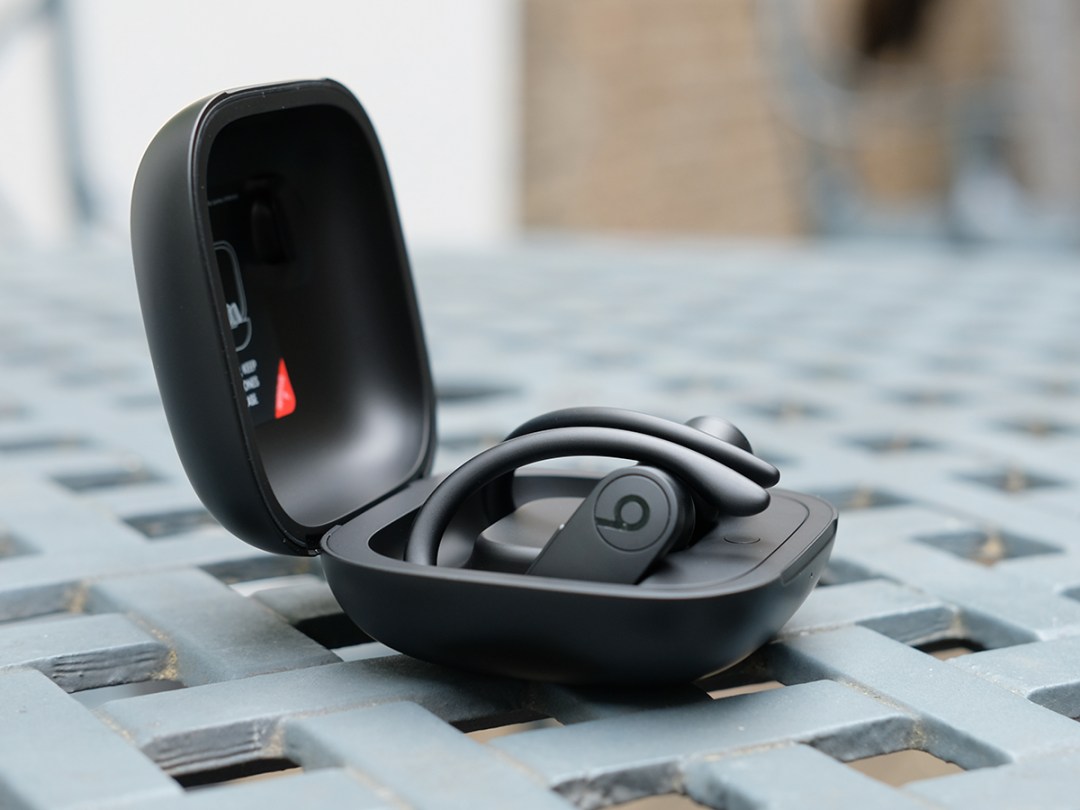 May 28 marked the fifth anniversary of Apple's acquisition of Beats for the not so insignificant sum of $3billion. Whether Dr Dre celebrated by puffing on leaves or birthday cake candles we can't be sure, but rap's favourite general practitioner can toast the fact the brand bearing his name has come of age.
Its current headphone line-up of Studio, Solo, Icon, X and urBeats feels the most refined to date, with sound that improves with each new product and finally some subtle design hues to cater for those of us not stepping off a team coach and peacocking in front of the Sky Sports cameras at weekends.
However, ever since its parent company released its first generation AirPods in 2016 Beats has been crying out for a pair of truly wireless earbuds to call its very own. And so at last we have the Powerbeats Pro carrying Apple's latest tech and coming in five pence shy of £220. But are they worth the investment?
Design and build: Still Dre
Unbox the Powerbeats Pro and you're immediately faced with a sizeable matte black plastic charging case. Palm-sized but chunky, it's about twice the size of those employed by the likes of B&O or Jabra.
That's due to the size of the buds themselves and their over-the-ear hook design, but also because they sit in their pouch at a pronounced angle rather than lying flat. A kind of Crystal Maze mental challenge then ensues as you decipher which way they fit back in the box.
Other peeves include no wireless charging and a Lightning cable connection rather than USB-C. Given the iPad Pro has already switched with future Apple products likely to follow suit, not to mention USB-C being the connection employed by most Android devices, it's bizarre.
Nevertheless, both the case and buds feel premium and soft to the touch, while the hook design never feels overbearing. The Beats Logo atop the case and on the side of each earphone seems perfectly proportional and manages to keep things the right side of sophisticated.
Behind the Beats logo on the bud is where the battery sits along with an optical sensor for automatic pausing when you remove them from your ears. Motion-detecting accelerometers also put them to sleep when not in use.
The hook design is there to keep the earphones in place during workouts. Given I once had a truly wireless bud pop out of my ear and cascade helplessly into a dual carriageway before being promptly crushed by a passing car, I very much welcome this. They're also IPX4 rated for water and sweat resistance.
Set up: It ain't nothing but more hot s***
Thanks to the same H1 chip as found in Apple's latest AirPods, connecting the PowerBeats Pro to my iOS devices was child's play. Seriously, flip open the lid wait for a prompt to appear on your screen and hit connect. Done.
Seamless, smooth and properly cool. Press the black button inside the charging case and you'll also get an on-screen notification of how much charge is left in both the box and buds. The H1 chip also helps optimise battery consumption, sorts any switching between earphones and handles Siri voice support.
The experience for Android users is, as you might expect, a slightly more truncated affair and requires you to open the Bluetooth settings on your device, tap to pair something new, open the Powerbeats case and once they appear on the list tap to connect.
If it fails press and hold the button in the charging case until an LED on the front flashes and it they should show up. While the hook design won't be for everyone, it feels as though Beats has got its angles just right – for my lugs anyway – slipping on easily with a snug fit.
Noise isolation isn't the greatest, but in reality this feels like a minor caveat. A big advantage of the H1 chip – for iOS users anyway – is always-on Siri without having to press buttons. Something Android owners will also appreciate, though, is that Beats doesn't discriminate between buds, so if you only want one in your ear at any given time you get to pick.
Most truly wireless rivals force you to use a dominant bud, but Apple being the progressive company that it is has ushered in an era of equal rights for earphones. This also extends to the on-bud controls with full functionality on either side to skip tracks and take calls by tapping the Beats logo, or adjust the volume using an elongated button.
From setup to sticking them in your canals and familiarising yourself with the controls, everything about the PowerBeats Pro experience feels entirely flawless, a total joy, and a marker for every other pair of truly wireless earphones to follow.
Performance: Laid back in the shack, play this track
As a typical aspirational middle class white man I tend to listen to a hell of a lot of hip hop, and traditionally Beats' manipulation of sound to favour bass heavy music makes me very happy.
And yet something is different here – the Powerbeats Pro offer the most well rounded and refined soundscape ever encountered on a Beats product. The brand has grown up.
The low end theory remains, it's just the bass is no longer so pronounced or as dominating meaning mids and highs don't feel suffocated. 'Boss' by Little Simz comes alive on these buds – just as they should on a pair of Beats – but the intentional distorted bass riffs are tempered by a delicate dealing of the retro synths.
Switching to classical scores like The Good, the Bad and the Ugly by the legendary Ennio Morricone feels totally theatrical. The Pro's benefit from the same strong connectivity as AirPods, which means you have to go some to experience dropouts.
Battery life is a claimed nine hours on a full 90 minute charge, which pips most rivals and is another feather in the cap for the H1 chip. The charging case takes things up to 24 hours for added peace of mind on long travels, while a Fast Fuel feature gives 1.5 hours usage in just five minutes or 4.5 hours in 15 minutes. No drain dramas here peeps.
Beats Powerbeats Pro verdict
Beats has found the perfect balance with the Pros. The hook design makes them the perfect everyday earphone for all manner of activities, whether it's the commute or park run in any conditions, to an overly sweaty gym session.
All-day wear threatens to become uncomfortable, but that's the price pay for the snug and stable fit. There are flaws – the case is too big, materials could be better, and heaven knows why they aren't USB-C.
Apple's input is so evident – the beauty of the Powerbeats setup is in its simplicity and the overall user experience is a breeze. Make no mistake, this is the best pair of earphones or headphones yet to carry the Beats moniker and not for the overly bassy reasons the brand made its name in the first place. It's all rather mature when it comes to audio quality.
You can still bring the noise when you want to, other genres to get far more sensitive treatment than on previous products. There are more affordable options available. We love RHA's TrueConnect at just £150, but the extra functionality justifies the cost.
Dre's buds are still representing gangsters all across the world, still hitting them low ends, girl, but after taking time to perfect the beat they've finally shown some love for a far, far wider selection of music lovers.
Stuff Says…
The best truly wireless earphones for iOS users and a serious temptation to everyone else
Good Stuff
Grown up sound
Battery life
Apple's innards
Smooth setup and controls
Bad Stuff
Bulky charging case
No USB-C
Price
Noise isolation