Jaybird Vista 2 review
Jaybird's upgraded true wireless buds are compact, accomplished and full of smart tricks - are these best for soundtracking sweat sessions?
Jaybird has an excellent track record in creating sports headphones built to withstand whatever the outdoors – or the gym floor – throws at you.
We were massive fans of the original true wireless Jaybird Vista and the Jaybird Vista 2 sticks to the same winning formula: big battery life, solid sound and secure, comfortable fit. Well, if it ain't broke etc.
But there are notable improvements too. These tweaked tweeters now come with even more playback time, upgraded durability, plus new Active Noise Cancellation (ANC) and hear through skills that bring the Jaybird Vista 2 – on paper at least – in line with the likes of Jabra's Elite 85t and the Apple AirPods Pro. But with so much competition, are these the best true wireless headphones for soundtracking your sweat sessions?
We put them to the test and here's our Jaybird Vista 2 review.
Jaybird Vista 2 Price
The Jaybird Vista 2's launch price is a not-inconsiderable £189.99. That's £30 more than you'd have been asked to shell out for the original Jaybird Vista 1 at launch. And it pushes the Jaybird Vista 2 towards the higher end of the fitness-friendly true wireless money tree.
However, it's still considerably cheaper than the B&O E8 Sport (£300), the Apple AirPods Pro (£249), Powerbeats Pro (£219.95) and the Jabra Elite 85t (£219.99). And you're arguably getting an equally strong feature set, plus a better battery life and improved durability and portability, over some of those higher ups.
At this price, the biggest bang-for-buck competition comes from the terribly named Sony WF-SP800N (£180). For a tenner less the Sonys offer even more playback – 13 hours in the buds and 13 in the case – the same ANC and ambient modes and reasonably competitive durability. Though they're a lot bulkier and protrude an unhappy amount from your ear.
If you're looking for something a bit cheaper with a close-ish match for features, fit and battery life, the older-gen Jabra Elite 75t (£129.99) and the Jabra Elite Active 75t (£149.99) certainly slot into the smart money bargain box.
And if you're ok with a drop in audio quality and you rate battery above some of the bells and whistles, the Creative Outlier Air V2 (£44.99) pack massive 34-hours' battery life and the J-Lab Audio Epic Air Sport (£79.99) offer 70 hours in the case and buds combined.
Jaybird Vista 2 Features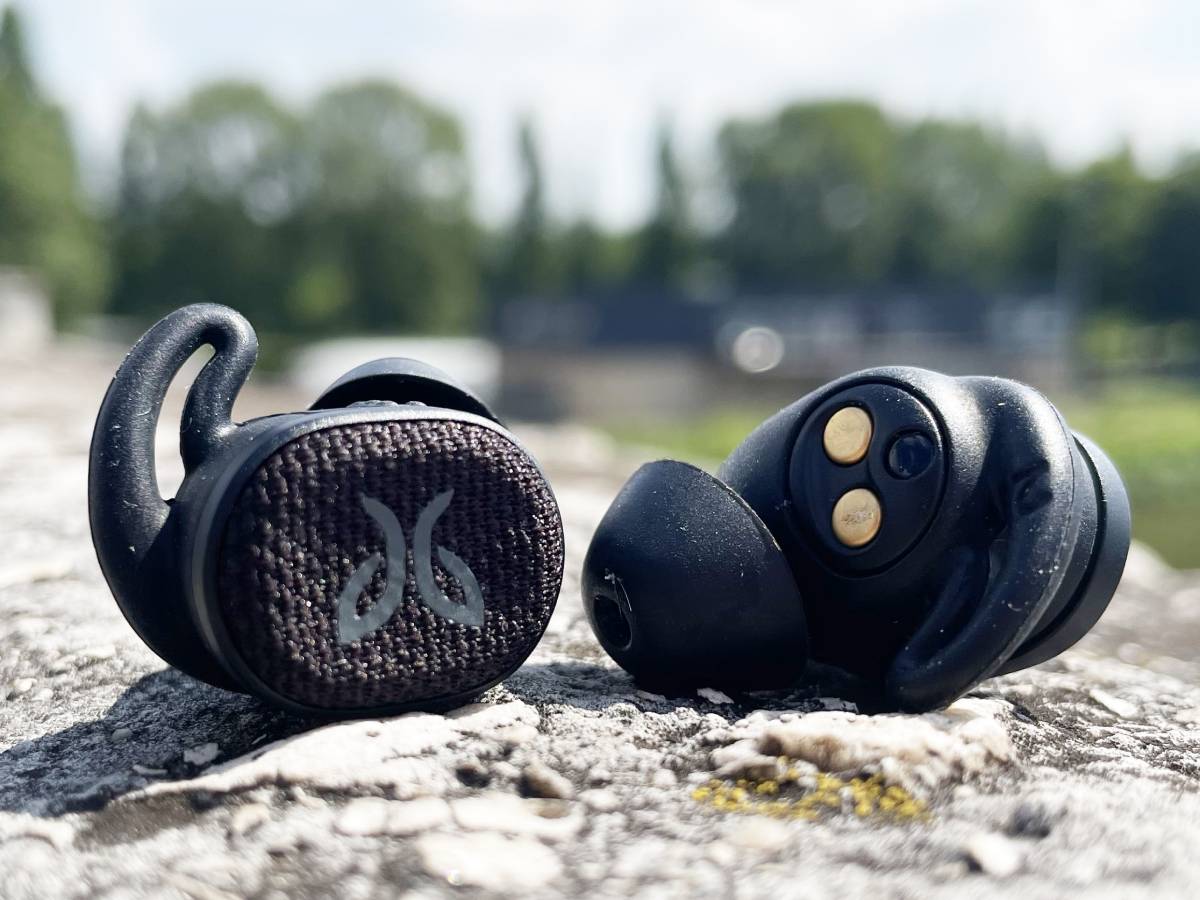 So what's new? For a kick off, the Jaybird Vista 2 battery life now packs 8 hours of playback on the buds, an extra 16 in the even-more pocket-friendly portable charging case. On paper, that's an almost unrivalled 24 hours playback time. Only the Sony WF-SP800N and the Powerbeats Pro beat the Jaybird Vista 2 when it comes to the staying power.
However, in our tests, we didn't quite get that official battery billing. One 45 minute run burned through 10% while another 90 minute run rattled through 30% with ANC on. And it's clear with ANC you'll take a hit.
On the flip, the rapid charge is as good as it gets too with 5-minutes bagging 1 hour playback and the Jaybird Vista 2 also now supports wireless charging, though you'll have to have your own base.
Beyond that beefed up battery life, the headline upgrade here is the addition of Active Noise Cancellation and a Surround Sense ambient awareness mode. A double tap on the Jaybird Vista 2's simple, easy-to-use (and customisable) button controls lets you flick between modes. In reality, we struggled to hear a huge difference between the modes while music was playing. It certainly wasn't as pronounced as Apple and Sony's. And we actually preferred the sound quality with the ANC and ambient modes switched off.
Despite that, the Jaybird Vista 2's audio performance is pleasingly solid: rich, full with plenty of base. The first generation suffered from a low top volume but that seems to be fixed.
The Custom EQ controls in the app also makes it easy to create and store multiple sound profiles to suit different situations. For example, toggling between a podcast binge or drowning out the grunty sweaters at your gym.
Durability is impressive. The buds' IP rating has been boosted from IPX7 to IP68. That basically means they're water, sweat, dust, drop and crush proof. We left them in a sink full of water for 30 mins, dropped them on a pavement and walked on them – repeatedly – and they survived.
What's also unique here is that the case is IP54 weatherproof rated. That's a downpour-proofing comfort most other headphones don't offer, ideal for long days out in the wilds.
Comparisons
When it comes to the best sports headphones, good, reliable fit is arguably the most important feature. The Jaybird Vista 2 keeps the same one-piece wing-tip and ear-gel design we saw on the Jaybird Vista 1, with three sizes in the box.
The wing tip in particular makes for a more secure fit than we found on the Jabra Elites that only have a slight built-in hook. The Apple AirPods Pro match the Jaybird Vista 2's lightness but they also don't quite feel as 100% lock-tight during those more high impact activities. The Jaybird Vista 2 are also lighter and less bulky in the ears than the Sony.
However, if you struggle with in-ear buds, we'd definitely recommend an ear-hook design like the Powerbeats or Powerbeats Pro.
One area where the Jaybird Vista 2 struggles is connectivity. Despite having the skills to remember up to eight pairings, getting it to switch between an iPhone and a MacBook, for example, was frustratingly glitchy. Taking calls was hit and miss too. Despite the two mics in each bud, aimed at improving call quality we also had times where callers couldn't hear us, and that happened more while running than walking.
However, when you factor in the Jaybird Vista's full package, a rich feature set with an improved Find My Buds feature that also lets you find your case, custom EQ, auto pause, these are definitely up there, as a contender for the best bang-for-buck all-rounder headphone for fitness.
Jaybird Vista 2 Overview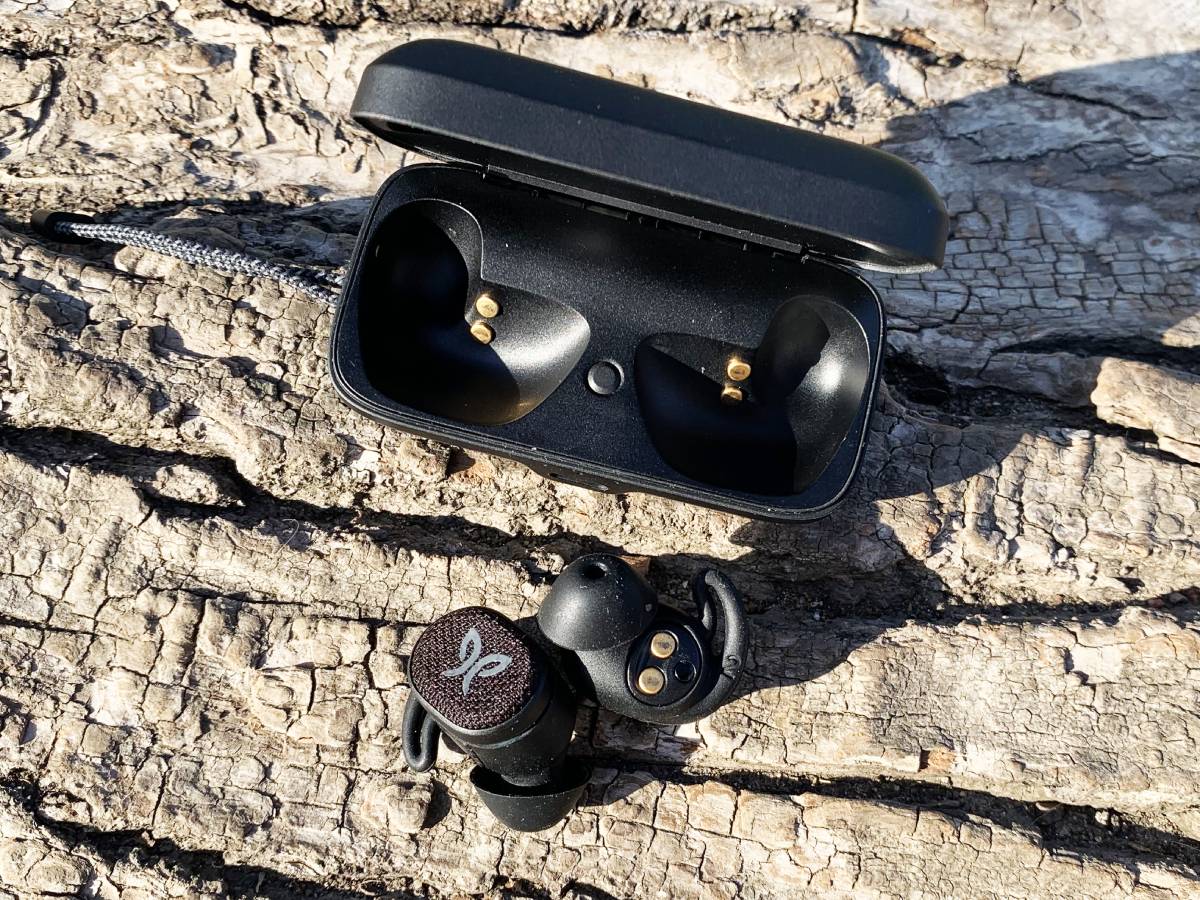 We waited a while for the upgrade but the addition of ANC and ambient mode puts the Jaybird Vista 2 squarely back in the fray as potential frontrunner in the fitness-friendly true wireless race.
This is a reliable all-rounder that offers secure fit, solid and customisable sound, excellent durability and competitive battery life.
Not to mention a comprehensive box of extra trickery like custom EQ, Find My Buds and auto pause. In fact, if it was £30 cheaper we'd tell you to ignore everything else and buy it now. That £189.99 price tag is the only snag that means we think the Sony WF-SP800N and Jabra's last-generation Elites still give the new Vistas a run for their money.
Tech specs
| | |
| --- | --- |
| Battery life | 24 hours; 8 hours (buds), 16 hours (case) |
| Weight | 7g (buds), 44g (case) |
| Durability Rating | IP68 & MIL-STD-180G (buds), IP54 (case) |
| Rapid Charge time | 5 mins for 1 hour playback |
Stuff Says…
Big battery, beefed up durability, solid sound and lots of neat extras make the Vista 2 an almost-perfect fitness all-rounder
Good Stuff
Good battery life & fast rapid charge
Excellent durability
Extensive customisation
Bad Stuff
Unimpressive ANC / Surround Sense
Bit pricey