Apple AirPods Pro review
Let's hear it for versatility and convenience
Apple's third iteration of the AirPods might have finally hit the right note.
While AirPods might be the most popular wireless pods around, that doesn't mean they're the best, especially with rival pairs from the likes of Sony, Libratone and most recently, Amazon, hot on their stalks. But with active noise cancellation, improved sound, silicone tips for a snug fit and other design tweaks, there's no disputing that they're a huge step up from their predecessors.
These upgrades don't come for free though, and £250 is certainly a leap from the originals, but they are a lot more advanced offering active noise cancellation.
We've had ours glued into our ears for a few weeks, and if we didn't like them, then that simply wouldn't be the case.
So what makes them such a hit?
Design and build: Pod of small things
Something deserving of more airtime is the newly designed in-ears' shorter stems. They look much neater and more discreet – or, less toothbrush head-y. In addition to the superficial benefits of looking less like a goose, there's less likelihood of you flinging your pod out whilst removing your scarf or catching it on something.
They're so light too, to the point you really can't feel them in your ear at all, so top marks for comfort. That brings us onto the silicon tips, of which there are three sizes in the box. Not only does it make for a better fit, but it means audio quality won't suffer as a result of poor fit.
With IPX4, they're both sweat and water resistant, which are ideal for the gym, but we wouldn't dare take them in the lido. It's too cold now anyway. We've mostly had no trouble running with them in, apart from one particularly aggressive gust of wind saw one flung across the track. No damage thankfully. Not having a volume slider on the pods themselves is a tiny niggle, but not if you have an Apple Watch as you can control volume there, but many won't have this luxury.
Tap controls as seen on 2019's AirPods are no longer as the new design calls for a new way of controlling your AirPods. There's a 'capacitive force sensor' integrated into each AirPod, which is a flat bit which you pinch with your index finger to skip tracks and long press to switch between noise-cancelling and transparency modes, which we will come to later.
The charging case is squatter than before and there's no option of a cheaper non-wireless charging version, as was the story with this year's first-gen refresh.
Set-up: Grace of Pod
Firstly, you'll have to make sure you've updated your software to the latest version (iOS 13.2) to unlock all the features of the AirPods Pro.
As soon as you put your buds within an ear-shot of your phone, it'll detect them and invite them to the party.
Then head into the Bluetooth settings to find your pair and then to assess the best fit with the 'Ear Tip Fit' test. Try saying that more than 3 times.
We got the seal of approval on our first go, which made us somewhat suspicious, because we're a bit like that, but after tricking them into what we knew was a poor fit, we were able to test them a little more scrupulously.
Then of course, they'll play nice with an Apple Watch should you be fully on the Apple bandwagon.
The stem controls work as well as you'd hope. Press once to play, pause, or answer a call and press twice to skip forward as before. Press three times to skip back. Press and hold to switch between 'Active Noise Cancellation' and 'Transparency mode'.
If you've come from a previous model of AirPods you'll miss the trusty tapping, but with the silicon tips that could have got uncomfortable on the Pros. It's also a shame that Apple haven't included any volume controls on the 'Pods themselves. Surely a touch-sensitive slider would have been workable on Apple's most premium offering?
Siri works the same with the familiar "Hey Siri" holla and can now announces messages while you're on the move. However, we didn't find ourselves using the Siri commands very often, it's slow and awkward to do in public.
Sound and features: faith in Pod
The AirPods Pro offer three modes: transparency, active noise cancelling or off.
Transparency mode was particularly impressive, which uses microphones inside the headphones to slightly amplify the sound around you. This kind of thing is important for road running and also when you don't want to disappear into a noise-cancellation vacuum in busy public spaces.
A long press to switch to Active Noise Cancellation, courtesy of Apple's H1 chip and we were surprised how well it worked, maybe because it's something that we've not yet seen on Apple headphones. It's a feature that the excellent Beats Powerbeats Pro's are lacking.
Even on public transport the noise cancellation doesn't disappointed and we even tested this on the roaring and squarking Northern Line on the London Overground. It's not a totally noise-free listening experience, but nothing so much as to interrupt our podcast. The two mics are to be congratulated for this achievement; one detects external sound and then cancels out any unwanted noise, and the second mic removes the remaining unwanted background sound to isolate the good stuff – the music, or podcast (in most cases).
But how do they sound, we hear you screaming at your screen. Well, Apple promise that the adaptive equalizer will make for a richer listening experience.
These are the best sounding AirPods we've used, and a lot of that is to do with the snug fit, so sound isn't bleeding out into the ether. The noise cancellation also makes a huge difference and allows you to get that immersive experience, which was once a space reserved for expensive cans.
The sound is good, brilliant for podcasts, but not the richest experience for all genres of music. Listening to DJ Shadow and Run the Jewels thumping and brilliant track 'Nobody Speak', the bass doesn't quite satisy and fill the space as much as it should. On the other end, there's lots to love from the vocals on FKA twigs 'home with you' offering beautiful clarity, but as soon as the bass takes over the overall impact of the song suffers.
What we did notice is that sound-quality is best when neither noise-cancelleation or transparacy mode are on.
For commuting, we're not sure you need class-leading sound, but the AirPods Pro don't reach the heady heights and bassy boom of Sony's WF-1000XM3s.
Battery: Oh my pod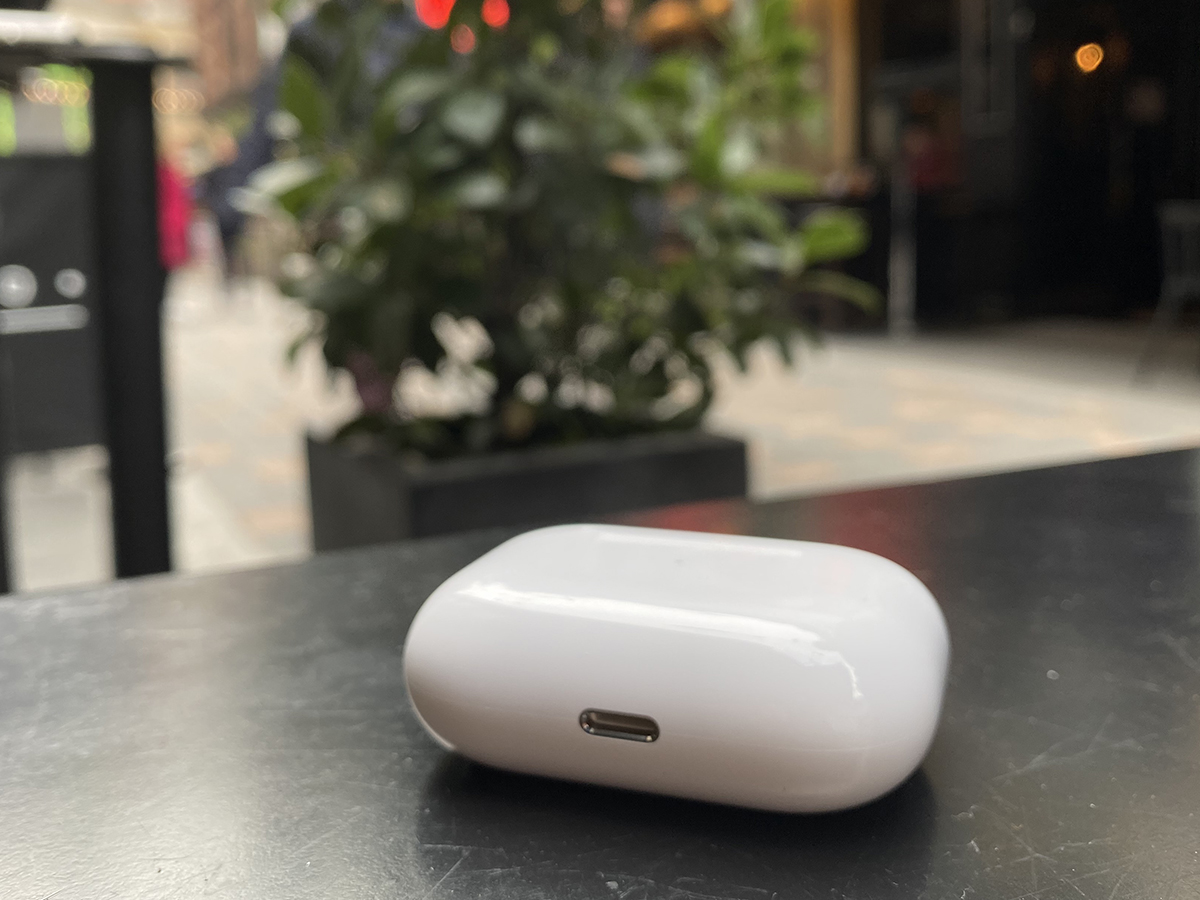 Not an awful lot has changed with regard to battery life.
Apple promise up to 5 hours of listening time with ANC and Transparency mode turned off, and that drops to 4.5 hours with those features switched on.
There's a wireless charge case in the box, so simply place is on a Qi charger and you're on a one-way road to Juice Town.
The front of the case has a tiny LED dot to indicate it's charging. The charging case will give you an impressive 19+ hours of listening time when it's full.
There's also the lightning port with a cable in the box too, and you get a very decent one-hour worth of listening from just 5 minutes charging, this made using the AirPods Pro super convenient. A few minutes on charge is all you need for short commutes and I don't think I ever found myself out of luck, plus having decent battery reserved in the case took a load off.
Apple AirPods Pro verdict
Those who have just picked up a pair of AirPods might not care enough about the noise-cancellation and improved fit to upgrade, but there is an element of frustration that all those improvements would've cost just £50 more. Given that we already had new AirPods less than eight months ago, recent buyers can feel slightly aggrieved.
However, for those who are yet to join the AirPod herd, there's never been a better time to do it. Active noise-cancellation and transparency modes work well, while all the extra design tweaks and improved audio make for a meaningful upgrade. This reviewer is particularly delighted to see a shorter stem – a subtle, yet important style note.
There are cheaper alternatives around, the bass doesn't match Sony's and if you do lots of intense and dynamic excercise you might want something even more secure in the ear.
Despite all that, they might be the only pair of headphones you need, because of their incredible versatility, comfort and convenience. They're tiny, use the same charger as your iPhone (if you have one), are just as adept for short commutes, sessions in the gym and for drowning out the sound of screaming children when you're poolside.
Stuff Says…
Apple's AirPods Pro are fantastic wireless in-ears, comfortable and incredibly intuitive making for a seamless user experience. It does feel a bit of a stretch to call them 'Pro' as they don't quite match similar priced competitors for sound quality.
Good Stuff
Comfortable and secure fit
Decent noise cancellation
Bad Stuff
Expensive
No colour options