Apple AirPods (2nd generation) review
Pod-like genius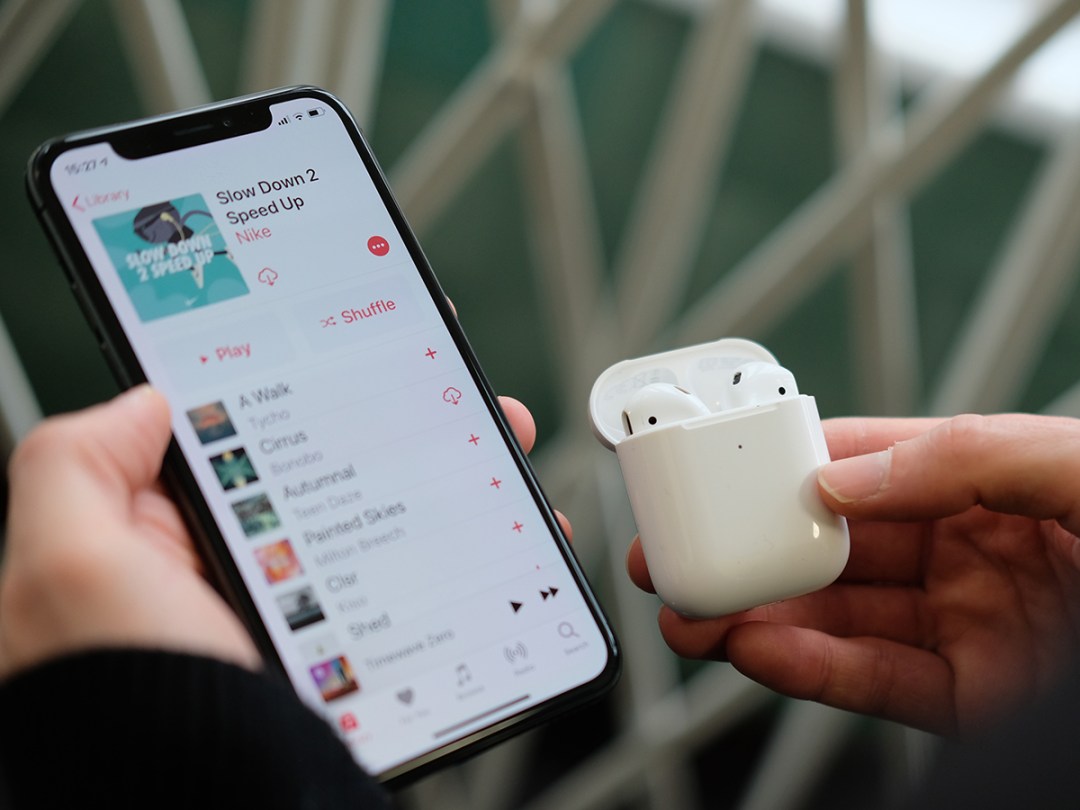 Few things in life are as satisfying as having the last laugh, and with its all-conquering AirPods, Apple has undeniably had the last laugh.
Widely ridiculed at launch for looking not unlike wearable electric toothbrush heads, and criticised for their high price and so-so audio quality, it looked for a while like Tim Apple and Co. might have misfired.
Wrong. Fast forward three years and AirPods are comfortably the best-selling true wireless earbuds in the world, ever-present in the ears of hypebeast teenagers, suited business people and Premier League footballers alike.
Why? Because like the best Apple gadgets, they really do just work. Connecting to and hopping merrily between your Apple devices is simple and lightning fast, with dropouts being rare.
Removing a headphone to auto-pause what you're listening to is by no means an AirPods-exclusive feature, but no headphones execute it better. All this, and we haven't even mentioned how satisfying it is to click the magnetic case lid shut.
It's no surprise then, that the arrival of second-gen AirPods is a big deal. What's new? Not a whole lot. They sound the same as the 2016 AirPods, look identical to the 2016 AirPods, and just like the 2016 originals, there's a chance they may not fit all that snugly in your lugs.
The upgrades come mostly from the new H1 chip, which offers hands-free Siri functionality, more talk time and faster connect speeds. Best of all, though, is the new optional wireless charging case, which can be charged on the same Qi pad you currently use for your phone.
Worth upgrading? Depends how well you get on with Siri…
Design: Case in point
Not a fan of the AirPods design? Apple doesn't care. The new earphones are aesthetically absolutely identical to their predecessors, which means they still look like a pair of EarPods sans their wires. If you think the dangling stalk fashion is daft, look elsewhere.
Everyone else can appreciate the near weightlessness of the things, which is genuinely hard to get your head around when you think about how much tech is rammed in each. One AirPod weighs just 4g, and it's easy to forget you're even wearing them. In fact, I often do.
It's a bit of shame that Apple hasn't introduced any new colours this time around; a pair of black or grey AirPods wouldn't draw so much attention.
You won't find any adjustable ear tips either. AirPods fit perfectly in my ears, and unless I'm headbanging to one of the Stuff designer's particularly angry metal playlists, they rarely dislodge themselves. Talk to someone else, though, and they might say something different. Try before you buy if you can.
What has changed is the charging case. It's still gloriously fidget-worthy, but the more expensive (£199) AirPods & case combo can now charge on any Qi-enabled wireless charging mat. There's a little LED light on the front that lights up orange for a few seconds to let you know it's detecting charge, and then green when it's fully juiced.
While it'll charge it faster with a Lightning cable, throwing the case onto a pad when your phone isn't hogging it just feels more convenient. What would have been even better? Letting all your Apple gear share the sacred power source distributed by the AirPower charger. But, you know, RIP.
Connectivity: Fast as lightning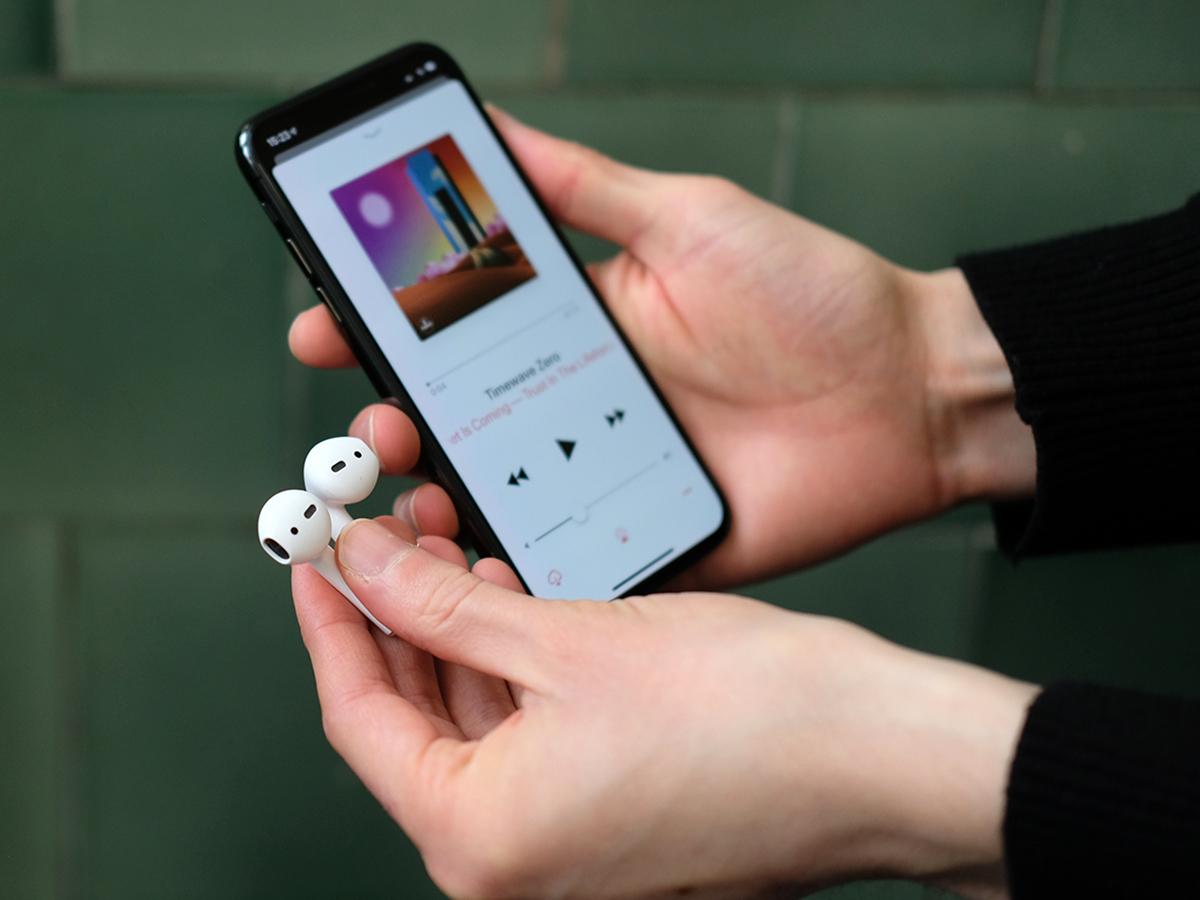 Let's have it right: the first AirPods were already super speedy at connecting to your devices.
Setup is as simple as opening the case (with AirPods still inside) next to your device and tapping the popup window. Once activated, they'll automatically be added to all the devices that share your iCloud account, provided they run the most recent software. No need to repeat the pairing process. It's all a bit magical, and makes traditional Bluetooth pairing look like the out-of-touch Grandad of wireless connectivity.
Apple says that the new H1 chip makes the above even faster, but neither version of the AirPods is going to make you wait around. Switching between devices is also apparently quicker now, though you'll still need to go into Bluetooth settings each time. It would be nice to be able to have more than one device connected at once, a feature that works brilliantly on Bose's QC35 IIs.
As far as watching videos and playing games go, I didn't run into any lag or latency issues. The AirPods continue to impress in this department.
If you want to use AirPods with a non-Apple gadget, it's actually easier than you might think. Just flick open the case and hold the button on the back until it lights up, then head into settings and wait until they appear as a selectable device.
Features and battery life: Look Siri, ho hands!
Once you've paired you AirPods, you're probably going to want to use them.
The next-gen earbuds have the same accelerometers that automatically detect when you've removed one or both AirPods and pause whatever you're listening to accordingly. Put it/them back in and the audio recommences. The occasional fail is inevitable, but Apple's detection is more dependable than most.
Delve into the menus on your iPhone and you can set each AirPod to perform a different action when you give them a double tap. The left bud Pod could play/pause a track, for example, while the right could skip. There's still no way to turn the volume up or down on the AirPods themselves; for that you'll need your phone, or your voice. Speaking of which…
First-gen AirPods owners may have had one double tap gesture programmed to summon Siri. Now you get a free slot, as the H1 chip also enables hands-free Siri.
Just say the standard 'Hey Siri' wake words and you can get a weather report or the latest Brexit newsblast of doom, change song, crank it up a few notches or call back your mum without moving a muscle. Siri has never been the most capable voice assistant, though, so try not to overwhelm him/her with requests for obscure German electro producers if you're in the middle of Sainsbury's and feeling impatient.
As far as we can tell, there's no way to have the AirPods ping when Siri is listening, which is a bit odd. It's a case of speaking and hoping you get a response. Happily, I didn't run into major problems, with Siri on notably good behaviour during testing, even with the hum of the morning traffic in the background. Apple says the AirPods use an additional speech-detecting accelerometer along with beamforming microphones to block out external noise and focus on the sound of your voice. It works well.
Is it quicker to pull out your phone and manually choose an album to listen to? Possibly, but it's more of a hassle to do so.
As before, the AirPods give you 5 hours of listening time on a single charge, with the new model adding up to an extra hour of talk time. The case continues to offer an additional 24 hours of juice, backed up by our testing. If these are purely commuting headphones you probably won't have to charge the case more than once a week.
Sound quality: same again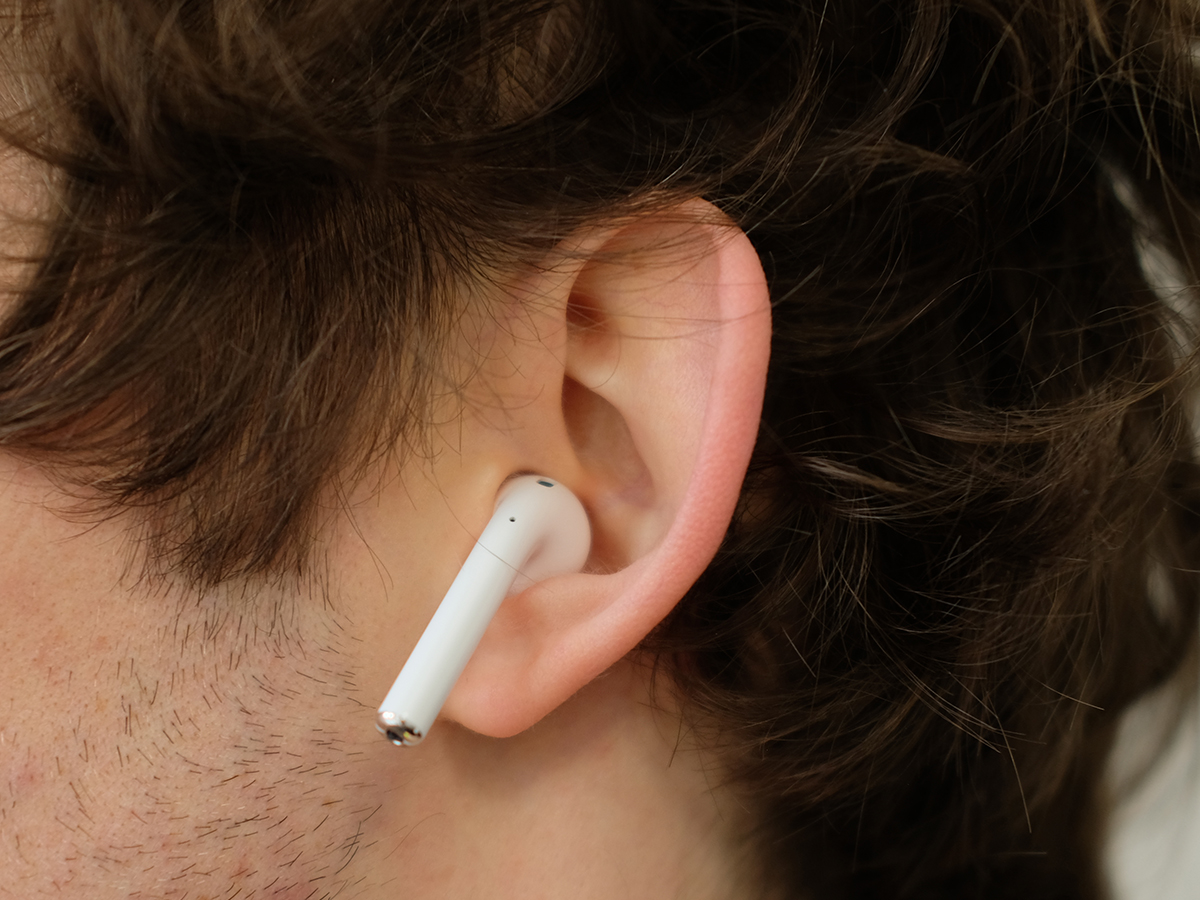 The biggest mark against the first AirPods is that they don't offer any sort of noise isolation whatsoever, so unwanted ambient sound creeps in all the time.
It's a shame, then, that Apple has done nothing to address this. The AirPods are fine in a quiet room or around the house, but if you use a lot of public transport you're going to have problems. The screaming of a Northern Line London Underground train meant I couldn't properly hear a good bit about Setanta Sports in the latest episode of That Peter Crouch Podcast, an offence that nearly made me knock off a star there and then.
That said, there are times when blocking out external sound is a bad idea, so it comes down to how you plan to use them.
The general audio quality is also untouched. The AirPods don't sound bad at all – in fact, they're surprisingly competent on both the high and low end, with neither getting overexcited. There are undoubtedly more detailed true wireless headphones on the market for the price, so chin-stroking audiophiles will want to look elsewhere. But we're yet to find a competitor that does everything else as well as the AirPods.
Call quality is still consistently great. Voices sound clear, and the H1 chip is said to boost performance even further. No complaints here.
Apple AirPods (2019) verdict
The AirPods are still arguably among the best all-round true wireless earbuds, especially if you're a happy resident in Apple's ecosystem. They're so fast and reliable that it's still hard to imagine anyone not being converted.
However, if you're not of the iPhone persuasion you might want to look at something like the excellent Samsung Galaxy buds, which do offer noise isolation.
The AirPods are now more enticing than ever, but those still rocking the first model might find it hard to justify the upgrade, especially as the wireless charging case is compatible with both generations. While the improved battery life and hands-free Siri experience afforded by the H1 chip are handy enhancements, £160 (or £200 if you want wireless) is a lot of money just to save you a double tap.
Although they fall some way short of being the perfect evolution, the 2nd generation AirPods are better than ever. Who's laughing now?
Stuff Says…
Not a major upgrade by any means, but Apple's iconic earbuds are becoming harder to resist
Good Stuff
H1 chip is super speedy
Hands-free Siri works well
Wireless charging
Very few performance issues
Bad Stuff
Still no noise isolation
Expensive
Unspectacular audio
Don't fit all ears