Apple's 'Far Out' launch event recap: here's everything that was launched
The iPhone 14, AirPods Pro 2 and Apple Watch Series 8 have been launched alongside a new Apple Watch SE and top line Watch Ultra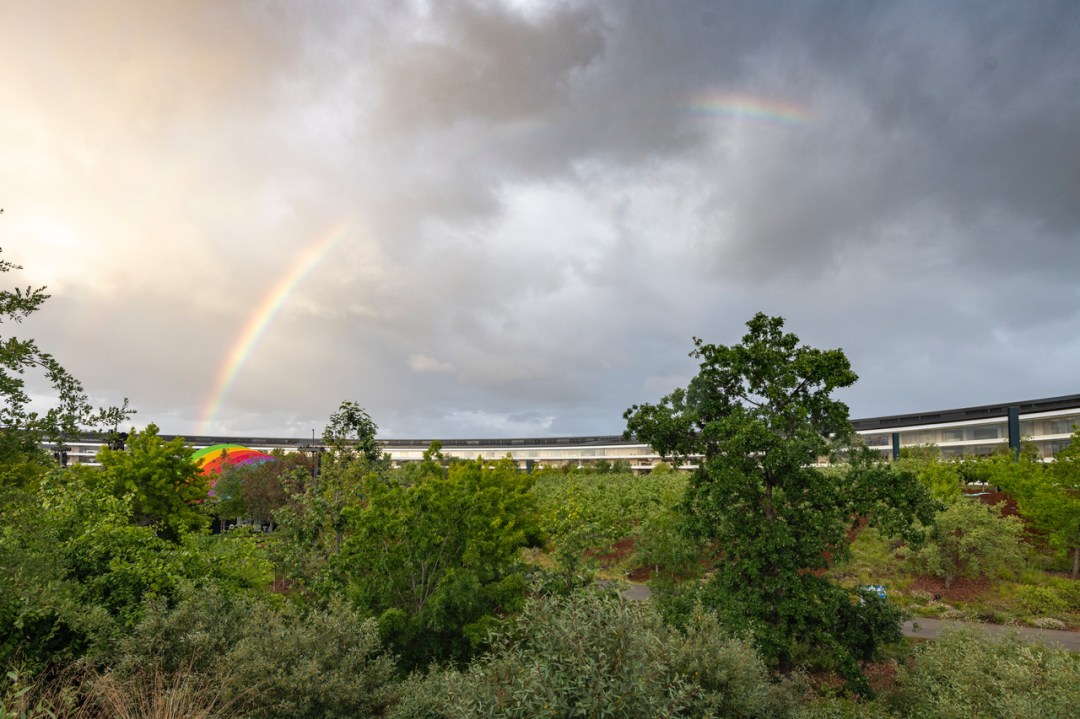 The iPhone 14, AirPods Pro 2 and Apple Watch Series 8 have been launched alongside a new Apple Watch SE and top line Watch Ultra.
Apple's Tim Cook was clearly up early – he snapped the above picture of Apple Park. (Well, it was on his account, anyway). And Apple launched a bunch of rather cool stuff. Here we'll recap everything the company launched today.
So how was the event? Analyst Paolo Pescatore from PP Foresight says it makes sense for Apple to focus on what works best rather than move into segments like foldables or smart glasses. "These new categories are exciting, but are not highly sought after among users (yet). Ultimately, the iPhone remains a crucial product for Apple. It opens the door to the Apple universe and drives significant value."
It'll be interesting to see how well these devices sell, as Paolo Pescatore says. "With household bills all heading in the wrong direction, it still represents a real test of consumer appetite in forking out for these latest shiny devices. As well as the true power of Apple's brand in a tough economic climate with everyone tightening their belts."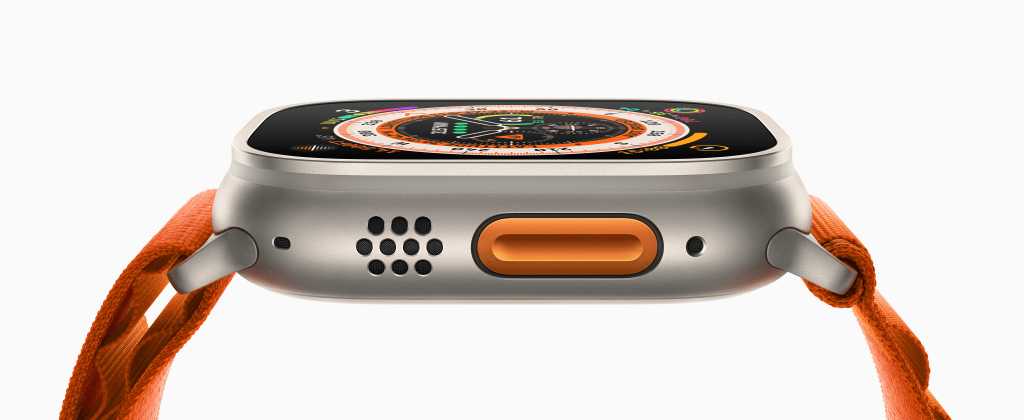 Apple Watch Ultra
The $799/£849 Apple Watch Ultra is designed for more extreme sports to take on the likes of Garmin. It's made from aerospace-grade titanium, which I think we can assume is strong. The front of the 49mm case has an easy-to-read brighter (up to 2000nits) and flatter screen, with a new customisable action button. In Paolo Pescatore's words, "others have paved the way and now Apple wants a slice of the action at a punchy price point."
Read more: The Apple Watch Ultra is here and it's extreme!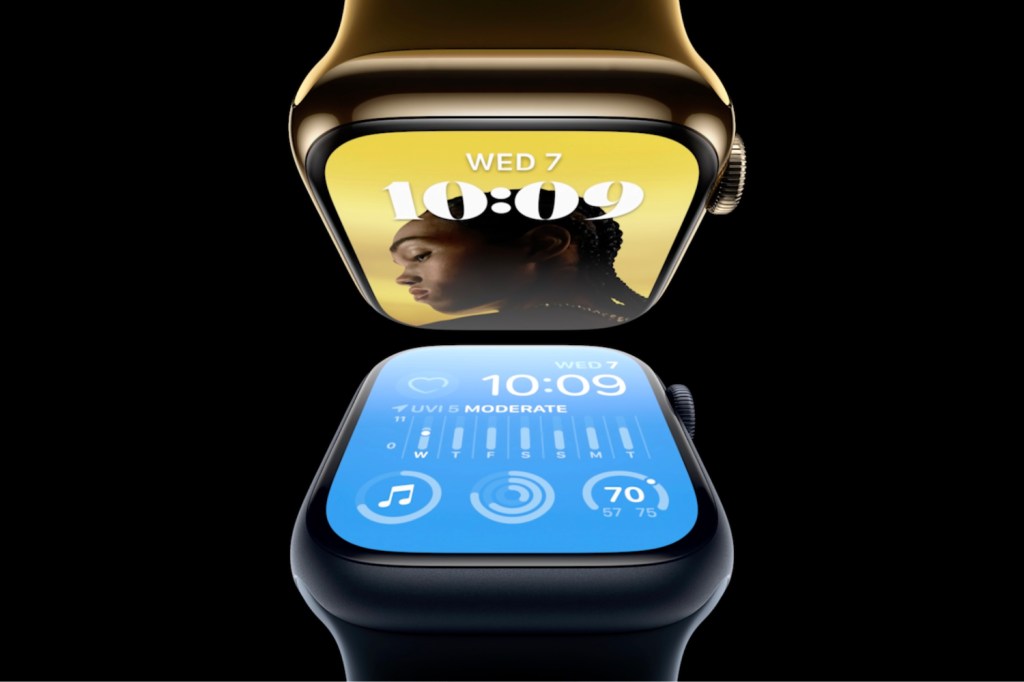 Apple Watch Series 8
Available in Midnight, Starlight, Silver, and Product Red, the Apple Watch Series 8 is an iteration of the Series 7, with a very similar design. There are also some new stainless steel versions, and brand-new straps. Apple promises an all-day 18-hour battery life, despite these new sensors a new accelerometer and gyroscope, which help to detect a high G-force for crashes – yes, it has crash detection and there's a temperature sensor too. There's also a new low-power mode you can use if you forget your charger.Series 8 will cost $399/£419 for GPS, or $499 for Cellular. Pre-orders are starting today, and the device will start shipping on Friday 16 September.
Read more: New Apple Watch line-up drops, including the Series 8, and a new SE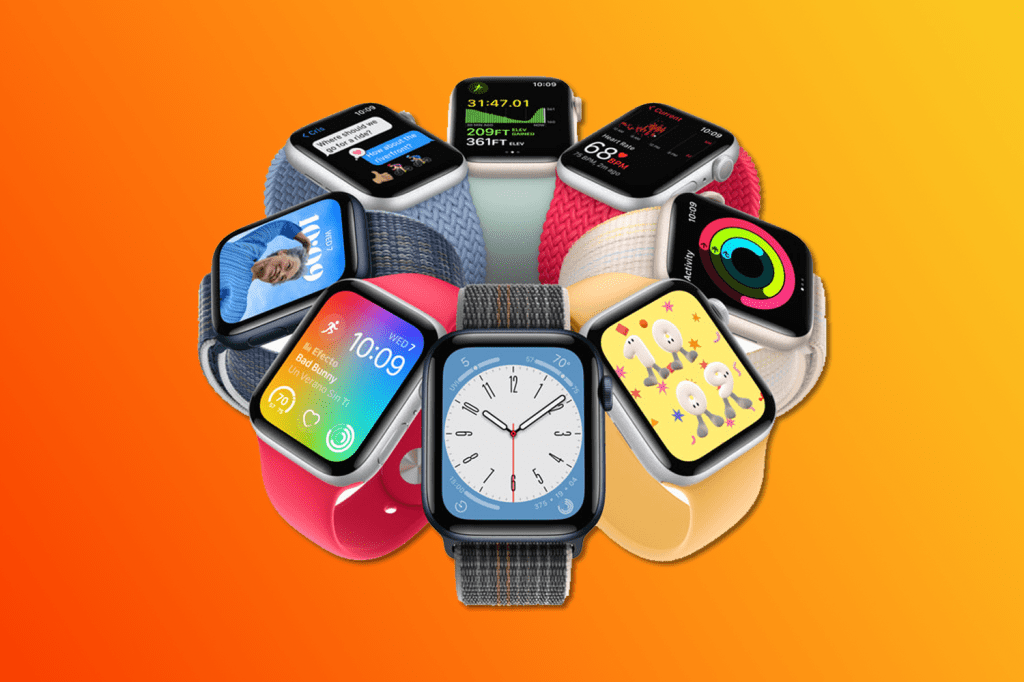 Apple Watch SE
Available in Silver, Midnight, and Starlight, there's also a new version of the SE with updated internals – it now has the same S8 processor as the other watches. There are a few other changes – for example the back is made from a new nylon material. It'll be. It comes with the new Crash Detection from the Series 8 and will retail for $249/£259 from next Friday after pre-orders today.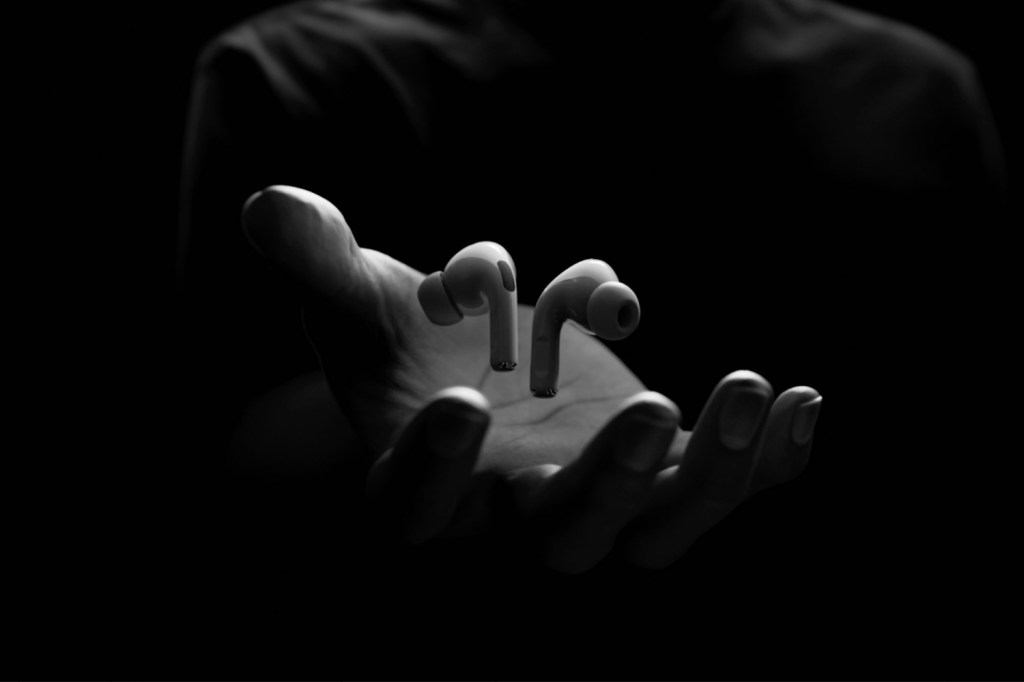 Apple AirPods Pro 2
We suppose the Watch SE was probably given least billing at the event, but AirPods Pro 2 were not far behind. Which is a shame, as we love this product! The new generation has Nura-style Personalised Spatial Audio and twice-as-good ANC as the original model. Using a new H2 chip, AirPods Pro 2 also now have Adaptive Transparency to instantly switch on for high decibel noises. There's longer battery life, too – six hours in the buds and a total of 30 with the case.
Read more: AirPods Pro 2 finally announced at Apple's Far Out launch event today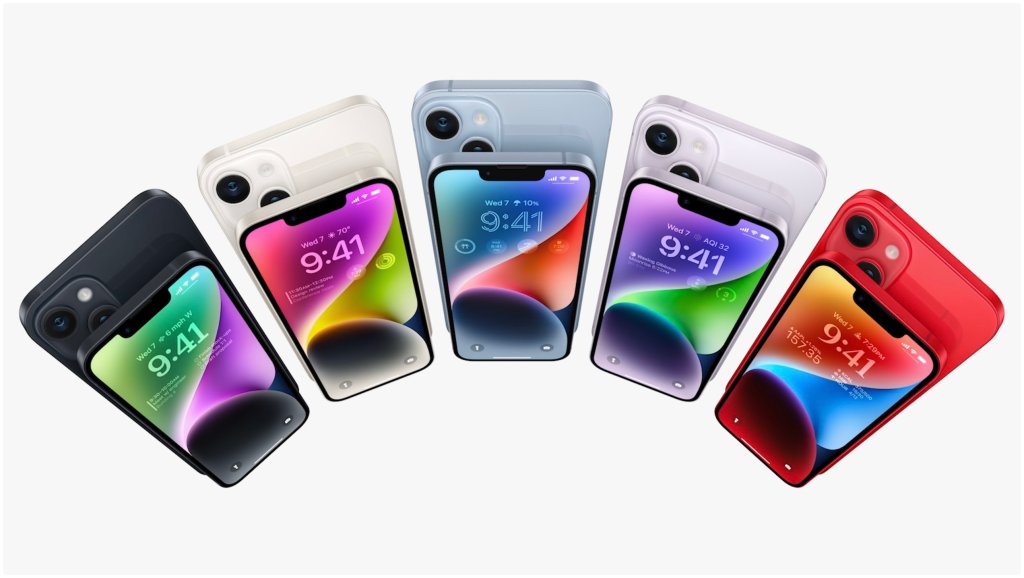 Apple iPhone 14 and 14 Plus
Yes, the Plus is back! The 6.1in iPhone 14 and 6.7in iPhone 14 Plus may have last year's A15 Bionic platform but the camera system is improved – the wide sensor is now f/1.5 aperture and there's auto-focus on the selfie cam. You can grab the iPhone 14 from $799/£849, and the 14 Plus from $899/£949. There's Midnight, Starlight, a light blue, purple, and Product Red. If you buy them in the US, there will be no SIM tray in favour of eSIM, but it looks like we're keeping it in the UK – we've predicted the demise of the SIM for some time. "Take-up has been limited for now, but this will is now set to change as Apple will kickstart consumer adoption," adds Paolo Pescatore. Also in emergency situations with no cellular service, you'll be able to point your iPhone 14 towards a satellite if you're outside – your iPhone will guide you. This will be US and Canada only for now. After two years this will be a paid-for extra feature.
Read more: The new iPhone 14 is here with satellite connectivity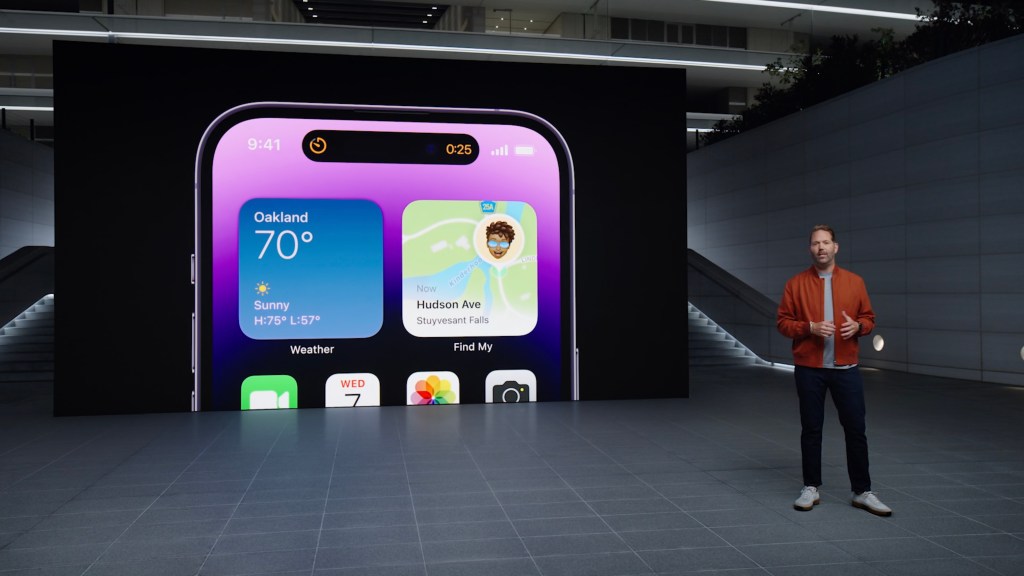 Apple iPhone 14 Pro and Pro Max
The Dynamic Notch. Yes, that really is the name for the new cut-out in the iPhone 14 Pro display because it does a lot more than just stare at you; it's integrated into the software as a sort-of new notification bar. The Island will expand for music controls, volume, Face ID and other background features. The new display goes up to 2000 nits while there's a new A16 chip. The main camera is improved to a 48MP 24mm unit, while Apple says it offers twice the low-light performance. ProRAW is improved, while cinematic mode now works with 4K. You can grab the iPhone 14 Pro from $999/£1099, and the 14 Pro Max from $1099/£1199. Storage goes up to 1TB.
Read more: Apple launches premium iPhone 14 Pro and 14 Pro Max with new Dynamic Island notch replacement
Recap the Apple Event here
Our original feature continues below…
The iPhone release date has been, generally, a thing of habit, with the launch date generally being in the second full week of September with an on-sale date towards the end of that month. Major iPhone launch events have traditionally taken place on a Tuesday following most Apple event launches. But that's not the case this time around. The iPhone release date is normally around 10 days later on a Friday.
Today, Wednesday 7 September is a week earlier than we'd previously thought and contradicts the guesses from some seasoned Apple watchers. It means the iPhone 14 release date should be Friday 16 September.
Apple launch event times today
10am PDT – West Coast USA, where the event is happening in Cupertino, California on Wednesday 7 September
1pm EDT – East Coast USA
6pm BST – UK
7pm CEST – Central Europe
10.30pm IST – New Delhi, India
1am CST Thursday 8 September – Beijing, China
2am JST Thursday 8 September – Japan
3am AEST Thursday 8 September – Sydney, Australia
When has the iPhone launch taken place in the past?
The original iPhone came out in January 2007 (though the UK launch was towards the end of that year) with some launches taking place in June and even October after that. But since the iPhone 5, things have settled in the September slot. The exception to this was in 2020, when the delay to the iPhone 12 lineup was caused by the global slowdown in production due to the pandemic. The iPhone 13 series returned to normal and as we now know, the iPhone 14 launch will be slightly earlier than the launch 12 months ago.
iPhone 5 – 12 September 2012

iPhone 5S / 5C – 10 September 2013
iPhone 6 / 6 Plus – 9 September 2014
iPhone 6S / 6S Plus – 9 September 2015
iPhone 7 / 7 Plus – 7 September 2016
iPhone 8 / 8 Plus / X – 12 September 2017
iPhone XS / XS Max / XR – 12 September 2018
iPhone 11 – 10 September 10 2019
iPhone 12 – 13 October 13 2020 (later due to manufacturing delays with the pandemic)
iPhone 13 – 14 September 2021
iPhone 14 – 7 September 2022
When could the iPhone release date be?
With the iPhone release date normally taking place just over a week later on a Friday, that means the iPhone 14 release date will almost certainly be 16 September 2022.
What are we expecting from the Apple launch?
We are expecting four iPhones to appear this year. An iPhone 14 Mini is (sadly) not one of them. Instead, all the signs point towards the 'standard' models comprising the main iPhone 14 alongside a supersized version called the iPhone 14 Max. This will just be bigger, with the same features and camera as the standard model.
In terms of the Pro models, we're expecting there to be an iPhone 14 Pro and then an iPhone 14 Pro Max following the pattern we've seen over the last couple of generations. They will have new smaller cut-outs for the front camera hardware, though the standard models look set to retain the notch. The Pro models also look set to have a new processor, while the standard models stick with the A15.
Both series seem set to use the same 6.1 and 6.7-inch sizes that we've seen in recent generations of iPhone. We'd expect the iPhone 13 Mini to stick around for those who want a smaller size (and there's the iPhone SE, of course) but there won't be an iPhone 14 Mini we believe.
The invitation to media and analysts shows the event as being titled 'Far out'. Coupled with the image above, we reckon it means we should expect a night time photography boost for the iPhone 14 Pro.
There will, of course, also be the announcement of the availability of the new version of the iPhone's software – iOS 16. There should be a new Apple Watch 8 and an Apple Watch Pro, too as well as possibly a new version of the Apple Watch SE. We should also get a second-gen of the Apple AirPods Pro 2.
It's possible we could get new iPads, although new Macs will surely be left for another event.