Apple iPhone 14 vs 14 Pro vs 14 Plus vs 14 Pro Max: what's the difference?
Everything you need to know about the latest and greatest iPhones and especially iPhone 14 vs 14 Pro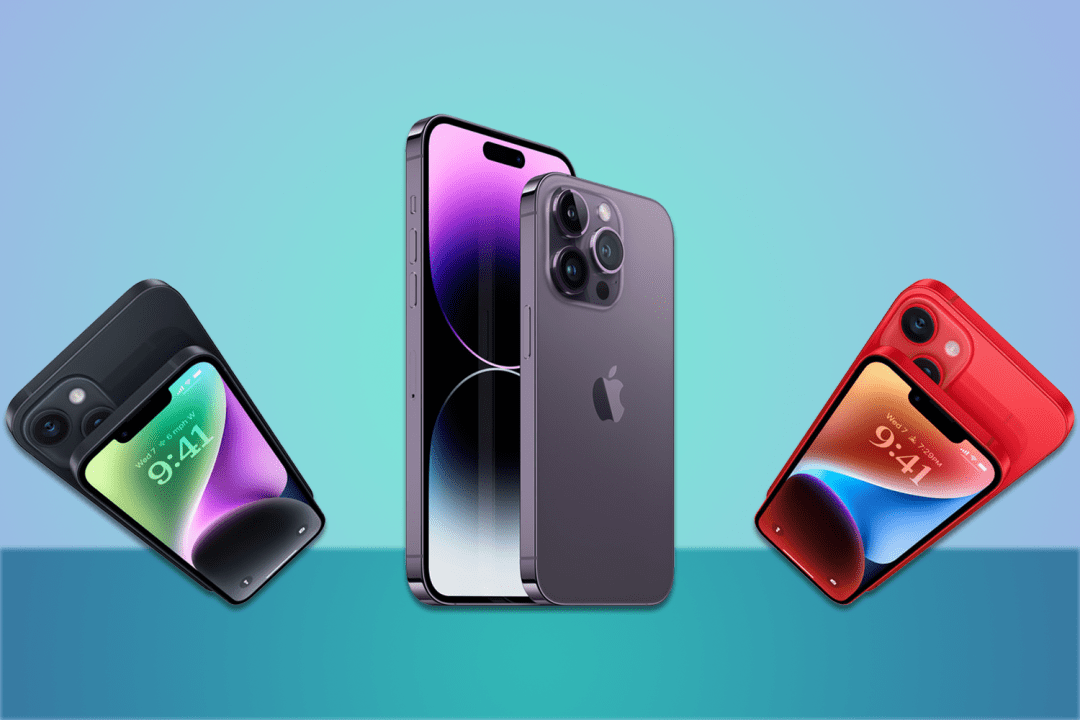 First of all, apologies for the convoluted headline. It's not pretty to look at, let alone read, but it does rather accurately summarise why we're here — to look at the differences between the new iPhone 14, 14 Plus, 14 Pro, and 14 Pro Max – especially iPhone 14 vs 14 Pro.
With Apple releasing a fresh batch of its latest and greatest iPhones, you've understandably got a few questions. Should I upgrade from the iPhone 13 to the iPhone 14? What's the difference between the iPhone 14 vs 14 Pro? Is there an iPhone 14 Mini? Did aliens really build the pyramids?
Fear not, for we've rounded up everything you need to know about the new iPhone 14, 14 Plus, 14 Pro, and Pro Max below. From differences in their design and screen size, to camera setups and price tags, this is your one-stop shop for all things iPhone 14-related. But not aliens.
Oh, and if you're interested in the new Apple Watch Series 8, Watch SE, and Watch Ultra comparison, we've got you covered in another article too:
What are the new iPhone 14 models?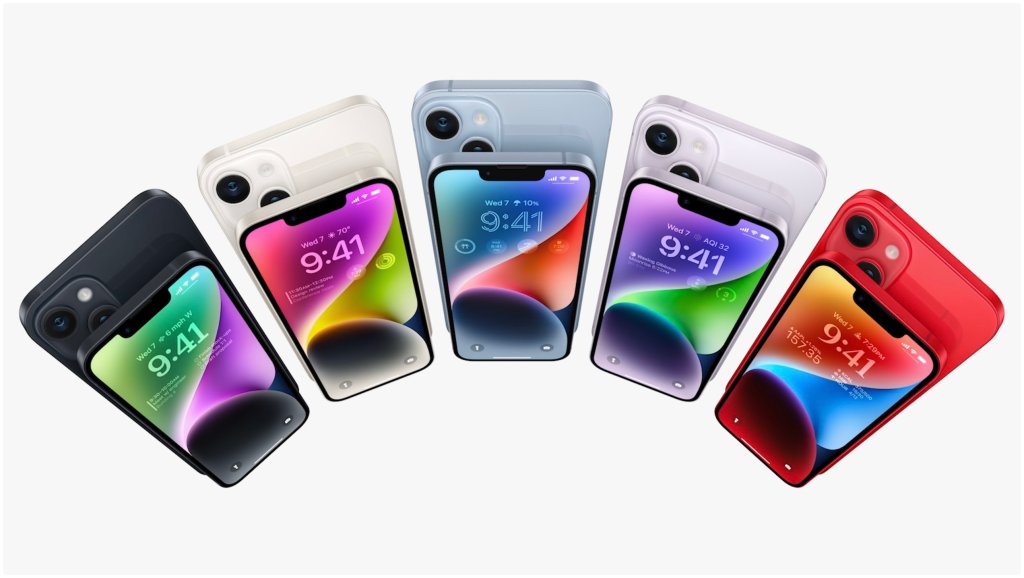 Before we dive into the nitty gritty, it's worth quickly going through how many new iPhone 14 models there are.
This year there are four new models — the iPhone 14, iPhone 14 Plus (previously rumoured as the Max), iPhone 14 Pro, and iPhone 14 Pro Max. Observant gadget fans will have noticed that there's no iPhone 14 Mini. That's likely because past Mini variants of the iPhone haven't proved to be as popular as their larger-screened siblings.
Apple iPhone 14 price and release date
The iPhone 14 range was officially announced at Apple's launch event on 7 September. All models can be pre-ordered from 9 September for the prices below, ahead of their 16 September release date.
| Model | 128GB Price | 256GB Price | 512GB Price | 1TB Price |
| --- | --- | --- | --- | --- |
| iPhone 14 | $799/£849 | $899/£959 | $1099/£1179 | N/A |
| iPhone 14 Plus | $899/£949 | $999/£1059 | $1199/£1279 | N/A |
| iPhone 14 Pro | $999/£1099 | $1099/£1209 | $1299/£1429 | $1499/£1649 |
| iPhone 14 Pro Max | $1099/£1199 | $1199/£1309 | $1399/£1529 | $1599/£1749 |
Apple iPhone 14 vs Pro design
Got an iPhone 13 model already? Then the overall design of the new iPhone 14 range won't bring many surprises. Given that they're still gorgeous slabs of sleek tech though, we've got no complaints for sticking to a tried and tested formula, for the time being.
The main rear design differences between the Pro and other models remain too — the Pro and Pro Max have a triple-lens camera setup on the rear, while the 14 and 14 Plus stick with dual lenses.
You'll also notice a major difference on the front — the Pro Models have Apple's new (ridiculously named) Dynamic Island at the top of the display, which is a fancy way to describe the screen notch that houses the selfie/Face ID cam. It's a pretty clever design, for reasons we'll get on to shortly. The iPhone 14 and 14 Plus retain the familiar notch from last year's models.
In the US, the new iPhones also do away with the physical SIM slot, opting for an eSIM solution instead, but the Lighting connector remains for now. Oh, and there's a new, rather fetching purple colour option which will stand out from the crowd, at least, until everyone is walking around with one.
Apple iPhone 14 vs 14 Pro vs 14 Plus vs 14 Pro Max: screen
The raw screen specs for each iPhone 14 variant can be found below. The important thing to note, beyond the size differences, is the fact that the Pro and Pro Max displays support variable refresh rates up to a slick 120Hz in the form of Apple's ProMotion display tech. This means that they can raise or lower the refresh rate depending on what you're doing (e.g. higher refresh rate for gaming, and a lower one for reading). This should help ensure better battery performance, especially if you choose to turn on the Pro models' new Always On Display option to view the time and other widgets when the main screen is locked.
The base iPhone 14 and 14 Plus models are still stuck in the past with 60Hz refresh rates. This is, frankly, a little cheeky, given the plethora of cheaper Android handsets that offer 90-120Hz displays for less.
iPhone 14: 6.1-inch, OLED, 60Hz refresh rate
iPhone 14 Plus: 6.7-inch, OLED 60Hz refresh rate
iPhone 14 Pro: 6.1-inch, OLED, 1-120Hz refresh rate, Always On Display
iPhone 14 Pro Max: 6.7-inch, OLED, 1-120Hz refresh rate, Always On Display
As mentioned before, the main visual difference between the regular and Pro models, is that the Pro versions ditch the intrusive notch for a sleeker Dynamic Island (aka, a pill-shape cutout). Despite is name, Apple has created some beautifully integrated software features which can expand the Dynamic Island with useful info/controls, such as letting you control music playback or view notifications. Clever stuff.
Apple iPhone 14 cameras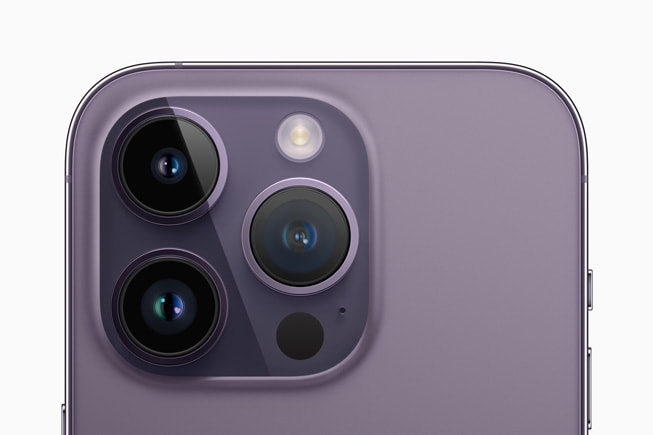 As expected, the iPhone 14 and 14 Plus will feature two main rear cameras, while the 14 Pro and Pro Max will feature a triple-camera setup.
The iPhone 14 and 14 Plus have two 12MP rear cameras (wide and ultrawide), along with a 12MP TrueDepth selfie cam. The iPhone 14 Pro and Pro Max feature a main, telephoto, and ultrawide setup, with the new 48MP being the star of the show. It promises to shoot more detail-rich photos, with up to twice the performance of the iPhone 13 Pro. Low light photography across all three cameras has also improved, with 4K/40fps video recording available in Cinematic mode.
We'll have to wait for our full review to see what magic these new cameras can whip up in the real world, but colour us officially excited.
Apple iPhone 14 specs, power, and battery life
The iPhone 14 and iPhone 14 Max are powered by the same chipset as the previous generation iPhone 13 Mini and iPhone 13, which is the A15 Bionic. Despite being a year old, it's comfortably one of the most powerful smartphone processors in the world, and remains blazing-fast.
Inside the 14 Pro and 14 Pro Max, you will, of course, find Apple's new A16 Bionic chip that's even more powerful than the A15, while using less power to boot. Some of that extra power will go towards powering the Dynamic Island's fancy tricks.
The regular iPhone 14 and Plus have 128GB, 256GB and 512GB storage options, while their Pro siblings bump these all the way up to a cavernous 1TB. And while Apple, as usual, hasn't revealed specific battery capacity specs, we're promised the best iPhone battery life to date, so fingers crossed for comfortably more than a day of heavy use.
Apple iPhone 14 software
Naturally, the iPhone 14 family is running the latest version of Apple's mobile operating system — iOS 16. Beyond some extra camera features, the experience will be the same across the board, and will already be familiar to iOS users testing out the existing preview build.
Apple iPhone 14 vs 14 Pro vs 14 Plus vs 14 Pro Max: which one should you get?
The answer to this depends on your budget, and what you need from a smartphone. Obviously, we can't fully recommend anything until we've reviewed it ourselves, but if you're less fussed about the camera experience and want a slick iPhone while paying less, the base iPhone 14 could serve you very well. If you want the very best that Apple has to offer though, it could be worth cracking your wallet open a little wider for the full-fat experience.