Apple iPhone 14 review: great, but not much improved
Apple's latest non-Pro iPhone is superb - it's just that it's strikingly similar to last year's effort.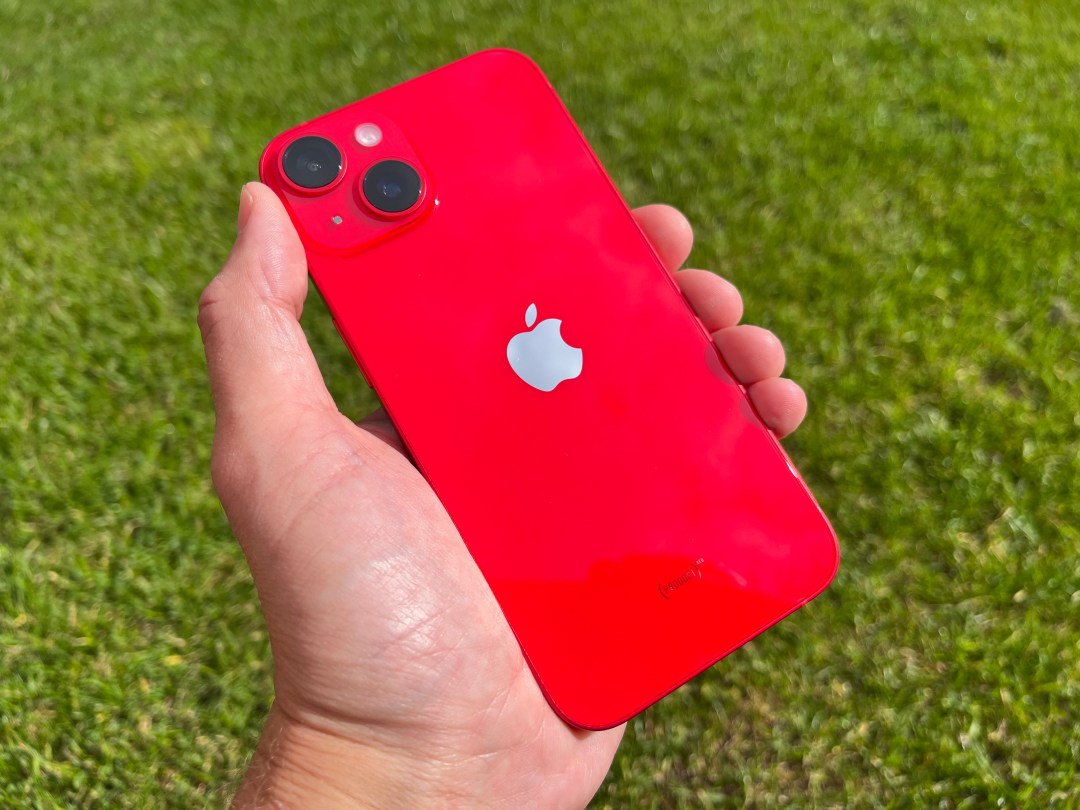 Apple's latest smartphone series is spearheaded by the iPhone 14.
But iPhone development cycle has a problem – itself. The iPhone 11 brought a superb night mode. iPhone 12 brought a big design change. The iPhone 13 remixed the same formula and brought some decent enhancements – notably in battery life and display brightness. But it looked the same aside from a slight downsizing of the notorious 'notch' at the top of the screen, which houses the selfie camera and the hardware for Face ID.
The iPhone 14 is a reworking of the same idea again but without the Pro and Pro Max's notch-replacing Dynamic Island feature and as you'll hear there's a key element common with the iPhone 13.
So it's a legitimate question to ponder whether Apple's yearly update cycle is just unsustainable, whatever analysts and financial markets would have to say about that.
iPhone 11 was decent. iPhone 12 was excellent. And iPhone 13 offered enough to make it a great upgrade for anyone on an 11 or older. So the question is not so much if iPhone 14 is any good (though we'll answer that, too) it's rather – is it worth choosing the iPhone 14 this close to iPhone 15? And that's before you get to the cheaper iPhone 13 or even an iPhone 12? Let's find out.
Oh and it's also worth noting that global currency changes have meant that, while the iPhone 14 models start at the same price points in the US, they are more expensive than their predecessors in the UK and Europe. Note also that the iPhone 14 and upcoming October-released iPhone 14 Plus are identical in all but size and battery capacity – the Plus predictably has more longevity. If you're looking for a replacement for the iPhone 13 Mini, don't bother – there isn't one.
The original version of this review was published on 29 September 2022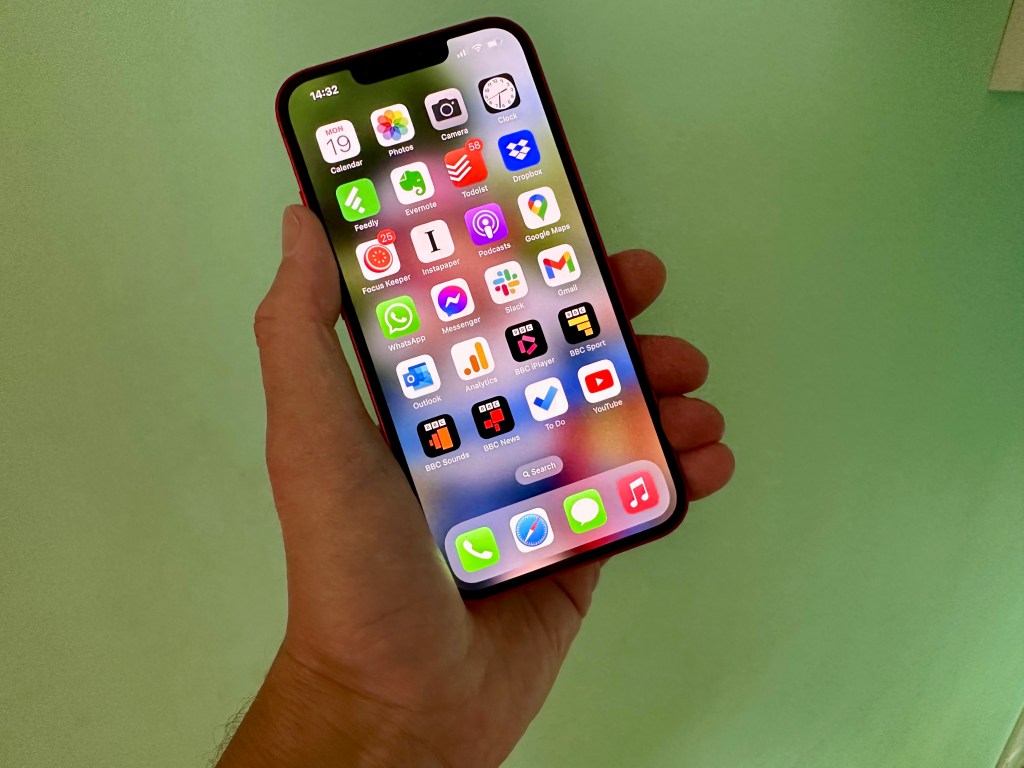 Design, display and changes
First and foremost, the design is identical to 2021's model which isn't necessarily a bad thing as we've liked it since Apple reinstated the iPhone 4–iPhone 5-esque flat-edged design with the iPhone 12. We didn't expect cosmetic changes this time really – that's reserved for the Pro models with its Dynamic Island cut-out that replaces the notch.
Like the iPhone 13, the 14 feels reasonably light in the hand at 172g – it's not featherlight of course, but is very tactile and comfortable. The iPhone 14 Pro is 206g and we found that difference quite significant when moving between the two.
The iPhone 14 is available in a variety of rather subtle hues aside from Product(Red) – starlight (sort of cream) and midnight (dark grey) are joined by blue and purple, an alternative to the iPhone 13's light pink. Our Product(Red) model was called out as having a brighter hue and it certainly does – it is strikingly bright. We love it actually.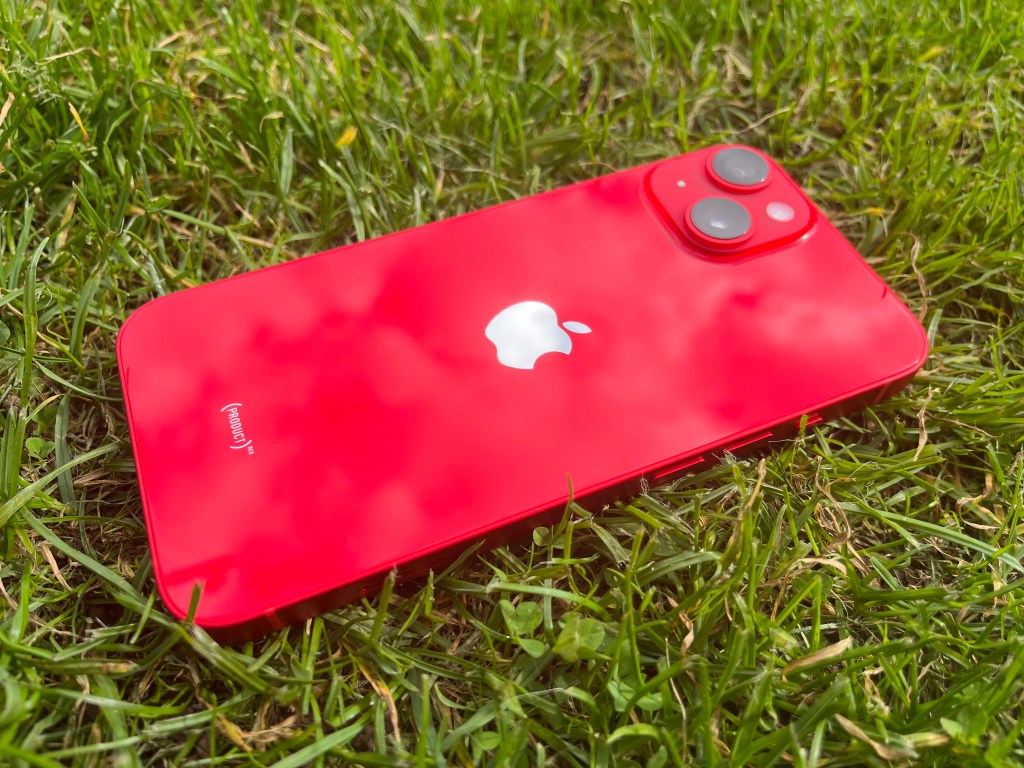 As with all iPhones there are volume, power and slient/ring switch which we still think is one of the best things about the iPhone. There's Lightning on the bottom for connectivity as well as the speakers which once again are fairly powerful for a phone. The earpiece was moved to the top edge of the phone in 2021 in a change to the previous notch design seen since iPhone X.
Once again there's IP68 waterproofing and it'll be fine under water for a short period of time, such as dropping it in a pint (not tested) or into a bath (tested).
The 6.1in Super Retina XDR OLED HDR display remains highly loveable and boasts 800nits of typical brightness (peak 1200 nits) but it's well below the iPhone 14 Pro's 2000nits. The fingerprint-resistant coating remains very effective unless your paws are very smeary but once again the standard iPhone misses out on higher refresh rates – it's stuck at 60hz.
We were hoping that it would get the Pro's variable refresh rate tech ProMotion but no dice. This is still a premium handset and the lack of refresh rate innovation means it lags behind many rivals. It's a real disadvantage versus the Pro models. You don't get an always-on display either, but given Apple's graphic-heavy implementation of it we're not too sad about that.
Performance and battery life
A key indicator of this generation treading water is in the platform used – it uses 2021's A15 Bionic also found in the iPhone 13 models. This is a key differentiator between this model and the iPhone 14 Pro which has an A16 chip. In reality the difference between this hardware is negligible for most uses, but it's still an indicator as to how Apple intends to separate its Pro and non-Pro models in future. As with iPhone 13, it's quite surprising how cool the phone stays even when under stress. It can get a little hot when streaming a lot of data over 5G, but it's fairly insignificant. It does get a slightly more powerful graphics processor, however.
Storage options start at 128GB again and run to 512GB – if you want more you need to get an iPhone 14 Pro.
In the US, there is a sizeable change to iPhone 14 – it doesn't have a SIM tray and you have to use it with eSIM. This is pretty straightforward to cope with nowadays, but many networks globally have poor support for it (this has been rumbling on for a while). And in its home market, Apple can force the pace. In the UK, the key networks now offer eSIM, but some don't still and it'll be interesting to see if they can get their act together by the time iPhone 15 debuts. However, the UK has the same iPhone model as many countries (the global model, if you like) and so it may need for all of us to be ready by then. The US model also features support for faster mmWave 5G networks whereas the global model doesn't as yet. That's another change we'd expect with iPhone 15.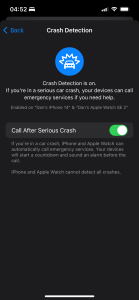 The iPhone 14 also offers satellite support if you don't have cellular service, but this will cost you after a trial period and it's only currently available in the US. And it also has crash detection, a feature that's also in the Apple Watch Series 8 and Watch Ultra that uses various sensors including the mics, GPS, accelerometer and more to detect when you're involved in an accident and enables an automatic call to the authorities.
As with iPhone 12 and later, there's support for MagSafe wireless charging on the rear. This tends to be how we charge our iPhone nowadays, but it remains stuck at 15W (or 7.5W for standard Qi chargers) and it really needs beefing up in the face of Android handsets, some of which now have crazy-fast wireless charging. Fast charging is supported if you use a 20W adapter or higher (your Mac charger is great for this).
The battery life was a tough act to follow – the iPhone 13's battery life was tremendous, lasting well over a day. This time around, Apple is citing up to 20 hours of use. In practice, we've not found it to be better than iPhone 13, but it really depends on use and certainly, we've not found it to be worse than iPhone 13 which is a great thing. But it should last you the entire waking day with a little left over. If you use your phone a lot during the day and have a night on the tiles planned, you're still going to want to be topping it up to make sure you don't slip into the red.
Cameras and video capabilities
Broadly speaking the camera setup is similar to that which we've seen on several generations of iPhone now, dual 12 megapixel cameras, one of which is ultrawide. The main camera has been improved, with an f/1.5 sensor, the same as that in the iPhone 13 Pro. Generally images are excellent as you'd expect with great colours and detail and Apple has definitely sped up the response of the camera in recent times, which helps.
Apple again promises an improvement in low light photos, but the iPhone 12 and 13 were both excellent for night photos (the 13 saw a further improvement with sensor-shift stablisation to negate blurring caused by the movement of your hands) and the difference here isn't noticeable in terms of the images produced. The iPhone 14 Pro's additional telephoto lens means there is something missing from the iPhone 14 compared to many flagship phones (because of it's price, this is definitely in flagship territory).
Action mode is a feature that enables you to create smoother video when you're moving, such as running alongside a child or following a cyclist along. It does work rather well and while gimbal makers won't be quaking in their boots, it does mean videos will be a bit smoother come next sports day.
One of the other stand-outs in terms of the camera advances is in terms of Cinematic Mode, which is now available in 4K at 24/30fps. That's very welcome, it seemed a little odd that in 2021's models that it was only available in 1080p Full HD. It works great and transitions focus between subjects superbly.
Oh, and the selfie camera now boasts autofocus, too. This can mean that shots are quicker to take.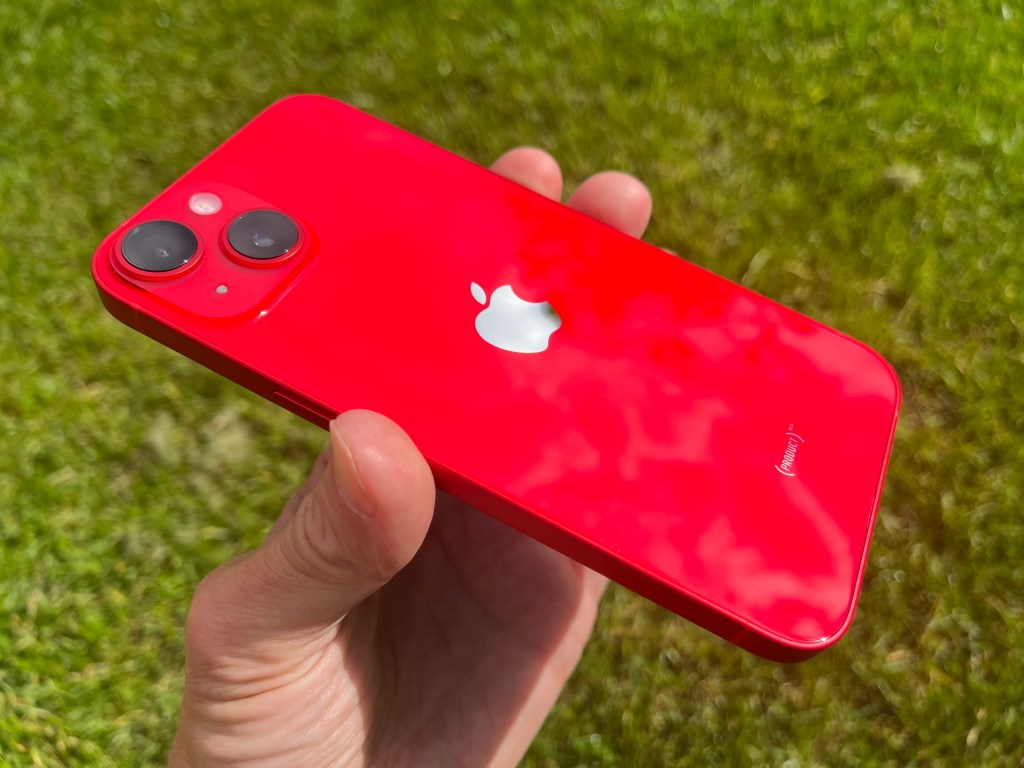 iPhone 14 verdict
Let's be straightforward – this is an iPhone 13S in all but name and it's hard to think of another annual iPhone update that's added less 'new' to the package. There are a few enhancements such as the cameras and slight battery size increase, but it's nothing to set the cat among the pigeons (this would have been the ideal time for Apple to move to USB-C as it surely has to in 2023 because of incoming EU legislation).
After three years, surely Apple will have to change the design of the iPhone 15; expect the Pro's Dynamic Island feature to drip down for starters.
We think it's only a must-upgrade if you're on an iPhone 11 or earlier as the difference will be significant from those models. From 12 and 13? Not at all. There is, of course, the argument that you might be better off trying to find a cheaper iPhone 13 instead of the 14.
Mind you, all of those quite reasonable caveats don't alter the key point – the iPhone 14 is a brilliant and highly capable phone that's a formidable tool for anyone.
However, if you're looking for a 2022 iPhone that really makes a break with the past, then you need the iPhone 14 Pro or Pro Max but obviously, they come at a significant price premium.
Stuff Says…
The iPhone 14 is a superb smartphone even though the minimal hardware upgrades take the shine off – potential purchasers will want to consider older models as a result.
Good Stuff
Still an incredible smartphone
Brilliant battery life gets a bit better
Excellent camera system gets a bit better
Bad Stuff
Last year's Pro hardware
Wireless charging slow by modern standards
No USB-C; it's now well overdue
iPhone 14 tech specs
| | |
| --- | --- |
| Display | 6.1in 2532×1170 OLED HDR at 460ppi |
| Processor | Apple A15 Bionic |
| RAM | 6GB |
| Storage | 128GB/256GB/512GB |
| Cameras | 12MP ƒ/1.5 main, 12MP ƒ/2.4 ultrawide, 12MP ƒ/1.9 front |
| Battery | 3,279 mAh (est.) |
| Dimensions | 72×147×7.8mm |
| Weight | 172g |
| Connectivity | Lightning, Bluetooth 5.3, 5G, Wi-Fi 6 |
| Software | iOS 16 |