Apple iPhone 13 Pro review
The gap is narrowing between the Pro and Pro Max iPhone variants and nothing says this like the shiniest new addition, the Apple iPhone 13 Pro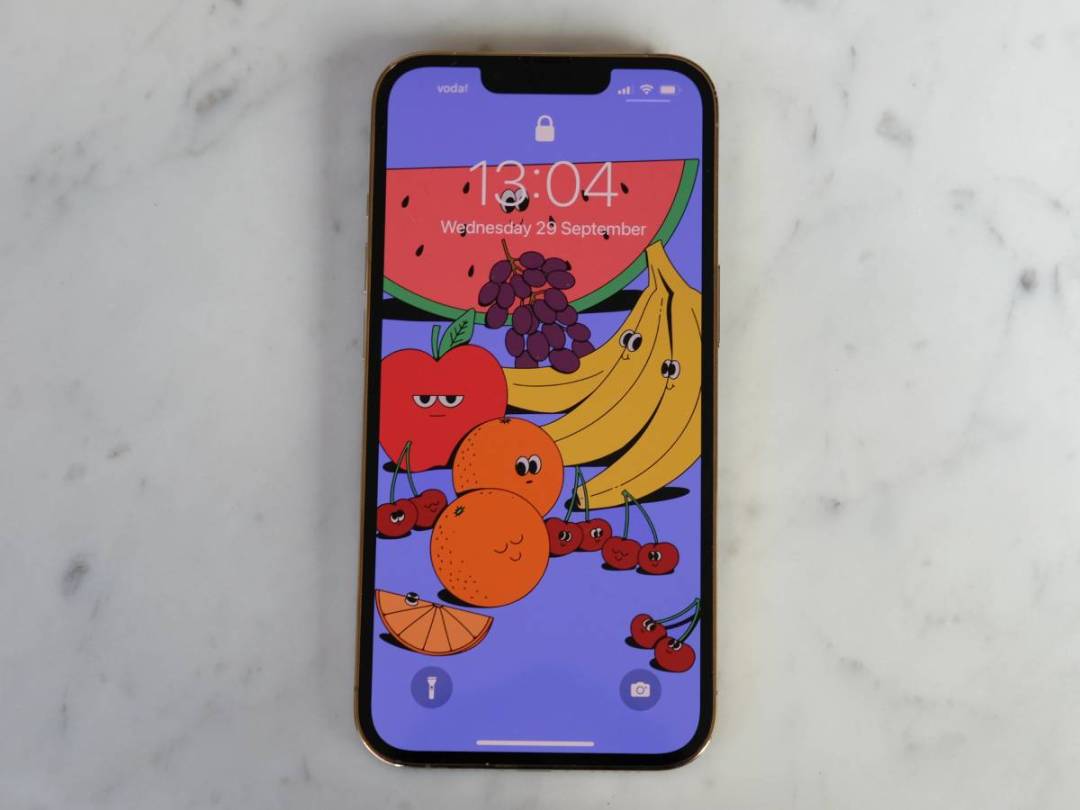 The gap is narrowing between the Pro and Pro Max iPhone variants and nothing says this like the shiniest new addition, the Apple iPhone 13 Pro.
Rollback to 2020, if you opted for an iPhone 12 Pro, you had to deal with the crushing reality that although you'd shelled out the best part of a grand, you still didn't have the best camera Apple was capable of making.
On paper, the 12 Pro Max edged it on camera specs and had the added bonus of a beefier battery too. But this year, Apple has furnished both the 13 Pro and 13 Pro Max with its most ambitious camera unit yet and now offers macro photography.
There's a handful of other upgrades too, such as a longer-lasting battery, and ProMotion which allows for an adaptive refresh rate which can go up to 120Hz or as low as 10Hz, which is great for battery conservation.
Want the zenith of all camera phones without having to lumber around a hulking 228g cuboid like the iPhone Pro Max? And you want more than the standard iPhone 13? Then this might be the sweet spot.
Design and build: The thick of it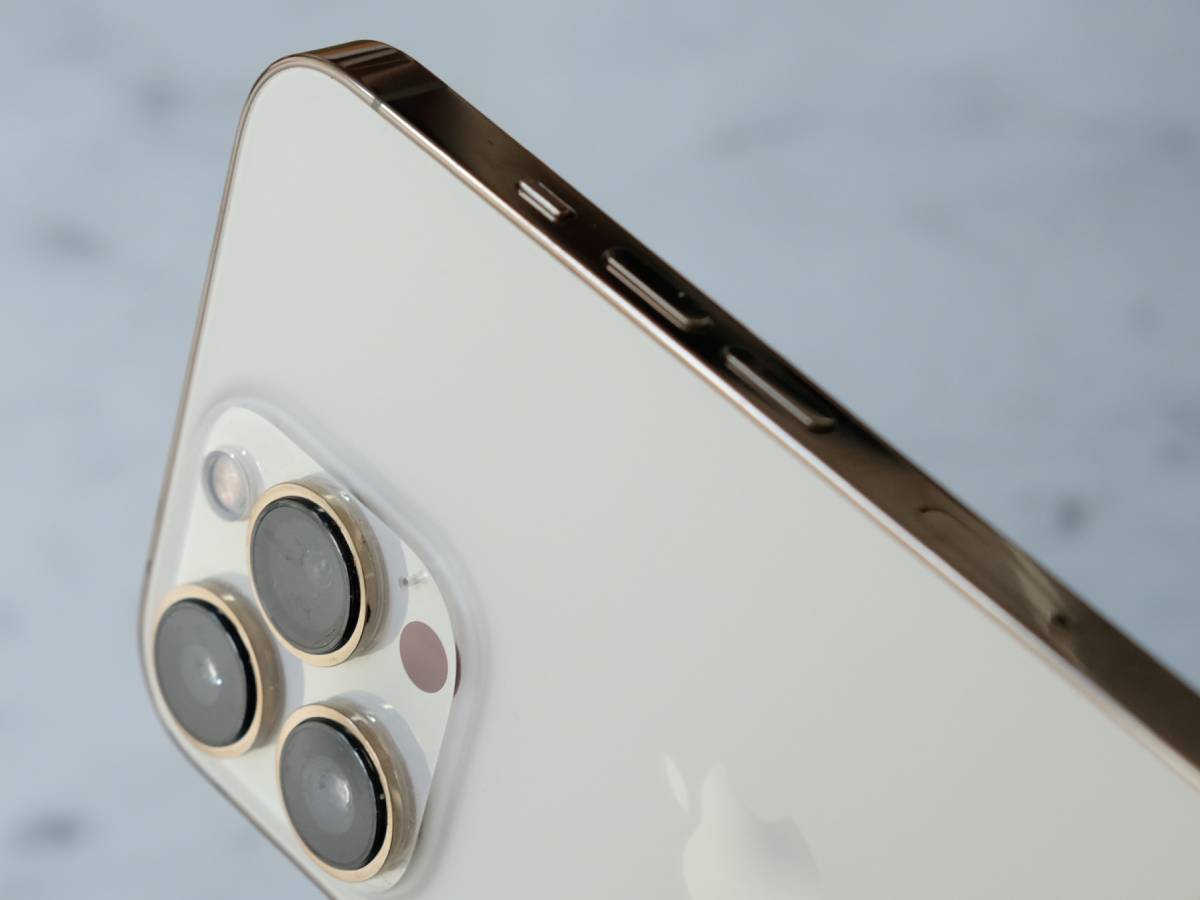 Last year we saw Apple embracing edges, and it's the same story with the latest iPads, waving goodbye to the smooth curves of yonder iPhones.
The iPhone 13 Pro looks remarkably like its predecessor. The stainless steel edges are a touch of bling, the smooth matt finish on the rear with a subtle Apple logo works well as a contrast. And Ceramic Glass sandwiches the front and back for extra toughness, though we'd pop it straight in a case.
The camera bulge is bulgier than ever, so the phone doesn't sit flat on a surface, but that's why it's even more important to make sure you protect the camera unit. The entire camera unit is wider taking up more space on the rear.
The phone is a dot thicker and a touch heavier, from 189g to 204g with this year's iteration. You can feel the extra weight and while we don't love it, we can live with it if it means that it'll last longer — as the weight gain is to accommodate the larger battery.
Of course everyone's on notch watch, seeing whether Apple will have finally ditched what many feel blights the design. Alas, it's still present as it's necessary for a lot of the tech we love from the iPhone, however it is narrower, by almost a centimeter.
The Lightning port remains for now and as well as the ususal iPhone colours of gold, silver and graphite. Apple has introduced a lovely new Sierra Blue which is reminiscent of a clear morning sky.
Display and sound: Have I got views for you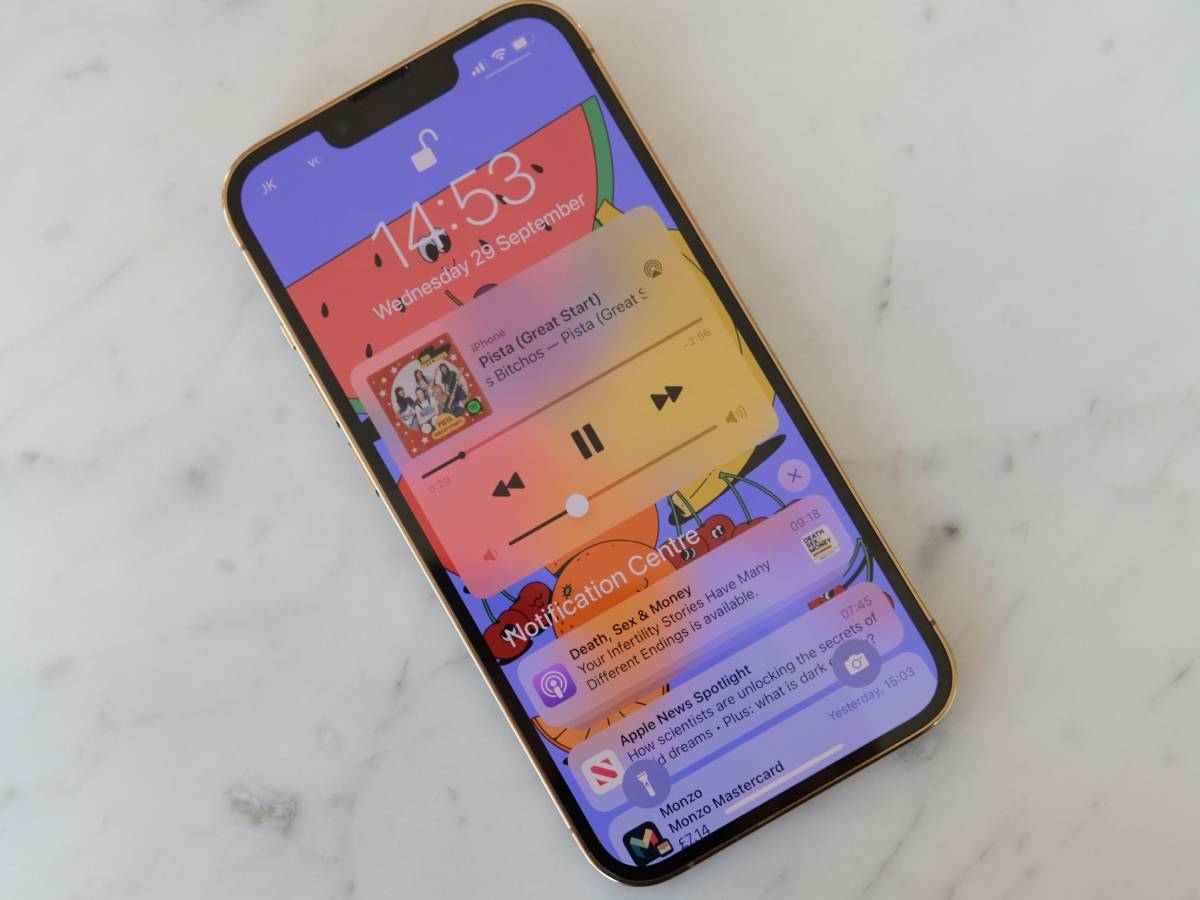 The 6.1in Super Retina XDR OLED display is the very same as last year, but that's no shame because it's all kinds of excellent. It is allegedly brighter too, bumping up to 1000 nits of outdoor brightness meaning there's no issue viewing the screen outside and from all angles.
Colours remain vibrant with excellent contrast and it's great for watching films and gaming.
For new tricks, look at the dynamic refresh rate which goes all the way to 120Hz and makes for a more fluid screen experience. When flicking between apps it feels extra smooth and it's super responsive. The tech also has the ability to ratchet down the refresh rates when the task doesn't call for such speeds, like reading or typing notes. Sadly, the iPhone 13 and 13 Mini are stuck at 60Hz and don't benefit from 'Pro Motion'.
Built-in stereo speakers do a phenomenal job of offering fully rounded audio, great for playing podcasts before bed and handy if you forget your portable speakers. Apple's spatial audio is on board, though playing through your phone isn't the best way to experience it, plus the voice isolation means that calls and voice notes are delivered with clarity.
As part of iOS 15 Wide Spectrum is a new microphone which allows in background sounds, so the person on the other side of the phone will really believe you when you tell them you're late because you're being chased by a commotion of coots. We can't see when this would be useful, but it's good to know it's there, right?
Performance and battery: Saved by the cell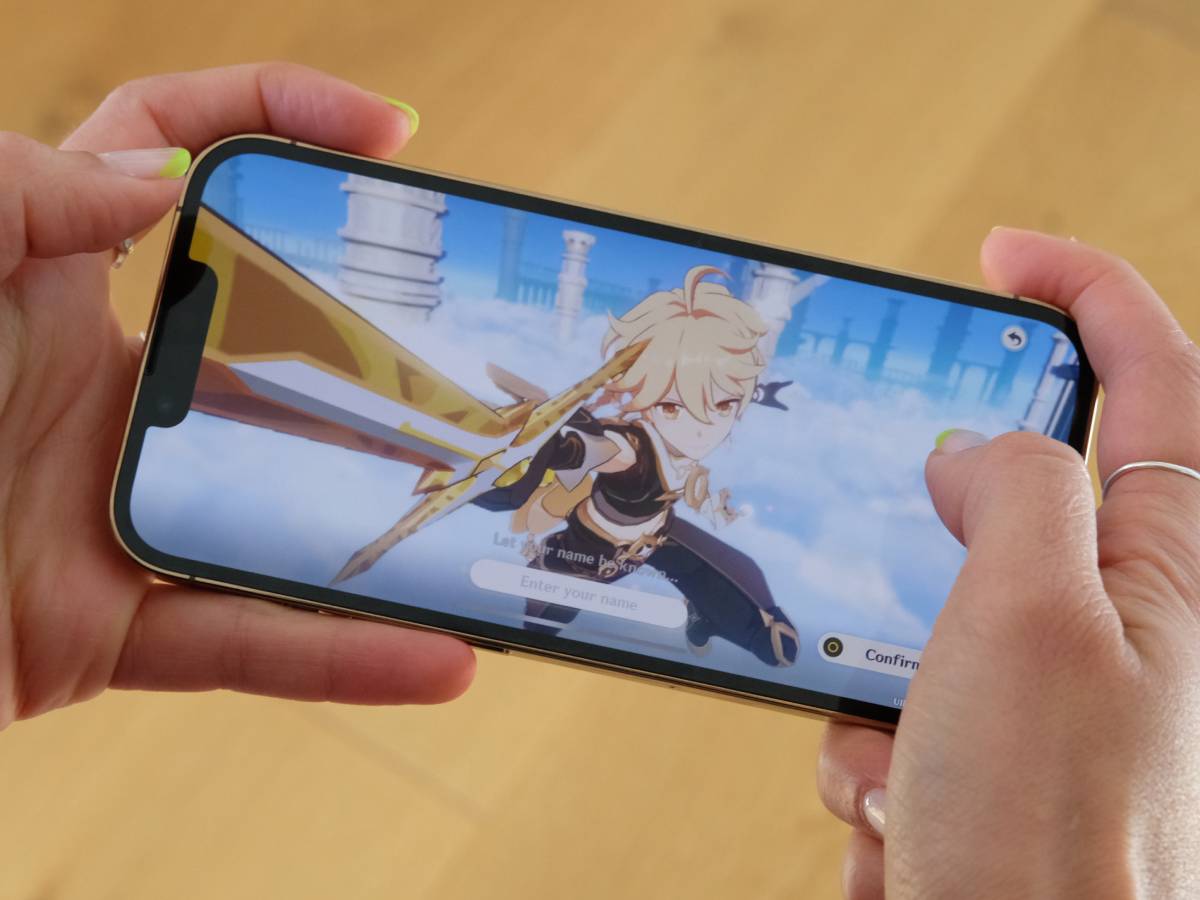 Apple tends not to reveal its battery, but teardowns would strongly suggest that inside the iPhone 13 Pro sits a 3,095mAh battery, substantially larger than its predecessor and still nowhere near its 2-day trooper of a big brother, the iPhone 13 Pro Max.
In reality, if you're a heavy user then the iPhone 12 Pro wouldn't last you 'til bedtime, but the iPhone 13 Pro certainly will. Intense video use really drains the phone with things like Cinematic Mode making a real dent into battery life.
On a working day from home which involved syncing with a smartwatch, playing some tunes via Spotify, checking emails, whatsapping and some news scrolling, the battery is still at a healthy 70% which is a huge upgrade from the iPhone 11 Pro. Apple claims this year's Pro lasts 1.5 hours more than its predecessor, but at this early stage it's hard to make a call.
The A15 Bionic chip is world-beating, offering incredible processing skills which touch a multitude of the iPhones components, from gaming to photography.
A few hours playing Genshin's Impact proves the new chip to be capable of serious heavy lifting delivering smooth graphics with the added ProMotion muscle.
Cinematic Mode for video and all the photography wizardry are all powered by A15 Bionic and it's the gateway to the iPhone's capabilities. Take Lightroom for example, the iPhone 13 Pro dealt with huge files with aplomb and photo editing was speedy and effective. It's no shock that 5G comes as standard which you can now expect from all iPhones from here on.
Camera: Big Bang Peery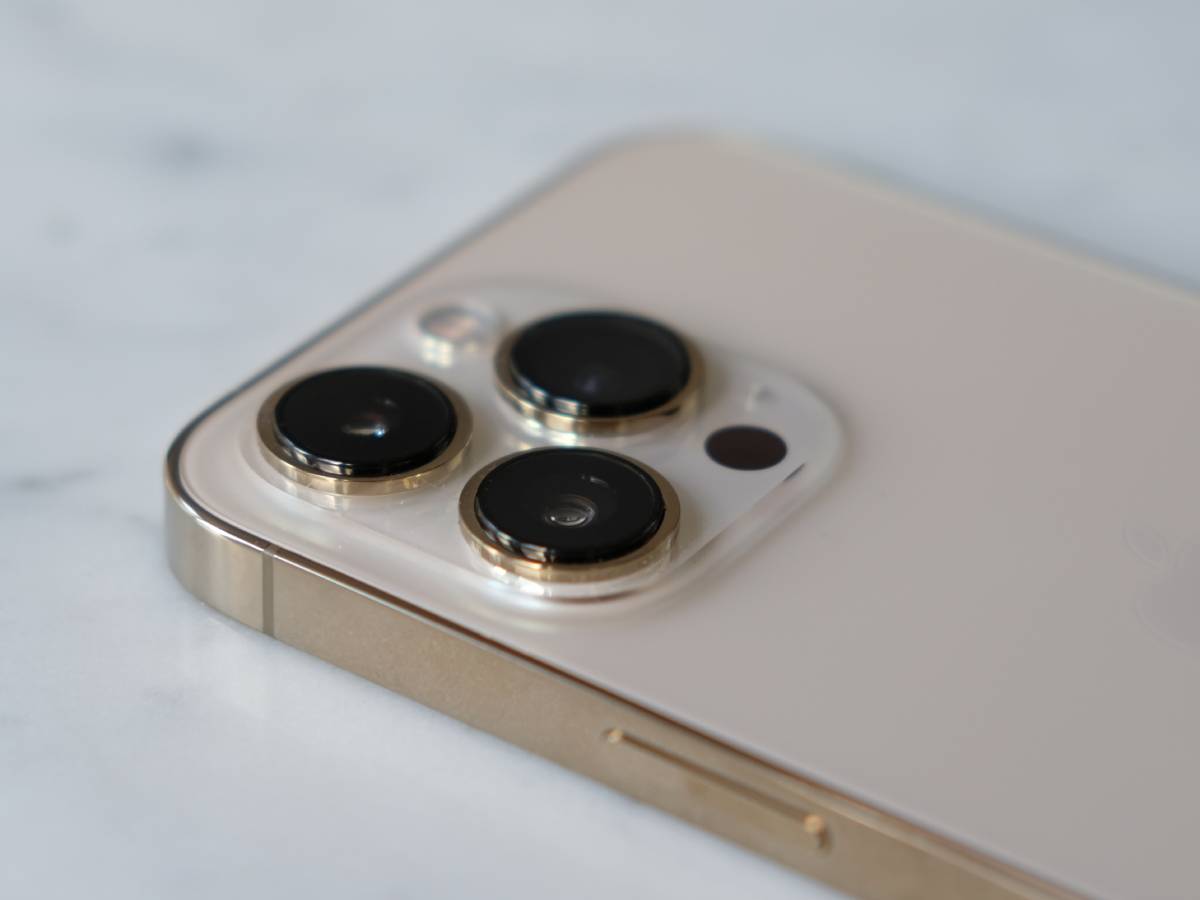 Battery aside, it's the cameras that are the standout feature this year and it's not just software tweakery either. Apple has made some hardware changes, namely making camera aperture wider, to make sure it's ahead of the pack in terms of smartphone photography.
What's more is that the camera set-up is identical to the iPhone 13 Pro Max, so it means you can have the best camera on a phone which you can use one-handed.
The main camera system breaks up into three 12MP cameras: the main camera, the ultra-wide camera and the telephoto lens. Sounds just like the last one? Well not quite. The aperture on the ultra-wide camera jumps from f/2.4 to f/1.8 allowing in more light and making huge improvements to low light photography. The upgraded telephoto camera comes with 3X optical zoom which is a step up from last year and finally, the main sensor has a f/1.5 aperture.
The camera's nighttime photography is the best we've seen and rather than increasing brightness to unrealistic levels, low light shots are handled with much more subtlety and style.
In daylight, the camera is phenomenal, but then so is any other recent high-end iPhone. To further up the ante though, the iPhone 13 Pro is capable of Macro photography which we've seen from Android competitors previously, but it's seriously good here and quite addictive.
Computational photography has been finessed to a fault and image quality is superb. Of course Apple doesn't stop there as there's a new feature called 'Profiles' in the camera app which allows you to apply a filter to the camera, rather than applying one later. Each option, ranging from vibrant, cool, warm, rich contract has a slider so you can ramp it up or slide it down for a more subtle take.
Video is far from neglected and a headline feature this year is Cinematic Mode. In short, this allows you to shoot a scene and then change the focus point while shooting or in post-production. It's incredibly fun to play around with and works with the front facing camera too, whether we'd use this often is doubtful, but the tech is nevertheless impressive. There is one caveat though, Cinematic mode will only work in 1080p at 30fps which will disappoint a few Tarantino wannabees.
More useful though, is the sensor-based stabilisation which proves real gains for iPhone videography and it's even effective in low light. Cinematic Mode in low light raises the same issues as portrait mode, with the occasional blurry edges especially around hair.
Fancy tricks aside, the iPhone 13 Pro camera is quite possibly the best in the business when it comes to smartphone photography.
Apple iPhone 13 Pro verdict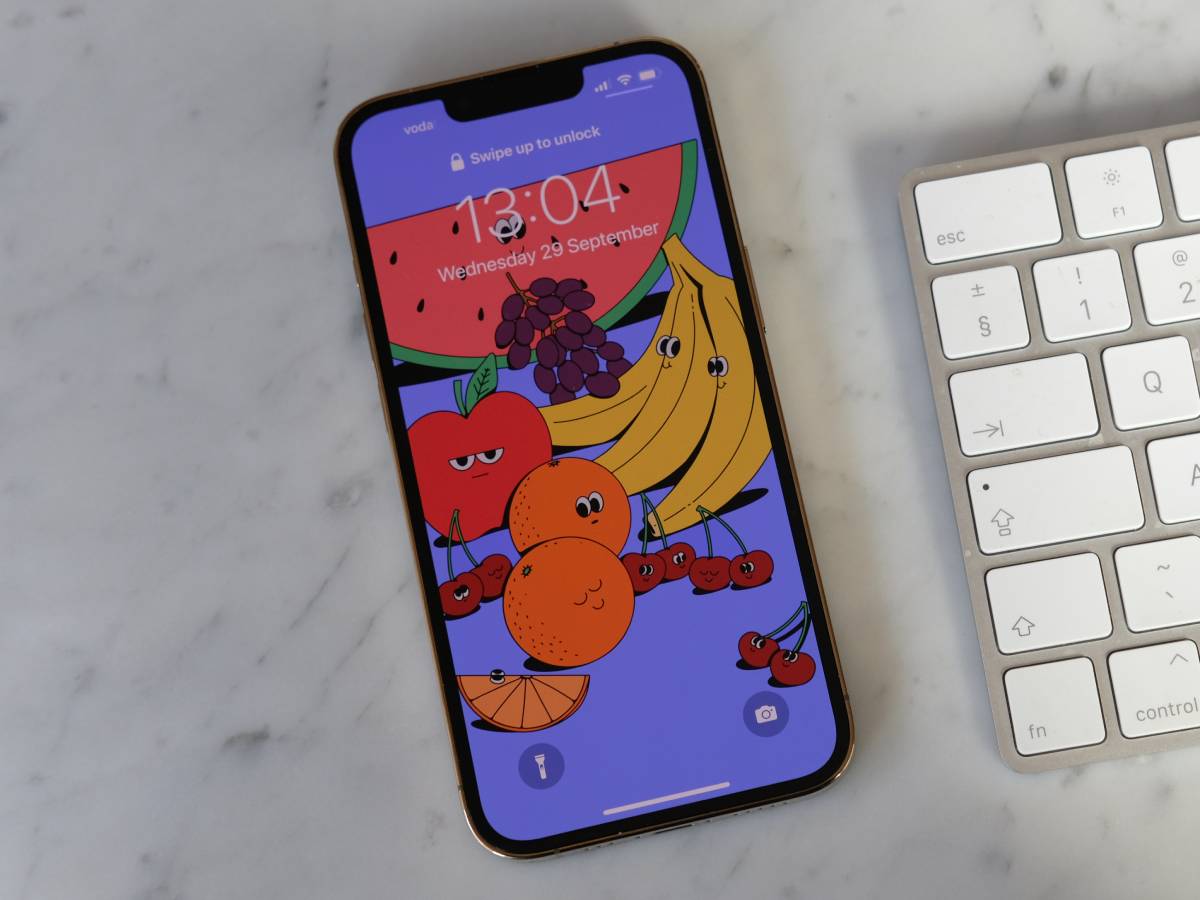 The iPhone 13 Pro is Apple's most accomplished phone this year, with the Bionic 15 chip, 5G, a battery to last at least a full day and the best camera system on any smartphone. So yes, this is our pick from this year's iPhone lineup. Since all phones have a bigger battery and the identical camera can be found on the 13 Pro, it's harder to make a compelling argument from the iPhone 13 Pro Max, unless you're a content creator glued to your iPhone.
However, for £170 less, the iPhone 13 is a compelling alternative which offers an improved battery, the latest Bionic chip, 5G and an incredibly impressive camera powers. What it lacks is that third telephoto lens and the adaptive refresh rate, so it really boils down to your smartphone priorities.
All the advancements you see here are incremental, but when you add them all up, it's not insignificant. Some of the features seem a bit overkill, but a larger battery and boosted camera is exactly the kind of meaningful upgrade users so desperately wanted and now, with the iPhone 13 Pro, get.
Tech specs
| | |
| --- | --- |
| Display | 6.1in 2532×1170 OLED HDR (up to 120Hz refresh rate) |
| Processor | A15 |
| RAM | 6GB |
| Storage | 512GB |
| OS | iOS 15 |
| Cameras | 12MP (wide), 12MP (ultrawide), 12MP (telephoto) & ToF 3D LiDAR rear, 12MP front camera |
| Battery | 3,095mAh (est) |
Stuff Says…
The iPhone 13 Pro is camera extraordinaire and although is late to the party with many features, it does them so well, like Macro photography and adaptive refresh rates. It's the best Apple has to offer in way of 2021 smartphones.
Good Stuff
Superb camera
All day battery