Apple iPhone 13 review
Apple's everyday iPhone gets some decent upgrades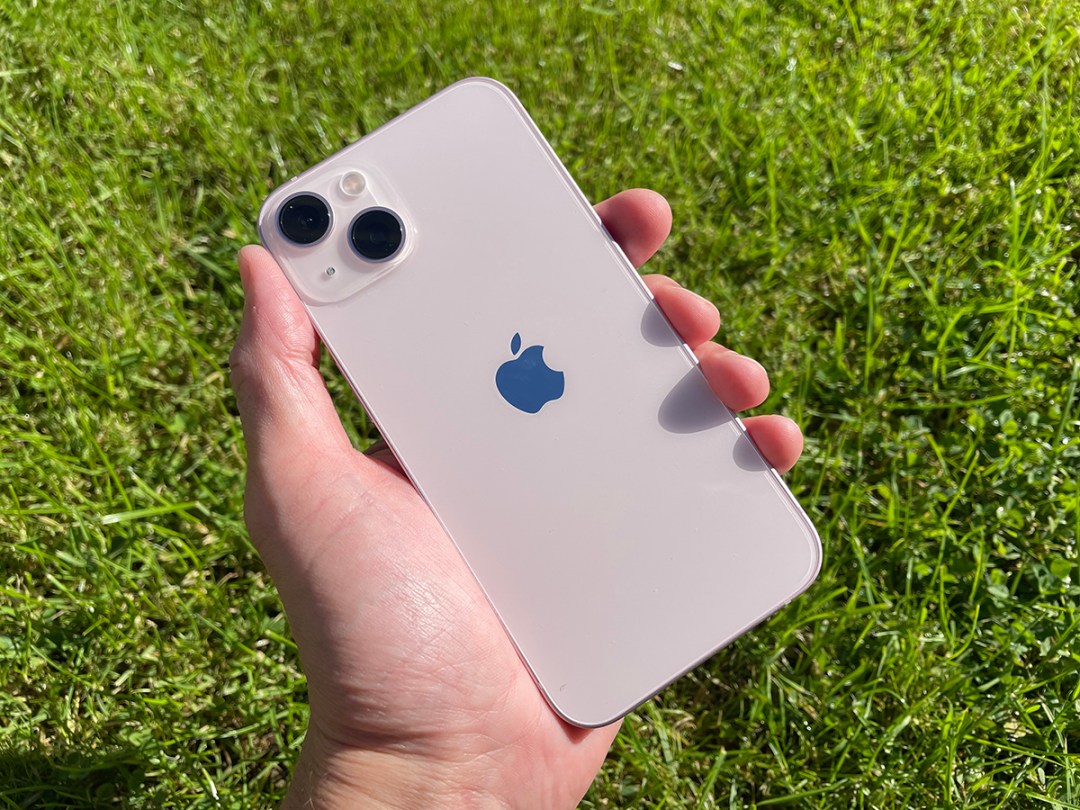 Calling a premium smartphone the 'standard' Apple iPhone 13 seems a bit odd, but that's exactly what this is; the mainstream iPhone from Apple's 2021 range, sitting above the iPhone 13 Mini (which is identical in everything apart from size).
The iPhone 13 has many competitors, of course, but its most stringent rivals are from within; not only is there the Mini, but there's the temptation of the even-more premium iPhone 13 Pro and iPhone 13 Pro Max. Down below, the iPhone 11 and 12 are still hanging around at some competitive prices.
Cameras: A fine improvement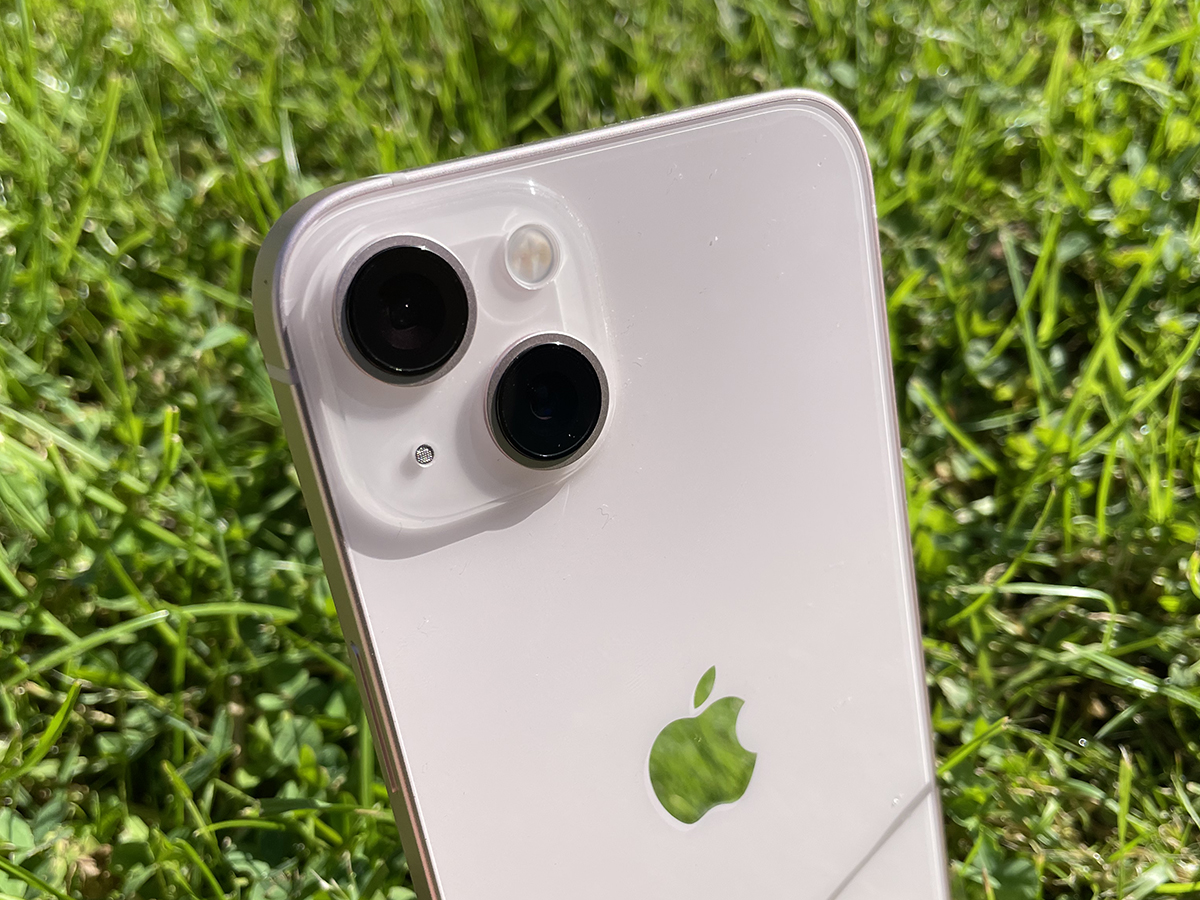 Gone are the days when iPhone reviews opined 'great camera – providing the light is good enough'. Apple really nailed night mode pictures with the iPhone 11 and has improved it subsequently, it seems more able to cope with whatever you throw at it now. The low light shots you can get are simply stunning.
There's no doubt this is a better camera than on last year's iPhone 12, but the difference isn't staggering. The wide lens lets in around 50 percent more light than previously and as such is a decent upgrade. It can have a tiny bit of shutter lag at times, but it's hard to discern when it just happens. The ultrawide lens can take decent shots, too – we found it great for taking low light shots at a concert – but in everyday use it can seem surplus to requirements unless you're taking a landscape.
It's also a shame you don't get the zoom and macro capabilities from the 13 Pro and Pro Max and you really feel it when you're trying to take a shot of something detailed but close. Obviously, that's part of what you pay for with the Pro, but it's the only Pro feature we outright wish was in this phone. This phone has new so-called Photographic Styles – these apply different default image processing to your images and include styles like warm, cool or rich contrast. You can also fine-tune these. Apple is just trying to offer extra features here, but in reality, most probably don't want to shoot like this because you can always add an effect afterwards anyway.
Display and audio: Super bright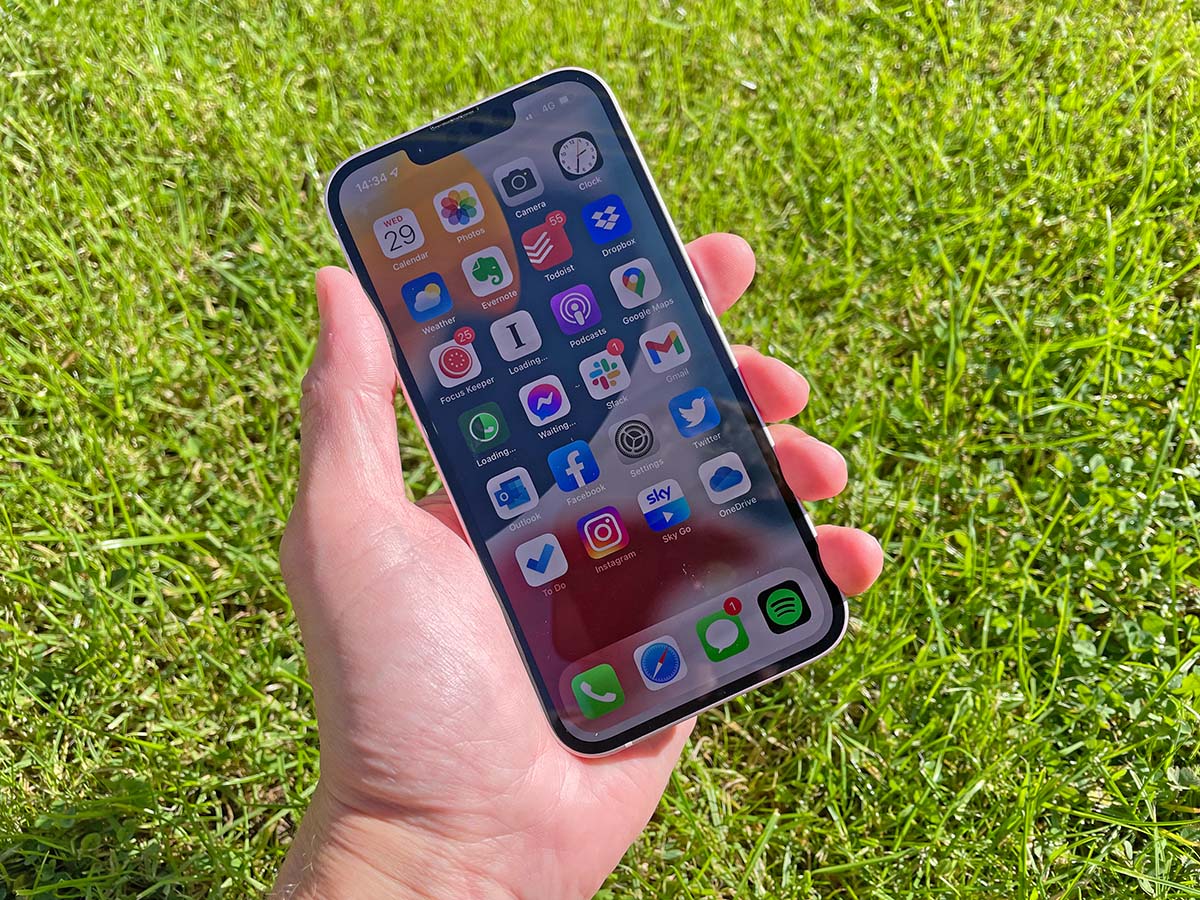 While the display is physically unchanged from the iPhone 12, Apple has made the display brighter than that on last year's model – 800 nits compared to 600 last time out. It's an interesting change when you consider this year's device also has an improved battery life, more on that shortly. Of course, this is useful in sunlight, but usually, you won't have your display anywhere near 100 percent brightness.
Overall, the screen quality is excellent. The colours pop and text is so readable compared to older devices. While the Pro models include variable refresh rate displays for the first time – up to 120Hz – the iPhone 13 retains its 60Hz refresh rate which does seem poor compared to rivals; the Pixel 6 is 90hz, for example. Because of the implications for more efficient battery usage, we'd expect the variable refresh rate feature to drip down to next year's iPhone 14.
In terms of audio, there's no headphone jack as you've come to expect (remember you can connect wired headphones via the Lightning port should you wish). Remember when phone speakers provided tinny, insignificant audio? That isn't the case here. Indeed, it's so good that it's fine for listening to podcasts or audiobooks. Of course it's not ideal for music, but tunes aren't jarring from it.
Performance and battery: A leap ahead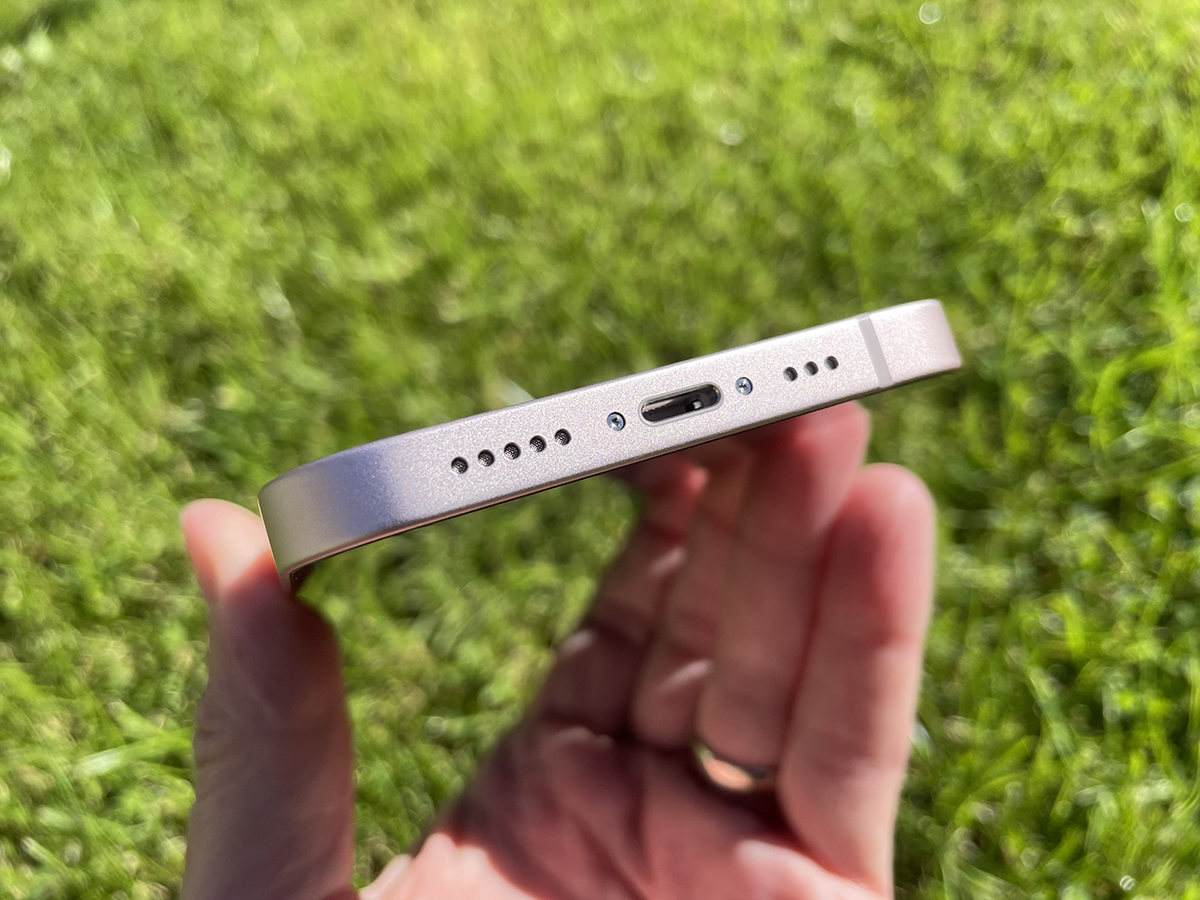 The Apple A15 underpins this year's iPhones – it's a relatively minimal improvement over last year's A14 but it doesn't matter as it'll cope well with anything you want to do. It clearly contributes to a more power frugal system that gives you increased battery life by around 20 percent. From teardowns of the iPhone 13 it seems that the battery is slightly larger (3,227mAh from 2,815mAh) too, which would make sense given the increased brightness. The battery is even bigger than the one in the iPhone 13 Pro.
While last year's iPhone 12 battery rapidly depleted if you were using 5G, this year's model isn't the same at all – remember this is the second generation of iPhone to use 5G and uses Qualcomm's third-generation X60 modem from early 2020, which is super-efficient. If you're using the iPhone 13 all day for work, you'll still find you need to charge. But in a day of normal usage, you'll easily get part way through the next day before you need to plug in or use the wireless charging. Performance isn't quite as sweet on a 5G network where you're smashing through data, but it will get you through the day.
Coincidentally, wireless charging speeds remain the same as for iPhone 12, with 7.5W for normal Qi and 15W for Apple's MagSafe chargers or certified third-party MagSafe chargers. We're hoping for an increase in wireless charging speeds soon, but it isn't this time around.
The entire iPhone 13 range sticks with Lightning over USB-C. The argument for sticking with Lightning is increasingly invalid – especially for the Pro models – and it's bizarre that Apple hasn't fallen in line here considering its willingness to use USB-C on the iPad (and Mac of course). Base storage is up this year to 128GB. That's a really welcome move, with the other options set at 256 and 512GB.
Apple iPhone 13 verdict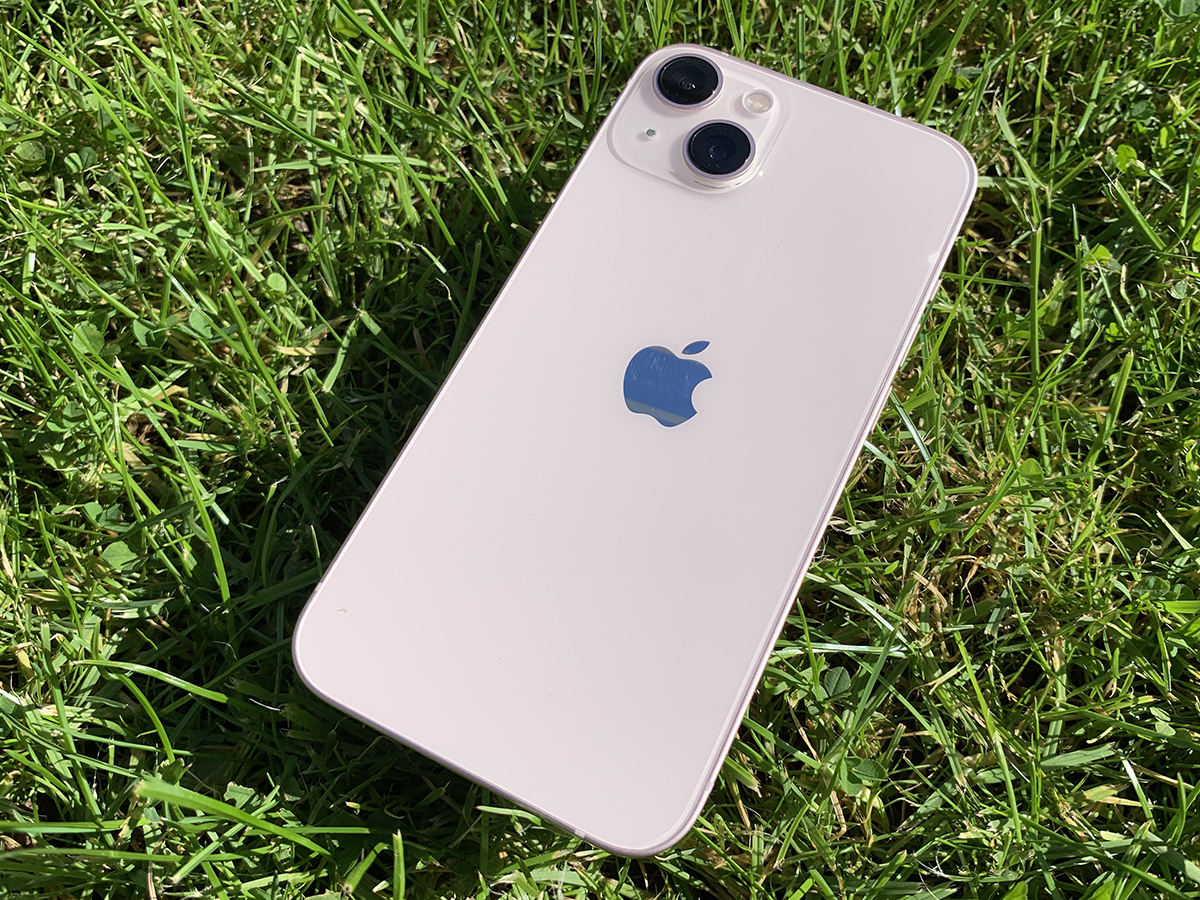 The most desirable iPhone from this year's lineup is the iPhone 13 Pro, but the iPhone 13 offers an incredible amount, the extended battery life being our favourite 2021 feature.
We do wish that the telephoto capability wasn't just available on the Pro, but there has to be differentiation somewhere, of course. If you've got an iPhone 11 or older, you'll really notice the difference if you buy this phone. The step-up is less high from the iPhone 12 and so if you're on a budget, it's a good idea to look at the iPhone 12 as well.
Stuff Says…
This year's key iPhone is no poor relation to the Pro – there's so much to love about it. It's not a revelation after iPhone 12, but it does enough to be a step onward.
Good Stuff
Excellent battery life
Welcome camera improvements
So much power
128GB base storage
Bad Stuff
No macro or telephoto
Lightning rather than USB-C
iPhone 12 offers most of the same for less
Apple iPhone 13 tech specs
| | |
| --- | --- |
| Colours | Starlight/Midnight/Blue/Pink/PRODUCT(RED) |
| Display | 6.1in 2532×1170 OLED at 460ppi |
| Processor | A15 Bionic |
| RAM | 4GB |
| Storage | 128GB/256GB/512GB |
| OS | iOS 15 |
| Cameras | 12MP ƒ/1.6 wide, 12MP ƒ/2.4 ultra wide rear; 12MP ƒ/2.2 front |
| Battery | 3,227 mAh |
| Dimensions | 71.5×146.7×7.65mm |
| Weight | 173g |
| Connectivity | Lightning |