Apple iPhone 12 review
Say no to Pro?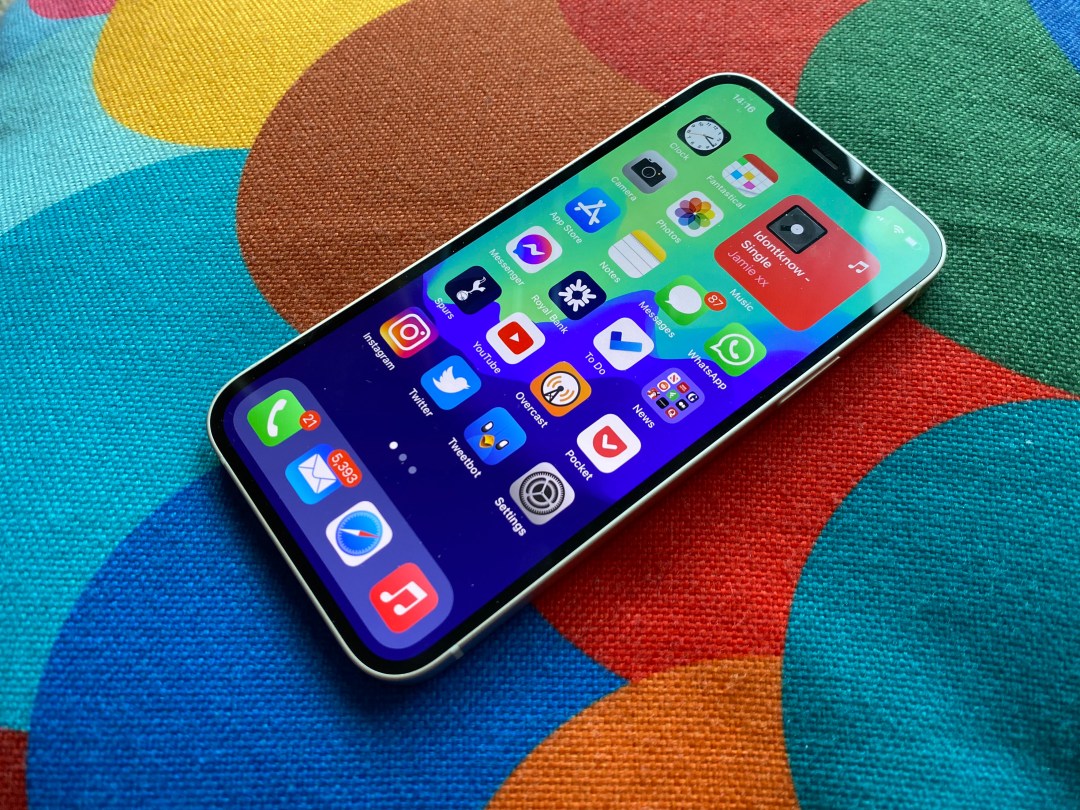 Long gone are the days when a new iPhone launch was a strictly one-device affair, but the four Apple unveiled at its later-than-usual event last month was a new record.
Half of your decision about which one to get is easy. Do you like the idea of the most affordable iPhone that easily fits into the palm of even the smallest of hands, with few compromises? Get an iPhone 12 Mini. Or perhaps you prefer your phones to be pocket-bursting beasts with the very best spec sheet? You'll want an iPhone 12 Pro Max, friend.
But what if you're somewhere in the middle? Well, that's where it gets difficult. You see, this year the gap between the standard iPhone – in this case the iPhone 12 – and the Pro version is smaller than ever. The 12 and 12 Pro have the same display, the same processor, much of the same camera tech and the same 5G future-proofing.
As you'll find out in this review, there are a few differences, but there's no doubting that the non-Pro iPhone 12 is easy to recommend to the vast majority of people.
Design: Back to the future
The iPhone 12's design feels like a bit of a greatest hits album, merging the notched, all-screen front first introduced on the game-changing iPhone X, with flat sides reminiscent of the iconic iPhone 4, as well as the iPad Pro since 2018.
With its shiny white glass back and silver aluminium rails, the iPhone 12 we were given to review is particularly iPhone 4-like, and we really love it. Apple might shift more green, blue and red iPhone 12s in the long run, but there's something pleasingly nostalgic about the white and silver offering that just feels classic. The white is also better for hiding smudges than its colourful counterparts, which is good, as the glass back is a magnet for them.
While some will no doubt prefer the shiny stainless steel band that wraps the Pro, we tend to favour the smooth aluminium on the cheaper model. And eschewing the heavier metal frame means the 12 feels shockingly light (162g) in the hands. It's thinner and smaller than the 11 and is therefore far easier to wield one-handed. For the most part, this is simply a beautiful device, even if it lacks the wow factor of the curved displays you'll find on the flashiest Android flagships.
For the iPhone 12, Apple is also introducing a new kind of protective glass coating that it's calling Ceramic Shield on the phone's front.. The company claims it's tougher than any smartphone glass, with 4x better drop performance, and while we're reluctant to test this claim too vigorously, we've deliberately resisted precious handling of the phone and as yet it remains in good nick. Most people will still opt to put a case on it anyway. Once again you're getting IP68 water and dust resistance, so rest assured that your new £799 smartphone is about as durable as you could reasonably hope for.
It's not all good though; the raised camera bump on the back is still a bit of an eyesore, and worse, causes the phone to rattle on a hard surface if you're using it caseless. And Apple continues to ignore cries to follow the iPad Pro's lead and put USB-C charging on the iPhone. We're stuck with Lightning, and now MagSafe (for more on the new magnetic charging solution see the iPhone 12 Pro review) has been resurrected, if anything the future of iPhone looks portless entirely.
You'll notice when you unbox your new iPhone 12 that it no longer comes with EarPods or a charging plug, with Apple ditching both as part of its ongoing environment-saving quest. Problem is, you get a Lightning to USB-C cable in the box, and until recently iPhones shipped with a USB-A lead. So if you don't have the correct USB-C plug handy you'll need to buy one from Apple or elsewhere. We spot a flaw in the logic.
And Face ID remains the only way to unlock your phone without entering a passcode. It's still blazingly fast and reliable when your whole mush is on show, but in the age of coronavirus, it presents a problem. Face ID can't see through masks, so when you're out and about you either have to remove the one you're wearing (not always legal) or go back to entering a code to use your phone. It's incredibly frustrating, and we struggle to see why Apple couldn't have built a fingerprint sensor into the power button, as it did with the new iPad Air.
Display: OLED it be
Size-wise, the iPhone 12's 6.1in display is the same as that of last year's 11. Everything else-wise, it's a seismic upgrade.
As this writer previously ranted about, the otherwise great iPhone 11 was majorly let down by its less-than-1080p LCD panel, which was simply inferior to what you'd be looking at on almost any non-Apple blower in the same price bracket.
This year, Apple has finally put an OLED (or Super Retina XDR, as it insists on calling it) display on the standard iPhone, and boy does it make a difference. Now you're getting the inky blacks, rich colours and far better contrast that we've become accustomed to since the iPhone X. And its 2532 x 1170 at 460ppi resolution is an equally enormous improvement over the 11. Whether you're browsing, watching movies or playing games, it's a real beauty in motion.
HDR is also now on all the new iPhones, which pushes max brightness up to 1200 nits. 625 nits in normal use is less than the Pro, but we didn't find ourselves needing more brightness than was available during testing, and apart from that the 12 and the 12 Pro's displays are identical. This is hugely significant.
You might well point out that a lot of Apple's rivals are now releasing phones with 90Hz and 120Hz refresh rates, and certainly the smoother scrolling makes a noticeable difference on the iPad Pro. But the lack of a high refresh rate display is perhaps more of a criticism of the 12 Pro than the 12, especially the as-yet unreleased 12 Pro Max, which at that price really should be at the cutting edge of tech.
Performance and battery life: beast mode
For all that the iPhone 11 was lagging behind in the display department, under the hood it was rocking the then most powerful mobile chipset in the world, and it's no different here. The iPhone 12 has the same A14 Bionic chip as the Pro phones and the latest iPad Air, and we probably don't need to tell you that it's almost comically fast.
Whether you're shooting HDR video or playing graphically intensive games like Genshin Impact, it's very hard to slow this thing down, and while the 12 Pro is thought to have a couple of extra gigabytes of RAM, the 12's 4GB will still allow for rapid multitasking and hopping merrily between a number of memory-gobbling apps.
Looking at the Geekbench tests, the iPhone 12 is pushing 1593 on the single-core and 3859 multi-core. Put simply, these benchmarks politely annihilate anything you'll find on an Android alternative, and if you buy an iPhone 12 you're going to be very happy with how it runs.
As for 5G, which Apple very enthusiastically pushed as the headline feature of these new iPhones, you should know that coverage is still nowhere near as widespread as it needs to be to make it worth buying this phone for alone. Still, the iPhone 12 does have more 5G bands than many of its rivals, meaning that when there is signal available, you should be able to utilise it both at home and overseas. That includes the really superfast mmWave spectrum currently limited to a handful of US cities. For more on the day-to-day benefits of a 5G speed boost, head to our iPhone 12 Pro review.
Although the iPhone 12 intelligently knows only to employ 5G when it's really needed, it's inevitably going to be a battery hog when called on a lot. Otherwise, you can expect a broadly similar battery performance to the iPhone 11. While the 12 actually has a slightly smaller 2815mAh cell, the A14's improved efficiency should in theory mean that it lasts at least as long, if not slightly longer than its forerunner.
It all depends, obviously, on how you use it, but most of the time we comfortably managed a day of fairly heavy use from the 12, and a few times went into a second day with 20% of juice still in the tank. If you're planning to game a lot and burn through your Netflix watchlist, you're going to be charging more often.
Software: widget look at that
If you're new to iOS14 – the latest version of Apple's mobile OS has been available to download on most current iOS devices since September – you might be surprised at just how much things have changed.
With it now being possible to have multiple live widgets on your home screen and move apps you don't use very often to an app dra..library, this is the most Android-y iOS has ever been, and on the whole it's very good.
A growing number of apps now offer widgets, and you can customise their size and placement on the screen. Smart Stacks allow you to place a number of widgets in a stack and have the phone choose which one to display based on how you use it throughout the day.
If you prefer to keep more apps on the home screen , the same widgets are also available in Today View, accessible by swiping right from the edge of the display. It's definitely not as open as Android, but it's great to see Apple move away from its insistence on uniformity. If you've got the time, you can even completely redesign widgets and app icons for a truly personal experience.
The App Library, as Apple calls its new app storage solution, is also a good addition to iOS. Appearing on the last page of your iOS home screen setup (just keep swiping left), it automatically groups apps into categories, with suggested and recently added apps getting their own boxes at the top. Tapping the four small app icons on each one will open a list of all the apps in that category.
You can remove an app from your home screen and send it to the App Library by long pressing its icon, and entire pages can be packed away by entering "jiggle mode" and tapping the dots at the bottom of the screen. You're able to automatically have any new app sent to the App Library, rather than the home screen, by selecting it as an option in settings.
iOS chooses the categories each app should belong to and you can't change the groupings, but most of the time you'll find an app in the place you expect it to appear. And searching for a specific app is as easy as swiping down on the home screen anyway.
There are plenty of other worthy additions to iOS 14, like picture in picture, incoming call notifications that no longer take up the whole screen, pinned contacts in iMessage, smarter Siri and a pretty impressive new Translate app. Our underrated highlight, though? If you have a pair of AirPods they'll now automatically switch between your iPhone and iPad without you needing to do it manually in settings. A godsend.
Camera: two is a (not quite as) magic number
Like the iPhone 11 before it, the 12 has a dual-camera setup, consisting once again of a 12MP wide-angle main snapper and a 12MP ultra-wide lens. The regular wide-angle cam has an upgraded f/1.6 aperture for better low-light performance and Apple's first 7-element lens, but from a hardware point of view it's a very similar setup as before.
For the more significant improvements, you'll want to look to the phone's bag of computational photography tricks. The excellent Night mode, which as if by magic can simultaneously brighten and retain detail (provided you have a steady hand) in photos taken in extremely dark environments, now works on both rear cameras and the front selfie cam, so you'll actually want to use the ultra-wide snapper at night. The mode also now works with time-lapses, which is fun.
We did tend to get noticeably better Night mode results when using the main camera, with the ultra-wide shots often coming out looking a bit noisier. Still, the option to capture 4x more in your frame and still benefit from the low-light wizardry going on in the background is a definite step up from the 11, and updated lens correction on the ultra-wide does seem to produce slightly more realistic-looking shots.
Also notable is Smart HDR 3, which uses machine learning to better understand and tweak scenes on the fly, resulting in a more effective merging of sky and land in landscape snaps, and more foreground detail in complex lighting.
Like its predecessor, the iPhone 12 is capable of taking some truly excellent photos, especially when fed with lots of light. Colours are vibrant and you can capture a huge amount of detail before you even hit the editing suite, while the simplicity of the camera app as a whole continues to make the iPhone a mobile photographer's dream.
On the video side, Apple is making a big deal of the iPhone 12 line being the first cameras in the world to record in Dolby Vision HDR (front and rear), with the resultant, more colour-rich footage then viewable on the HDR display or any compatible device via AirPlay. It's definitely a nice-to-have, but won't be a reason for the average consumer to upgrade. And on the iPhone 12, Dolby Vision video is capped at 4K 30fps, so for the smoothest video you'll need a Pro.
The bigger reason to go for Apple's more premium iPhone is its third camera. Like the 11, the 12 lacks the telephoto lens, and fun though the ultra-wide undoubtedly is, we'd sooner have optical zoom at our disposal.
Apple iPhone 12 verdict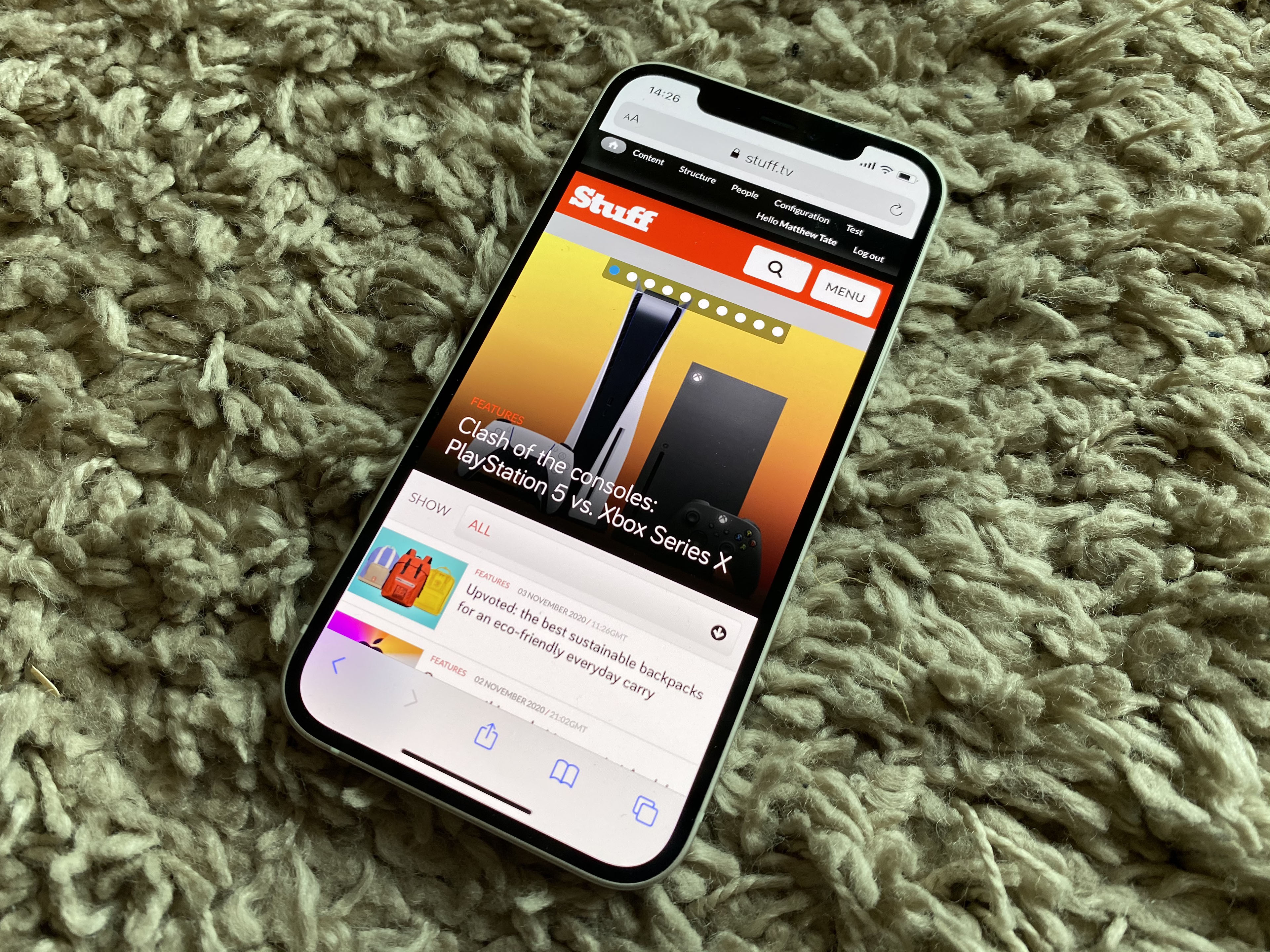 We were big fans of last year's iPhone 11, and huge improvements made to the design and display mean that its successor gets an equally emphatic thumbs-up.
In fact, we'd go as far as to say that if you think you can live without the telephoto camera (and most people probably can), you should save yourself the £150-£200 (depending on which configuration you go for) and get the 12 ahead of the Pro. In so many ways it's exactly the same phone, and is just as 5G-ready, though don't let that be the reason you upgrade.
Big or small phone lovers should hold on for verdicts on the two iPhones still to come this year, but for everyone else, the iPhone 12 is one of Apple's very best to date.
Tech specs
| | |
| --- | --- |
| Display | 6.1in 2532×1170 OLED HDR |
| Processor | A14 Bionic |
| RAM | 4GB (est) |
| Storage | 64GB – 256GB |
| OS | iOS 14 |
| Cameras | 12MP f/1.6 wide, 12MP f/2,4 ultra-wide, 12MP f/2.2 front |
| Battery | 2815mAh (est) |
| Dimensions | 147x72x7mm |
| Weight | 162g |
Stuff Says…
Better design, a better display and all the power you'll ever need make the iPhone 12 a marked improvement over the already great 11 – but don't buy it for 5G
Good Stuff
Stunning to look at and impressively light in the hand
Finally an OLED display for the non-Pro iPhone
5G future-proofed
Brilliant, versatile camera system
Bad Stuff
We'd rather have a telephoto than the ultra-wide
5G may be here, but most people won't find much of it yet
Battery life decent rather than brilliant