Apple Watch Ultra review: let's go outside
The Apple Watch Ultra built for adventure and endurance - how does it get on in the hands of our ultra-marathon runner?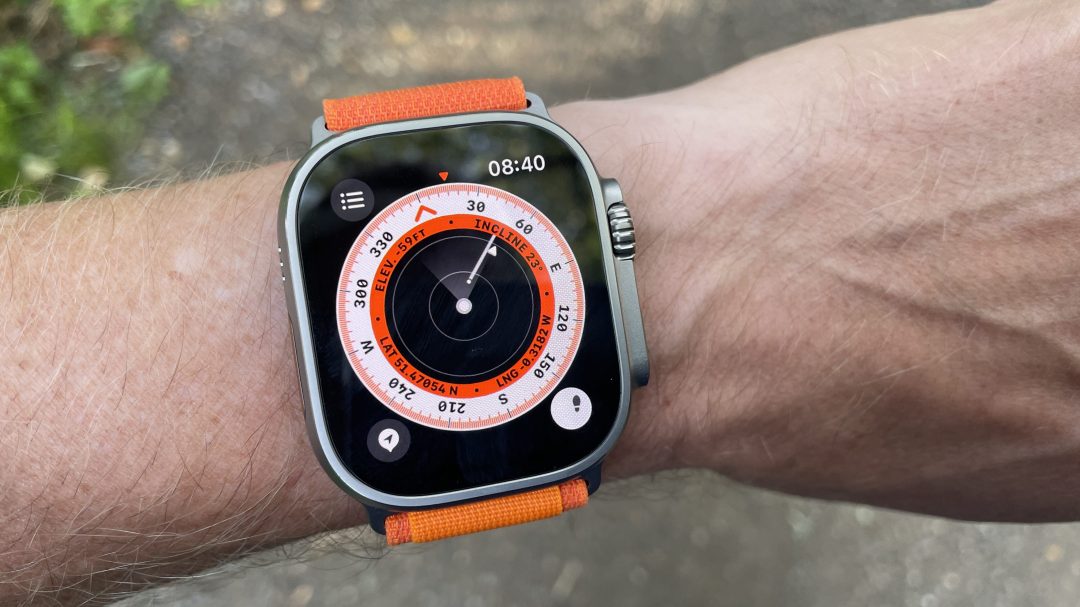 With a bigger 36-hour battery life, a new rugged design and some beefed up outdoor smarts for runners, hikers, divers and climbers, the Apple Watch Ultra is the first Apple smartwatch built with adventure and endurance in mind. Previous Apple Watches may have dipped a toe in Garmin's waters but the Ultra has its wetsuit on and has dived straight in.
But can it compete with the best outdoor GPS watches? Stuff has comprehensively tested the Apple Watch Ultra to find out. We'll also add more in-depth analysis to this review once we've done more testing.
The original version of this review was published on 21 September 2022
Competitors and value
The best Apple Watch for battery life and durability, the new Apple Watch Ultra offers everything on the latest Apple Watch Series 8 and from watch OS 9. The same S8 64-bit dual-core processor, the same suite of sensors including blood oxygen and ECG capabilities, an always-on altimeter, compass, high g accelerometer and gyroscope.
Plus temperature sensing for female cycle tracking, sleep stage tracking, Afib heart history, fall detection and access to Apple Fitness+. All the features too, you won't find anything on the Series 8 that's not on the Apple Watch Ultra.
Read more: Apple Watch Ultra vs Apple Series 8
The pricier Ultra comes with added extras. Including double the general usage battery life, a bigger, brighter 2,000 nits display and tougher durability standards including 100m water protection compared to the Series 8's 50m.
The other major difference is design. The Watch Ultra is not only armoured up for the outdoors, it also packs a bigger glove-friendly digital crown, new customisable action button and dual-frequency GPS.  
You'll pay a premium, though. The Apple Watch Ultra is almost an entire Watch SE pricier than the Series 8 and outside of Apple's stable, only the range-topping solar-skilled Garmin Fenix Sapphire Solar and the new Garmin Enduro 2 cost more than the Ultra.
Read more: Apple Watch Ultra vs Garmin Fenix 7: which rugged wearable is best?
And if battery life is your priority, those two Garmins pack endurance that dwarfs the Apple Watch Ultra – 150 hours on the Enduro 2 and up to 122 hours on the Fenix 7. Though it's no secret that the Apple Watch smartwatch skills easily surpass Garmin's somewhat limited offering.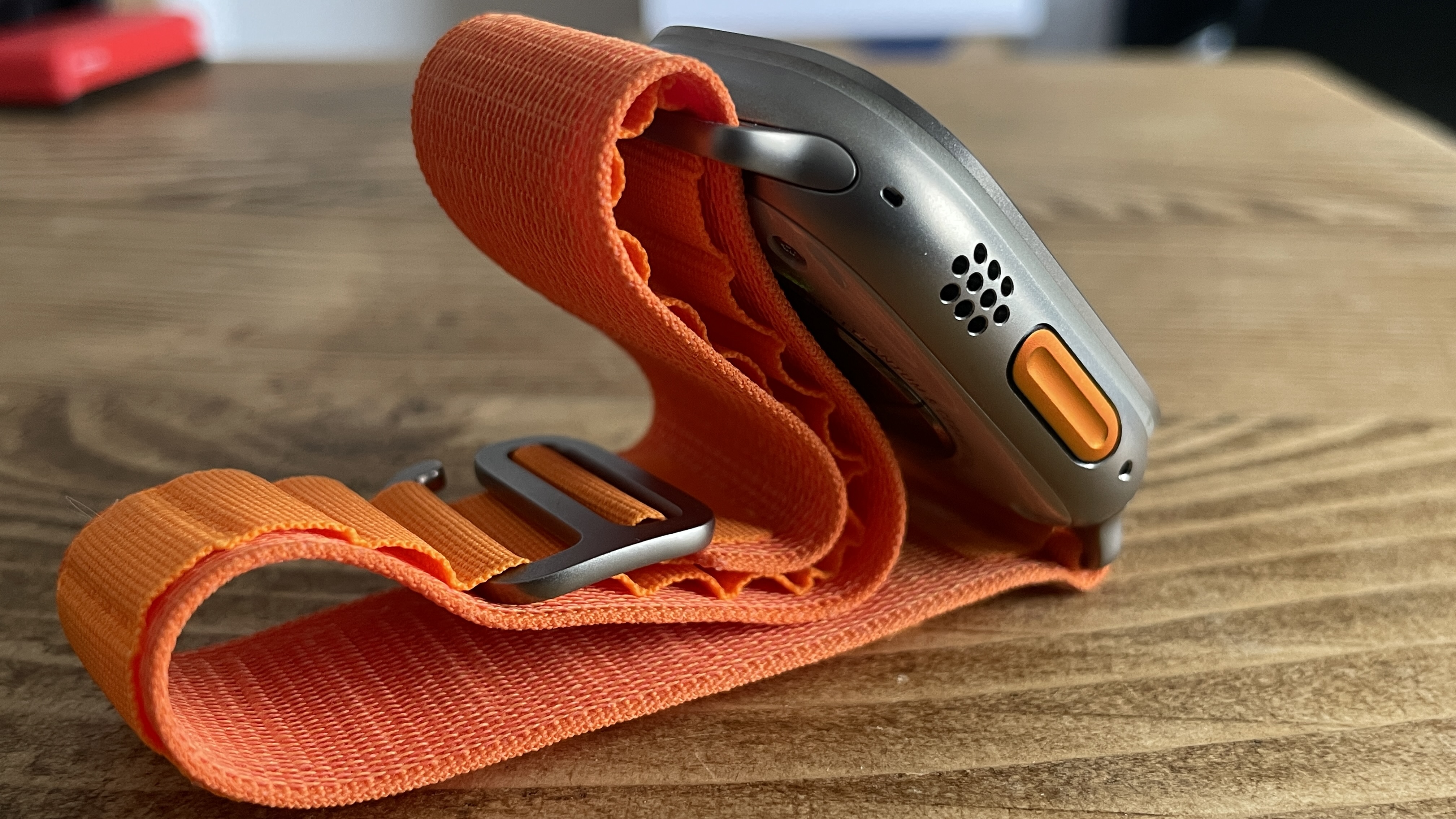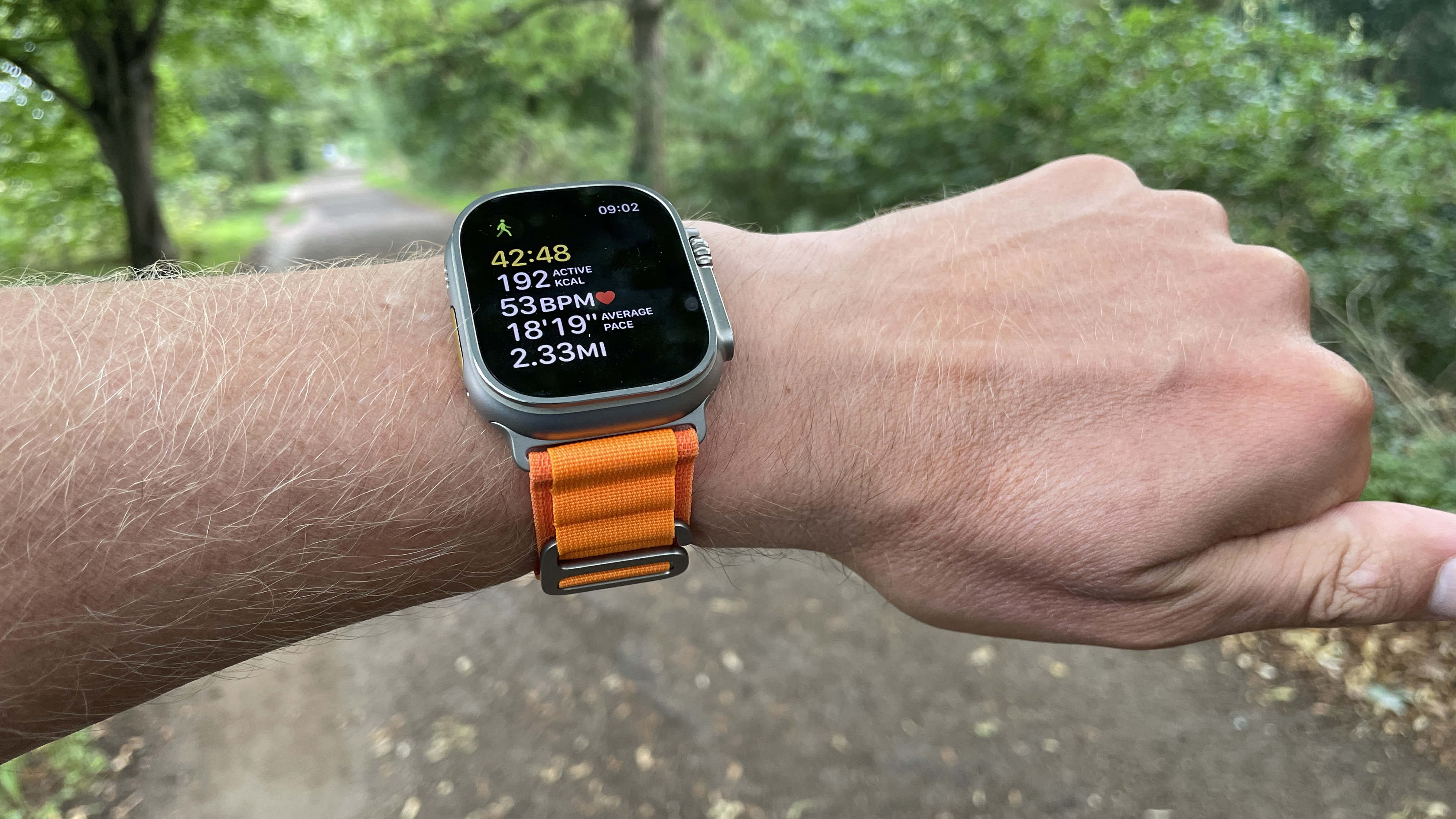 Apple Watch Ultra features
Much of what's new and standout about the Apple Watch Ultra is in the design and hardware rather than the features.
Apple's biggest and brightest Always-on crystal Retina display is twice as bright with 2,000 nits to the Watch Series 8's 1,000 nits. That larger 49mm aerospace-grade titanium case also rises up to surround and protect it from the kind of bumps, knocks and edge impacts you're likely to get in the wild.
The digital crown is bigger than the Series 8 and features more pronounced grooves to make it easier to use with gloves. A titanium guard around the crown also helps prevent any accidental crown nudges.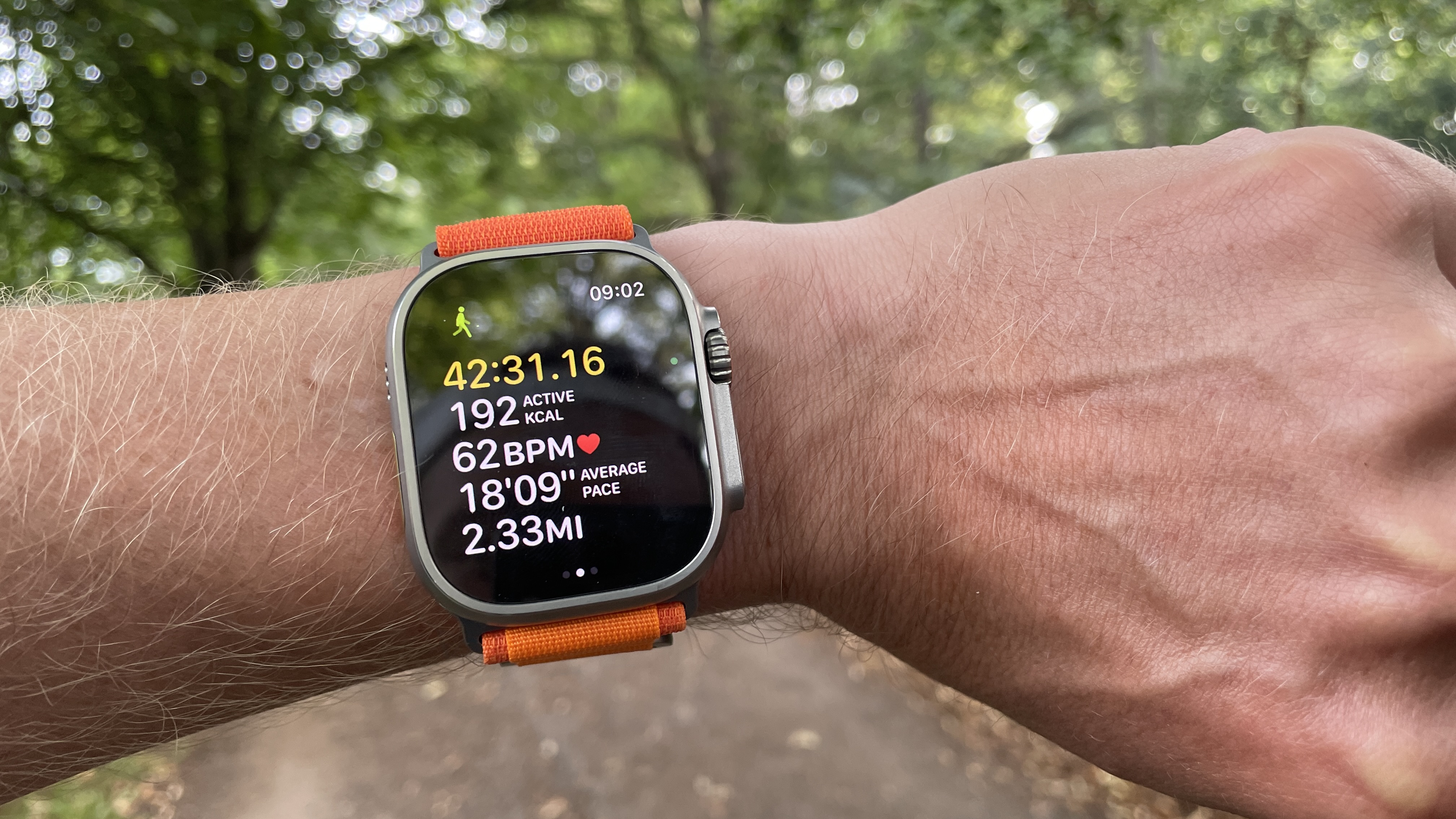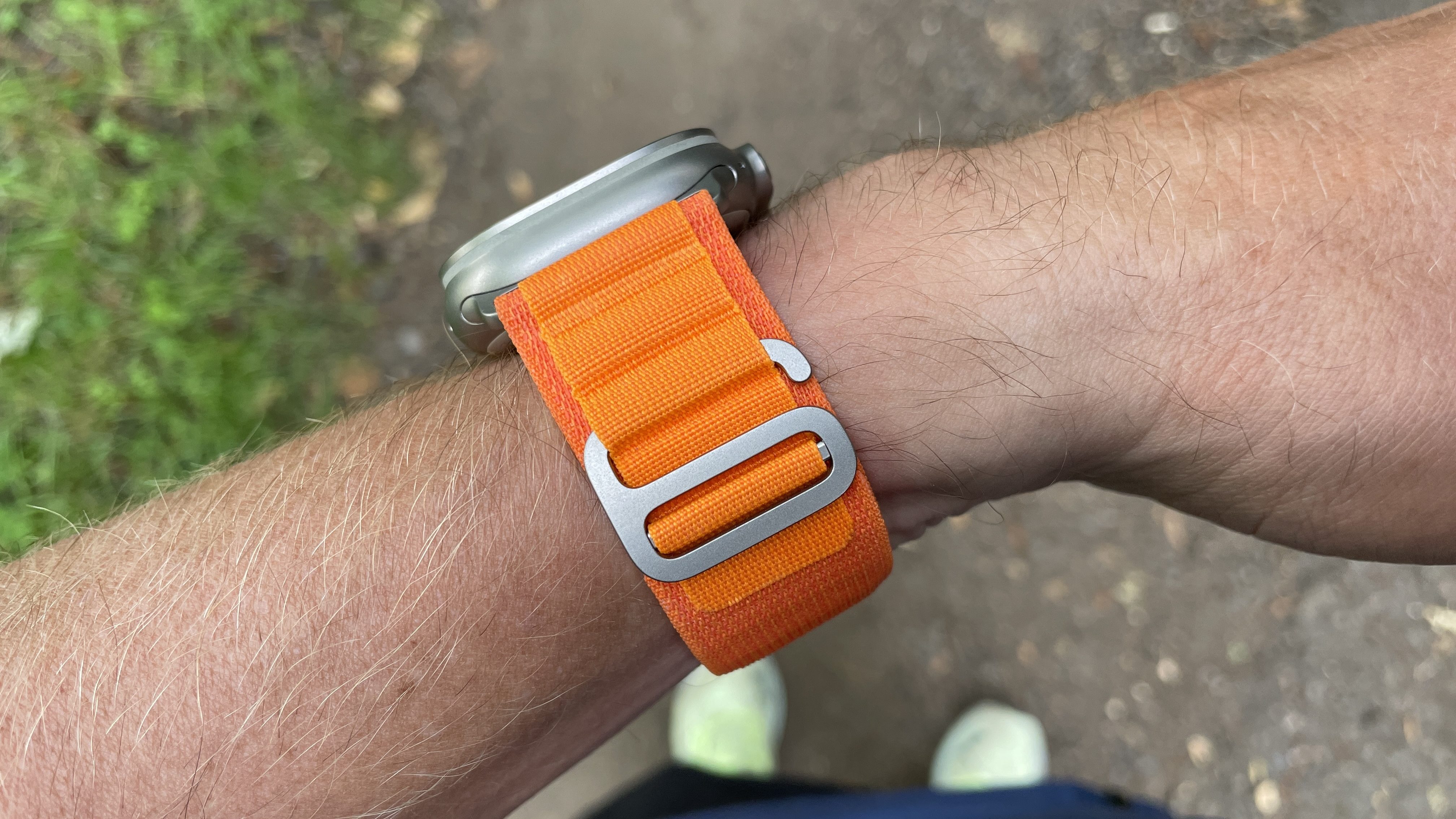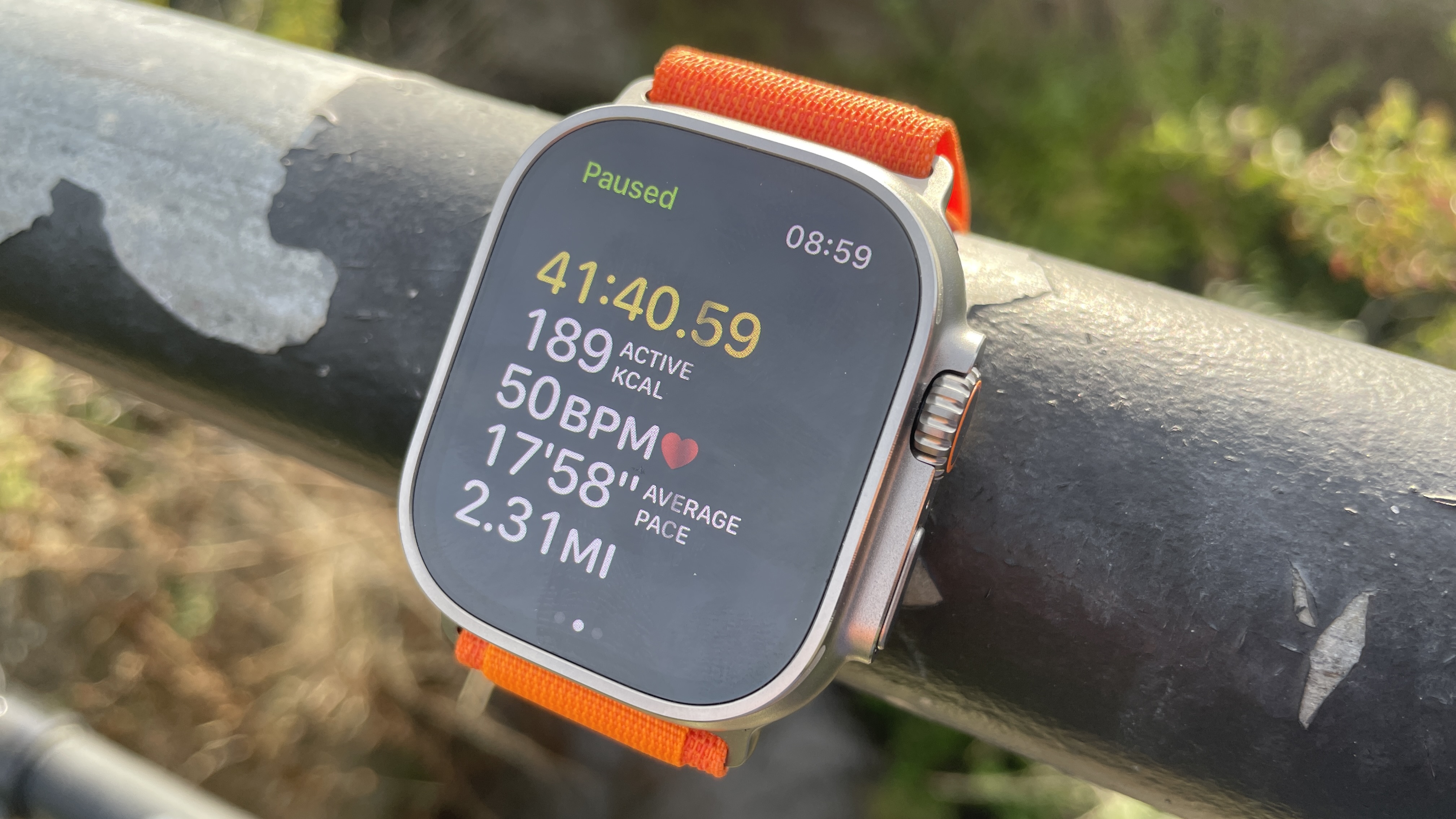 Another design tweak is a new Action Button that lets you create quick action shortcuts, like launching straight into a workout or taking a lap split while running or cycling.
Runners in the US get a special automatic track detection mode. A bit like those we've seen on Coros and Garmin, but this one recognises when you arrive at a running track and locks your lane for better accuracy. Though it's US only folks.
All runners get a larger suite of form metrics via Watch OS 9, including running power, vertical oscillation, stride length and ground contact time and there's more room on the Ultra's larger screen to display up to six customisable stats per swipe.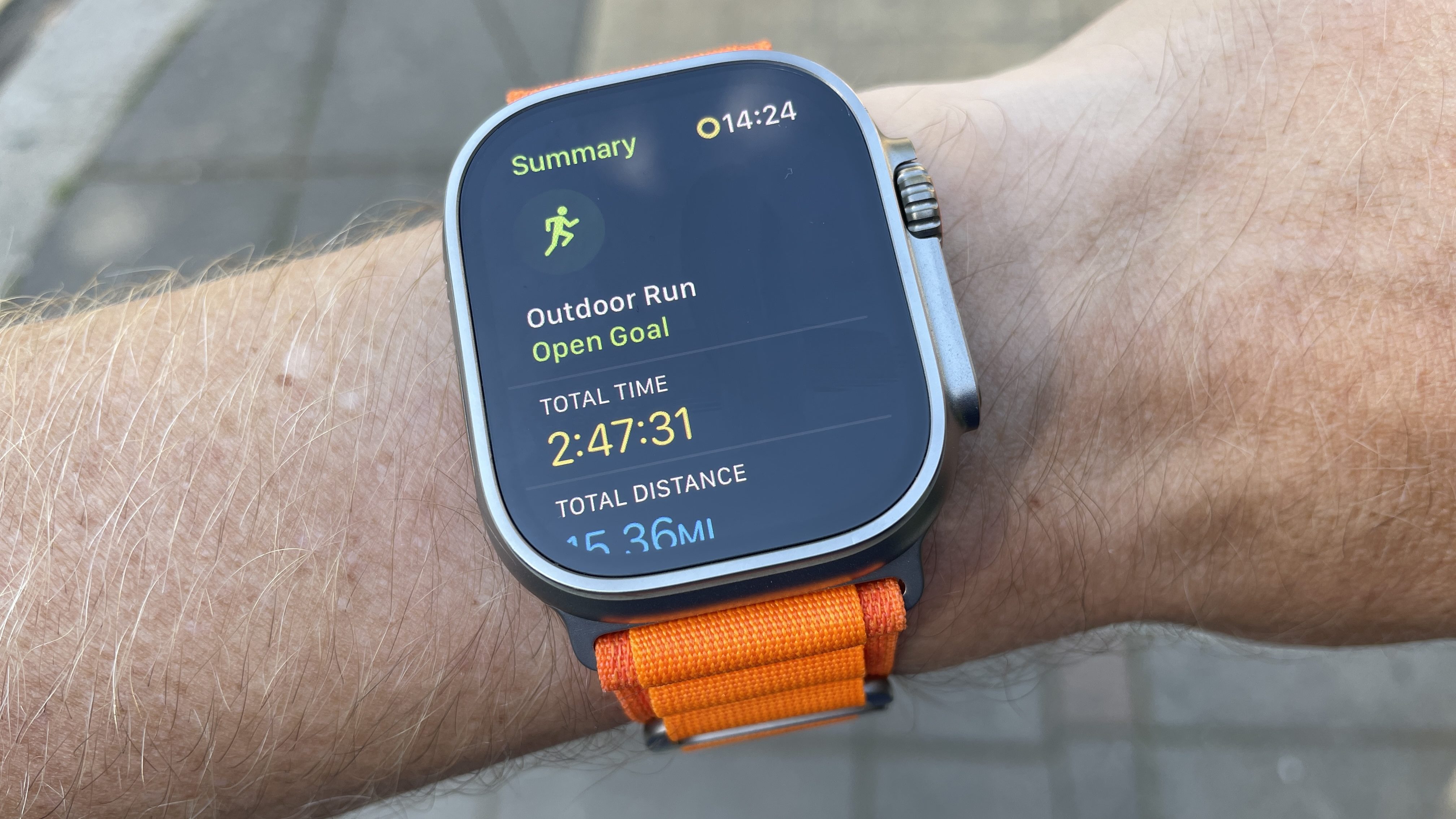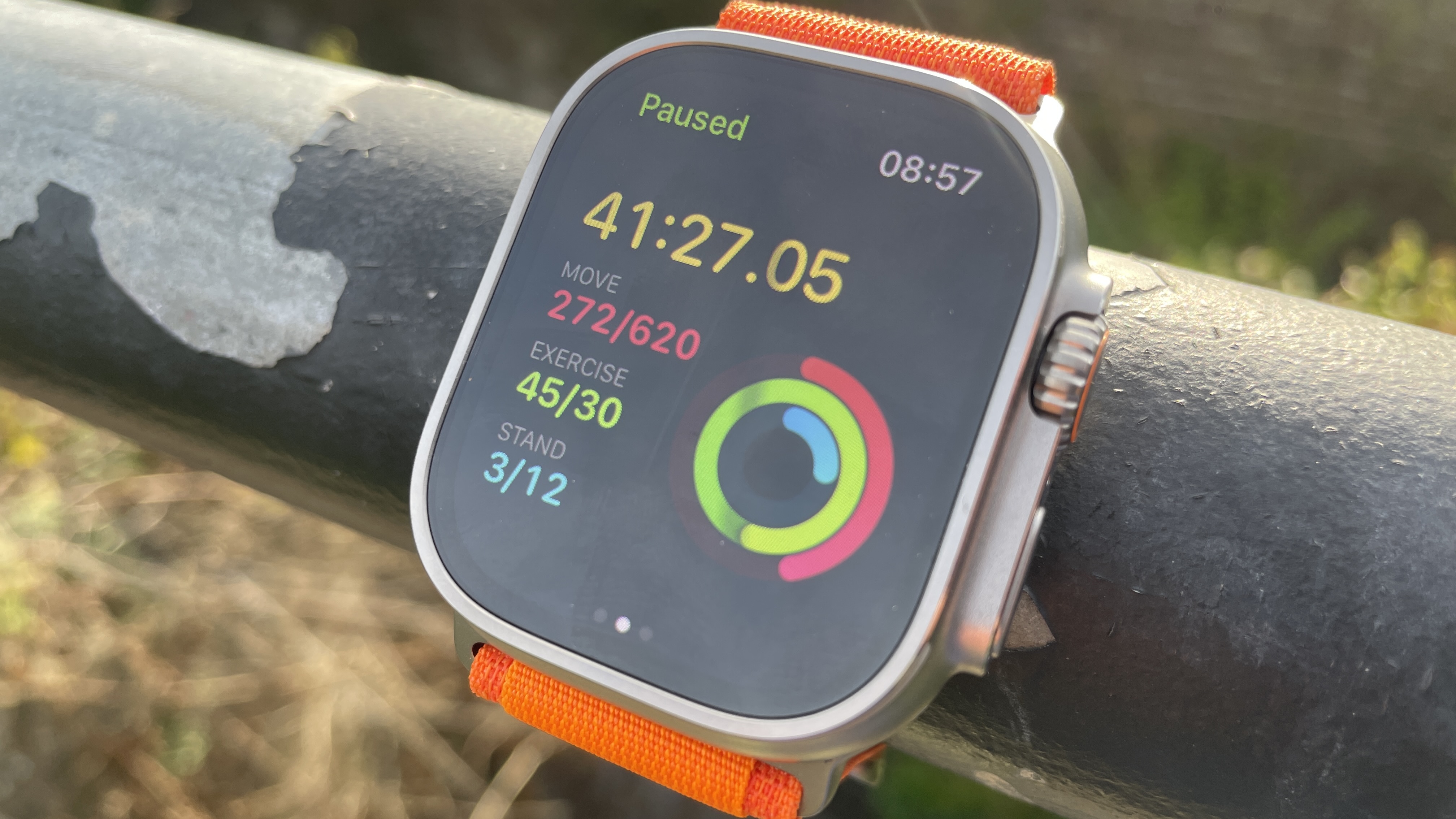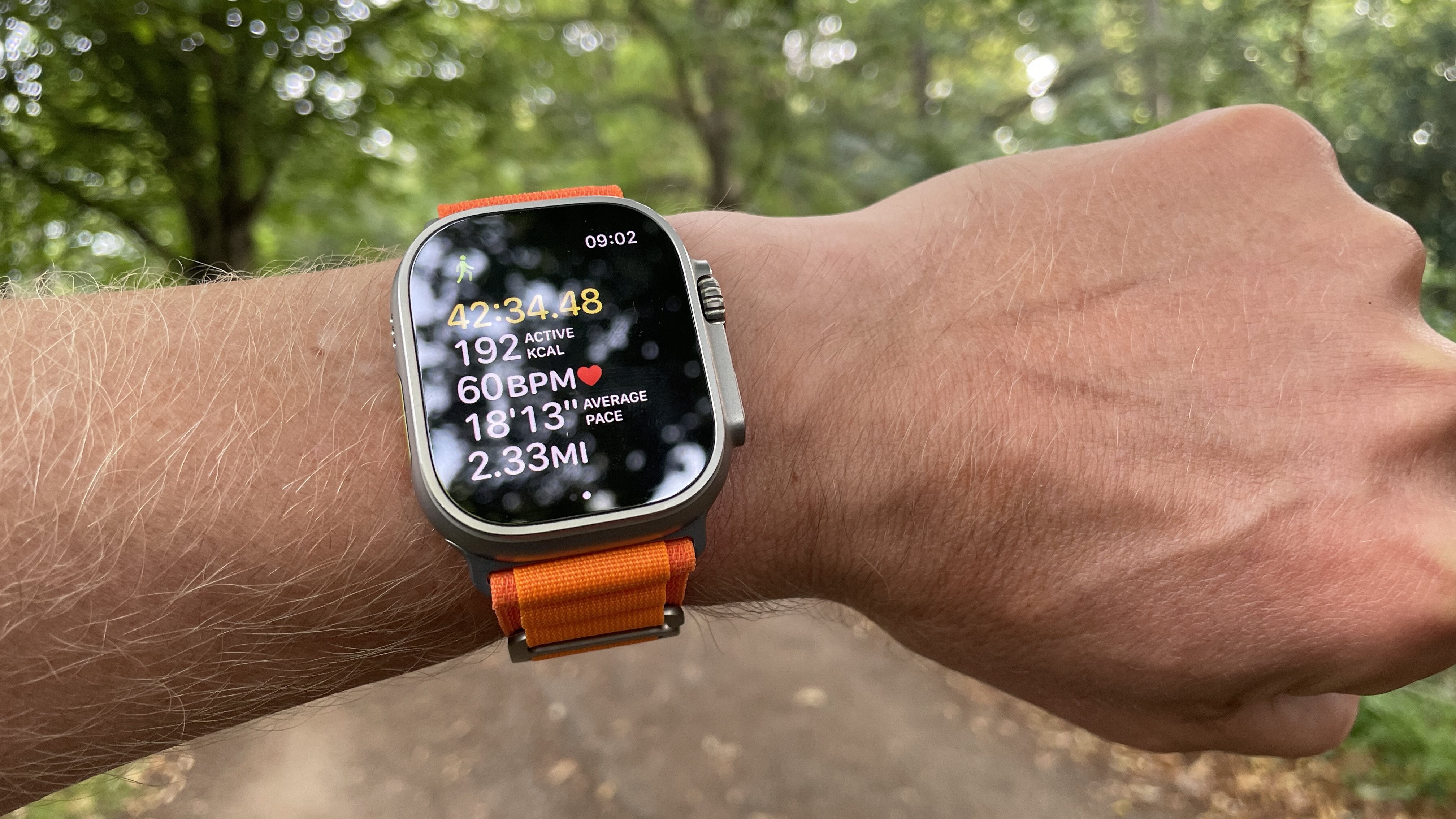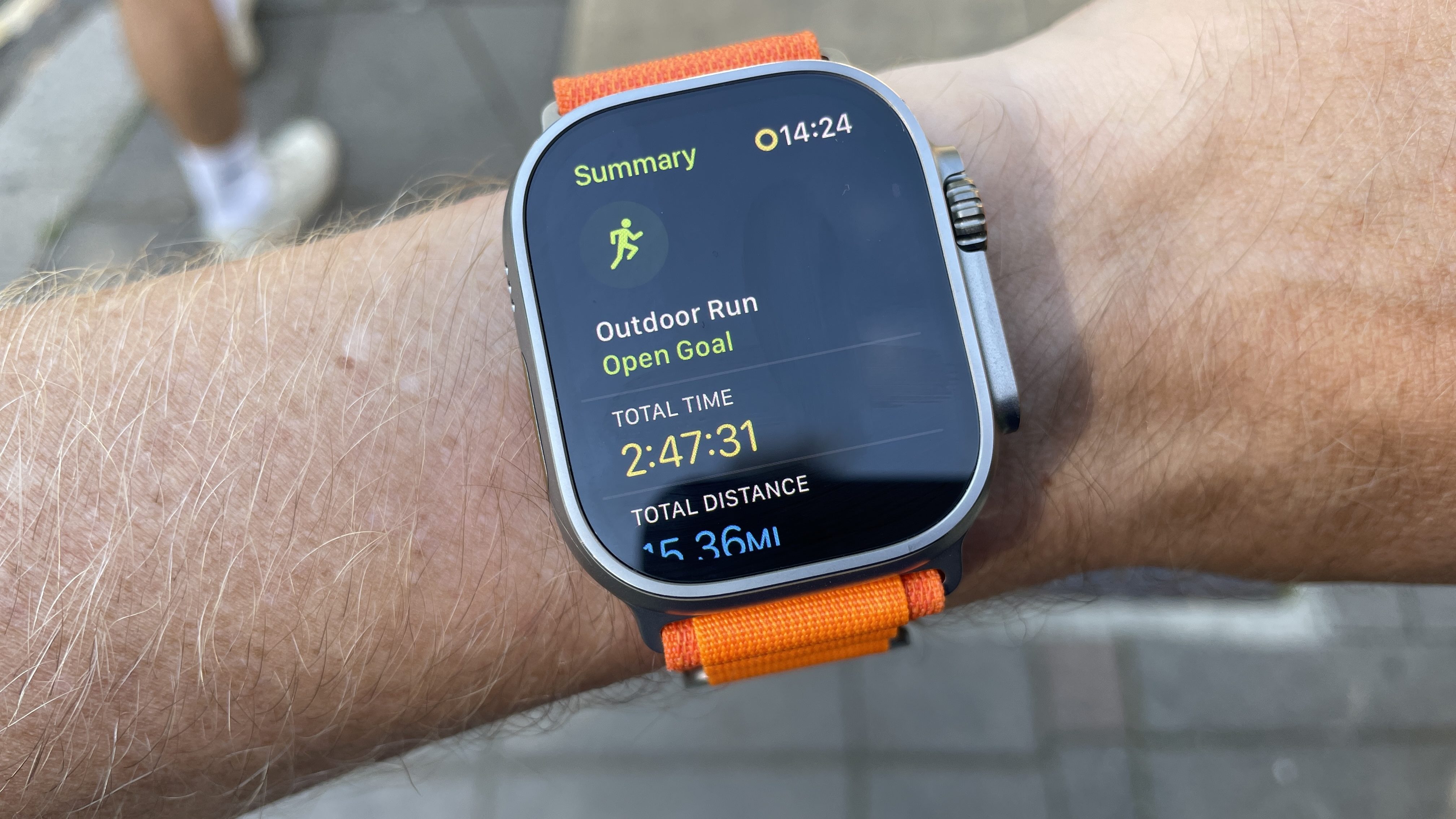 Watch OS 9 also adds new workout views with a handy elevation and running power charts plus more visual heart rate zone displays. Triathletes also get the new Multisport workout that automatically switches between swim, bike, and run.
Another feature launching in Autumn is Race Route which recognises any route you've previously run twice, giving you the option to race and pace against your recent routes and times.
For recreational divers and watersports fans, there's now 100m water protection, a depth gauge, water temperature sensor and a dedicated Depth app with all your underwater vitals.
The Watch Ultra is also designed to withstand high forces from faster water activities like kitesurfing. And it'll operate on-wrist anywhere from –20° C to 55° C.
To help improve audio performance in those wilder conditions, Apple has added a three microphone array and dual speaker system.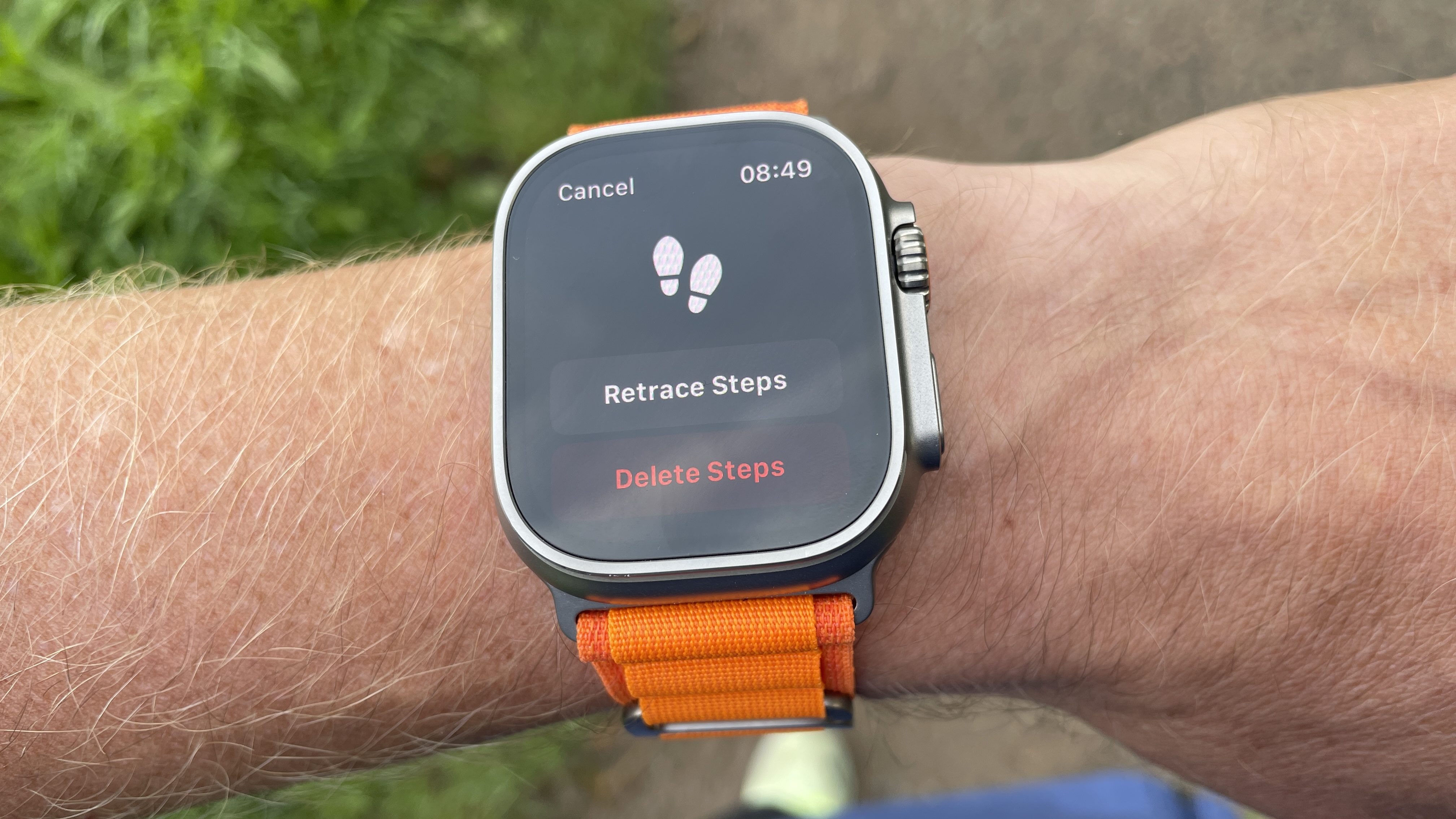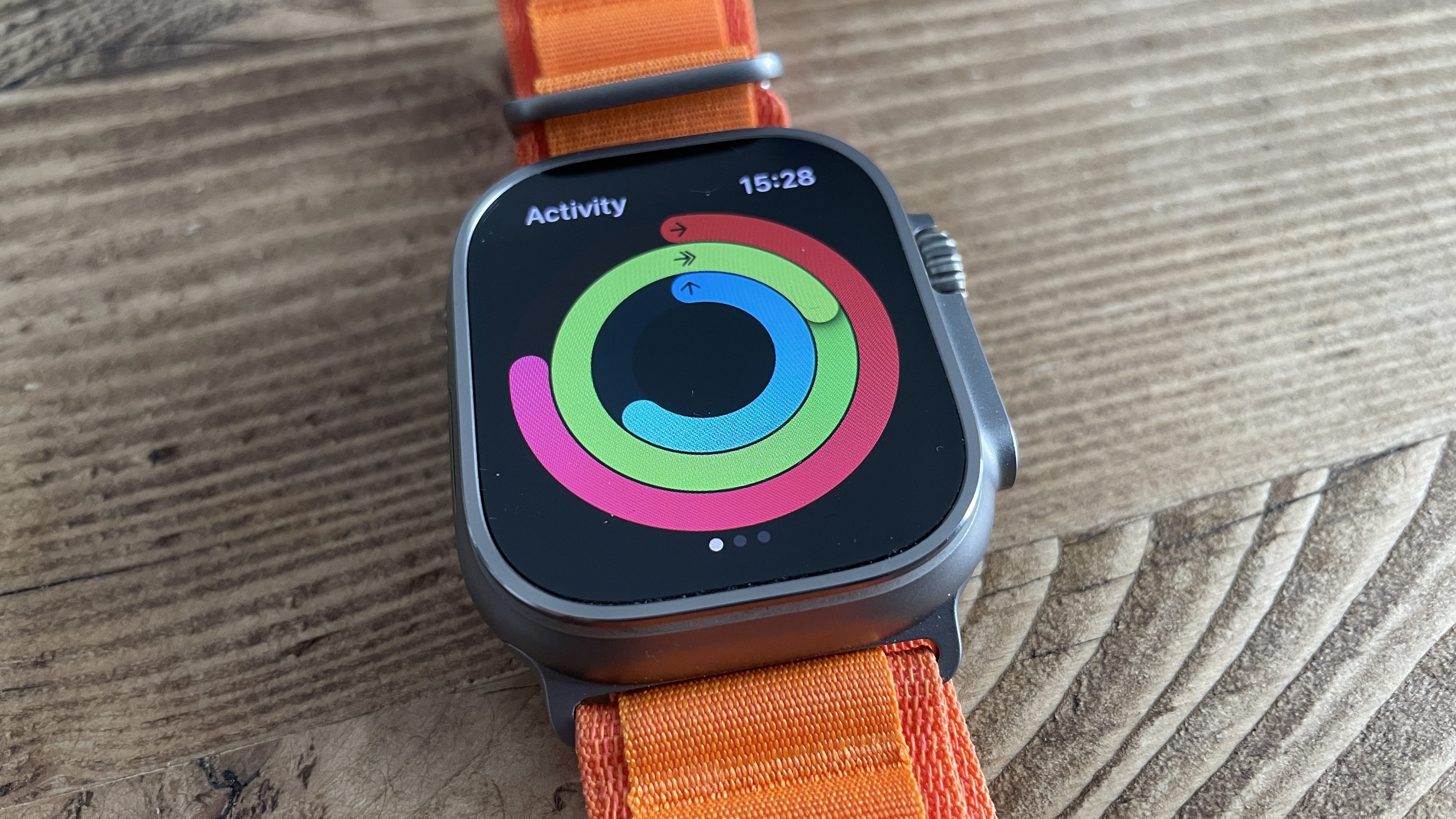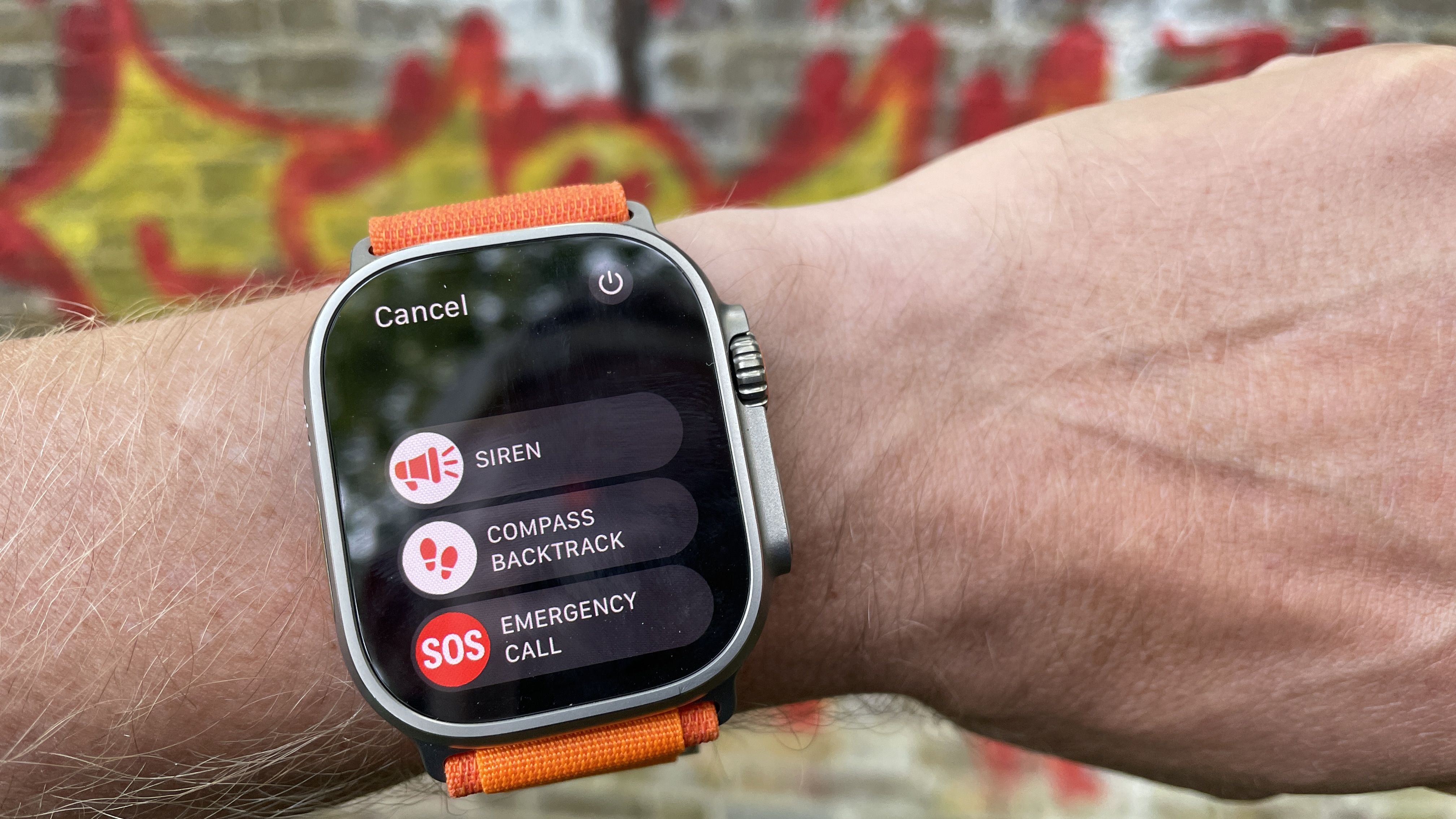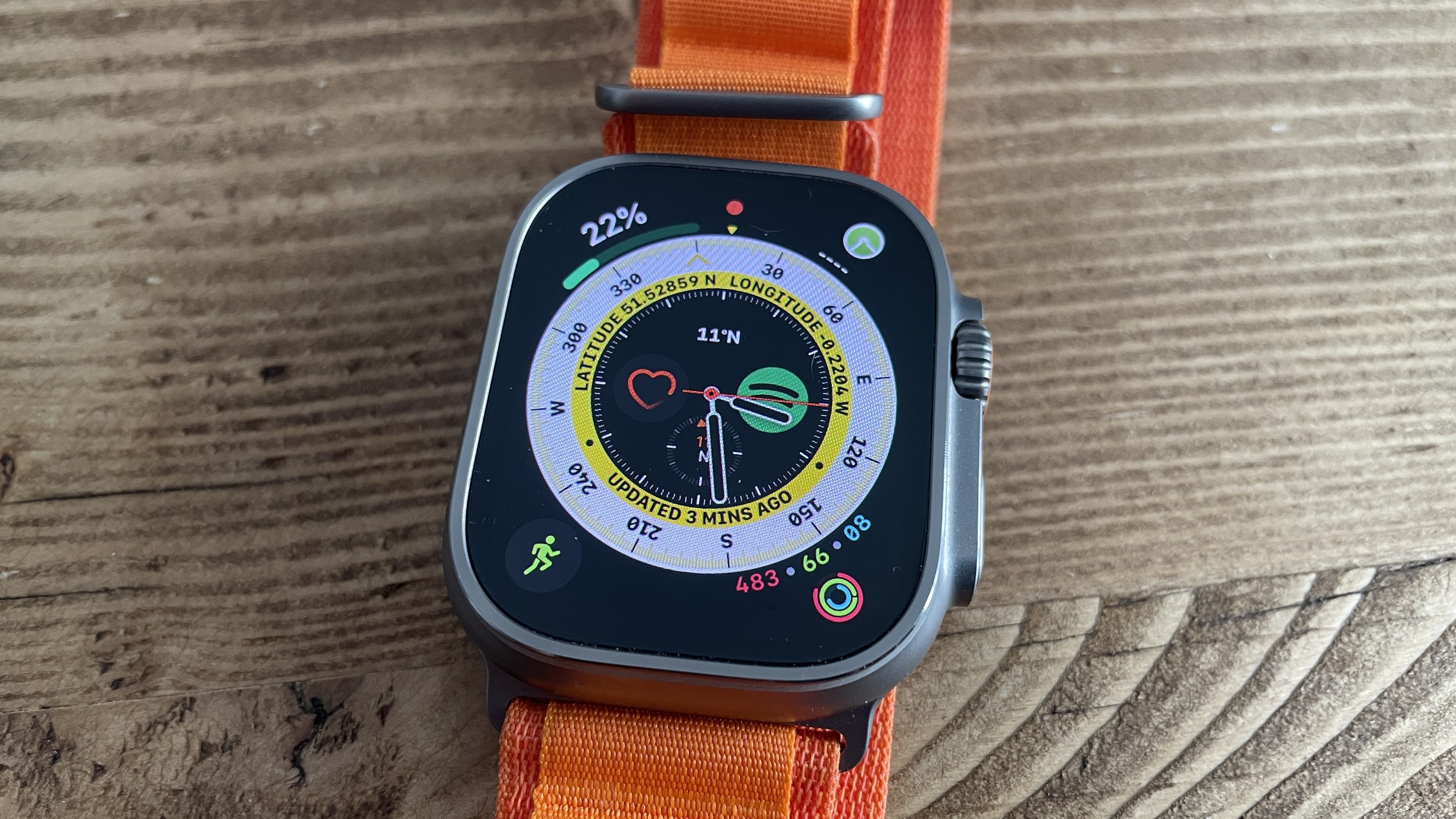 Safety features have been boosted with an emergency siren that packs a 86 decibel alarm and can be triggered quickly using the action button.
The Apple Watch Ultra has a choice of three new bands too: an alpine loop, trail loop and an ocean band. We tested the Alpine loop and though we loved the look with the strengthened band and G hook fastening, we found it hard to get a perfect fit and the Trail loop looks more adjustable.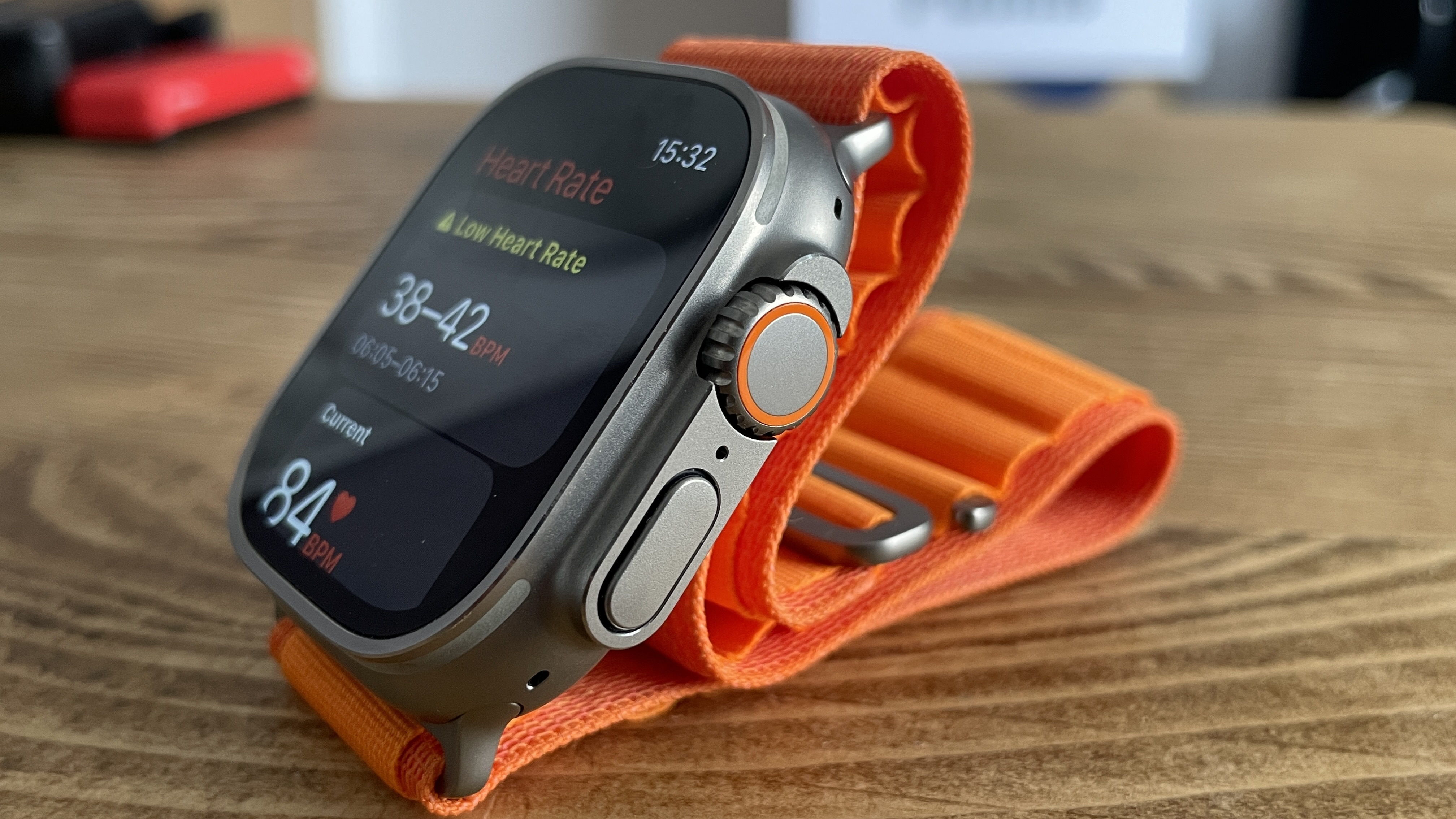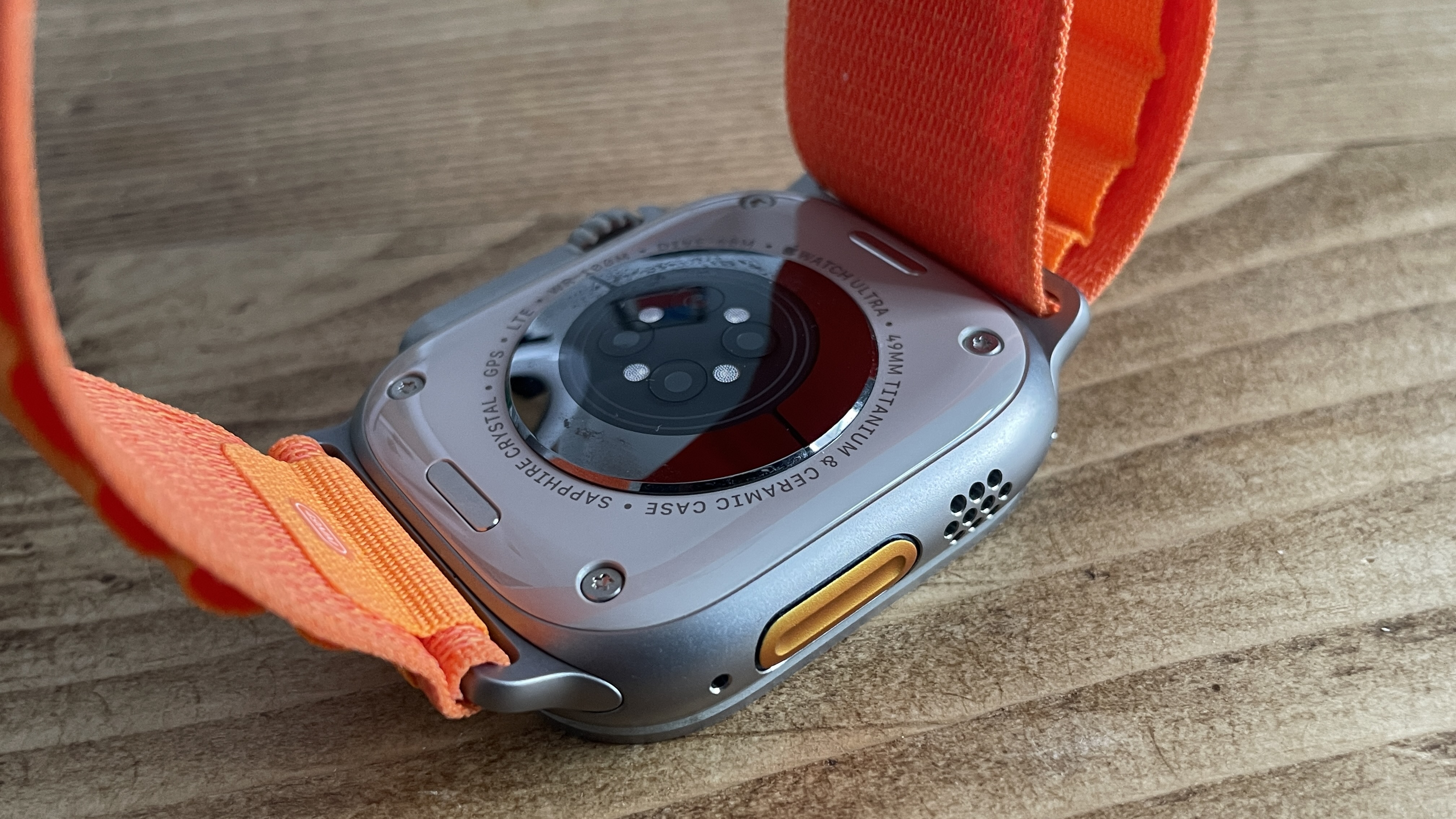 Performance
The Apple Watch Ultra is everything you'd expect from an Apple smartwatch. The crisp, sharp, responsive Retina touchscreen has lightning fast response and is excellent, bright and easy to read in all conditions.
The design is perhaps a little more fussy than your regular sleek and minimal Apple Watch but the added ruggedness feels more robust without losing all of its sleek subtlety. It is noticeably heavier and chunkier on the wrist but show us an adventure watch that isn't.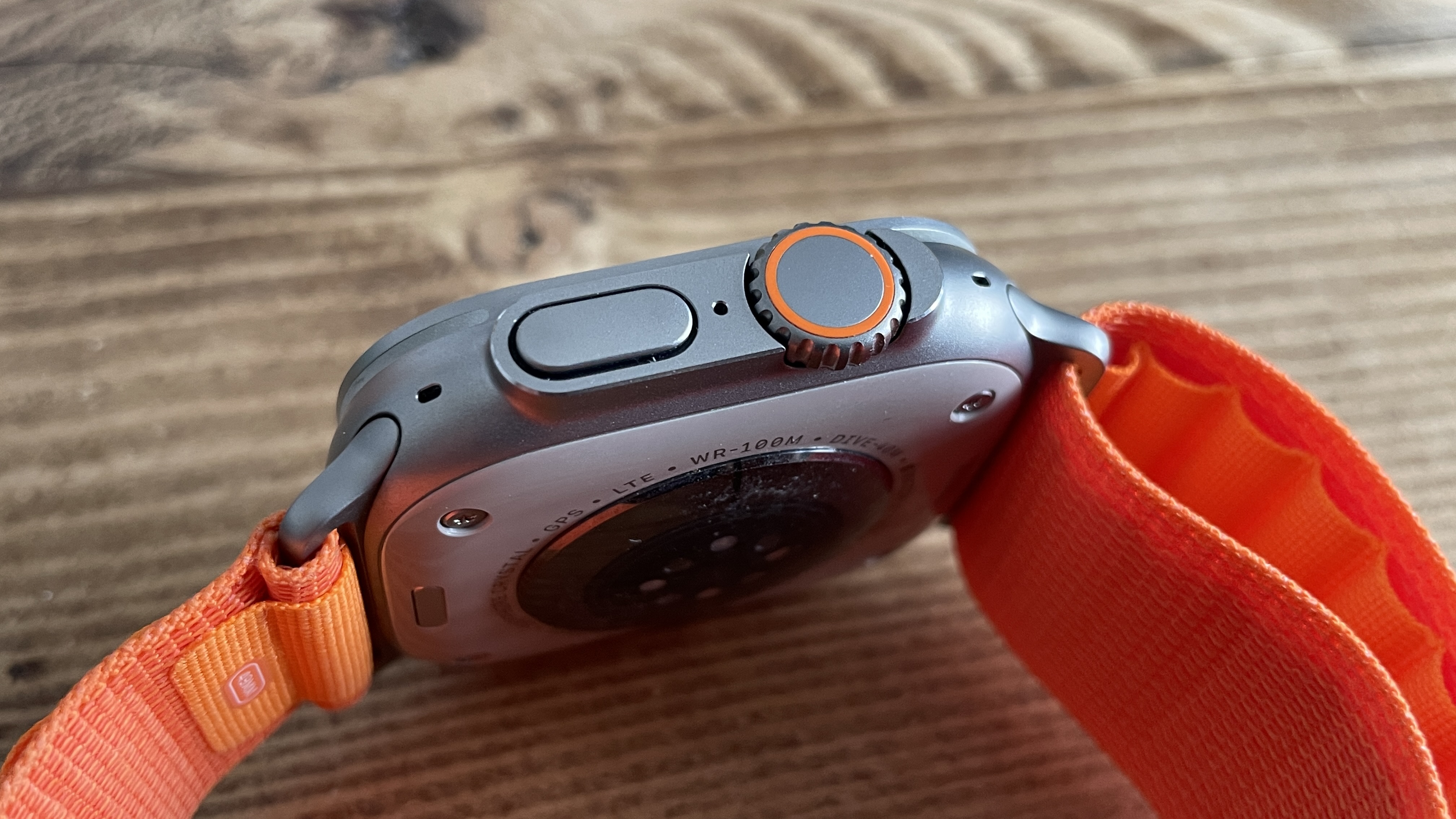 The Action Button is a nice addition, great for instantly launching a workout, for example. If you're coming from outside of the Apple bubble, a shortcut button won't feel all that new and exciting but the fact it's customisable and you can assign workout-specific actions is a win.
The larger digital crown had a tendency to catch on the arm a little (maybe we've got chubbier arms) but that sometimes made it harder to use on the move.
Battery life
On paper the Ultra offers up to 12 hours GPS workout time with everything powered on, 36 hours of normal usage, dropping to 18 hours with all-day LTE. Low power mode cuts back on some features like Always-On display and the frequency of mobile connected updates to extend the Ultra's life up to 60 hours – including a 15 hour hiking workout. An upcoming Autumn update promises the option to conserve yet more juice by cutting the frequency of heart rate and GPS readings.
Apple uses images of a desert runner, taking on something like the famous multi-stage race the Marathon Des Sables, to represent the new Apple Watch Ultra's bigger endurance powers. But in reality, there's still not enough staying power here to last much beyond two stages of a race like that. Not with meaningful insights beyond distance. And we found that even with moderate exercise usage, we had to charge every second day.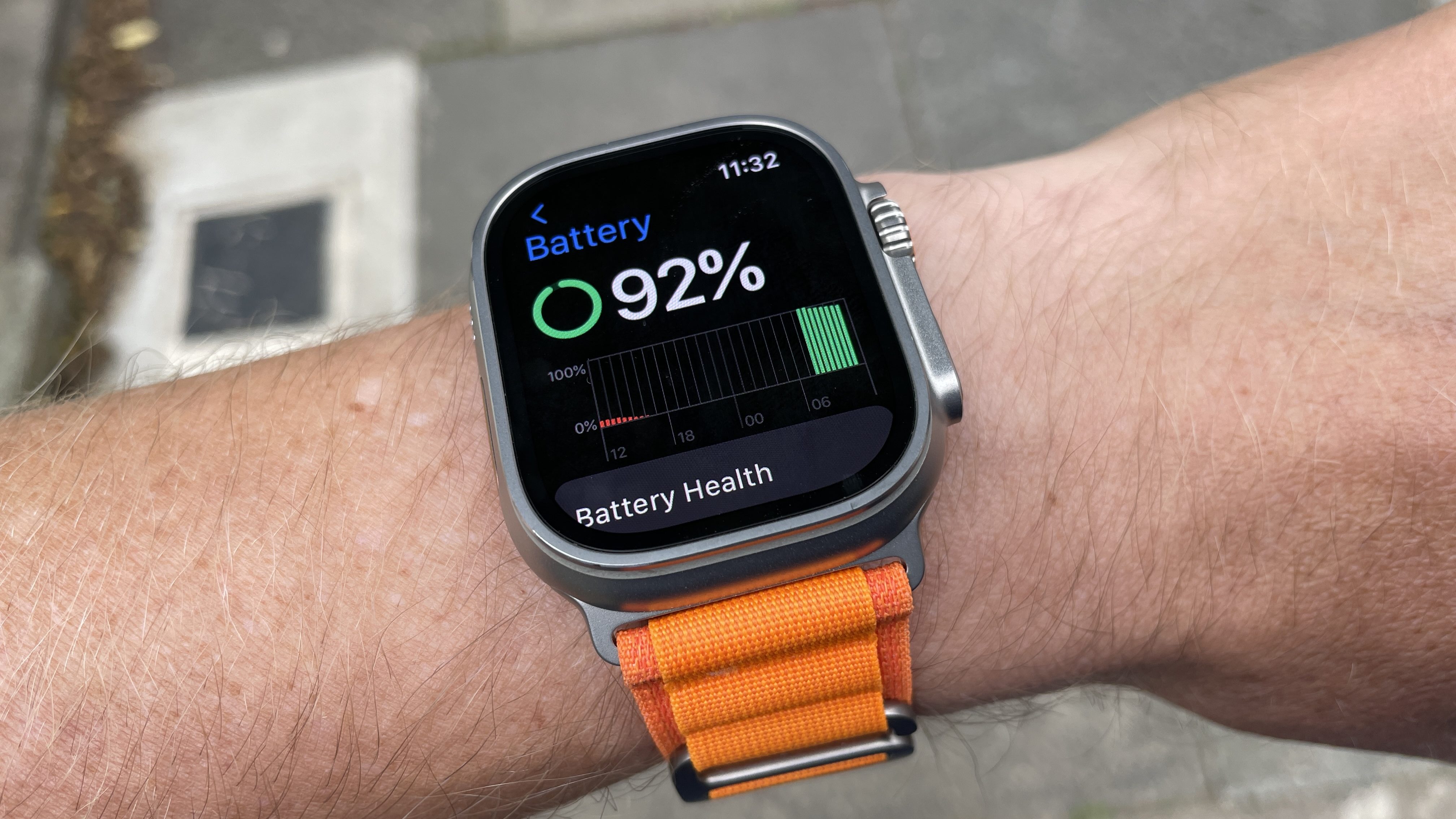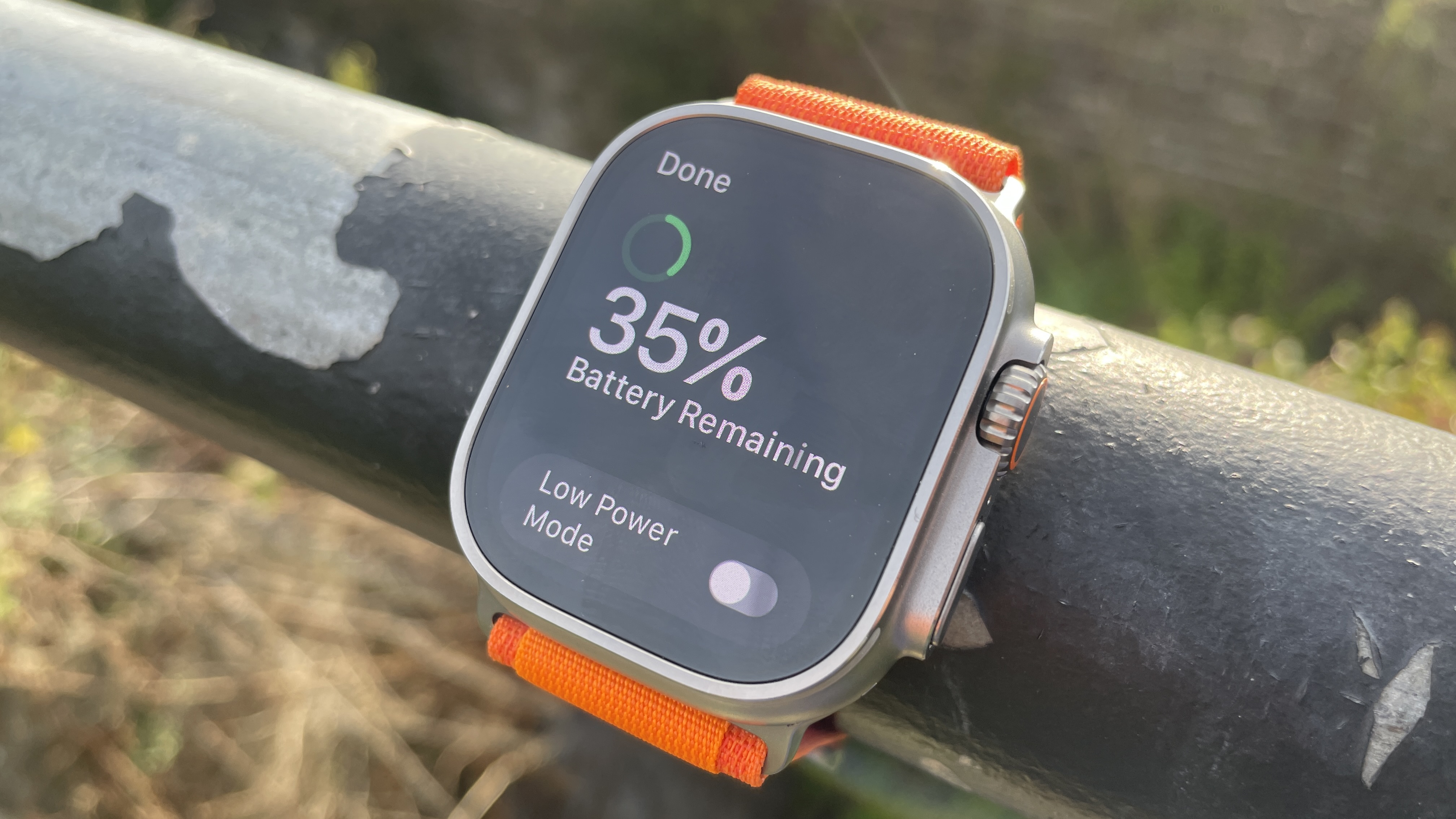 In our tests, an hour-long run burned 8% battery life in full power mode and we got 3.5 days of general usage, including that run.
In a separate test, another hour-long walk burned 12%, also in full power mode with GPS and heart rate tracking on. In this test, we also used the Backtrack tool to retrace our steps.
A 2.5 hour run in low power mode still burned 18%. At that rate many people reading this would struggle to complete a 100km ultra before the Ultra died.
GPS and Heart Rate
The Apple Watch Ultra has a moulded antenna for better dual-frequency GPS and now packs a GPS fix indicator to let you know when you're tracking and in our tests, the dual-frequency GPS performed well. Real-time pacing matched the Garmin Enduro closely and was nicely responsive to shifts in pace.
There were no crazy route errors through buildings or down the middle of rivers and overall, the distances came within a pretty standard margin for error.
Heart rate was a little more hit and miss. Up against a chest strap, the second generation heart rate sensor on the Apple Watch Ultra clocked both higher and lower reads throughout runs in real time.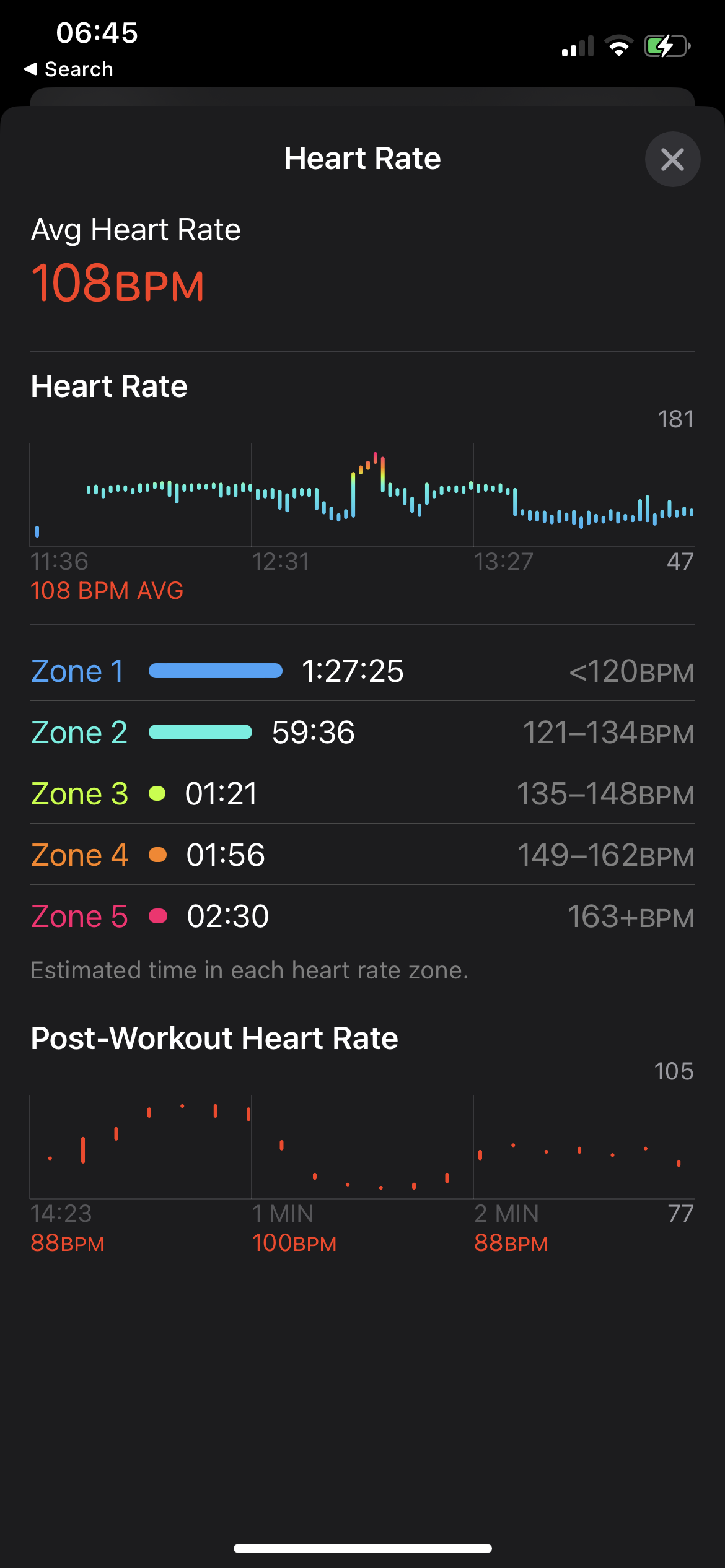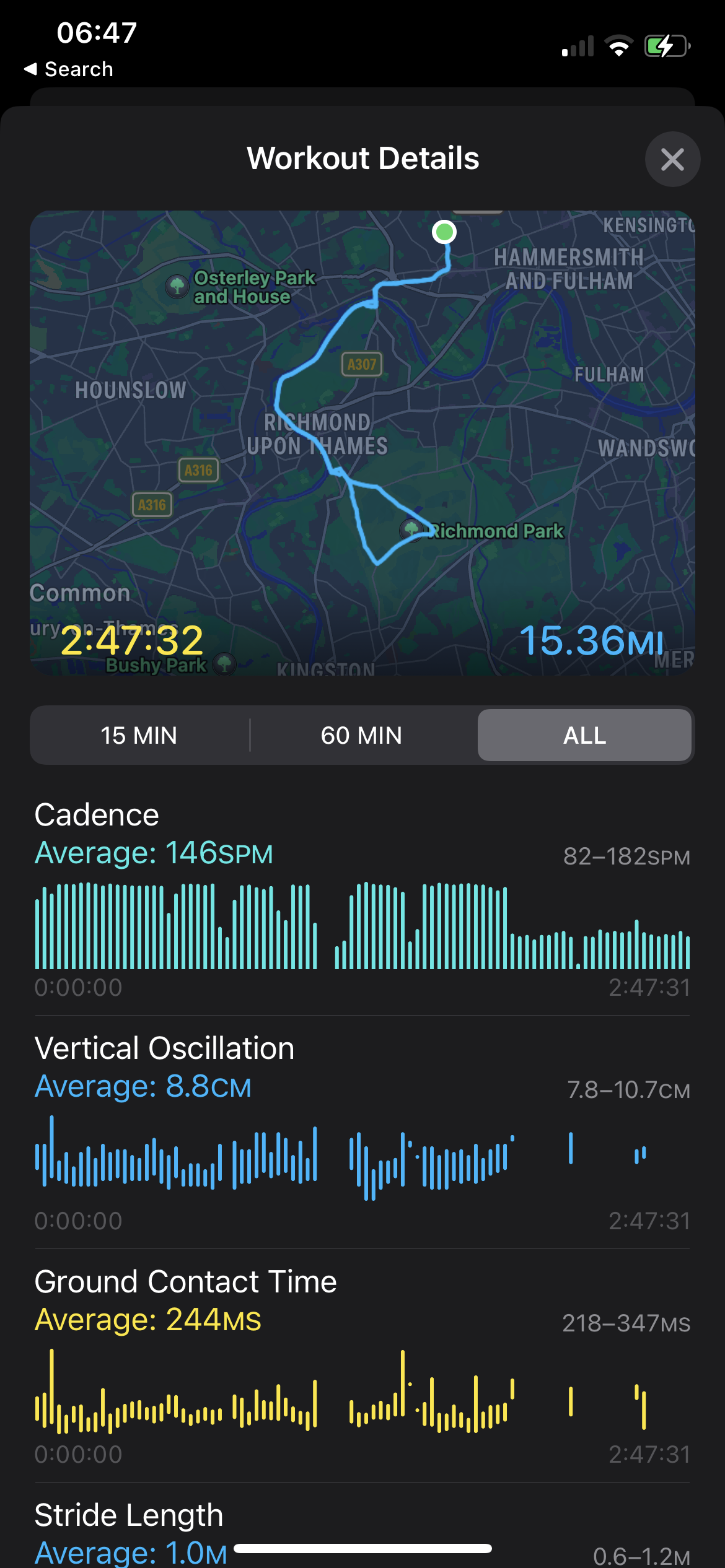 There was also some lag when we pushed up rapidly through the gears and on runs where we stopped, say at a set of traffic lights, the Watch Ultra seemed to drop slower than the chest strap. Pretty classic optical heart rate stuff. Luckily, the Watch Ultra will let you pair a chest strap if you want that extra accuracy.
Apple Watch Ultra verdict
Watch fans hankering for a bigger battery, more controls, beefed-up rugged design and features tailored to outdoor pursuits, will find a lot to love here. The Apple Watch Ultra is definitely another step into Garmin territory and undoubtedly the best adventure-friendly Apple Watch to date.
When you consider the smarts the Ultra offers beyond your adventures, it's arguably the best all-rounder for straddling life on and off the beaten track. However, it's not the most capable adventure watch and that battery life will still force you back on grid faster than top-end Garmin models.
Stuff Says…
By far the best adventure-ready Apple Watch yet and a really great all-rounder, though battery life pales compared to rivals
Good Stuff
Excellent screen
Bigger battery life than other Apple Watches
Better durability
Bad Stuff
Lacks some navigation skills
Carries a hefty premium
Needs longer battery life to compete with the best
Apple Watch Ultra tech specs
| | |
| --- | --- |
| Processor | S8 SiP with 64‑bit dual-core processor |
| Display | Always-on 2000nit retina display, 410 x 502 pixels |
| Storage | 32GB |
| Connectivity | 4G LTE (cellular models), 802.b/g/n Wi-Fi, Bluetooth 5.3, dual-frequency GPS |
| Rating | 100m waterproof (WR100) |
| Size | 49 x 44 x 14.4mm |
| Weight | 61g |