Apple Watch Ultra vs Garmin Fenix 7: which rugged wearable is best?
Survival of the toughest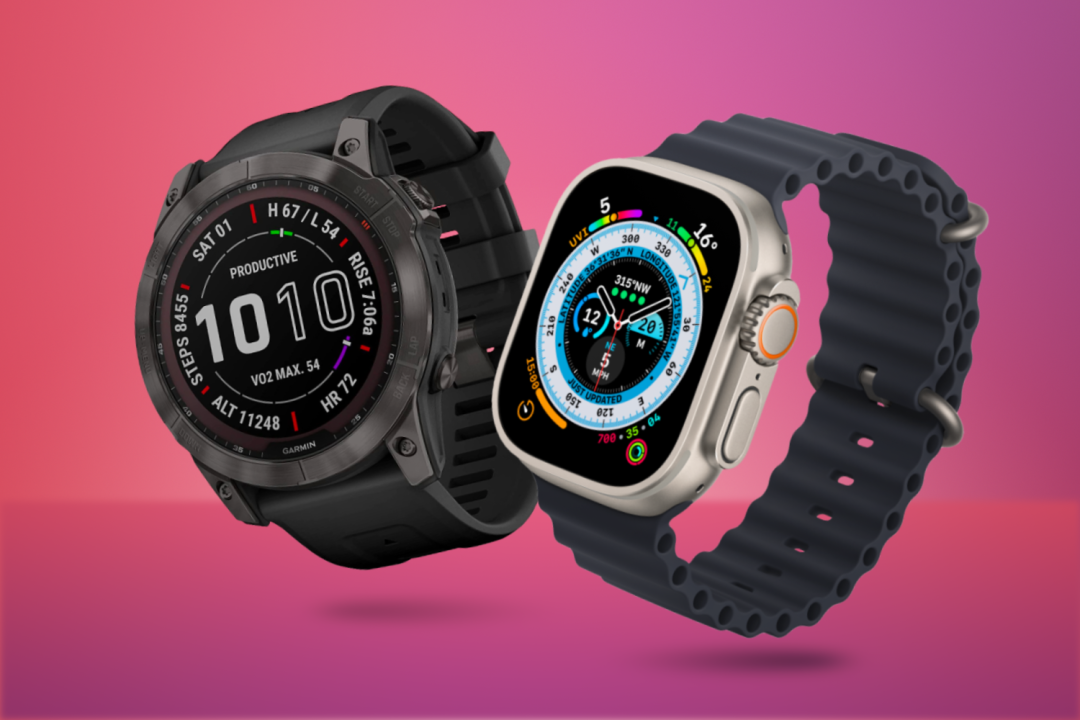 In the realm of rugged wristwear, Garmin's Fenix series has long been the benchmark. Boosted by the sun and fit for all conditions, the Fenix 7 is no exception. But there's a new contender on the trail: the Apple Watch Ultra. So which of these tough tickers takes the wearable crown?
While both are built for the great outdoors, there's plenty to set the two timepieces apart. From styling and screens to tracking and battery life, the Apple Watch Ultra and Garmin Fenix 7 take different paths in pursuit of durable glory.
Looking to kit out your wrist? We've run the numbers, punched in the price options and ranked all of the key fitness features to assess which watch works best for budding Bear Grylls.
Apple Watch Ultra vs Garmin Fenix 7: price & release date
Open for pre-orders now, the Apple Watch Ultra ships from 23 September. Unlike other Apple Watch models, it comes in just one size, one material and one connectivity configuration. Which makes the pricing structure refreshingly simple: the Apple Watch Ultra will set you back a flat $799/£849. And the cost stays the same whether you opt for an Alpine, Ocean or Trail Loop strap setup.
Things are not so simple with the Garmin Fenix 7. For starters, it's available in three sizes: the Fenix 7S (42mm), Fenix 7 (47mm) and Fenix 7X (51mm). The Fenix 7X comes with solar charging as standard, while you can spec up the other models to match. Or for range-topping toughness, opt for the Sapphire Solar edition, which benefits from scratch-resistant sapphire glass. Prices start at $700/£600 for the Fenix 7S and 7, rising all the way to $1000/£1049 for the 51mm Sapphire Solar version.
Apple Watch Ultra vs Garmin Fenix 7: tech specs
Apple Watch Pro
Garmin Fenix 7S/7/7X
Screen
1.92in, 502×410 OLED
Fenix 7S: 1.2in, 240×240 MIP
Fenix 7: 1.3in, 260×260 MIP
Fenix 7X: 1.4in, 280×280 MIP
Sensors
GPS, accelerometer, gyroscope, barometer, altimeter, depth gauge, water temperature, body temperature, blood oxygen, heart rate, compass
GPS, accelerometer, gyroscope, barometric altimeter, thermometer, blood oxygen, heart rate, compass
Storage
32GB
16GB (Standard/Solar), 32GB (Sapphire Solar)
Operating system
WatchOS 9
Proprietary
Battery
36 hours (normal), 60 hours (low power)
Solar: 14 days (normal), 87 days (low power)
Sapphire Solar: 37 days (normal), 1+ year (low power)
Connectivity
Bluetooth, NFC, Wi-Fi, 4G
Bluetooth, NFC, Wi-Fi, ANT+
Durability
100m water-resistant
100m water-resistant
Dimensions
49x44x14.4mm, 61.3g
Fenix 7S: 42x42x14.1mm, 63g
Fenix 7: 47x47x14.5mm, 79g
Fenix 7X: 51x51x14.9mm, 96g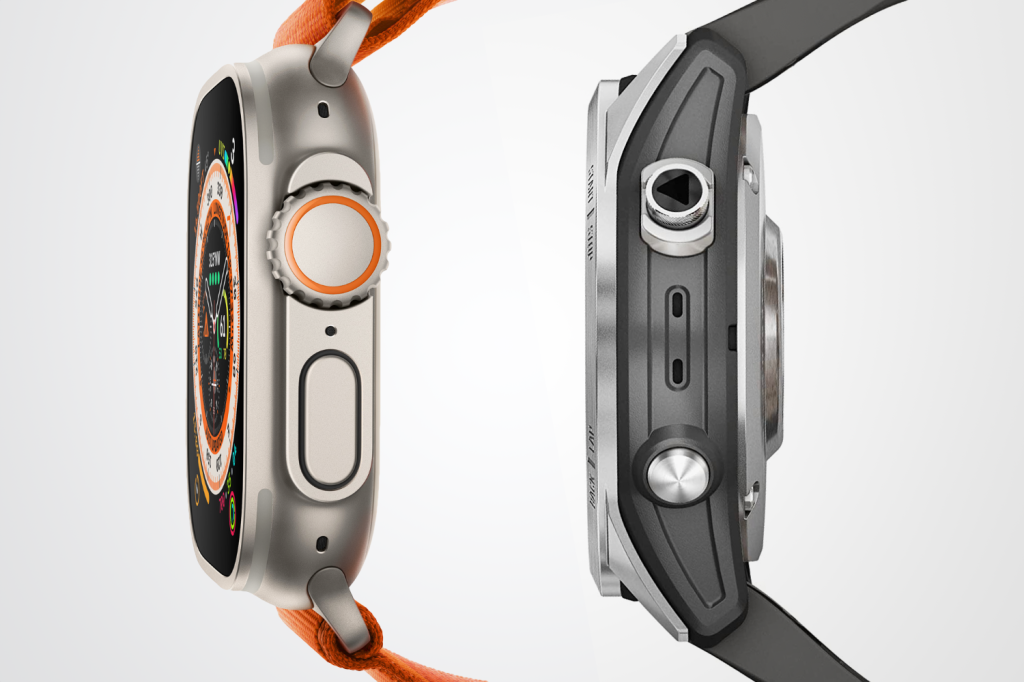 Design: tough nuts
Unmistakably an Apple Watch, the Ultra takes familiar smartwatch styling and jacks up the armour. So the face is still a rounded square, but it now comes clad in aerospace-grade titanium. Its rugged credentials are reflected in the dimensions: at 49mm, its case is no shrinking violet. While subtlety isn't its strong point, the Ultra still retains the attractive curves of its lineage. It's also lighter than all but a couple of the Fenix 7 variants, hitting the scales at 61.3g. Plus the pay-off is serious durability: the Ultra is dive-proof down to 40m, and also passes military temperature and shock tests.
In contrast, the Garmin Fenix 7 looks closer to a classic sports watch: six chunky lugs, a full-round face and a solid bezel circling it. Both the bezel and back are made from titanium, while the rest of the case uses fibre-reinforced polymer. Unlike the Ultra, it's not rated for diving, but a water-resistance score of 10ATM means it's sorted for swimming. Dimensions depend on which edition you pick, but the closest options to the Ultra are the 47mm and 51mm. In Solar spec, these are beefier than the Watch at 79g and 96g respectively, although the extra grams get you solar charging. Shelling out for sapphire crystal saves you 6/7g, but has a more significant and opposite effect on your bank balance.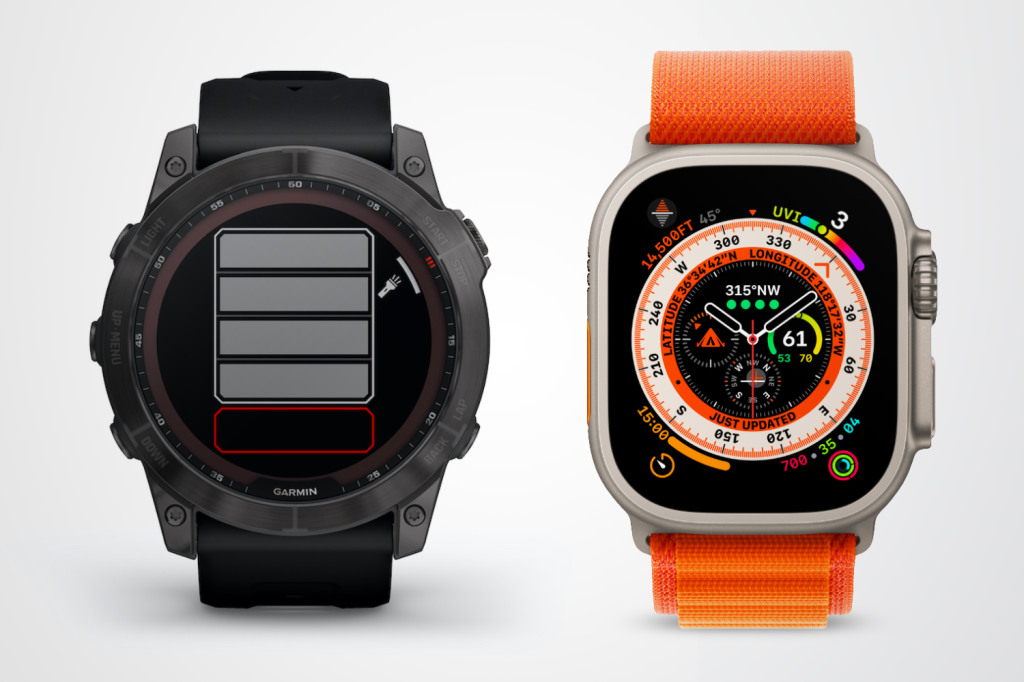 Display: form versus function
Forget apples and oranges: try comparing the displays on the Apple Watch Ultra and the Garmin Fenix 7. But their differences have a practical root. Flat-fronted and packed with pixels, the Ultra ships with a generous 1.92in OLED panel that's big on colour and twice as bright as any Apple Watch before it. At 2000 nits, it's designed to be visible in all conditions, whether high in the hills or deep below the sea. That's also reflected in activity-specific screens and a new Wayfinder face, which put important info front and centre.
In its smallest guise, the Fenix 7S has a 1.2in touchscreen with less than half the resolution of the Apple Watch Ultra. In fact, none of the Garmin Fenix 7 models have a display that's particularly sharp, with the panel that fronts the largest Fenix 7X measuring in at 1.4in and 280×280 pixels. Memory-in-pixel tech lags far behind the Ultra's OLED when it comes to vivid contrast, too. But it's not without a purpose: that display setup is vastly more power efficient, which is reflected in the weeks-long battery life of the Garmin Fenix 7. Though there's no escaping that the Ultra does offer more screen real estate.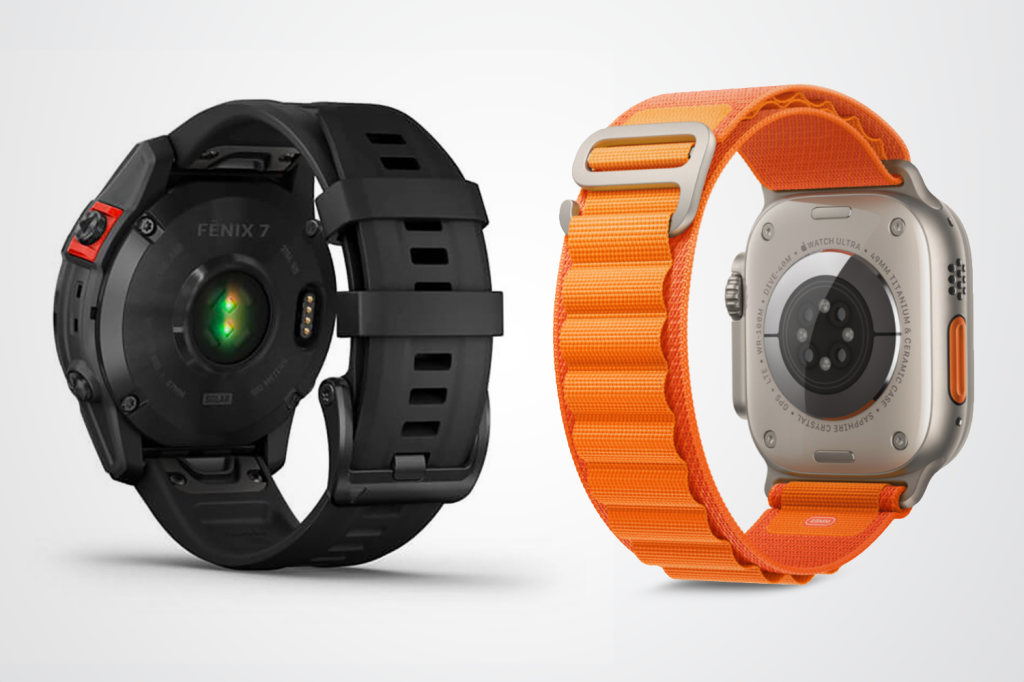 Health & fitness tracking: full house
As you'd expect from adventure watches, both the Apple Watch Ultra and the Garmin Fenix 7 offer a full suite of sensors. And they go beyond the sleep, step and activity tracking features of your standard smartwatch – although they can handle those, too.
With the Apple Watch Ultra, you get the full fitness foundation laid down by previous editions. That means ECG readings, blood oxygen monitoring and a comprehensive Workout app. Like the Apple Watch Series 8, the Ultra is also equipped with a skin temperature sensor to improve the accuracy of cycle predictions, plus additional motion sensors that can detect crashes and alert emergency services if you're unresponsive. But the Ultra goes even further: it deploys dual-frequency GPS and updated positioning algorithms to deliver Apple's most accurate wrist-based location tracking yet. It also features a depth gauge which, working together with the Oceanic+ app, can automatically transform the Ultra into a dive watch when you go beneath the waves.
Garmin's Fenix 7 doesn't have the same dive credentials, nor can it read your skin temperature. But it does offer a generous set of tracking tools, including pulse and blood oxygen sensors. From surfing to skiing to sprints, it also comes equipped with a catalogue of sport profiles, each with readouts specific to the activity. Besides getting serious about stats, its skills go deep for each discipline, ranging from gradient-adjusted pacing for runners, to ascent planning for mountain climbers. Support for multiple satellite systems improves navigation accuracy too, whether you're following trail routes or golf maps. And that's all in addition to daily wellness guidance and long-term training metrics to help you improve your performance.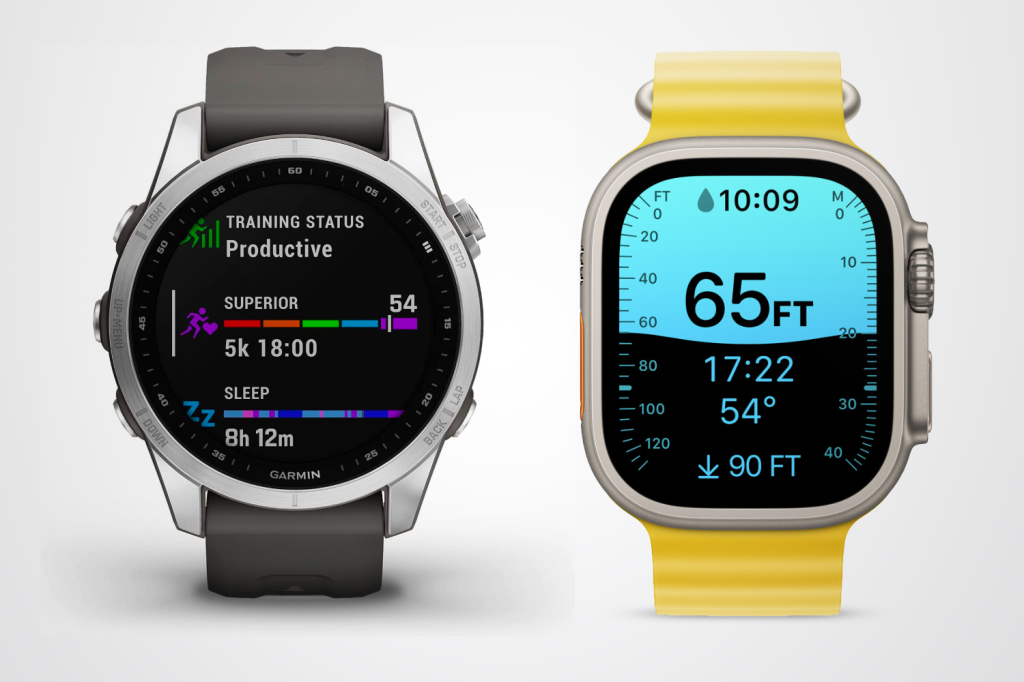 Software and features: smartwatch vs smart watch
With watchOS 9 installed, the Apple Watch Ultra is every bit the outdoor smartwatch. Besides the Workout, Apple Health and Oceanic+ apps installed as standard, you get access to the countless third-party offerings available on the App Store. You can also save PB playlists to your wrist, use Apple Pay to settle up for recovery shakes and ask Siri to remind you to run. And while the icon-based interface is responsive to tap, the Ultra also features a customisable button for sporty shortcuts – whether you're marking waypoints or intervals.
Garmin uses proprietary software for the Fenix 7. While it's not as slick as watchOS 9, it still features a healthy dose of smarts. The Connect IQ store is home to several mainstream apps – including Spotify, which you can use to download workout bangers. You can also receive notifications from connected smartphones and use Garmin Pay for contactless transactions. And though there's no voice assistant support, the Garmin Connect app is one of the best for diving into data. While the touchscreen will be a welcome addition for many, the Fenix 7 arguably has the superior setup for those who prefer the certainty of physical buttons when out in the wild.
Battery life: poles apart
On paper, the Ultra offers a major battery upgrade over other Apple Watch models. Its cell is rated for up to 36 hours of normal use, which in Apple's world means checking the time, responding to notifications and getting in a 60-minute workout while playing music from the Watch. Heading on a longer jaunt? Once the low-power feature is enabled, you'll be able to eke the battery life out for up to 60 hours, by reducing the frequency of heart rate and GPS readings.
As decent as that is for a watch as smart as the Ultra, it's roundly beaten by the Fenix 7. Thanks in large part to its simpler display setup, the standard Fenix 7 can last for up to 18 days as a smartwatch, or 57 days in the battery saver setting. Those numbers will naturally reduce if you go on a GPS binge, as they would for the Apple Watch Ultra. But the serious numbers come with help from the sun: the Solar version embarrasses the Ultra with a maximum span of 173 days, depending on solar exposure. Willing to splash the cash for ultimate longevity? The Solar Sapphire can run for more than a year.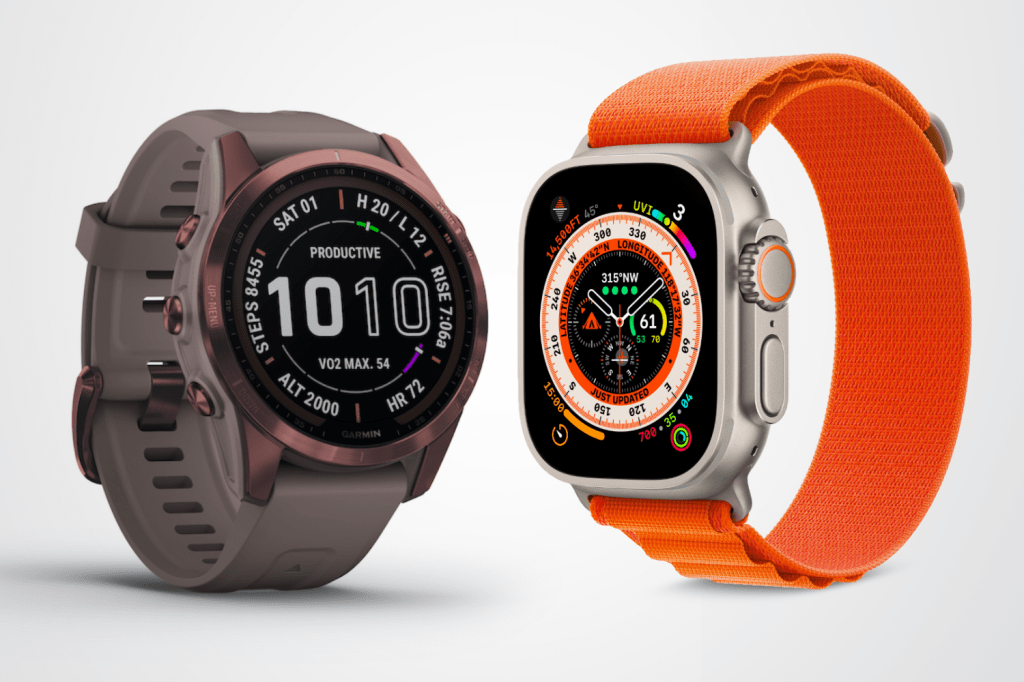 Apple Watch Ultra vs Garmin Fenix 7: initial verdict
From the mountains to the sea, both of these wearables are sorted for tracking adventures. Each is built to survive in tough conditions and each comes equipped with an arsenal of sensors to track your stats as you tackle them. Yet even after inspecting their specs, it's tricky to pick a winner. Not because they're so similar, but because they're so different.
Despite its styling, the Ultra is more than a beefed up Apple Watch. Sure, it's easily the smarter of the two devices in competition here. But it's also more durable than the standard Fenix 7 and less expensive than the Sapphire Solar edition, which is the only option with equivalent crystal. The Ultra can also serve as a dive watch, complete with depth gauge. And it packs a display that's bigger, brighter and more vibrant. If you want a proper smartwatch to take into the wild, the Ultra is the one.
That said, the Garmin Fenix 7 is a stellar technical tool. Its dedicated activity profiles measure enough metrics to please a sports scientist, while its pared-back interface is all about efficiency. Its smart features might be fewer, but it's every bit the capable companion on land. And for many, the dealbreaker will be that battery life. For fans of extended expeditions, the Apple Watch has no answer to the Fenix 7's longevity.