The best PS4 controller for your PlayStation 4
Meet the best PS4 controller options that you can customise, tweak and tune for a better button-bashing experience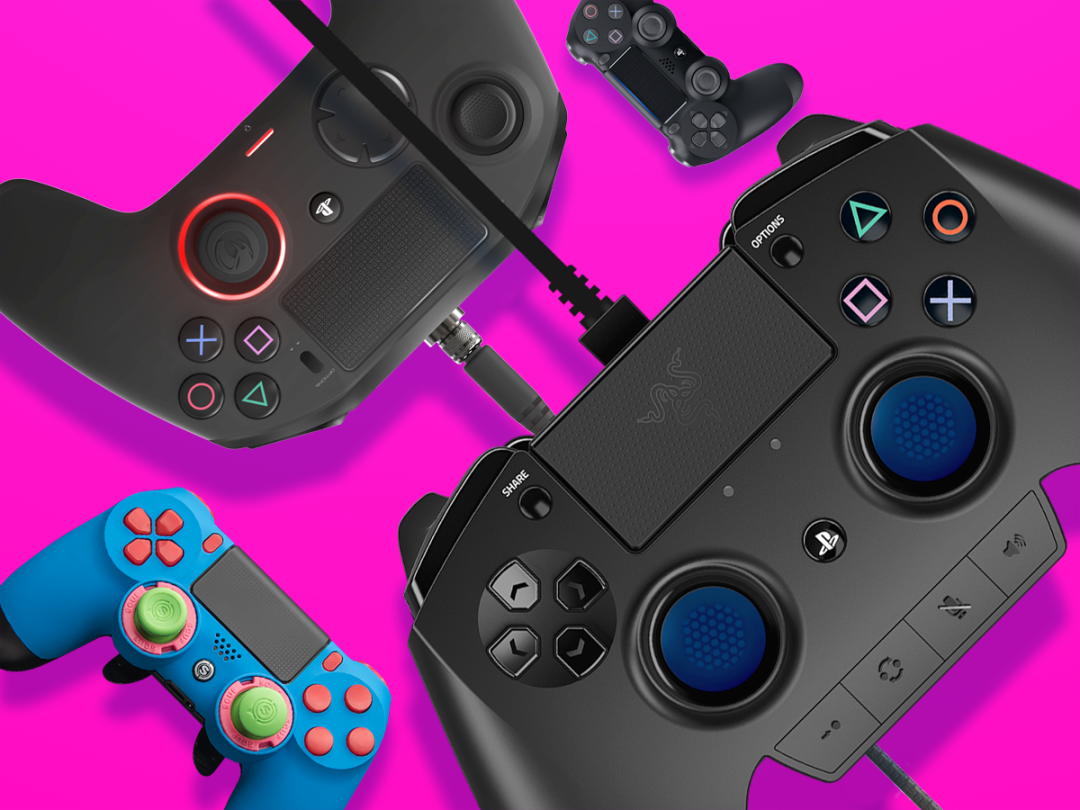 It's a fact of gaming that you'll spend hours gripping the same gamepad. Just as with the best gaming headset, that gamepad should be the best you can buy? Well, worry not. We've spent weeks gaming for your benefit. It's hard work testing the best PS4 controller options out there! But we've found the ones you should consider if you're looking to upgrade your PS4 controller.
Whatever PS4 controller you decide to get, it should feel fine in the fingers. And have perfect button placement and joysticks that are a joy to use.
Here, then, is our pick of the best PlayStation 4 controllers money can buy. Whether to replace your main PS4 controller, as a spare or for your weekend eSports competitions, one of these will surely push your buttons.
DualShock 4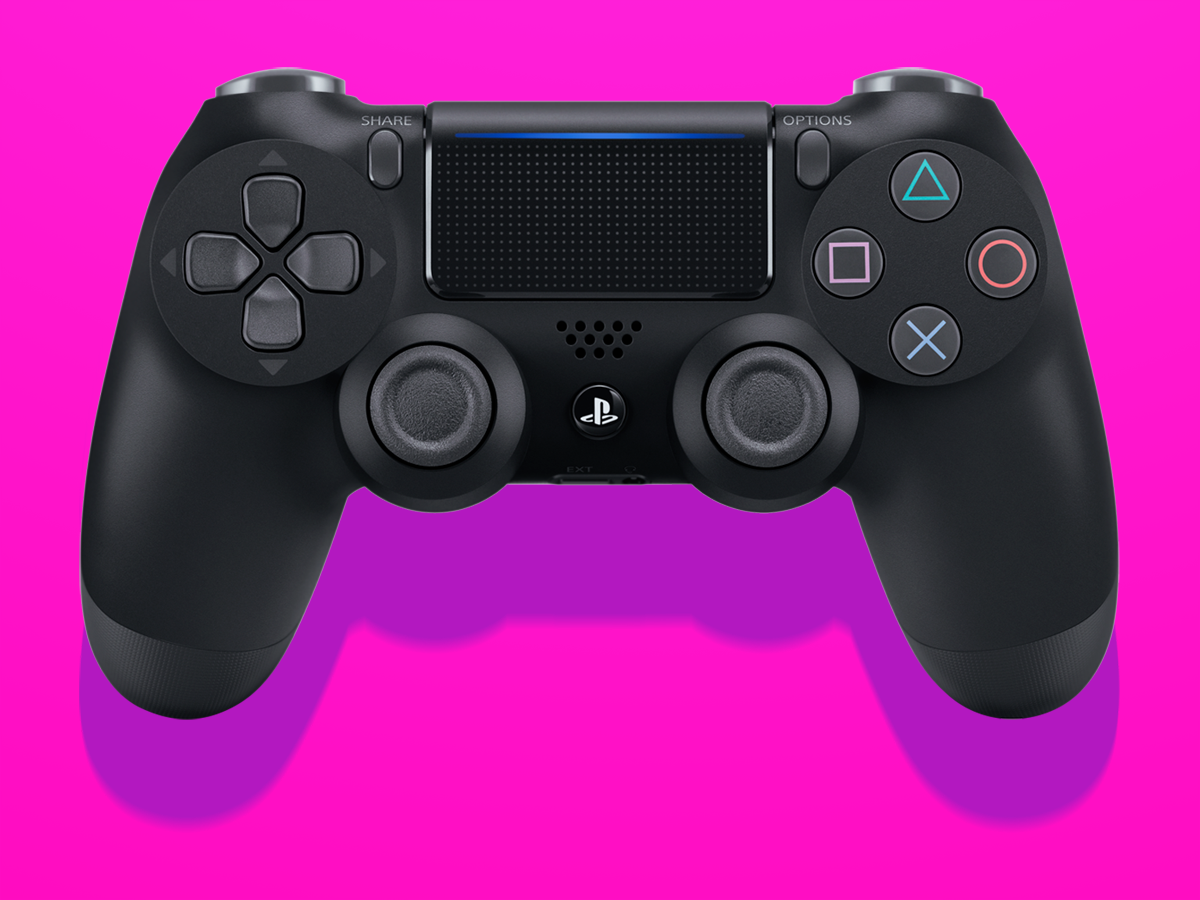 Sure, it's the default pad for any PS4 gamer. But that doesn't stop the DualShock 4 being Sony's best controller ever.
Delightfully ergonomic, we'd happily have paid extra to have a controller this good for the PS3. It's much more comfortable, thanks to a bigger, weightier shell with analogue sticks spread further apart, not to mention vastly improved triggers over the Dual Shock 3.
That touch pad might be of minimal use in most games. But useful port placement – with a headphone slot on the bottom – and excellent vibration feedback make the DualShock 4 a pleasure to play with.
In its newest iteration, the DS4 also sports the ability to switch from Bluetooth to a wired connection for inputs. Previously the USB port was for charging only. Plus there's a small light bar above the touchpad.
Sure, the 'options' and 'share' buttons are a bit fiddly. Especially if you're trying to dive for them without getting killed in-game. Plus battery life isn't brilliant. But, for a bundled controller that sells as a spare, it's unbeatable value.
Nacon Revolution Pro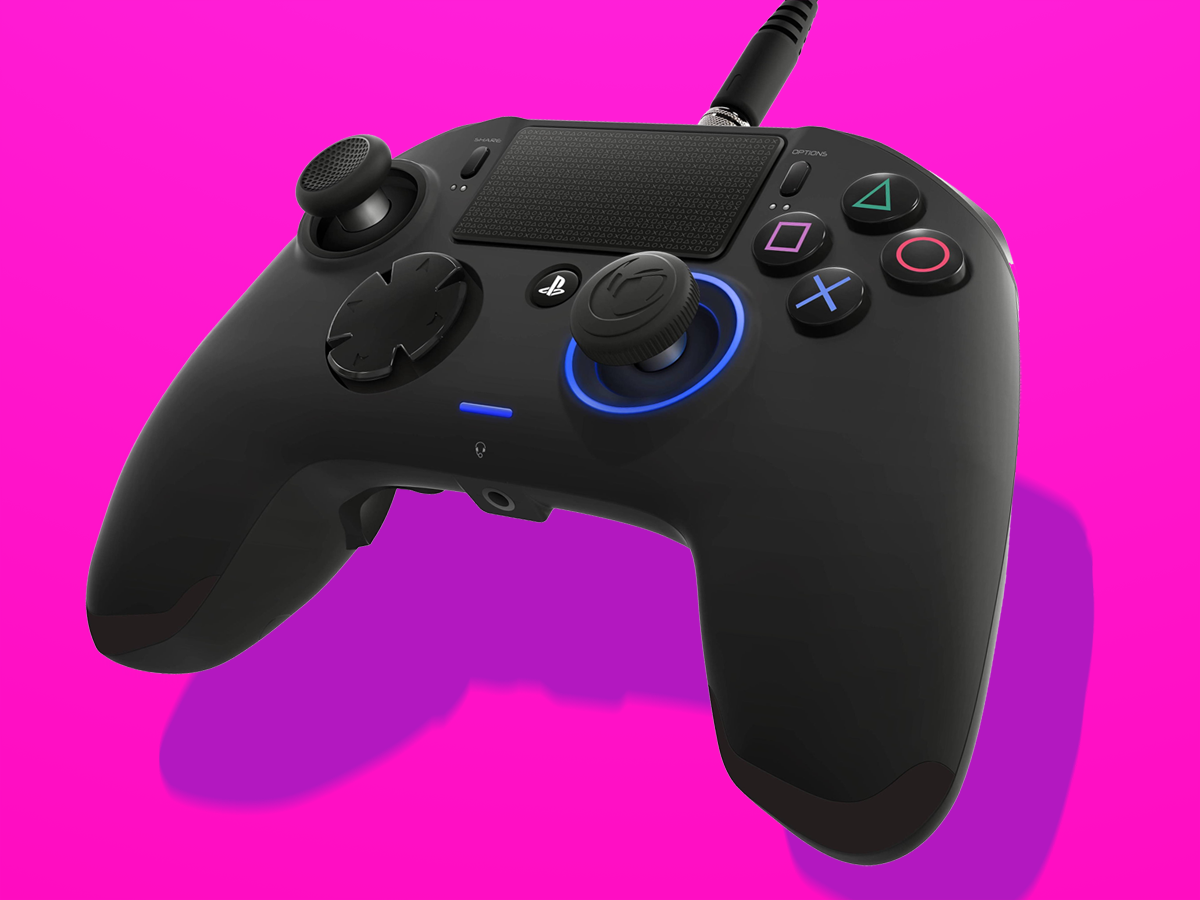 You won't just need a PS4 to get the most out of a Nacon Revolution controller – you'll also need a PC to program it with.
Download the software and plug in the controller, and you'll be able to tweak the dead zone of each thumb stick. You can also modify the sensitivity curve of each trigger, and set the four customisable buttons on the back. They're placed for your fingers, so your thumbs can stay glued to the thumbtacks.
Nacon has pinched Microsoft's joystick layout. The left stick sits where you'd normally find the D-Pad on a DualShock 4 controller. Xbox One fans making the switch to PS4 will feel right at home here. The 8-way D-Pad is pretty neat for fighting games, too.
It's full of other neat tweaks as well. Like the weights that slide inside it to add a bit more bulk, in case you're into that kind of thing. You have to spend more time setting it up whereas the Razer is plug-and-play. But if you want customisation, this is pretty comprehensive.
Scuf Infinity4PS
In this company of official and officially licensed controllers, the SCUF stands out as an unlicensed renegade. The rough and ready, endlessly customisable upstart aiming to tempt you away from the Razer and Nacon.
But, by the standards of unlicensed, modded controllers, the Scuf is a seriously polished, tech-heavy option with features that will seriously appeal to the seasoned pro. In fact, SCUF controllers are already very popular in the pro gaming world.
Those folks are drawn in by the elongated L2 and R2 buttons, the switchable hair-trigger, d-pad-to-disc conversion, extra switches on the back that replicate face-button functions so you don't have to lift your fingers from the thumbsticks, and the choice of concave or convex pads for said thumb sticks – not to mention the fact that all of these features are user-switchable in mere moments.
As anyone who's ever met me in Battlefield 1 will attest, I'm most certainly not a pro gamer, so for me the real draw is how much you can customise the appearance of the thing. Head to the website and you can choose from an astonishing range of patterns and colours for the casing, buttons and triggers to create your very own masterpiece/monstrosity.
Razer Raiju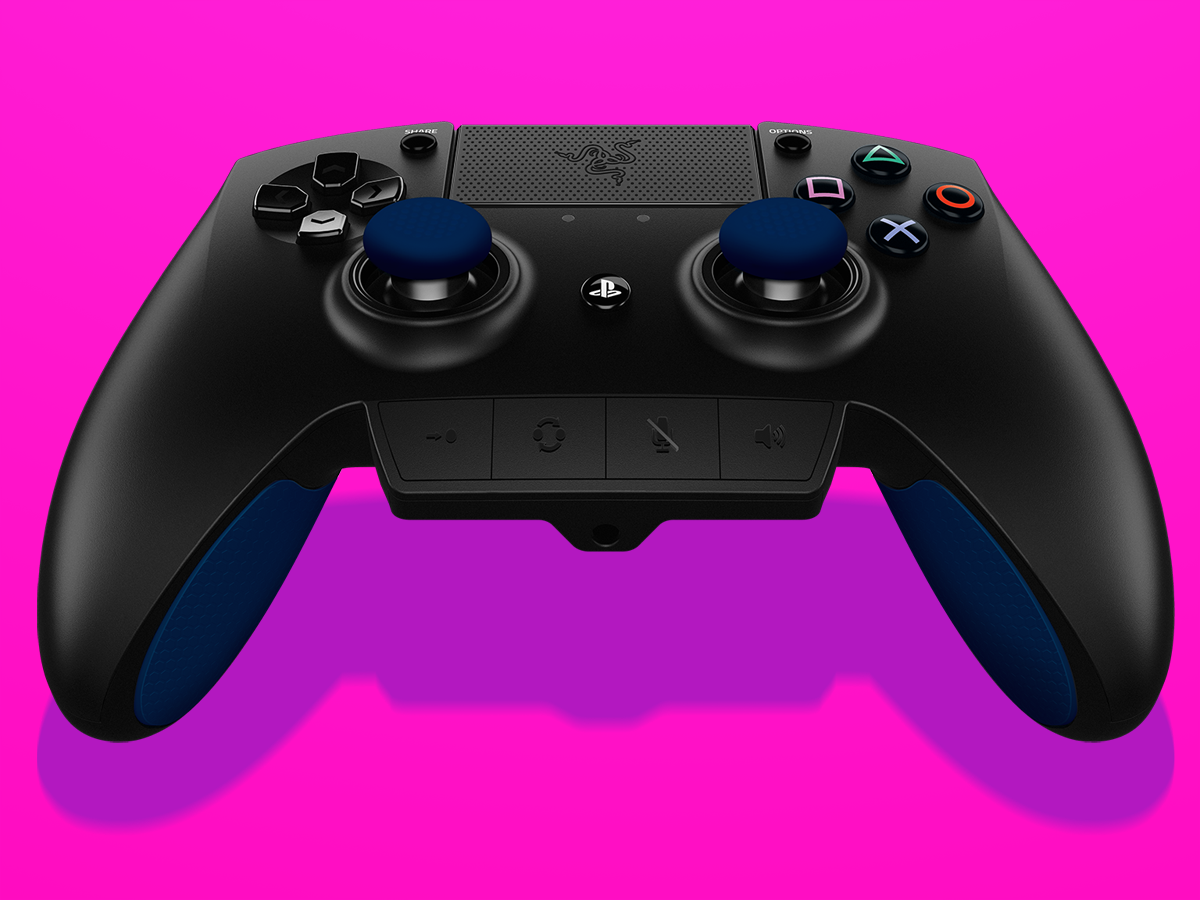 For the Raiju, Razer basically took everything PC gamers love about its mice and keyboard line-up, and bundled it all into a PS4 controller.
What's not to like about a customisable pad with near-instant response times, clicky buttons and controls that'll keep you in the game, rather than forcing you back into the menus to tweak your settings?
It actually borrows its shape from the Xbox One controller, but keeps Sony's preferred placement for the analogue sticks. The microphone shortcuts sit underneath, a bit like the old Xbox 360 chat pad.
Adjustable hair triggers are perfect for shooters, but it's the customisable M keys on the top and back that really set the Raiju apart. They're perfectly placed for your fingers, so you never have to take your thumbs off the sticks.
Sure, it's expensive, and can't handle macros in the same way as Nacon's Revolution, but that also means you won't raise any red flags at gaming tournaments. The ultimate fps weapon.
Scuf Impact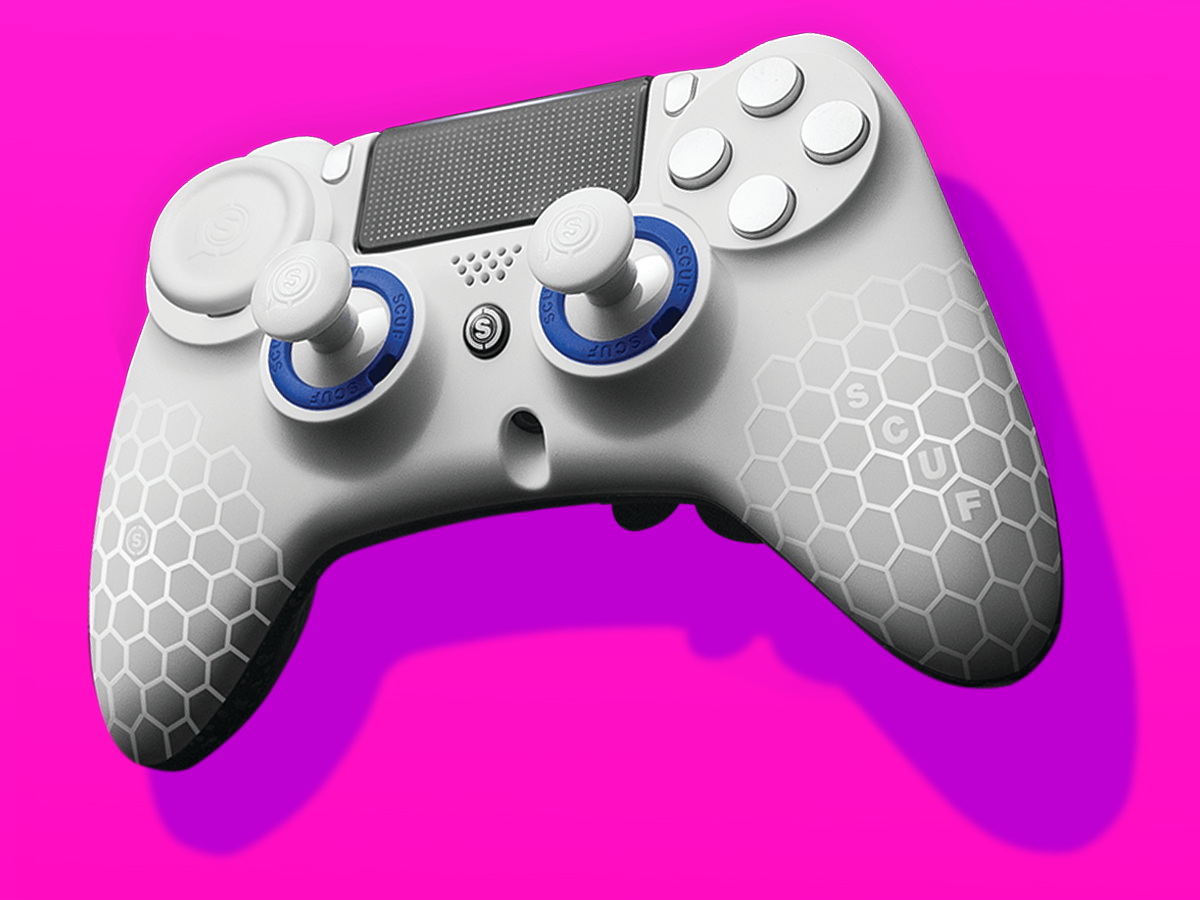 If Scuf's Infinity4PS is a pretty darn ambitious customisation of the standard DualShock 4, the company's new Impact is a complete redesign.
Not only does it get the same pro-tempting options, such as the removable, changeable and larger thumbsticks, elongated triggers that can be switched to hair-trigger mode in moments, the mottled rear surface that increases grip, a switchable d-pad and enough colour options to give Andy Warhol palpatations – it also gets an extra two paddles on the rear (taking the total to four), a tougher USB connection for wired gaming, and boasts a whole new shape thanks to a custom shell.
Those paddles on the back are shaped to feel like the face buttons that you'd usually jab with your thumb and allow l33t gamers to keep said thumb on the right analogue stick while performing other in-game actions using their middle and third fingers. That's some pro stuff right there.
On paper, they're great then, but do bear in mind that in order to accommodate all these extras, the Impact has been elongated, making it feel almost like a hybrid of the PS4 and Xbox One controllers. And while it's true that your fingers do rest nicely on the paddles, that extra width makes the analogue sticks a bit of a stretch for some hands. Try before you buy, if at all possible.