Best iPad 2023: Which is the ideal Apple tablet for you?
How to select a slate from Apple's tablet line-up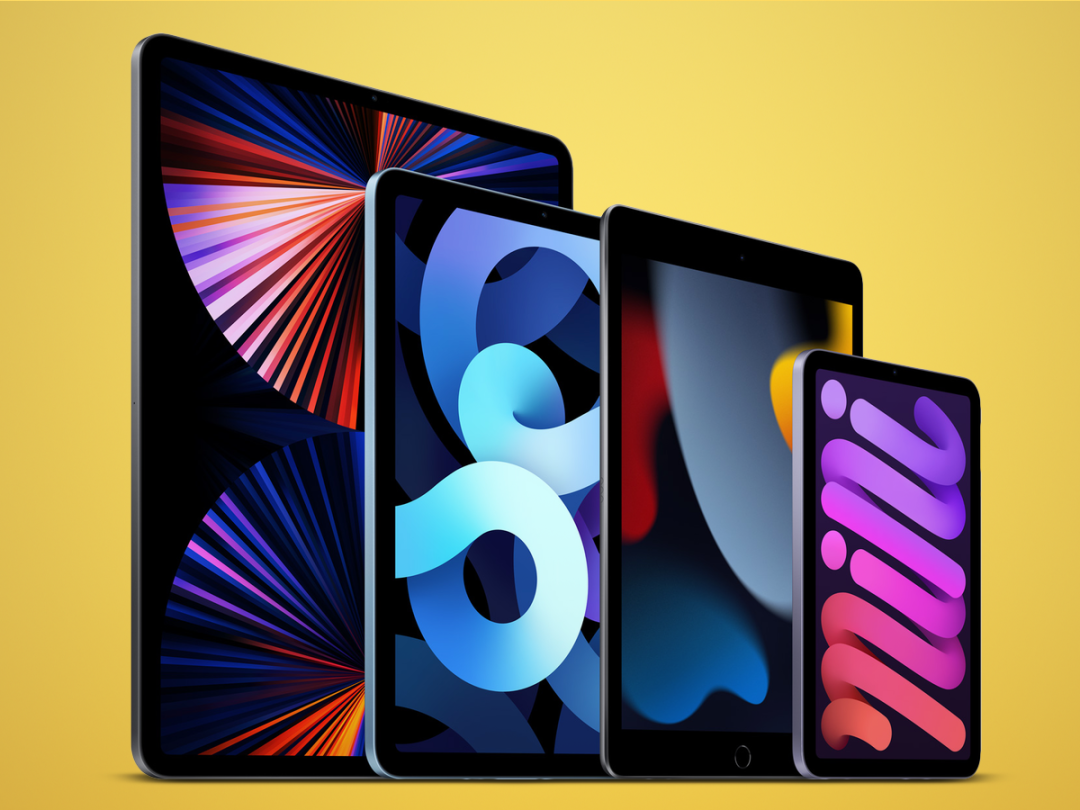 Once upon a time, buying an Apple tablet meant buying the iPad. Apple made one model, in one size. You just had to pick a colour, a storage capacity and a connectivity option. Things are different now – so which is the best iPad for you?
Apple offers four different iPad variants in five different sizes, each with its own components, perks and wildly varying price tags. And each model ticks different boxes. One promises powerful creative performance, while another delivers a satchel-friendly form factor.
If you're planning to spend a few (or several) hundred quid on a tablet, you'll want to make sure you end up with a device that's perfectly suited to your needs. Not sure which Apple tablet is best for you? Are you shopping for a simple second screen, or do you need a slate to upgrade your digital doodling? We've explored the benefits of – and differences between – every current iPad model in our buying guide below.
---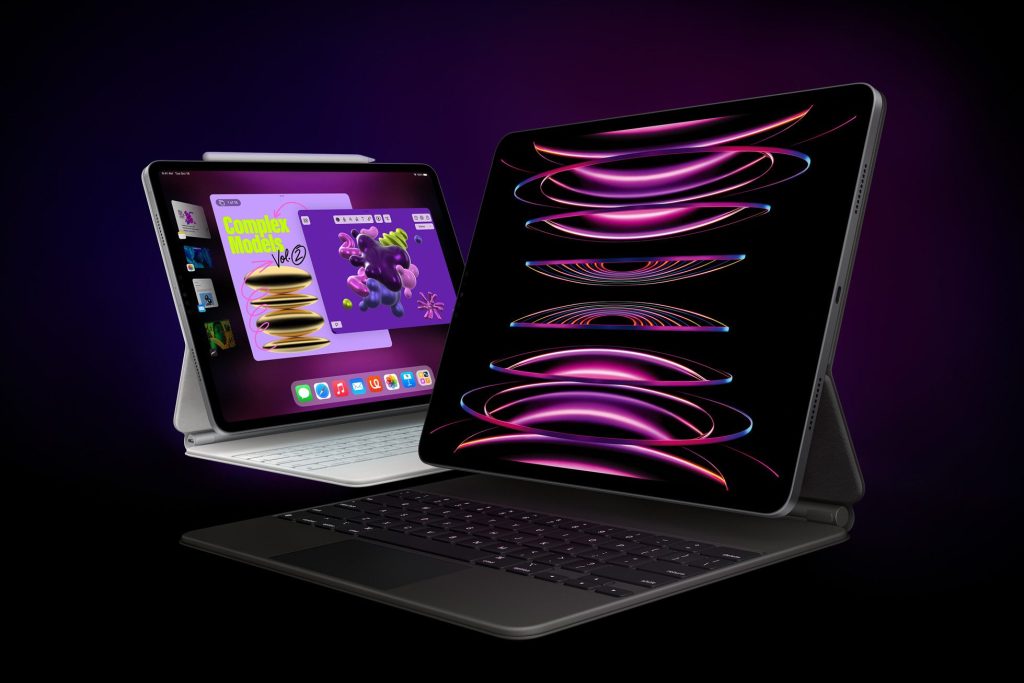 1. iPad Pro (2022)
Stuff Verdict
Buy the iPad Pro if…you want supercharged performance for a premium price
Pros
Extremely powerful
Beautiful display
Cons
Extremely pricey
MacBook Air better value for many
iPad Pro (2022) specs
Platform
Apple M2
Display
12.9in 2732 x 2048 120Hz Liquid Retina XDR Mini LED display
Cameras
Rear: 12MP Wide camera, ƒ/1.8 aperture, 12MP ultrawide, ƒ/24 aperture, 125° field of view
Front: 12MP ultrawide, ƒ/24 aperture
Models
Wi-Fi, Wi-Fi and 5G cellular (nano SIM and eSIM)
Capacity
128GB, 256GB, 512GB, 1TB, 2TB
Dimensions
281 x 215 x 6.4mm, 482g
When it launched in 2018, the iPad Pro made good on Apple's promise of an all-screen slate that 'becomes' whatever app is running. Sketching in Procreate? The entire iPad Pro is your canvas, thanks to barely-there bezels.
The 2022 update improves things further, but let's get the headline-grabbing news out of the way first. The iPad Pro is expensive and will cost you from $799 in the US or £899 in the UK.
What do you get for that jump in price? 2022's iPad Pro has had a processing glow up through its M2 chip, which brings an 8‑core CPU and 10‑core GPU to the iPad Pro. There's also a 40% speed boost through the iPad Pro's 16-core Neural Engine that accelerates machine learning tasks. This means the 2022 iPad Pro can create photorealistic 3D designs and play games better than before. The iPad will also soon support the popular video editing software DaVinci Resolve.
The 12.9in Liquid Retina display features 1000 nits of full‑screen brightness and 1600 nits of peak brightness. It's also been improved to work better with the Apple Pencil which features a new 'hover' function, allowing for digital sketching without the mistakes.
Support for Wi-Fi 6E makes for even faster performance when connected to networks. The cellular spec also supports 5G for supercharged connections on the move.
Those who, for some reason, take iPads to gigs will be impressed with the camera updates, too. On the front, the iPad Pro features an Ultra Wide camera with a 12MP sensor and a 122‑degree field of view. Round the back, an Advanced Wide and Ultra Wide camera makes for crystal clear snapping. The upgraded iPad Pro also supports for ProRes video capture, while the boosted ISP in the M2 chip also supports Smart HDR 4.
In short, the iPad Pro certainly builds on the iPad's past tablet dominance, but the price point will likely put a lot of people off.
---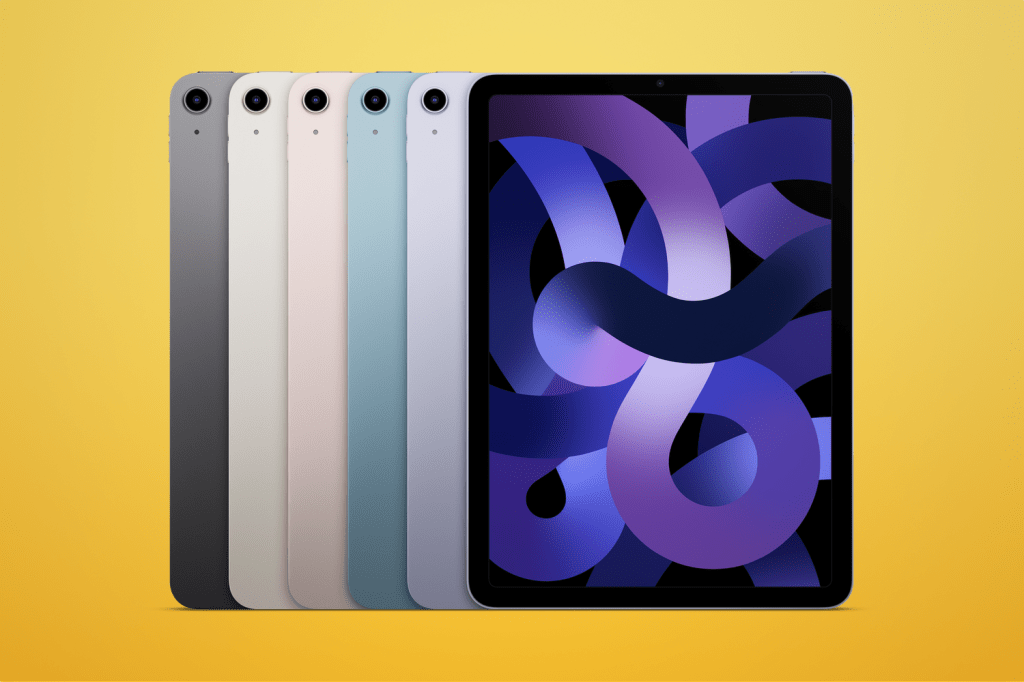 2. iPad Air (2022)
Stuff Verdict
Buy the iPad Air if…you want Pro performance without the bloated price tag
Pros
Powerful M1 chip
Excellent build quality
Cons
Only 64GB entry-level storage
Poor external display support
iPad Air (2022) specs
Platform
Apple M1
Display
10.9in 1640 x 2360 Liquid Retina IPS LCD
Cameras
Rear: 12 MP, f/1.8
Front: 12 MP, f/2.4, 122˚
Models
Wi-Fi, Wi-Fi and 5G cellular (nano SIM and eSIM)
Capacity
64GB, 256GB
Dimensions
247.6 x 178.5 x 6.1 mm, 461 g
In 2020, the iPad Air evolved from a featherweight slate into something significantly more powerful – and demanded an extra $100/£100 for the privilege. Fast forward to 2022 and it's been upgraded yet again. Only this time, the price has gone down by a tenner.
Starting at $599/£669 for the 64GB Wi-Fi version, the fifth-generation iPad Air is still a streamlined tablet but packs beefier performance than ever before. This comes courtesy of Apple's meaty M1 chip, the same 8-core processor found in the iPad Pro. Apple reckons the supercharged silicon makes the new iPad Air the fastest tablet available for the price.
Visually, it's the spit of its predecessor, which itself was almost identical to the iPad Pro 11in from 2020. That means flat sides, delightful aluminium all over and a screen that fills the front. The Liquid Retina display remains the same at 10.9in. It doesn't offer ProMotion's fast refresh rates, but it is clear, bright and gives great viewing angles.
Unlike the Pro, there's still just a single 12MP sensor on the rear, but the front sensor has finally been upgraded: it's now a 12MP Ultra Wide snapper with a 122° field of view. More importantly, it supports Apple's Centre Stage smarts, which will automatically keep you in the middle of the frame during video calls.
Connectivity has also been upgraded. The fifth-gen iPad is compatible with 5G, while its USB-C port is reportedly twice as fast as before. This should unlock enhanced accessory support (alongside compatibility with the Magic Keyboard and second-gen Apple Pencil). As before, you also get stereo sound in landscape orientation for more immersive audio. There's still no Face ID, but Touch ID is neatly integrated into the power button.
Its combination of refined design, raw M1 power and useful accessory support makes the iPad Air a solid option if you don't need dual rear cameras or a 12.9in display.
---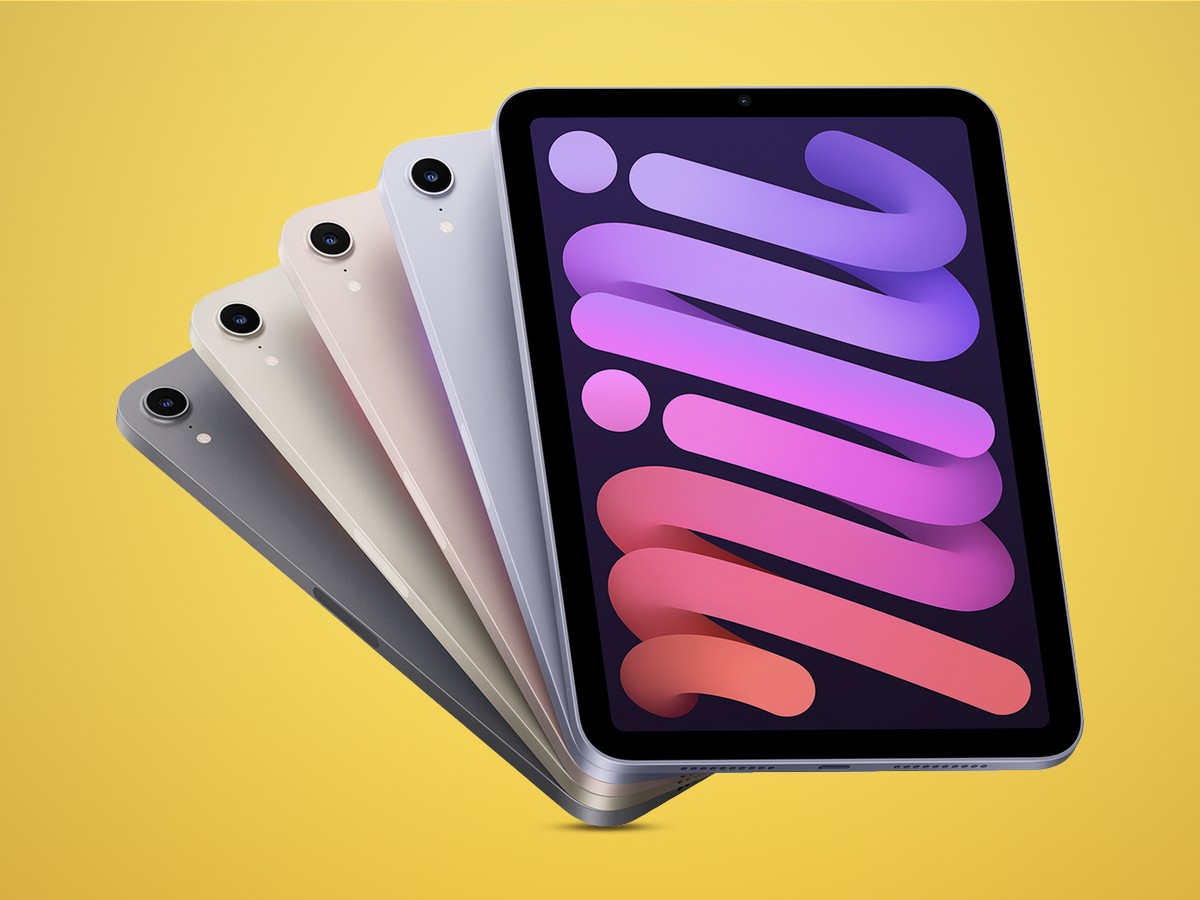 3. iPad Mini 6
Stuff Verdict
Buy the iPad Mini if…you want a properly portable powerhouse tablet
Pros
Much improved design
Perfectly portable
Cons
No Apple hardware keyboard
Easy-to-muffle speakers
iPad Mini 6 specs
Platform
A15 Bionic
Display
8.3in 2266×1488 resolution at 326ppi, True Tone, wide colour (P3)
Cameras
Rear: 12MP wide, ƒ/1.8 aperture
Front: 12MP ultra-wide, ƒ/2.4 aperture
Models
Wi-Fi, Wi-Fi and Cellular
Capacity
64GB/256GB
Dimensions
195.4×134.8×6.3mm; 293g
Mini it might be, but the smallest iPad doesn't go little on specs. Quite the opposite, as it is equipped with the same A15 Bionic chip found in the latest iPhones and offers a full iPad experience that's broadly free from compromise. It transforms the $499/£569 iPad Mini from a portable plaything into a proper pint-sized powerhouse.
With a design that's finally been refreshed, the 6th-gen Mini looks like an iPad Air that's shrunk in the wash. The Home button's gone, leaving behind a blank canvas surrounded by a reasonably big but unobtrusive bezel. It looks great and feels suitably premium in the hand. The smaller-than-A5 dimensions mean it should fit into bags, folders and roomy pockets with ease.
Further aping the Air, the Mini moves its Touch ID sensor to the power button. It also swaps Lightning for USB-C, and presents you with a True Tone display that's sharper than any other at 326ppi. It looks great, even without 120Hz ProMotion. The landscape stereo speaker setup also has a surprising oomph. The repositioned volume buttons, meanwhile, automatically switch actions depending on orientation.
That A15 chip keeps things zippy with even the most demanding apps and games, even if some titles currently have issues with the new 14:9 aspect ratio used by the 8.3in screen. The 12MP front camera is the same ultra-wide number now found in all iPads apart from the Air – which means a 122-degree field of view that can follow you with Centre Stage smarts.
The iPad Mini 6 is clearly a more niche product, especially given the price hike that comes with it. Its size can make the interface fiddly, although the Apple Pencil helps with inputs. But the Mini 6 prizes portability. For those who don't need a traditional keyboard option (there's no Magic Keyboard for the Mini) and have the eyes for a smaller, sharper display, the new iPad Mini is an excellent package.
---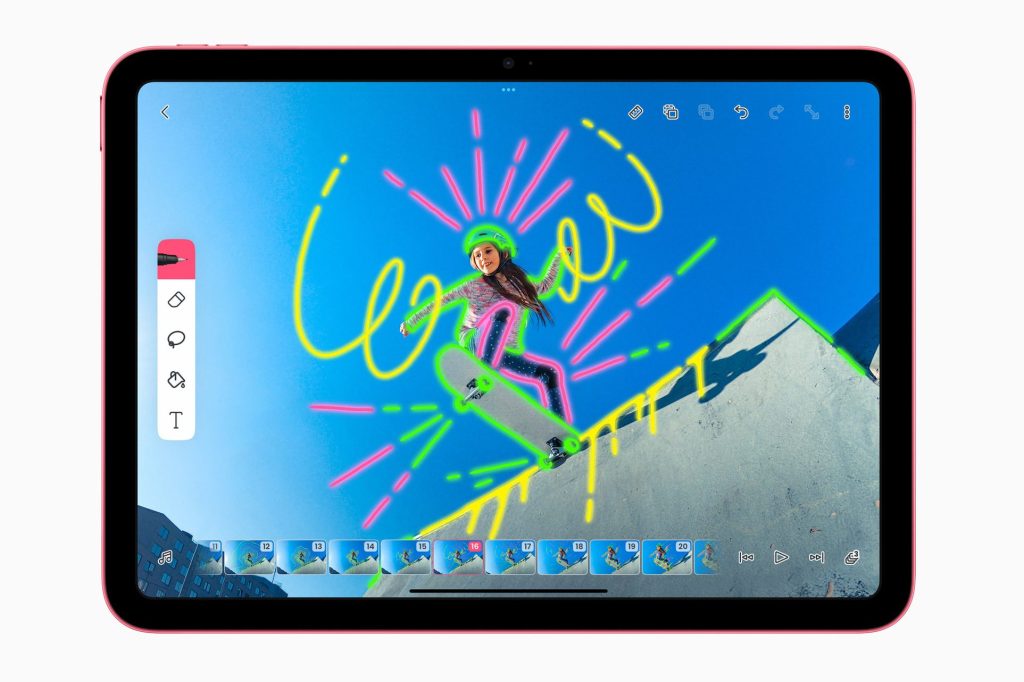 4. iPad 10th-generation (2022)
Stuff Verdict
Buy the 10th gen iPad if…you want a well-rounded tablet, but do consider the price
Pros
Move to USB-C
Fresh colours
Cons
Pricing is a lot higher than 9th gen
Inevitable confusion between this and iPad Air
iPad 10th-generation (2022) specs
Platform
Apple A14 Bionic
Display
10.9-inch 2360×1640 pixel liquid retina
Cameras
Rear: 12MP Wide camera, ƒ/1.8 aperture
Front: 12MP ultrawide, ƒ/24 aperture, 122° field of view
Models
Wi-Fi, Wi-Fi and 5G cellular (nano SIM and eSIM)
Capacity
64GB, 256GB
Dimensions
249 x 180 x 7mm, 477g
The standard iPad has long been Apple's best-selling slate. It makes sense, then, that Apple wouldn't change a proven formula with its 2022 edition? Wrong.
This new $469/£499 device leaves the basics behind and brings with it a major overhaul. There's an updated design, support for new accessories, and a bunch of new features trickled down from the more premium offerings. It's set to be Apple's best bang for your buck tablet, despite a hefty price hike.
There's a 10.9-inch Liquid Retina display that stretches to the device's edge. The display comes in at 2360×1640 resolution, nearly 4 million pixels, 500 nits of brightness, and Apple's True Tone technology. Oh, and Apple has also ditched the home button.
Touch ID has been relocated to the power button on the top of the device, just like on other models. And new to this 10th generation are a new suite of colours that come in blue, pink, yellow, or silver.
A14 Bionic chipset from the iPhone 12 Pro series offers a 20% CPU and 10% GPU boost from the 9th-gen device. For happy snappers, new to this model of iPad is a 12MP ultra-wide landscape camera with a 122-degree field of view that supports Center Stage.
The iPad remains the best all-around tablet that Apple offer, and it'll likely remain that way with all its bells and whistles upgrades. It still offers value for money, despite a price increase, and remains a powerful tablet without forking out for the extra features that come with the Pro.
---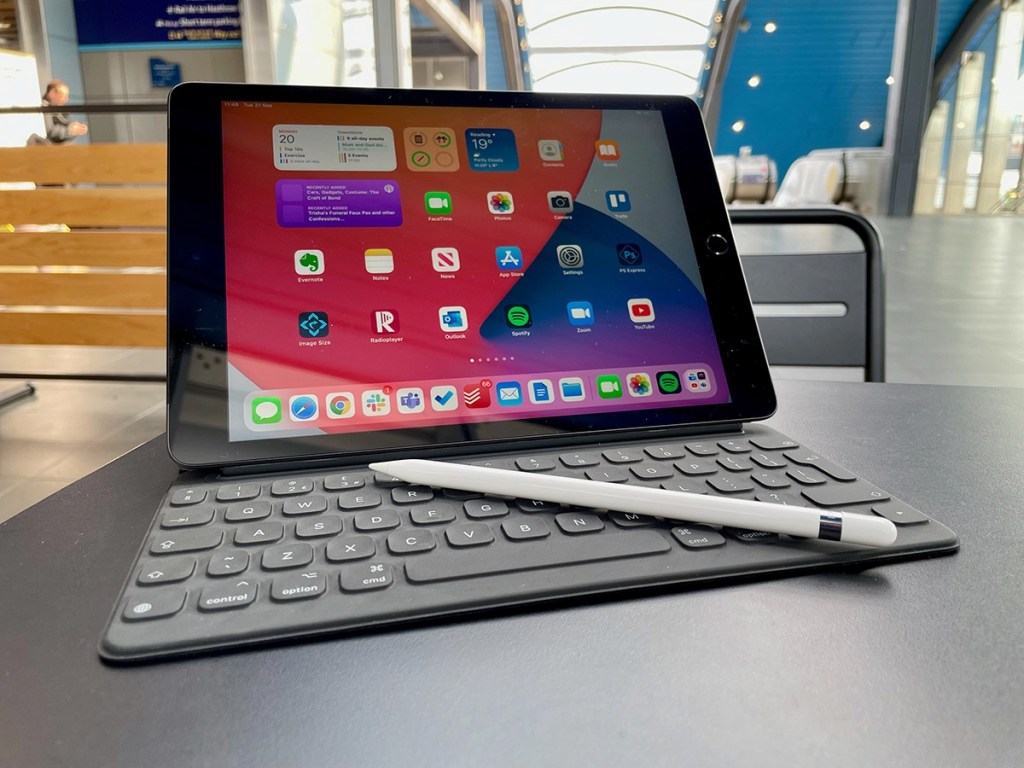 5. iPad 9th-generation (2021)
Stuff Verdict
Buy the iPad 9th gen if…you want a value-packed iPad and don't care about extras
Pros
TrueTone very welcome
A lot of bang for buck
Cons
Design needs refreshing
Accessories add expense
iPad 9th-generation (2021) specs
Platform
Apple A13 Bionic
Display
10.2-inch IPS LED 2160 x1620 display, TrueTone
Cameras
Rear: 8 megapixel f/2.4
Front: 12 megapixel f/2.4, 1080p video
Models
Wi-Fi, Wi-Fi + Cellular
Capacity
64GB, 256GB
Dimensions
251 x 174 x 7.5mm, 487g
This is Apple's entry-level iPad, but thanks to spec upgrades it's actually fairly new, launched in late 2021 alongside the iPad Mini. It may not have the looks of the others, but it's still a cracker. It will surely drop off the end of the iPad range and eventually be replaced by the 10th-generation unit above, but for now, it's the most value-packed iPad you can get.
The design is definitely ageing, though this version is rapid under the hood with support for more tech including True Tone. This generation also ushered in a better front camera, faster processor and more storage, too. It's a bit of an advert not to spend more on a 10th-generation model or iPad Air, since this can do 95% of what those models are capable of.
The only weird bit is in terms of the accessories and the Apple Pencil in particular, because it uses the first instead of the second-gen Pencil. Therefore, it doesn't magnetically attach and is very easy to lose. If you're looking for an iPad specifically with the intention of using the Apple Pencil, we'd recommend the iPad Air or iPad Mini instead.
---