Best gaming headsets 2023: hear every enemy footstep in comfort
Gain the edge in multiplayer gaming or immerse yourself in a solitary experience with these great cans from from Razer to Logitech and more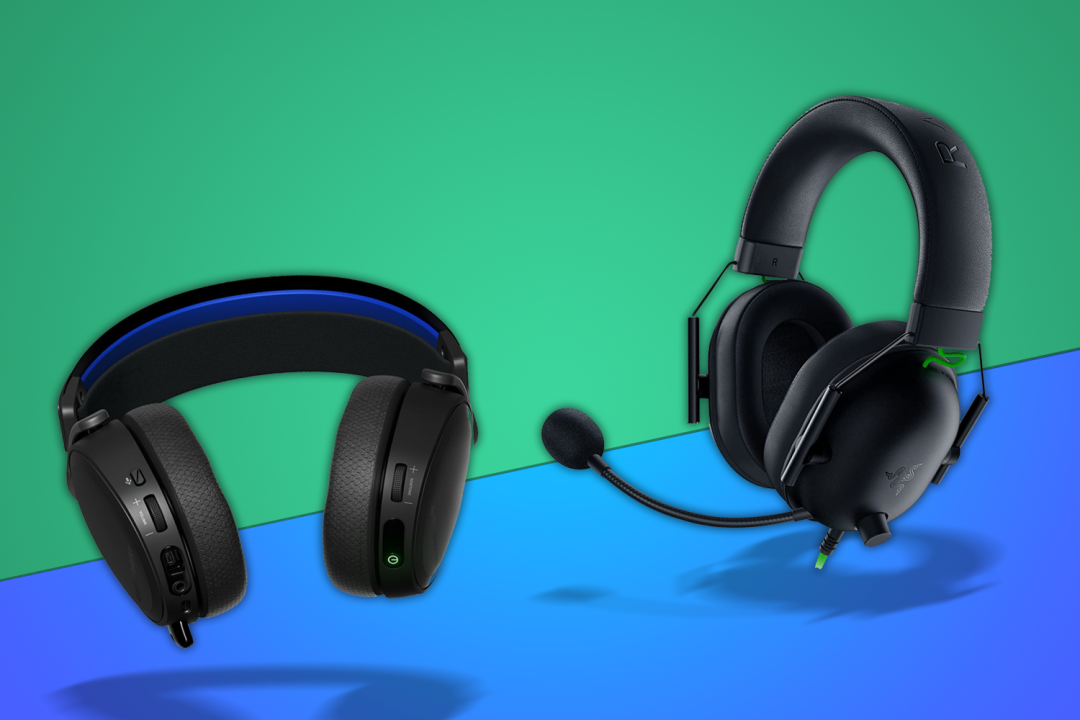 If you're looking for the best gaming headsets, you've come to the right place. We've used dozens of gaming headsets over the years, so we know what will work best for you. For the most part, we've featured wireless headphones here as freedom from wires is always a sweet bonus during those long gaming sessions. However, there is room for some wired picks too, if you prefer the flexibility of connecting them to anything with a 3.5mm headphone jack.
You might be tempted to think that using your TV or monitor's built-in sound or a cheap pair of cans will do the job, but a good gaming headset will improve your chances during multiplayer sessions as you can more clearly hear your enemy approach. You'll feel more immersed in what you're playing for single-player adventures and lose yourself in the game world. Let's look at our top picks of the best gaming headsets to help you find what's best for your needs and budget.
What are the best gaming headsets?
Before we dive into the full list of best gaming headsets, here's a quick look at our three top picks:
Best overall gaming headset: Razer BlackShark V2
Very well priced for what they offer, the Razer BlackShark V2 sounds excellent at all frequencies thanks to THX Spatial Audio, ensuring you can hear things coming from every direction clearly. Similarly clear is how you sound to your mates thanks to a great mic, while there's an included USB sound card for PC gamers if they prefer to tweak things to their liking. These may not be the newest, but they remain exceptional.
Best wired gaming headset: JBL Quantum One
With an integrated head-tracking sensor, the JBL Quantum One could have been gimmicky but instead offer highly accurate audio positioning that feels well-suited for competitive gaming. The expansive soundstage means you feel fully part of what you're playing, and their somewhat bulky build is surprisingly lightweight, given their appearance. There's Active Noise Cancelling too, if household members are a bit noisy, allowing you to lose yourself.
Best sounding gaming headset: Corsair HS65
A bit of a bargain for PC gamers in particular, the Corsair HS65 offers remarkably crisp stereo sound at all times. There's 7.1 surround sound virtualised audio for PC with a selection of presets for getting things just right, as well as a choice of personal profiles to match your hearing. You don't need to rely on these, though; the out-of-the-box experience still sounds excellent. They're super comfy, even on small heads too.
Our pick of the best gaming headsets to buy today
Razer BlackShark V2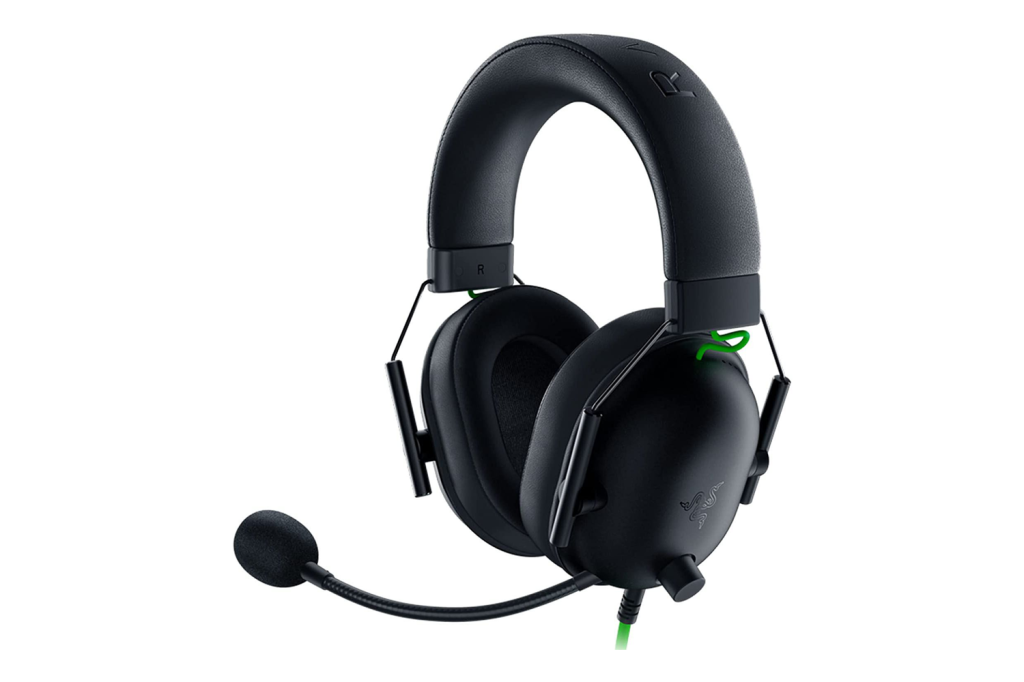 Razer is a popular name in the gaming accessory world, which translates well to its headphones range. The BlackShark V2 is available in a Pro/wireless version but we're fans of the wired variety thanks to its flexibility. The cable means you can use its TriForce Titanium 50mm drivers across all your devices and they sound great. Audio is split into three distinct parts so all frequencies sound effectively immersive.
You'll enjoy hearing steps of enemies creep up behind you in Fortnite with THX Spatial Audio doing an excellent job of providing a wide soundstage. Count on anything creepy feeling even more unsettling than before. For PC players, there's an included USB sound card so you can make more adjustments while there are pre-tuned profiles too. The ear cups are comfy on your ears while providing good sound isolation without ever clamping down awkwardly on your head.
Stuff Says…
Ready to go for any device, the Razer BlackShark V2 remains a clear-sounding and comfy pair of cans for less than you'd think.
Tech spec:
Battery: Up to 24 hours Driver size: 50mm Weight: 262g Connectivity: 2.4Ghz wireless or 3.5mm Compatibility: PC, Mac, PS4, Nintendo Switch
Corsair HS65
The Corsair HS65 looks less exciting than some gaming headsets, but they're understated in how well they work and sound. They're best suited for PC thanks to Corsair iCUE software that adds on SoundID so you can customise the audio profile according to your hearing and take advantage of virtualised Dolby Audio 7.1 surround sound. It takes a bit of setup, but it's worth it as we all listen differently.
Numerous presets are available, including a clear chat option to enhance the microphone and one dedicated to competitive FPS gaming. Little details like an extra comfy design and a flip-to-mute mic make these a practical yet high-quality sounding pair of cans. Recent support for Sony Tempest 3D audio makes it particularly tempting for PS5 owners. Both wired and wireless varieties are available depending on your budget, with equal performance from both.
Stuff Says…
Crisp audio is the name of the game here, with the Corsair HS65 looking unassuming yet sounding great.
Tech spec:
Battery: N/A Driver size: 50mm Weight: 282g Connectivity: Wireless or 3.5mm jack Compatibility: PC, PS4/PS5, Xbox, Mobile
Astro A50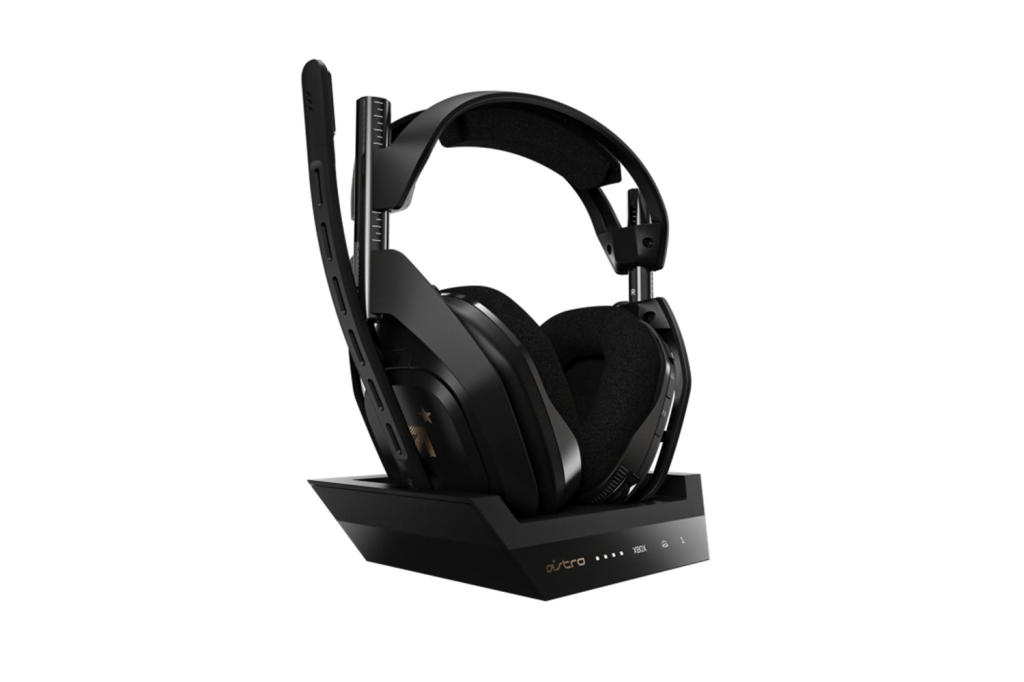 The Astro A50 is keen to make an impression. Instead of simply having a cable to plug in to recharge them, they have a base station that will look pretty good on your desk or by your TV. Good looks wouldn't matter if they didn't perform well, but they offer very crisp highs, and even at the highest volume, there's no bass distortion. It comes at a price that makes them a harder recommendation than other clear headsets, but if you need headphones that make cutscenes sound like a cinematic experience, these are the ones.
A 15-hour battery life means they'll need that docking station frequently, but they're worth the maintenance. The flip-to-mute mic sounds reassuringly crisp too, while features like USB sound card support and mod kit customisations are a neat bonus for anyone keen to tweak things.
Stuff Says…
A classy addition to your gaming den, the Astro A50s are pricey but offer exceptional sound quality in a wireless shell.
Tech spec:
Battery: Up to 15 hours Driver size: 40mm Weight: 380g Connectivity: Wireless Compatibility: PC, Mac, Xbox
SteelSeries Arctis 7P+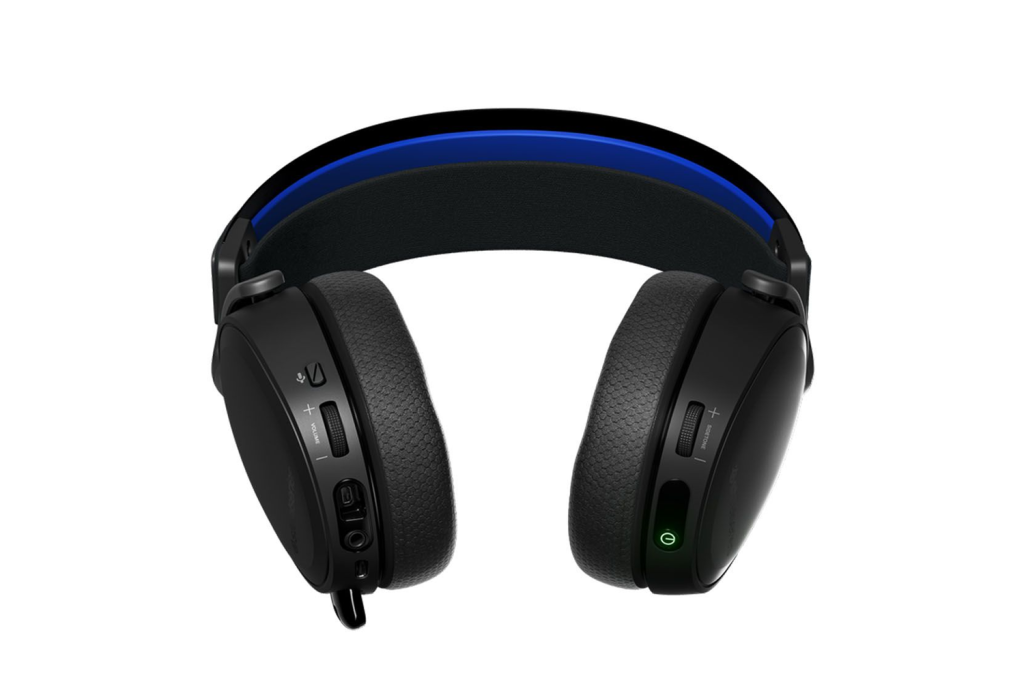 The SteelSeries Arctis 7P+ are robust all-rounders with the whole Arctis range worth considering. These headphones offer strong battery life of over 30 hours, and while they'll only work wired with an Xbox, that does mean they work in some form with pretty much anything going. Switching between wireless devices is also easy, which is ideal for an avid player.
The highlight is the PS5 compatibility thanks to support for 3D audio. The 40mm drivers offer excellent sound quality across the board, while there's a noise-cancelling microphone so your mates can hear you clearly. Said microphone is a little divisive as it's retractable, which won't suit everyone like a flip-to-mute one might, but you get used to it. Quick charging supports so you get 3 hours of play from a 15-minute charge, plus a comfy build rounds off a neatly designed package.
Stuff Says…
Decent battery life, a comfy fit, and great audio make the SteelSeries Arctis 7P+ a reliable all-rounder if on the pricier end of the scale.
Tech spec:
Battery: Up to 30 hours Driver size: 40mm Weight: 453g Connectivity: Wireless and 3.5mm Compatibility: PC, Mac, PlayStation 4, PlayStation 5, Nintendo Switch, Mobile
Logitech G Pro X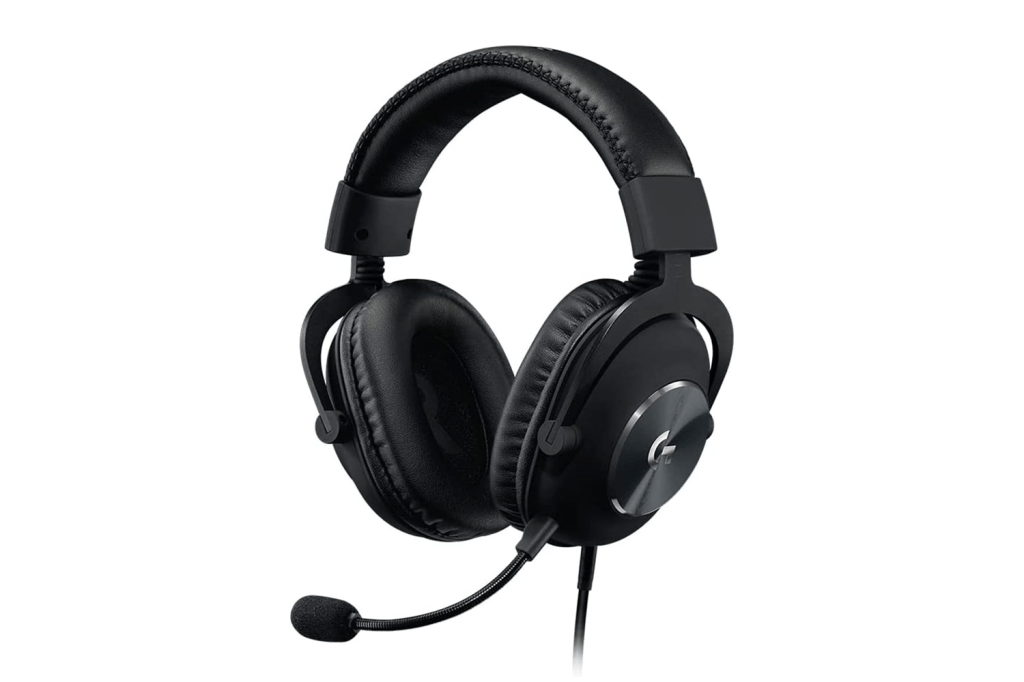 The Logitech G Pro X is available in a wireless form, but we're focusing on the value behind the wired variety. Their design is reminiscent of session headphones with extra comfortable memory foam padding and a durable steel and aluminium construction making them quite robust. Sound-wise, they offer 7.1 surround sound and a separate USB sound card. Combined, you get an immersive experience for PC users and a set of EQ profiles to get things just right.
Such attention to detail is extended to the microphone too with a choice of real-time voice filters to reduce noise, add compression and provide a better-sounding experience. These cans will enrich your gaming time and serve a purpose while you work from home. If you're looking for a typical gamer aesthetic though, you may need to go elsewhere as these are pretty understated.
Stuff Says…
Keen to be stylish yet sounding great, the Logitech G Pro X double up as professional headphones for work and play.
Tech spec:
Keen to be stylish yet sounding great, the Logitech G Pro X double up as professional headphones for work and play.
HyperX Cloud Alpha Wireless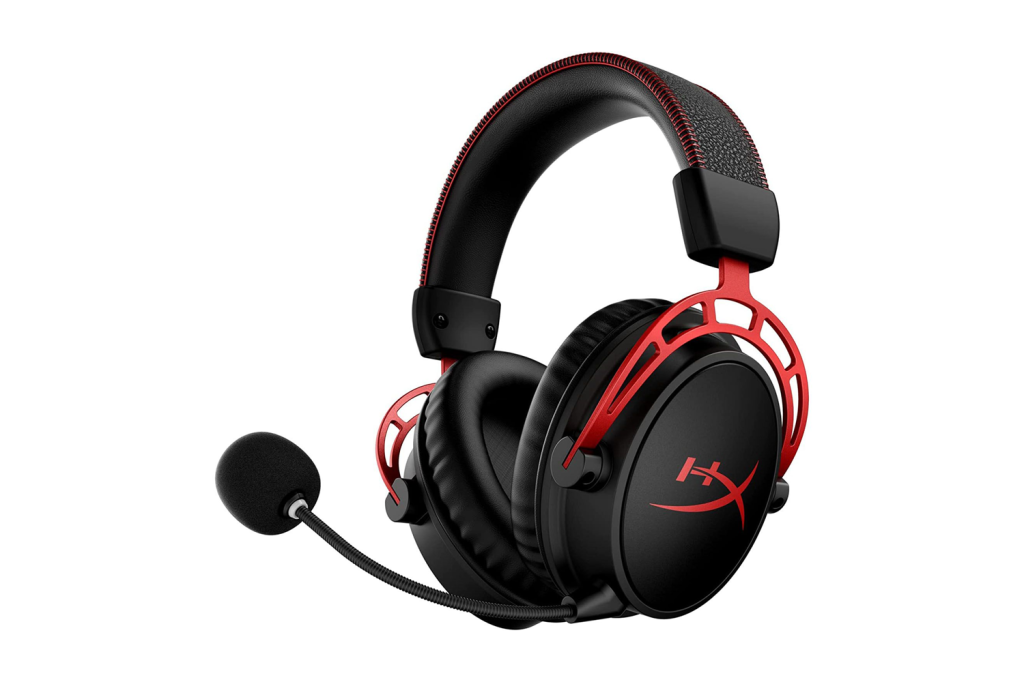 Looking on at 20-30 hour battery life and still wishing things didn't need charging? The HyperX Cloud Alpha Wireless may suit you if so. HyperX promises 300 hours of battery life, and it mostly delivers too, so you'll be gaming for a long time before you need to dig out the charging cable. The gaming headset sounds good too, with HyperX Dual Chamber Drivers sounding gimmicky yet offering crisp sound.
The cans come with DTS Headphone:X Spatial Audio for two years so you can hear where things are coming from on PC. As always, it's a substantial upgrade for anyone keen to have the edge while playing or that simply likes to lose themselves in the moment. They're also comfortable, thanks to memory foam cups and leatherette that stay reasonably cool. The noise-cancelling mic can be detached as needed while there's an LED indicator to let you know if you're muted or not.
Stuff Says…
With remarkable battery life, the HyperX Cloud Alpha Wireless are perfect for the forgetful amongst us. They sound great too with spatial audio.
Tech spec:
Battery: Up to 300 hours Driver size: 50mm Weight: 317g Connectivity: Wireless Compatibility: PC, PS4/PS5, Xbox, Nintendo Switch
Corsair HS80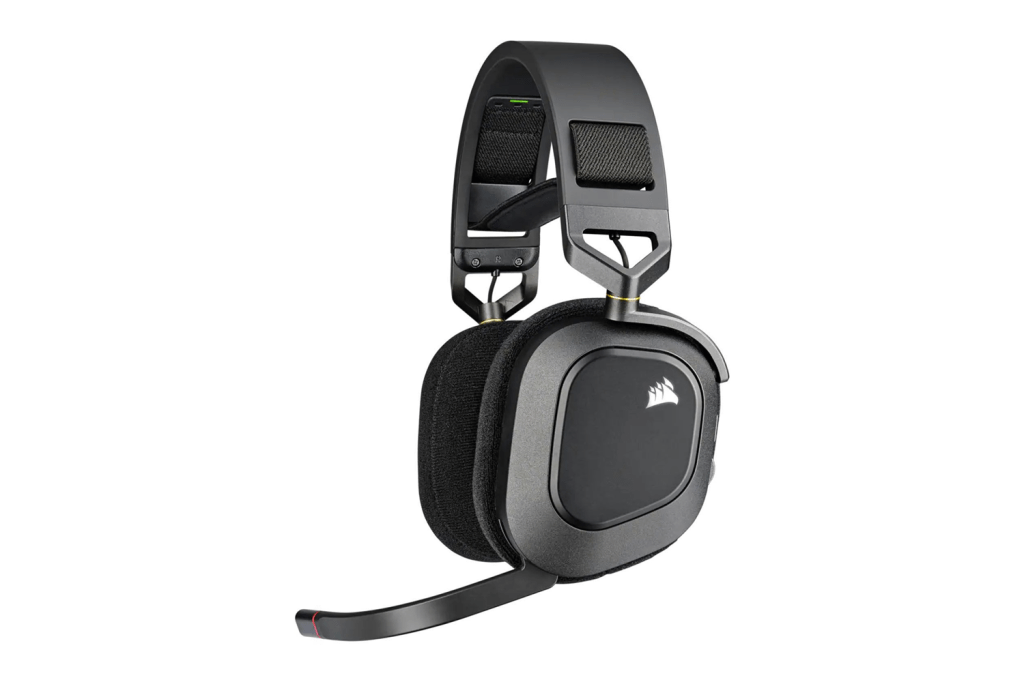 50mm Neodymium drivers are a good start for the Corsair HS80. They sound great. Leap into an older classic like Skyrim and you'll notice things you missed the first time around. Best of all is the Dolby Atmos support if you play on PC. Immersive is the word here, so it's lucky that the Corsair HS80 also feels great on your head. There are the usual memory foam ear pads and breathable fabric, but it all comes together to be extra, well, comfy. A floating headband design also reduces the risk of feeling squashed by them.
These wireless headphones cut down on compatibility, but the dongle is easy to set up with 20 hours of battery life and decent 60 feet range. The mic can be easily flipped up to mute while there's a built-in LED mute indicator too. Conveniently, you can connect three devices with one receiver, switching as needed.
Stuff Says…
Cocooned in how comfy the Corsair HS80 feel, spatial audio and Dolby Atmos support mean that familiar games somehow feel new again thanks to the vivid noises.
Tech spec:
Battery: Up to 20 hours Driver size: 50mm Weight: 367g Connectivity: Wireless or USB Compatibility: PS4, PS5, PC, Mac,
SteelSeries Arctis Nova Pro Wireless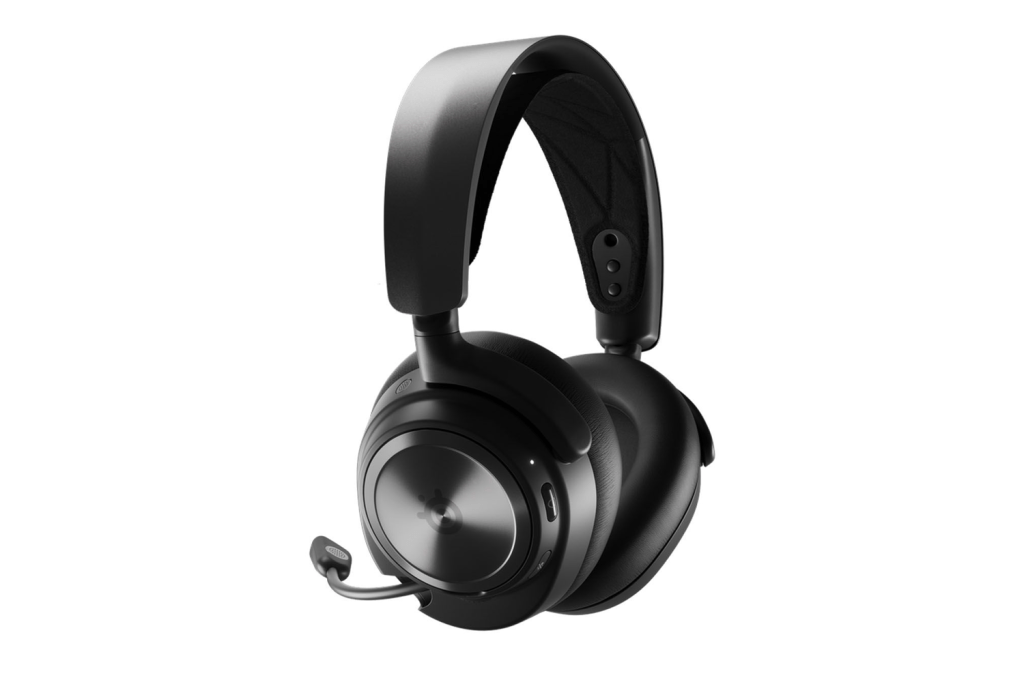 The SteelSeries Arctis Nova Pro Wireless are excessively expensive for many people. However, these are a good option if you want the best and can afford to spend more. There are plenty of buzzwords here, like spatial audio, Tempest 3D audio support, and active noise cancellation, but it does all these things well. It adds on extra details too like a transparency mode so you can still hear what's going on at home if needed, while there are multi-system connections so you can easily connect multiple devices simultaneously.
The mic is retractable, which won't suit everyone, but it sounds great being able to block out background sound and even keyboard noises. Appreciating you're serious about this whole thing, you also get two hot-swap batteries to extend battery life. We're not saying everyone will need it, but if your eyes lit up at the thought, you've got it.
Stuff Says…
Pricey yet exceptional, if you're serious about gaming, you'll appreciate the SteelSeries Arctis Nova Pro Wireless.
Tech spec:
Battery: Up to 44 hours Driver size: 40mm Weight: 337g Connectivity: Wireless, wired Compatibility: PC, Mac, mobile, PS4/PS5, Nintendo Switch
Razer Barracuda X
At first glance, the Razer Barracuda X offers everything you could want at a great price. They're wireless yet relatively cheap but still provide a battery life of 50 hours. You can connect them to two devices at once and easily switch between them, proving ideal for varied gaming tastes or if you need to take a call from your phone. They're also pretty comfy with a thick headband and the almost essential memory foam ear cushions.
The downside? In reality, the battery life is more like half that depending on how you use them. Also, the 40mm drivers aren't perfect. Turn the volume down too far and things turn less crisp. Go too high and sound can be distorted. The sweet spot is predictably sweet but if you're a perfectionist with this budget, stick with wired.
Stuff Says…
A reasonable price for a wireless headset, the Razer Barracuda X lacks perfect audio but there's still plenty to like here.
Tech spec:
Battery: Up to 59 hours Driver size: 40mm Weight: 250g Connectivity: Wireless, wired Compatibility: PC, Mac, PS4/PS5, Mobile
JBL Quantum One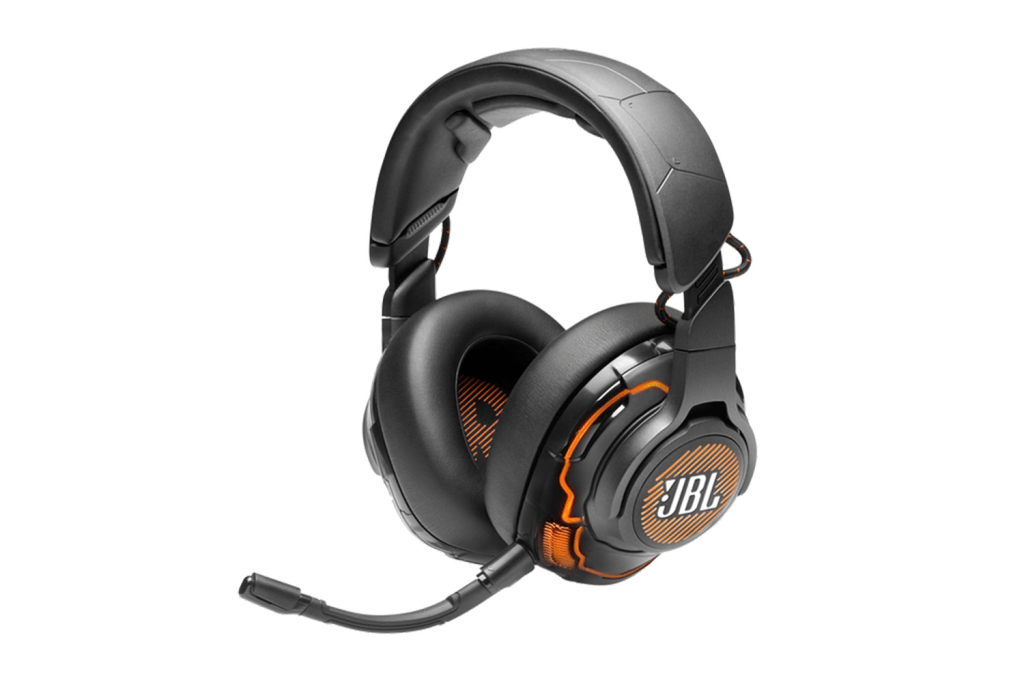 We're not fans of the JBL Quantum One's looks. The gaming headset looks strange and a little too garish, but it packs in some quality features. Most notably, its integrated head-tracking sensor helps provide you with better sound according to the position of your head. We don't understand the algorithm behind it but it sounds good, giving you a strong sense of aural direction. You'll need a PC to enjoy such features, but the JBL Quantum One sounds good even with other devices.
A wide soundstage helps you lose yourself to the game world you're exploring, with active noise cancellation ruling out the real world for a time. They're lightweight given the design too with a detachable boom mic for when you're going solo. Now a couple of years old, they're great value compared to the competition.
Stuff Says…
A little unusual looking compared to others, the JBL Quantum One packs a lot in to provide delightfully crisp sound for all.
Tech spec:
Battery: N/A Driver size: 50mm Weight: 369g Connectivity: Wired Compatibility: PS4/PS5, Xbox, PC, Mobile
Read more: The best 4K TVs for all budgets