Best soundbar 2023: TV sound for every budget reviewed
Upgrade your substandard TV speakers with superior sound and Dolby Atmos: we've tested the best soundbar for every home setup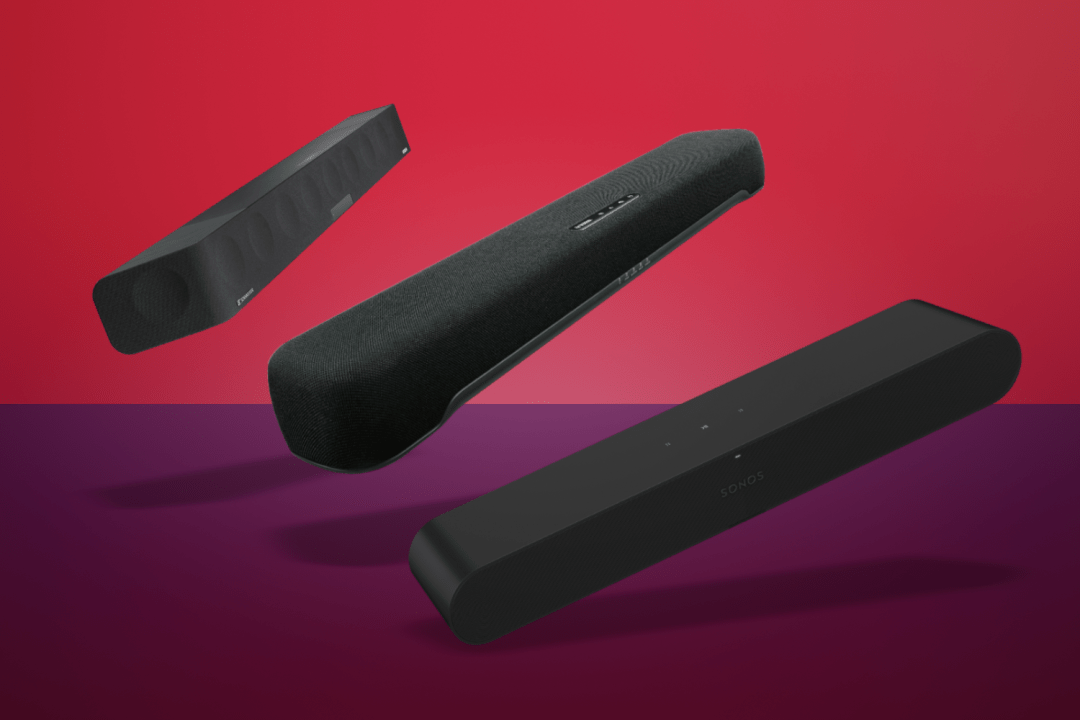 Slim TVs might look slick on your living room wall, but they don't leave much space for speakers. And if there's one way to ruin movie night, it's with disappointing audio. Don't fancy filling your room with surround sound speakers? These contenders for the title of best soundbar deliver beefy bass, room-filling volume and clarity that won't leave you reading subtitles – all from a single bar that sits neatly beneath your TV.
So you don't need a fleet of separates to sort your sub-par sound. Better yet, you don't have to drop thousands to give your ears an upgrade – although there's plenty of brilliant gear if your budget does stretch to several zeroes.
So whether you're shopping for sound to fill your studio apartment or looking for a 'bar to bring big-screen audio to your massive movie room, the list below features the very best soundbars for every pad and price tag. And if you're looking for a new TV, then check out our best 4K TV guide.
It's also worth keeping in mind that many of these soundbars can pair with the best multi-room wi-fi speakers (as long as they're compatible) to create a true 5.1 surround sound system.
---
What is the best soundbar?
We think the Sonos Arc (check price) is the best soundbar you can buy. This Atmos-enabled soundbar presents a wide and spacious soundstage, with every element given plenty of breathing space. Detail levels are high and the bass is simultaneously deep. Add voice assistants, clever controls and multi-room into the mix and the Arc shapes up as a true all-in-one soundbar.
---
Other soundbar recommendations
---
The best soundbars you can buy today: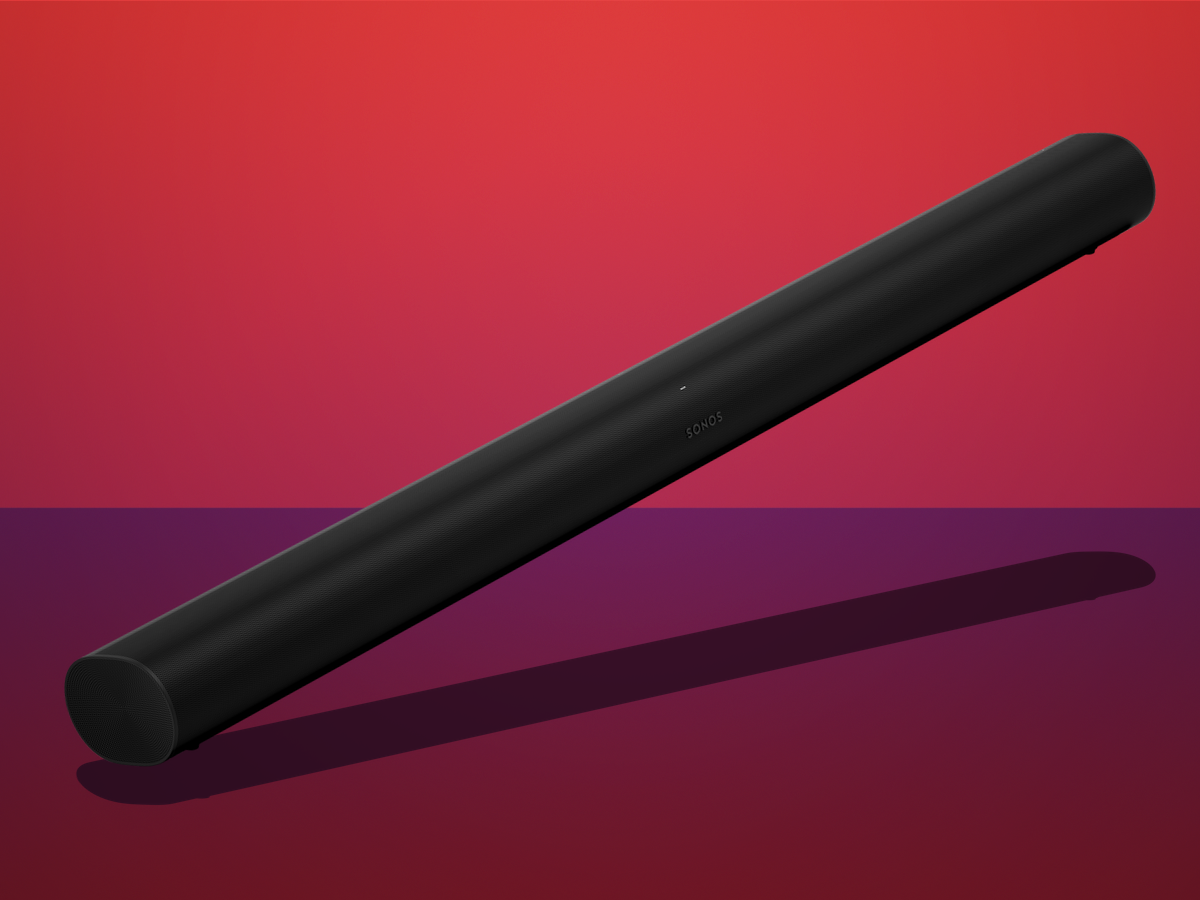 1. Sonos Arc
Stuff Verdict
At last, Sonos is able to give you the big-screen sound to go with those big-screen pictures.
Pros
Wide, tall sound and impressive bass
Adept with music as well as movies
Cons
Slightly uneven frequency response
No MQA support
| Sonos Arc specs | |
| --- | --- |
| Connectivity | HDMI, optical, ethernet |
| Format | Dolby Atmos, Dolby True HD, Dolby Digital+, Dolby Digital, DTS |
| Streaming | AirPlay 2, Sonos App |
| Dimensions | 8.7 x 114 x 12cm, 6.3 kg |
The Sonos Arc looks like a stretched Sonos speaker – which is mostly down to the matte-black or matte-white finishes, the perforated acoustic grille and the impeccable build quality. There's nothing to surprise you, apart from the length – which, at 114cm, can make it look ungainly beneath TVs smaller than 55in.
Still, if you want to hear an Atmos-enabled 'bar at its best, try the Arc. The soundstage is wide and spacious, with every element given plenty of breathing space. Detail levels are high, and it does an impressive job with the 'height' that's such a crucial part of the Dolby Atmos effect.
Bass is simultaneously deep, substantial, nuanced and textured, while treble is bright, spilling into hardness only when you wind up the volume. Add voice assistants, clever controls and multi-room into the mix and the Arc shapes up as a true all-in-one soundbar for fans of the Sonos ecosystem.
---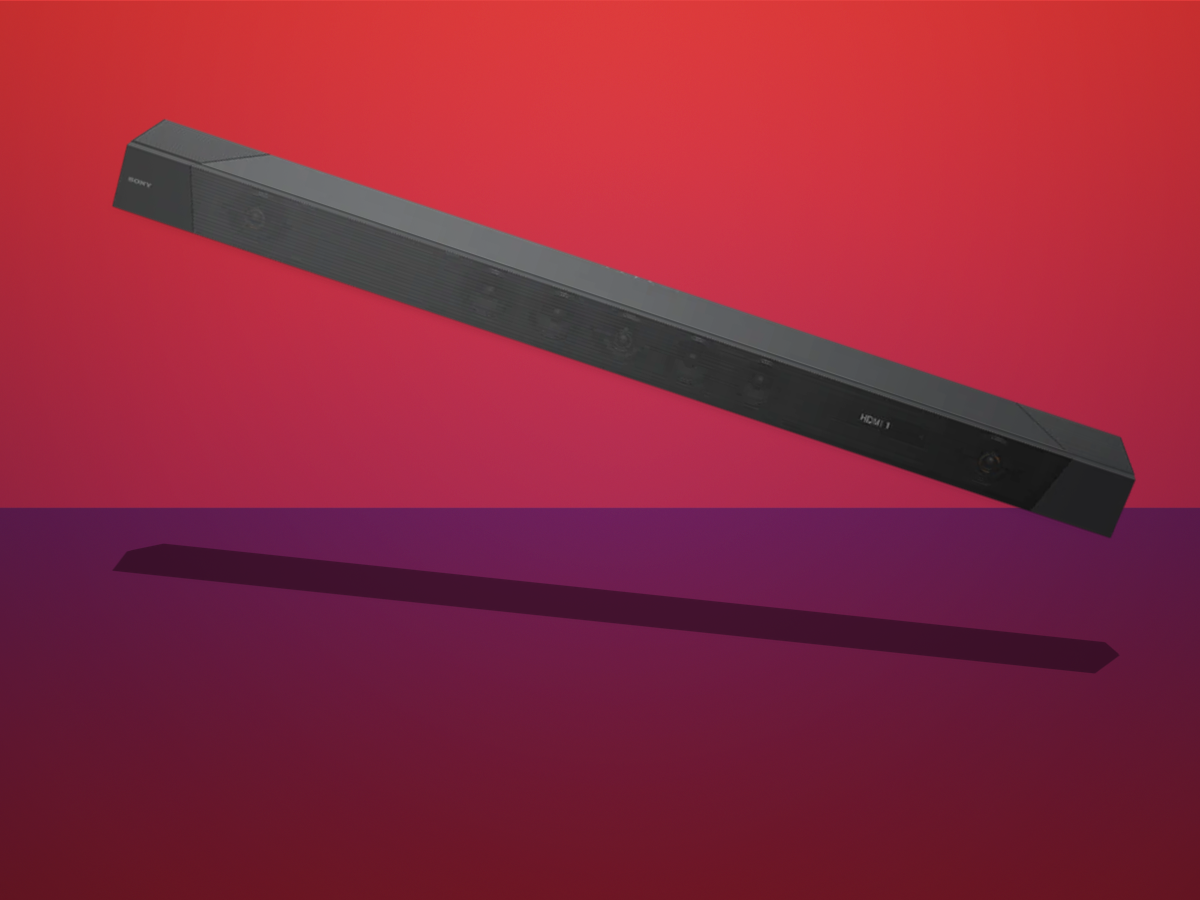 2. Sony HT-ST5000
Stuff Verdict
This Atmos soundbar from Sony is big, bold, and delivers plenty of performance.
Pros
Excellent sound quality and Atmos effect
So many connection options
Sony HT-ST5000 specs
Connectivity
HDMI, optical, USB, Analog Audio In, Ethernet
Format
Dolby ATMOS, Dolby TrueHD, Dolby Digital+, Dolby Digital, Dolby Dual Mono
Streaming
Bluetooth, Chromecast built-in, Spotify Connect, Multiroom
Dimensions
Soundbar: 118 x 8 x 14.5 cm, 8.2kg
Sub: 24.8 x 40.3 x 42.6 cm, 14.1kg
At 118cm, Sony's HT-ST5000 is almost as wide as the Sennheiser Ambeo found later in this guide, but with a separate subwoofer to deal with the whum-whum, it's not such an absolute unit – although it retains the boxy, brushed metal look so synonymous with Sony's audio equipment.
Three of the seven 65mm drivers across the front feature have tweeters mounted in the middle. These 'coaxial' combos ensure precise alignment of frequencies for an even sweeter sound, while two top-mounted drivers fire upwards to give you the sense of height that sets Dolby Atmos and DTS:X apart.
It performs magnificently, with S-Force Pro deftly using the front speakers to simulate surround sound without placing any additional units in your living room. Google Home support and wide-ranging connectivity make it easy to set up, while hi-res audio support is just the icing on a very wide cake.
---
3. Sonos Ray
Stuff Verdict
A quality compact soundbar… but if you don't own other Sonos kit you might want to look elsewhere.
Pros
Lovely Sonos design
Affordable (for a Sonos product)
Cons
Patchy Bluetooth remote support
No HMDI
| Sonos Ray specs | |
| --- | --- |
| Connectivity | Optical, Ethernet, IR receiver |
| Format | Stereo PCM, Dolby Digital 5.1, DTS Digital Surround |
| Streaming | Sonos app Wi-Fi, AirPlay 2 |
| Dimensions | 55.9 x 9.5 x 7.1 cm, 1.95kg |
Squeezing multi-room smarts into a compact bar, the Ray is a tempting accessory for owners of other Sonos speakers. Bearing the usual hallmarks and styling cues of Sonos kit, the Ray's premium build belies its relatively accessible price tag.
Networking is via Wi-Fi or Ethernet, but there's no HDMI here: the Ray relies on optical for talking to your telly. This is simple enough but can cause issues when trying to control the bar with your TV remote. Setup is through the Sonos app, which includes using your smartphone's mic to automatically adjust acoustic output to suit your viewing room.
Four amps, two tweeters and two mid-woofers work together with a bass reflex system to fill most spaces with forward-firing sound. Quality is predictably superb, trumping some bigger bars and coping well with busy scenes. That said, there's no Dolby Atmos, and you'll want something beefier if your living room is larger than average.
Voice assistant support requires a separate smart speaker, while music streaming means making use of the Sonos app or AirPlay 2: annoyingly, there's no Bluetooth option. Still, effective sound modes – including Speech Enhancement – and clever connectivity make this a smart choice for Sonos owners.
---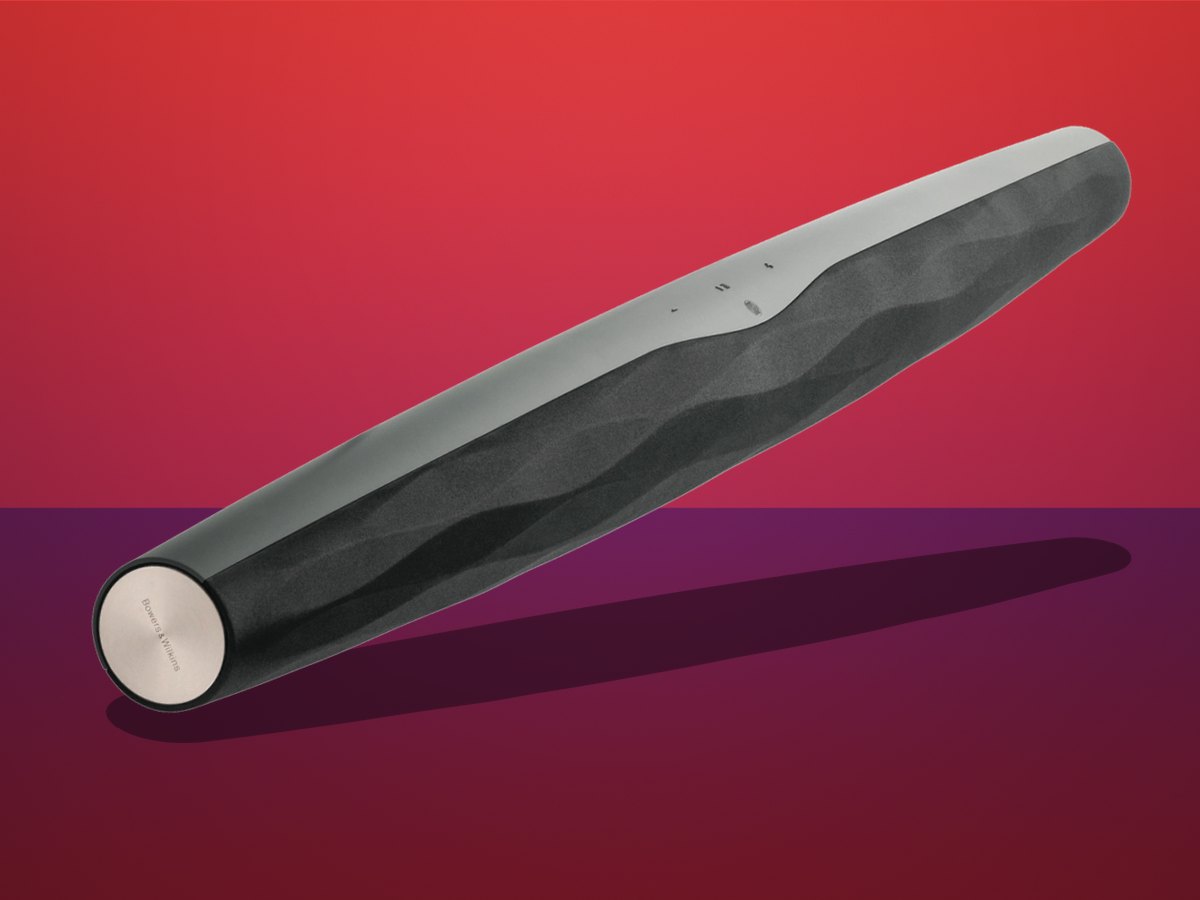 4. Bowers & Wilkins Formation Bar
Stuff Verdict
The B&W Formation Bar is a luxury that will look perfect in your multi-million pound mews house, luckily, it sounds just as good as it looks.
Cons
Width
No Dolby Atmos or HDMI
| Bowers & Wilkins Formation Bar specs | |
| --- | --- |
| Connectivity | Optical, Ethernet |
| Format | Dolby Digital |
| Streaming | AirPlay 2, Spotify, Bluetooth, Wi-Fi |
| Dimensions | 10.9 x 124 x 10.7 cm, 5.5kg |
Yes, a thousand pounds sounds like a lot for a 'just' a soundbar. But B&W's Formation Bar does plenty to justify its sizeable price tag – as long as you've got space: its wavy shell might seem slim, but at 124cm long it needs plenty of elbow room.
Once you've cleared a space, prepare to be gobsmacked by just how capable the Formation Bar is. Nine drivers – including three dedicated to the centre channel – are powered by a total of 240W, generating an extraordinarily wide yet precisely defined and utterly convincing soundstage.
Sure, it's far from cheap, but the Formation Bar sounds like the jackpot. It packs a fairly meagre selection of inputs, but wireless connectivity is excellent, with integrated Spotify support, as well as Bluetooth and Apple AirPlay 2. It can also handle 24-bit/96kHz tracks via the Bowers & Wilkins Music app. And if you've got pennies to spare, it's easy to pair with additional B&W separates – like the Bass and Flex – for true room-filling audio to accompany your TV.
---
5. Denon Home 550
Stuff Verdict
Denon has doubled your choice of compact, premium soundbars with the Home 550.
Pros
Good specification and connectivity
Big, detailed and organised sound at lower volumes
Cons
Not so good at louder volume
Not as Dolby Atmos-y as is ideal
| Denon Home 550 specs | |
| --- | --- |
| Connectivity | HDMI, optical, USB, ethernet, 3.5 AUX |
| Format | Dolby Atmos, DTS:X, Hi-Res Audio |
| Streaming | Wi-Fi, Bluetooth, Google Assistant, Siri, Alexa, Spotify, AirPlay 2 |
| Dimensions | 65.9 x 7.4 x 12 cm, 3.33 kg |
Link the Beam (Gen 2) above, Denon's Home 550 is a usefully compact soundbar with some Dolby Atmos support. Just the right size to sit beneath a 40-55in TV, it's both discreet and sophisticated. Its plastic shell is nothing special, but the unit is well-built and finished with a neat acoustic cloth.
As well as DTS:X and Dolby Atmos, the Home 550 can handle full-fat high-res audio – handy if you're subscribed to a premium streaming service, which you can integrate through the useful HEOS smartphone app.
Sonic services are provided by a pair of 19mm tweeters, four 55mm full-range drivers and three passive radiators. Like the Sonos Beam (Gen 2), none of these point upwards, so the Home 550 relies on algorithms to produce a 3D effect. This is impressive, up to a point: the bar delivers a big sound with noticeable height, showing good dynamic potency and plenty of detail across the frequency range. Bass is deep but controlled, too.
Turn it up and a lot of that quality is compromised, with the Denon losing its poise and composure at higher volumes. But as long as you listen at sensible levels, the Home 550 is a good-looking and likeable soundbar.
---
---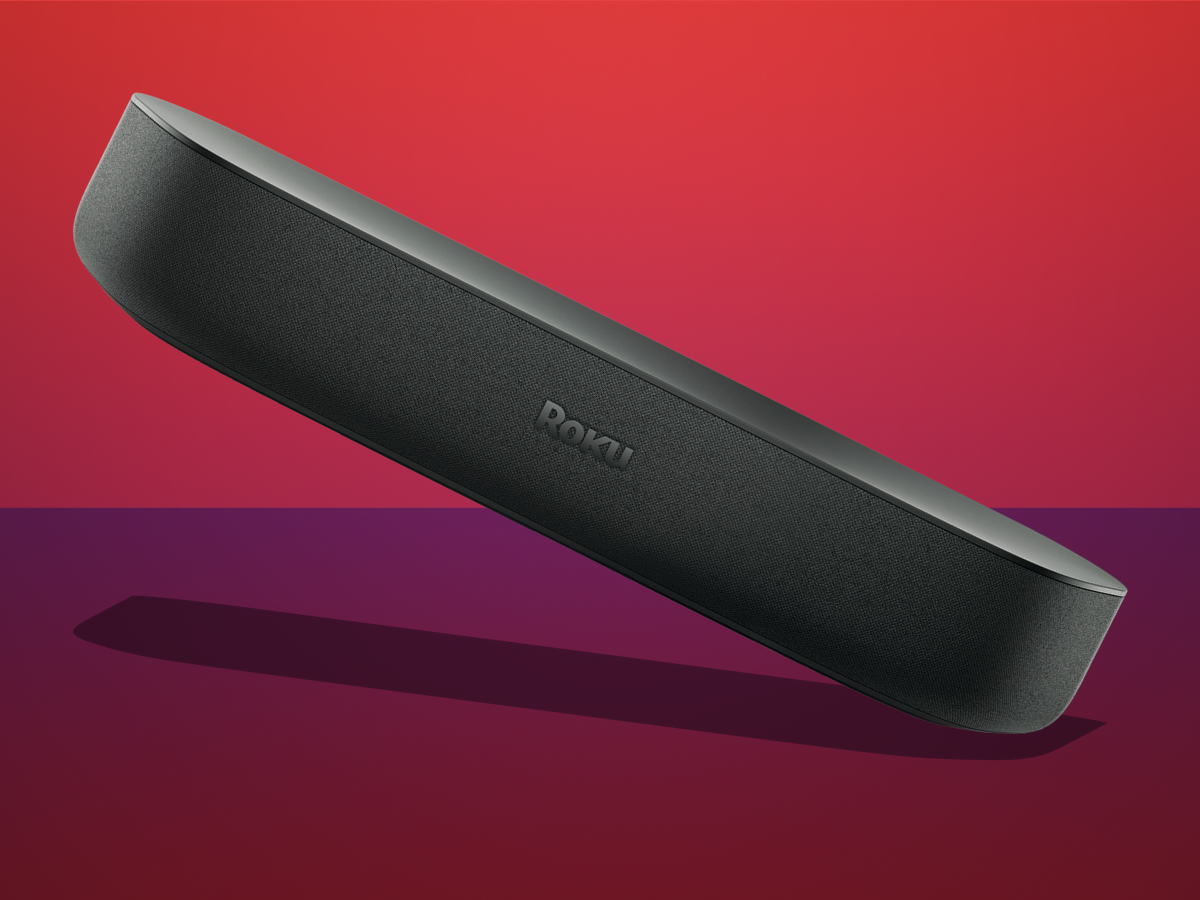 6. Roku Streambar
Stuff Verdict
The smartest little TV double act since the Chuckle Brothers, this is a soundbar and streaming device
Pros
Great sound for the money
User-friendly interface
Cons
Underpowered for bigger rooms
| Roku Streambar specs | |
| --- | --- |
| Connectivity | HDMI, optical, USB |
| Format | PCM, Dolby Audio |
| Streaming | Bluetooth, Google Assistant, Alexa, AirPlay |
| Dimensions | 356 x 107 x 70mm, 1.1kg |
Roku squeezes the functionality of its widely admired streaming sticks into a small soundbar and produces – ta-da! – a Streambar. No, it can't compete with the premium rivals in this list, but its four speakers still offer a significant improvement on what any mainstream TV can produce, with way more punch, presence and detail.
Despite the affordable price tag, the Streambar also ships with some smarts, including the option to boost the volume of voices and automatically hush annoying ads. The Streambar also gives you easy access to an absolute stack of streaming and catch-up services, including support for 4K HDR content. There's a neat little remote, too.
---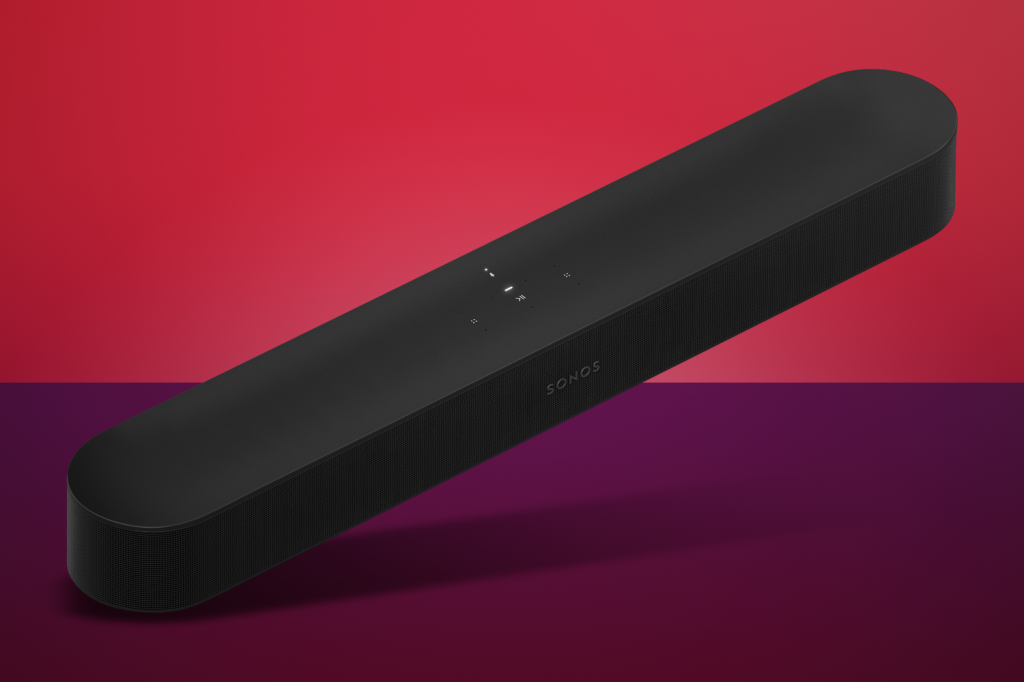 7. Sonos Beam (Gen 2)
Stuff Verdict
The addition of Dolby Atmos makes Sonos' already excellent compact soundbar even better
Pros
Atmos works better than you'd expect
Compact, stylish design
Cons
Only one HDMI port
No HDMI passthrough
| Sonos Beam (Gen 2) specs | |
| --- | --- |
| Connectivity | HDMI, optical, ethernet |
| Format | Dolby Digital, Dolby Digital Plus, Dolby Atmos, Dolby TrueHD, DTS Digital Surround |
| Streaming | Wi-Fi Sonos app, AirPlay 2, Amazon Alexa, Google Assistant |
| Dimensions | 6.9 x 65.1 x 10 cm, 2.8kg |
It's not the biggest soundbar around, but the Beam is still a winner for most living rooms. Low enough to fit beneath the majority of TVs, the second-gen Sonos is set apart from its predecessor only by the polycarbonate grille which replaces the fabric finish of the first edition. Otherwise, it's visually the same understated slab.
Despite its compact proportions, the Beam (Gen 2) benefits from many sonic smarts. While just a single HDMI port resides in the rear input array, it's an eARC number – which means it has the bandwidth for Dolby Atmos.
With the same acoustic architecture as the first version, the updated Beam doesn't have upward-firing speakers for full Atmos immersion. But thanks to psychoacoustic techniques used across five speaker arrays, it does a deft job of replicating overhead effects. Paired with an impressively expansive soundstage, the Beam (Gen 2) is a small but effective solution for superior sound – and you can always add a Sub if you want more whump.
Need more help deciding which Sonos to buy? Read Stuff's guide to the best Sonos speakers.
---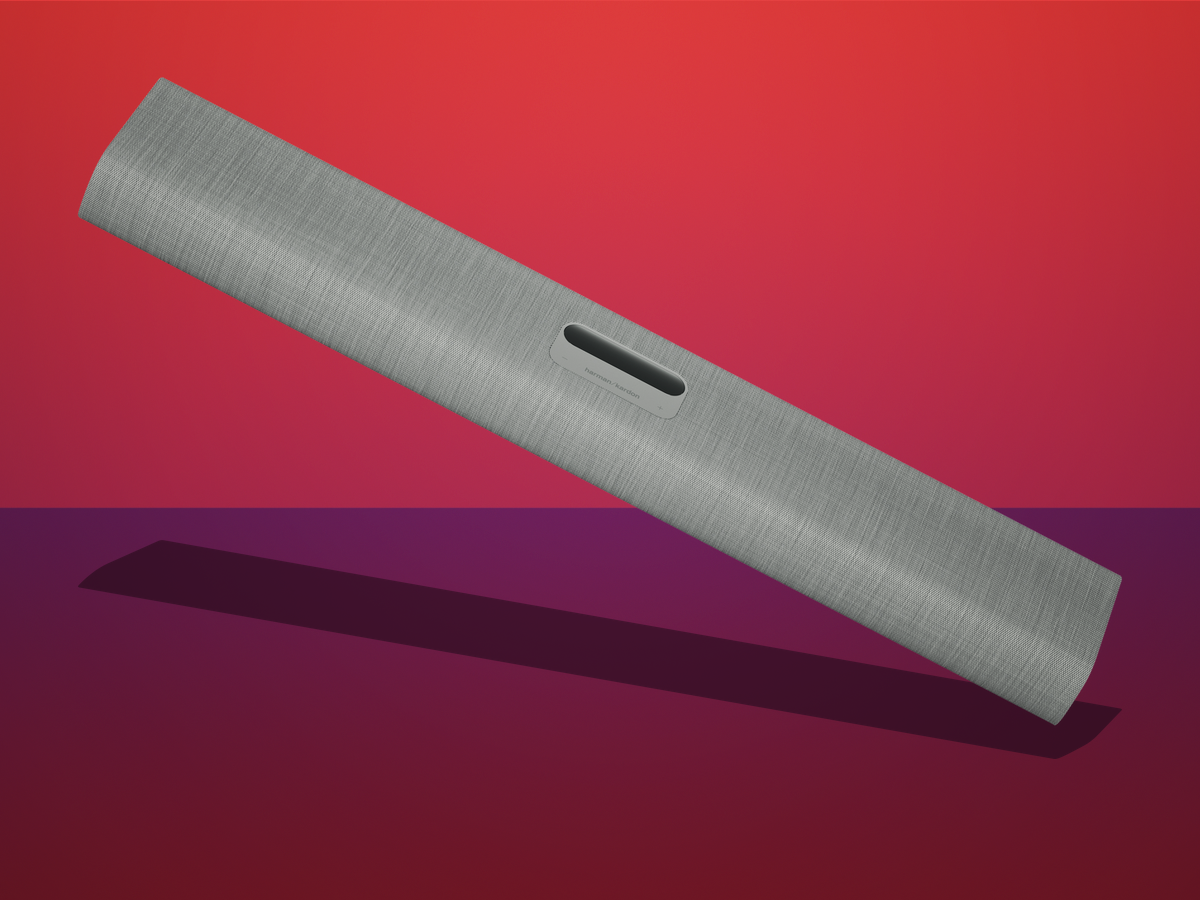 8. Harman Kardon Multibeam 700
Stuff Verdict
Pros
Balanced sound
Compact design with premium finish
Cons
Lacks dynamics
Tough competition from Sonos et al.
| Harman Kardon Multibeam 700 specs | |
| --- | --- |
| Connectivity | HDMI, optical, 3.5mm AUX |
| Format | N/A |
| Streaming | Wi-Fi, AirPlay 2, Google Assistant, Bluetooth |
| Dimensions | 6.5 x 79 x 13 cm, 3.7kg |
There's only so much you can do to differentiate the design of a long home theater slab. But Harman Kardon's Citation MultiBeam 700 is about as sleek and sophisticated as soundbar styling gets, with an acoustically transparent Kvadrat wool covering and neat, compact dimensions that don't compromise the sound.
You'll find a 25mm horn-loaded tweeter at each end, working together with five 50mm front-facing woofers to fire out audio at different angles, bouncing waves off the walls of your gaff to create some semblance of surround sound. It will never compete with a proper Dolby Atmos setup, but it certainly spreads wider than the unit's width.
Powered by 210W of Class D amplification, it wields enough power to fill all but the most cavernous living rooms, with plenty of dynamism and good separation. While bass is well controlled, there can be a little too much – but that's a minor complaint considering how well the Multibeam performs overall.
The modern design extends to the features, too. There's Wi-Fi and AirPlay 2 on board, plus support for Google Home – which means easy setup and built-in Chromecast. You also get access to Google Assistant and loads of music streaming services.
---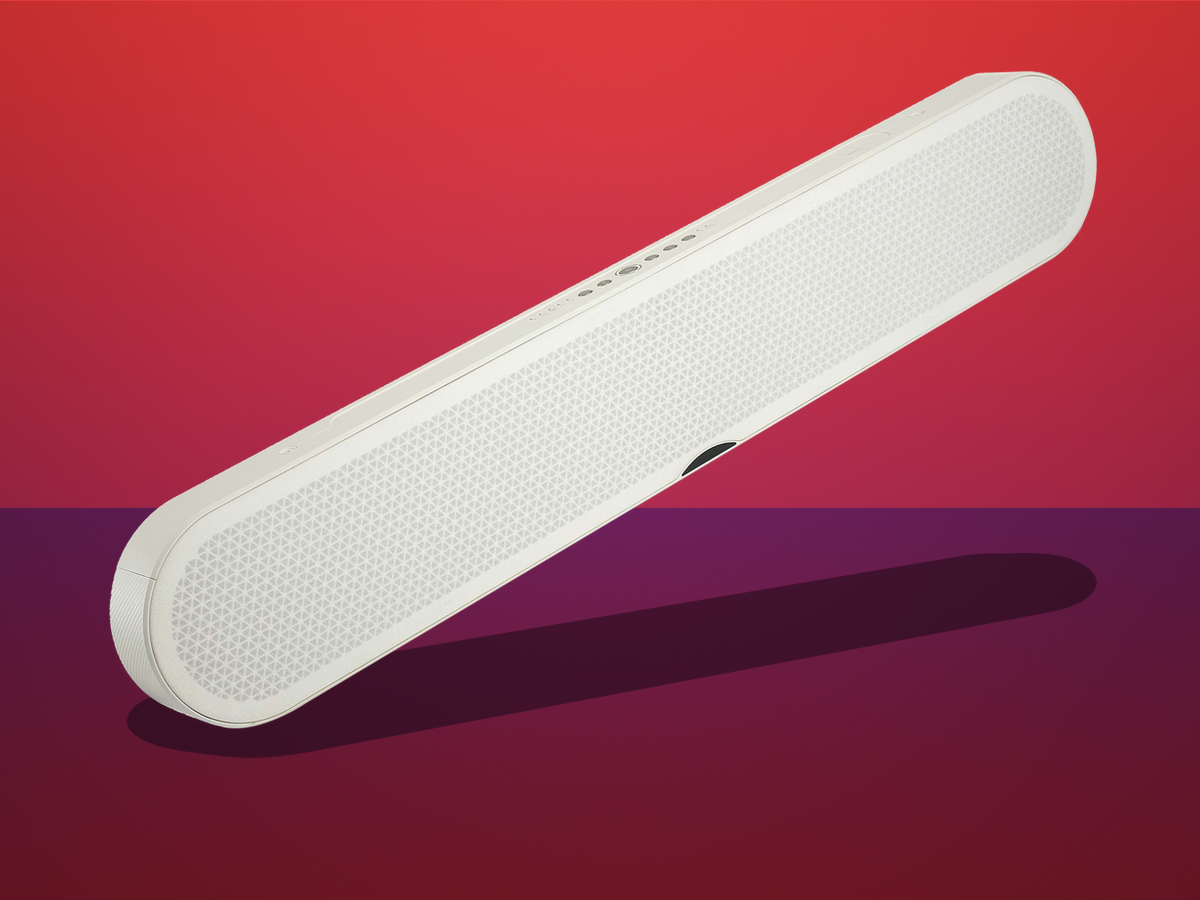 9. Dali Katch One
Stuff Verdict
If you want an alternative to the big brands, the Dali Katch One is an excellent choice. It has fantastic audio and style to match.
Pros
Sounds and looks great
Spacial sound is excellent
Cons
Slightly odd dimensions
Top-mounted display
| Dali Katch One specs | |
| --- | --- |
| Connectivity | HDMI, 2x optical, 3.5mm AUX |
| Format | N/A |
| Streaming | Bluetooth |
| Dimensions | 16.4 x 86 x 7cm, 3.7kg |
Not every soundbar has to look like, well, a soundbar. Case in point: Dali's Katch One. Styled more like a wireless speaker than a standard audio sausage, it ships in three shades to suit the decor of your movie room.
Equipped with 10 drivers split between front and back, two do tweeter duty, four function as passive radiators and the final quartet are active woofers which deliver punchy bass. Despite the One's slimline form, 200W of Class D amplification means power isn't a problem for the natty noise-box.
Sure, you only get two sound modes – and the Katch can't compete with Atmos units for sheer scale – but you'll be hard-pushed to find a better-looking soundbar that also delivers the goods. And it's arguably worth it just for the matching minimalist wall mounts, which hold the One like Art Deco coat hooks beneath your TV.
---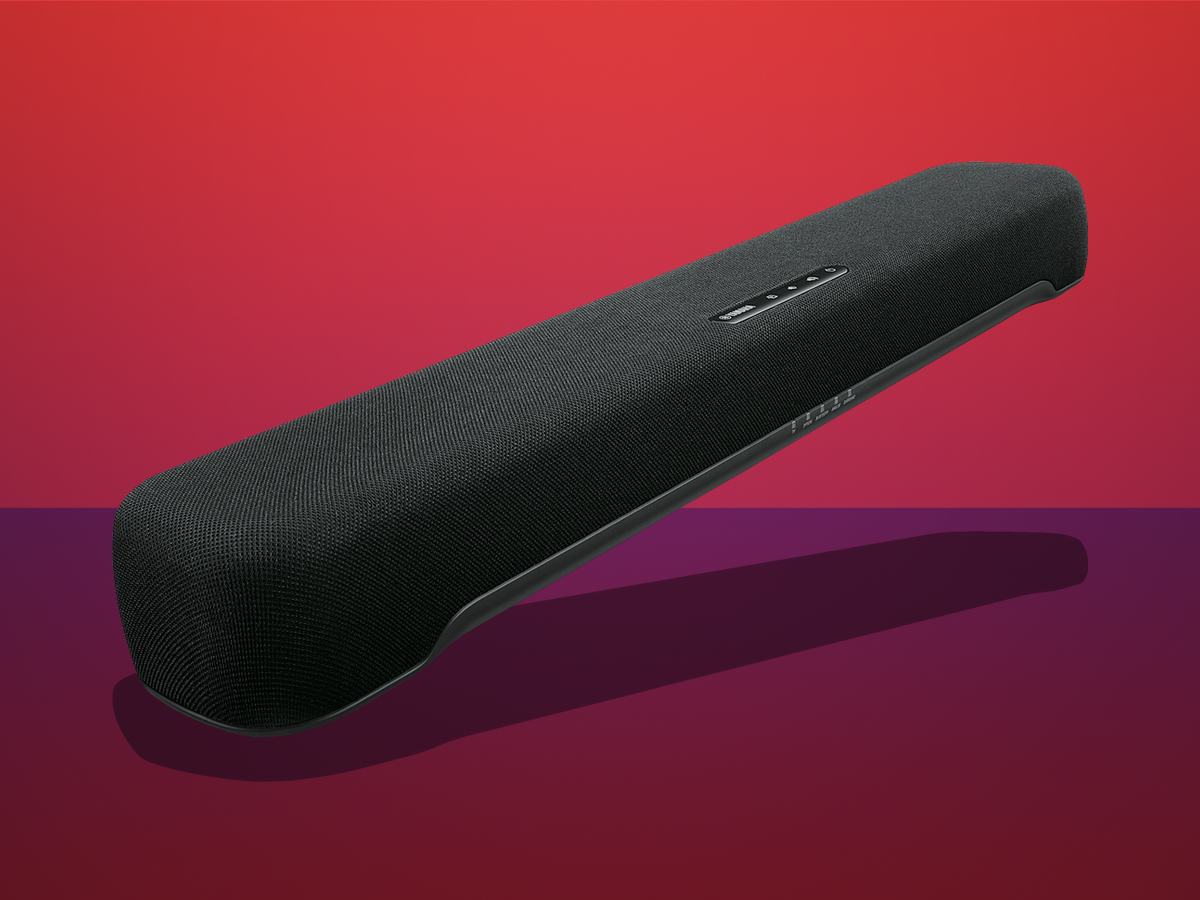 10. Yamaha SR-C20A
Stuff Verdict
A little bit of everything from a little bit of a soundbar.
Pros
Big and convincing sound for games, movies and music
Don't take up too much room
Cons
Can get ragged at serious volume
Fiddly remote control
| Yamaha SR-C20A specs | |
| --- | --- |
| Connectivity | HDMI, 3.5mm AUX, optical x2 |
| Format | Dolby Digital, Dolby Pro Logic II |
| Streaming | Bluetooth |
| Dimensions | 60 × 6.4 × 9.4 cm, 1.8 kg |
If you want a single soundbar that can improve your TV sound and deliver excellent music quality – plus put a rocket up your gaming audio – Yamaha's SR-C20A is the way to go. Compact enough to sit beneath most TVs, the anonymous design is no bad thing.
That fabric wrapper hides 100 Watts of amplification, with a 7.5cm sub and a pair of 4.6cm full-range drivers doing more than enough to fill sizeable rooms – backed up by a pair of passive radiators for extra wallop. Whether you're sending audio through the HDMI ARC socket, one of the two digital optical inputs, the 3.5mm analogue port or via Bluetooth, it all comes together beautifully.
Bass is detailed, controlled and filled with variation, while treble has proper bite and attack. In between, vocals fill the midrange with information. It's dynamic, composed – as long as you don't get carried away with the volume – and just as capable of handling tricky rhythms as it is delivering the shock and awe of a modern game soundtrack.
---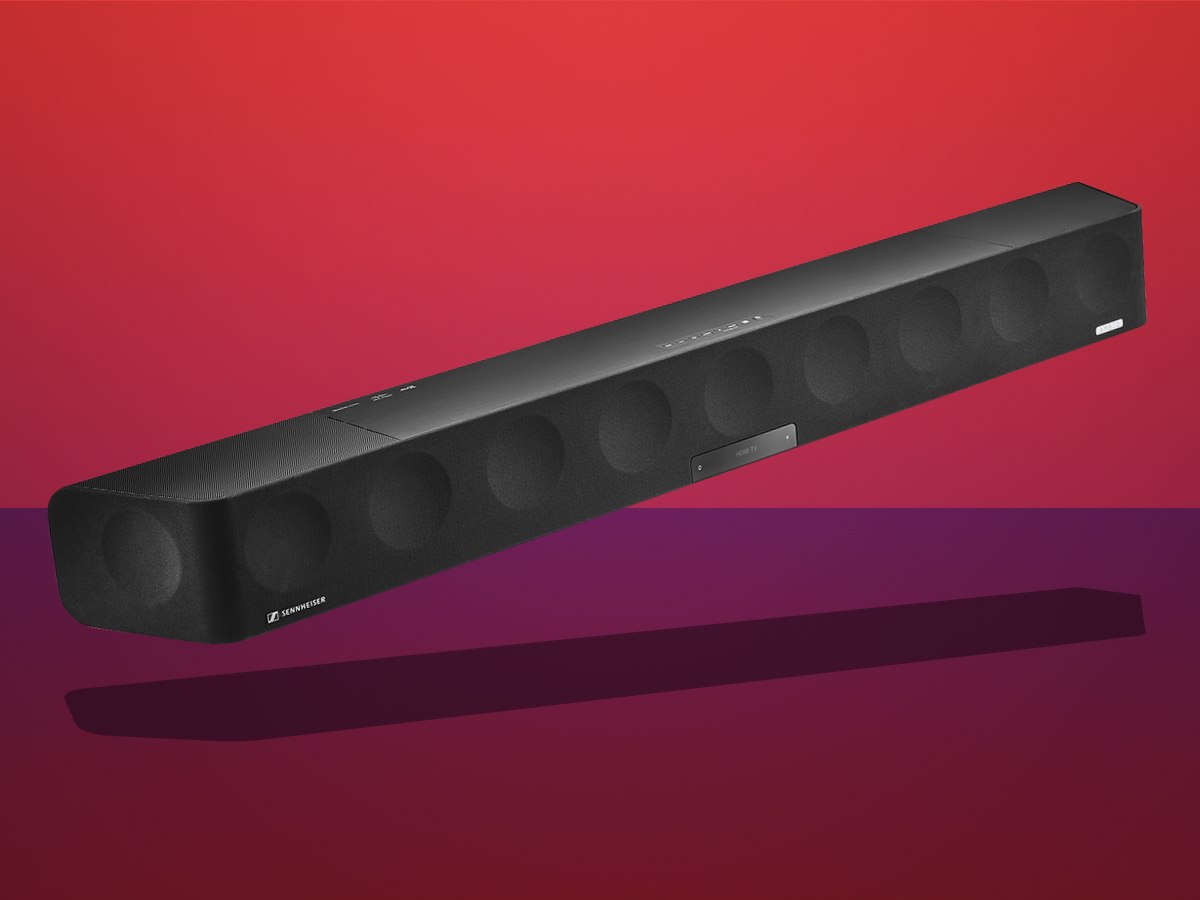 11. Sennheiser Ambeo Max Soundbar
Stuff Verdict
The Ambeo Soundbar is big, but the sound it makes is bigger still
Pros
Utterly convincing Dolby Atmos and DTS:X 3D sound
Ample power and lots of inputs
| Sennheiser Ambeo Soundbar specs | |
| --- | --- |
| Connectivity | HDMI x4, 3.5mm AUX, optical, ethernet, USB |
| Format | Dolby Atmos, DTS:X, LPCM, Dolby Digital Plus, Dolby True HD, DTS 96/24, DSD, MPEG-H, Sony 360 Audio |
| Streaming | Apple Airplay 2, Chromecast, Spotify Connect, Tidal Connect |
| Dimensions | 126 x 13.5 x 17.1 cm, 18.5 kg |
Not many people are willing to drop more than $2000/£2000 on their TV, let alone a soundbar to go beneath it. But if you want the absolute best – and have space for something resembling a futuristic railway sleeper – Sennheiser's Ambeo is the only choice.
At 126cm long and 18.5kg heavy, the Ambeo is massive. But it's big for a reason: there are 13 independent drivers inside: powered by 500W of Class D amplification. Unsurprisingly, it sounds suitably huge. You won't get better Atmos performance from a soundbar, with individual elements positioned in their own distinct pockets. Everything is balanced and integrated nicely: the top end is sharp but not harsh, voices in the middle have real texture, while the meaty bass is delivered with so much punch that you'd be silly to bother with a separate sub.
Positioning is important for the Ambeo to perform at its full capacity. A mic is included to assist with setup, which calibrates things by listening to a set of test tones. There's no voice control once you're up and running, but the Ambeo goes so loud it would probably drown out your instructions anyway.
---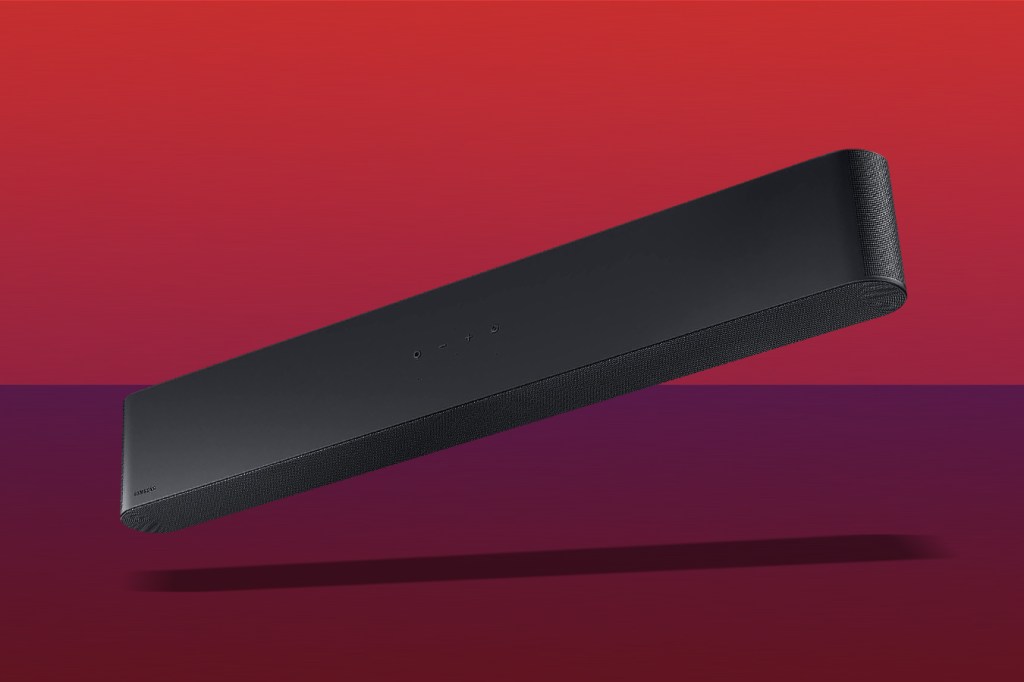 12. Samsung HW-S60B
Stuff Verdict
Sturdy, and punchy, this compact soundbar is at its best when paired with a suitably fancy Samsung TV.
Pros
Wide soundscape with Dolby Atmos and DTS:X
Built-in smart assistant
Cons
No HDMI passthrough
Only one HDMI port
| Samsung HW-S60B specs | |
| --- | --- |
| Connectivity | HDMI, digital optical |
| Format | Dolby Atmos, DTS:X |
| Streaming | Wi-Fi, Bluetooth, Apple AirPlay 2, Spotify Connect |
| Dimensions | 670x62x105mm, 2.7kg |
Against the likes of the usual go-to options at this price point (like the oft-mentioned Sonos Beam Gen 2), the Samsung HW-S60B is more of a niche choice, but one with a few key draws. Support for DTS:X, for example, will be welcomed by those with a penchant for physical media. Its wider support in gaming is also something to consider if your console or PC is hooked up to your TV.
If you're looking for a simple plug-and-play soundbar to boost your regular viewing, you might prefer the Sonos alternative – especially if you've already got existing Sonos kit. Alternatively, you could also pick up something like the Sony HT-G700 for the same price. It's an Atmos/DTS-supporting soundbar that also comes with a sub for beefier bass (though no voice assistant smarts).
Ultimately, you won't be disappointed with the wider soundscape and punchy audio that the HW-S60B offers. And if you've already got a Samsung TV with decent speakers and Q Symphony support, then our recommendation becomes a firm one. The results are something rather unique and impressive, and it makes sense to take advantage of a feature that not everyone will be able to experience.
---
How to buy the best soundbar for you
There are several important factors you'll need to consider to ensure you get the best possible audio experience for your budget. Below we've included some key points to keep in mind when shopping.
The most important thing you'll need to consider is sound quality. You'll want to pay attention to the audio clarity, bass response, and overall sound performance. Luckily for you, all of the soundbars on this list have been given the seal of approval from our expert ears.
Soundbars come in various configurations, such as 2.0 (two channels), 2.1 (two channels with a separate subwoofer), 5.1 (five channels with a subwoofer), etc. You'll want to choose one that suits your space and desired level of immersion. For a truly cinematic experience, look for a soundbar that supports advanced audio formats like Dolby Atmos and DTS:X. These formats provide a more three-dimensional sound experience that is perfect for watching movies.
Of course, if you want ultimate immersion then you may want to pair your soundbar with the best multi-room wi-fi speakers (making sure to get the same brand of speakers and soundbar) to create a true surround sound system. You'll probably also want to add a subwoofer if you enjoy deep, cinema-like bass.
Size is also a key aspect when it comes to choosing the right soundbar. It may seem basic, but it's easy to overlook – make sure the soundbar fits wherever you plan to put it.
You'll want to think about how you plan to use your soundbar and make sure the model you get has the connectivity options to support the devices you plan to use with it. For example, do you want to use HDMI or optical audio, and Bluetooth or Wi-Fi? If your TV has HDMI ARC or eARC, consider getting a soundbar that supports this feature, as it allows for better audio and control over a single HDMI cable.
Finally, some soundbars come with extra features such as voice assistants (think Amazon Alexa and Google Assistant). While these are a nice addition to have, we certainly wouldn't consider these essential. They shouldn't affect your purchasing decision.
How we test the best soundbars
Our expert ears have sampled dozens (if not hundreds) of soundbars over the years, so when it comes to recommending the best cinema-style sound blasters you can trust our recommendations.
We've tried and tested most of the products below, and used a combination of our own experiences, specs, and reviews to pull together a list of what we believe to be the best soundbars for most people.
We've covered various brands, designs and budgets, and for more information on Stuff's rating and review process, feel free to read our page on how we test products.