Denon Home 550 review: compact brilliance
Home is where the soundbar is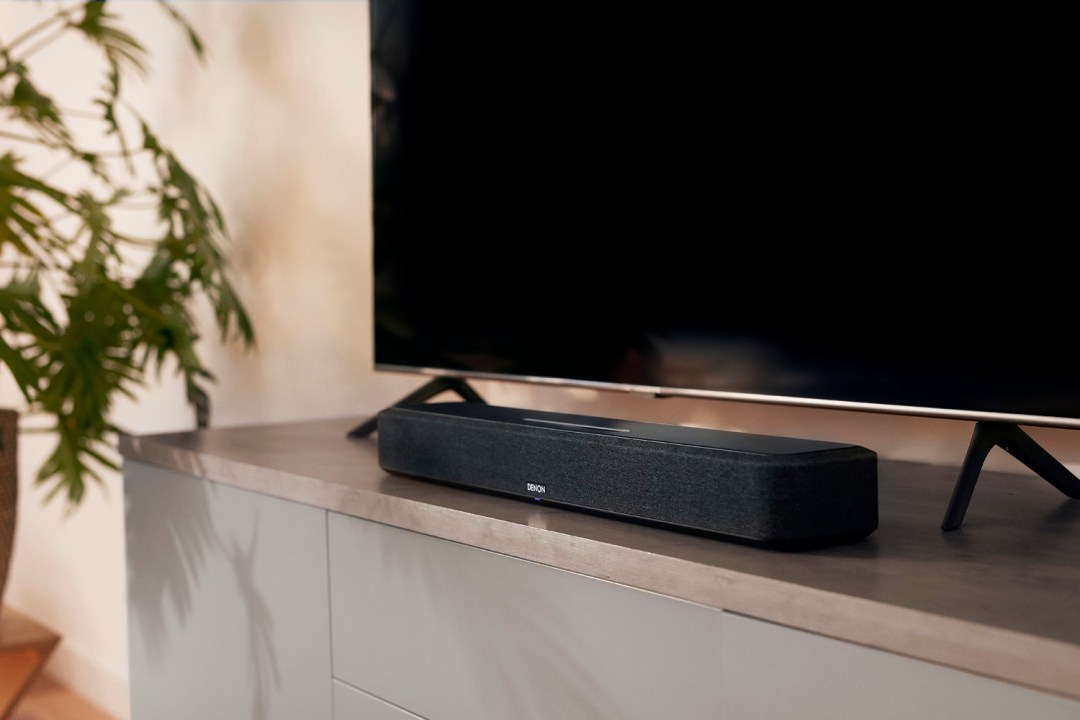 Until very recently, you had a fundamental choice where soundbars are concerned. You either bought a small and inexpensive one to go with your small(ish), inexpensive(ish) television, or you bought a big, expensive one to go with… well, you get the idea.
Sonos (not for the first time) changed that dynamic with its original Beam soundbar. Yes, it was usefully compact but no, it wasn't all that affordable – and it set new standards of performance at its price. With the Beam Gen 2, Sonos managed to keep the form factor manageable but added some (admittedly very mild) Dolby Atmos audio action too.
Naturally enough a company like Denon fancies itself where this sort of thing is concerned. So the Home 550 is a usefully compact, not especially affordable soundbar with some Dolby Atmos compatibility thrown in as the cherry on the top of its impressive specification. But is that enough for it to be spoken of in the same breath as the all-conquering Sonos?
Design and build: keep your hands to yourself
Denon hasn't made it to its 110th anniversary by messing with people's design expectations. The Home 550 is a nicely compact (75 x 650 x 120mm, hwd) soundbar, just the right size to sit below a 40in – 55in TV without drawing attention to itself. The plastics from which it's made don't feel anything special, but everything is built and finished properly – and the dark grey acoustic cloth that runs from one end of the 'bar to the other manages to look discreet and sophisticated at the same time.
Basically, as long as you restrict yourself to looking and listening, rather than touching, the 550 is another Denon 'Home' product that delivers decent pride of ownership.
Features: get on board
The Home 550 keeps its physical connections in a little recess at the back of its cabinet. Here you'll find a couple of HDMI sockets, one of which is eARC-enabled and both of which are 4K, HDR10 and Dolby Vision-compliant. This is a simple yet significant improvement on the Sonos Beam Gen 2's single equivalent because if you're running short of HDMI inputs on your TV itself, the Denon is better able to help you out.
These two sockets are accompanied by a digital optical input, a USB socket, 3.5mm analogue input and an Ethernet socket. Wireless connectivity is covered by dual-band Wi-Fi, Apple AirPlay and Bluetooth (in its elderly 3.0 incarnation).
As well as DTS:X and Dolby Atmos soundtracks, the Home 550 can handle full-on hi-res audio files up to DSD5.6 and 24bot/192kHz standard – so the Denon will happily exploit that top-tier music streaming service subscription you're shelling out for. And no matter the type of audio file you send aboard, it will be served to you by a pair of 19mm tweeters, four 55mm full-range drivers and three 50x90mm 'racetrack' passive radiators.
Bear in mind that none of these drivers faces upwards, though. To make good on its promise of '3D' audio, the Denon – like its Sonos nemesis – relies on audio processing algorithms to do so.
Interface: very touching
How do you like to get your bidding done? Between Amazon Alexa voice control, a physical remote handset, some touch-sensitive controls on the soundbar itself and a control app, the Home 550 can be bossed around in pretty much any way you fancy.
Alexa is as well-implemented here as it is anywhere, and will respond accurately pretty much the entire time. The remote control is small, yes, and doesn't feel at all luxurious – but it's fairly comprehensive and, again, responsive. The capacitive controls are in a little proximity-sensing panel at the top of the 'bar, and are useful if you happen to be passing.
And in the HEOS app Denon shares with its sister company Marantz, you can fiddle with EQ settings, integrate your preferred music streaming services and internet radio providers, incorporate any network-attached storage devices… If you can't get the Denon to do what you want really easily, in other words, that's almost certainly more to do with you than with the Home 550.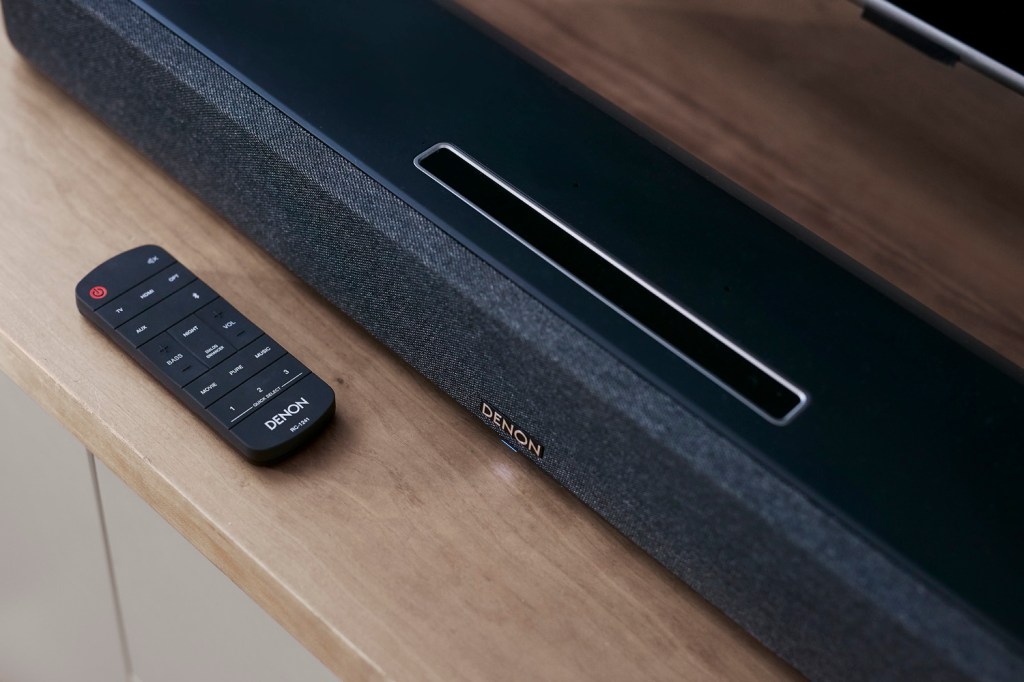 Performance: sound affects
To put it in the most straightforward terms: you have a choice here. You can listen to the Home 550 at what might be described as 'realistic' volume levels, and enjoy it thoroughly. Or you can listen at volume levels we might call 'antisocial' and enjoy it quite a lot less.
In the first scenario, there's plenty to enjoy. Detail levels are high in every part of the frequency range, and (by the standards of soundbars that don't also feature a partnering subwoofer) bass is deep, controlled and very nicely shaped. The top of the frequency range is crisp and chunky and again is disciplined enough to handle the attack and decay of specific sounds confidently. In between, the midrange (and all the voices it contains) is loaded with information regarding texture and timbre, so movie dialogue or vocalists in a piece of music sound direct and characterful.
The Home 550 shows good dynamic potency too, easily able to shift from the quietest, stealthiest parts of a movie soundtrack to the big, explosive set-pieces without difficulty. Rhythmic expression is good, too – unlike many soundbars that fancy themselves as music speakers, the Denon doesn't trip over its own feet when asked to describe rhythms and tempos.
As far as scale in general and Dolby Atmos, in particular, are concerned, the Home 550 is impressive, up to a point. Certainly, by the standards of manageably small soundbars, it manages to deliver a big sound – it'll easily escape the frame of your 55in TV in every direction. And there's noticeable height to its sound, too – it's not the overhead sensation the words 'Dolby Atmos' might have primed you for, but it's definitely an improvement on the Sonos Beam Gen 2's efforts in this area.
All of this good stuff is compromised somewhat by turning the Denon up, though. At bigger volumes it loses quite a lot of its poise and composure, getting quite shouty and letting details disappear. On first acquaintance, it sounds quite exciting, but you won't be long into that movie before you realise it's actually bordering on 'aggressive'. Unless you actively enjoy being harangued, you'll keep the volume at a sensible level and let the Denon Home 550 do its thing without getting full of itself.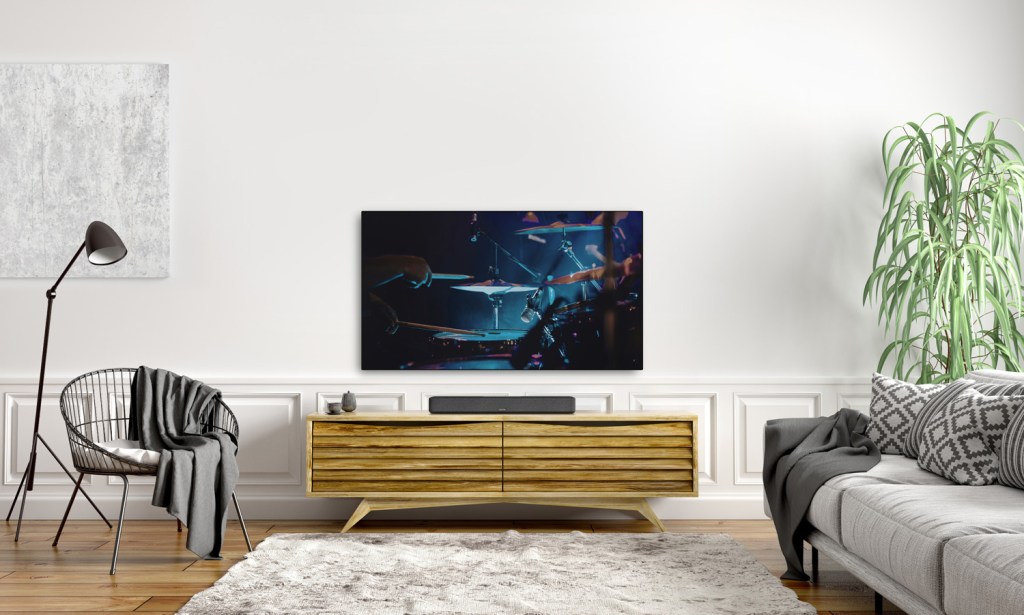 Verdict
Denon has doubled your choice of compact, premium soundbars with the Home 550. As long as you're not expecting a Dolby Atmos effect to rival that of your local cinema, and as long as you don't insist on playing at maximum volume, this is a likeable and listenable speaker.
Stuff Says…
About to buy a Sonos Beam Gen 2? Just hold on for a moment…
Good Stuff
Good specification and connectivity
Big, detailed and organised sound at lower volumes
Good-looking and well made
Bad Stuff
Not so good at louder volume
Not as Dolby Atmos-y as is ideal
Plastics are especially tactile