Sonos Beam Gen 2 review
The updated Sonos Beam adds Dolby Atmos to an already great audio package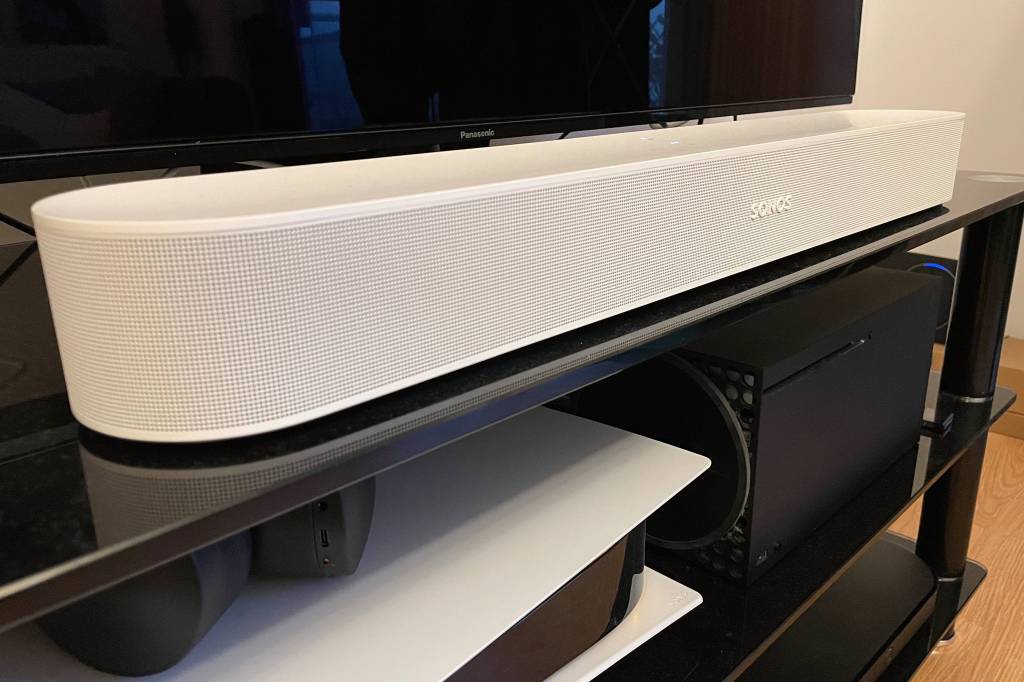 We loved the original Sonos Beam so much that it beat heavyweights like the Apple Watch Series 4 and Sony WH-1000XM3 headphones to our prestigious Gadget of the Year gong back in 2018.
The Beam isn't Sonos' most advanced or big-sounding soundbar, (that would be the Arc) but the company managed to squeeze some serious tech into a streamlined compact device that's suitable to sit under screens of any size and is incredibly easy to use. And as well as offering a serious sonic upgrade on your TV's almost inevitably crap speakers, the Beam's built-in Alexa functionality and AirPlay support meant it doubled as a pretty decent smart speaker too. Especially for iThing users.
But soundbars have moved on quite a lot since the original Beam, with the current craze being virtual surround sound in the (invisible) shape of Dolby Atmos . And that's definitely the headline-grabber with the Beam Gen 2, which might look very similar to its predecessor, but can now output Atmos mixes with supported content.
Is it enough for the Beam to win our hearts all over again?
Design: Keep Beaming
We really liked the way the original Beam looked, a stylish curvy rectangle and one that unlike the vast majority of soundbars didn't hog the entire length of your TV cabinet. Sonos clearly thought it was onto something too, because the Beam Gen 2 is practically identical.
The dimensions (25.6in x 2.7in x 3.9in) remain the same, as does the weight, and it has the same touch-sensitive playback controls on the top. And like the Beam Gen 1, you can choose between white and black models.
Look a bit closer though, and you will spot some subtle differences. The original Beam's fabric grille has been swapped for a polycarbonate grille that lends it a more Sonos Arc-y aesthetic and will probably be less prone to wear and tear over time. We're not sure we prefer it, though.
Flip the soundbar around and once again you'll see a very minimal arrangement of inputs. There's a power port, a single HDMI port, which has been upgraded to eARC to ready it for that Atmos goodness (more on that shortly), and an ethernet port. That means that like the Beam before it there's no HDMI passthrough on offer here. The soundbar will require one of the presumably precious HDMI ports on your TV and you can't plug anything else into it to save space. It's all part of the Beam and its successor's simplicity-first ethos, which is nice and all that, but another HDMI port really would have been appreciated this time around.
Features: Atmos here
As we mentioned, the Sonos Beam Gen 2's single eARC HDMI 2.1 port means it now has the bandwidth to support higher quality audio streams such as Dolby Atmos, in addition to content badged as Stereo PCM, Dolby Digital, Dolby Digital Plus, Dolby TrueHD, Multichannel PCM and Dolby Multichannel PCM. Atmos is the headline-grabber, but you should know going in that because there's no HDMI passthrough you'll absolutely need your TV to do some of the work. Put simply, if you have an older TV that doesn't support eARC and therefore doesn't support Dolby Atmos decoding, then you won't be watching anything with Dolby Atmos audio. Sonos throws in an HDMI-to-optical adapter but this won't solve any Atmos-less woes.
Beyond the above, the Sonos Beam Gen 2 offers the same excellent feature set as its predecessor. Once connected to your TV's ARC or eARC port you'll be able to control it using your regular TV remote, but because it's a Sonos product, you'll also need the Sonos S2 app (indeed it is required for setup), which tells you the current sound format being received and allows you to toggle features like Speech Enhancement and Night Sound. The app is also where you'll find Sonos' Trueplay functionality, which asks you to spend a few minutes patrolling the room and politely waving your phone about so it can calibrate the soundbar and optimise its output accordingly.
Naturally, the onboard Wi-Fi connectivity means you can wirelessly connect the Beam Gen 2 to any other Sonos speakers or Subs you might own, making a physical surround sound setup possible.
And once again the Beam excels as a standalone smart speaker too. Alexa and Google Assistant are both supported, with the far-field microphones doing a really impressive job of picking up your voice commands, even when the soundbar is making a fair old racket. You can access music services like Apple Music through the app, while Apple AirPlay 2, TuneIn and Spotify Connect are also supported. Later this year Sonos will unlock support for Amazon Music Ultra HD and Dolby Atmos Music, though how significant the latter addition is remains to be seen. We still find spatial audio and music very hit-and-miss.
Performance: Height-minded thinking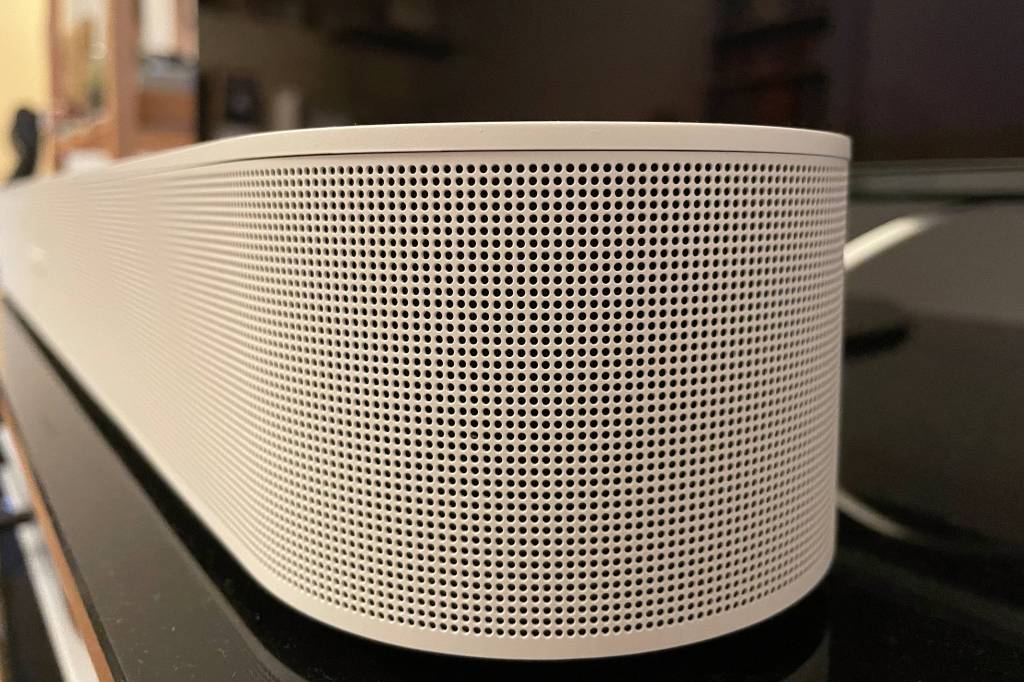 When we think about Atmos sound mixes the first thing that comes to mind is the added verticality. While there's a lot more to Dolby Atmos than the sensation of a helicopter whooshing over your sofa, it's the easy sell. You might be surprised to learn, then, that for all its Atmos credentials, the Beam Gen 2 doesn't feature any upward-firing speakers, which is the route most soundbar manufacturers would take to getting anything even remotely comparable to the dedicated ceiling speakers used in Atmos-ready cinemas.
In fact, the Beam Gen 2's acoustic architecture is exactly the same as the original product's: three passive radiators for the low end response, four elliptical midwoofers for mid-range frequencies, and a single central tweeter. What's different here is that you now have five speaker arrays, compared to the Gen 1's three. The two new arrays are dedicated to surround sound and height, and Sonos has gone big on psychoacoustic techniques, which play with timing and frequency to trick your ears into thinking sound is coming from the side or above you.
So does it work? Well, you should obviously manage your expectations. A small room-friendly soundbar with no upward-firing drivers is doing all of its surround sound work in processing, and you never feel completely enveloped in the bubble of sound Atmos promises. But the Beam Gen 2 still does a surprisingly effective job of replicating overhead effects when we sit down to watch the chaotic carpet-bombing seabirds scene in the first episode of David Attenborough's Dolby Atmos and Dolby Vision series, Our Planet, on Netflix. There's a real sense that the thrilling sequence is happening around you, rather than in front.
We have just as much fun with the excellent The Mitchells vs. The Machines, which is widely regarded as one of the best Atmos experiences on Netflix. During the mall scene, in which every electronic device in building is trying to kill our dysfunctional titular family, the monolithic evil Furby and whizzing drones contribute to a more exciting action sequence when watching in Dolby Atmos, and the Beam's expansive soundstage triumphs over its predecessor, allowing you to more easily place sound and immersing you in the superbly animated carnage. No, you're not getting true height, but it's hard to ask for a better imitation from a soundbar of this size.
In a film like Alfonso Cuarón's Roma, Atmos' impact is more understated, and it's more apparent that you would need a fully realised surround sound setup to properly appreciate how it subtly enhances the film's quiet drama. Still, we still felt more involved than we would have done without the Beam Gen 2's Atmos wizardry at work.
Away from the virtual surround sound stuff, the Beam remains a truly great soundbar and speaker for its size and price, ideal for TVs under 55 inches but easily capable of replacing a larger set's built-in speakers if you're after something that takes up less room on the TV cabinet.
Sonos Beam Gen 2 Verdict
We still wish it had more HDMI ports but virtual Atmos magic just adds to the appeal of one of our favourite soundbars. The Beam Gen 2's stylish build, ease of use and additional music streaming features make it easy to recommend to anyone wanting a simple solution for better TV audio. And if you want more oomph, it couldn't really be easier to add a Sub and a few Sonos Ones, provided you're happy to part with a fair bit of cash.
If you have the original Sonos Beam and want to add Atmos to the mix, we'd probably recommend spending a bit more on a Sonos Arc instead, rather than paying full whack again for an only slightly improved device. And if it's Atmos that first-time Beam buyers are tempted by, remember to make sure you have a TV that can decode it too, plus an eARC HDMI port you're willing to give up for good.
Stuff Says…
The addition of Dolby Atmos makes Sonos' already excellent compact soundbar even better
Good Stuff
Atmos works better than you'd expect
Compact, stylish design
Alexa and Google Assistant well implemented
Easy to use
Bad Stuff
Only one HDMI port
No HDMI passthrough