Sonos Ray review: a quality compact bar
Sonos is back with the Ray: a long-rumoured entry-level soundbar without some fancy features but with all the brand's usual quality. Does it have what it takes?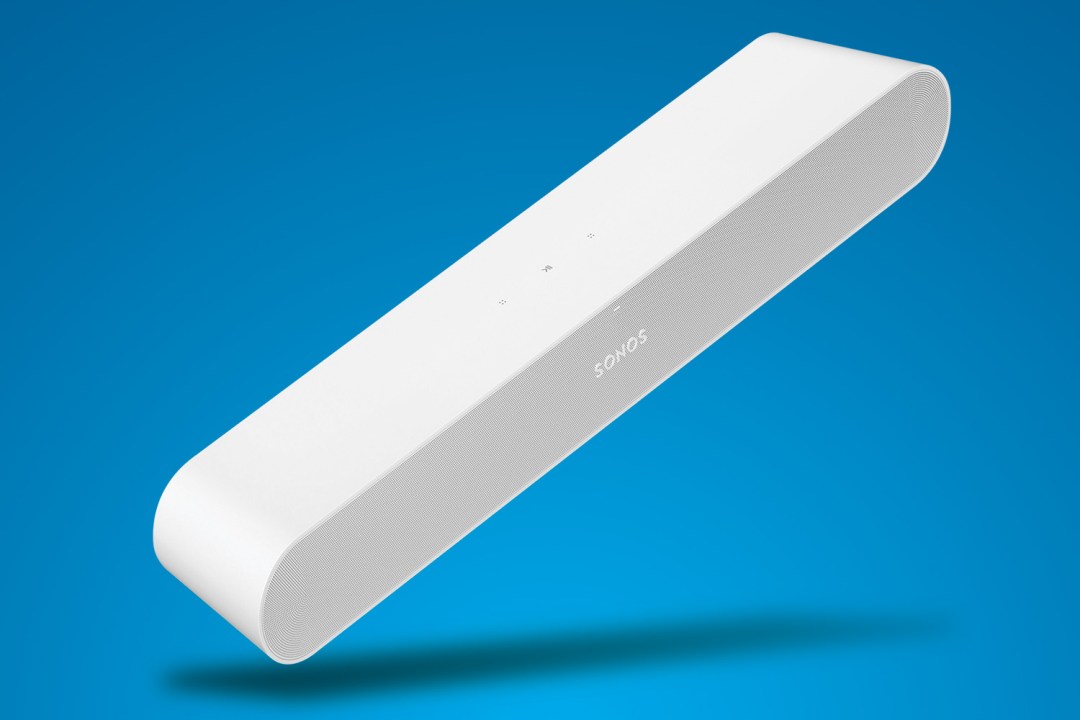 A decade ago, Sonos didn't even do a soundbar. Its debut effort, the Playbar, was introduced in 2013. That's since been replaced by the Arc, a premium bar with Dolby Atmos that has 11 internal speakers as well as Alexa and Google Assistant support; and there's also the Beam (now in a second-generation version, replacing the original), a still-premium offering with five speakers and Atmos as well as many other smart features. And now, enter the Ray.
This is a compact model with four drivers that sits beneath the Beam and Arc and is designed for smaller tellies and smaller rooms. It can even sit beneath your TV in a cabinet since the sound is fired forwards rather than to the sides.
Broadly speaking, it has two key differences from the models higher up Sonos's chain: the Ray doesn't have Dolby Atmos (though it supports Dolby Digital) and it doesn't have HDMI either, instead hooking up via optical. But it does have much of why people love Sonos: lovely design, AirPlay 2 support and integration with your Sonos system.
At this price, it's certainly budget in Sonos terms, even if there's a huge amount of choice in that bracket – including some options with separate subwoofers. And with Dolby Atmos support coming in bars not much further up the price ladder, does the Ray do enough?
Design
The design bears the usual hallmarks of quality from Sonos and even the box is a joy to open up. If you already own Sonos gear you'll appreciate the consistency of design. Our review sample's white finish makes a change from the usual black. It certainly looks like a more expensive device than it is. Obviously, we knew it was going to be pretty compact, but it's even smaller than we expected at around 56cm long – it would be fine even with a tiny TV.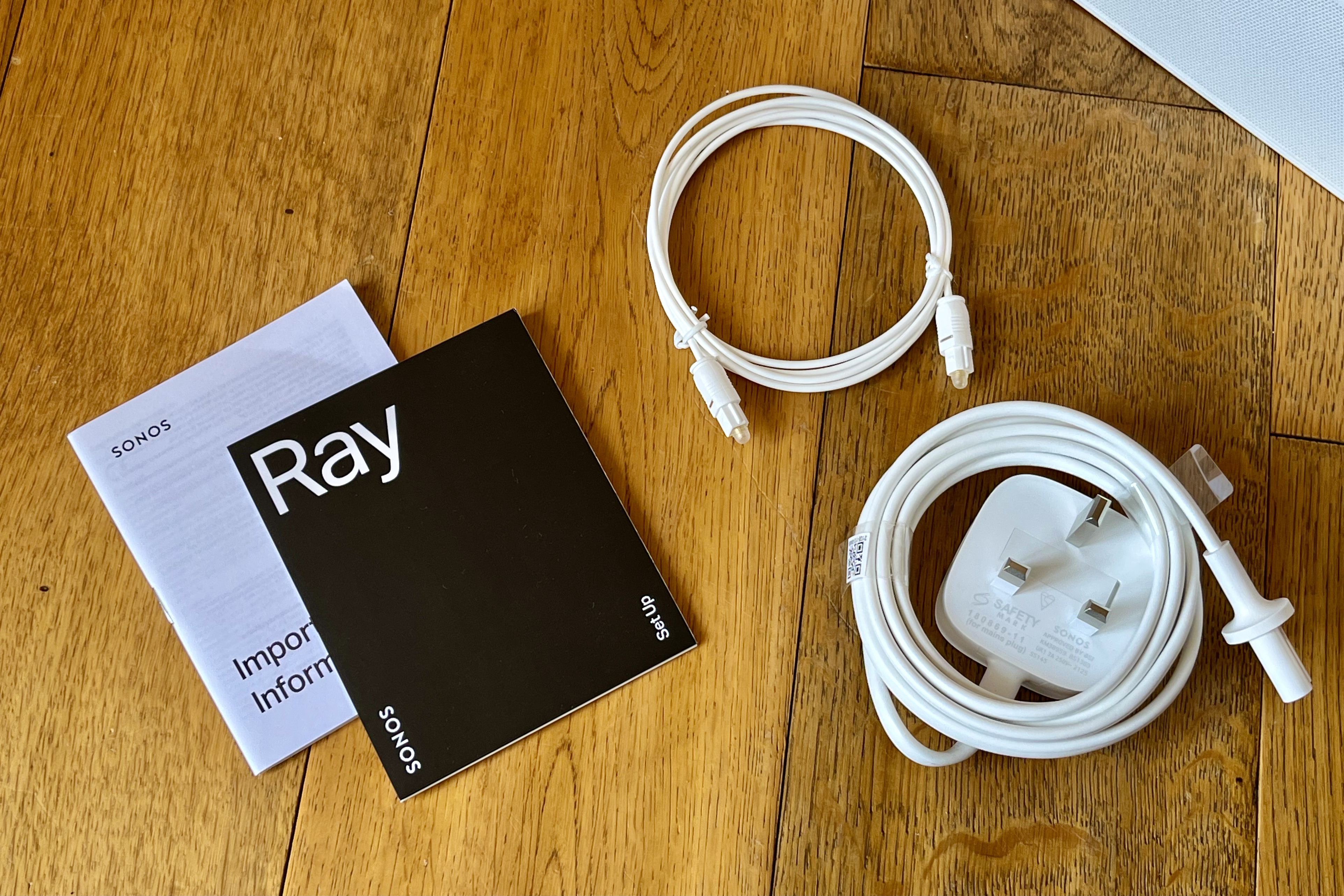 You can put it into a TV cabinet, too, since the audio emits from the font of the bar rather than the sides or top. Lacking telly shelf space? You can easily wall-mount the Ray using a separate £50 kit. You can also connect it up to a Sonos Sub should you wish, or team it with a matching pair of surround speakers such as Sonos One or Sonos Five.
Capacitive touch controls on top of the unit enable you to play, pause, adjust the volume and skip, but the Ray is designed primarily to be used over Wi-Fi or Ethernet with the app – and as part of a wider Sonos system if you have other gear in your home.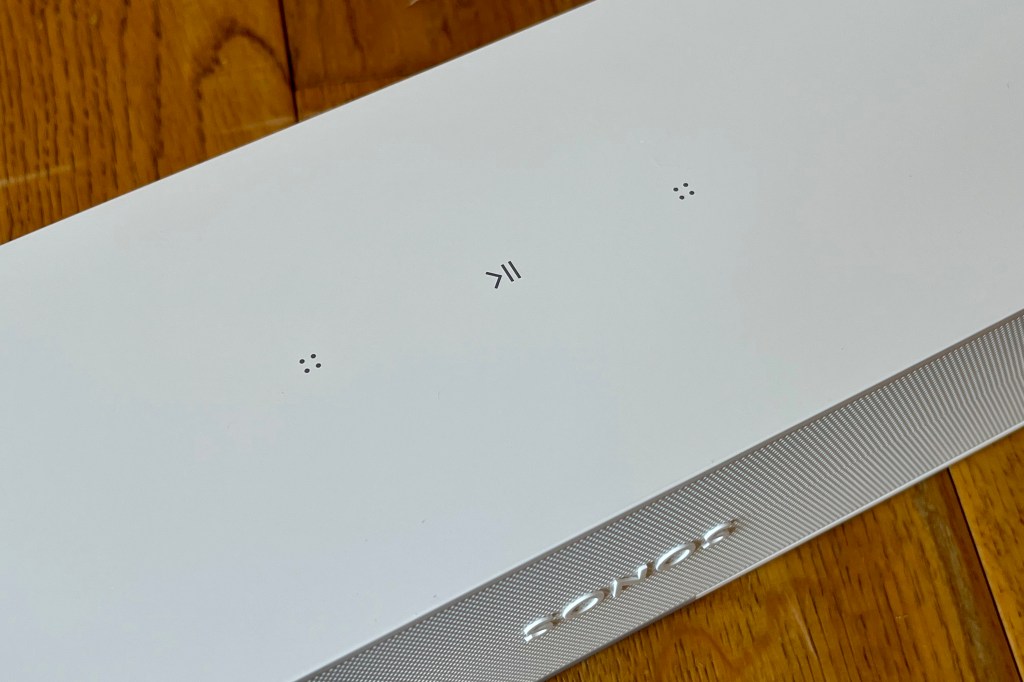 Features and setup
If you intend to hook it up to Wi-Fi there are only two cables to fiddle with: power and optical. Ethernet is there as an option should you want it; perhaps you have Powerline at the back of your TV setup, for example.
The reliance on optical is designed for maximum compatibility with cheaper or older TVs, but it means the Ray can have issues when it comes to controlling the bar using the TV's remote, while you can't hook it up to other devices unless they support optical. Usually, you'll plug it directly into the back of your TV, though.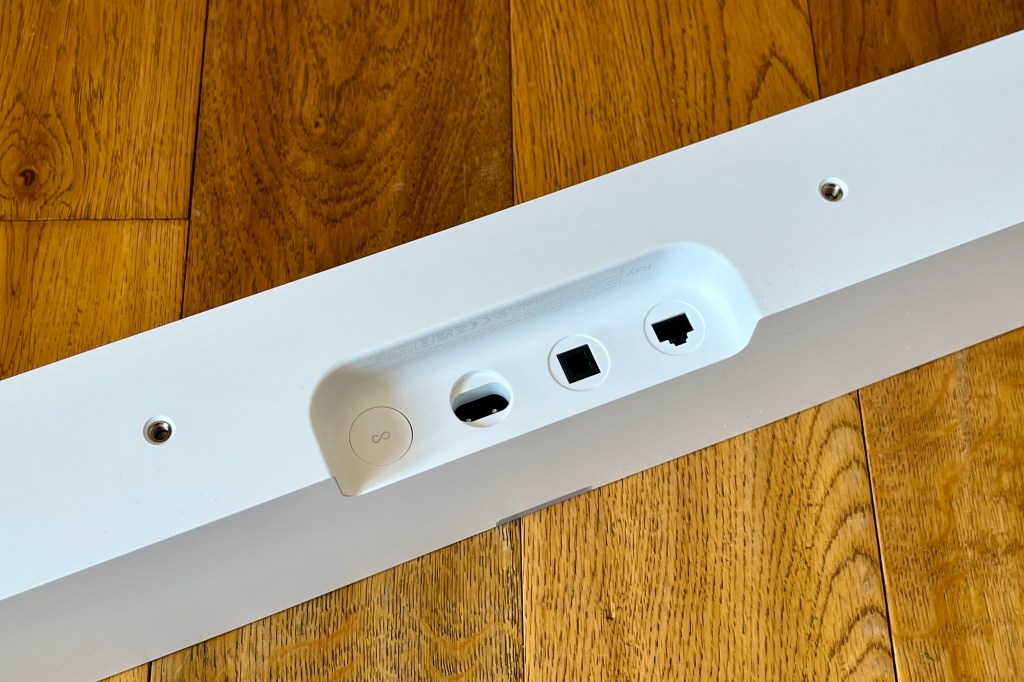 The optical connection did pose us one particular problem – the included cable ships with protector caps you need to remove (can you tell we haven't used an optical cable for a while). This isn't clear during the setup and attempting to plug the cable in led to a little bit of confusion as to why it wasn't going in. It's a simple thing, but we can imagine it will derail some.
Setup is entirely via the Sonos app. We found no problems with the app setup, but there are lots of steps you need to go through. The Ray can be set up with a passcode printed on the device, or it can emit a tone that will be picked up by the app using your phone's mic. It's a very clever touch, and pretty seamless. With Trueplay, the bar's own software measures the acoustics of your room and adjusts its sonic response accordingly. This is especially useful if you're putting it in a cabinet, for example.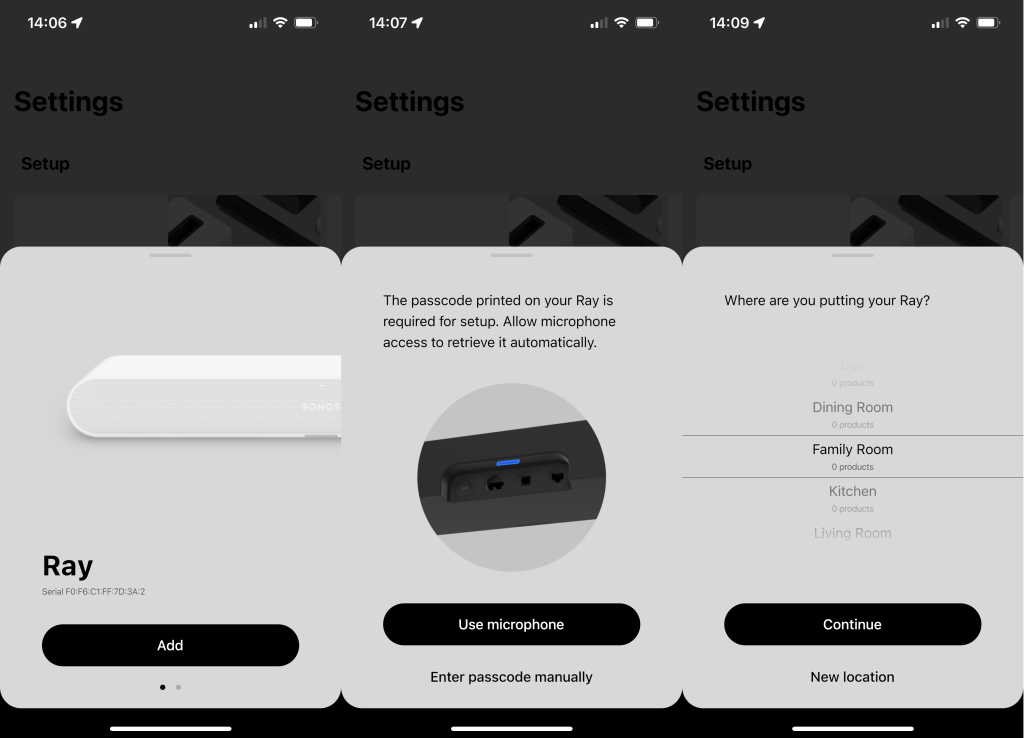 One potential issue is that you may need to tweak your TV's settings to get the sound outputting via optical correctly. This can be a pain and you may need to mute your TV's own speakers or turn them to zero to get around any issues. Another issue is remote support. If you use an IR remote with your TV then you can set this up to work with the Ray. But Bluetooth remotes are trickier. Certain ones – such as the Apple TV's or a Samsung One remote – do work, but many others don't. In that circumstance, you need to either use the Sonos app to change volume or use the physical controls on top of the bar. This is a pain when we flick over to a source that isn't very loud.
Voice assistance from Alexa or Google Assistant is supported, but it's only available if you use the bar alongside a separate smart speaker such as an Echo.
Audio quality
For most homes, the Ray will fill your living space well with the forward-projecting sound from its four amps, two tweeters and two midwoofers in addition to a passive bass reflex system. No power rating is given, but distortion is not an issue. The sound quality is superb – better than the bigger bar that's usually sat underneath our TV and it copes with busy scenes, sport, documentaries and more with aplomb. However, you'll want something beefier if you have more than an average-sized living room and during intense movie scenes the difference between this bar and a higher-priced option is pretty clear.
As we mentioned earlier, the Ray lacks Dolby Atmos support, sticking with Dolby Digital 5.1 and DTS Digital Surround, and while we don't see that as an issue at this price point, you don't have to pay much more to go Atmos.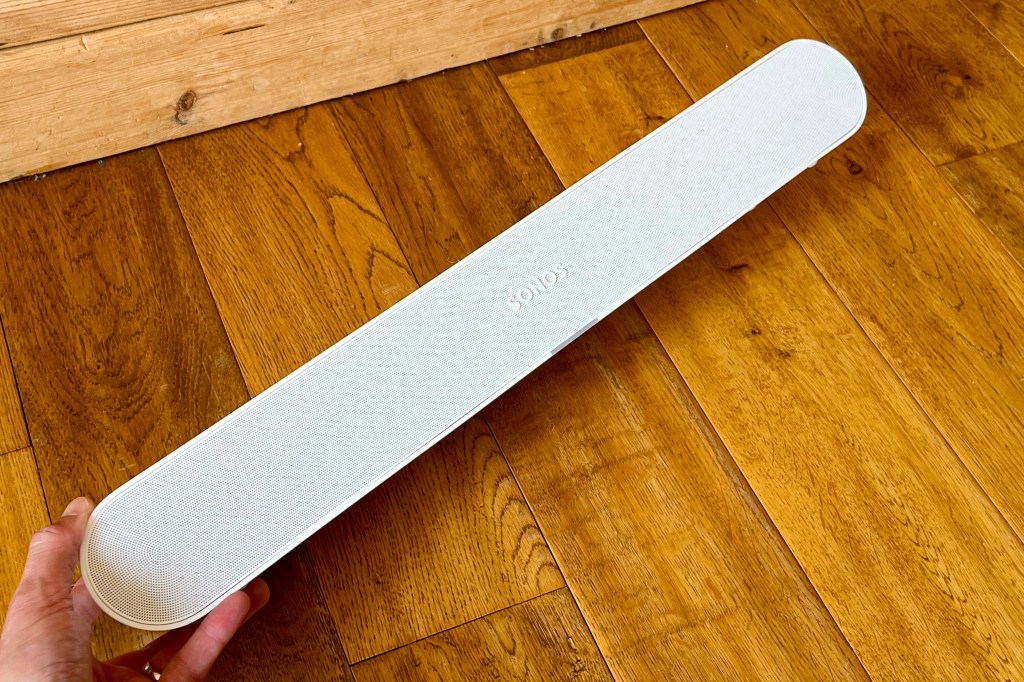 You can use the Ray by streaming from the Sonos app or seamlessly with AirPlay 2 from an Apple device, but you can't use it with good old Bluetooth. That seems like a bit of a miss at this price point when rivals are so free and easy with it. AirPlay from an iPhone is seamless, as you'd expect. Music quality is great though, and you can easily use this in a living room or family room space as the main speaker in that area.
We're also impressed at how the Ray clarifies the spoken word thanks to its Speech Enhancement setting – everything is nice and clear. Likewise, there's a Night Sound setting (as you get with most soundbars these days) to reduce the intensity, and you can also adjust bass and treble manually.
Verdict
The Ray emits some pretty beefy sound, and while detail naturally isn't as good as Sonos's more expensive efforts this is a very good compact soundbar. But the sheer choice on offer at this price point means the only real reason to opt for this bar is if you want either AirPlay 2 support or compatibility with other Sonos devices.
Stuff Says…
A quality compact soundbar… but if you don't own other Sonos kit you might want to look elsewhere
Good Stuff
Lovely Sonos design
Budget by Sonos' standards
Straightforward to set up
Bad Stuff
Patchy Bluetooth remote support
No HDMI support
Maybe you want a Beam?
Tech specs
| | |
| --- | --- |
| Audio | 4x Class-D amps, 2x tweeters, 2x midwoofers |
| Formats | Stereo PCM, Dolby Digital 5.1, DTS Digital Surround |
| Connectivity | Optical, Ethernet, IR receiver, Wi-Fi, AirPlay 2 |
| Dimensions | 559x95x71mm, 1.95kg |