Sonos Playbar review
All the awesome of Sonos crammed into a TV-boosting soundbar – what's not to like?
Any Sonos announcement is greeted by a ripple of excitement around these parts. Heck, even the announcement of an announcement (yep, it's one of those companies) is enough to get us guessing what California's foremost purveyors of multi-room music streaming might have up their sleeves.
Turns out it's not the portable Play:1 speaker some of us here had been predicting, but in fact a soundbar. Yep, with the Playbar Sonos is turning its attention to improving your TV's sound. But of course, being a Sonos, it does a heck of a lot besides that.
Design and features
If Apple was to make a soundbar we bet it would look something like this. The build is exemplary, the styling minimalist, and it's chock-full of neat touches, such as the accelerometers that can tell whether the Playbar is laid-down or on an edge and adjust the sound accordingly.
There's also an IR repeater built-in so that signals from your remote still get to the TV even if the Playbar is blocking the telly's sensor, and a pair of ethernet sockets on the back mean your other components (such as your smart TV) can piggy-back the Sonos network to get to the internet. Just remember that if you can't hardwire the Playbar to your router you'll need to get some powerline adapters or Sonos' dedicated Bridge (£39).
Music streaming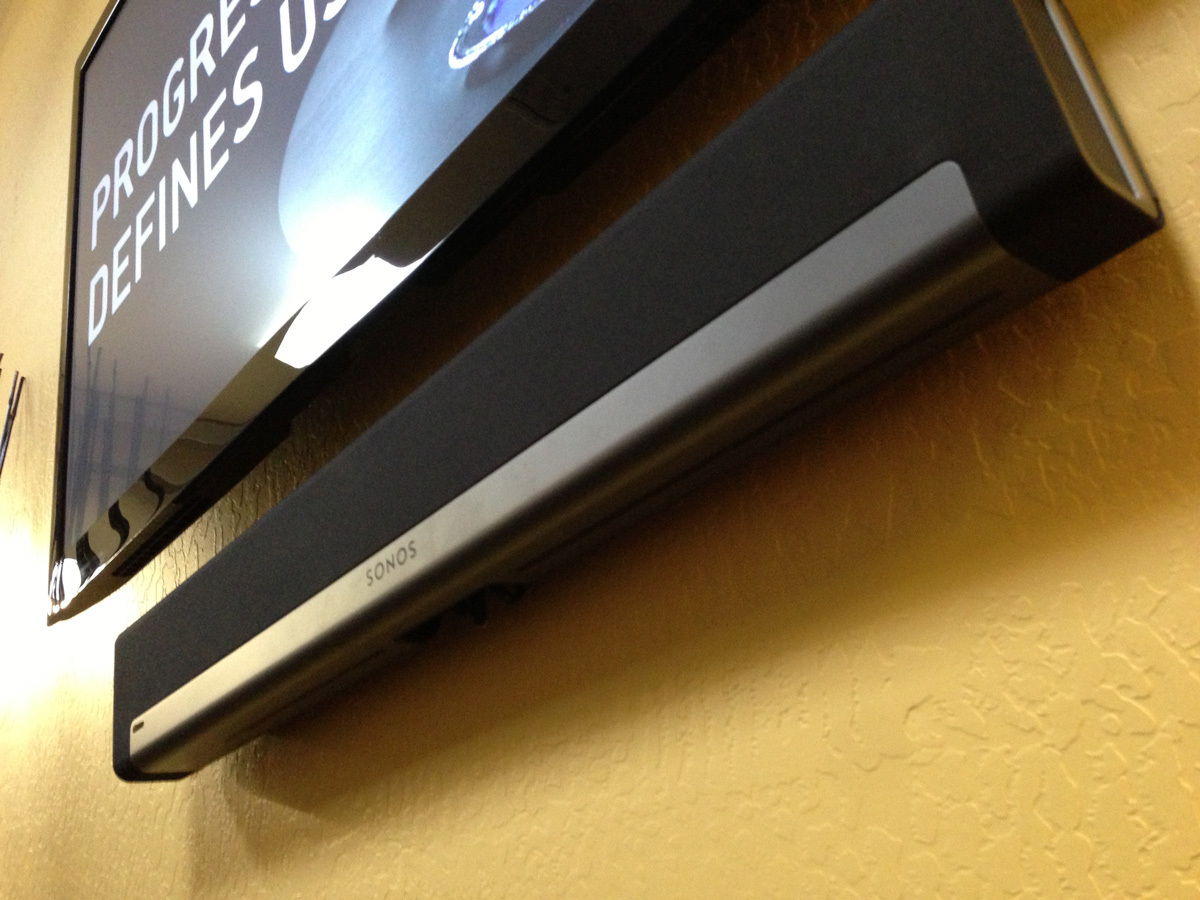 Essentially this is a full Sonos player in a wider chassis, which means it gives you access to massive amount of streamed music. It'll play everything (except hi-res tracks) you've got stored on your computer or NAS device, it benefits from the recently added feature that lets you send audio directly from an iPhone, iPad or iPod Touch, and it connects you to internet radio and millions of tracks via Spotify, Napster, Last.fm, Aupeo, 7digital, Deezer and more. No devices outside of those made by Sonos deliver anywhere near the same breadth or depth of content, and no other soundbar delivers as much music as this.
Soundbar skills
If all you're after is lots of streamed music you could just buy the Sonos Play:3 – the difference here is that the Playbar also connects to your TV. Somewhat disappointingly there's just one way to do this, and that's via optical cable. While this has advantages in terms of simplicity – all of your devices stay connected to your TV as normal and you just have one cable connecting the TV and Playbar – it's not as neat as those systems with multiple HDMI inputs and a single HDMI output for video. And let's not forget that while optical outputs on TVs are pretty common these days, they haven't been for that long. You definitely want to check if your TV's got one before forking out on a Playbar.
The Sonos app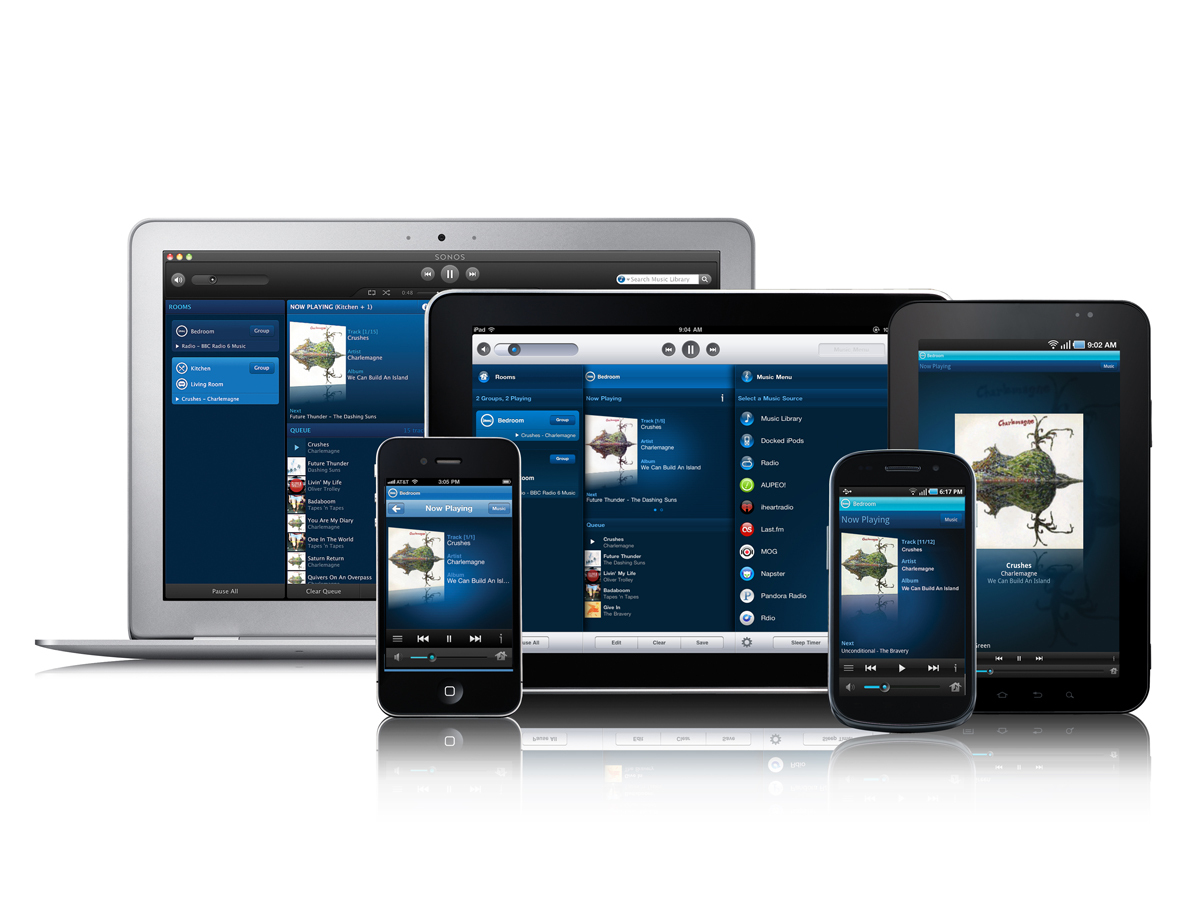 As with other Sonos components there's no dedicated remote control for the Playbar, instead all functions are handled by the iOS or Android app. It's a brilliantly simple app that makes changing volume and switching from TV sound to streaming TV on the Radio from Spotify an absolute doddle.
Sound quality
To cut a long short short, the Playbar is a massive improvement over even the most impressive-sounding flatscreen TVs. The width of the soundstage that's created is mighty impressive, and there's detail, weight and tonal balance that a TV on its own simply can't deliver. The drivers behind the grille are angled upwards, and while that means you get a big, atmospheric sound, it sacrifices just a little bit of impact and directness. That's a minor flaw in an otherwise excellent delivery with both music and movies, though.
Adding more Sonos kit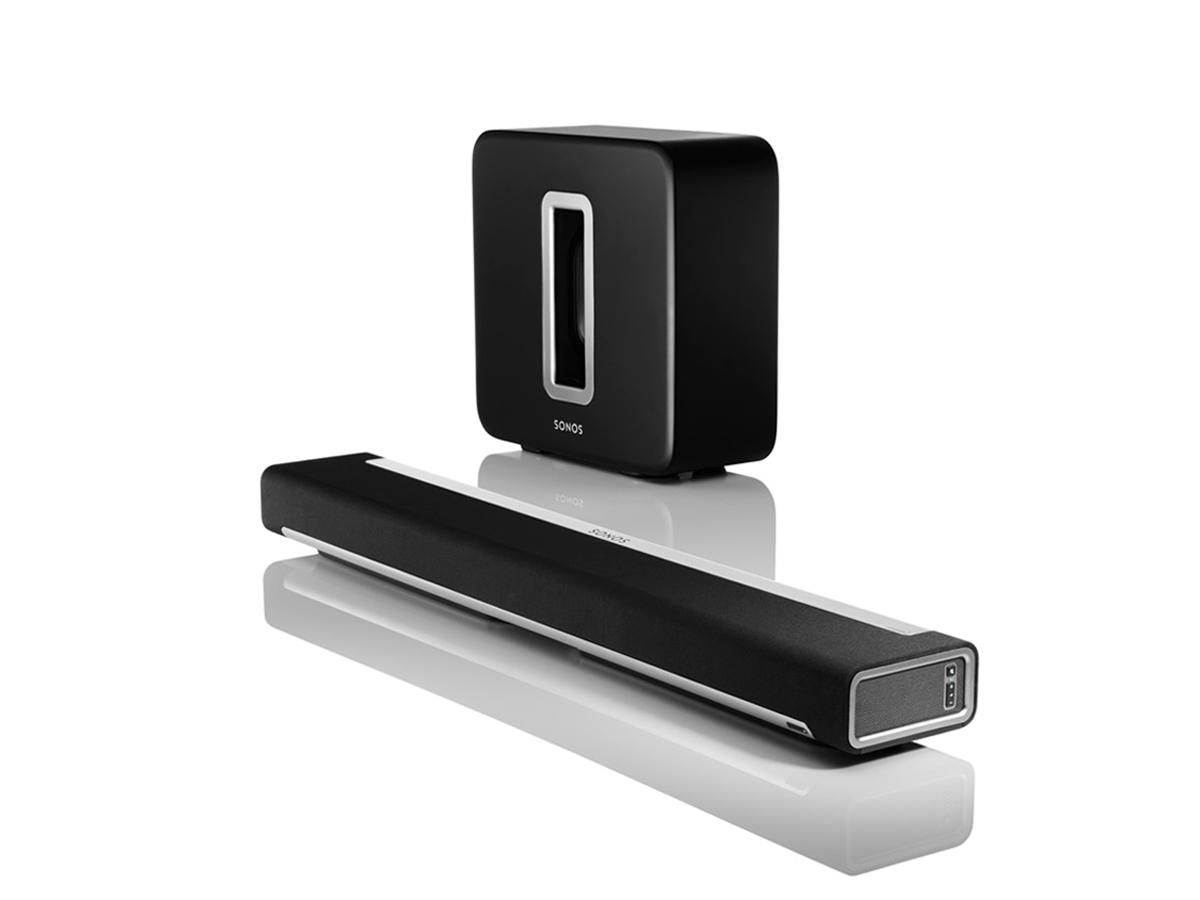 The 3.0 Playbar can be turned into a 3.1 system by simply slapping down another £600 on the Sonos Sub. Adding it via the app is a very simple process that includes a couple of steps for trimming levels so that it blends nicely with the Playbar, and the sound clearly improves with its addition. Not only does it mean the system can now reach sofa-wobbling levels of bass, it adds weight to big movie effects and helps the whole presentation fill the room more thoroughly. It's all gain then, but its gain that you have to pay a great deal for, and given the Playbar's level of quality in its own right it's a stretch that we wouldn't recommend to everyone.
3.1 not enough for you? Well you could always add to Play:3s to create a full, wireless 5.1 system, although that would take the total price to an eye-watering £1720.
Verdict
If all you're looking for from a soundbar is great movie sound, you might want to check out the Yamaha YSP-2200, which fools you into thinking you've got a proper surround system by bouncing sound off the walls of you lounge, but if you want a simple, elegant unit that will massively improve your TV's sound and ply you with all-you-can-stream music until you're fit to burst, the Sonos Playbar really is the only logical choice.
Stuff Says…
This isn't a soundbar, this is a Sonos soundbar, and it's really rather awesome
Good Stuff
Throbs with Sonos quality
Massive music selection
Superior to built-in TV speakers
Bad Stuff
Optical connection, not HDMI
Expanding the system is pricey