Apple iPhone 13 models compared: which is best for you?
Which 13 will be lucky for you?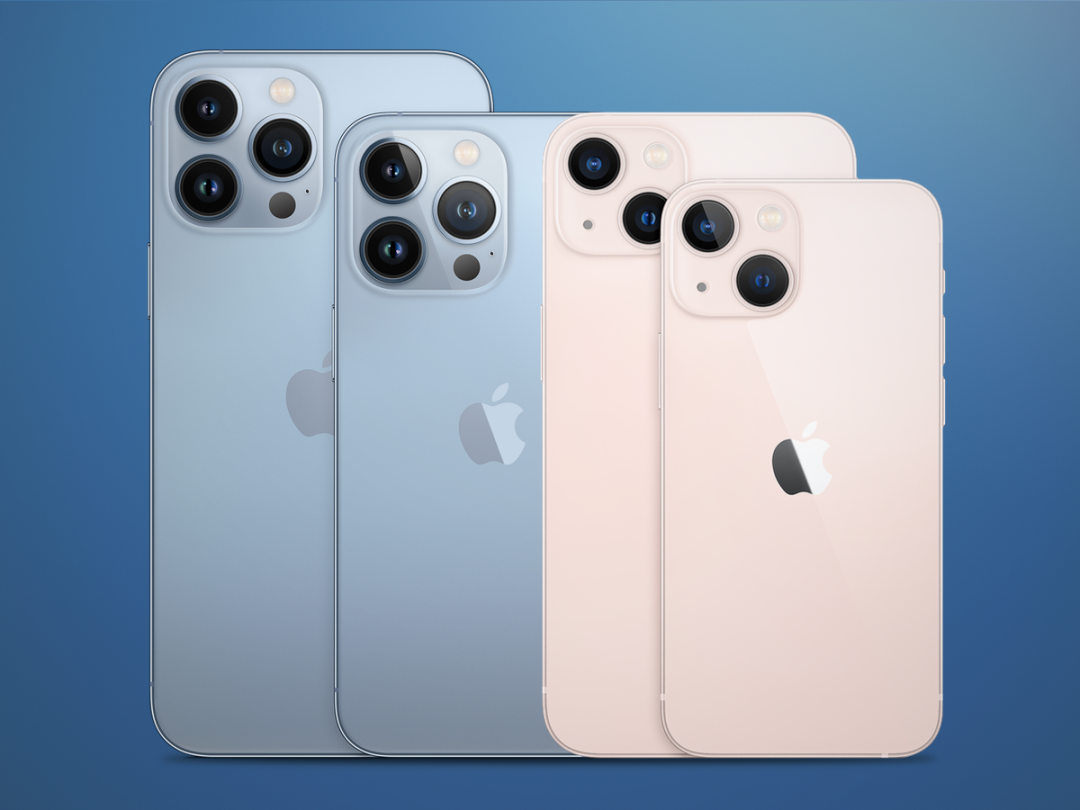 In days gone by, Apple presented prospective purchasers with just a couple of questions: which colour and what capacity? Now you now need to do a full-scale dissection of spec sheets, dimensions and lingo just to determine which model ticks your boxes. Or at least you did when the iPhone 13 was in its prime – now it seems the obvious Apple pick if you're after a mid-range phone,.
Originally this comparison lined up the iPhone 13, the Mini, the Pro and the Pro Max. We combed through all the dirty details to see how each variant stacked up, including (you guessed it) colour and capacity options. But now the iPhone 15 range is official, Apple has pruned the line-up, leaving just the standard iPhone 13 as your only choice when buying new. The others can still be snapped up if you shop around, though, so we're keeping the info current in case you're still in the market for one.
Design: identity parade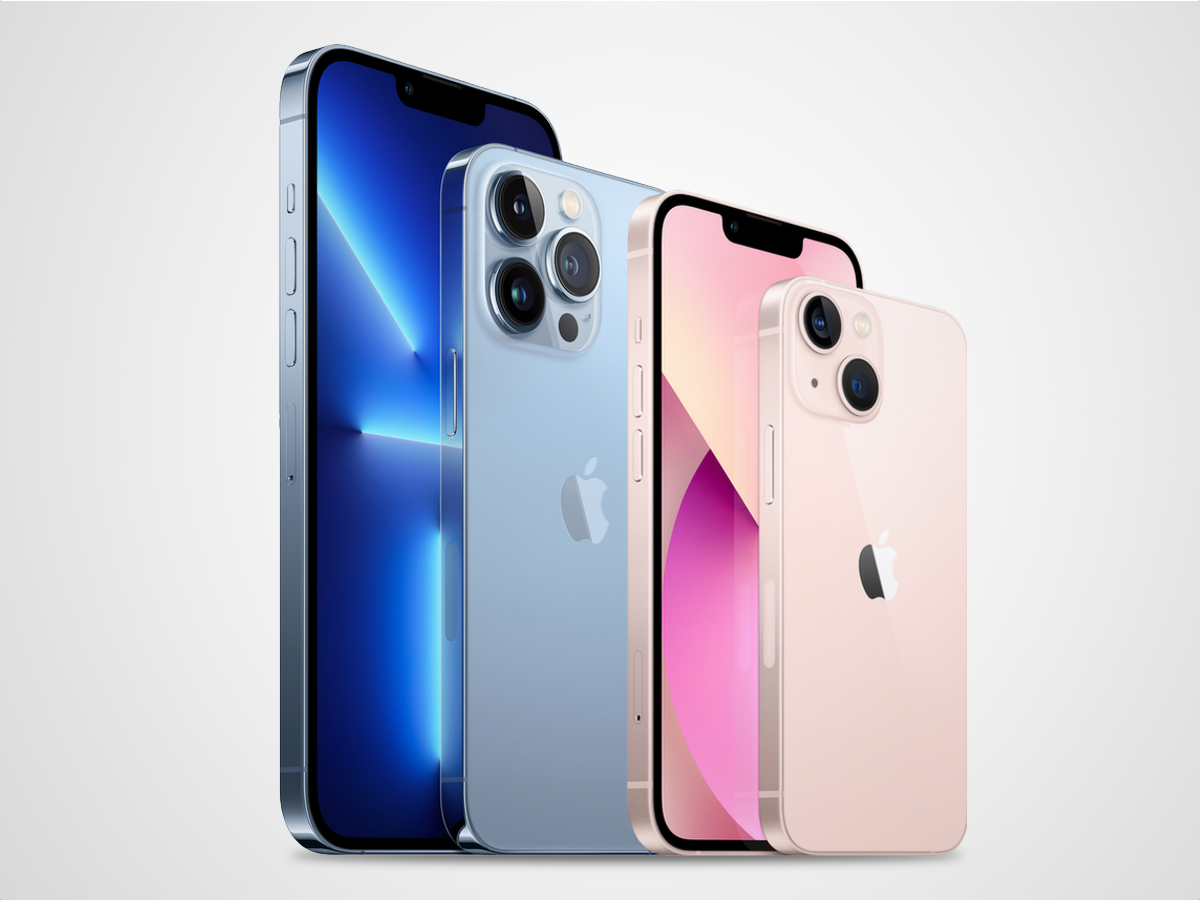 All four 2021 iPhone 13 models stick with the same styling approach as 2020's iPhone 12 line-up. That means flat aluminium sides, glass on the back and Ceramic Shield protecting the OLED panels. Nothing new – but still neat, slick and largely in keeping with Apple's contemporary design language, which has only evolved slightly for the newer iPhone 14 and iPhone 15 models.
One notable novelty across all four devices is the diminished notch at the top of the display. Over iPhone 12 it's a sliver taller but 20% slimmer. It doesn't free the screen from a cutout completely. But it definitely looks neater, especially on the sizeable iPhone 13 Pro Max. Dynamic Island cut-outs didn't appear on the Pro models until iPhone 14, and on the regular iPhone until iPhone 15.
Speaking of dimensions, the relative proportions of each device remain essentially the same as the last generation. The Mini is, predictably, the smallest – measuring 131.5mm tall by 64.2mm wide. As with the iPhone 12, the standard iPhone 13 has identical measurements to the Pro version. Both have a height of 146.7mm and a width of 71.5mm. And the Pro Max remains the biggest of the bunch, standing tall at 160.8mm and broad at 78.1mm. Impressively, all four devices are just 7.65mm slim.
As for hues, the iPhone 13 and Mini ship in five shades. Pink, Blue, Midnight and Starlight – as well as the special (Product) Red edition. For the Pro and Pro Max, you have just four colours to choose from: Sierra Blue, Silver, Gold and Graphite. Nothing too crazy – and perhaps a little more vanilla than some might like.
Screen: Go Pro for ProMotion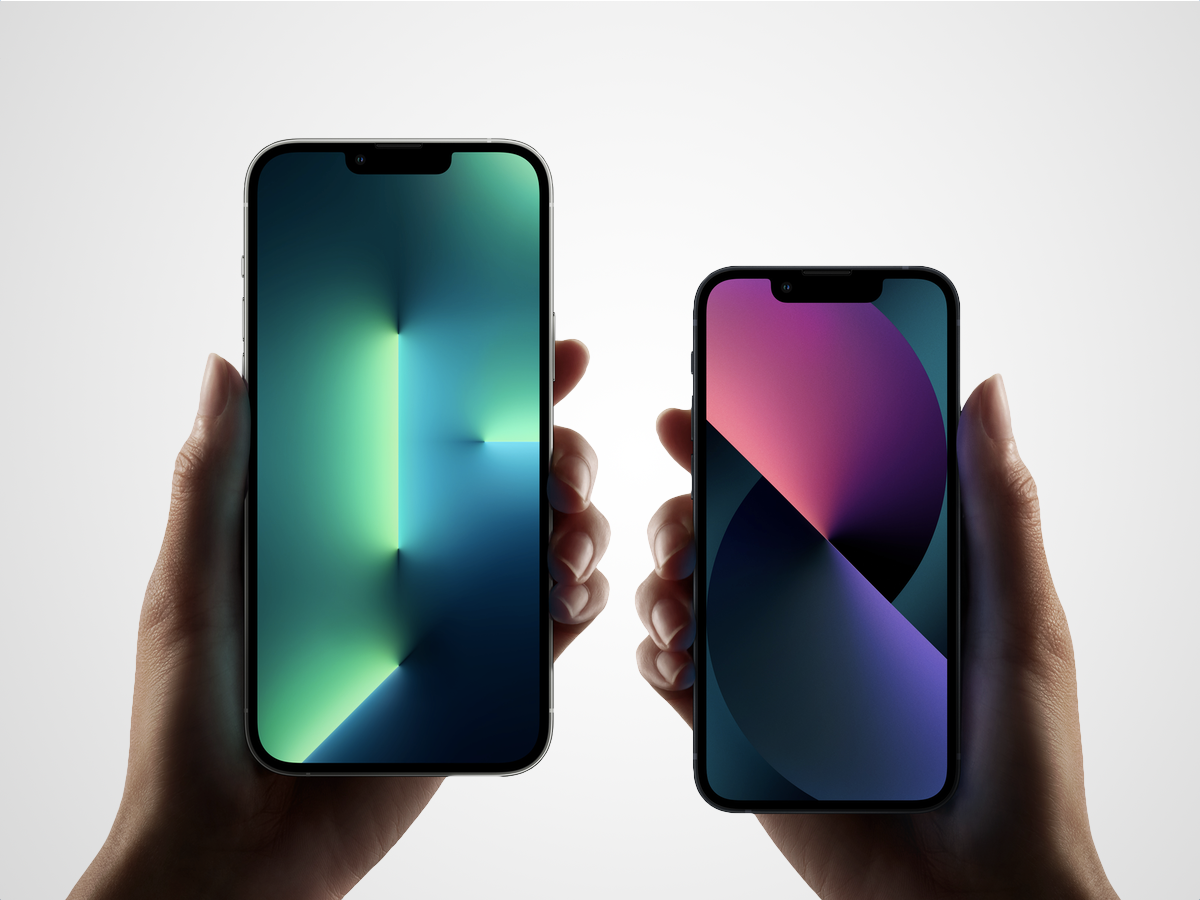 On paper, the OLED displays found across the iPhone 13 line-up are basically identical to their iPhone 12 equivalents. That means a 5.4in panel for the iPhone 13 Mini (with a 2340×1080 resolution) and a 6.1in screen for both the iPhone 13 and 13 Pro (with a 2532×1170 resolution). The iPhone 13 Pro Max again goes biggest at 6.7in, with an unchanged 2778×1284 resolution.
There are some display differences across the line-up, though. For the iPhone 13 and 13 Mini, Apple has boosted brightness. It's supposedly 28% brighter outside (at 800 nits, up from 625). Apple also claims that peak brightness for HDR content is higher, which should enhance contrast.
But it's the Pro variants that now deliver a true treat for your peepers. Both ship with ProMotion support, which outside of the Apple universe translates to adaptive refresh rates. This means the updated displays can intelligently drop down to a super-efficient 10Hz for maximum battery saving, or bump frame rates all the way up to a silky smooth 120Hz when you need – ideal for fluid in-game visuals.
Those Pro panels are also super bright. At 1000 nits, brightness is up to 25% higher outdoors.
Camera: double or triple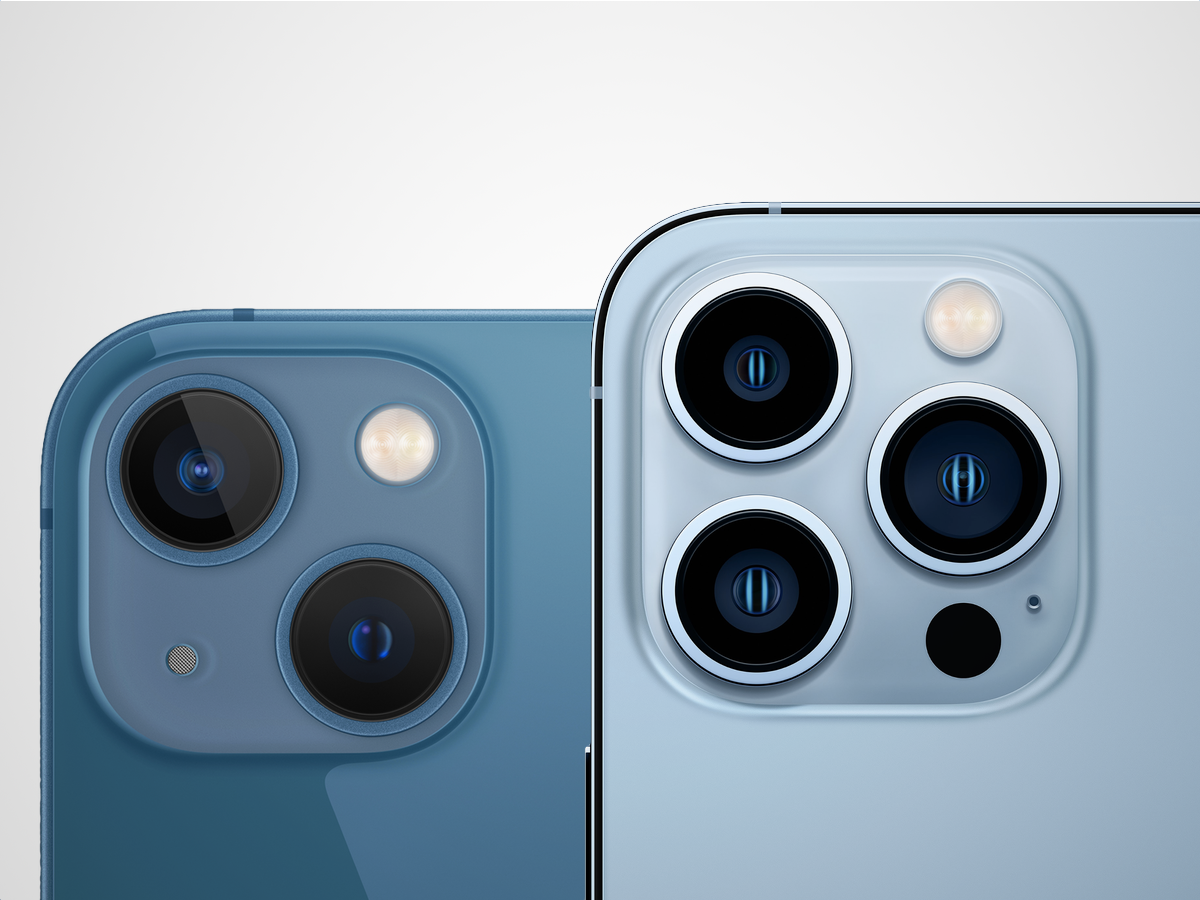 As with the previous generation, the 'standard' iPhone 13 and its Mini sibling ship with a pair of lenses, while the Pro and Pro Max versions feature three. And the resolutions haven't changed: front and rear, every camera on every iPhone 13 model has a 12MP sensor. But the pixels on those sensors have changed – as has a lot of photographic trickery.
On the iPhone 13 and Mini, the main cameras are now diagonally aligned (rather than vertically stacked), quite possibly to make space for the extra tech beneath. The updated wide-angle camera ships with the biggest sensor ever seen on a dual-camera iPhone, with larger pixels that can grab more light in dimly lit scenes. It's now equipped with sensor-shift optical image stabilisation, too, while the ultra-wide sensor has also been improved. As for footage, the iPhone 13 and Mini can both shoot 4K HDR with Dolby Vision at up to 60fps.
Sounds impressive? The iPhone 13 Pro and Pro Max tick even more boxes for photographers. All three rear shooters have been revamped to make them more advanced than ever before. The wide-angle lens uses the largest pixels on any iPhone, which should mean immense low-light performance (especially paired with an f/1.5 aperture). The ultra-wide is similarly improved with an f/1.8 aperture, together with autofocus which unlocks macro stills and video for the first time. Rounding out the trio is the new 77mm equivalent telephoto, with 3x optical zoom.
Boosted by the new A15 Bionic chip (see below) and a fresh image signal processor, the new iPhone 13 models get plenty of fresh software tricks too. Night mode is available across all cameras on the Pro and Pro Max – and those models also now support the ProRes video codec. Every model benefits from the captivating Cinematic mode (allowing you to easily recreate Hollywood 'rack focus' depth of field effects) and new Photographic Styles presets, which cleverly apply custom editing preferences to the right parts of your pictures.
Selfie fiend? All four iPhone 13 models have the same 12MP front-facing TrueDepth camera for Face ID, Animoji and the rest.
Performance & battery: take the A15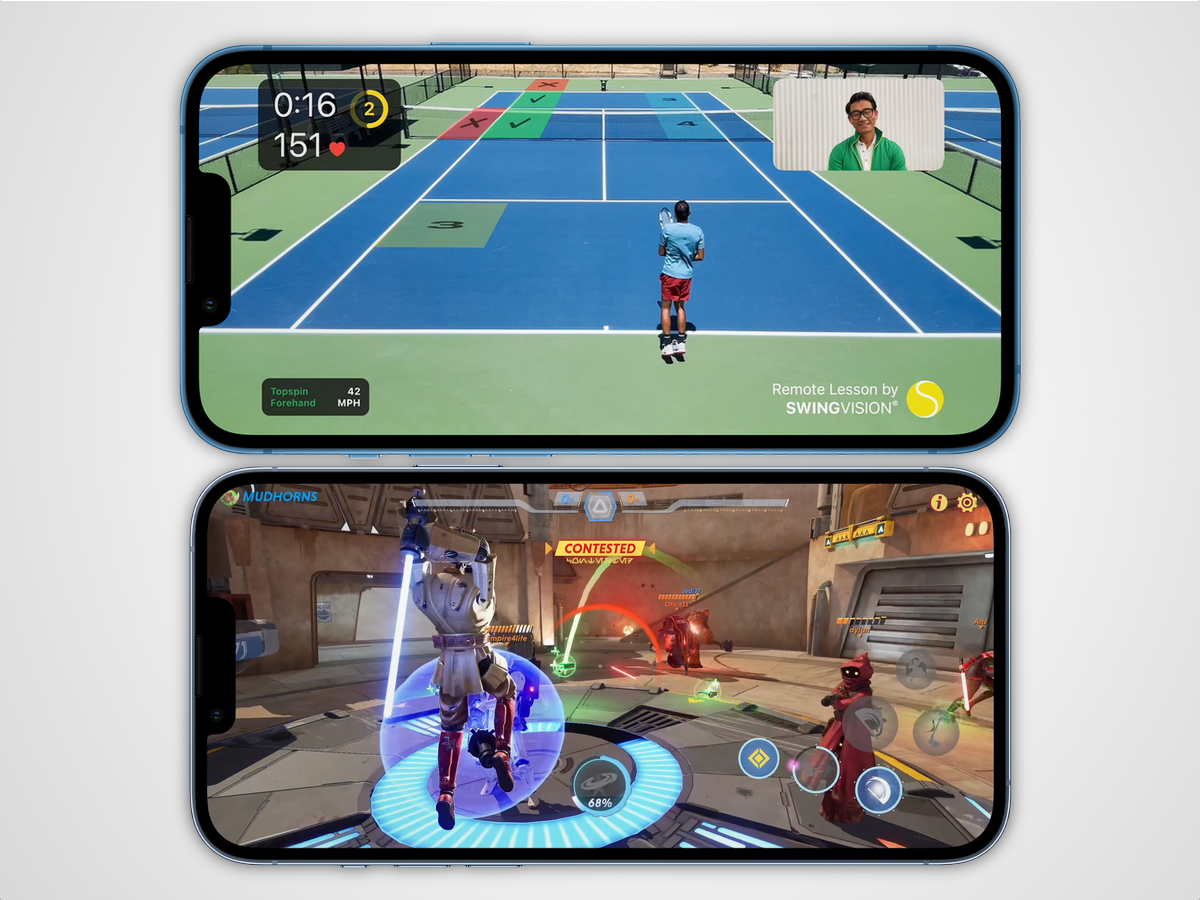 All four iPhone 13 models come equipped with the latest A15 Bionic processor. While Apple is always coy about publishing RAM stats, it claims the new chip makes each iPhone up to 50% faster than its (unidentified) competitors.
The performance bump comes courtesy of a six-core CPU, backed up by a 16-core Neural Engine that's capable of 15.8 trillion operations per second. Besides brisk multi-tasking capabilities across all four iPhone 13 models, that should also mean seriously speedy machine learning – deployed for everything from photo editing and video capture to Live Text recognition in iOS 15 (see below).
One small but potentially significant difference is that the Pro and Pro Max variants benefit from an additional GPU core. While the four GPU cores found in the iPhone 13 and Mini should provide more than enough performance to tackle the latest games, the additional fifth core is probably there to power those 120Hz refresh rates for the slickest visuals.
Despite the extra processor power, longevity has increased for each iPhone 13 model over its last-generation equivalent – thanks to larger cells and greater hardware efficiency. Apple hasn't published exact battery capacity stats, but it claims up to 19 hours video playback for the iPhone 13 and two fewer for the Mini. And sticking to Apple's established formula, the larger the iPhone, the longer it should last: the iPhone 13 Pro is good for up to 22 hours of video playback, while the Pro Max has easily the best endurance at 28 hours.
When it's time to recharge, every iPhone 13 variant supports up to 15W wireless charging via MagSafe – and if you've got a 20W wired adapter, you should hit 50% in 30 minutes or so.
Storage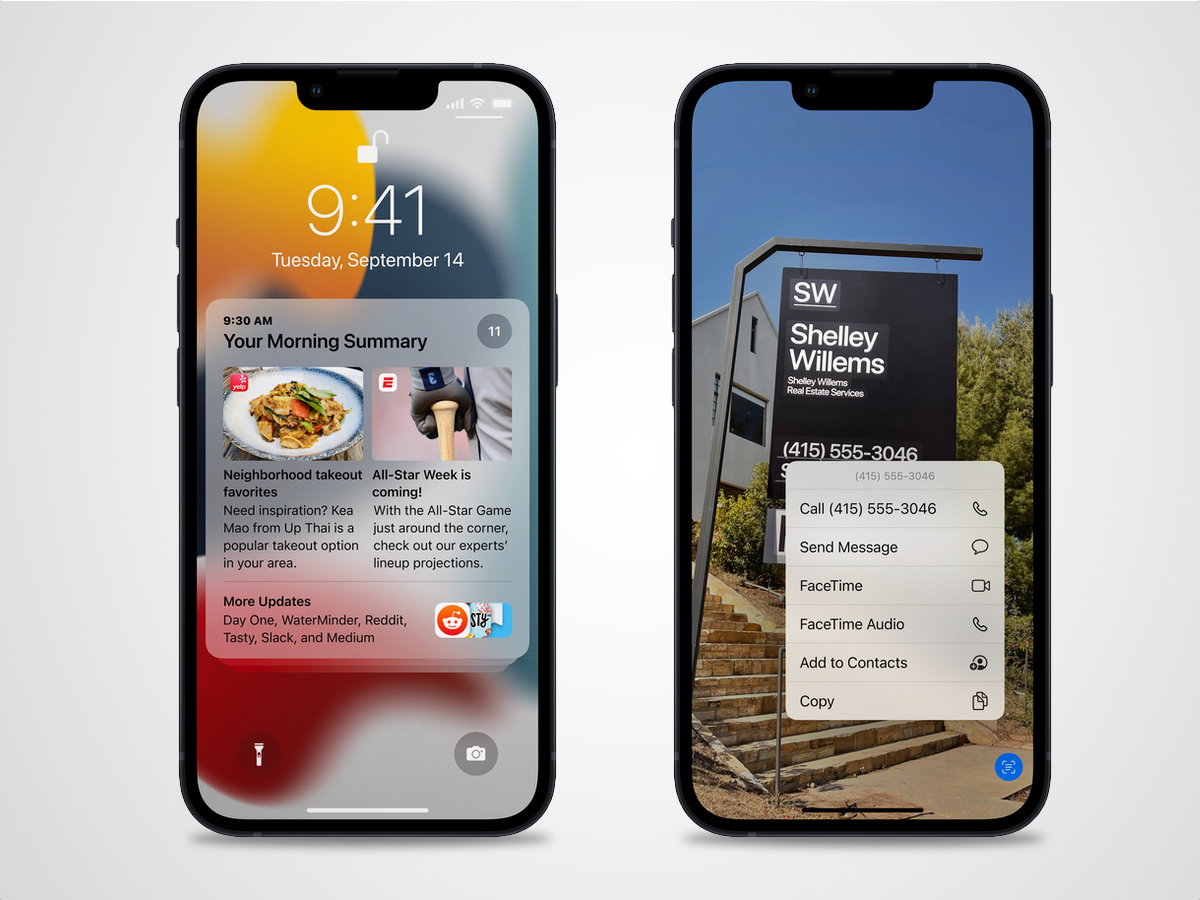 As for storage capacity, all four iPhone 13 models are available in 128GB, 256GB and 512GB variants. But the big news for media hoarders is that the Pro and Pro Max also now offer 1TB versions.
Verdict: which to pick?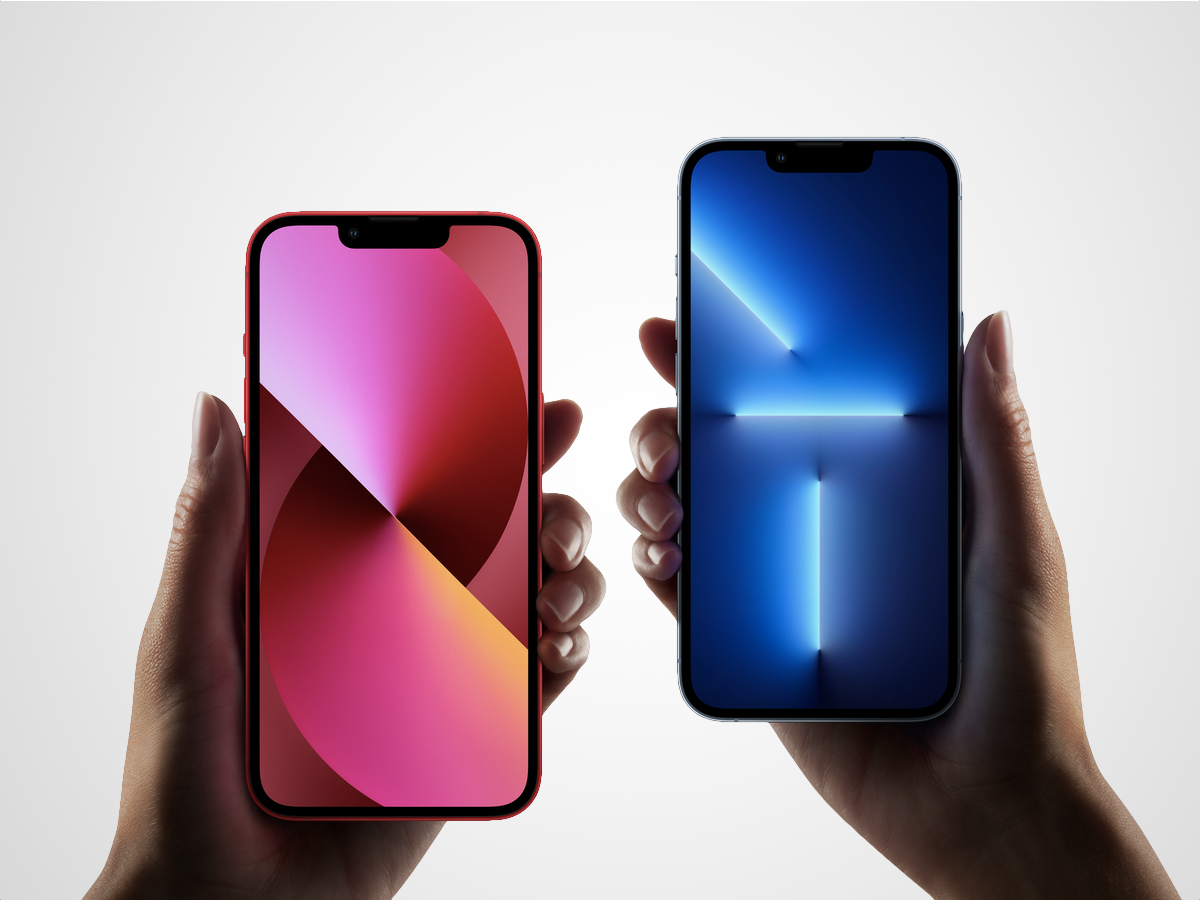 Apple has widened the gap between the two vanilla variants and their Pro and Pro Max cousins. We recommended the iPhone 12 over the iPhone 12 Pro. This time the gulf is bigger: while the iPhone 13 and Mini deliver faster performance, longer battery life and solid camera updates, it's the Pro versions that really set the bar higher and the iPhone 13 Pro is the pick of the bunch.
While none of the new handsets are revolutionary, the Pro and Pro Max represent much more of an upgrade. The overhauled camera hardware (including 3x optical zoom), ProMotion 120Hz refresh rates and beefier battery life – together with the A15 chip and extra GPU core – mark the Pro models out as proper performers.
Our iPhone 13 reviews