Bose QuietComfort Earbuds II review: nothing to apologise for
A stellar second-generation effort that improves on the original in practically every way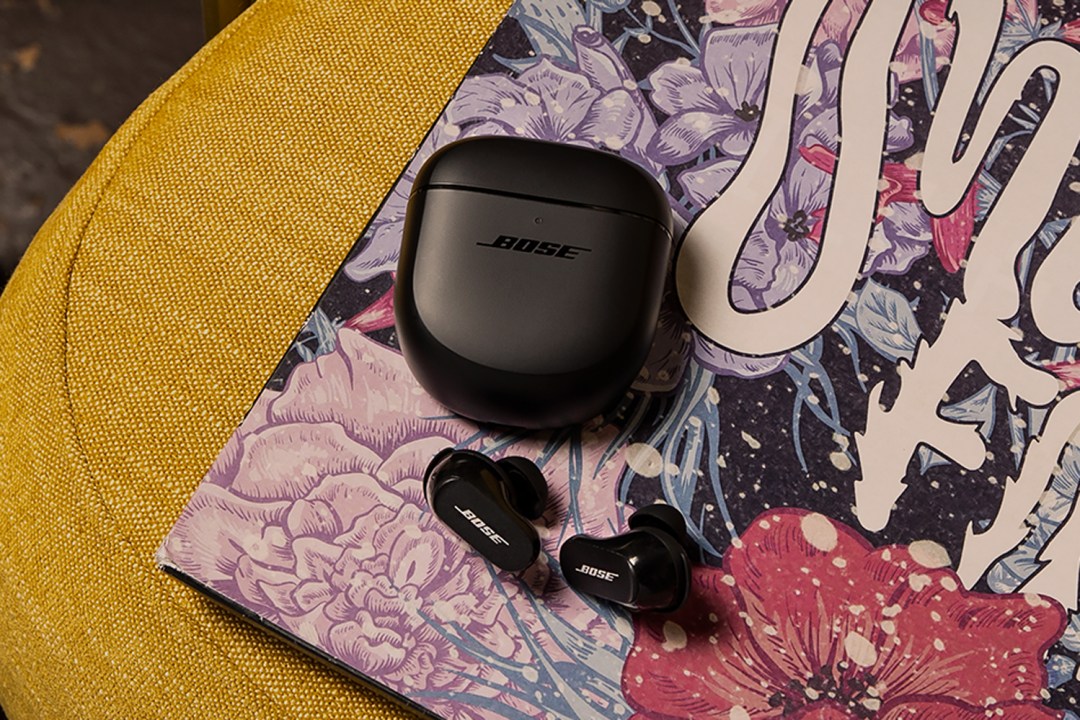 I don't care how the song goes, just because you're 'the original' it doesn't automatically follow that you're 'the greatest'.
Take Bose, for instance. This is the company that invented noise-cancelling headphones, and the company that consistently turns out headphones that cancel noise very effectively indeed. But as we know, there's more to it than that – and where sound quality, aesthetics and comfort are concerned, Bose doesn't always do its reputation complete justice.
The QuietComfort Earbuds II are meant to change all that, though. Here are the true wireless earbuds Bose reckons can compete in every single department – oh, and that have the best noise-cancellation around at the same time. Can it be true?
Design and build: smaller is beautifuller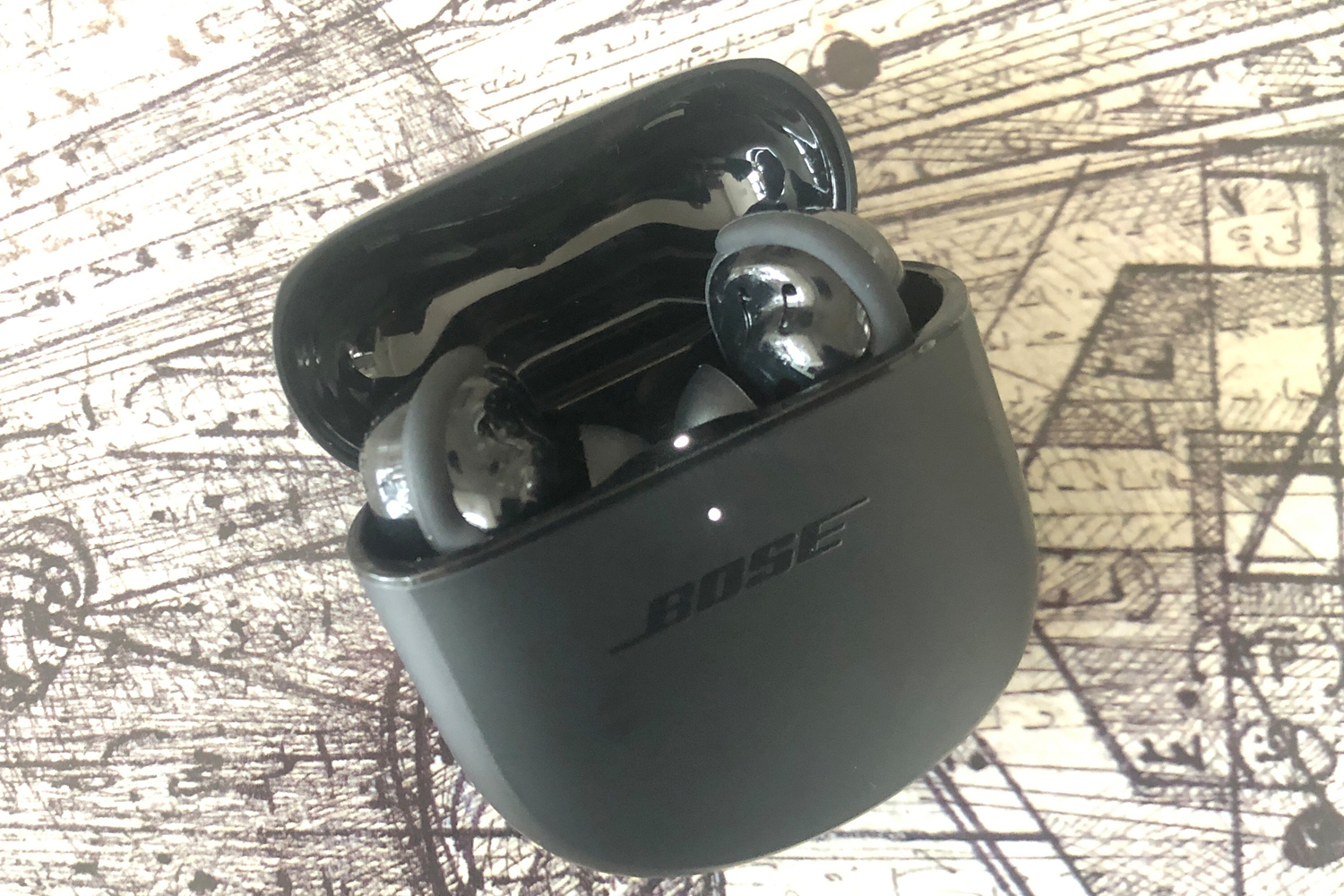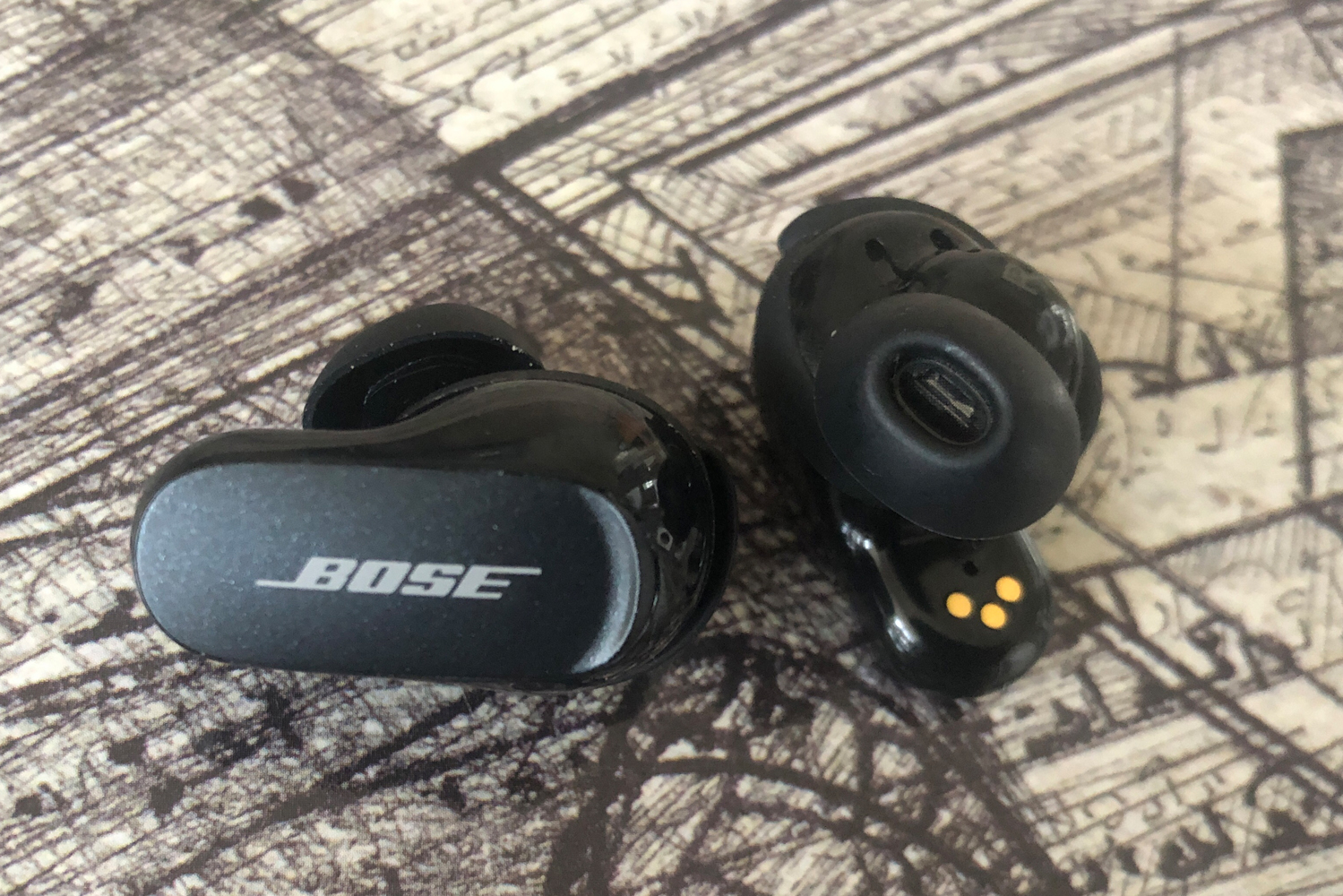 We're off to a strong start here – but then again, Bose would have to go some to deliver a model bigger or more unflattering than the original QuietComfort Earbuds.
The QuietComfort Earbuds II are smaller (17x31x22mm) and lighter (6.2g) than the model they replace – and so they look slicker, more discreet and altogether less gawky than the originals. You can wear the QCE II and do so without looking conspicuous – which is not something you could say about the older model.
Bose has upped the 'comfort' quotient over the previous earbuds, too, by including a whole stack of options where fit is concerned. The QuietComfort Earbuds II have a small AirPods-style stem, but twist into the ear – and to help them achieve the ideal position, they're supplied with three sizes of silicone eartips and three sizes of silicone 'stability bands'. These fit around the business end of the earbud, and feature a protruding 'fin' to help maintain positional stability. Unless you have the sort of ears that appear in medical textbooks, you should have no trouble achieving a secure and comfortable fit.
Build quality, as is customary with Bose, is basically impeccable. And the company has managed to mitigate the plasticky nature of the materials it's used by deploying some shiny and some matte surfaces in what it calls a 'triple black' finish. A 'soapstone' alternative (which looks very much like 'shades of white') will be available before much longer. The earbuds are rated IPX4, so should stand up to use in any realistic conditions.
Features: what's your canal like?
Bose has fitted a big (9.3mm) full-range driver in each earbud to deal with the business of delivering sound. Audio information comes on board via Bluetooth 5.3 – codec compatibility currently only runs to SBC and AAC, which is disappointing, but Bose seems to think some over-air upgrades will extend that particular area of functionality.
The earbuds hold around six hours' worth of power, and there's a further three full charges in the tidy little case. An all-in total of 24 hours is about par for the course, and another couple of hours of action after a 20 minute charge isn't too bad either. From 'flat' to 'full' is a three-hour job, though, and there's no wireless charging facility – it all happens via the charging case's USB-C socket.
It's with its latest noise-cancellation methodology that Bose intends to properly differentiate the QuietComfort Earbuds II. Whenever the earbuds are taken from their charging case and inserted into the ear, a quick tone-burst plays and a mic on the inside of the earbud measures the response of the wearer's ear canal. In well under half a second, an algorithm called 'CustomTune' tailors both the audio profile and the active noise cancellation to the particular properties of the ear in question. The same software also augments the earbuds' transparency mode (here called 'Aware'). As well as claiming to deliver the most natural impression of what's going on externally, it's designed to respond instantaneously to sudden loud events by switching in noise-cancellation for as long as necessary.
Interface: are you fitting comfortably?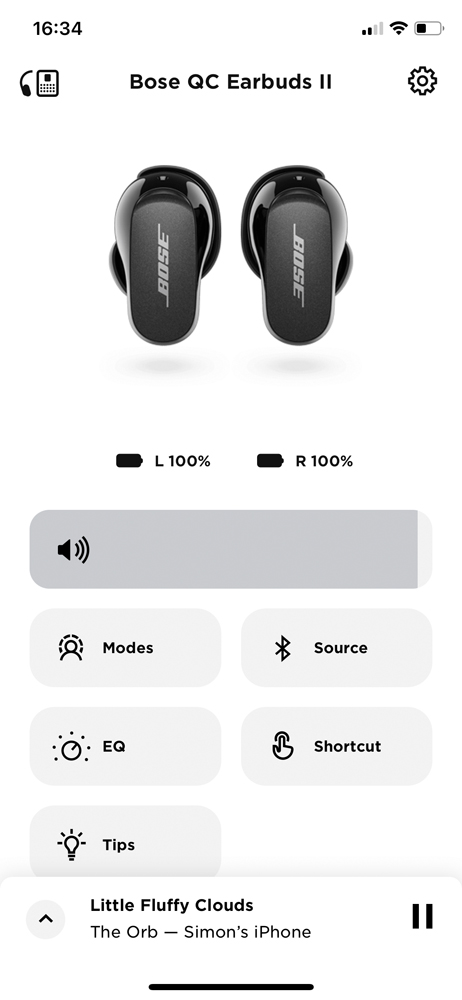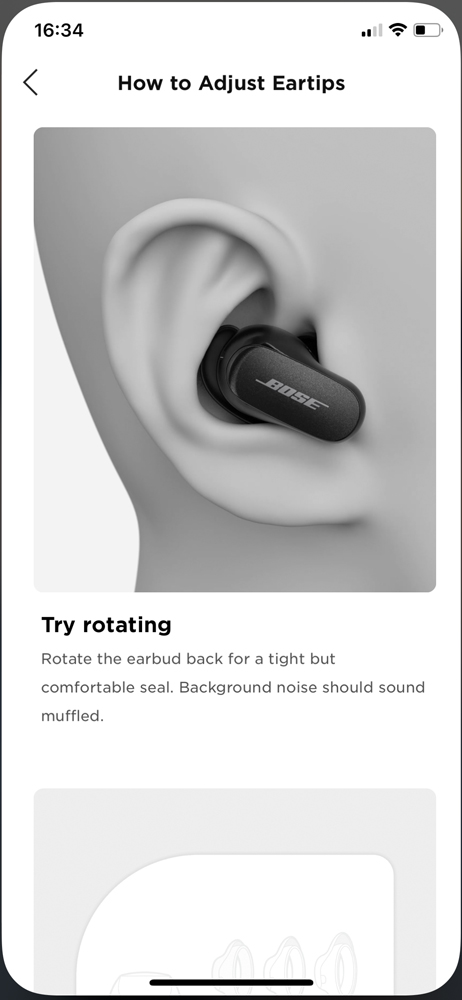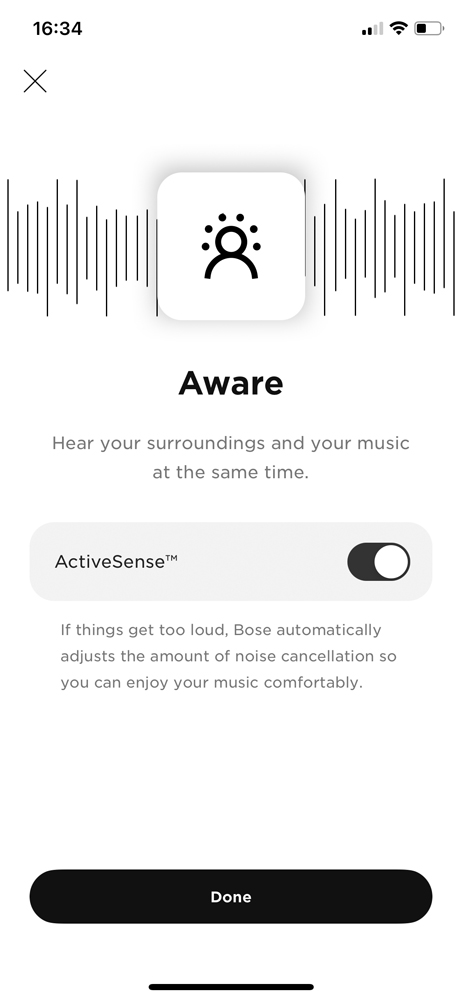 Despite keeping the 'stem' portion to a minimum, Bose has still found space for a fairly large and nicely responsive capacitive touch surface on each earbud. Either one can handle playback, volume, skip tracks, and answer calls. Each can choose a shortcut to either access your phone's voice assistant or cycle through ANC options, which can be selected in the Bose Music control app.
As has been the case for a while, the Music app is clean, stable and useful. It's not as expansive or exhaustive as Sony's offering – very few apps are – but is still worthwhile. Here's where you can make EQ adjustments via a three-band equaliser or choose between four presets. Here's where you can select the level of noise-cancellation you'd like – Quiet delivers the maximum amount and Aware is for external passthrough, with options to specify another couple using a 10-step adjuster. The app will even run a quick test to make sure your earbuds are fitted correctly.
Each earbud features four mics, to take care of telephony, voice control and noise cancellation. There's no voice assistant built in, but summoning your source player's assistant and interacting with it is swift and straightforward.
Performance: hear me now (and nothing else)
Leave the EQ adjustment well alone – the QCE II have been voiced to sound best when it's flat, and fiddling with it can only 'alter', rather than 'improve' the audio performance. With that caveat, almost all the Bose news is good.
With a TIDAL-derived stream of The Smile's A Light for Attracting Attention playing, the QCE II have a pleasantly easy-going attitude – but that's not to say they lack vigour or don't assert themselves. It's just that their overall tonality – just a touch warmer than neutral – and their open, confident soundstage makes them very easy to listen to.
Bass frequencies are big and bold, but they're properly controlled at the same time, so rhythms sound natural and tempos don't sag. There's plenty of detail available, and just as much momentum as there is punch. As both the foundations and the engine of the recording, the low end is entirely fit for purpose here.
At the opposite end of the range, treble sounds aren't quite as out-and-out crisp as they might be – there's a hint of 'safety first' about the way the Bose deliver the top end. But, again, they're vividly detailed and have lots of observations to make about the texture of instrument. They never hint at hardness, even if you listen at significant volume.
It's basically the same story in the midrange. The expansive nature of the QCE II soundstage means singers get all the elbow-room they need – and then the Bose offers an absolute stack of detail regarding their technique, their state of mind, their commitment and all the other stuff that goes into bringing a vocal performance to life. Integration into the frequency range both above and below is effortless.
There's a hint of inhibition about the way the QCE II deal with the big dynamic shifts evident in this recording, although they're more than capable of differentiating 'loud' from 'quiet'. Other designs, though, can make these big variations more obvious, and wider while they're at it. Where the more nuanced harmonic variations that require good dynamic insight are concerned, though, the Bose have nothing to apologise for.
Having demonstrated good across-the-board competitiveness where audio quality is concerned, the Bose then hits it out of the park when it comes to active noise cancellation. Bose has always excelled where ANC is concerned, but the QCE II are almost certainly its best effort yet. They deal with ambient sound throughout the frequency range, and deal with it decisively. There's no alteration to the way they sound, no hint of in-ear pressure or noise-floor disruption that less capable designs suffer from. Instead, there's the almost total negation of external sounds that aren't a) awfully loud, b) extremely close or c) both.
Bose QuietComfort Earbuds II verdict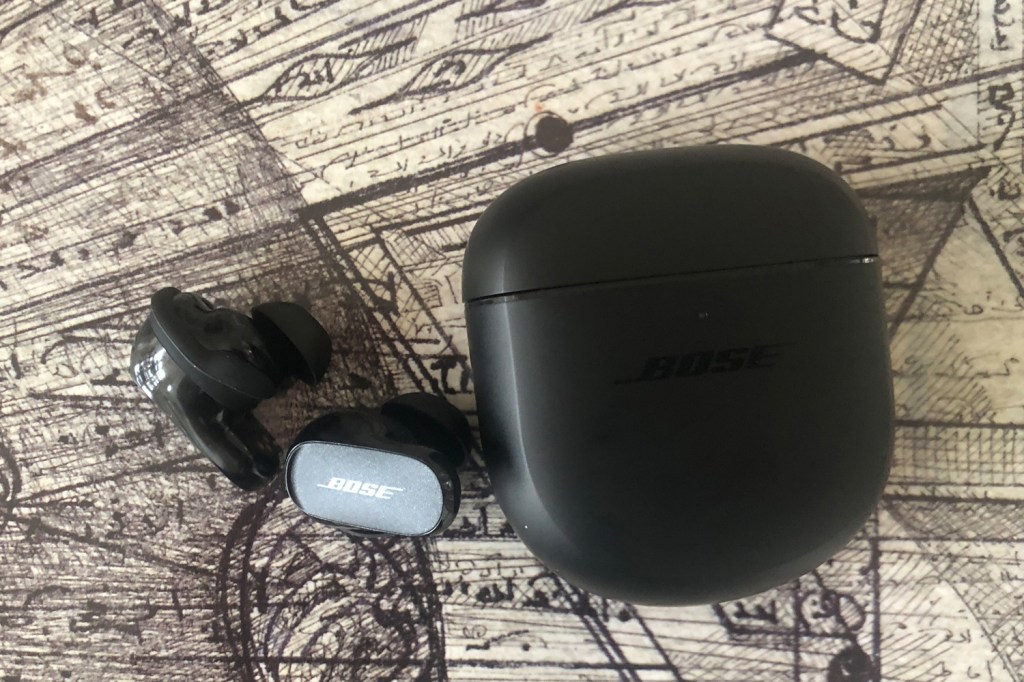 That you can't do better where active noise cancellation is concerned should be obvious.
Yes, the QCE II can be bettered (just slightly) where sound quality is concerned, and bettered (fairly comfortably) for battery life. But as a total package, these Bose are seriously competitive.
Stuff Says…
Bose is back, baby – and the QuietComfort Earbuds II are its best effort in quite a while
Good Stuff
Exemplary noise-cancellation
Big, detailed and engaging sound
Easier (and less mortifying) to wear than before
Bad Stuff
Bog-standard battery life
Short of outright dynamism
Any number of accomplished rivals
Bose QuietComfort Earbuds II technical specifications
Drivers
9.3mm dynamic
Active noise cancellation
Yes
Battery
6 hours (buds, ANC ON) 18 hours (case)
Bluetooth version
Bluetooth 5.3
Codecs supported
SBC, AAC
Dimensions
30x17x22mm (buds) 66x59x27mm (case)
6.2g (buds) 59.8g (case)