Bose QuietComfort Earbuds review
The sound of silence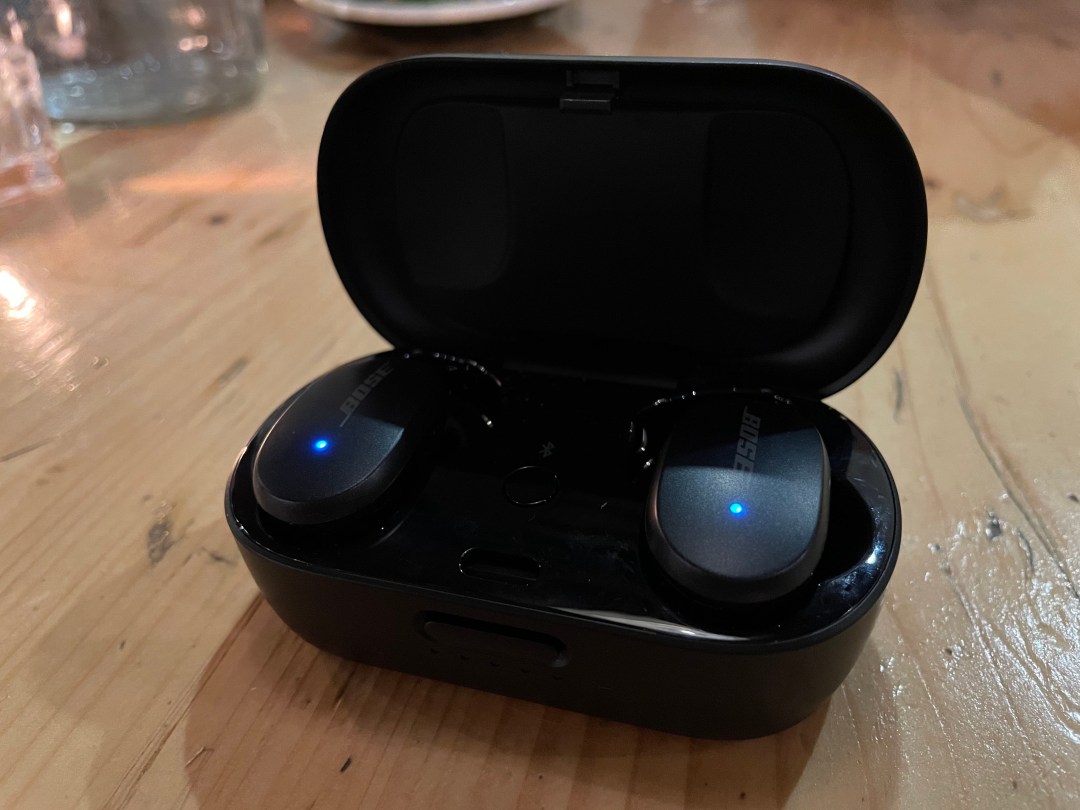 If you're looking to get some noise cancelled, Bose has for a long time been the company to call.
Its QuietComfort 35 headphones represented the gold standard of noise-cancelling cans until the brand one-upped itself with the Noise Cancelling Headphones 700.
It was only a matter of time, then, before Bose turned its attention to true wireless earbuds, very much the most hotly contested market in audio right now. The QuietComfort Earbuds are the first in-ear headphones to carry the QC name, so there's a lot riding on them.
They're anything but discreet, but if you're asking whether the QC Earbuds are worthy of Bose's noise-cancelling legacy, then the answer is an emphatic yes.
Design: size matters
Without wishing to be rude, the best way we can think of describing the QC Earbuds is as follows: boiled sweet attached to a tadpole.
Thanks to the matte plastic finish and subtle accents, they're not unattractive, and they don't feel particularly heavy (Bose offers the metric of a £2 coin as the equivalent weight of both buds combined). But there's no getting away from the fact that these are some bulky buds.
You're always aware of their presence in your ears too, but that's mainly because Bose has fitted each with a silicone wing-shaped eartip that locks into your ear ridge to ensure they don't fall out. The nozzle's (Bose's name, not ours) cosy fit lends also lends a decent amount of passive noise cancellation before you even get to the tech-aided part. You can choose between three included sizes for the best fit.
There are no physical buttons on the boiled sweets, though there are some touch-sensitive controls. You can double tap the right bud to play/pause, long press to wake a voice assistant (Siri in our case), and double tap the left bud to cycle between three custom noise-cancellation levels.
Remembering which bud needs to be tapped to do what is a bit confusing at first, but you'll get there, and they're nice and responsive. Like the Apple AirPods Pro they're looking to compete with, there are no on-board volume controls, which is a bit disappointing given the size of the things. You can customise the controls in the Bose Music app to, say, skip a track.
And talking of size, perhaps the biggest mark against the otherwise excellent QC Earbuds is the gargantuan charging case they live in. It's about three times the size to that of the aforementioned AirPods, and will result in a pretty unsightly bulge in the pocket of all but the baggiest jeans.
An IPX4 water resistance rating means the buds are exercise-ready.
Features: Good listener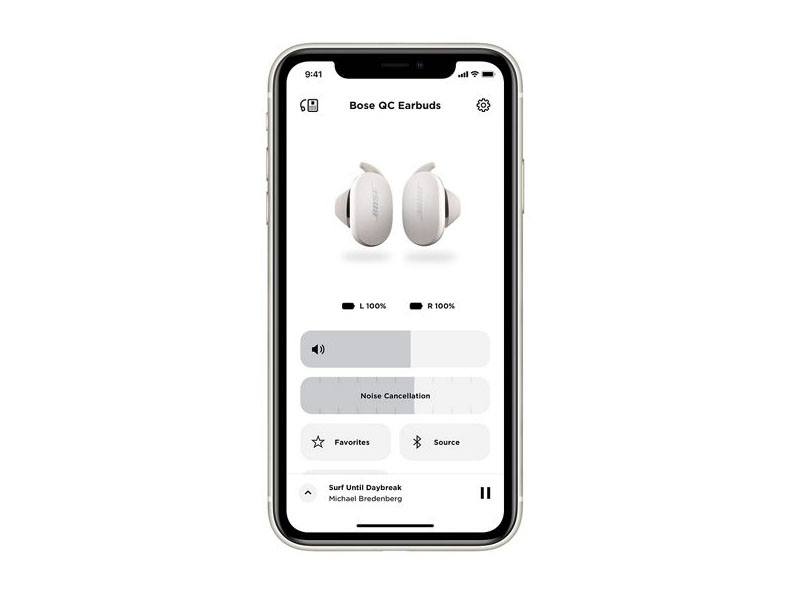 The QC Earbuds' chunky design is something you learn to live with when you realise how effective they are at aping the thing their over-ear counterparts are famous for.
Multiple microphones are employed to pick up any external noise not already being blocked by the seal, and they send it on to a tiny new chip that pings back the opposite signal to cancel the unwanted racket. The results are pretty magnificent.
On the maximum setting of 10, the QC Earbuds better eliminate the various sounds of the outside world than any in-ears we've tested, with none of the pressure or hiss that is often present in rivals. The transition feels entirely natural and being able to comfortably listen to Adam Buxton's rambling on a rattling tube train at half volume is incredibly satisfying.
Of course, you won't always want the highest noise-cancelling setting, so Bose has included another 10 settings (0-9), which start with full transparency and gradually reduce the amount of ambient noise allowed to pass through the headphones as you ascend through the numbers. You can also set three favourites (by default it's, 0, 5 and 10) and hop between them with a double tap of the left bud.
The QC Earbuds support wear detection, so if you pull one out the audio will automatically pause until it's back in. Handily, the bud still in your remaining ear will turn off noise-cancelling when the other is removed so you can clearly hear on both sides.
Call quality is good too, owing to a four-mic array that isolates your voice from the noise around you.
As you'd expect from a pair of true wireless buds in 2020, Bose's connect to your device through Bluetooth 5.1, which allows you to wander between rooms without dropping out. Within reason of course.
Performance and battery life: Sound control
With the excellent noise-cancelling doing its job so impressively, there's almost more pressure on the audio setup to deliver – and it does.
While we've often said that the signature Bose sound doesn't quite match up to what the likes of Sony and Bowers & Wilkins offer in the over-ear space, the QC Earbuds are a really fun listen. They're bassier than you might expect from a pair of earbuds, but the low end is nicely rounded with no lack of detail. This much is evident when we fire up 'Straight to the Morning', the enjoyable new club banger from Hot Chip (with a guest turn from none other than Jarvis Cocker), with which the QC Earbuds strike a good balance, elevating the Pulp frontman's vocal above a bassline packed with power.
The Bose are just as comfortable as we rattle through The War on Drugs modern classic, 'A Deeper Understanding', where piano notes, husky vocals and thunderous drums coexist on a wide soundstage. The QC Earbuds probably sound their best at just a smidge below the three quarters mark on the volume slider.
The very best-sounding in-ears you can buy? We think Sennheiser and Sony would contest such a claim, but when paired with the supreme noise-cancelling, the QC Earbuds are a formidable performer.
You get six hours of listening time from a full charge, with a further two charges provided by Big Case, which happily charges via USB-C. If you need to dash out, 15 minutes plugged in should be enough for two hours of battery life. We've seen better, we've seen worse.
Bose QuietComfort Earbuds verdict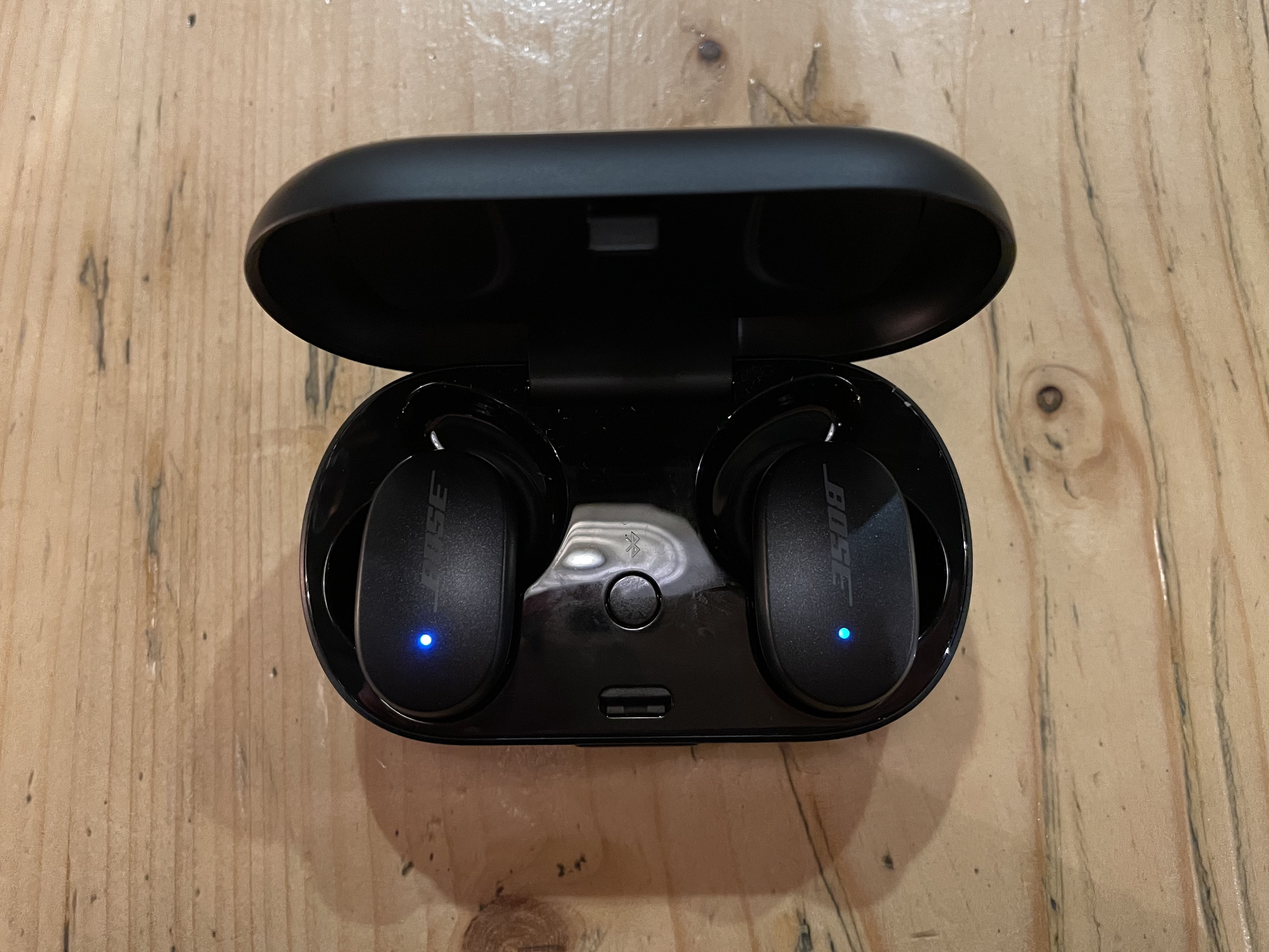 Their bulkier-than-average design and the ridiculously large case will no doubt put some people off, especially when the latter's size doesn't mean superior battery life.
But otherwise the QC Earbuds are difficult to knock. The noise-cancelling doesn't do a disservice to the esteemed QC name, it's hugely customisable, and the buds sound great too.
They're at the upper end of the spectrum where price is concerned, but if silence is what you seek from your true wireless earbuds, you currently won't find better.
Stuff Says…
The new champ of ANC wireless earbuds
Good Stuff
Noise-cancelling as good as you'd expect from Bose
11 levels of ANC in the app
Good seal
Bassy but balanced listen
Bad Stuff
Touch controls initially confusing, and no volume slider
Case is enormous