Bose Noise Cancelling Headphones 700 review
Make your voice heard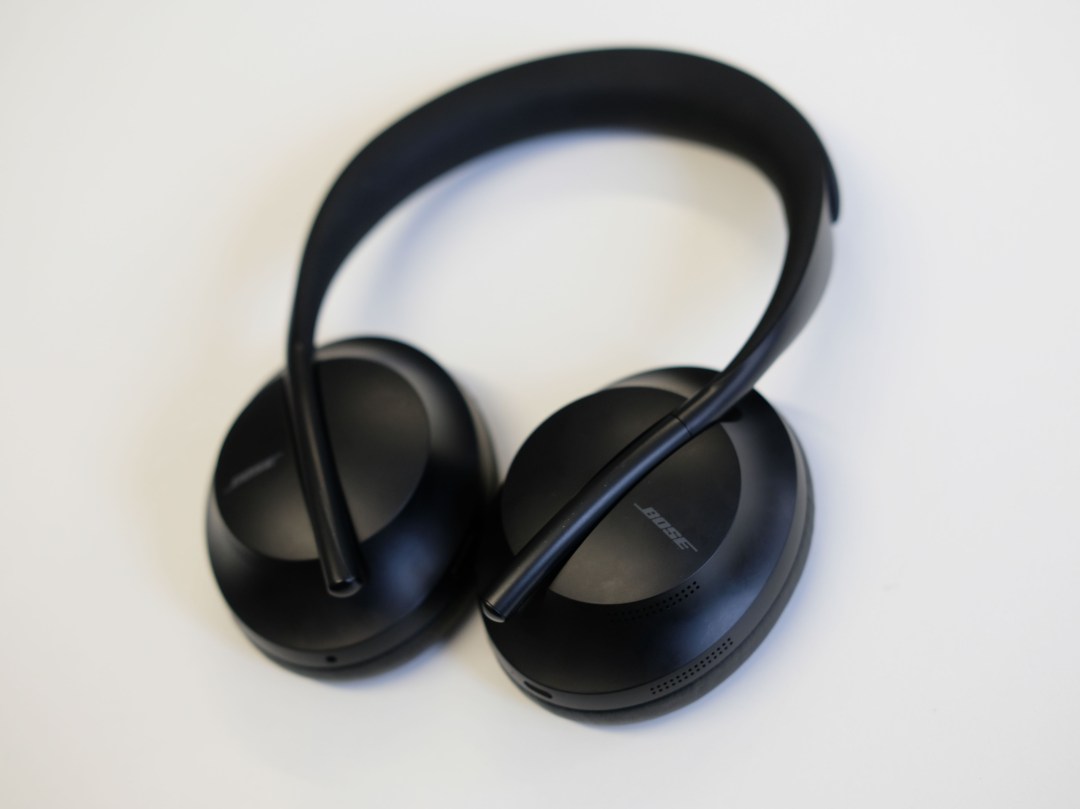 When noise-cancelling headphones became a thing, their mission statement was clear: allow the user to listen to listen to their Phil Collins megamix uninterrupted by the piercing screams of a nearby baby. And with its previous headphones, the QuietComfort35 (and follow-up the QC35 II) Bose continued to raise the bar above everyone else.
So what's next? Well, having sorted out what you can hear when you're wearing a pair of its cans, Bose is now focusing on how well other people can hear you. With its Noise Cancelling Headphones 700 (the first and last time I'll refer to them by their full name), Bose is able to isolate your voice from 360 degrees of undesirable racket. The idea is that you'll be able to have a conversation with someone at the height of rush-hour without needing to shout to be heard above the angry taxi horns.
Now adjustable, the traditional noise cancelling has also been improved, and the 700s' new design is undoubtedly a premium step-up from the QC35s. USB-C charging is a welcome addition too. The question is, has Bose done enough to take back the crown from Sony's WH-1000XM3s?
DESIGN – ABSOLUTE STEEL
The first thing you'll realise when the pick up the 700s is that they don't fold. The headband is forged from a single piece of stainless steel that gradually thins out into two cylinders that run through cutouts on the outer surface of the earcups. There are no visible hinges here.
Your immediate concern will likely be that this makes the headphones less portable, but the earcups rotate to lie flat in a shallow carry case, so if anything they might slip into your backpack more comfortably than before.
To adjust the headphones you simply slide the ear cups into position. While it's undoubtedly slick and adds to the 700s' minimalist, premium aesthetic, there's a fair bit of friction involved, which can make readjusting the headphones when they're on your head a bit trickier than with the traditional clicky mechanism.
The foamy underside of the portion of the headband that rests atop your bonce feels great to touch and adds a pleasing layer of cushioning. The leatherette-wrapped pads are also nice and bouncy, making the 700s comfortable to wear during long journeys – even if they do appear your grip your head just a teeny bit more than the QC35 IIs did. And at just over 255g they're a bit heavier than their predecessor (234g) too.
Music controls are all touch-sensitive (more on that in a bit) but Bose has still included three physical buttons. On the right earcup you have the on/off/pairing button and another below it which acts as a hotkey to your allocated voice assistant, of which Bose supports all three (Siri, Amazon Alexa, Google Assistant). On the left you'll find the noise cancelling button, which you can also long press to temporarily let in ambient sound when you need to talk to someone or listen for an announcement.
One thing I did find is that it's too easy to accidentally press one of the buttons when you're taking the headphones off and putting them on again. You may find yourself listening to a song for a few minutes before realising that you unwittingly changed the noise cancellation setting.
Underneath the left earcup you'll find a 2.5mm port for wired listening, and on the right a USB-C port. The latter is especially welcome in an age when it feels as if every product should have made the switch, but too many still haven't.
FEATURES – VOCAL HERO
As mentioned before, the right earcup is touch-sensitive, letting you control playback with a variety of swipes and taps. Swipe up to turn up the volume and down to turn it down. Swiping forward skips tracks and backwards skips back. Double tapping both plays and pauses tracks, and answers and ends calls. You can also tap and hold to reject a call.
The pad is sensitive – if anything a little too much so. It has no problem registering even the lightest touch, something that can plague other touch-enabled headphones, but it's too easy to accidentally do the wrong input. Still, I never had to perform the pausing action twice to make it work (looking at you AirPods) and that's a good thing indeed.
There are 11 levels of noise cancellation in total, and you selected three favourites that can be switched between with the noise cancellation button. By default it's 0, 5, and 10 (max) which seemed sensible to me. The lowest setting lets all surrounding noise pass through the earcups, while 10 totally cocoons you. In action, I couldn't really pick out a discernible difference between 0-2 at the bottom end and 8-10 at the top, but with a bit of experimentation you'll be able to find a setting that suits you.
The 700s make use of eight microphones. Six are dedicated to noise cancelling, while two combine with two others to significantly enhance voice pickup. A beam-forming array isolates your voice and live EQs it, while the 700s dynamically look for the worst noise source to reject.
The results are pretty amazing. I could quite easily walk alongside a busy road and have a conversation without needing to raise my voice, and I managed to aggressively rustle a box of crisps completely unbeknown to my colleague on the other end of the phone. If you're an important business type and often need to take phone calls on your lunch break, Bose's 700s are almost certainly the best headphones for the job.
The new voice system doesn't just benefit phone calls. It also makes speaking to your chosen voice assistant – Alexa, Google Assistant or Siri if you're an iPhone user – more appealing. Clearer instructions means less mishearing, and in turn less snapping at an invisible AI in the middle of the street because it can't understand that you just want to call your mum. If you go for Amazon's assistant, you get hands-free activation with the "Alexa" wake word.
A pretty huge advantage that Bose's cans continue to have over Sony is their ability to be connected to two different devices at once. For example, I can seamlessly hop between listening to a song playing on my iPhone and a movie trailer I want to watch on my iPad Pro. Doing this on my Sony WH-1000XM3s would require me to switch from one to the other in settings, something they bafflingly seem to struggle with all too regularly.
The 700s are compatible with the Bose AR platform that debuted in its Frames sunglasses. Among the handful of audio-centric apps available are NaviGuide AR, which gives you contextual information about your surroundings, and a gesture-controlled interactive stories app called Earplay. It's all a bit disposable at the moment, though, and definitely not something you should consider when picking your next pair of headphones.
SOFTWARE – BUGS LIFE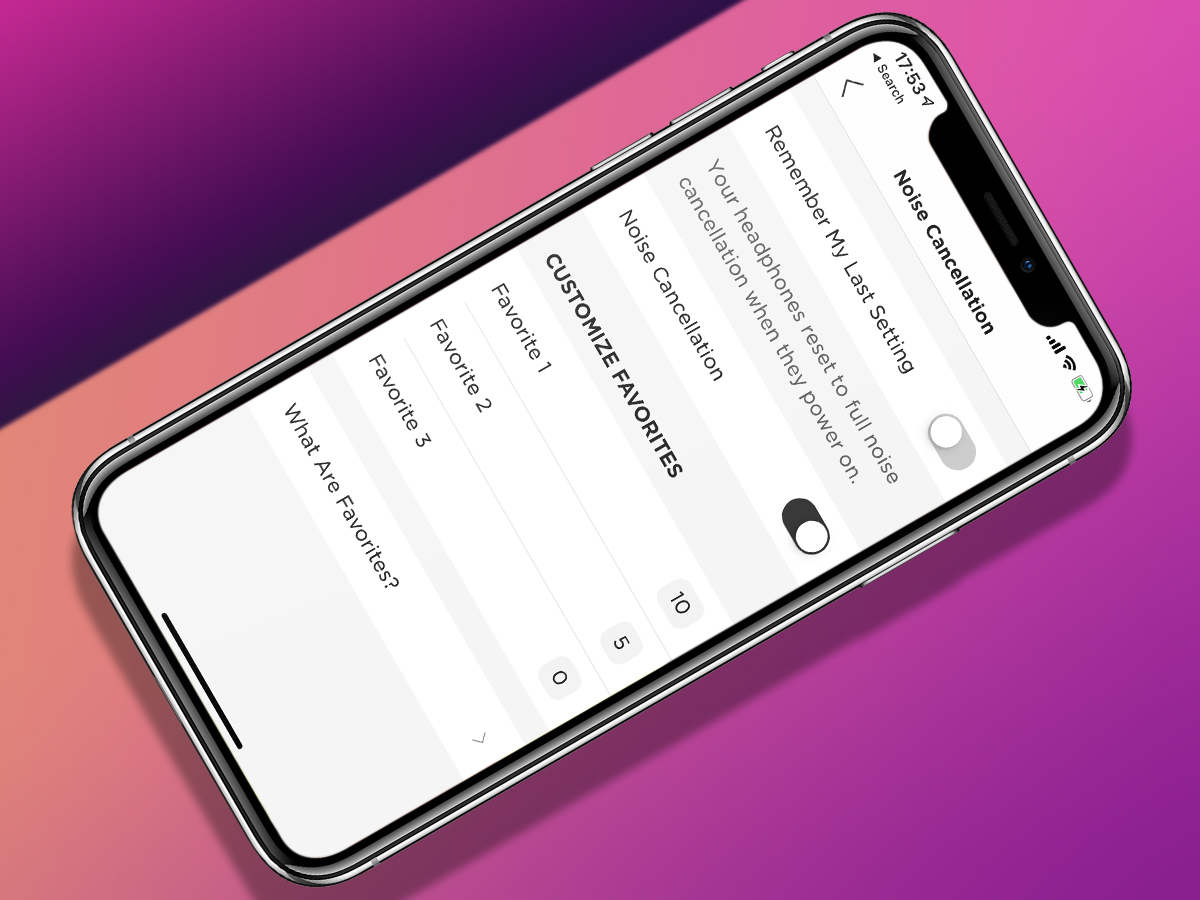 Accessing some of the 700s' defining features requires you to download the Bose Music app after pairing via Bluetooth. You have to register for a Bose ID before using it too, which is a bit annoying.
But you'll do it anyway, because it's here that you can add new devices, jump between existing ones, select your noise cancellation presets, adjust how much of your own voice you can hear on a call, and choose a voice assistant. Although it doesn't appear to be essential, the app recommends that you're connected to Wi-Fi when you boot it up.
The clean UI is nice, but I did encounter some buggy behaviour. More than once I'd return to the app just minutes after using it and find myself signed out, and occasionally it would fail to connect despite the headphones being turned on, on my head, and barely a metre from my phone at the time.
Hopefully these are just early teething problems that'll quickly be eliminated with updates, because if you're the kind of person who likes tinkering with settings you're going to be visiting a lot.
PERFORMANCE AND BATTERY LIFE – BETTER THAN EVER?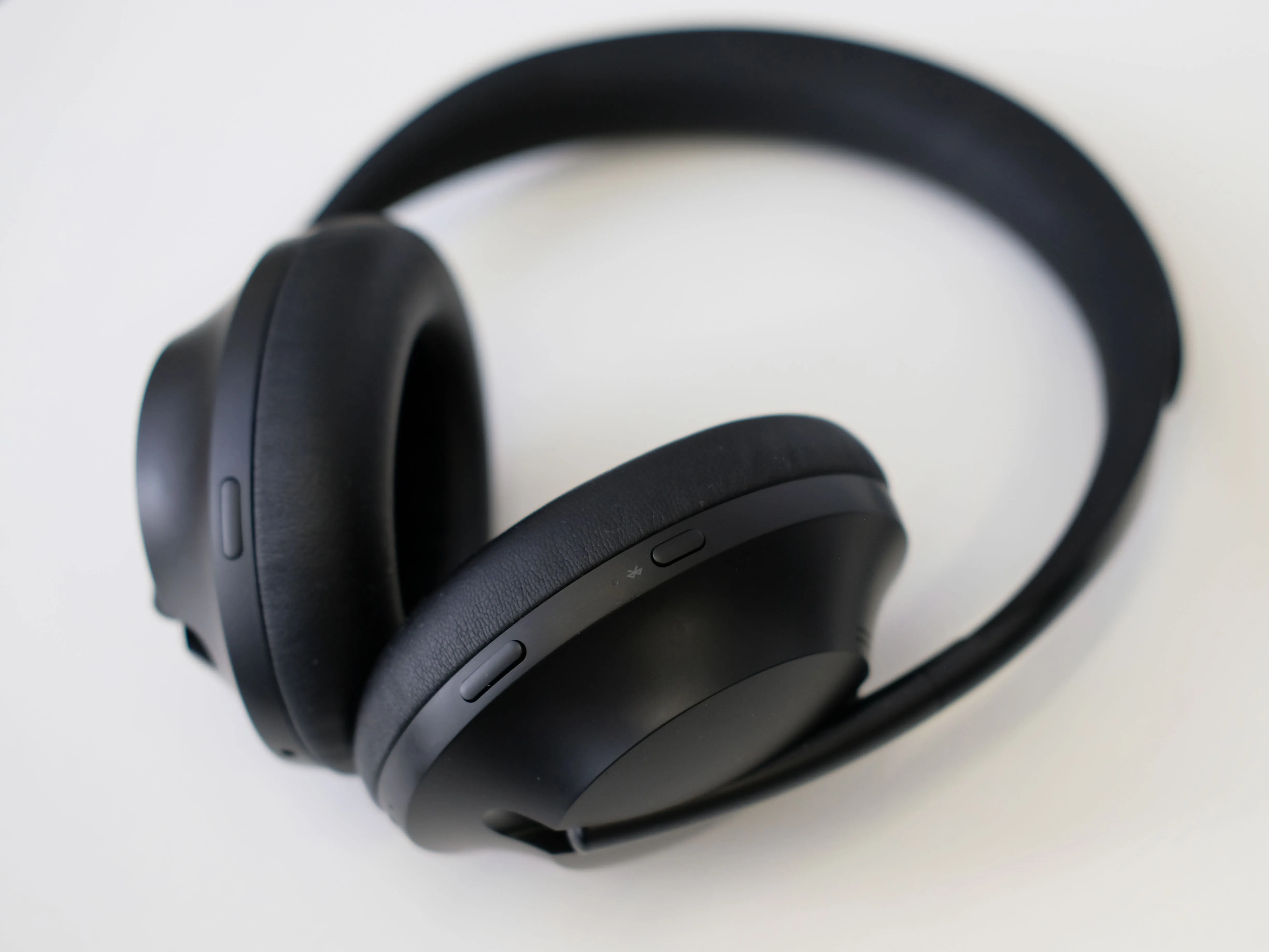 As well as being far more customisable, the noise cancellation in the 700s is as effective as you'd expect from its pioneer, with no feeling of suction or unpleasant hissing to report. Background noise is dampened to a minimum on the higher ANC settings with your music paused, and all but entirely unnoticeable when it's playing. I should say that I haven't worn them during a flight yet – the real test for any noise cancelling cans – but Bose is still top of the class in this department.
Audio quality hasn't had the same dramatic overhaul as the headphones' design and noise cancelling capabilities, but I think they're subtly a bit more balanced than the QC35 11s. They're punchy and sharp, with each instrument being given ample room to breathe, and bass never knocks your head off its neck.
HAIM's new single 'Summer Girl' gives an appropriately warm performance, while Slowthai's 'Nothing Great About Britain' kicks and snarls throughout its three-minute runtime. The 700s have range, make no mistake.
And yet, I still think Sony's headphones are a more fun listen overall. Their sound is more spacious, more inviting, and richer in bass. You won't be disappointed with Bose's latest, but they don't quite knock Sony off its perch.
The 20 hour battery life, while not the best you can find, is pretty good, and it helps that you're always notified how much juice you have left when you turn the headphones on. Nobody wants to start plugging in wires these days.
BOSE NOISE CANCELLING HEADPHONES 700 VERDICT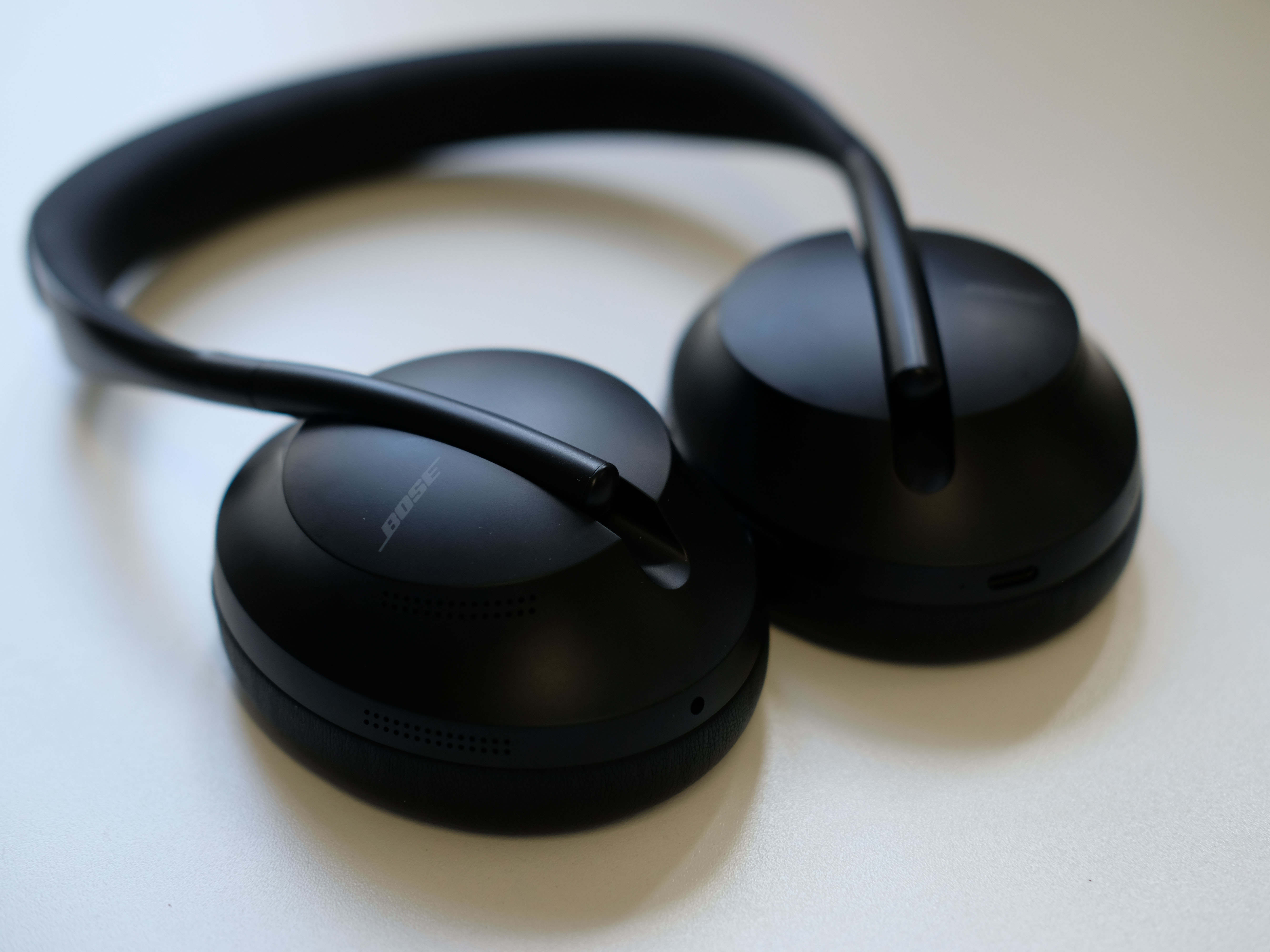 The 700s USP is undoubtedly its new voice pickup system. If you're someone who makes a lot of calls on-the-go, you won't find better. Meanwhile the already exceptional noise cancelling tech is even better, and can be tweaked precisely to the user's taste.
Other features, like a band's worth of voice assistants and the slick touch controls, are also winners. It's just a shame that the app appears to be temperamental – at least for now – and I can't shake the feeling that, although the 700s are far from sonic slouches – I'd rather be listening to my music on their obvious rival, the Sony WH-1000XM3.
But if call quality and noise cancelling are just as important to you, Bose's new flagship cans are the new gold standard.
Stuff Says…
There are superior sounding headphones out there, but as an all-rounder the 700s are hard to beat
Good Stuff
Great new design
Noise cancelling is as brilliant as ever, and now fully customisable
Peerless voice pickup
Excellent voice assistant support
Let you pair two devices simultaneously
Bad Stuff
Not quite as comfortable as the QC35 IIs
Buggy app
Sony's WH-1000XM3 are cheaper and sound better