Apple AirPods Max review
Maximum impact?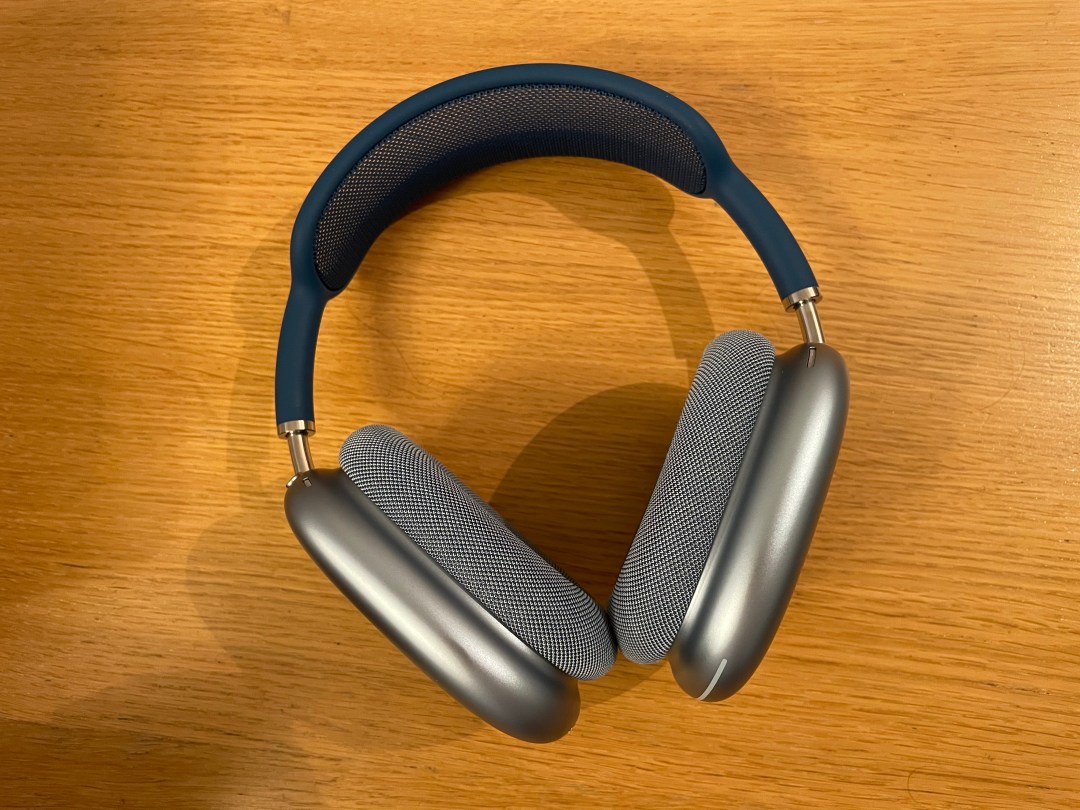 Apple has been in no hurry to get into the headphones game, but given the wild and ever-growing popularity of its AirPods and AirPods Pro earbuds, it was always a case of when, rather than if.
And sure enough, the AirPods Max are here, a lavish pair of noise-cancelling over-ears that cost only a quid south of £550 – just a few hundred more than their most obvious rivals from the likes of Sony and Bose – and come with a comically bizarre carry case that appears to offer very little protection for your new half-a-grand-cans. Hey, Apple gonna Apple.
While it's impossible to remove that bank balance-demolishing price tag from the conversation once you're aware of it (a PlayStation 5 costs less), the AirPods Max are unsurprisingly excellent, particularly if you're an iThing devotee.
They sound brilliant, noise-cancel as well as pretty much anything out there right now, and are wonderfully easy to pick up and use. But the very best ANC headphones around? They certainly should be, but we're not so sure.
Design: Case in point
You'd be right to expect that headphones this pricey have the build quality to match, and Apple doesn't disappoint here. From the subtly textured anodised aluminum ear cups and memory foam cushions, to the stainless steel headband and open knit mesh canopy, the AirPods Max look and feel premium.
But are they comfortable? Initially, yes. The mesh that lines the top of the headband frame is both breathable and effective at evenly distributing weight so the AirPods don't feel like they're weighing down too much on your head, while the pivoting earcups feel like they mould to the shape of your head. The telescoping arms are a bit on the stiff side, but once you've extended them to your liking you can rest assured that they won't budge.
But there's no getting away from it: the AirPods Max are noticeably heavier than our favourite plastic noise-cancellers, and you can feel it when they begin to pinch at your temples after extended wearing. You always know they're there. For obvious reasons we haven't been able to conduct the ultimate test for any headphones of this sort, a long distance flight, but we'd wager that you wouldn't want them on for the duration. That's an issue.
As for looks, Apple has gone for minimalism, and we're quite fond of the sky blue model colour we've been sent to review (black, space grey, green and red are also available), but the enormous earcups are a bit strange. That expansive surface area would be understandable if touch controls were built in (rumour has it that they were originally supposed to be), but instead Apple has gone for a jumbo digital crown on the right earcup.
Despite slightly awkward placement, it works very well, which you can't always say about the touch alternative, although we straight away inverted the default volume controls. Button pressing and dial turning for your play/pause/skip and volume controls might be less flashy than touch, but they never let you down.
A button just in front of the Digital Crown is used for toggling ANC/passthrough on and off is nice and easy to locate when required. You'll find a Lightning charging port on the bottom of the same cup. Why not USB-C? We'd also like to know.
What you won't find, though, is a power button. Like the earbuds it shares its name with, the AirPods Max are technically always on, so if you want to preserve battery life as much as possible when not in use you'll need to keep them in the included Smart Case, as the magnets within it activate ultra-low-power mode.
And about that. By now most people on the internet have already pointed out the Smart Case's striking resemblance to a certain undergarment, so we'll leave it alone. But what we can't mercifully overlook is its baffling impracticality. The soft case offers almost no protection to your new £550 headphones, with the steel headband completely exposed. It means that on the one occasion we have taken them out of the house in a backpack during testing, we pulled a beanie hat over them.
If it one day emerged that Apple had bundled its new headphones with this thing as a dare, we'd almost be relieved. Either way, it might just be the worst thing the company has ever made.
Setup and features: easy peasy
As we've come to expect from Apple, setting up the AirPods Max is delightfully simple, provided you're an iPerson of course. Once you've charged them up, you just plonk them down next to your iPhone or iPad and wait for the on-screen connect button to pop up. That's it, and there's no need to repeat the process for adding another device using your iCloud account.
When you're wearing the headphones, you can tweak the settings in the Control Centre on your device in exactly the same way you do with in-ear AirPods. There's no dedicated app here, and unfortunately no way to customise ANC levels like you can on Sony's WH-1000XM4. It's either on, off, or transparency mode.
Owners of the AirPods Max will enjoy the same H1 chip-powered privileges that AirPods Pro users have been enjoying for a while, like hands-free Siri, audio sharing between multiple AirPods and automatic switching between connections to different devices. The latter is as great here as it is on the little AirPods. We were able to seamlessly hop between YouTube on the iPad and Apple Music on the phone in an especially problematic procrastination session, before jumping onto another dreaded Zoom catchup on a MacBook Air, near enough without a hitch.
Like most of its competitors, the AirPods Max feature automatic wear detection, and you can have Siri read out your incoming messages so you don't have to fetch your phone when you're on the move. Trust us when we say that the assistant doing this for messages laden with swearing is always, always funny.
Apple has really bigged up its spatial audio tech, which came to the AirPods Pro towards the end of last year, and it makes even more sense on their big brother. If you're watching streaming content encoded in 5.1, 7.1 or Dolby Atmos, the AirPods Max can convert it into a surround sound-like experience for your headphones.
While this is happening, various sensors in both the headphones and your iPhone or iPad keep track of your head movements and ensure that the audio remains anchored to the device in front of you, even when you turn your head. While obviously not comparable to a proper 7.1 living room setup, spatial audio is quite impressive with the right mix being pushed out, making the plain old stereo alternative seem quite boring, so it's a big shame that the current Apple TVs don't support it. But isn't it about time we got a new one of those?…
It's worth mentioning that while most of the major streaming services support spatial audio, Netflix does not, and it doesn't look like that's going to change anytime soon.
Performance and battery life: Max power
Once again, if you're spending as much as the AirPods Max cost on a pair of headphones, they had better sound pretty flipping good. And we're pleased to report that Apple's first over-ears are an all-round success in that department.
Apple has built its own 40mm drivers to live behind those sizeable ear cushions, which are bolstered by dual neodymium ring magnet motors of the kind you'd expect to find in floor-standing speakers. With these in tow, Apple says, you can crank the AirPods Max right up to full volume without hearing any unwanted distortion.
Meanwhile, the H1 chip looks after an adaptive EQ that automatically adjusts low and mid frequencies in real time based on how the headphones fit and seal on your head and ears. So if you're a glasses wearer, or are sporting (like many of us are) some particularly wild lockdown hair, you shouldn't have an inferior experience. It all contributes to the AirPods Max being a decidedly great listen, with a remarkably spacious soundstage that seems to envelop you more than other ANC cans we've tried.
The detail on show is immediately apparent when we fire up Kacey Musgraves' 'Slow Burn' on Apple's recommendation. Vocals soar, and the warm acoustic guitar strums that underpin the song aren't overwhelmed by the arrival of bass in the second verse. The AirPods Max bring you right into the recording studio.
Moving onto another Apple tipoff, the Weeknd's 'Blinding Lights', and it's clear that the Max's can balance both throbbing bass with no muddiness, and the song's now ubiquitous sparkling synth hook.
There's a real sense of attack from the drums on the energetic arrangement of Maximo Park's 'Baby Sleep', while funky bassline, psychedelic electronics and MGMT's vocal are all given room to breathe on The Avalanches' magnificent 'The Divine Chord'.
If you really listen, you might notice just slightly softer edges and a touch more crispness to the delivery with noise cancelling and transparency turned off, but we mean really listen.
As for the ANC, well, what it lacks in customisability, it more than makes up for in effectiveness. The AirPods Max have eight microphones on noise-cancelling duty, with the H1 chip adapting its processing 200 times per second to account for differences in fit and movement. What you get is damn near silence, with none of the pressure or faint hissing that plagues some noise-cancellers. We're still not convinced that anyone has out-cancelled Bose's NC Headphones 700, but Apple's cans are right up there. And when it comes to to letting the outside world in, the AirPods Max's transparency mode is probably the best there is.
Call quality is good too, thanks to a beamforming microphone in the left earcup that works alongside two of the noise-cancelling mics to isolate your voice on calls. While this is happening, the H1's computational wizardry picks out and emphasises what you're saying over background noise. Boring WFH meetings get a big tick.
At around 20 hours with ANC on, battery life is fine, but not close to the best out there, with Sony's XM4s giving you 10 additional hours of juice. While the AirPods Max are always on, we didn't notice much battery drain when we weren't wearing them, so that shouldn't be a major concern.
Apple AirPods Max verdict
Maybe it's slightly reductive to keep bringing the argument back to price, but it's extremely difficult not to with the AirPods Max.
Apple has made some fantastic headphones, but they're not going to pull in the proper audiophile chin-strokers, and they're not close to being worth £200 more than Sony's XM4s, which remain the best overall noise-cancelling headphones for our money. They also come with a proper case.
You might well argue that the AirPods have the edge when it comes to audio, but there's not a lot in it, and while Apple definitely wins on build quality, metal is heavier than plastic, and it's not long before the AirPods Max remind you of that.
If you're an Apple lifer with cash to burn, the AirPods Max will not let you down, and their ease of use should not be overlooked. But, as brilliantly fun as these headphones undoubtedly are, there are smarter ways to part with your cash.
Stuff Says…
Apple's first over-ears are big, heavy, often brilliant, and far too expensive
Good Stuff
Rich and detailed sound
Superb noise-cancelling
Spatial audio enhances TV and movies
They just work
Bad Stuff
Very expensive
Uncomfortable if worn for long periods
So-so battery life
Really bad case