Here's everything Amazon announced at its huge 2022 launch event
Cameras, speakers, and a whole lot more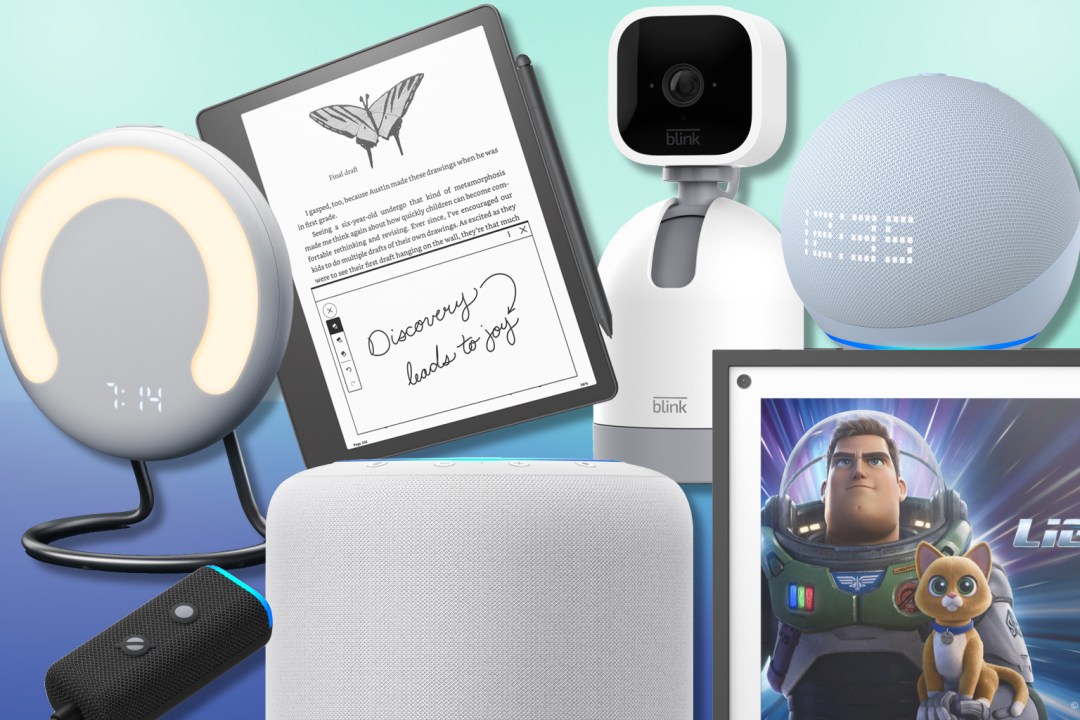 Amazon's massive 2022 launch event has just wrapped up, and there are plenty of shiny new gadgets to keep us tech writers busy over the coming months.
From new Echo devices and a pen-toting Kindle, to a smart sleep-tracking alarm clock, new Fire TV Cube, and more, there's plenty to catch up on. So without further ado, here's everything you need to know about Amazon's 2022 Devices and Ring launch event:
Amazon Kindle Scribe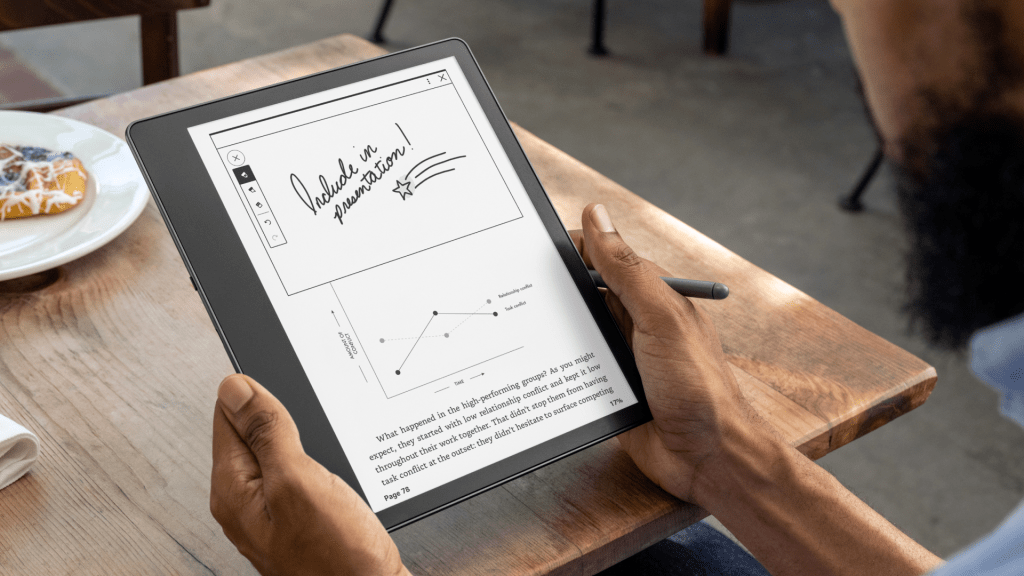 Unsurprisingly described as the best Kindle Amazon has ever built (it would be weird if it were the opposite), the Kindle Scribe brings the fight straight to the likes of the Remarkable 2, by providing an e-reader experience bolstered by the ability to scribble away on the screen with an included stylus. Touted as providing a reading and writing experience that feels like real paper, users can make notes with the battery-free pen in millions of books and documents, in addition to keeping lists, memos, and anything else they fancy. Available for pre-order now, it can be snapped up for $339/£329.99, with a four-month subscription to Kindle Unlimited and free cloud storage thrown in for good measure.
Amazon Halo Rise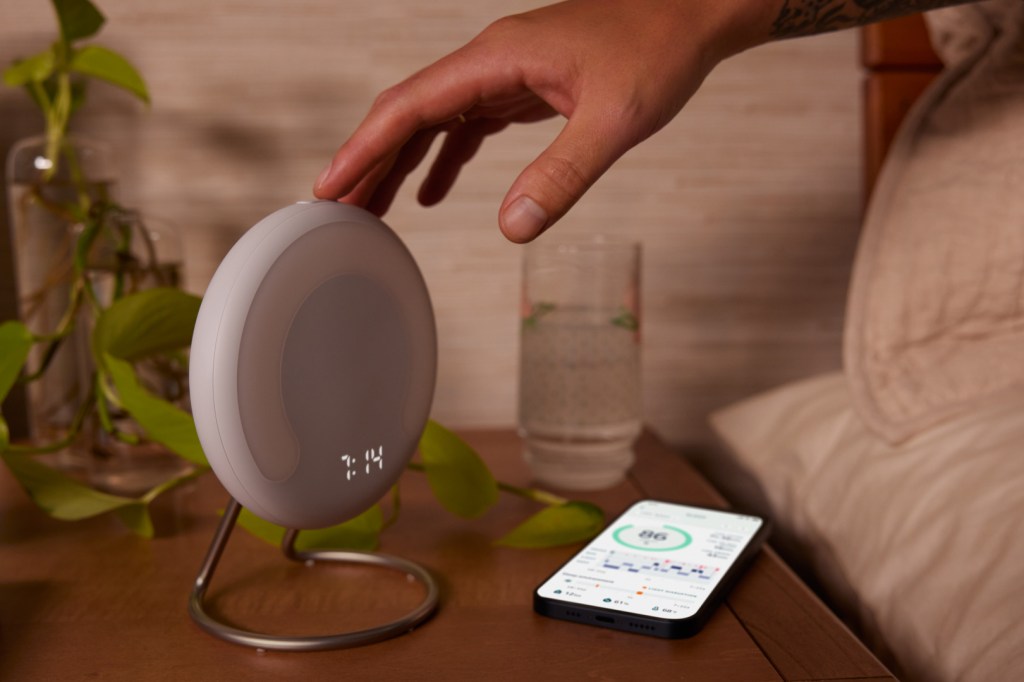 The Halo Rise is not a video game, despite what your instincts may suggest. Instead, it's a very interesting-looking smart alarm clock that's packed with various sensors that can automatically detect the sleep phases of the person closest to it (though, thankfully, it doesn't use a camera to do so). Combined with room temperature, light, and humidity sensors, it can help you optimise your sleep routine, and improve your sleep score — all without having to wear an extra device. It's compatible with Alexa smart speakers, and can even turn off lights when you get into bed. Its built-in light can also help wake you up more naturally during the most optimal stage of your sleep cycle. Available for $139.99, there's sadly no UK release date or price mentioned at this stage.
Amazon Echo Studio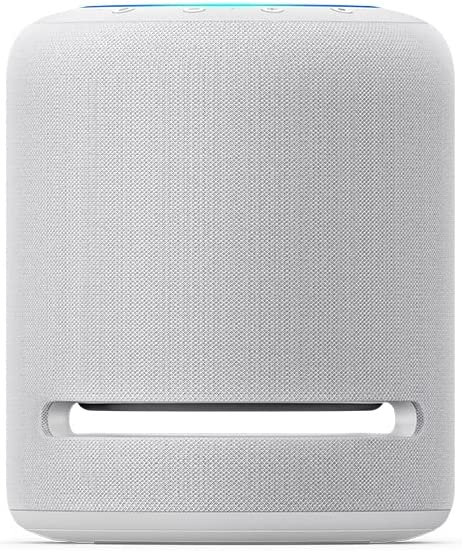 The beefy-sounding Echo Studio is now getting even better, thanks to an over-the-air update that bestows it with new spatial audio processing technology and frequency range extension. This custom-built spatial audio processing technology will, according to Amazon, enhance stereo sound, making music and film soundtracks feel closer to the listener with greater width, clarity, and presence. Beyond improving the experience for existing Echo Studio owners, a new Glacier White model, complete with updated features, can be pre-ordered now for $199.99/£189.99.
Amazon Echo Dot, Echo Dot with Clock, and Echo Dot Kids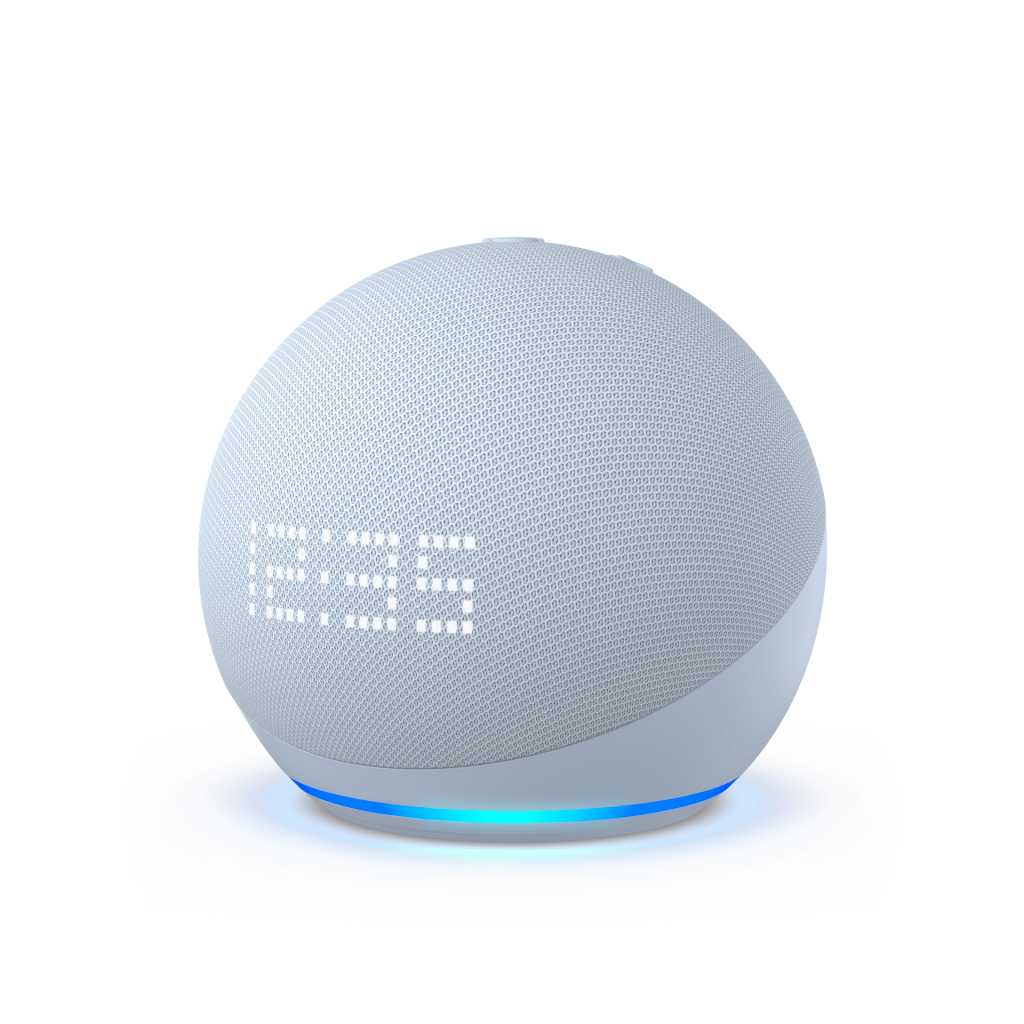 Amazon also unveiled a new Echo Dot which, by our calculations, is the fifth generation of the device. As expected, there's a slightly more expensive clock-toting version, and both have had their audio chops enhanced with twice the amount of bass compared to the last generation. The clock version also has a newer, higher-density display that can now provide extra information such as the weather and the name of the current song. Both the new Echo Dot and Echo Dot with Clock are available for $50/£54.99 and $60/£64.99, respectively. There are also two new Echo Dot Kids versions, complete with fun new designs, available for $60/£64.99. Featuring either an owl or a dragon (both with custom greetings and jokes), the Kids versions have the same features as their plainer, more grown-up sibling, with the addition of parental controls, a two-year- worry-free guarantee, and one year of Amazon Kids+.
Amazon Echo Auto 2
The revamped Echo Auto 2 has a new design, complete with a different adhesive that lets you place it in positions other than just the top of your dashboard. It's also now got a total of five microphones that are better designed to hear your commands over the noise of your engine/screaming child, endowing your car with the same Bluetooth-powered, Alexa voice assistant smarts as before. Oh, and you can now say "Alexa, call Roadside Assistance" if you're in trouble, for extra peace of mind.
Amazon Fire TV Cube, Alexa Voice Remote Pro, and Fire TV on Echo Show 15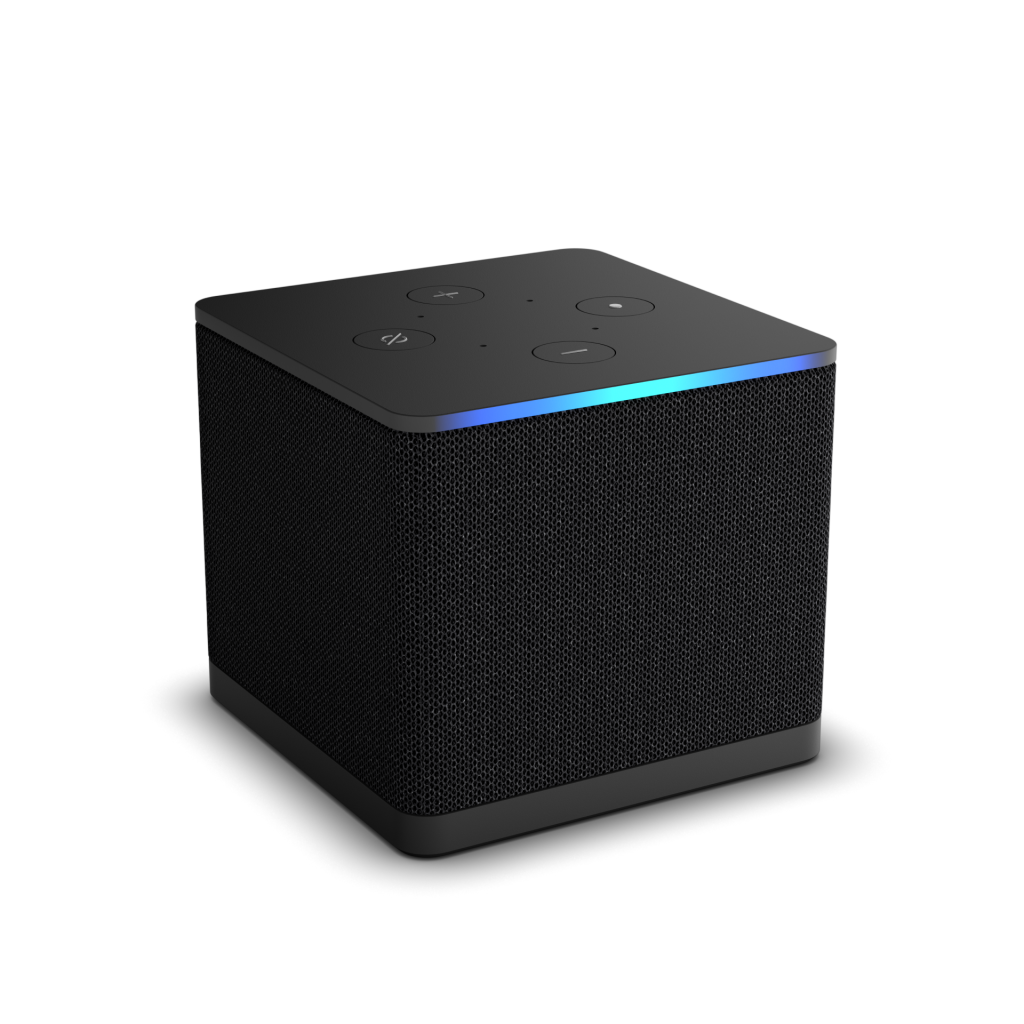 The third generation of Fire TV Cube is as geometric as ever, with a new 2.0GHz octa-core resting under the hood. This new chunk of silicon promises up to 20 per cent faster performance than the previous generation, and it can also be controlled entirely hands-free thanks to Alexa. Cinematic 4K Ultra HD, Dolby Vision, HDR, and immersive Dolby Atmos audio are all supported, along with an HDMI input port and Wi-Fi 6E support. Available to pre-order for $139.99/£139.99, there's also an optional Alexa Voice Remote Pro which beeps when it's lost, after you ask Alexa to find it. You can also pre-order that for $34.99/£34.99, and it comes with two customisable buttons and automatic backlit buttons. And lastly, from November, users can enjoy the full Fire TV content experience on all existing and new Echo Show 15 devices, at no additional cost.
Ring Spotlight Cam Pro and Ring Spotlight Cam Plus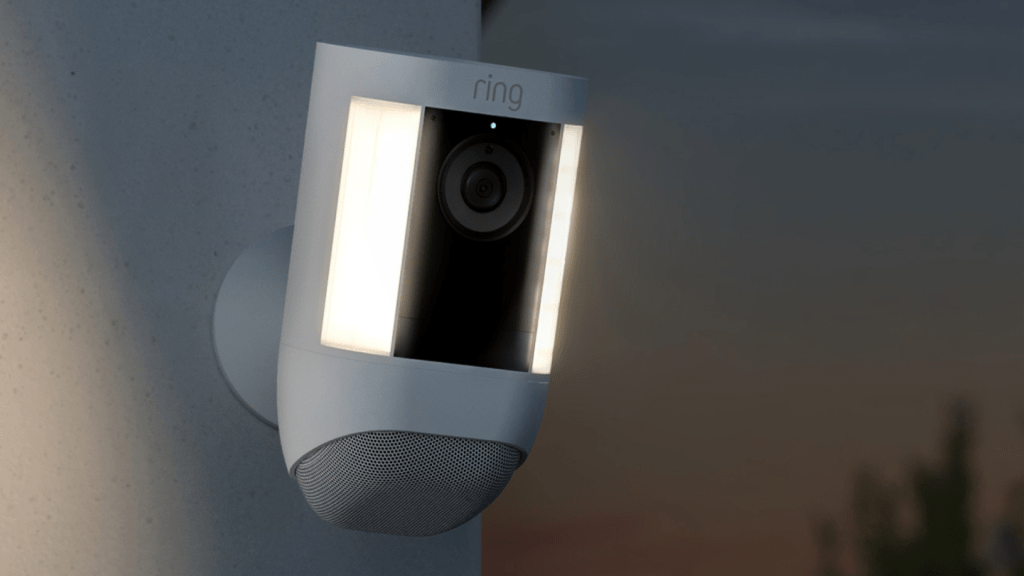 Amazon also announced a few new Ring security products, one of which is the Spotlight Cam Pro. It serves up advanced motion settings and premium features, which include 3D Motion Detection, Bird's Eye View, Colour Pre-Roll, and Audio+. The latter promises to help users hear what's happening more easily, with crisp, clear sound. Spotlight Cam Pro is available in both Battery and Plug-In models, and can be pre-ordered today, starting at $229.99/£199.99. Solar and Wired options will also be available in the coming months.
Elsewhere, we have Ring Spotlight Cam Plus — the next generation of Ring's Spotlight Cam which introduces a new, sleek look, along with dual power options that handily let users easily switch between plug-in and battery-powered modes. Spotlight Cam Plus will also roll out with multiple power options – Solar, Battery, Wired and Plug-In. Spotlight Cam Plus Battery and Plug-In are available for pre-order now, starting at $199.99/£179.99, with Solar and Wired options available for purchase in the near future.