Amazon announces a host of new cameras and add-ons in its Ring and Blink device families
Blink's first wired floodlight camera is one of the new additions
Amazon-owned Blink has announced its first wired floodlight camera, called the Blink Wired Floodlight Camera (amazing, huh), which, like other Blink products, remains an affordable entry point into home security, but doesn't rely on batteries to work.
The outdoor camera offers 2600 lumens of LED lighting, a 1080p HD live view, customisable motion detection and two-way audio. And because it's powered by Amazon's AZ2 Neural Edge Processor, video recordings can be processed locally as opposed to in the cloud.
Blink also introduced a motorized mount for its Blink Mini camera, which allows you to remotely pan the camera left and right and tilt it up and down, giving you 360-degree coverage of the room it's installed in.
The Blink Wired Floodlight Camera is coming to the US soon for $100, while the Blink Mini Pan Tilt can be purchased in a bundle with the camera for $60, or on its own for $30. No word on a UK rollout at the time of writing.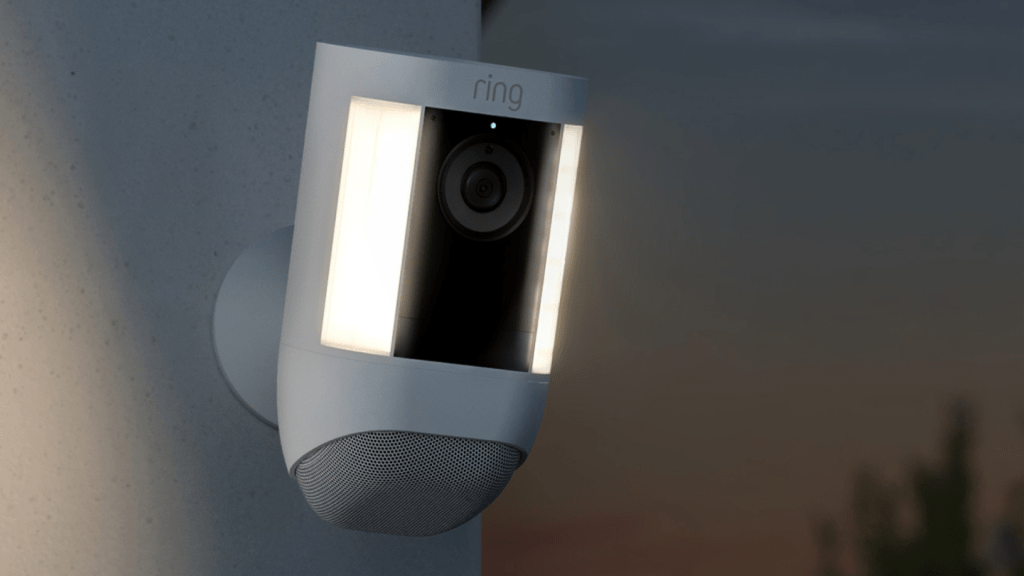 Moving on to Amazon's better known smart security sub-brand, the big addition here is the Spotlight Cam Pro. Utilising the same nifty radar-scanning tech Ring introduced to a number of its devices last year, the new Spotlight Cam Pro features 3D Motion Detection and Bird's Eye View. The former allows the user to set a specific threshold of when you want the camera to start detecting motion, and only when that is crossed will the device trigger a recording and alert you.
3D motion detection is more accurate and less likely to badger you unnecessarily with false alarms, and it also assists with the impressive (if slightly creepy) Bird's Eye view feature, which lets you view an aerial map of movement across your property. You can see the exact path taken to the front door by a delivery driver, for example, with a picture-in-picture layout of both the movement path and where the motion started before the radar sensors triggered a recording. If someone's been snooping about, the Spotlight Cam Pro can show you when and where it happened.
As with other Ring cameras, you can set both motion and privacy zones, with the latter preventing areas in the camera's field of view from recording.
Joining the new Spotlight Cam Pro is a Spotlight Cam Plus with a new and improved design. Both cameras will eventually be available as wired, battery, solar and plug-in devices, but US customers can currently pre-order the Spotlight Cam Pro Battery and Plug-In for $230, with the Solar model costing $250. The Spotlight Cam Plus starts at $200.