Ring devices are up to £110 off in sale – get a video doorbell for £40!
Ding dong! It's deals on doorbells, security cameras, and alarm systems.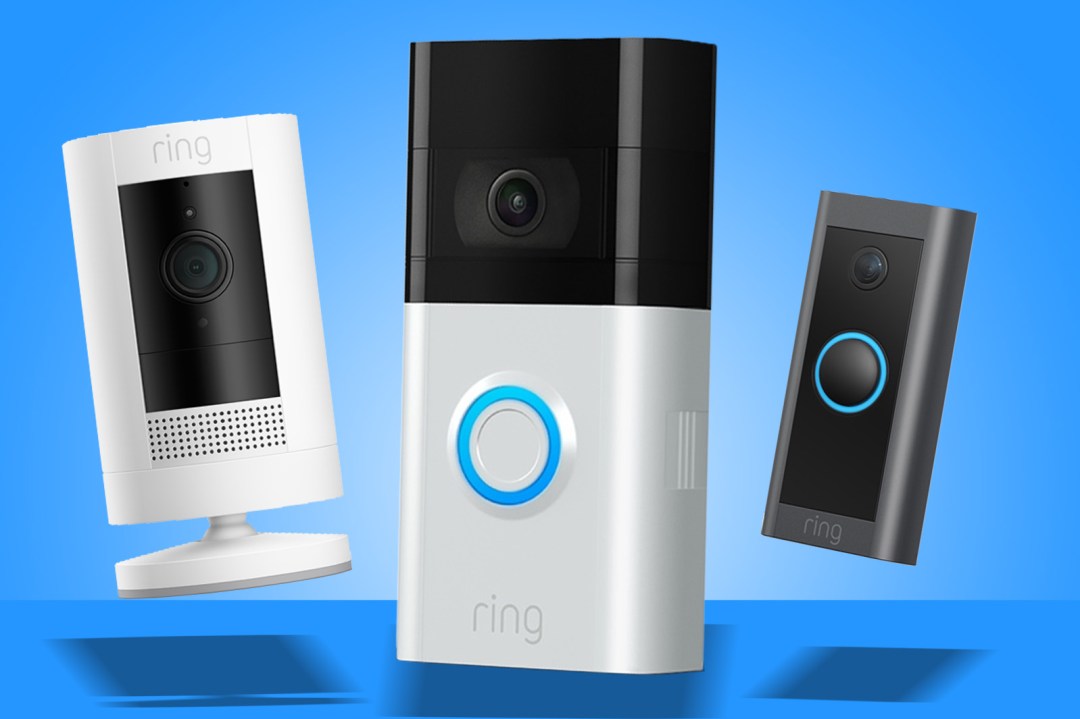 While you're unlikely to find any smart home gear to help you stick to your new year's resolutions, it can help keep you safe! And Ring is offering its security gadgets for less ahead of Valentine's Day. Nothing says, "I love you" like a video doorbell – am I right? The brand is reducing prices by up to £110 across its range of smart doorbells and other clever security gear.
The best Ring doorbell deal
The best value Ring deal is the Full HD Ring Video Doorbell for £59.99, a saving of 33%. It gives you the full cordless Ring video doorbell experience, with the only compromise being that you'll need to take the doorbell off the wall to charge it, as there's no removable battery. Check out the Video Doorbell 3 (more info below) if you want a removable battery.
Prefer a wired doorbell that doesn't need charging? Good news, the Ring Video Doorbell Wired is also on sale ahead of the big day. Usually priced at £50, Amazon has slashed the price to £39.99, a 33% saving that belongs on the nice list.
Other Ring deals
Looking to smarten up your gaff inside as well as out? Ring is offering deals across its product range, so you're sure to find whatever you're looking for.
Ring Video Doorbell 3 – now £120
You better not pout and you better not cry, Ring has cut the cost of the Ring Video Doorbell 3 by a rather tasty 25%. That reduces it by £40 from the typical asking price, to £120.
For that cash, you're getting a cordless video doorbell, that can stream 1080p footage from your doorstep to any device with the app installed. You can also receive alerts when motion is detected and talk directly to doorstep callers. And because it's powered by a rechargeable battery, it's simple to install. Although, you'll need a monthly Ring Protect subscription to make the most of its features.
Want a ding to go with it? Amazon's also offering a bundle of the Doorbell 3 with the Ring Chime, at the reduced price of £140 – down £48 from the usual price of £188.
Ring smart cameras – up to 33% off
The deals aren't limited to doorbells. If you want a wireless security cam that works inside and out, Ring's Stick Up Cam Battery is a simple, handy solution. And until 14th February, you can get the camera at a 33% discount, down from £90 to £60.
If you're in the market for porch protection, you could opt for the Ring Floodlight Cam Wired Plus. At full price, this would set you back £180. But Ring has slashed the cost by 22% to £140. Mounted to your outside wall, this watcher records 1080p when motion is detected in customisable zones, sending real-time notifications and allowing you to view a live feed. Motion can also be set to trigger a pair of 2000-Lumen floodlights for maximum visibility.
Or if that shines a little too bright for you, the Spotlight Cam Plus Battery is on offer too. You can grab the camera for £140, a lovely £40 off the regular ask of £180. It also records in 1080p with customisable zones, but is a little smaller and not quite as bright. You'll find it's just right for smaller outdoor spaces.
Ring smart security devices – up to 41% off
Cameras, and doorbells not enough to cover all the bases? Ring is also offering some superb discounts on its other smart security tech, in case you're looking for extra peace of mind.
If you fancy giving your alarm a smart upgrade, the brand can help you out. The second-gen Ring Alarm is down £60 in the sale – on offer for just £160 rather than £220. Buying a camera too? Try bundling the five-piece alarm set with the Indoor Cam. Usually going for £270, the bundle is down £110 for Christmas at just £160. That's essentially a free Indoor Cam – why would you not?
The second-generation Ring Alarm system, meanwhile, features a sleek new design and incorporates fresh tech, including an updated one-touch Alarm Keypad and revamped sensors that are smaller and easier to mount. Plus, all this is controlled from your phone.
Apartment dwellers, you've not been forgotten! The brand-new Ring Intercom is also on offer at the moment. Allowing you to control your home's intercom and let visitors up, this smart intercom is the gadget high-floor residents have been looking for. We gave it a perfect five out of five stars in our review. And during the sales event, you can nab the intercom for just £50 – down £70 from the usual retail price.