Kindle Scribe is an Amazon eBook reader you can scribble on
Alexa, I'm writing instead.
Ever wanted to scribble down notes or doodle while reading? Amazon's latest Kindle will serve you well. Dubbed the Kindle Scribe, Amazon's latest e-reader acts more like a tablet. Packing in a stylus pen, it lets you jot things down, just like you would on paper.
The e-reader boasts a high-definition 10.2-inch, 300ppi display. It's an illuminated e-ink screen, just like you'd find on Amazon's other Kindle devices. As large as most tablets on the market (and bigger than other Kindles), the device is perfect for jotting down quick notes or scribbling annotations. Amazon reckons it feels just like writing on paper, but we'll have to see on that one. Kindles replaced books for many, could it replace notepads too?
Of course, the other big feature of the Kindle Scribe is the included magnetically-attaching pen. As you'd expect from most styluses, it packs in a shortcut button, and can be used as an eraser. Since the display is e-ink, we're not too sure how responsive it should be, but Amazon's demos look impressive. Interestingly, you'll never have to juice up the pen, so you'll never run dry on battery.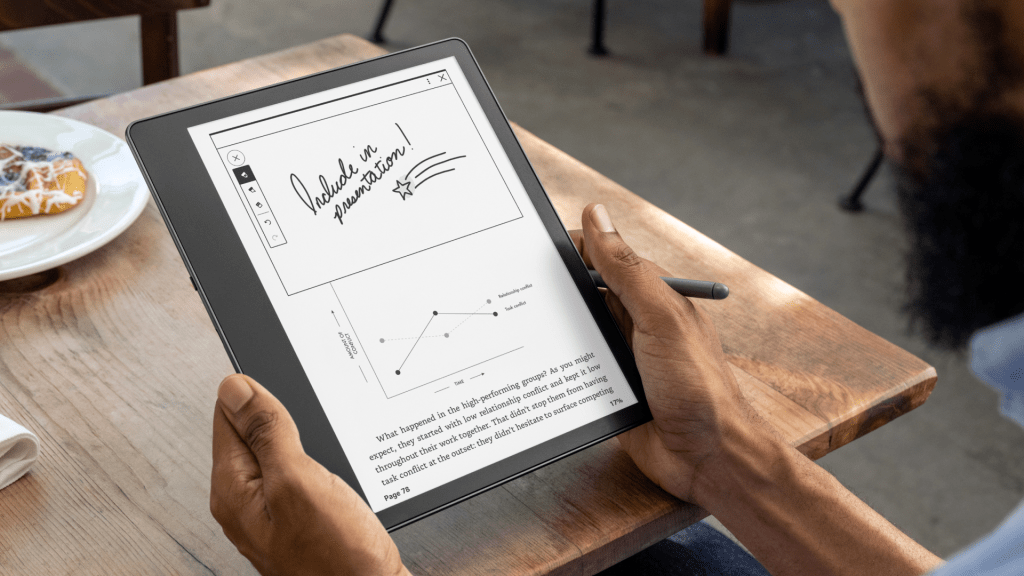 At just 5.8mm thin, the Kindle Scribe is easily portable to take into the office or school. The glare-free display automatically adjusts based on light, too. New to this e-reader is a brand-new sticky note feature. It lets you add notes to books you download from the Kindle store, while keeping the pages clutter-free.
The in-built notebook works best for quick notes, which will sync to the Kindle app on your phone as of next year. You can use the existing Send-to-Kindle feature to shoot over documents, and from next year, you'll be able to send documents directly from Word. Of course, you'll still be able to read books from the store as usual, even with all these extra features.
If Amazon's latest e-reader has you grabbing at the nearest pen, you won't have long to wait. Amazon will release the Kindle Scribe before the holiday season on 30 November. The new Kindle will retail in the US for $340, which also includes the pen. It'll be slightly more at £330 in the UK. You'll be able to configure options from 16GB, 32GB, or 64GB in a variety of colours. US customers will also bag a free 4-month subscription to Kindle Unlimited.