20 best Apple AirPod alternatives: superb true wireless earphones
Ding dong, the wicked wire is dead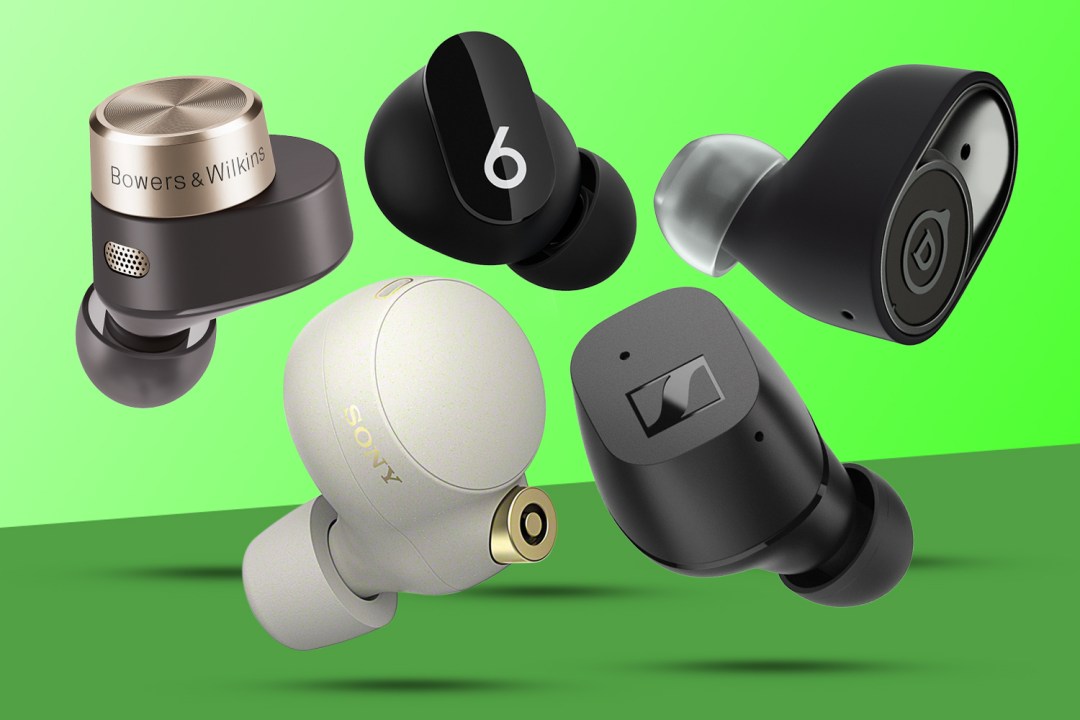 While wireless over-ear headphones have been saving us from Tangle Rage™ for some time now, when it comes to really making our lives easier on the go, only the portability of in-ears will do.
Apple's AirPods were not the first of their kind to cut the wires, but their arrival at the end of 2016 did give the in-ear industry a nudge in the right direction.
Now there are alternatives everywhere you look. That can only be a good thing for Android users. While the AirPods will work with Android phones, so much of their functionality is geared towards iOS that we'd argue your money is better spent elsewhere.
Not sure where to start? Read on for a lowdown on some of the best wireless in-ears on the market right now.
Sony WF-1000XM4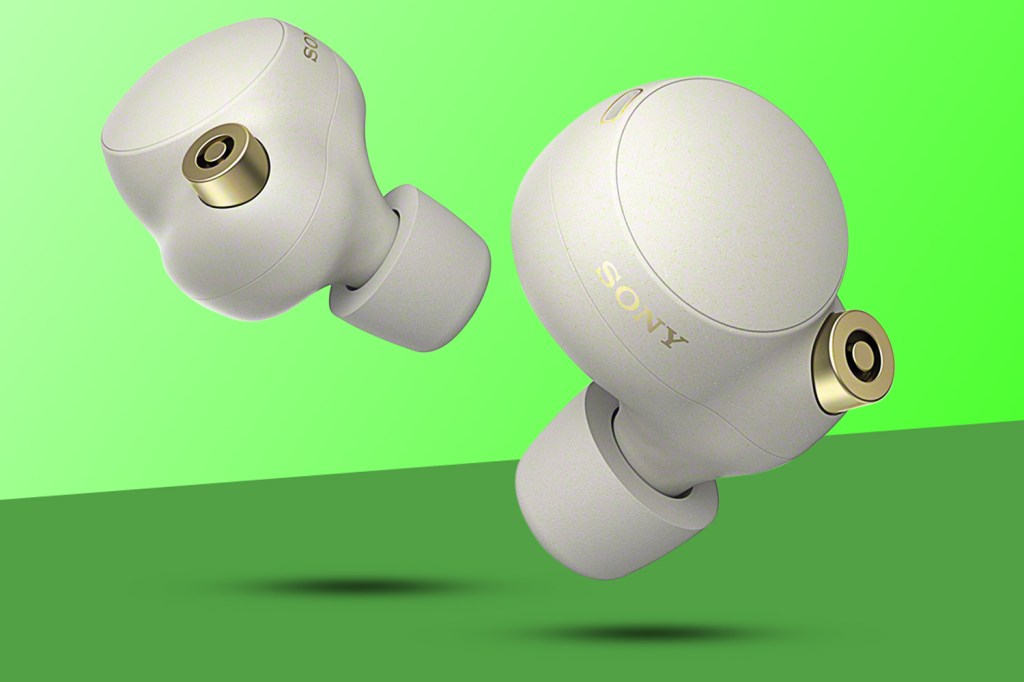 The Sony WF-1000XM4 are a punchy, detailed and well-balanced listen, more than capable of soothing just as easily as getting you ready for the dancefloor. They sound spacious, unified and convincingly musical. They're an endlessly engaging listen, with a stack of sonic talents as long as your arm.
On top of that, they cancel external sounds pretty effectively, have battery life that's just the right side of 'acceptable' and are, frankly, streets ahead of any nominal rival where ergonomics are concerned. By doing pretty much everything really well, the WF-1000XM4 continue Sony's long and proud tradition of building the best true wireless in-ear headphones you can buy.
STUFF SAYS ✭✭✭✭
Beats Studio Buds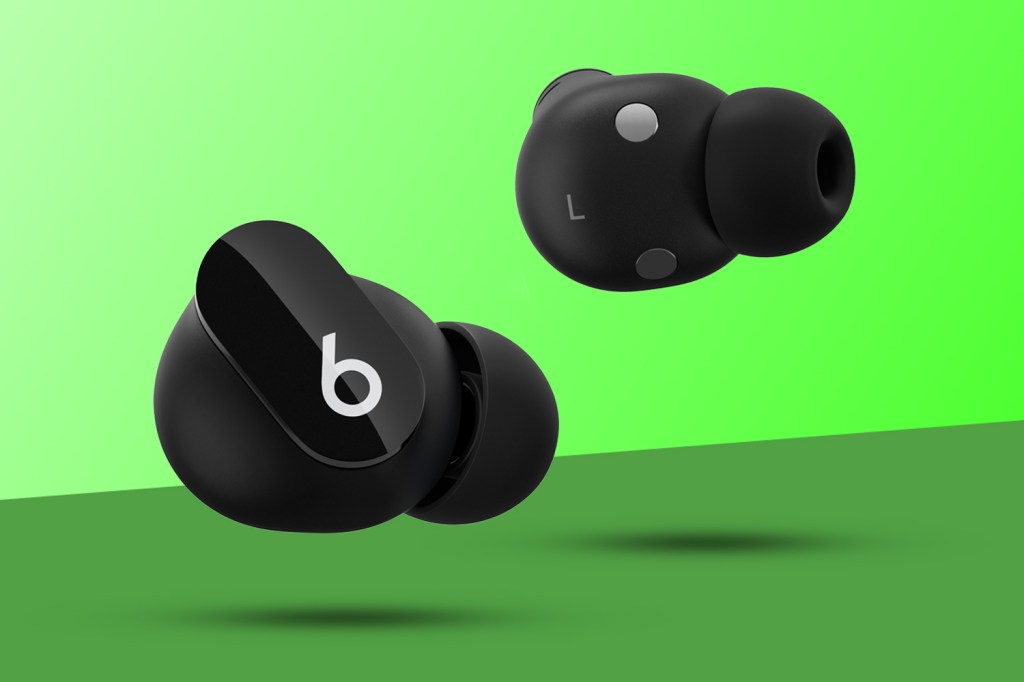 The Beats Studio Buds are a fantastic pair of true wireless buds, offering a lot to love at a reasonable price.
With a refined sound signature that's no longer so big on the bass but remains punchy and energetic at every turn, with a strong sense of space in the presentation and good separation across the frequency range. In short, they deliver superb performance for the money, with decent noise-cancellation, a comfortable design and a more inclusive approach for Android users.
Their feature set isn't as extensive as some buds out there, while the Transparency mode and phone call quality leaves a little to be desired. Battery life could be a touch better, too. But these are minor grumbles in an otherwise convincing little package that feels more slick and well-rounded than many others at this price.
STUFF SAYS ✭✭✭✭
Bowers & Wilkins PI7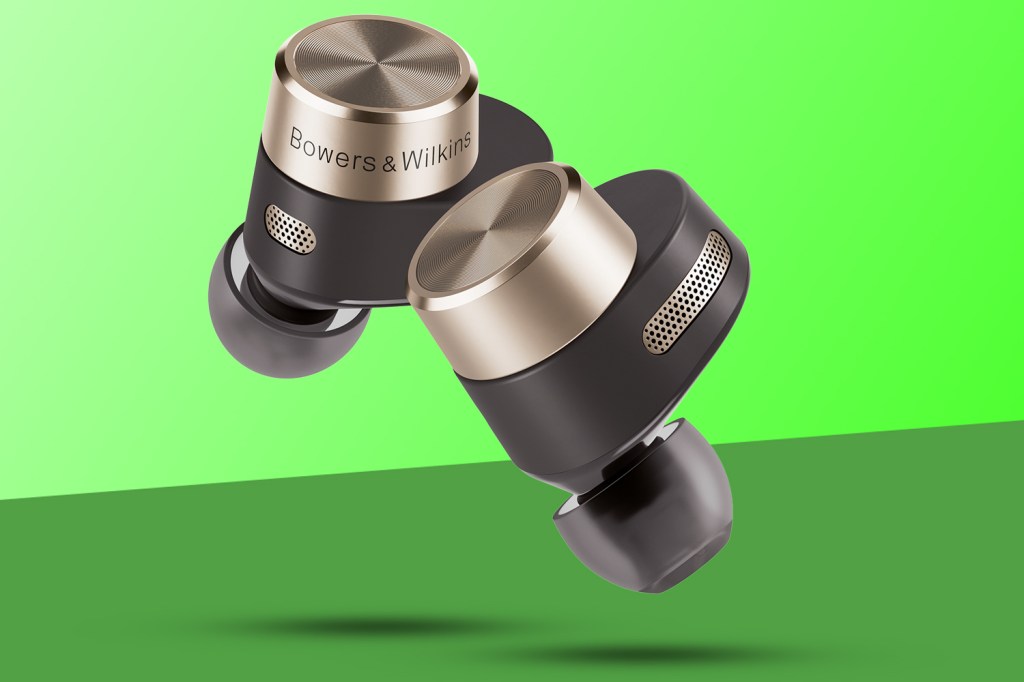 The Bowers & Wilkins name always brings with it certain expectations when it comes to sound quality – and they're emphatically met with the PI7.
Performance is exceptional, possibly the best we've heard yet from a pair of true wireless buds, and the build quality is of a similarly high standard – but the PI7 also stand out for reasons you might not expect. The retramission tech on the Bluetooth charging case, which turns the charging case into a Bluetooth transmitter when you plug it into a wired source like an in-flight entertainment system, is a fantastic idea that actually solves real world problems.
It's enough to make up for the fact that the battery life is nothing special and you can get better ANC elsewhere, especially considering the price. At least their soothing sounds will come in handy when you see the bill.

STUFF SAYS ✭✭✭✭✭
Sennheiser CX True Wireless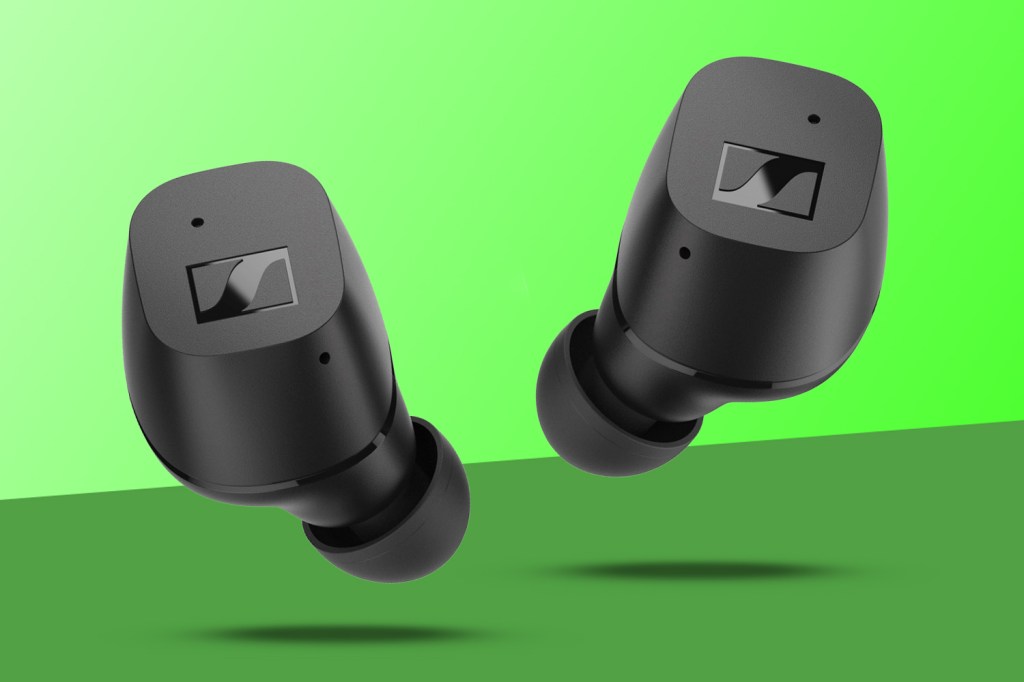 Are your ears big enough? That's really the big question – because as long as your lugs can accommodate the CX True Wireless' slightly unhelpful dimensions, all the other stuff about them is positive.
As long as you're not expecting absolute Swiss-style neutrality from the sound of your in-ears, there's loads to like about the way the CX True Wireless perform. They're a bold, upfront listen that can be a little in-your-face, but they still have delicacy to match the muscle, especially where voices are concerned.
The touch controls are responsive and virtually impossible to confuse, but you can still use the exemplary Smart Control app to tweak things if you don't like the way Sennheiser has assigned the commands. While there's no ANC and battery life could be better, this is still money well spent.
STUFF SAYS ✭✭✭✭✭
Devialet Gemini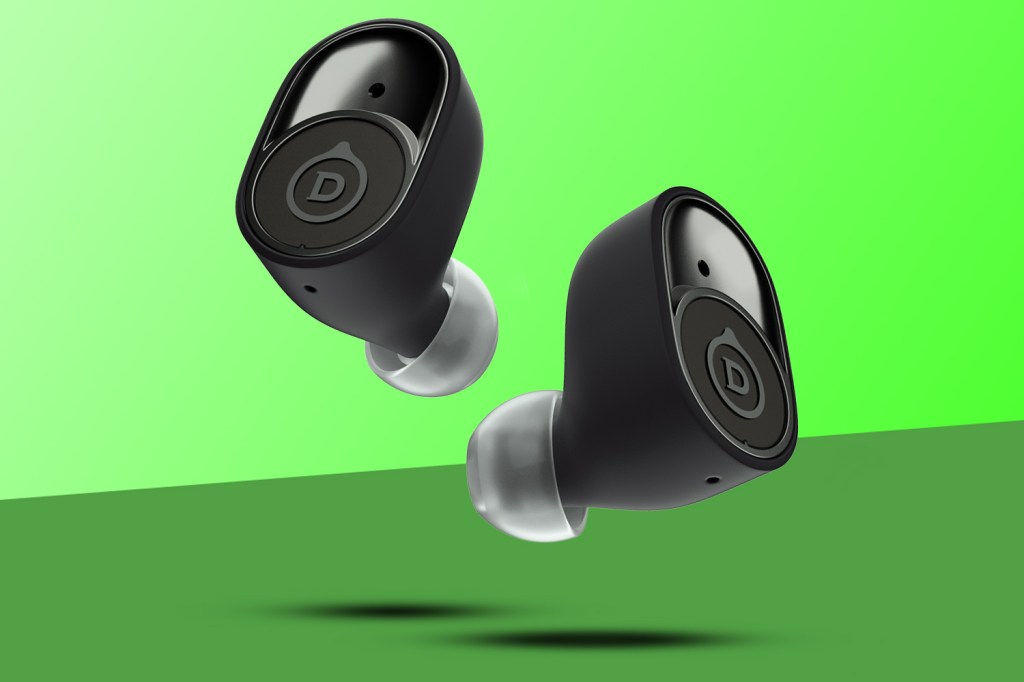 There's nothing special about the design of Devialet's Gemini buds, or the charging case, or the battery life, or the ANC, or the app. Even the name is a bit naff… and the sound out of the box is arguably overcooked in the upper mids.
But after a little bit of tweaking in the EQ section of the app, we're suddenly in happy hi-fi land. The sheer space in the midrange makes lesser buds sound rough and muddy in comparison, and reveals the kind of details that justify the invention of remastering. The bass isn't supernaturally expansive but it's deep enough without any hint of looseness, while the treble is as fresh and even as an overnight sprinkling of Ribena-flavoured snow.
What you're getting here (eventually) is proper high-fidelity brilliance in an inexpensive and ultra-portable package. So who really cares about the rest?
STUFF SAYS ✭✭✭✭✭
KEF Mu3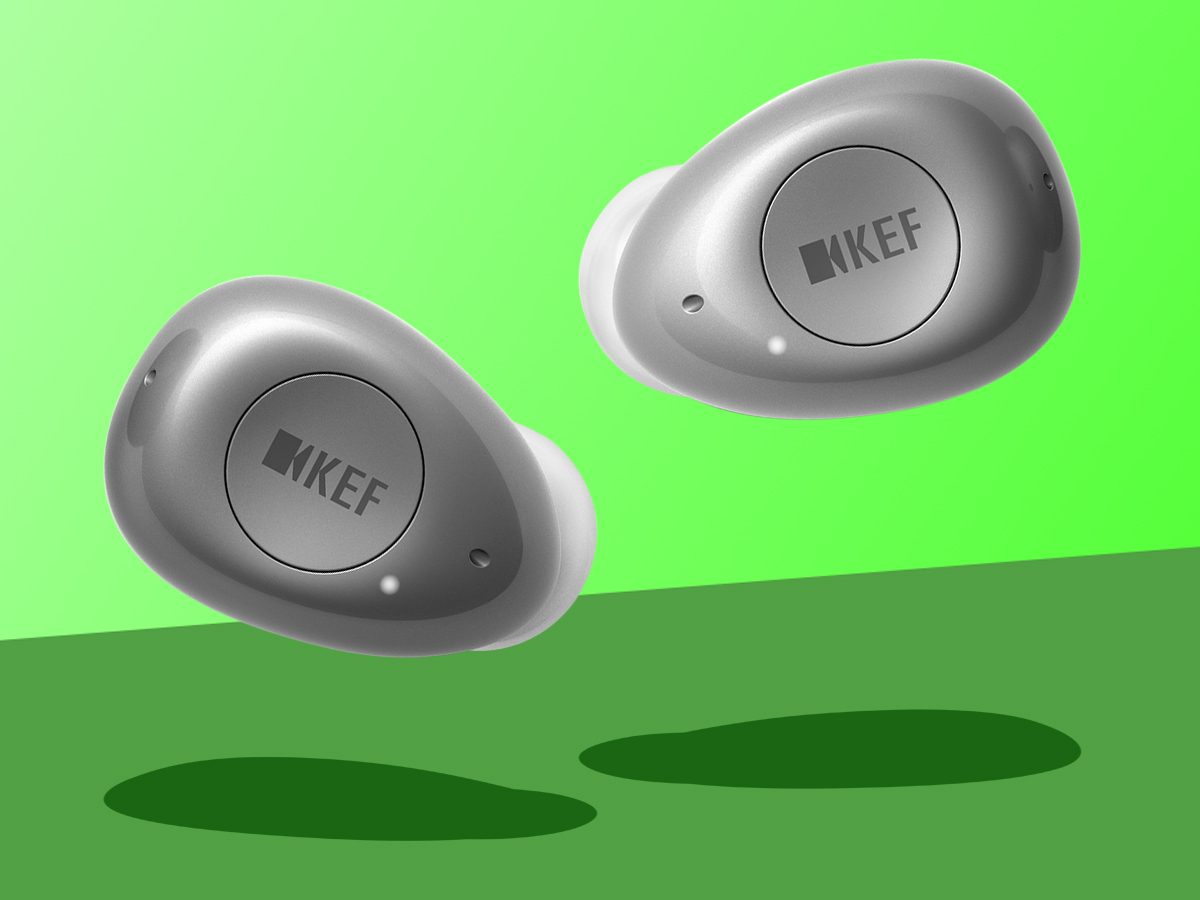 KEF's lean musical beans live inside a slightly bulky but well-built charging case. Each bud has a single button, so you'll need to memorise a set of single-, double- and long-press commands if you don't want to reach for your phone every time you need to skip a track, adjust the volume or summon the voice assistant.
The focus here is very much on performance. That means no wear-sensors or apps, but you do get active noise-cancelling – although it's not the most effective out there. Audio quality more than makes up for all that, though: songs sound lifelike with bags of texture and detail, bass is forceful but controlled, and you can really pick out the positions of the instruments.
STUFF SAYS ✭✭✭✭
Cambridge Audio Melomania 1+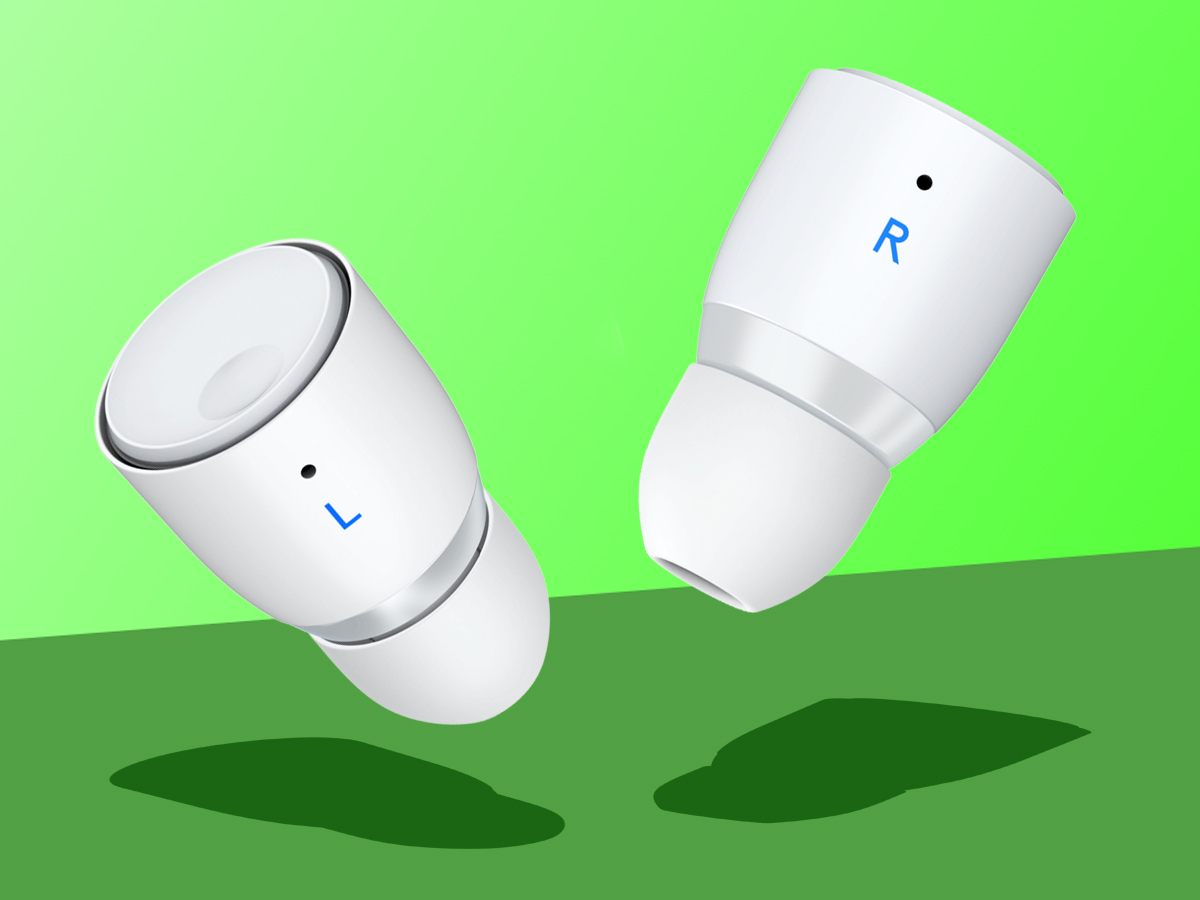 An updated version of Cambridge's five-star Melomania 1s, these bullet-like buds have flat, round ends, so wearing them makes it look a little bit like you've had a magic wand inserted in one ear and out of the other. At £120, they'll save you a fair chunk of cash compared to some of the other pairs here.
These buds come with a wide range of both silicone and memory foam tips – and once you find the right fit you won't want to take them out. While they can't quite reach the same sonic heights as KEF's Mu3, there's a lovely balance to the sound, with real depth and a nice wide soundstage. An app lets you tweak the EQ, check on the (impressive) battery life, and locate them if they get lost. Although there's no ANC, at this price, they're impossible to fault.
STUFF SAYS ✭✭✭✭✭
Jabra Elite Sport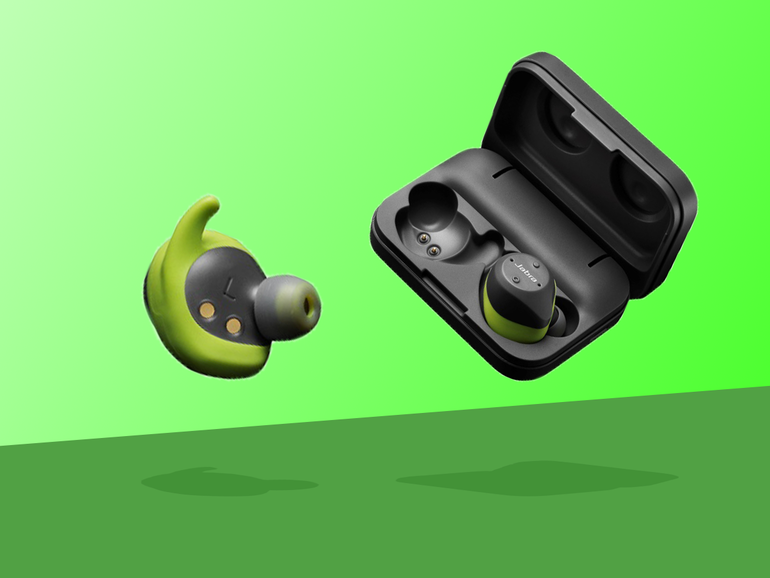 As their name might suggest, Jabra is aiming the Elite Sport at the gym bunnies among you, with some fancy features up their sleeve to give you a helping hand during workouts.
Their design is pretty bulky, which ensures a snug fit – not just for staying put when you're on the treadmill, but also for reading your heart rate. This doesn't make them the comfiest in-ears we've worn, though, and after an hour or two, you might need to give your ears a rest.
They work with the Jabra Sport app, which records your heart rate to create an informed workout report, but can also set you up with a training plan or talk you through one of its pre-programmed cross-training sessions. There are even some activities where the Elite Sport's sensors can count your reps for you, and pretty accurately too.
The heart-rate monitor, on the other hand, doesn't have the accuracy of some more accomplished fitness wearables. It'll give a good enough idea for casual gym-goers, but no more.
The Jabra Elite Sport haven't forgotten they need to sound good either, with a crisp, clear performance and plenty of bass kick.
There's not quite as much airy detail here as you might find elsewhere, nor are they as explicit with dynamics, but they're well organised, with a good balance and no sharp edges in the treble. A very pleasant surprise indeed.
STUFF SAYS ✭✭✭✭✭
Bose Soundsport Free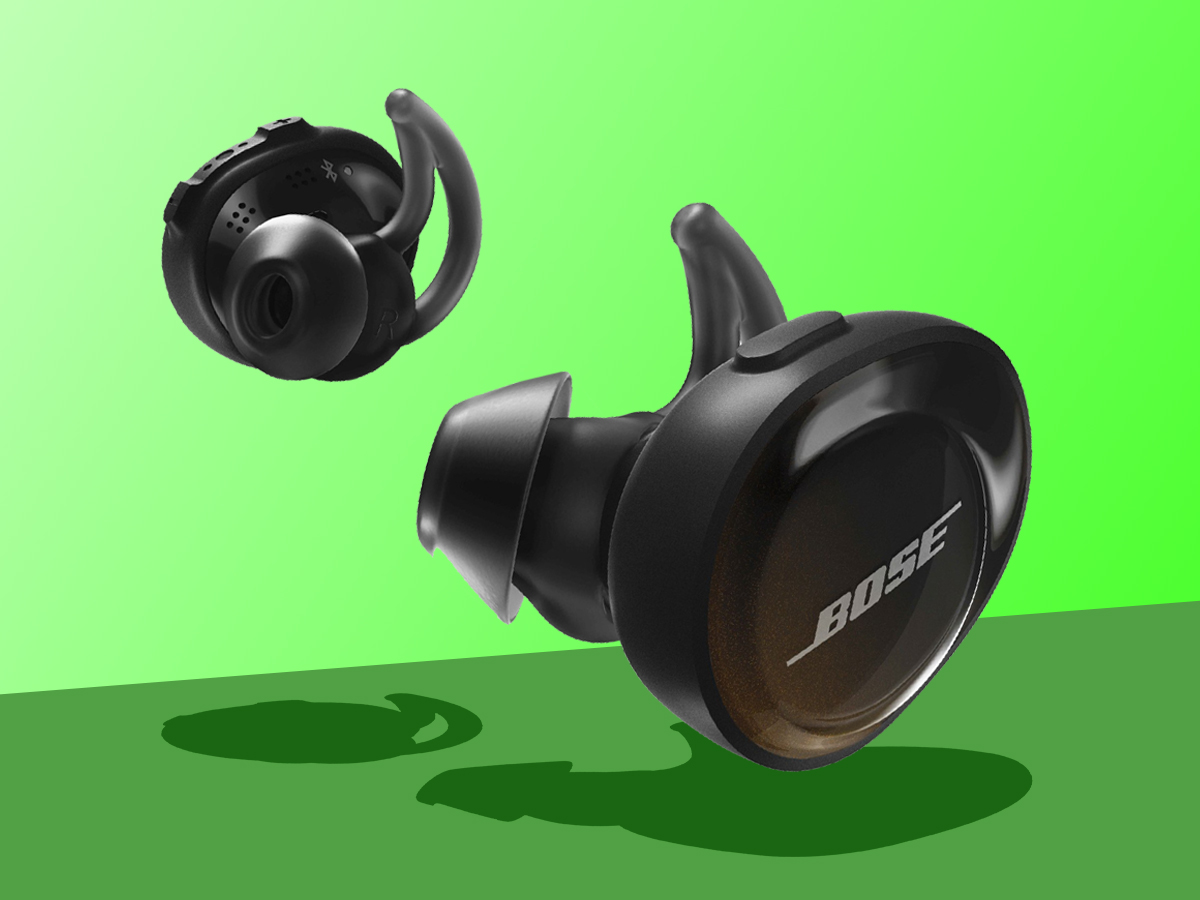 You probably associate Bose with big, over-ear noise-cancellers, but now you can also associate them with big, in-ear sports headphones too.
Yep, there's no getting away from the fact that the SoundSport Frees are a bit on the chunky side, with a fair portion of each bud protruding from your ear when they're in place. Controls are built into the top edge of the right earbud and they come with Bose's wing-shaped StayHear tips to keep them from falling out. Despite their size, they're surprisingly comfortable, plus they're also sweat and water-resistant.
Battery life is a fairly standard five hours, with the customary charging case offering an extra 10 on top of that. One thing that does make them stand out from the competition is the Apple-esque Find My Buds mode offered via the Bose Connect app. If you happen to misplace one or both it'll show its location on a map and you can even get them to emit a distress signal when you're in the vicinity, although given how chunky they are you'll hopefully never need to use it.
While there's none of Bose's trademark noise-cancelling here, the SoundSport Frees do manage to create a decent amount of isolation. Sound is bold but balanced with driving bass that's suitable for gym bunnies and commuters alike.
The only real issue is a lack of reliability when it comes to Bluetooth connectivity. Say what you like about Apple's AirPods but their wireless performance is rock solid. Unfortunately, we can't say the same about these. It's the only black mark against what is otherwise a well-performing pair of true wireless buds.
STUFF SAYS ✭✭✭✭✩
Jabra Elite Active 65T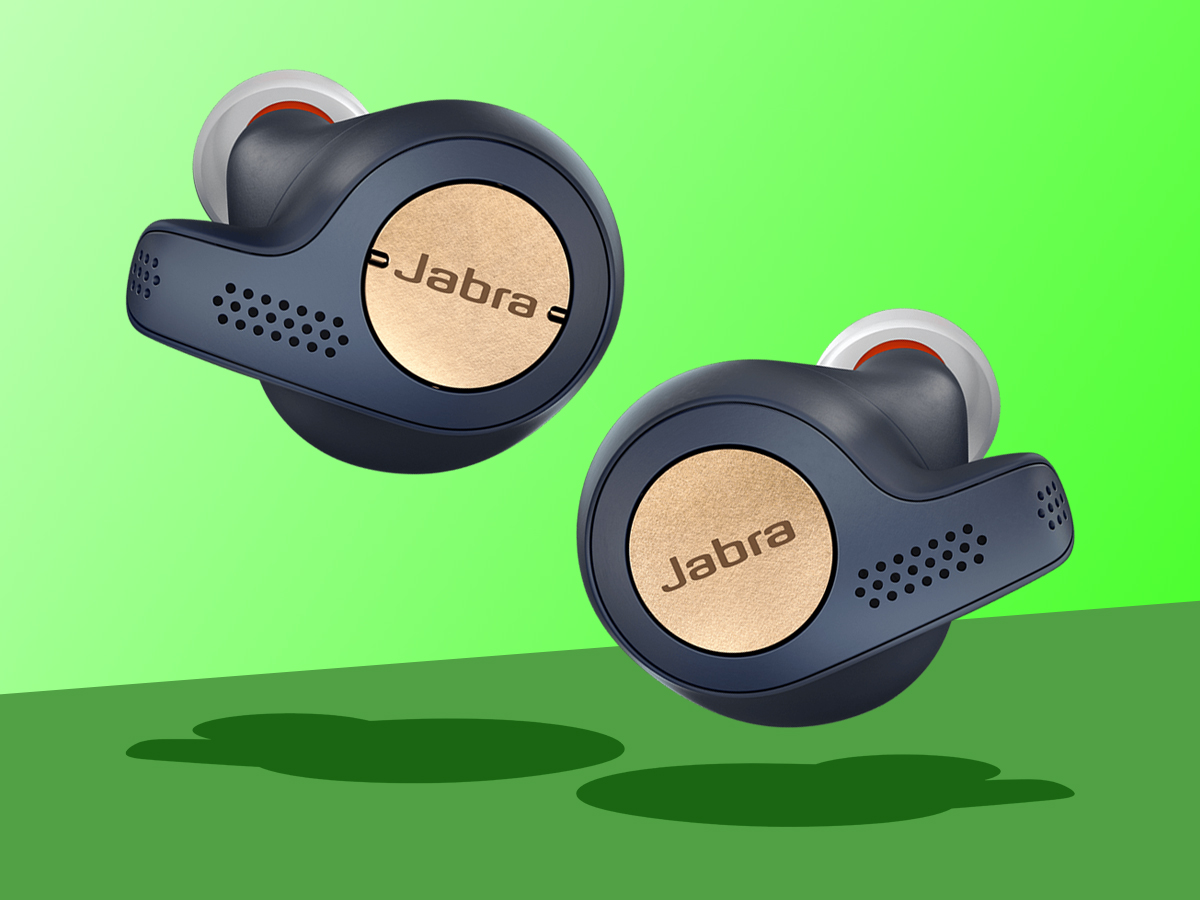 Elsewhere on this list you'll find Jabra's Elite Sport in-ears. As the name suggests they're aimed at fitness freaks and come with a built-in heart rate monitor. If your runs could be better described as Hungover Plod than Elite Sport, the Jabra Elite Active 65t might be the ones for you.
Despite their bulbous appearance they fit well, which is important if you're going to be pounding pavements or pumping iron with them in. A choice of three silicone ear tips means they can be customised for different size ears, although it does mean they're not the most comfortable for long listening sessions.
There are buttons built into each one: the left adjusts the volume and skips tracks, while the right is used to pause, receive calls and bring up your phone's voice assistant. That'll give you a few things to remember but you'll pick it up soon enough.
You can also toggle the HearThrough mode on and off, which allows you to adjust how much of the outside world the earphones let in. The noise-cancelling is impressive but it's just one of many functions you can tweak via Jabra's Sound+ app, with an EQ available for each mode. There's also an accelerometer built in to monitor your steps and auto-pause when you take them out, although detection can be a bit hit and miss.
Audiophiles will probably pick holes in their audio performance but we like our sports headphones to be punchy and energetic – all the better to help push you through the pain.
STUFF SAYS ✭✭✭✭✩
Sony WF-1000XM3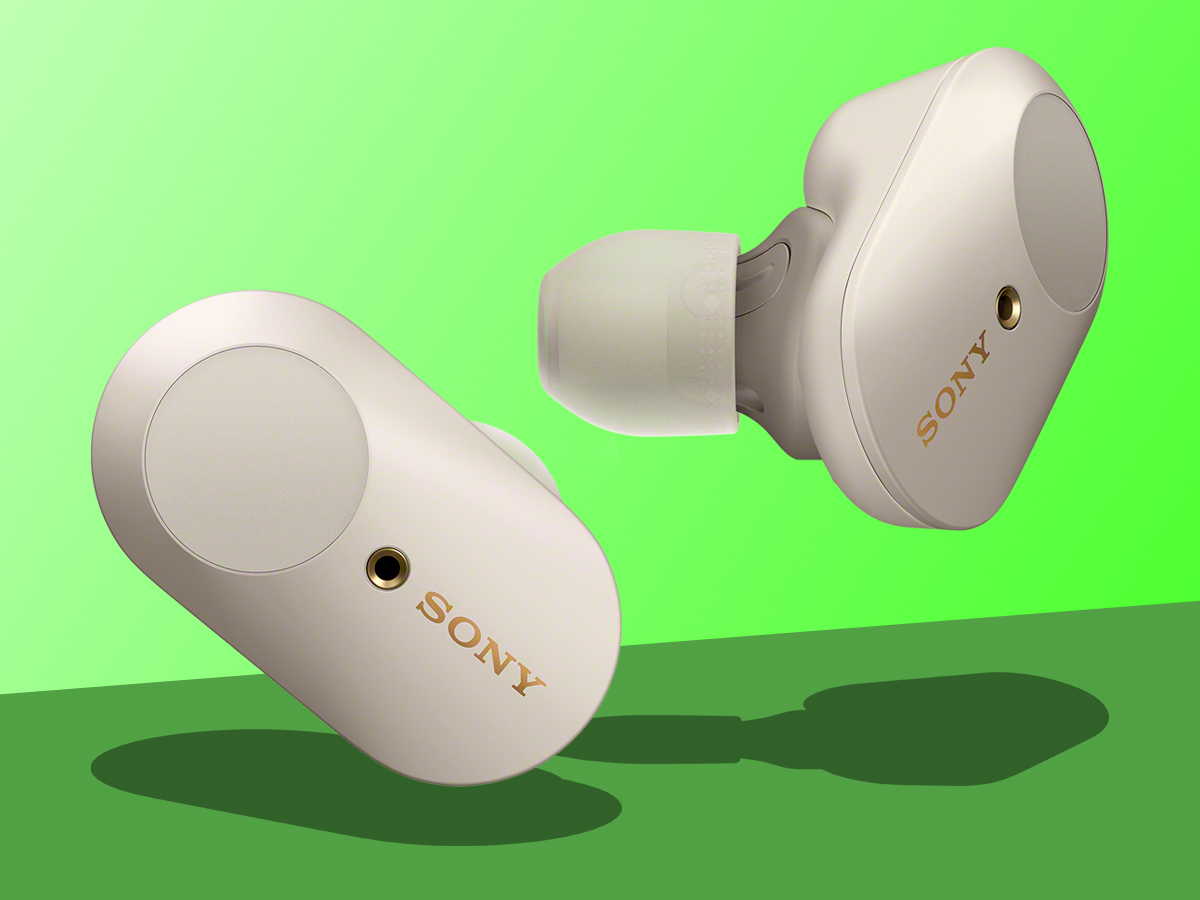 With their diminutive dimensions and small batteries, true wireless earphones don't tend to come with noise-cancelling. But Sony's WF-1000XM3 manage to squeeze in the hubbub-hushing tech while maintaining a relatively compact, if slightly elongated, shape.
They're not as discreet as some of the more bullet-shaped alternatives, but with various types and sizes of earbud included they're comfortable and fit well, with a grippy-but-not-too-grippy coating helping to hold the 8.5g buds in.
Providing they fit properly, any in-ear headphones will offer a bit of noise isolation, but the XM3's active system takes things to another level, with the added bonus of consuming very little power. With it switched on you'll get six hours out of them, eight when it's turned off. And while the sturdy charging case is a bit bigger than some rivals, it'll give you a full three charges, extending the total battery life to between 24 and 32 hours.
Play some music and the XM3s are organised, agile and punchy, with a fair bit more dynamism than their competitors too. They simply serve up the music in as realistic a fashion as possible. Even call quality is half-decent, despite the mics being a fair distance from your mouth.
STUFF SAYS ✭✭✭✭✭
Beats Powerbeats Pro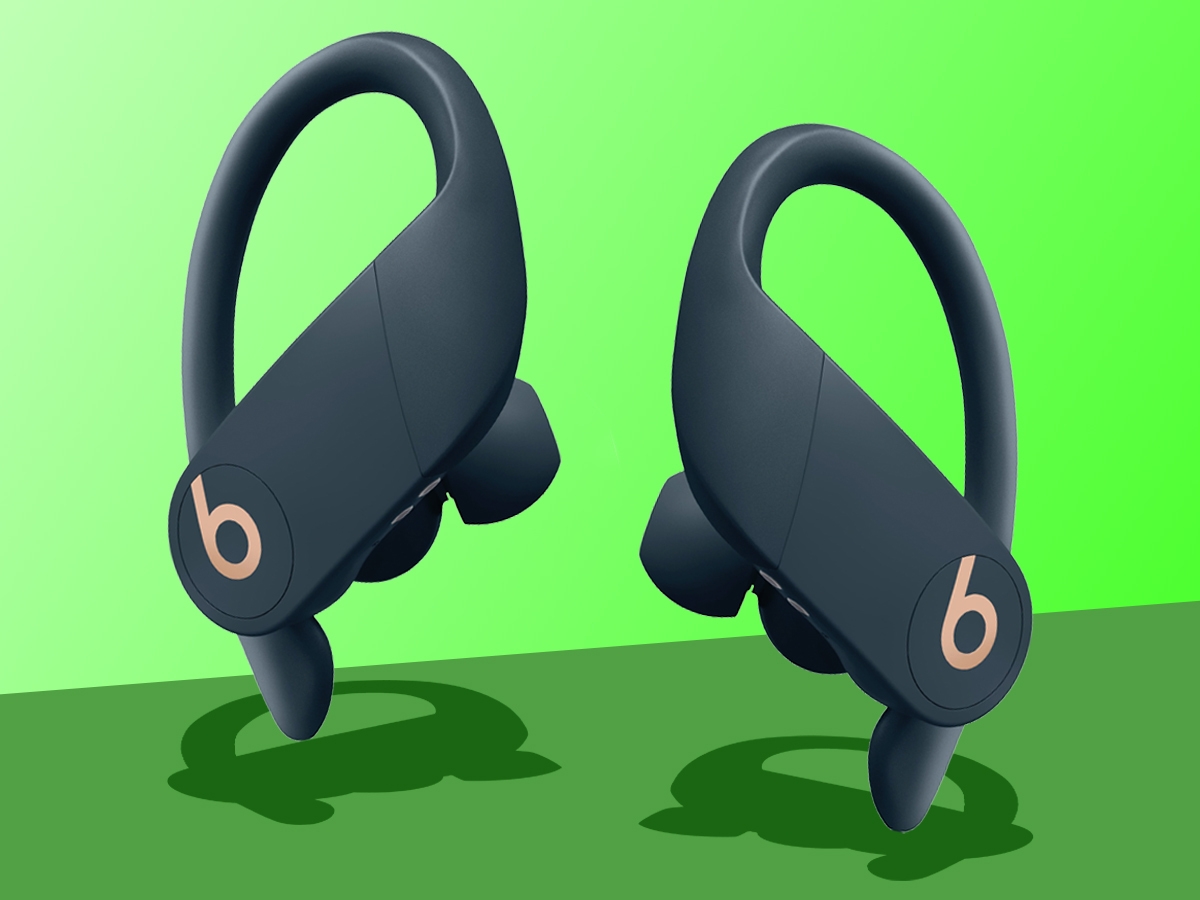 The Powerbeats Pro might come packed with a lot of the same tech that you'll find inside a set of AirPods, but to look at the two pairs of wireless in-ears couldn't be more different.
The Powerbeats' over-the-ear hook design is meant to keep them safely stowed in your lugs no matter how hard you work out, but for anyone who's just afraid of seeing one of their expensive earphones disappearing underneath the wheels of a passing Uber, it's equally reassuring. They're also IPX4-rated for water and sweat resistance
Sound isolation isn't the best, and they might get a bit uncomfortable if you wear them all day, but with a total of 24 hours of battery on offer when you include the juice in the rather chunky case, that's the only thing stopping you from doing so.
Apple's input is evident, so unless you're an Android user connecting them to your phone is the same seamless experience that you get with AirPods. You can choose between using Siri or a set of on-bud tap controls for interacting with your phone.
Beats products have a reputation for overbearing bass but these are more grown-up, so the sound is refined and well-rounded whether you're listening to Beethoven or Danny Brown. Even the logo that adorns them isn't obnoxiously large.
Dre might still be representing gangsters all across the world but his Powerbeats Pro are real crowd-pleasers – unless you're part of the Android crew, that is.
STUFF SAYS ✭✭✭✭✭
Sennheiser Momentum True Wireless
Everyone wants to sell you a pair of true wireless in-ears these days – but not many companies have as much experience in making headphones as Sennheiser.
The Momentum True Wireless are big lads but the design is pretty discreet. The plastics are on the thin side but they feel robust and it's easy to get a good fit, so they're hardly a burden to wear. That means the USB-C charging case is a little larger than others too, but it's hardly going to take up that much more space in your pocket. It's just a shame battery life is a pretty ordinary four hours (with only two full charges stored in the case).
With aptX Bluetooth onboard wireless connectivity is solid, call quality is decent, and interaction with your phone's voice assistant is as painless as it's possible to be. If you prefer to let your digits do the work, there are also fairly extensive touch controls built-in, while an accompanying Smart Control app allows you to tweak the EQ and adjust the Transparent Hearing mode.
Bass is bold but expertly judged. It doesn't swamp everything above it so mid-range fidelity is outstanding and the top end is equally impressive. There's high- and low-order dynamism in spades, ample attack and a pleasantly widescreen overall presentation.
They don't have quite the same level of outright volume and excitement as their most accomplished rivals but at this price, you can't complain.
STUFF SAYS ✭✭✭✭✭
Jabra Elite Active 75t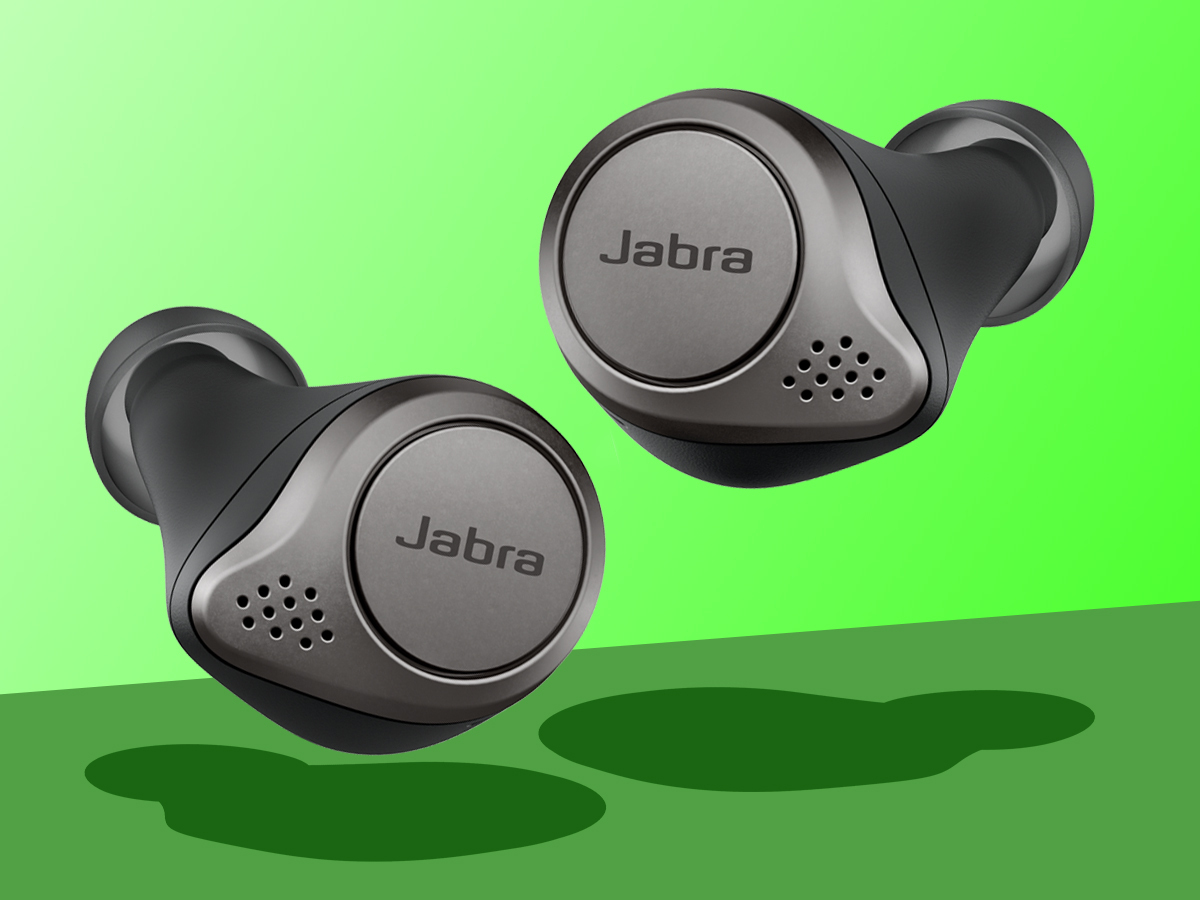 Jabra's Elite Active 75t in-ears are in many ways the same as the excellent Elite 75ts that they're replacing in this list. They're the same size and weight (20% smaller than the Elite 65t series), have the same 28-hour battery life with the charging case, the same comprehensive (if a little finicky) touch controls, and feature the same 6mm drivers.
For a slight price bump, the Elite Active 75ts offer a grippier, more secure overall fit, plus an IP57 rating which ensures they're fully waterproof. If you're into your all-weather running, they're probably worth the extra cash.
There's no active noise-cancellation on board, but the seal on each bud does a pretty admirable job of blocking out roaring weightlifters and train station announcements. There's a transparency mode that theoretically comes in handy when you need to hear more of your surroundings, but we couldn't really tell the difference during our testing.
If you need your music to carry a bit of extra thump on your morning jog, you'll be glad to know that the Elite Active 75ts have been noticeably upgraded in the bass department, making them solid all-round performers. There's also a decent EQ to mess around with to get your ideal sound.
They're not as stylish or simple to use as the AirPods, but you'll be hard-pressed to find a pair or earbuds that pack in so much for the price.
STUFF SAYS ✭✭✭✭✩
Urbanista Athens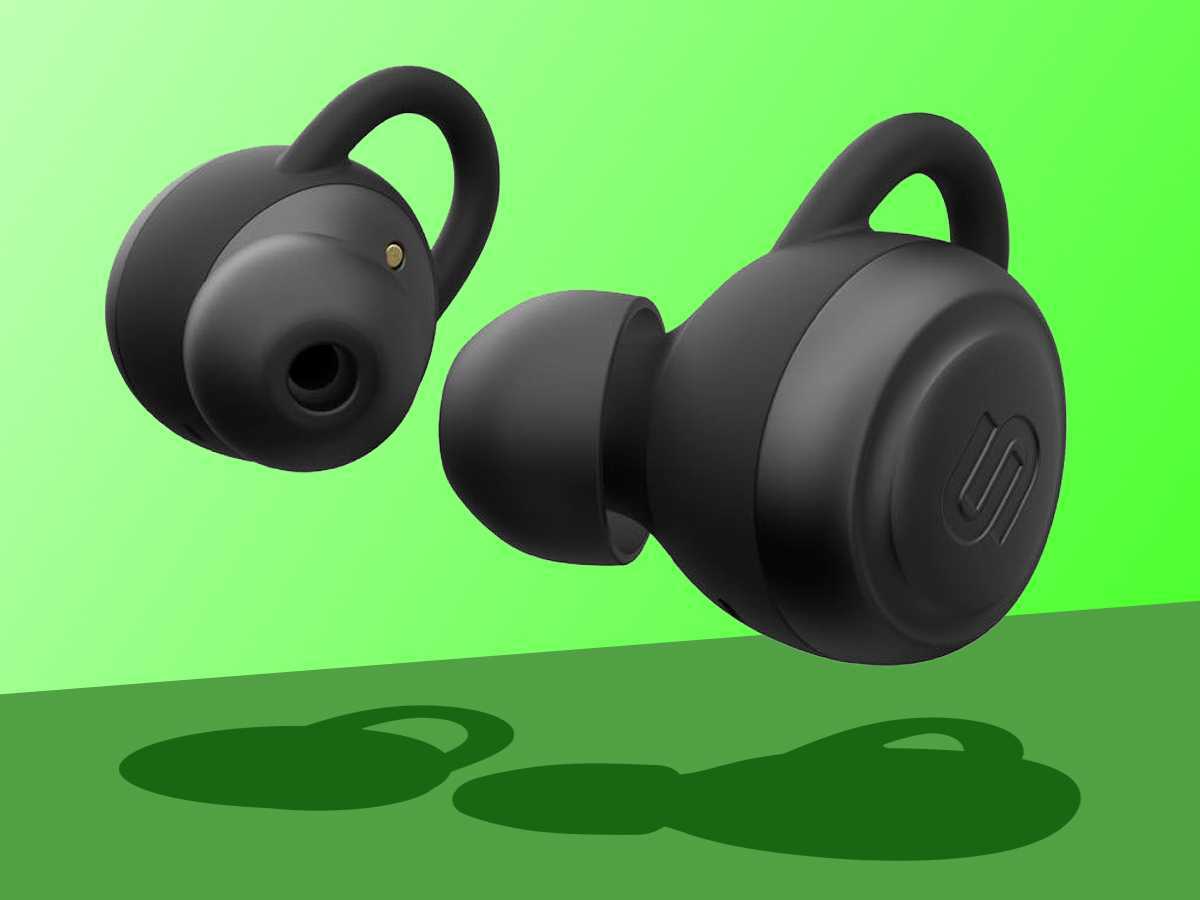 Urbanista's headphones have been a bit hit 'n' miss over the years – but when it gets things right, there's usually a lot to love about its affordable audio offerings.
The design of its sporty Athens in-ears won't turn any heads, but when it comes to true wireless buds that's usually a good thing. In the ear, the 6g lumps are far less prominent than you might expect. You get five different wings and tips to find the right fit for you and if you twist slightly as you insert them they'll stay put through commutes and CrossFit sessions alike. They're even hardy enough to take for a swim.
AptX Bluetooth 5.0 is onboard and Urbanista has been generous with the bass, so as long as you pick the right tunes they're more than capable of getting your blood pumping. Yes, the soundstage could be a little more expansive and that strong bottom end can sometimes overwhelm the mids, but for the price the performance is impressive. The passive noise isolation is truly excellent too.
The charging case, which holds three full charges, means you get a total of 32 hours out of the Urbanista Athens. It's also one of the more pocketable packages, with a smooth, soft-touch finish and a satisfying magnetic click when you drop the buds in to replenish.
Like RHA's TrueConnect they're not big on frills but as true wireless buds go they've got all the main bases covered – and without breaking the bank either.
STUFF SAYS ✭✭✭✭✭
Technics EAH-AZ70W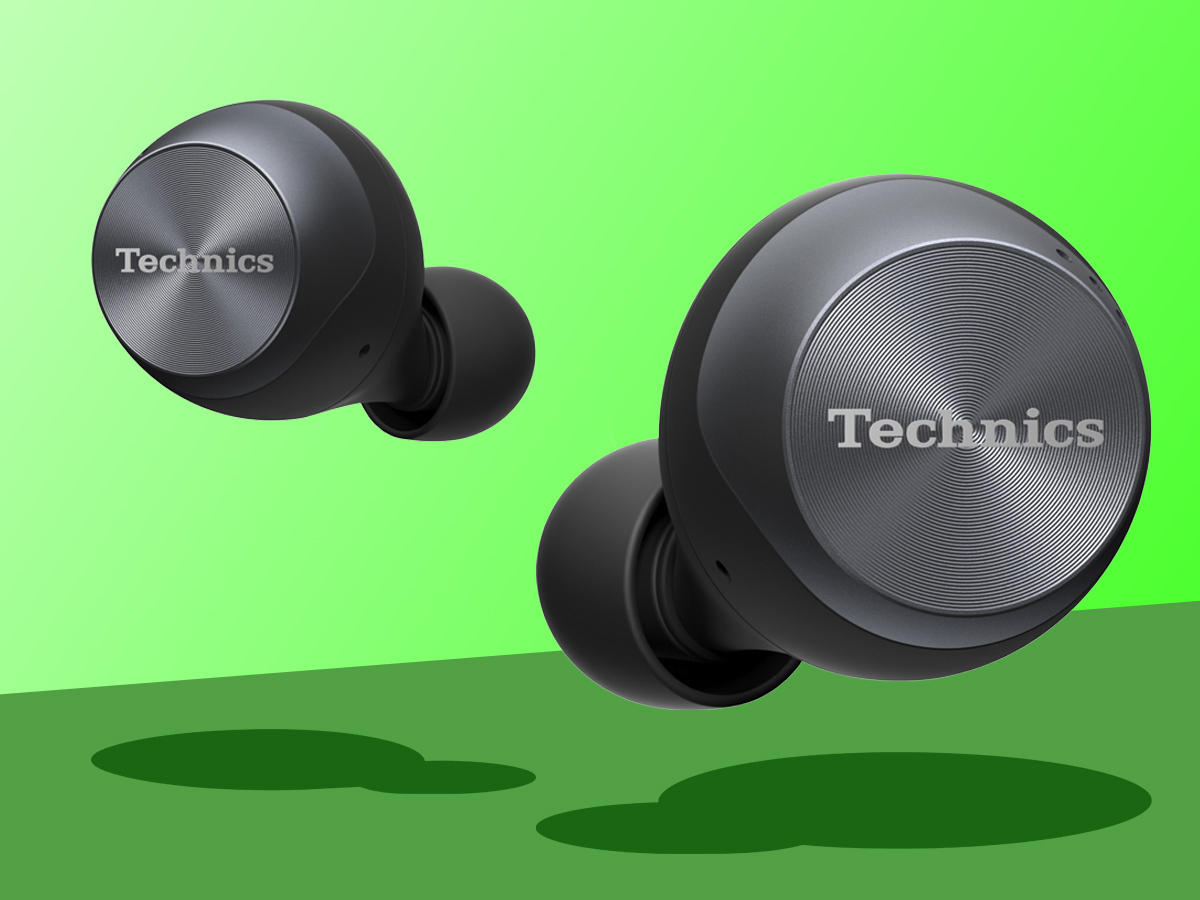 You might associate Technics with turntables but its EAH-AZ70W are a tech-packed pair of true wireless earbuds that offer plenty of bang for their not insignificant buck.
Design-wise, the buds' pleasing mix of IPX4-resistant faux aluminium and plastic means they're most closely aligned to Sennheiser's Momentum True Wireless 2, only they're slightly heavier. A choice of five silicone tips is included, so finding a snug fit is simple.
Touch controls on each bud are simple to grasp and instantaneous in their implementation, plus there's a companion app that allows you to do things like tweaking various audio settings and select your preferred voice assistant.
Thanks to generously sized 10mm drivers and a combination of analogue and digital processing the Technics deliver a clean, energetic sound with plenty of low-end. Noise-cancelling is impressive, if not quite Sony standard, with an Ambient Sound Mode included too.
The only real chink in the armour is battery life. A svelte USB-C charging case only offers an extra 12 hours on top of the six in the buds, which isn't bad considering the noise-cancelling but is easily beaten by some of the competition.
If you're looking for a pair of true wireless earbuds with a touch of the lavish sheen that's usually reserved for high-end separates and reference-grade turntables, Technics' EAH-AZ70W offer pretty much everything you could ask for. Just don't forget to charge them.
STUFF SAYS ✭✭✭✭✭
RHA TrueConnect 2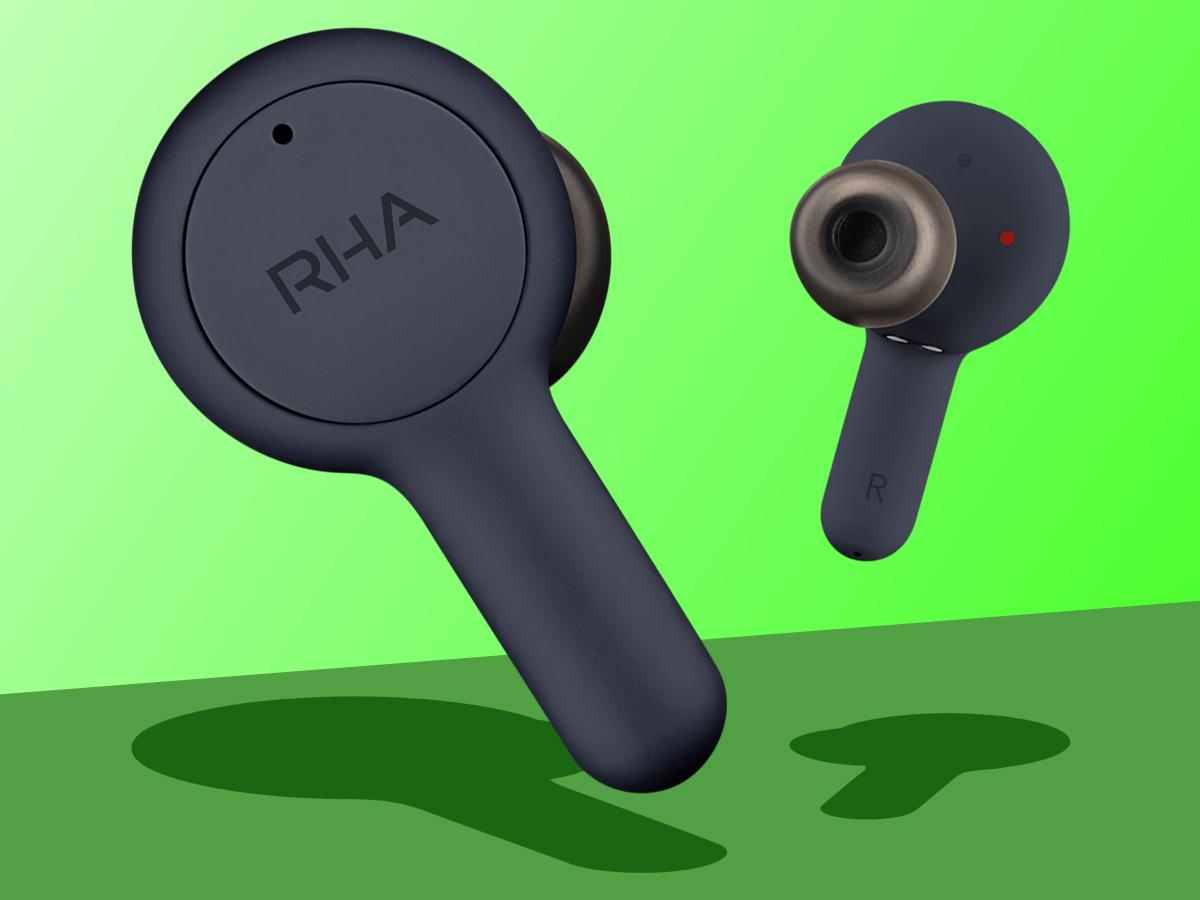 If you're the kind of person who forgets to put their phone on charge at night, RHA's TrueConnect 2 are the AirPod alternatives for you. With nine hours of listening per charge, and 35 hours stored in the case, even the most absent-minded owner will find it hard to get caught out by a dead battery.
Smart without being flashy, the IP55-rated TrueConnect 2 have a soft-touch matte finish, which gives them a more quality feel than your bog-standard shiny plastic. The subtle stem design is back too, with a silicone tip that helps them to sit securely in the ear, even during exercise.
The touch controls take a little getting used to as you need to tap right in the centre for it to be recognised, but that's hardly unique to these buds. A companion app to customise the controls would've been nice, and you'll have to look elsewhere if you want more advanced features like noise-cancelling or auto-pause, but all RHA's effort has gone into the audio – and the results don't disappoint.
At their price point, there are few headphones that can better the TrueConnect 2 on sound alone. A bit of extra kick in the low end makes them an even more enjoyable listen than their already excellent predecessors.
The case is solidly built, if a little on the large side, and while feature junkies will be better served by the Urbanistas, the RHA's comfortable fit, unshakeable connectivity and unbeatable battery life mean they do all the important stuff very well indeed.
STUFF SAYS ✭✭✭✭✭
Urbanista London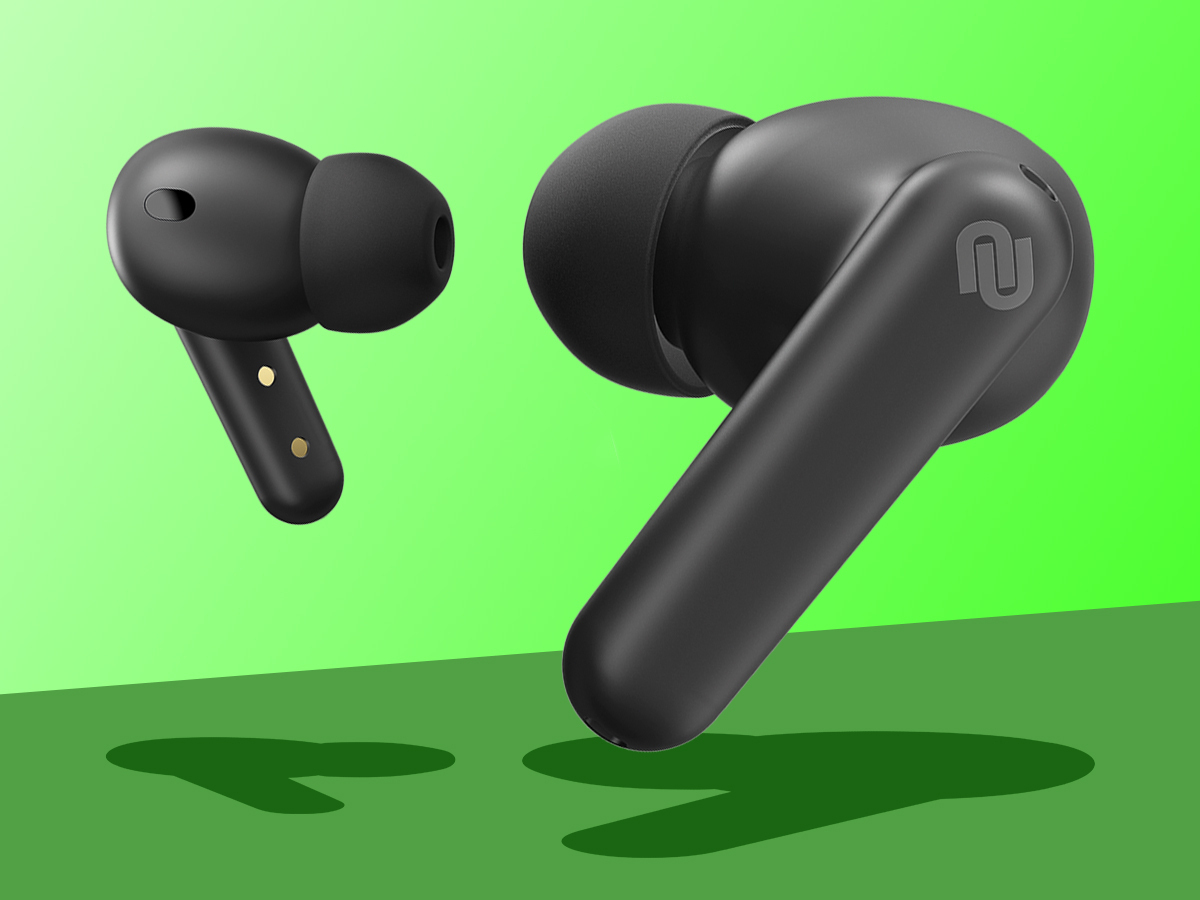 While there's nothing particularly luxurious about the way Urbanista's London earbuds or their compact charging case look or feel, you'll struggle to find another pair that hits the price/performance sweet spot as successfully as these.
They're from the 'slightly dangly' school of wireless in-ear design, although the stem of the Urbanistas is nice and short. At a touch under 4.7g per bud they're lightweight and comfortable too, with a trio of tips making it easy enough to find a secure fit.
The neat little 'Urbanista' logo on each IPX4-rated earbud represents the touch-control area. Sensitivity is pretty good, and it doesn't take long to commit the few relevant controls to memory, although you can't skip a track forwards or backwards, which is a bit odd. Remove one of the buds and whatever's playing will pause until it's put back.
At 25 hours – five in the buds and four full charges in the Qi-compatible case – battery life isn't spectacular, but five minutes inside will give you 30 minutes of playback, while half an hour is enough to keep them going for three hours.
Urbanista would seem to have ticked the box marked 'excitement' ahead of the 'precision' box when the time came to voice the London – but overall, the sound they make is pretty sensibly judged. There's an up-and-at-'em quality to the Urbanistas' demeanour that makes them more enjoyable to listen to than some less perky, more high-minded alternatives.
Not exactly luxurious, then, but the quality of construction, audio performance and inclusion of active noise-cancellation is impossible to argue with.
STUFF SAYS ✭✭✭✭✭
Huawei Freebuds Pro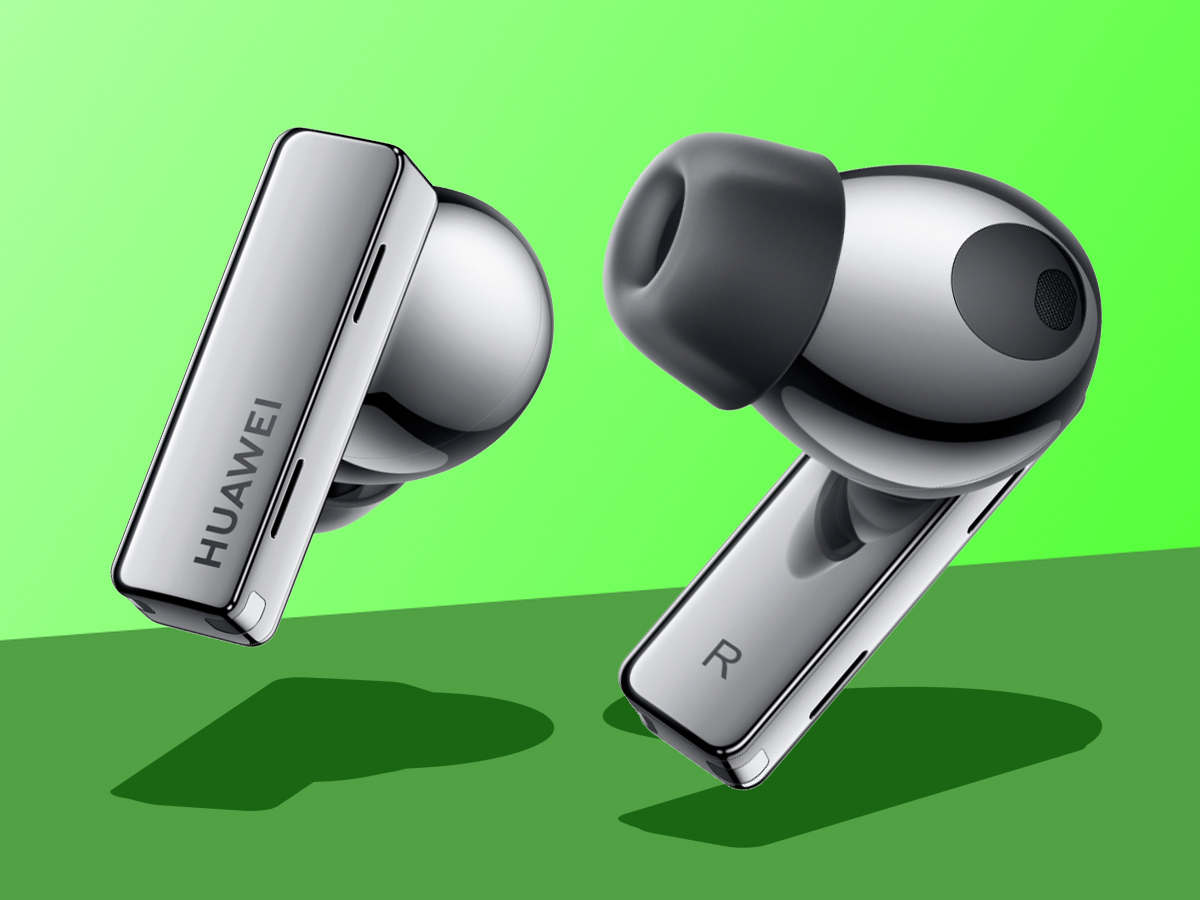 Stick a load of true wireless earphones in an identity parade and not many will stand out. And while Huawei's Freedbuds Pro are hardly a radical departure from the norm, their boxy design is certainly different, although it does make getting them in and out of the charging case a little fiddly.
You'll want to have them in your ears as much as possible though, because the Freebuds Pro sound nice and crisp, with juicy mids and bass that doesn't lack that dynamic edge we're always looking for in earphones. There's also a great level of detail in vocal representation; it really stands out from the background audio without feeling separate to it. That's helped by excellent active noise-cancelling and a nifty AI feature that senses sound leakage and tells you if you'd be better off using a different-sized tip.
You can adjust the ANC via Huawei's AI Life companion app, and how high you have it will affect the battery life, but you should be able to squeeze six hours out of them between charges, with a total of 30 hours when you include what's stored in the Qi-compatible case. You don't have to wait long to bring them back to life either: flat to full only takes about 20 minutes.
Our only real gripe is with the controls. Tapping to skip can always be a bit hit 'n' miss, but the pinching action that's replaced it is just awkward, although sliding up and down to change the volume works well.
STUFF SAYS ✭✭✭✭✭
Soundcore Liberty Air 2 Pro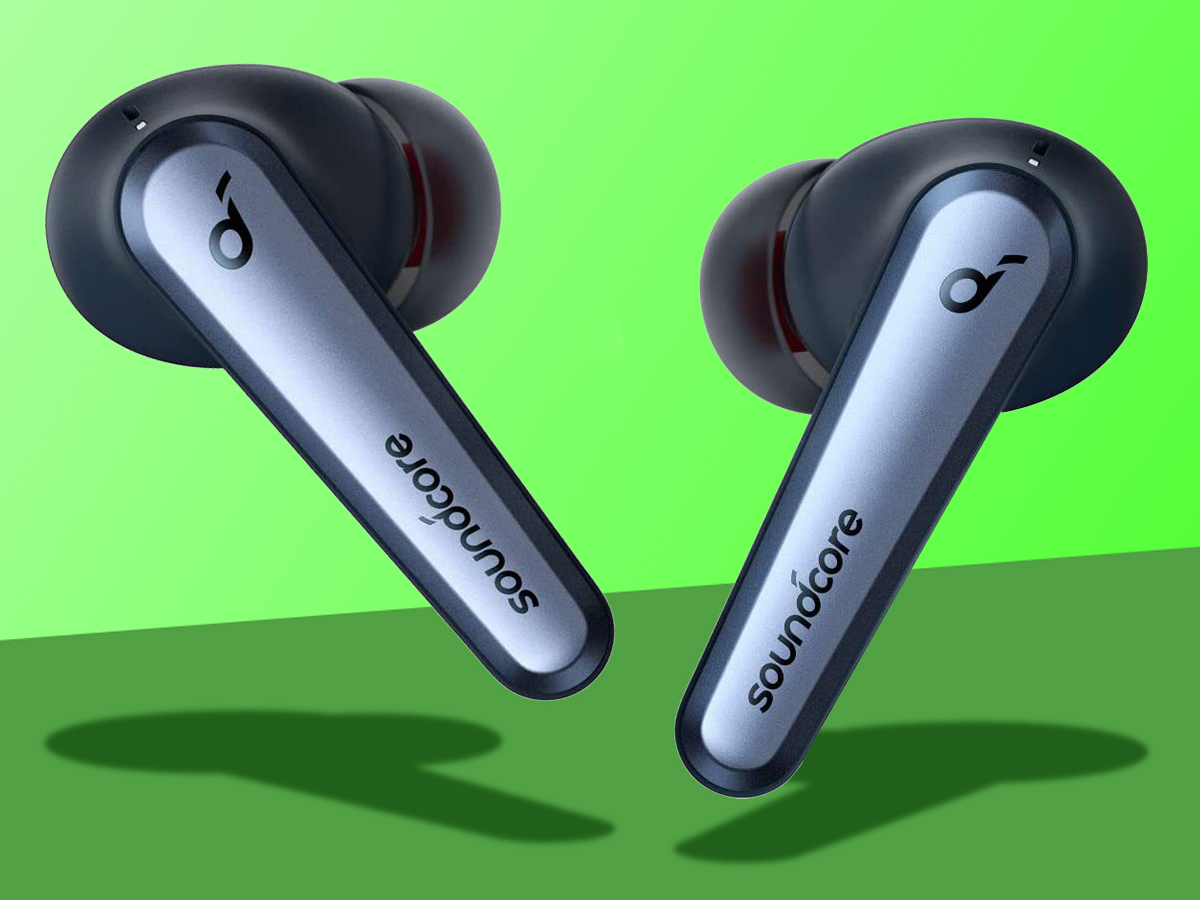 Soundcore's Liberty Air 2 Pro entered the crowded in-ear headphone market without making too much of a fuss, but if we were them, we'd be shouting from the rooftops about what good value they are. Sure, they don't look like the fanciest pair around made from plastic, and come with a range of tips and wings to ensure you get a secure fit. The smooth matt black carry-case offers wireless charging and has a pleasing sliding mechanism to open them. There are three LED lights at the base of the case to display how much battery remains. The IPX4 water resistance make them a good shout for a workout too.
Control each earpiece via the touch-sensitive panels, double-tap the left ear to skip forward and the right ear plays or pauses when double-tapped. This can be a little uncomfortable, but it's not too disastrous and you can customise the functions in the Soundcore app. The great thing about the app though is the personalisation. A sound profile will be created based on a hearing exercise through the app which will adapt the sound to your specific aural needs.
The sound quality is really impressive with an impactful bass for something so small and seemingly flimsy, and the ANC is reasonably effective too. It won't cut out everything, but then so few do. Call quality is good and better than we'd expect from a pair of buds in this price range. A small gripe is that you can't tweak the volume on the buds themselves, but then that's the same issue with Apple's AirPods Pro. Battery life exceeds all expectations. They'll last roughly seven hours from fully charged with a further 21 hours in the QI charging case. For £70, there's not a lot to complain about with the Soundcore Liberty Air 2 Pros.
STUFF SAYS ✭✭✭✭✭