Beats Studio Buds review
No longer all about that bass - can these Beats buds justify their existence alongside AirPods?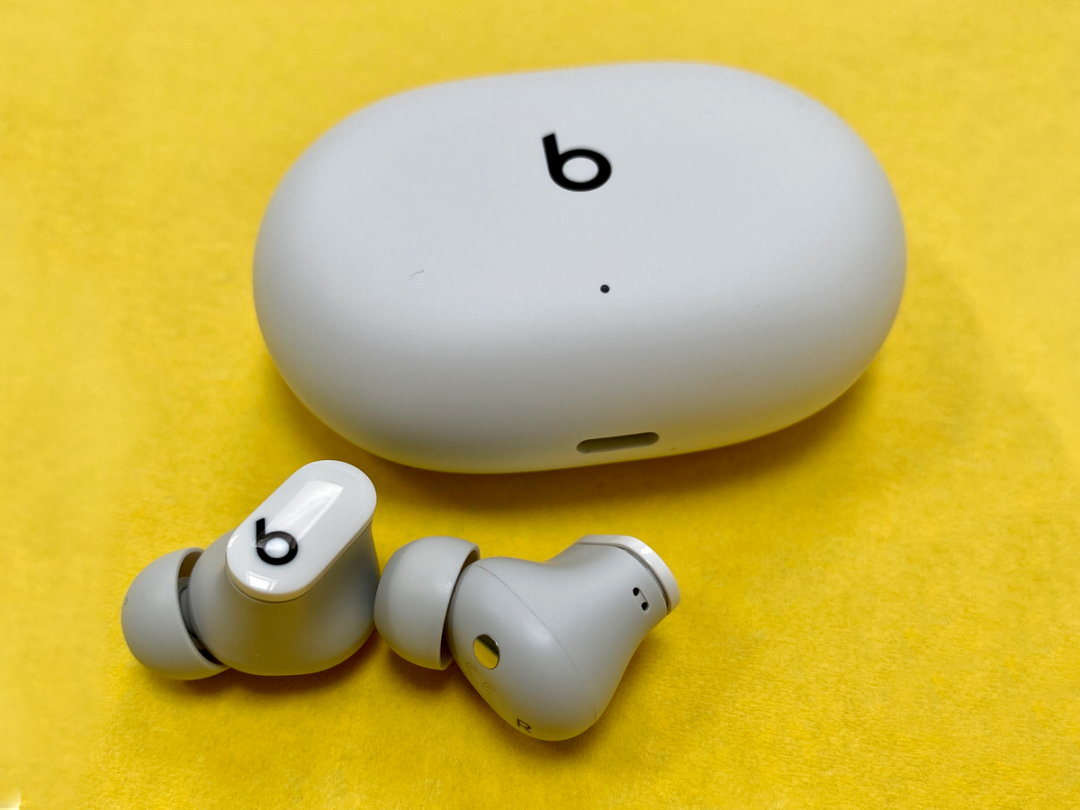 There's nothing wrong with a bit of healthy competition. Except, that is, when the competition comes from within your own camp.
When the AirPods range was extended last year to include premium noise-cancelling and over-ear models, it left Apple's own Beats brand with a bit of an identity crisis. Was there really room for two premium headphone brands under one fruity roof?
It appears not. The Studio Buds are the first Beats headphones since the AirPods family grew (now followed up by the Beats Fit Pro) – and their arrival feels like a quiet repositioning for the brand. 
Its focus has shifted towards the younger audience that always loved it, with a much more accessible price tag as proof. There's a new, more inclusive approach towards Android users too, plus a refined sound signature that builds on Beats' aural improvements in recent years.
Add in noise cancellation and you have a very attractive true wireless package, no matter your age. But are the Studio Buds any good – and can they justify their existence alongside their AirPods Pro campmates? We spent some time with them to find out.
Design: clean and compact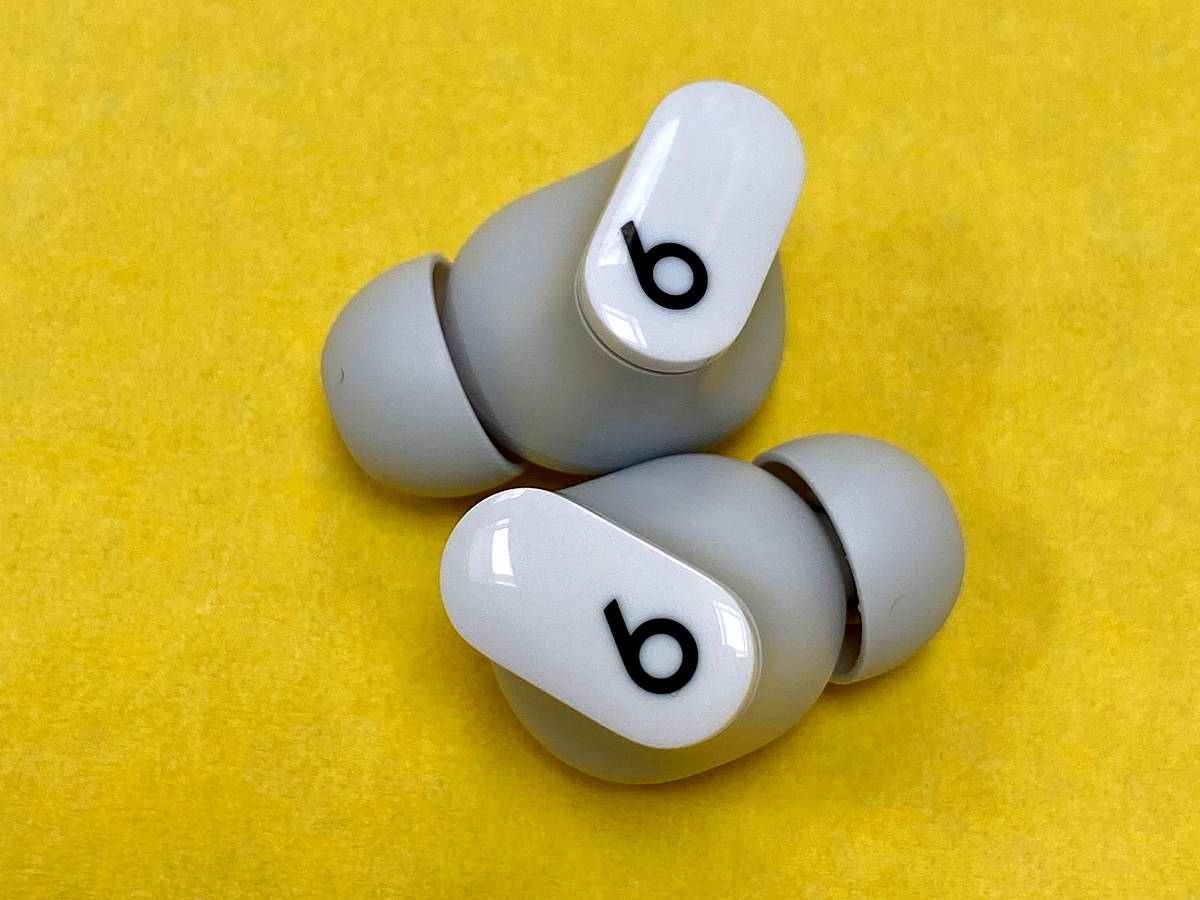 The Beats Studio Buds are small and lightweight, doing away with the now-iconic stem design of the AirPods, in favour of a clean, compact and unfussy finish.
They have a rounded main body that helps them nuzzle snugly into your ears, but this tapers to a more angular top that makes them easy to grip between your thumb and forefinger. Lock each bud into your ear with a slight twisting motion and they'll stay put, comfortably and securely, even over long listening sessions.
That's helped by the silicone tips, which come bundled in three sizes. Even before you activate the noise cancellation, the passive noise reduction you get just from a good seal is better than I've experienced with the AirPods Pro.
For dedicated fitness fiends, the Studio Buds might not have the complete stability of something like the Powerbeats Pro (and their earhooks), but they'd easily sit tight for a casual jog or trip to the gym. There's IPX4 waterproofing on board to protect against sweat and British summers, too.
Thankfully, Beats have decided against touch controls, which are often hit and miss at this price point. Instead, you get a single physical button which is hidden cleverly in the design. You can play/pause with a single click, skip tracks with multiple presses and hold to toggle between ANC, transparency mode and disable noise-cancelling entirely. There's no volume control though, so you'll need to use your device for that.
The charging case for the Studio Buds is a compact rounded shape, with a matte-finish to match the colour of the Buds. The earbuds themselves use magnets to snap into place securely. An LED light on the case then lets you know that they're charging (red flashing light) and when they're ready to go (steady white light). You'll get up to eight hours of playback without ANC, or five hours with it activated, plus two further charges from a full case. Other options out there manage more, but it's perfectly respectable.
The case offers five-minute Fast Fuel charging for the Buds – delivering up to an hour of playback – but unlike the AirPods Pro, it doesn't support wireless charging. You'll need to recharge it with USB-C.
Features: Androids welcome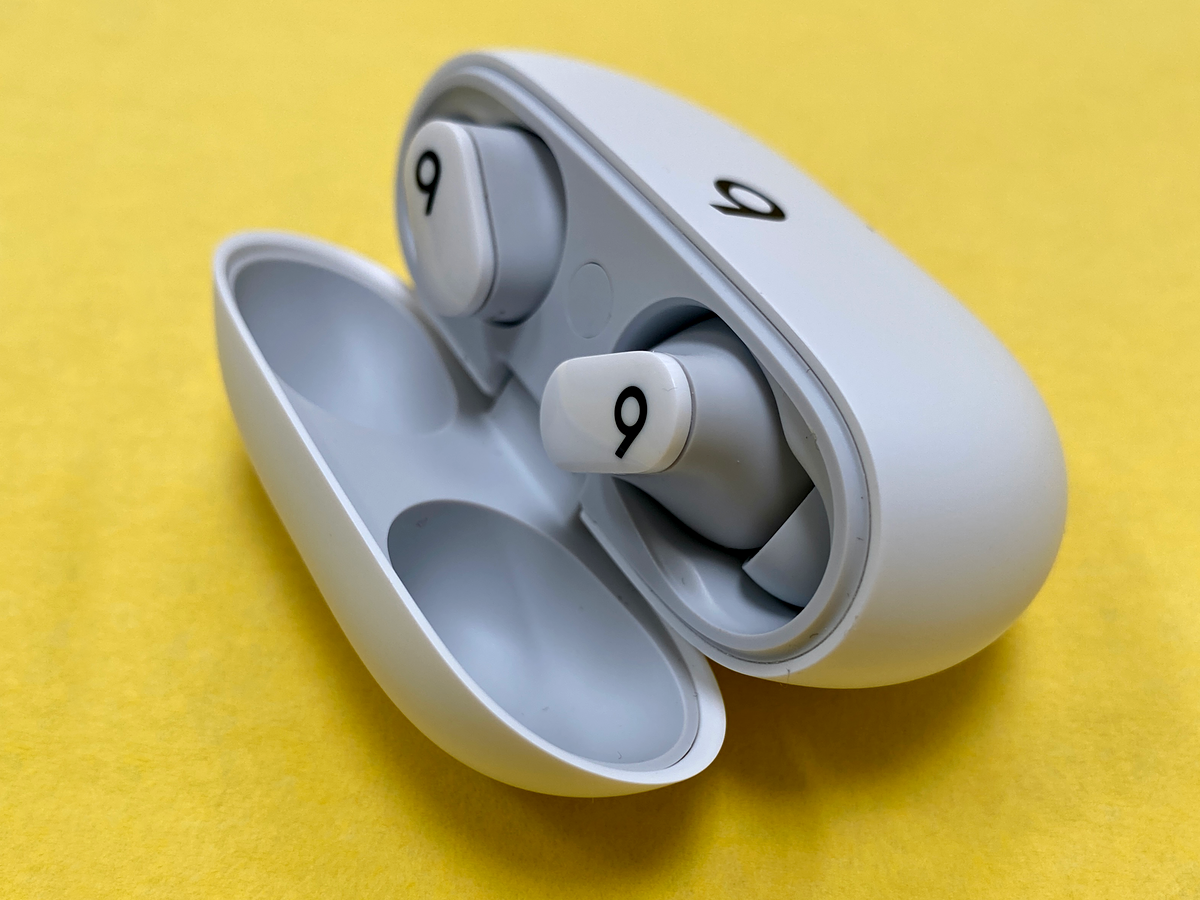 While the Apple-focused approach of AirPods mean they only really make sense for iPhone users, the Beats Studio Buds try to be a bit more inclusive. For the first time, Beats listeners get one-touch pairing for both iOS and Android devices. The Buds are also the first Beats product to support FindMy/Find My Device functionality on both platforms, to help you locate lost earphones easily by playing a sound.
There's no H1 chip on board, so Apple users won't get multi-device pairing or the auto-pause on removal that AirPods offer – but you do at least get Bluetooth 5.2 compatibility for higher quality, lower energy streaming, no matter your device.
That's not to say Apple users don't go entirely unrewarded: there is hands-free Siri access, plus Apple Music users will automatically enjoy Spatial Audio for any tracks mixed in Dolby Atmos. There's also a little widget on the Today View screen that will show you the battery level of your Buds at a glance – which is handy, as you can't find it out anywhere else.
You won't find any EQ controls for tweaking the sound here. What you're given is what you get. There are some limited customisation options accessible via the app for Android users or in the Bluetooth menu on iOS devices. This includes the ability to change the long-press button functionality (it defaults to ANC toggling), to rename your buds or to check your ANC settings. The latter is the main reason to use it, as the earbuds just beep as you toggle through the options. Audio confirmation would make this clearer.
Performance: bass relief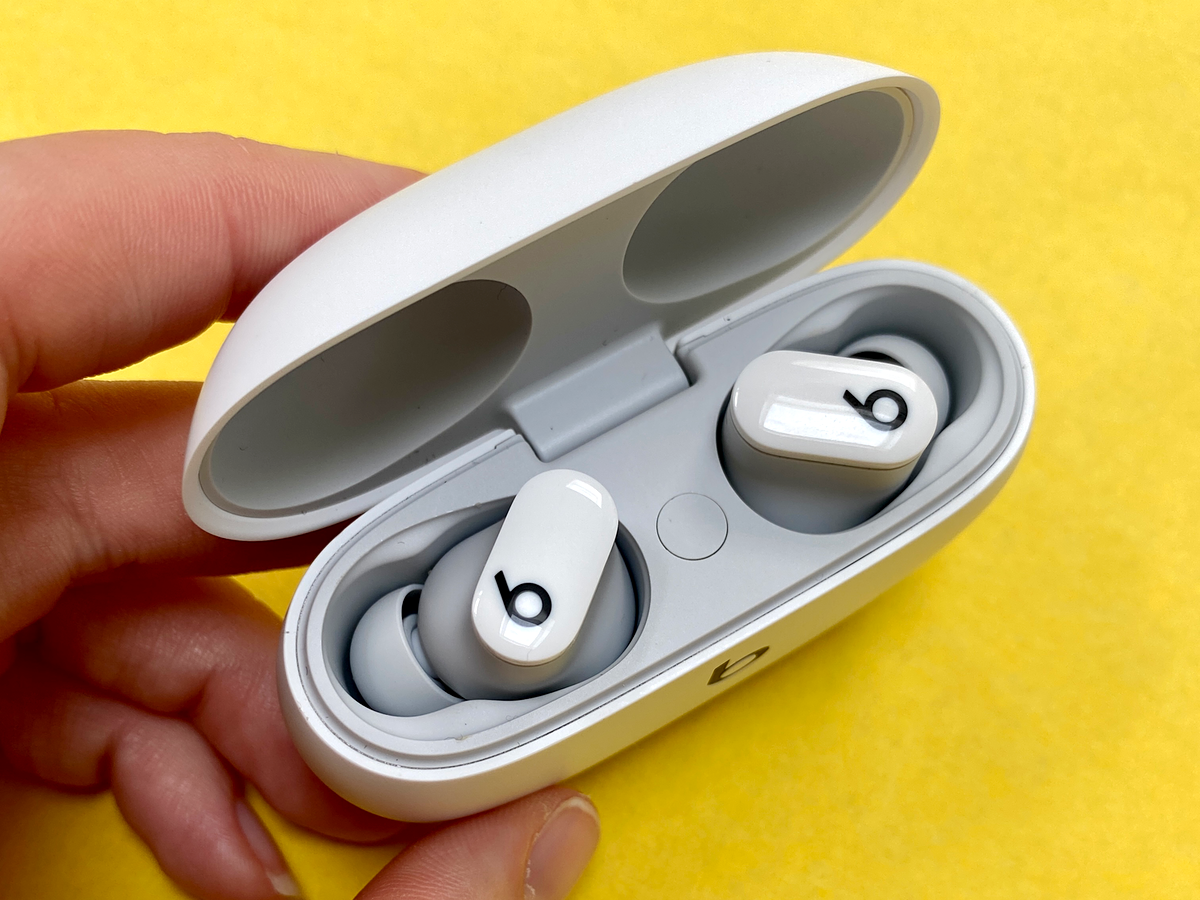 Beats has carried a reputation for being overly bassy for some time now, yet the company began making positive changes in that department many years ago. The Beats Studio Buds are a continuation of that progress – and arguably some of the most refined headphones that the brand has produced to date.
They're still tuned with popular tastes in mind, of course. The low-end offers plenty of the warmth, weight and rumble, giving the Buds a sense of solidity and confidence. Hit play on a hip-hop or EDM track and the bass response is impressive, but never sounds bloated or out of control.
It won't push its influence onto other parts of the mix either, and delivery remains punchy and energetic at every turn. A play through of Nirvana by Skepta shows that the mid-range is addressed with just as much care, serving up the rapper's voice with an admirable amount of clarity and expression, while the bouncy bassline continues to push the track forward with a sense of toe-tapping urgency. The Studio Buds keep a good grip on timing, even negotiating the haphazard tempo changes in DJ Shadow's Organ Donor with ease.
There's also a strong sense of space in the presentation, with good separation across the frequency range. Instruments play nicely next to vocals through the mid-range and individual elements of a track are easily picked out, while still maintaining that feeling of cohesion as a whole.
There's a good amount of detail and insight for the price, too. Look to something like Sony's WF-1000M4 and you will get that extra layer of insight and articulation – but you'll also have to part with considerably more cash.
There is an occasional edge to the treble – I noticed it most when ANC was switched off – but it isn't in every track and isn't overly distracting or uncomfortable. If anything, it can help to keep the sound forward and engaging – although pricier competiton again manages to find this balance with a touch more refinement.
ANC: hiss and quiet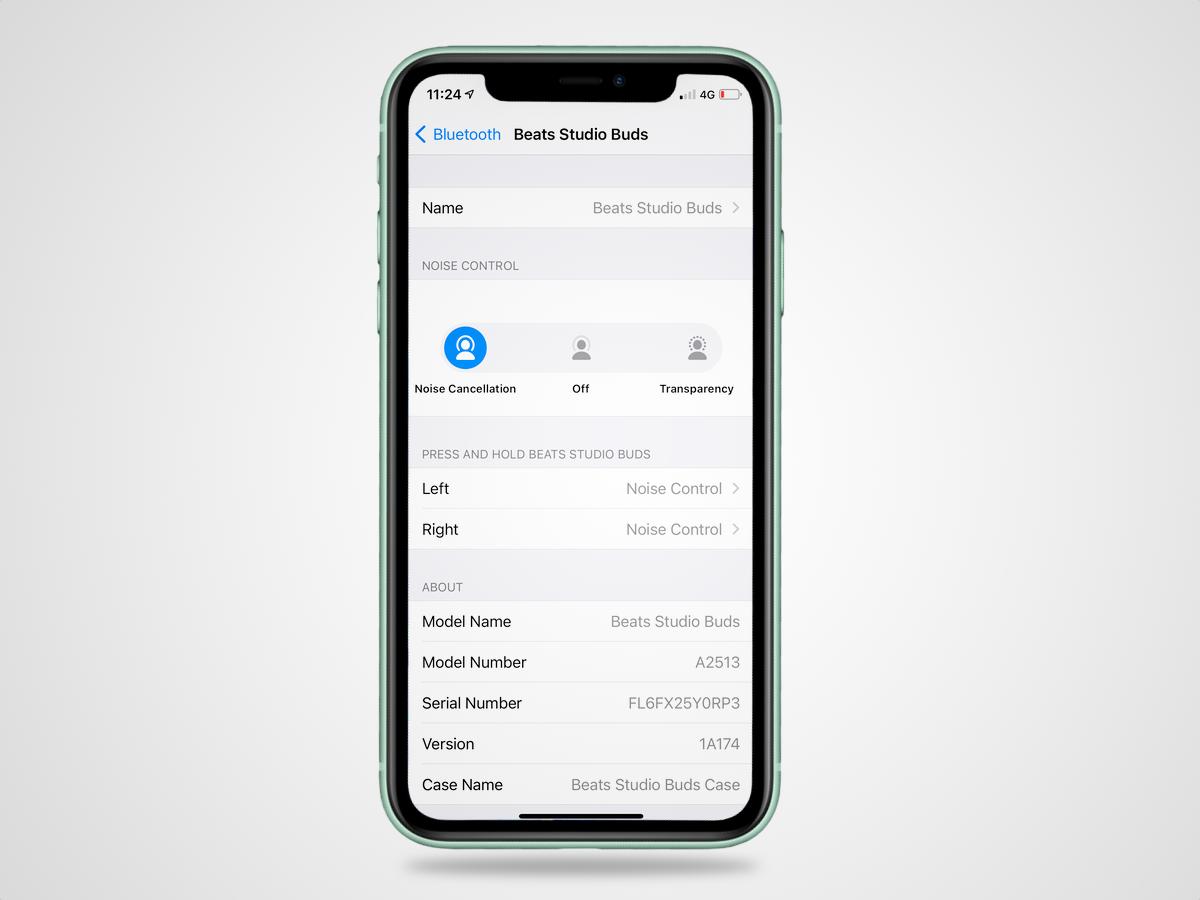 The active noise cancellation offered by the Buds is pretty good for this level. It manages not to negatively affect the audio at all, sounding very natural indeed. When switched on, ANC takes the oomph out of moderate transport noise and low-level hums, but it doesn't have the ability to block out all background sounds. Consider it a way of adding some focus to your listening rather, than switching you off from the outside world entirely.
Transparency mode doesn't work as well as we've heard it in other headphones. Sure, it'll give you sufficient insight into your surroundings that you know about traffic, but having a conversation isn't too successful unless you turn your music right down. There's also a low-level hiss with Transparency activated. It's only noticeable when you have no or low music playing, but it's there.
Phone call quality is also average though the in-built microphones. Noisy or windy environments can really reduce vocal clarity – and even in ideal environments, your voice can come through as a little muffled or distant.
Competitors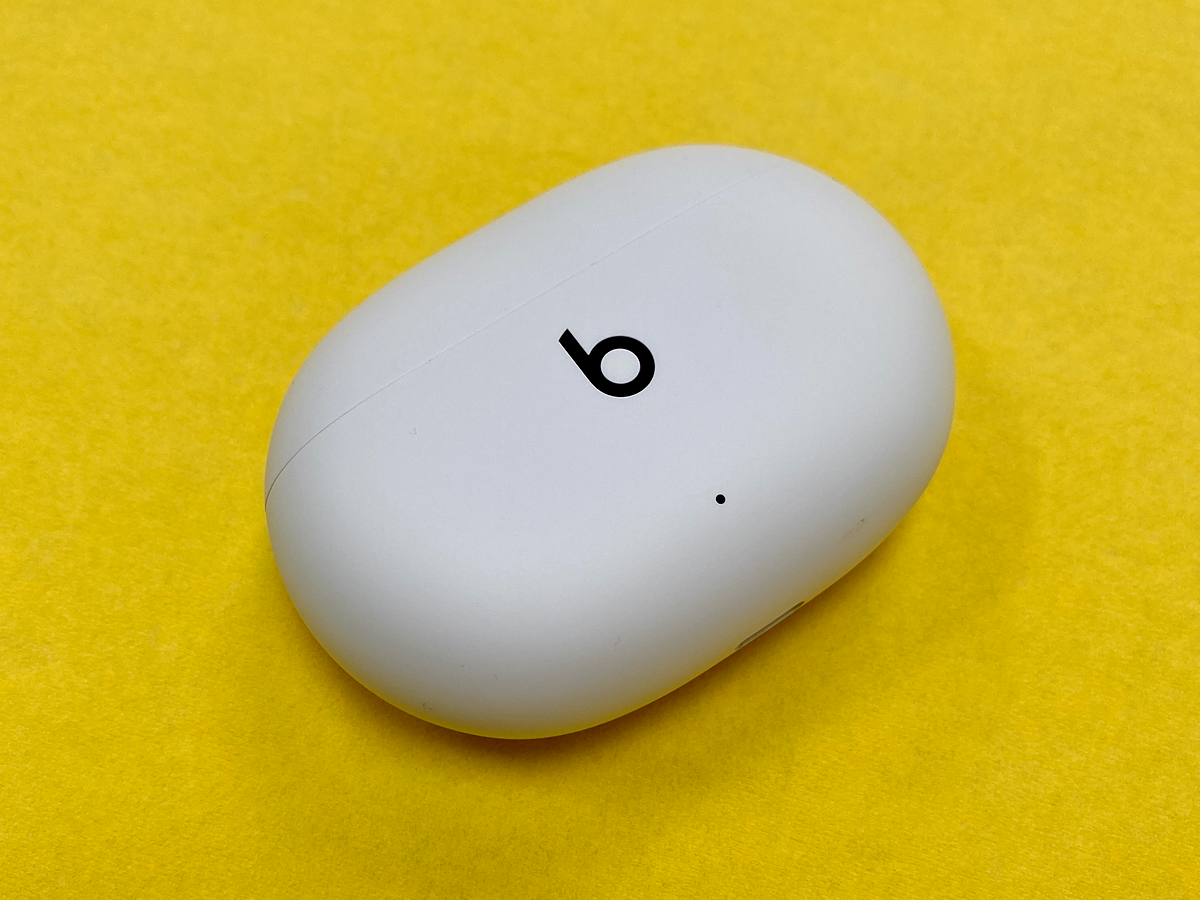 Apple users will find more features focused at them in the AirPods Pro, as well as nice-to-have extras like wireless charging. Whether those are worth the extra £70 outlay will depend on your budget – especially when we'd probably give the nod to the Beats Studio Buds from a performance perspective.
The Sony WF-1000XM4, on the other hand, do pip the Beats in the sound quality stakes, plus they have better noise-cancelling and longer battery life – but they do cost more than £120 more.
If your budget is strict but you're looking for better sound, the excellent Cambridge Melomania 1 just about beat the Beats in outright performance, but they don't feature noise cancellation and the fit is on the fiddly side.
Verdict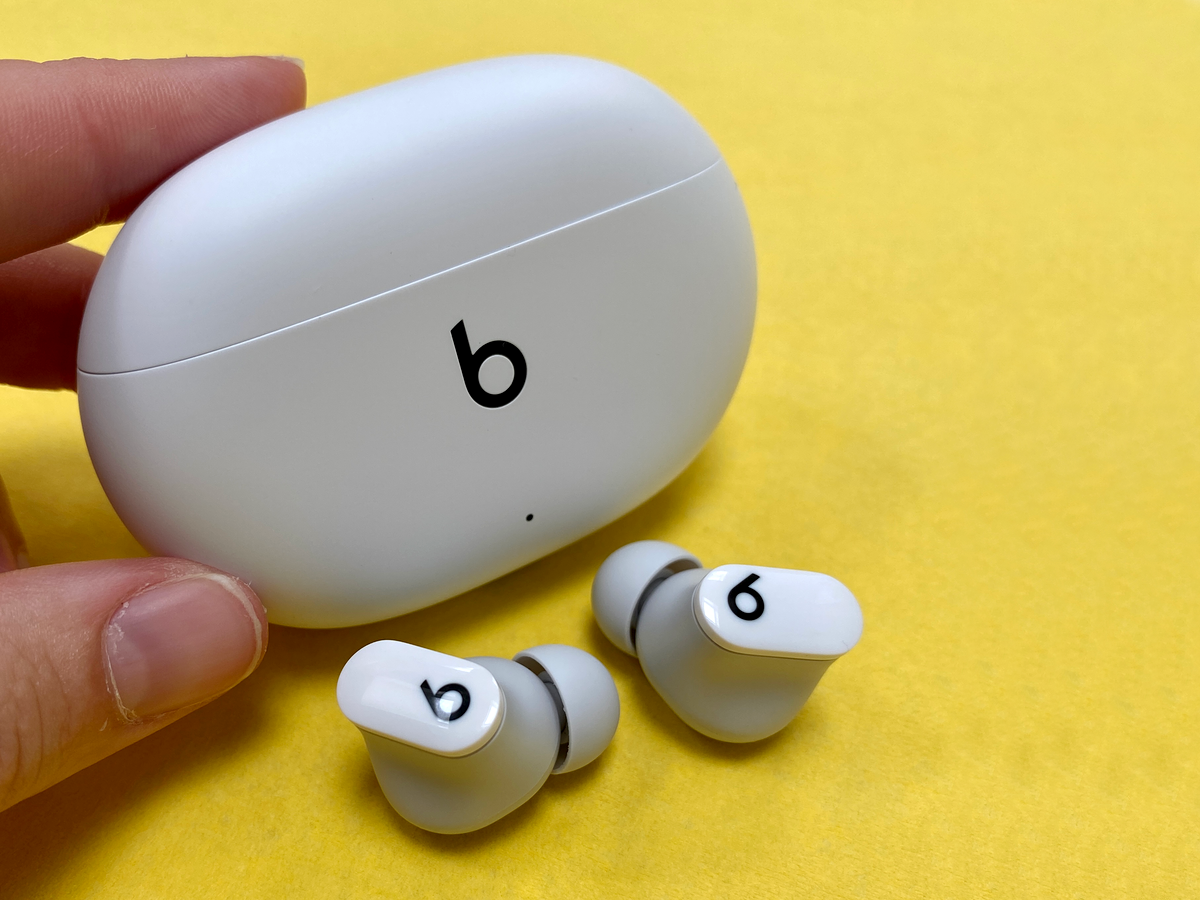 The Beats Studio Buds are a fantastic pair of true wireless buds, offering a lot to love at a reasonable price. With a refined sound signature, they deliver superb performance for the money, with decent noise-cancellation, a comfortable design and a more inclusive approach for Android users.
Their feature set isn't as extensive as some buds out there, while the Transparency mode and phone call quality leaves a little to be desired. Battery life could be a touch better, too. But these are minor grumbles in an otherwise convincing little package. Beats has found its stride.
Stuff Says…
Beats refines its sound signature to create an engaging pair of true wireless headphones at a great price
Good Stuff
Bold and punchy sound
Spacious and detailed presentation
Comfortable design
Decent ANC
Bad Stuff
Slightly harsh treble
No volume control
Phone calls a little weak