Sony LinkBuds S review: S Success
Sony is back with yet another pair of premium true wireless buds
It's only a few months since Sony launched the rather unique LinkBuds, earphones with great call quality and decent audio quality designed to let the world in rather than keep it out. They're ideal for dealing with annoyingly persistent coworkers and lunch break-interfering video calls while still being able to blast your eardrums with the latest Lizzo in between. We were so impressed with them, we gave them the full Stuff five-star rating.
Fast forward to now and here we have a £30 more expensive version, called the LinkBuds S, to sit above them in Sony's growing in-ear range. You'd rightly expect from the 'S' moniker that these are a slightly changed version of the original design. But they're actually completely different and look far more conventional. You'd never guess that the two sets of LinkBuds are designed to be close siblings.
Even the case has a totally different look. However, as with the originals, all-day comfort is still the name of the game, though context-aware noise-cancellation is added here in addition to an excellent automatic ambient mode to hear what else is going on around you. The elephant in the room is Sony's more expensive WF-1000XM4 in-ears that you can regularly pick up for less than £200 now.
But those favoured buds are still top of the tree since, as you'll learn, they boast superior audio quality and noise cancellation to the LinkBuds S. Are the LinkBuds S a better option for some though? That depends on whether your priority is comfort or sound…
Design
While the original LinkBuds have an unusual 'ring' design, these are much more conventionally shaped for in-ear buds. And, while the originals don't have ear tips, these do (four sizes are included in the box). We found they stayed in the ear pretty well, though they're not as easy to seat in the ear as, say, Apple's AirPods Pro.
The grey/black is smart, but we'd have preferred the white/stone colour like the LinkBuds we had. The textured finish is also great and will stop drops.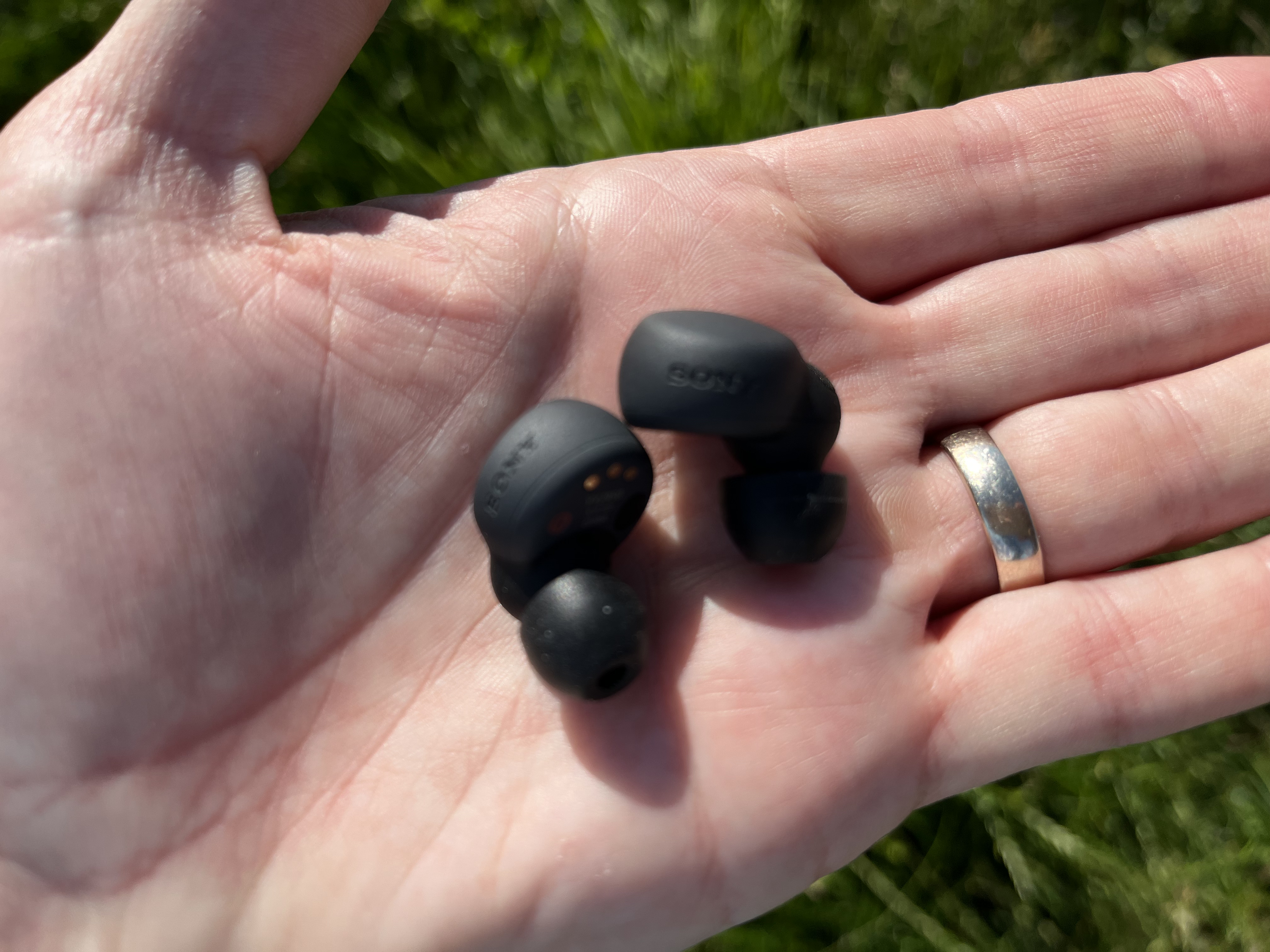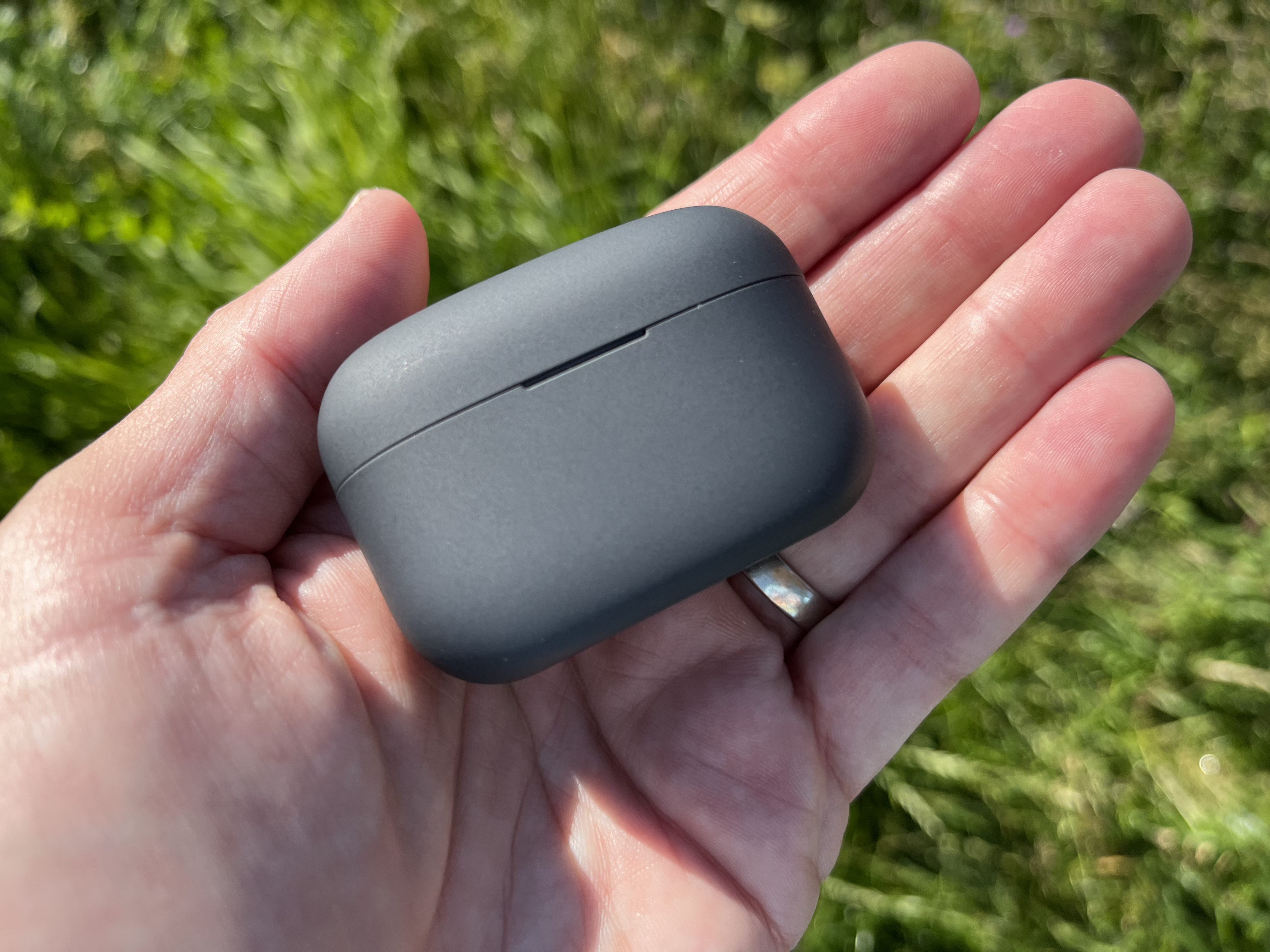 The LinkBuds S are lighter and smaller than the flagship WF-1000XM4 in-ears. As with the original LinkBuds, the LinkBuds S are also very lightweight at 4.8g per bud, less than the 5.5g AirPods Pro and significantly less than the over 7g WF-1000XM4s. There is still some fatigue with wearing these for several hours though.
The lack of wireless charging is quite poor at this price point and we think it's quite remarkable that Sony omitted it. USB-C fast charging (an hour listening after a five-minute charge) is fine for many, of course, but true wireless earphones have become such a competitive battleground that it seems like a slip-up when much cheaper buds have it.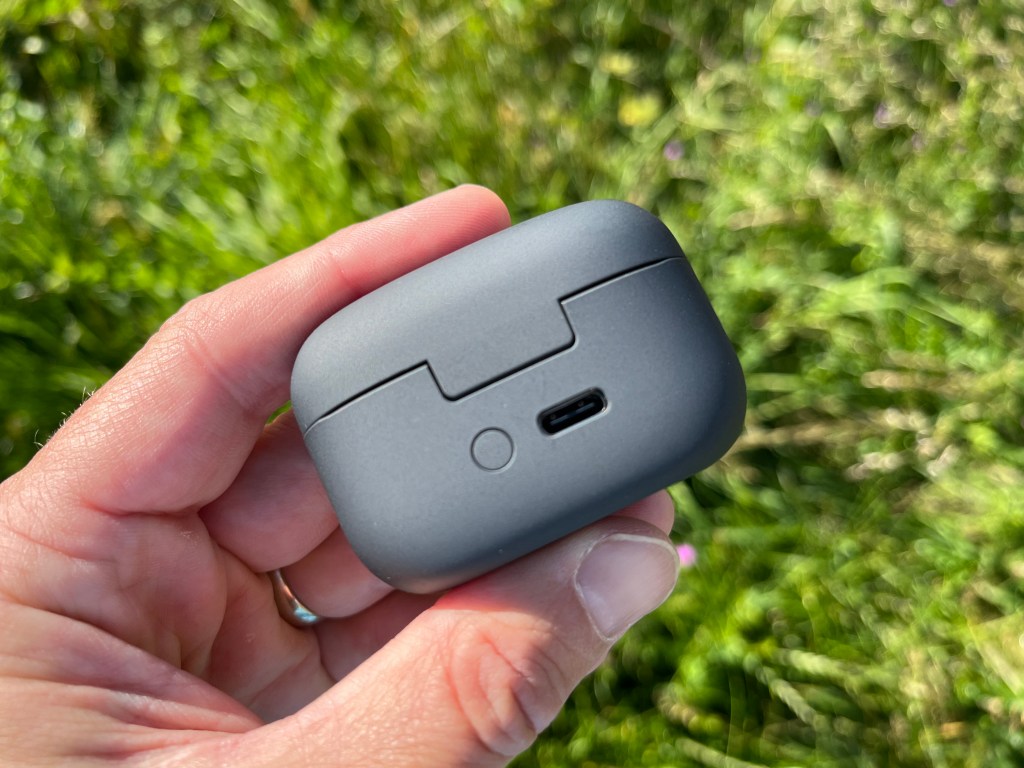 Usability and sound quality
The LinkBuds S have earbud tap controls that are easy to master. By default, the left bud enables you to go between noise cancellation and ambient modes, while the right is for play/pause and so on. However, you can edit these controls in the app. There's also support for Spotify Tap, so you can instantly resume Spotify if the app is active on your phone.
Sound quality is one area where the LinkBuds S clearly aren't a patch on the more expensive WF-1000XM4 in-ears. The drivers are smaller (which doesn't always mean worse) but you do feel like something's missing at the high end compared to, say, the AirPods Pro or Sony's own high-end buds. They could sound bassier, but it's at the high end that they're really lacking. Call quality is really good – ideal for those video calls but they'll only connect to one device at a time which is disappointing.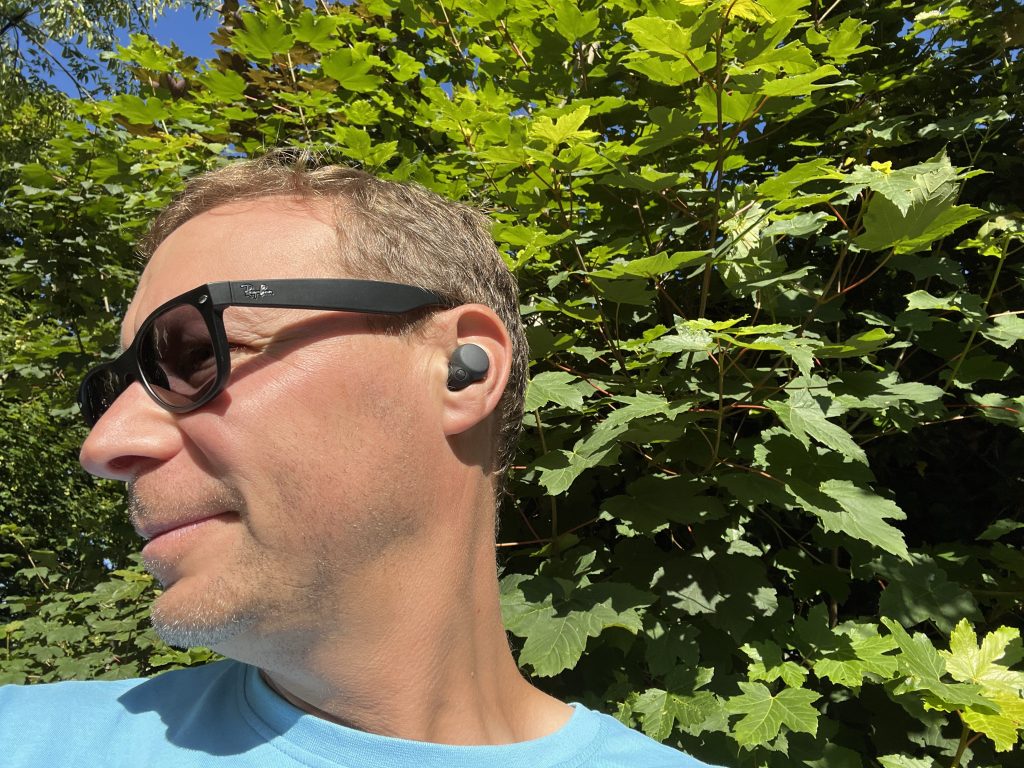 App and extra features
Sony's Headphone app works alongside the LinkBuds S and has a stack of settings to master – the app still needs polishing though. With Adaptive sound, the app will detect your current activity and adapt the level of ambient noise to suit. You can adjust the level of noise-cancelling that will be performed in different scenarios and even auto-switch depending on location. The movement detection for ambient noise control works really well.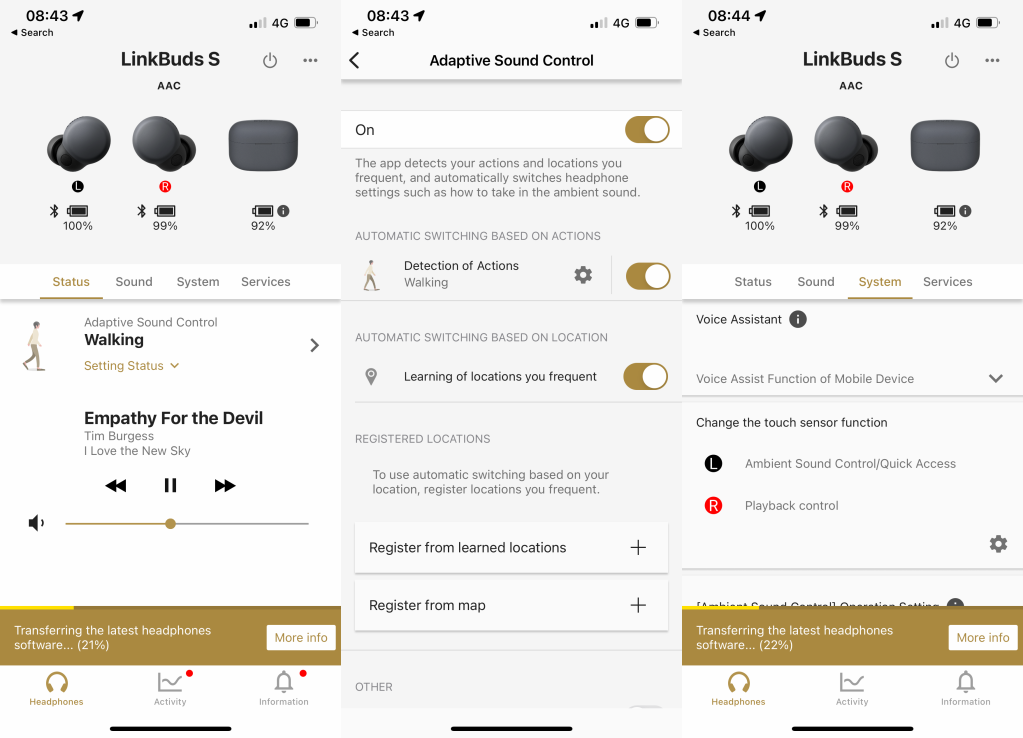 Now a common Sony feature, you can ask the earphones to auto-pause your music when it detects someone talking to you (Speak to chat). This can work OK, though we had regular false positives – and you'll find yourself taking out your earphones anyway so you don't seem rude… Speak-to-chat could work better – it keeps auto-pausing music as we walk.
Battery life is decent at around six hours for the buds (20 hours including the case). We've been happy wearing them for several hours at a time so they are pretty comfortable. They were also fine for running in the rain (they're IPX4 rated). But you should look elsewhere if you want secure fit for robust exercise.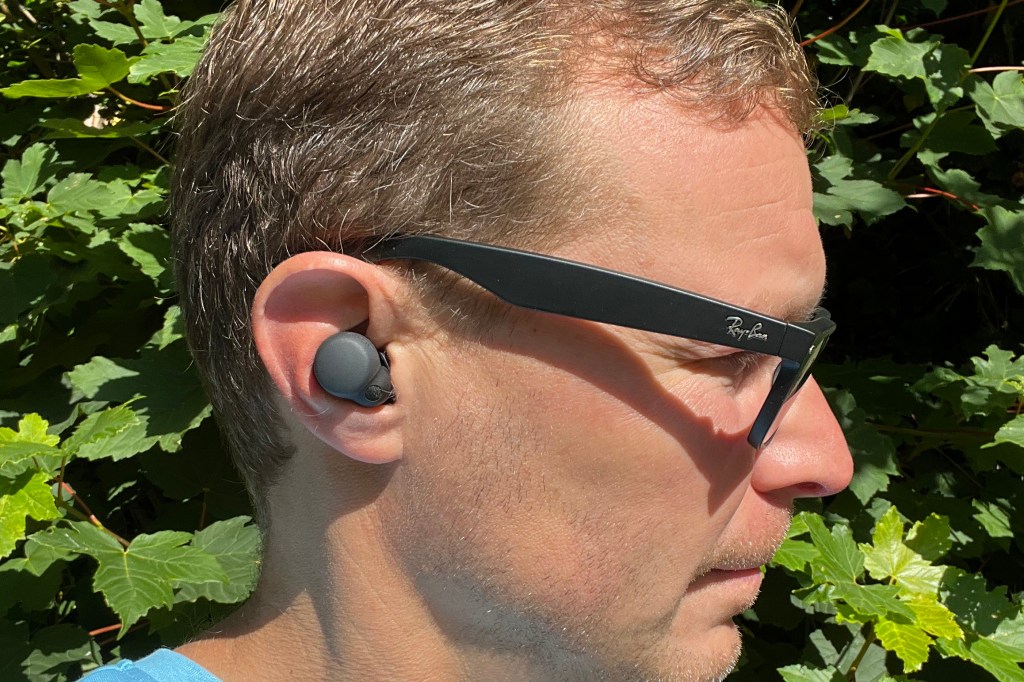 You can use the earphones with Amazon Alexa built-in or Google Assistant, though Google Assistant is not available on iOS. Setup takes place within the Sony app and is fairly easy to do. They also support Google Fast Pair on Android.
As well as the support for Spotify Tap – again something you enable in the Sony app – you can also set up the earphones for use with Sony's 360 Reality Audio format for more immersive listening with compatible tracks from Amazon, Deezer or Tidal.
Verdict
The soundstage could be wider and the noise-cancelling better, but that's for the WF- 1000XM4s – these are great all-rounder buds where comfort is the name of the game, they're pleasant to use for many hours at a time and we didn't find ourselves turning back to our AirPods Pro too quickly. Wireless charging does feel like a miss though.
Stuff Says…
Not the best for music quality or ANC, but top notch for comfort and calls
Good Stuff
Audio quality a little lacking
Great extra features
Bad Stuff
No wireless charging
App needs polish
Tech specs
| | |
| --- | --- |
| Drivers | 5mm |
| Supported formats | SBC, AAC, LDAC |
| Waterproof | IPX4 |
| Battery life | 6 hours (buds), 20 hours (with case) |
| Charge time | 3 hours (fast charge available) |
| Dimensions | 43 x 60 x 28 mm |
| Weight | 4.8g (bud), 35g (case) |