Google Pixel Buds Pro review: Big G's best buds yet
Silence is golden for Google's new top-end true wireless earphones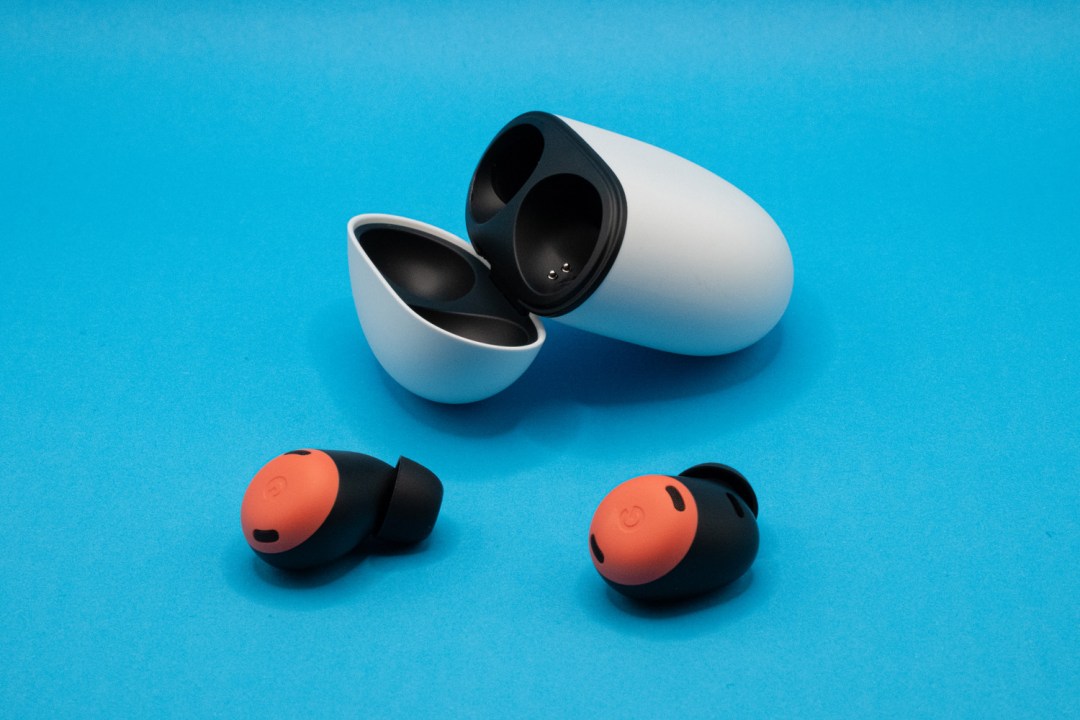 It's about time Google took sound seriously. The £99 Pixel Buds A-Series might be kind to your wallet, but a single offering was never going to compete with rival Apple's more varied line-up. The Pixel Buds Pro aim to right that wrong: they're packing the features we'd expect from any true wireless in-ears carrying a 'pro' label.
They bring active noise cancellation, wireless charging and deep virtual assistant support – all things needed to go toe-to-toe with the Apple AirPods Pro. Effectively a higher-end replacement for the 2020 Pixel Buds, which were retired about a year ago, the Buds Pro only cost a tenner more – undercutting Apple, and a handful of other big-name audio brands.
But price isn't everything. Effective ANC, reliable battery life and (most importantly) banging sound quality all factor in. Has Google landed on a winning combo?
Design & comfort: bean me up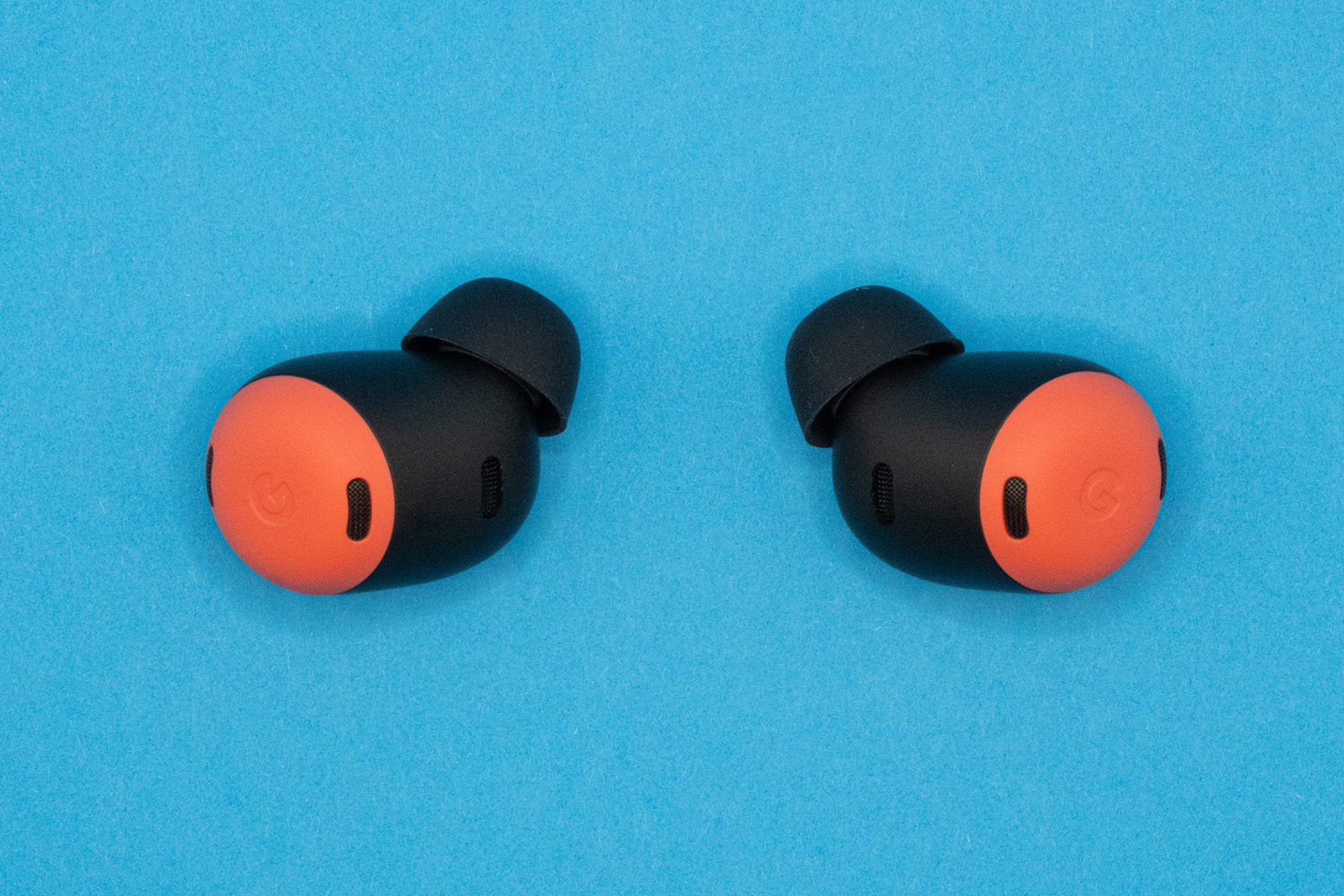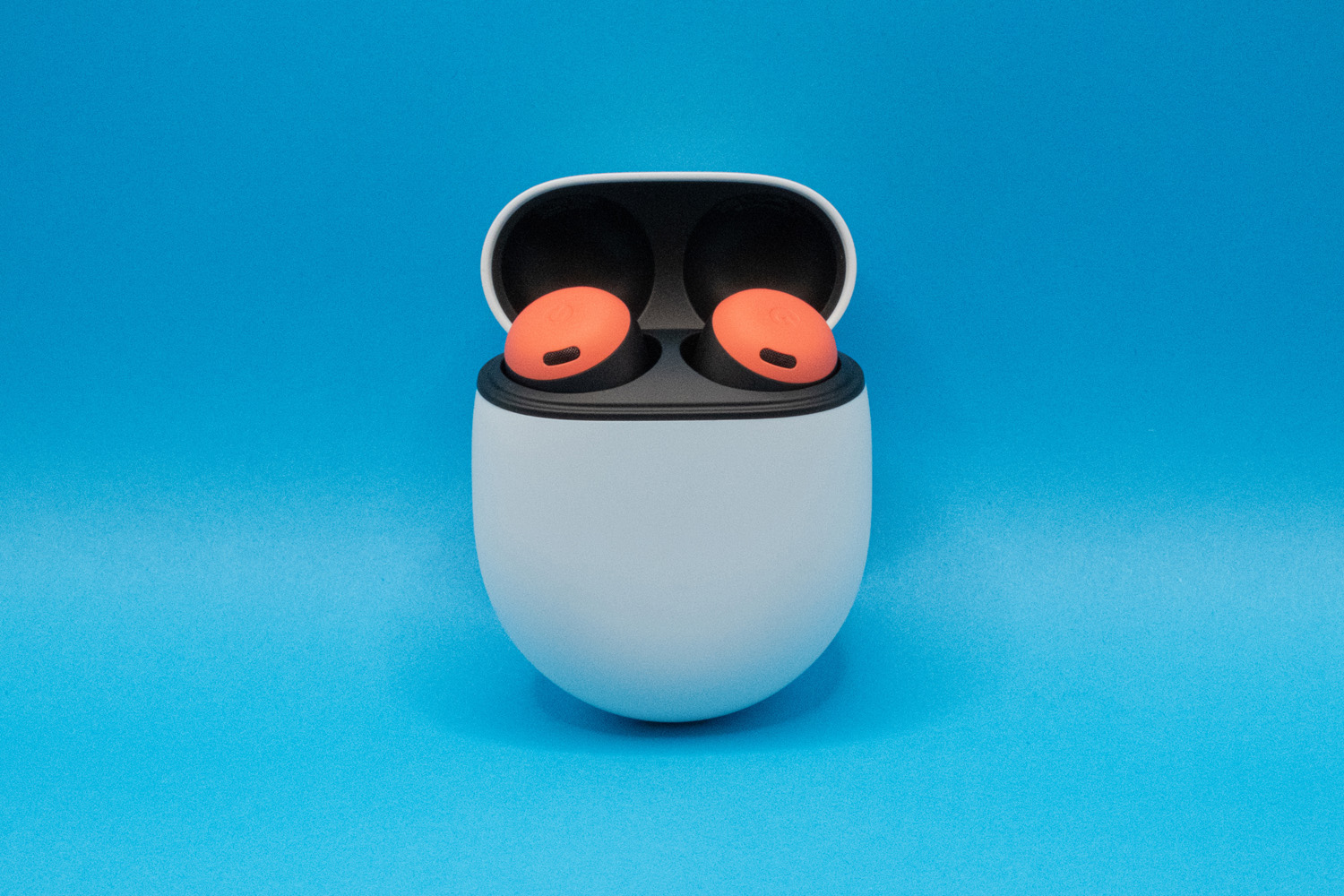 Once Google settles on a particular style, the firm tends to stick with it. That's certainly true of the Buds Pro's case: it's the spitting image of the 2020 original and more recent Pixel Buds A-Series. The smooth, pebble-like shape and matte finish return, along with the single status LED that changes colour based on remaining battery life. It's still just about small enough to slip into your jeans coin pocket.
The buds themselves are as distinctive as ever, in a choice of two-tone Charcoal, Fog, Lemongrass and Coral colours – or black, grey, yellow and salmon pink to you and me. The "G" Google logo on each one is the only real design flourish, and even that's low-key. There are no Apple-esque dangly bits here – they sit almost flush to your ears. Gym bunnies will appreciate the IPX4 water resistance, which is enough to shrug off sweat.
Look closer and you'll spot each bud is a bit more bean-like than previous efforts. Google reckons it scanned thousands of different ears to perfect the shape, which securely nestles in your outer ear (specifically the concha, biology fans). There's no need for the silicone 'tails' meant to keep previous Pixel Buds locked in your ears either.
At least that's the theory. You get three sets of ear tips (small, medium and large), but whichever we used the left bud always had a little movement. The right bud, meanwhile, fitted perfectly. Even with the occasional adjustment, though, these are still among the more secure true wireless buds we've tried. They didn't pop free of our lugholes once on a 30 minute run.
Features and battery life: Pocket-sized PA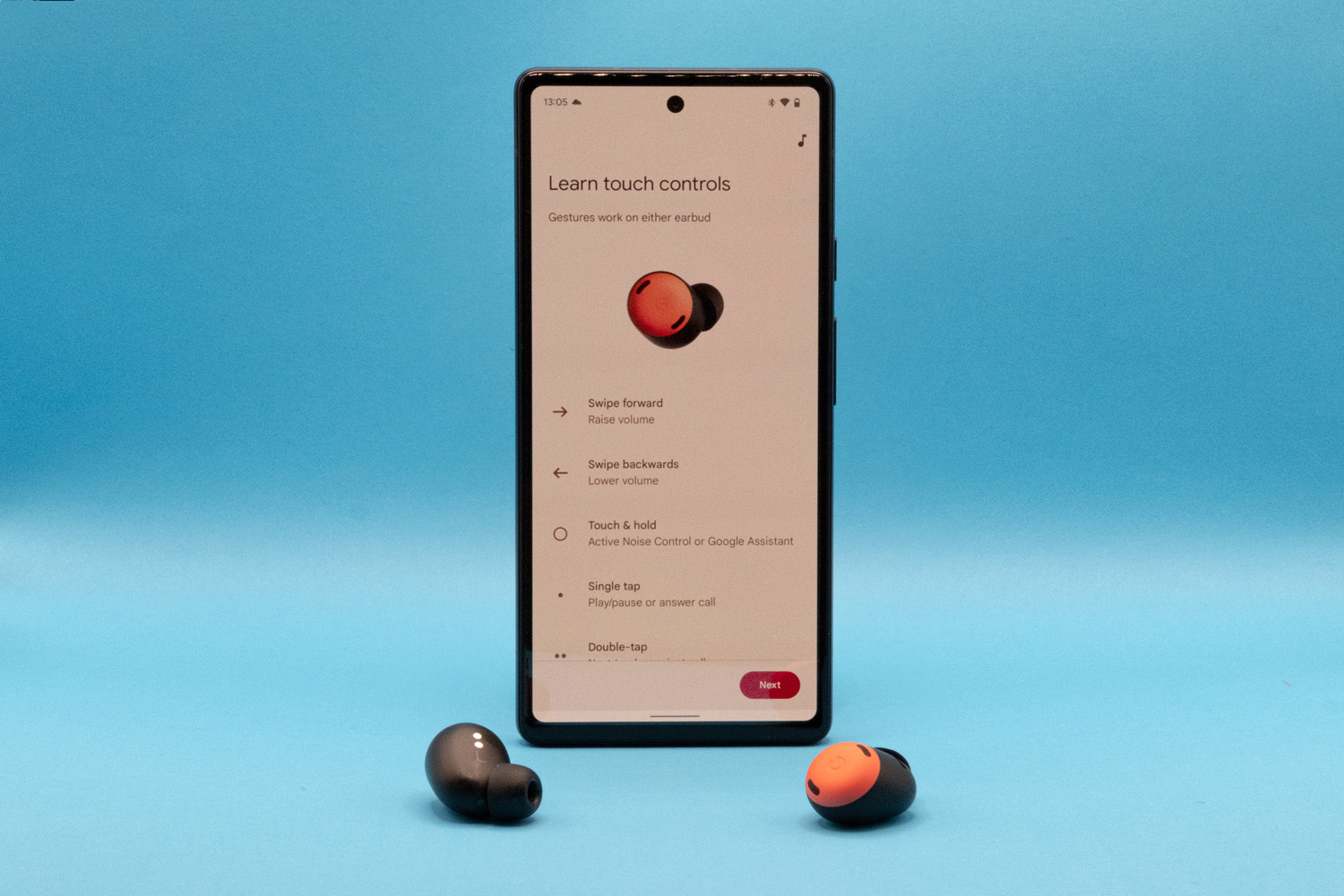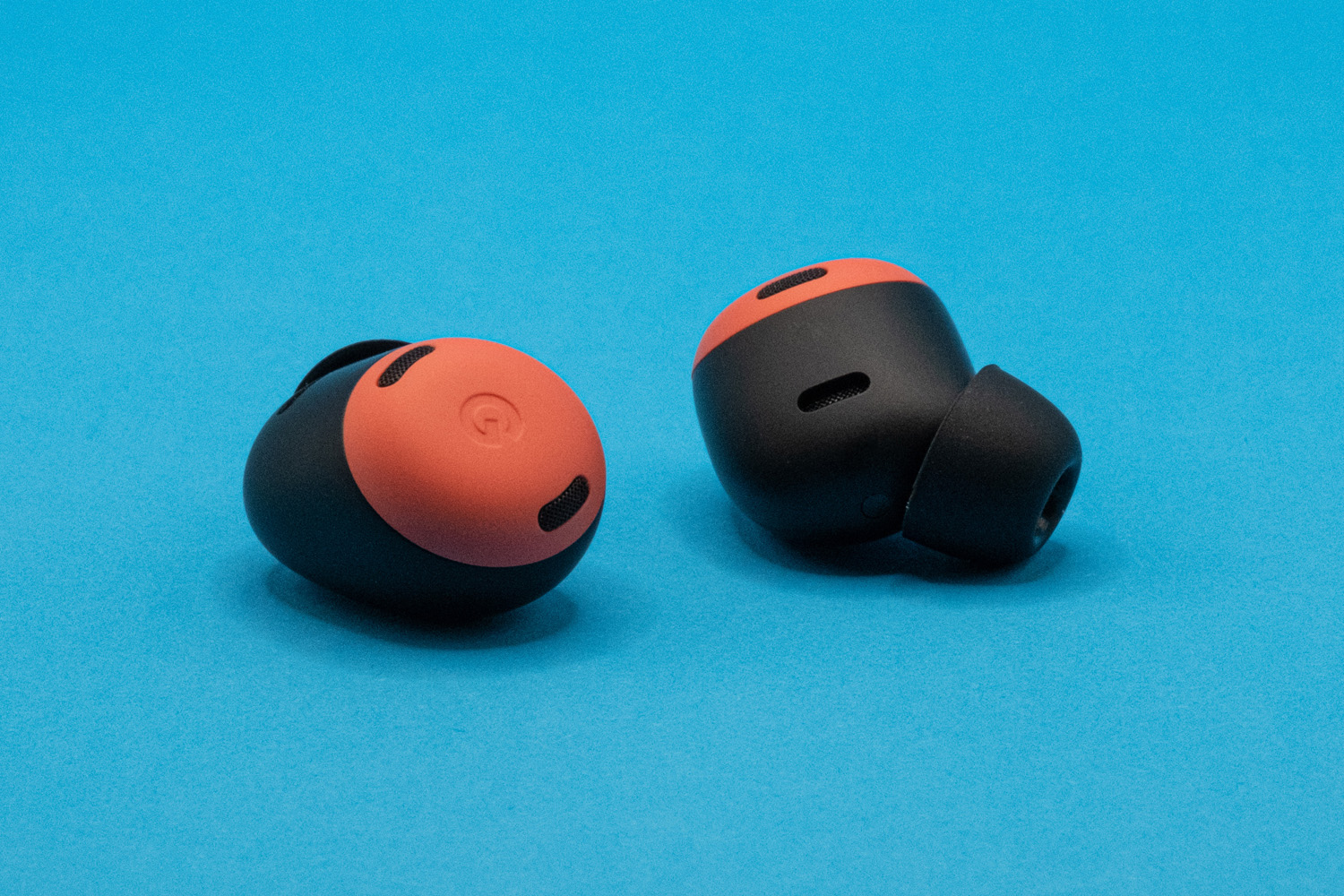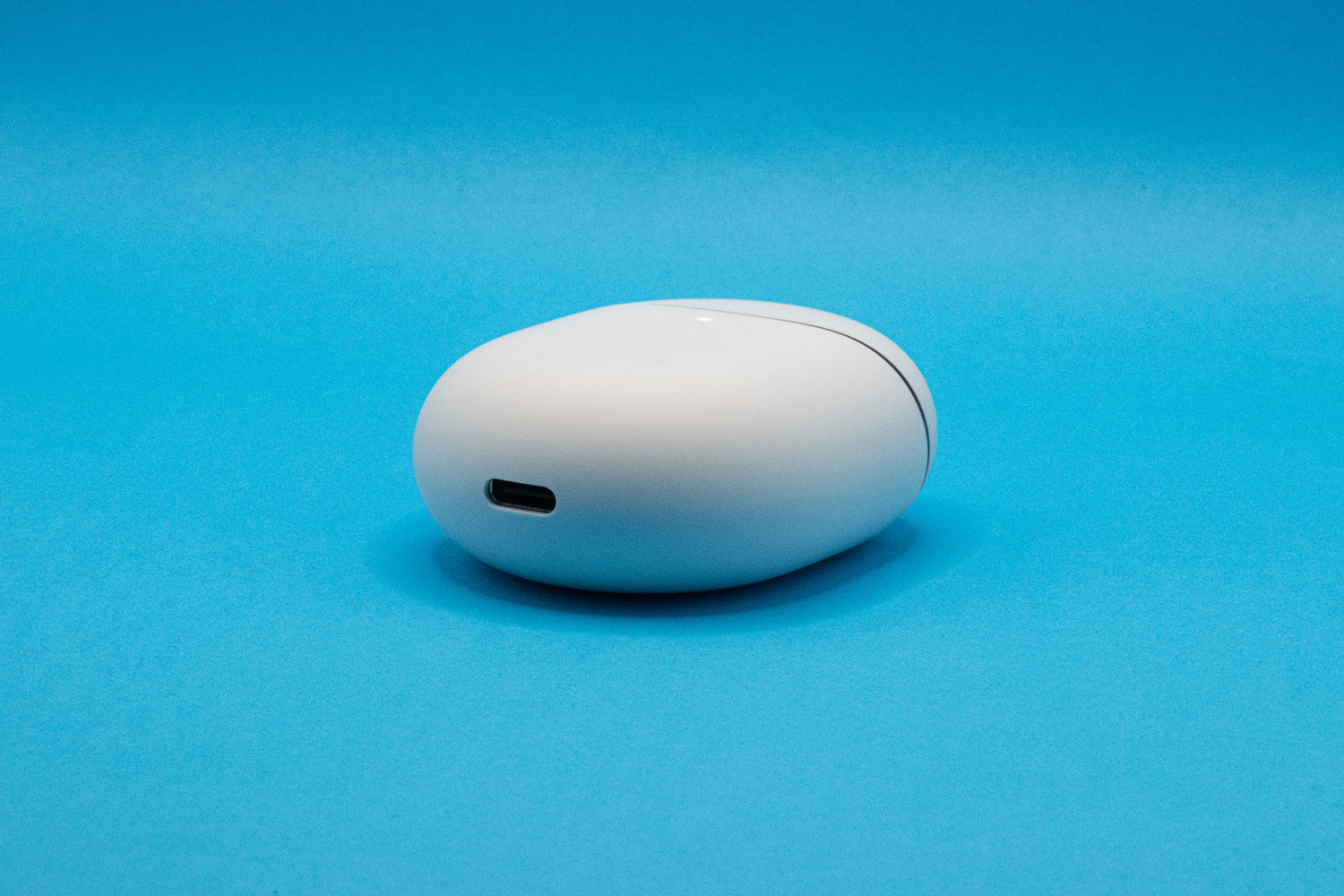 Naturally Google's own Pixel phones play nicest with the Buds Pro, not even needing to download a companion app to start tweaking settings, but all recent Android phones come a close second. Google Fast Pair pops a notification as soon as you open the case, letting you get connected with a tap. It's on par with Apple's effortless AirPod pairing. Multipoint connectivity is new, letting you quickly swap between multiple devices without needing to repair each time.
Connectivity seems strong enough, not losing sync between buds or dropping signal even in particularly busy train stations with lots of competing Bluetooth signals. We did have one instance where sound went choppy until we disconnected and reconnected to our phone, but it was isolated – and the Buds were still using pre-release firmware.
The companion app lets you toggle ANC modes, mix up the touch controls, and train Google Assistant to wake up when it hears you say "OK Google" instead of just when you tap one of the earbuds. It can also run an ear tip seal test, to make sure you're getting the best fit. This is also where you install firmware updates: we know spacial audio playback is on the way, but it won't arrive until later this year.
Google Assistant can read your notifications as they land and send spoken replies without having to reach for your phone. You can ask it anything you'd normally ask your phone or Nest Hub smart speaker, and it'll even translate different languages on the fly (with help from a paired phone and Google's Translate app). It's no Star Trek-style universal translator, but frequent travellers might find it handy.
The buds can play, pause and skip songs by tapping the touchpad, which can also adjust volume on the fly with a forward or backward swipe. Tap-and-hold can either wake Google Assistant, or swap between ANC modes. Google has judged the sensitivity perfectly, so you don't accidentally pause playback when repositioning a bud. In-ear detection is spot on, too.
Expect the Buds Pro to last between six and seven hours per charge with ANC enabled, or closer to 11 with it switched off. The charging case can bump those figures up to 20 hours and 31 hours respectively, which is beyond respectable for the price and a step above what you'll get from the Apple AirPods Pro.
You get the choice of USB-C or wireless charging, a step up from the Buds A-Series wired-only approach and more in line with similarly-priced rivals.
Sound quality and noise cancellation: brings the bass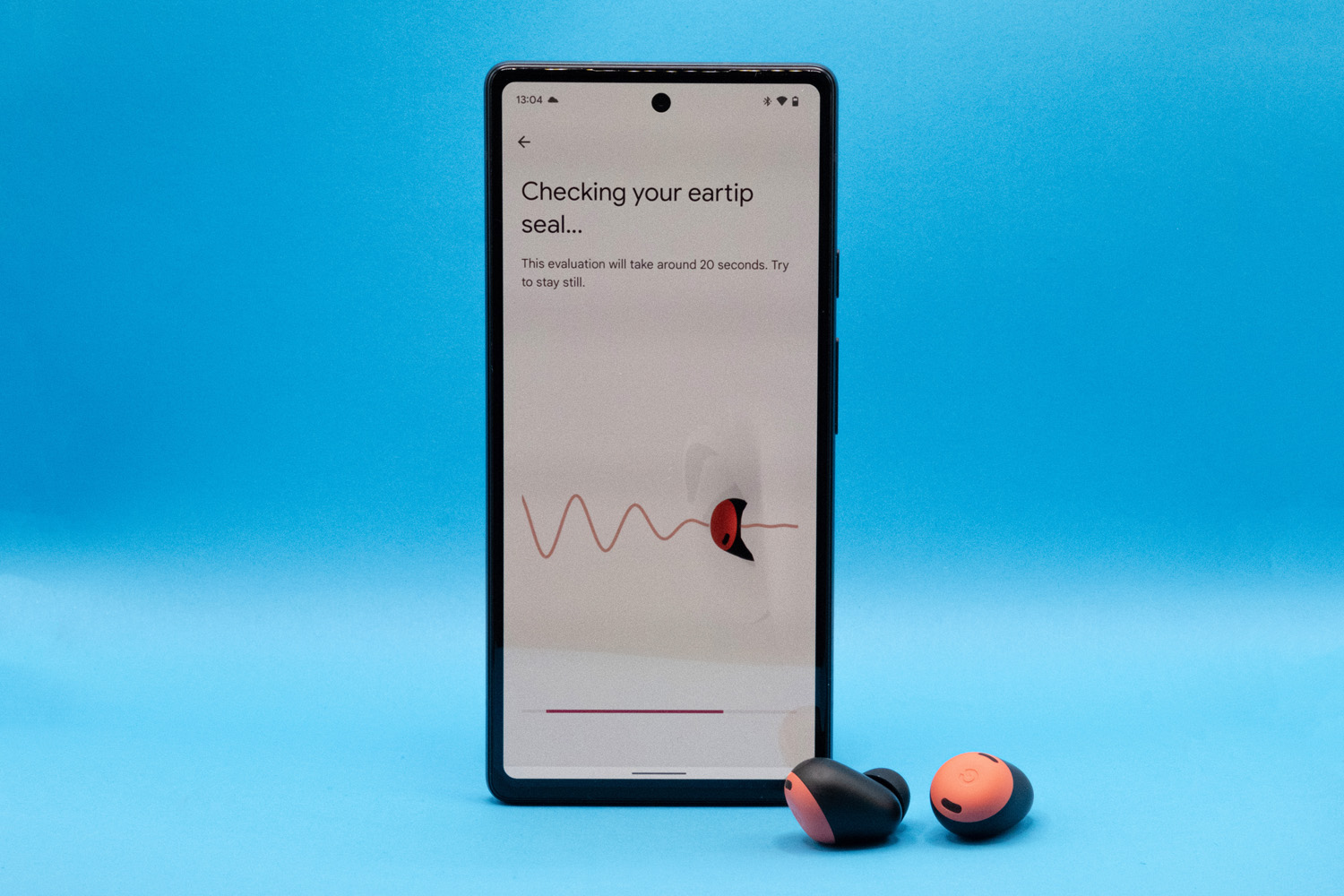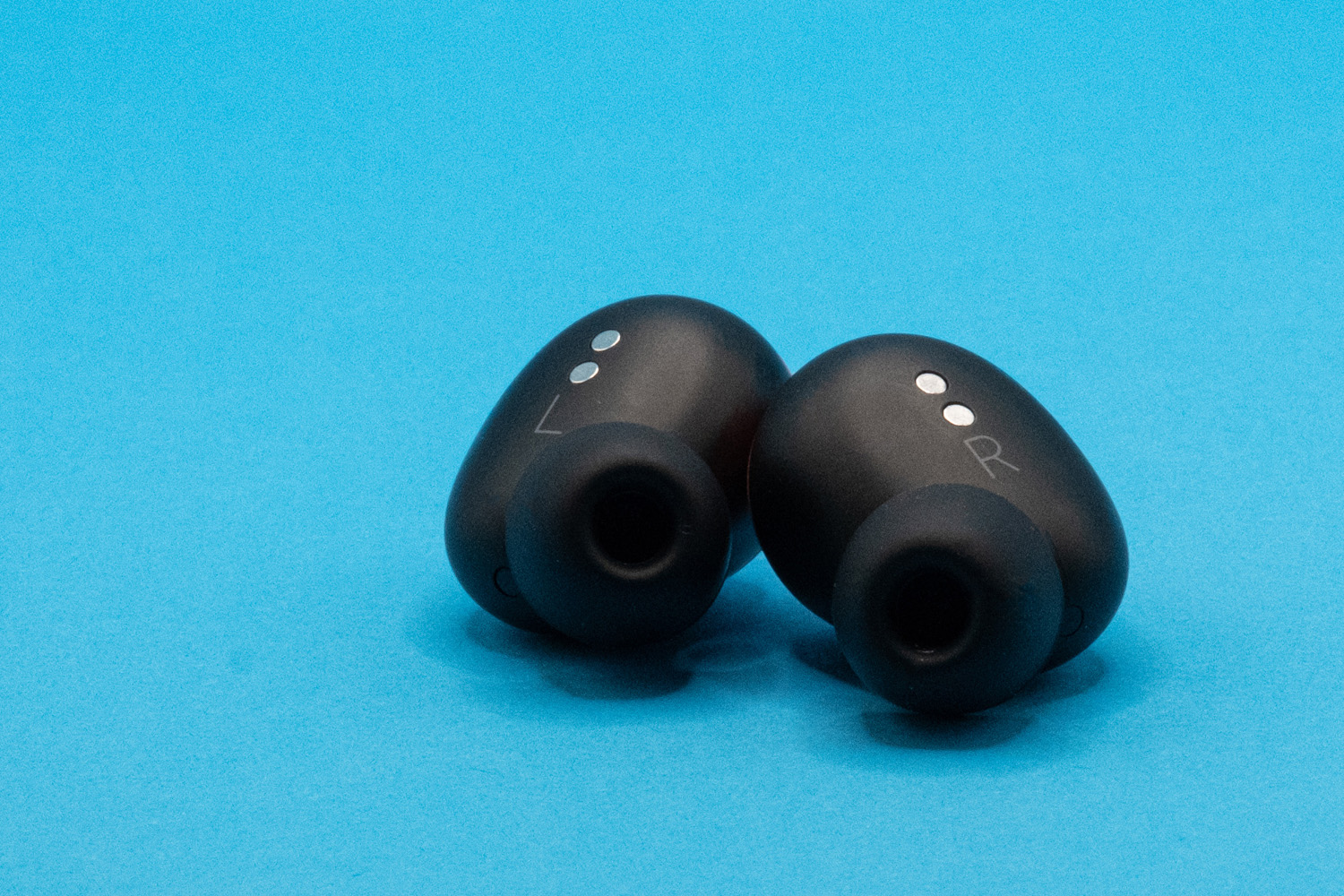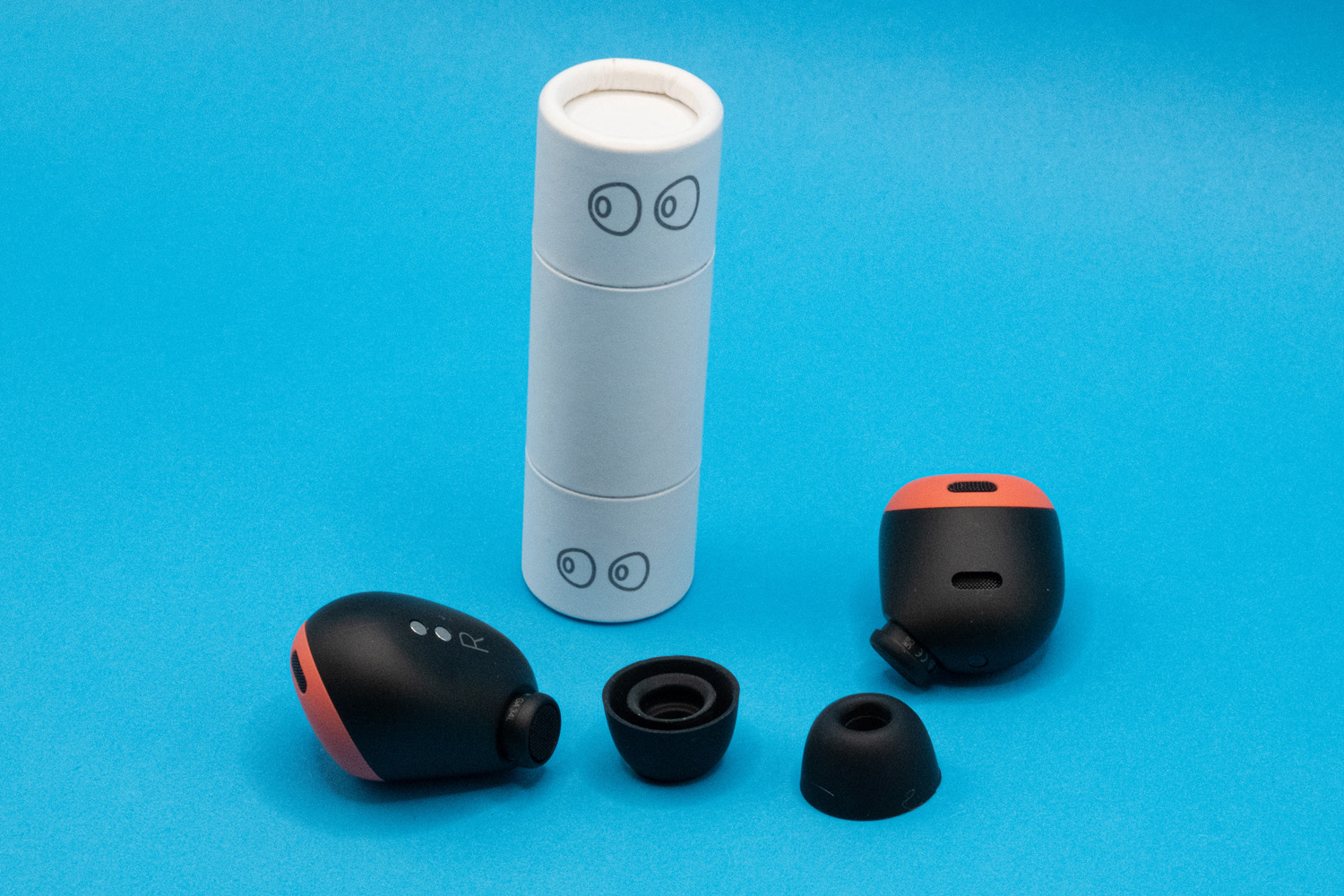 For a first stab at active noise cancelling, the Pixel Buds Pro don't disappoint. They do a great job at stripping out the low-frequency hums and rumbles of public transport, and aren't caught out by sudden loud noises either. Road traffic sounds aren't wiped out completely, but it still makes a significant dent into any nearby noise polluters. Sony and Bose still have the most effective ANC we've tried, but the Pixel Buds don't disappoint considering they're a whole lot cheaper.
Google's "Silent Seal" algorithm listens in and ramps up the effect based on ambient noise, so you don't need to change things on the fly when stepping off a noisy commuter train and into a quieter office. The change is subtle, without the major changes in ear pressure we've experienced with lesser ANC in-ears. Sensors inside each bud also track pressure build-up inside your ear canals, and can reduce the ANC strength accordingly. It works well, with no listening fatigue even after a few hours.
Like all good noise-cancelling buds, the Pixel Buds Pro has a transparency mode for letting ambient noise in when you need it. The effect is very subtle, and avoids sounding digitally amplified, but still lets you hear passing cars and tannoy announcements at train stations. There's no noticeable delay, either, meaning no headache-inducing echo effects.
Listening with ANC enabled does narrow the soundstage ever-so-slightly, but there's really not much in it. On or off, the Pixel Buds Pro deliver punchy and enveloping audio. The 11mm dynamic drivers are slightly smaller than the ones found in the Pixel Buds A-Series, but they're more fun-sounding, with more impactful bass.
There's no way to dial back the low-end here, but you don't really need to: songs are well-balanced, and less boomy than the Huawei FreeBuds Pro 2 we tested recently. The thumping sub-bass of Chase & Status' Censor has real presence, but doesn't detract from the rest of the mix.
High-end notes are clean, without becoming sibilant as you crank the volume. This is thanks in part to Google's dynamic Volume EQ setting, which tweaks the frequency curve based on how loud you've set playback. Again we're talking subtle differences, but it helped reign in the slightly harsh edge of the vocals on Eic Clapton's Layla, without compromising the crispness of the drum hi-hats.
These aren't the last word in critical listening. They're too energetic, and not remotely neutral – but then Google's hardly chasing audiophiles here. It's aiming firmly at the mass-market, not bitrate snobs who'll be better served by Sony's WF-1000XM4. It's also why you won't find aptX or LDAC Bluetooth codec support here. The Spotify and streaming crowd probably won't care.
Google Pixel Buds Pro verdict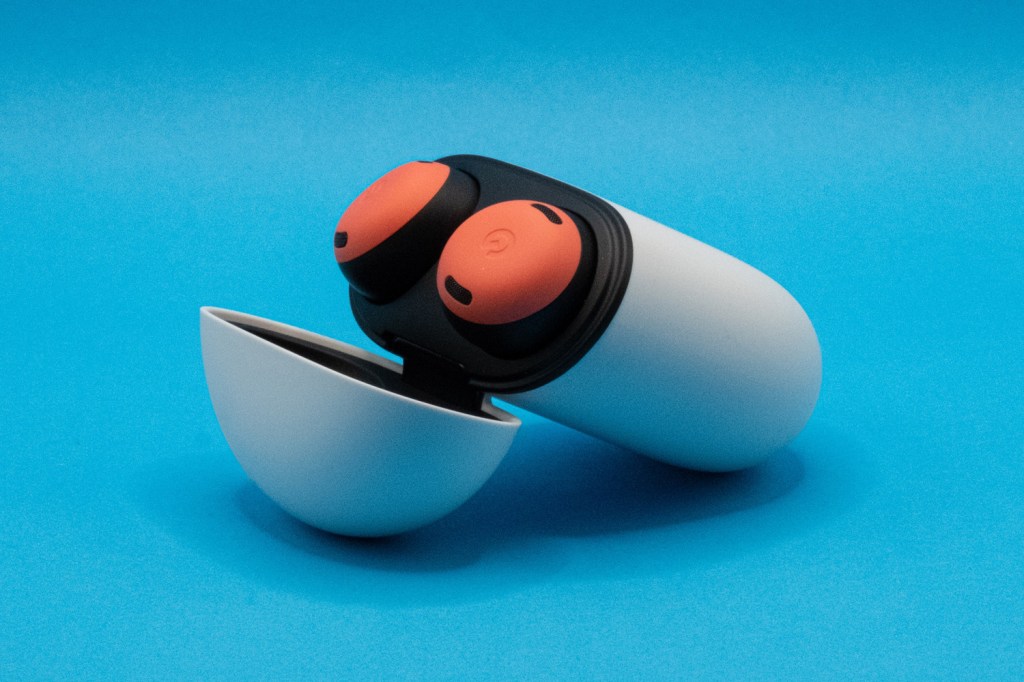 We don't think the Pixel Buds Pro are quite the slam-dunk that the A-Series were, as there's no shortage of ANC-equipped competition out there. They have an enjoyable sound signature, and the noise cancelling is effective – but it can't claim to be the best at either.
As great value all-rounders, though, they absolutely deliver. The design slaps, they're comfortable to wear and will keep you bopping for longer than most similarly-priced rivals can manage per charge.
Pixel owners should absolutely pick up a pair, given how well they play with Google Assistant, and everyone else with an Android phone needs to add them to their shortlist.
Stuff Says…
A well-rounded set of true wireless in-ears that should appeal to more than just Android die-hards. The Pixel Buds Pro don't dominate in any one area, but deliver a dynamic sound and effective noise cancellation
Good Stuff
Effective ANC
Competitive battery life
Comfortable design for long listening sessions
Bad Stuff
Energetic sound signature not to all tastes
No manual EQ
No high-quality Bluetooth codec support
Google Pixel Buds Pro technical specifications
| | |
| --- | --- |
| Drivers | 11mm dynamic |
| Active noise cancellation | Yes |
| Battery life | 11/31 hours (buds/case, ANC off) 7/20 hours (buds/case, ANC on) |
| Bluetooth version | Bluetooth 5.0 |
| Codecs supported | SBC/AAC |
| Durability | IPX4 (buds) IPX2 (case) |
| Dimensions | 24x22x23mm, 6.2g (buds) 63x50x25mm, 62g (case) |