Google Pixel Buds A-Series review
Back to basics 'buds: A or Nay?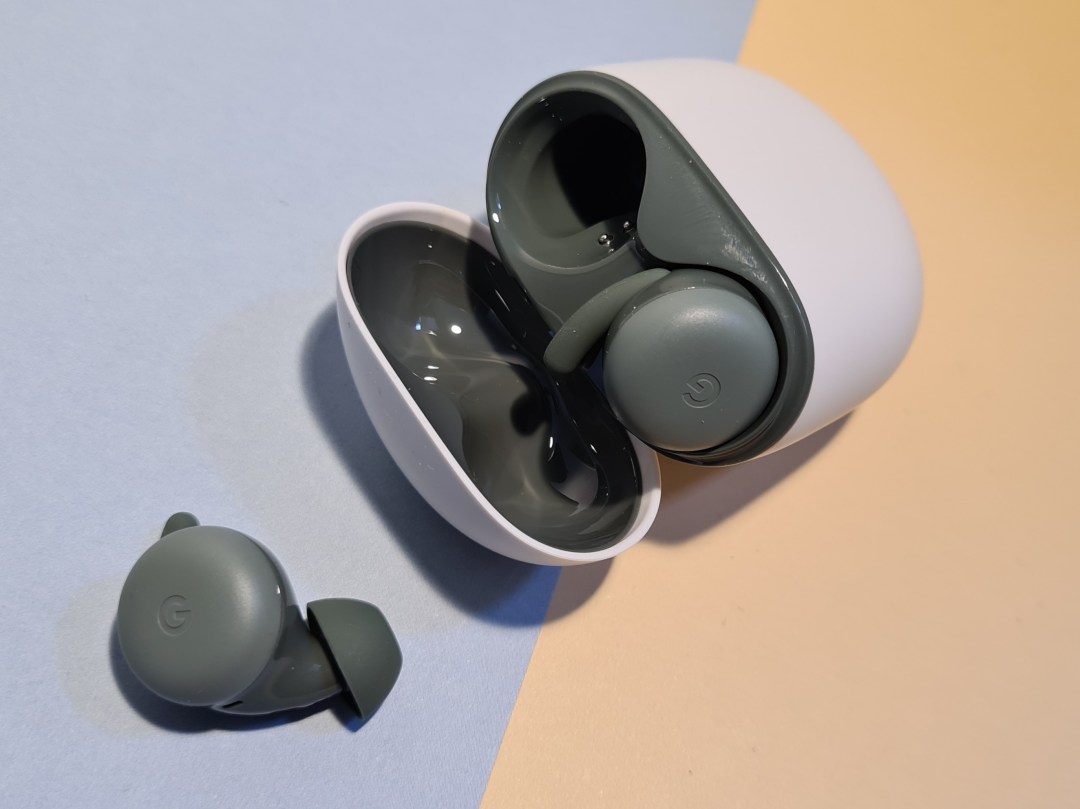 You might think the A stands for affordable. Google won't say for sure, but that's always been the case with the Big G's Pixel smartphones – and now there's a set of true wireless headphones to continue the trend.
The Pixel Buds A-Series aim to right some of the wrongs found in last year's Pixel Buds 2, while coming in at a more affordable price that might just give Apple's all-conquering AirPods some sleepless nights.
That means doing without a few key features we've come to expect at the more premium end of the earbud spectrum, but does that matter when convenience is king? Fewer frills can sometimes be a good thing.
DESIGN & BUILD: ROUND AND PROUD
Look familiar? The A-Series are all but indistinguishable from last year's Pixel Buds, with colour being the major clue. It's either white or green this time around, instead of a choice of four. The inside of the charging case even gets in on the action with a matching hue.
The buds themselves haven't changed all that much. They're the same low-key circles that sit neatly on your ears, without any dangly bits like Apple's Airpods. There's a touchpad on each one, with one, two and three taps to play/pause and skip tracks, but the (admittedly fiddly) volume control seen in the more expensive Buds has been removed.
Each one has a silicone anchor meant to keep them locked in place while you're on the move, and are both softer and smaller than last year's Buds. Still, not everyone will find them comfortable. You can't detach them, and twisting to get a good fit can sometimes have a negative effect on sound quality. At least there's three different sizes of rubber ear tips to help find the best seal. IPx4 water resistance is a worthwhile inclusion for fitness freaks, and should be enough to stop sweat from causing damage.
The all-plastic case still looks like a pebble and feels smooth to the touch. There's just a single charging LED this time around, on the outside of the case, which changes from white to orange when the battery level drops into the danger zone. It's USB-C or nothing, as wireless charging has been ditched in order to bring the price down. That's a shame, seeing as there are plenty of true wireless rivals that have managed to include it.
Expect five hours of playback from the buds, with the case adding a further 24 hours before you'll need to find a plug socket. This is on par with Apple's AirPods, but behind the curve when you start to shop around.
FEATURES &SOFTWARE: HERE TO ASSIST YOU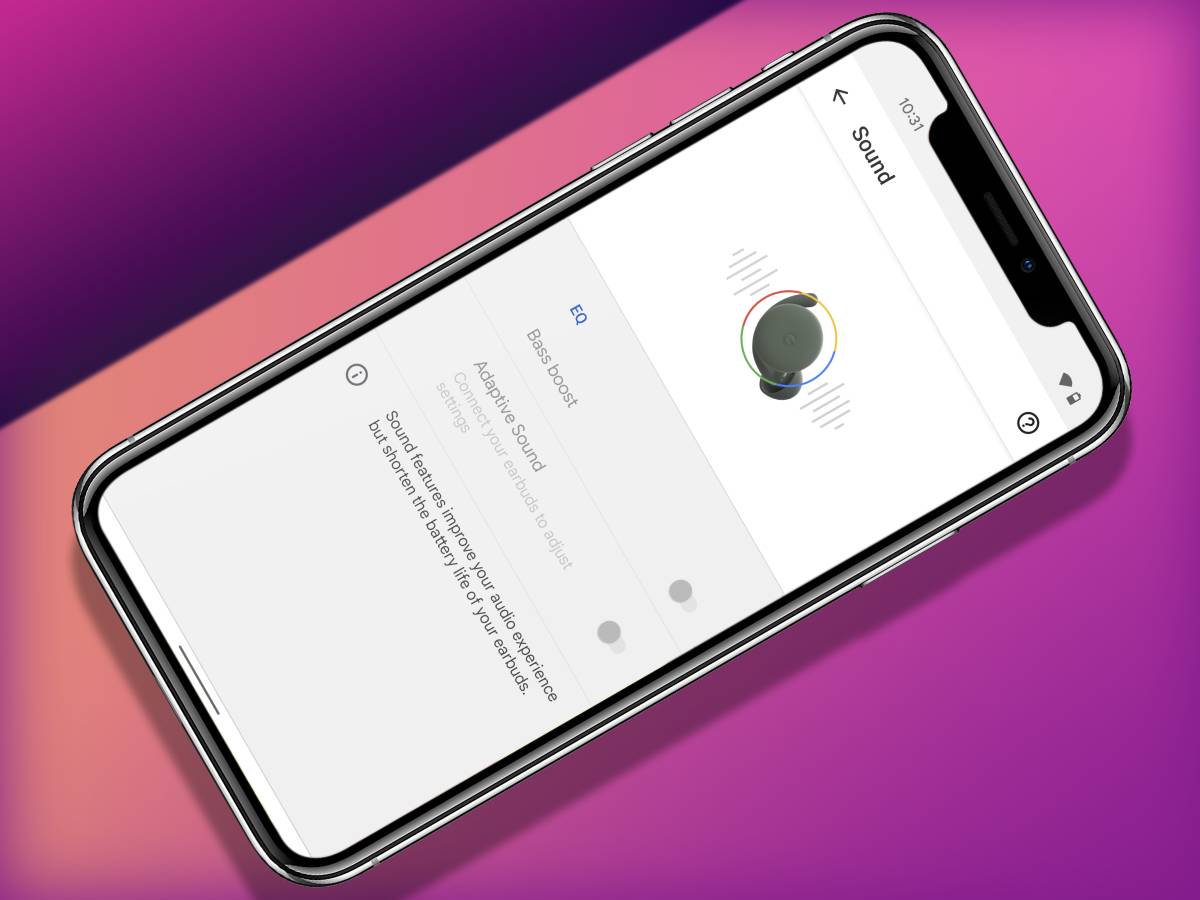 Getting connected on an Android device is as easy as lifting the lid on the case: Google Fast Pair will throw up a notification and perform a digital handshake with one tap. Apple used to have the slickest pairing system, but now it's a dead heat.
Got a Pixel phone? You won't even need to download the companion app, which lets you tweak the touch controls, adjust EQ settings, and set up Google Assistant. It's fully integrated, meaning you can ask the Buds anything you'd normally shout to your phone, or a Nest Hub smart speaker. Assistant can read out notifications as they come in, and you can send spoken replies without fishing your phone from a pocket. Only Apple's Siri integration is quite so comprehensive, giving the Buds an edge over third-party rivals like Samsung and Bixby.
Active noise cancellation is still absent, though that's less of a gut-punch here given the more affordable price. Google's Adaptive Sound function aims to make up for it, raising the volume automatically as the ambient sound levels increase.
It works to an extent – say moving from an office to a busy break room (remember those?) – but the volume yo-yos when you step outside and noise is more variable. It's more irritating than helpful, especially when walking along roads with passing traffic, and we quickly disabled it.
SOUND QUALITY: IN THE BALANCE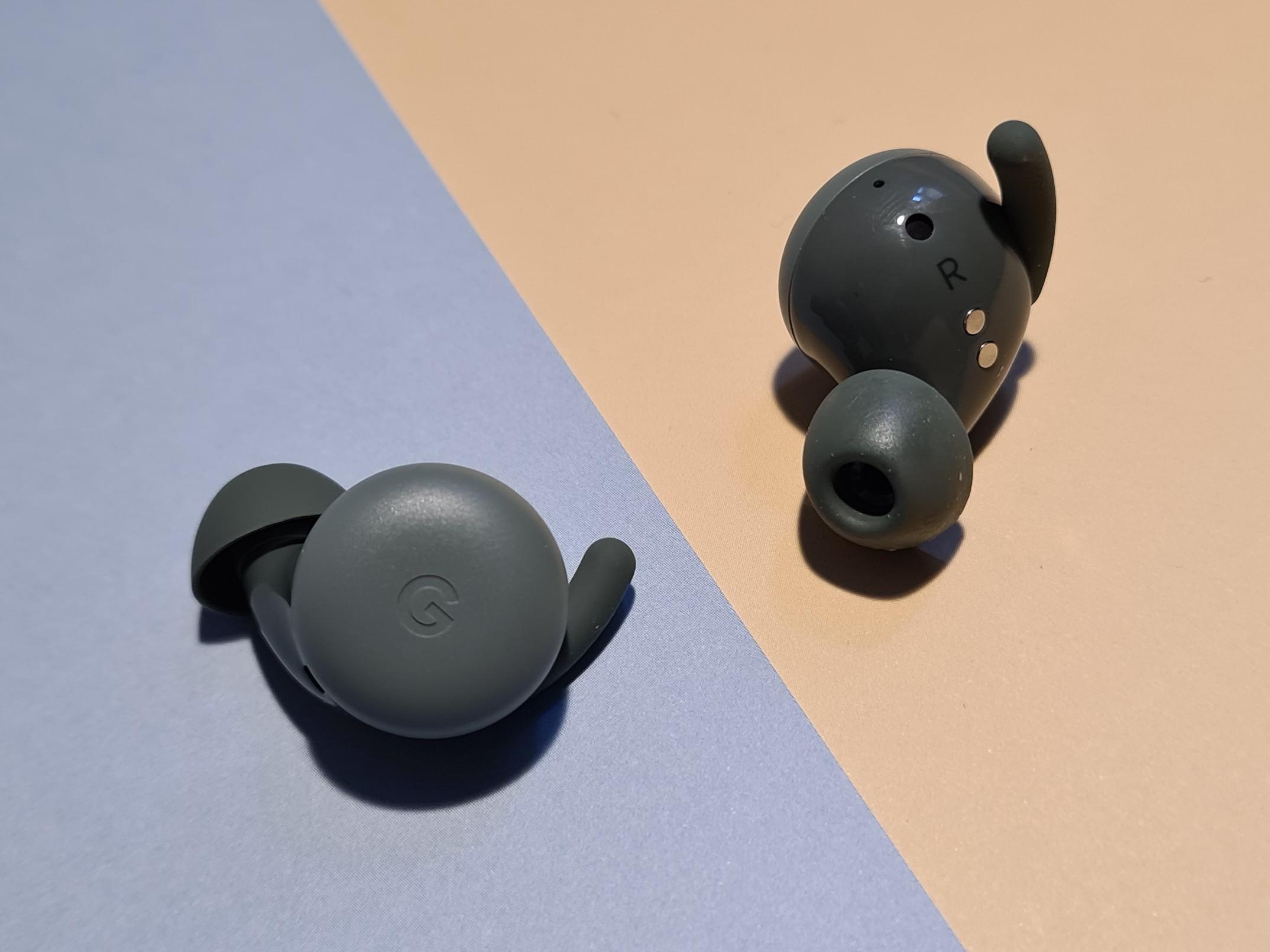 Just like last year, the A-Series Buds use "spacial vents" that are supposed to make for a gentler seal than other in-ears and create a wider soundstage, at the expense of letting in some ambient noise. We could listen for hours without any comfort issues, and there's definitely a greater sense of spaciousness compared to rivals – but you lose some precise detail at comparative volume. You'll also want to crank it higher to block out exterior noise.
As before, the 12mm dynamic drivers deliver clear, well-balanced audio that does great justice to all musical genres. High-end frequencies are clean and detailed, and while bass has good presence, it doesn't overwhelm the mix like some low-end-heavy alternatives do. There's no fine-grain EQ control, just a bass boost that only true bass-heads should reach for. Everyone else will appreciate the slightly more neutral standard tuning, which might not punch above its weight in terms of outright clarity, but is very good for the price.
Wireless connectivity could be hit-or-miss on the 2020 Buds, but things seem much improved here, with few dropouts that only occurred while on the move in areas with lots of wireless interference.
Voice calls don't suffer from losing the extra sensors found in the second-gen Pixel Buds, which detected vibrations from your jawbone and cut background noise automatically. The two beamforming microphones still pick up background audio, but none of the callers we spoke to had any complaints about clarity.
GOOGLE PIXEL BUDS A-SERIES VERDICT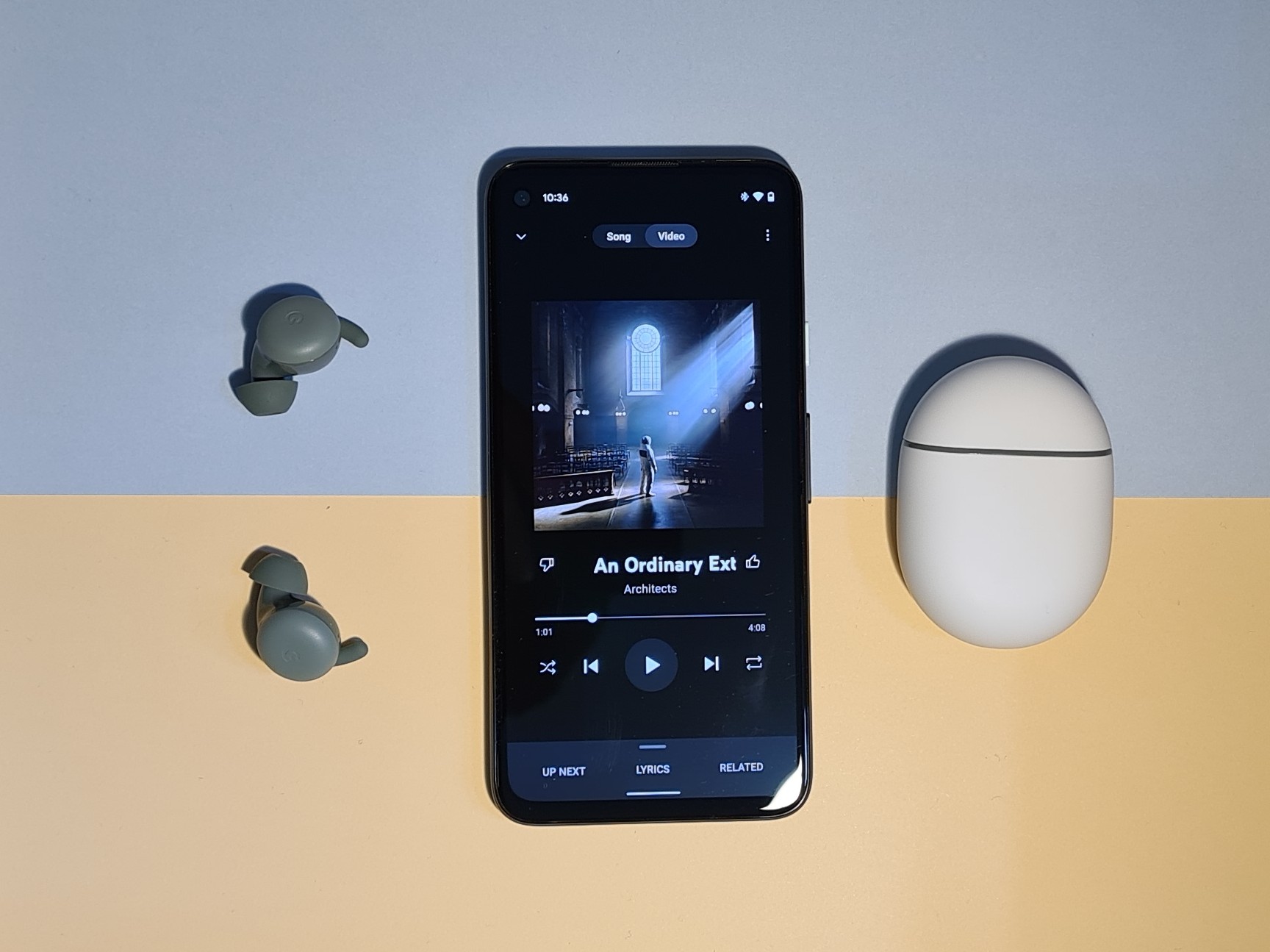 The A-Series sound just as good as last year's second-gen Pixel Buds, but cost half the price. At £99, you can more easily forgive the lack of active noise cancellation.
The lack of wireless charging is a blow, with Samsung's Galaxy Buds+ including it for the same price, and the Cambridge Audio Melomania 1+ manages better sound isolation, and quality, for not much more.
The deep Google Assistant integration is hard to beat, though. If you're looking to buy Google, this is the pair to go for.
Tech specs
| | |
| --- | --- |
| AUDIO DRIVERS | 12mm dynamic |
| MICROPHONE | dual beamforming |
| WEATHER RESISTANCE | IPX4 |
| BATTERY LIFE | 5 hours (earbuds) 24 hours (case) |
| CONNECTIVITY | Bluetooth 5.0 (earbuds), USB-C (case) |
| DIMENSIONS | 21x29x18mm, 5g (earbuds) 63x47x25mm, 53g (case) |
Stuff Says…
A simpler set of wireless in-ears that strike a better balance between price and features than Google's last effort. They lack isolation and won't fit comfortably in all ears, though, and aren't significantly cheaper than better-equipped rivals
Good Stuff
Clean and balanced sound
Fast pairing and slick software
Competitive price
Bad Stuff
No wireless charging
Poor sound isolation