Google Pixel Buds (2020) review
Google's AirPods Pro alternatives have a narrow worldview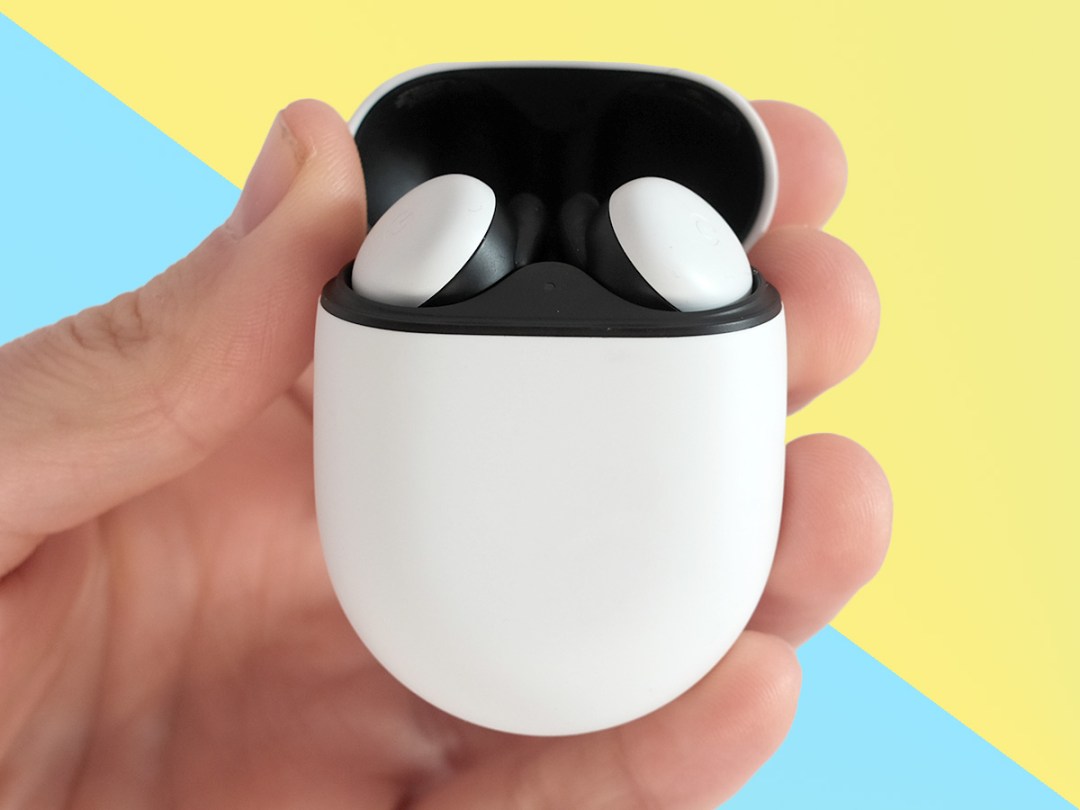 The Pixel Buds are Google's AirPods. They are true wireless earphones with a look that slots in perfectly next to a Pixel 5 phone.
You can wear them comfortably for running or the gym and they let you talk to Google Assistant without even tapping one of the buds. Handy for those days when it feels like you haven't talked to a soul for weeks. Because you haven't talked to a soul for weeks.
An AirPods comparison doesn't tell the whole Pixel Buds story, though. We need to consider the Sony WF-1000XM3, Huawei FreeBuds Pro and Samsung Galaxy Buds Live too. In this crowd they seem pretty basic.
There's no active noise cancellation, and mediocre 5-hour battery life that only gets shorter if you use the Adaptive Sound mode. The Google Pixel Buds sound good, but not quite good enough to make up for these shortcomings given these earphones cost £169.
Design: Making plastic cool again (again)
Google's hardware design style is all about cute plastic. Even when its Pixel phones aren't made of the stuff, they look like they are.
The Google Pixel Buds are plastic earphones, but are still among the better-looking true wireless pairs. There's no dangly bit left hanging below your ear canals, the earpieces don't stick out a mile. All you really see is a little circle of white plastic with the little "G" Google logo stamped on.
They are low-key, just like Google's smart home gear.
"Don't look at me while I quietly push Google Assistant down your throat," they say. That's the real point of the Pixel Buds. They let you talk to Assistant just by saying "Hey Google". And, as with plenty of other recent wireless headphones, the Buds will read our your notifications if you want.
Hearing the prim voice of Google Assistant read out rude WhatsApp group names is the best part here. But there are doubtless some of you who want notifications to ruin your relationship with music as well as everything else you once enjoyed.
The Pixel Buds have touch pads on each earpiece. It's the usual one, two and three taps to play, skip tracks and skip back. These work perfectly well, for once. You can also slide a finger across the earpiece to change volume, but this is more fiddly.
There's a little silicone anchor on these earphones for stability. They handle running just fine, although the hard plastic casing can cause a bit of cartilage discomfort after a while. This will, of course, depend on the shape of your ears.
Features: All the stuff you don't need
Google doesn't even try to make the Pixel Buds match their main rivals for features. They don't have what has become an essential extra for many people out to buy some high-end true wireless earphones: active noise cancellation.
They rely entirely on little silicone tips to block out noise. This kind of passive isolation does a fair job of removing some treble noise, but it won't kill the bassy noise of public transport and busy streets.
£170 is a lot to pay for earphones without ANC. They have little sensors that can tell when you remove the Pixel Buds from your ears, pausing your music when you do, but this is far less important. You may even find it annoying, but that auto-pause can at least be switched off.
Battery life is bad point number two. The Google Pixel Buds last up to five hours off a charge, which nowadays is poor for a high-price true wireless pair without noise cancellation. They seem to last significantly less when you use Adaptive Sound too, which bumps up the volume in louder environments.
Fair enough, the Pixel Buds last a solid 24 hours with the cute little pod-like charger case in tow. But we found the regularity with which we had to put them back in the case for a nap mildly annoying.
There are even some minor technical issues. The Pixel Buds sound has phased in and out a few times during testing, which happens when the communication between the earpieces breaks down. And there's a light bed of fizzy noise in one ear when audio is played. This isn't too obvious unless you play music at ultra-low volumes or pause a track, but it's not what we expect from earphones this pricey.
Sound Quality: Lean and clean
There's better news on the sound front. The Google Pixel Buds have a dead classy sound signature.
These earphones don't have super boosted bass and their sound does not sit on a splodgy serving of mid-bass, which at its worst is like a chef serving every meal in a sea of bread sauce.
The Google Pixel Buds are clean and clear. Songs are given the right contours. And if you want bigger bass, you can turn on the Bass Boost in the Pixel Buds app. This makes the sound a bit lop-sided. It's not the most refined bass boost around, but some say dinner isn't complete without at least a side of bread sauce.
Google's audio approach is not a million miles from that of the Sony WF-1000XM3. But the gains these earphones make do start to creak a bit when you compare the Pixel Buds directly to that pair.
Their mids sound cardboardy next to Sony's. The WF-1000XM3 can render vocals in a realistic manner, one that is out of the Pixel Buds' reach. Sony's earphones have more vital-sounding treble too.
Google Pixel Buds (2020 verdict)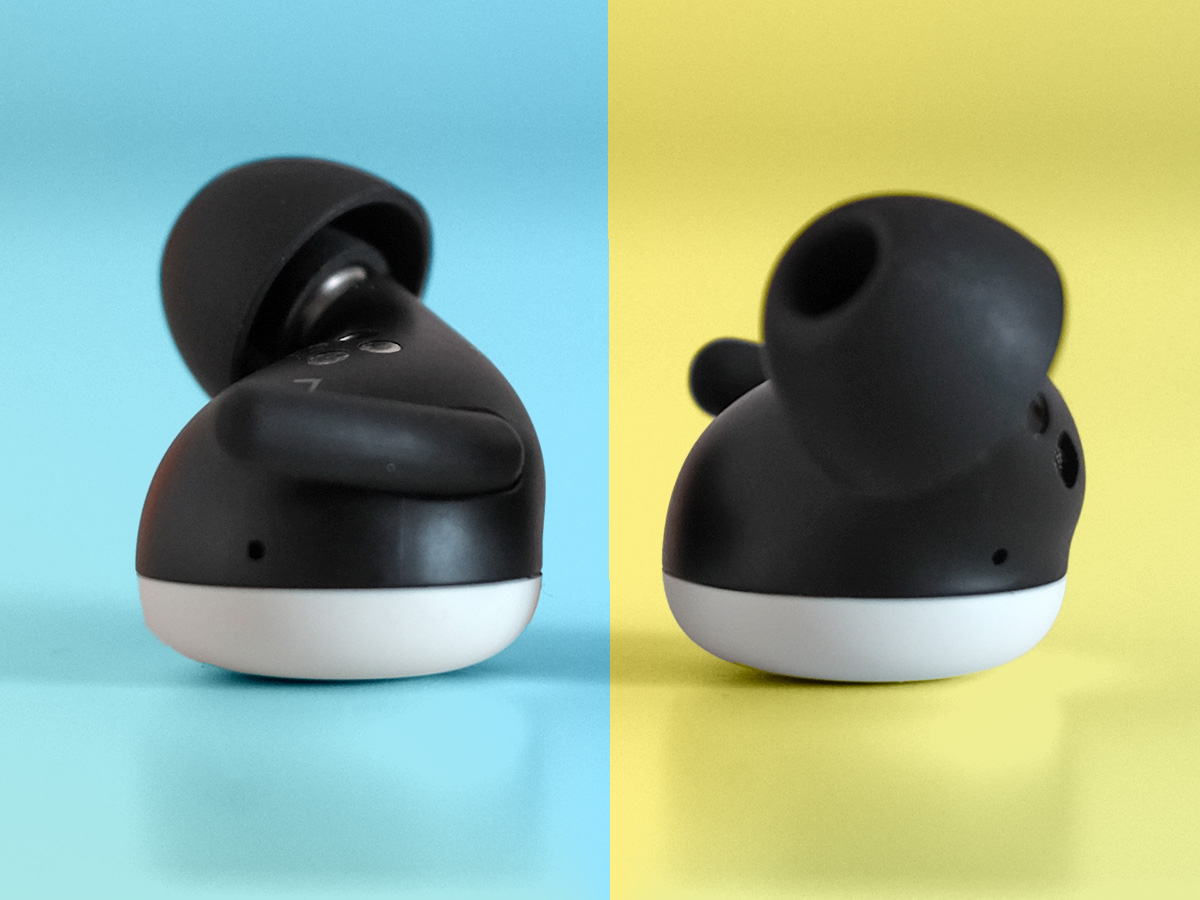 The design leads behind the Google Pixel Buds probably drove to work. These earphones don't have active noise cancellation, which is an excellent feature for public transport and noisy streets.
All the main rivals have ANC and, sorry Google, it's more important than being able to tell Google Assistant to set a reminder to call your parents without even touching the earpieces.
Sound quality is good, although not quite a match for the standard-setting Sony WF-1000XM3. Bassheads beware: these earphones prioritise a clean sound over pumping bass.
Stuff Says…
The Pixel Buds sound good if you're fine with leaner bass, but the missing active noise cancellation gaping hole at £180
Good Stuff
Let you talk to Google hands-free
Grown-up sound tuning
Bad Stuff
Meh battery life
No active noise cancellation, so-so passive isolation