Stuff Gadget Awards 2013: Netflix is our Cloud App of the Year
2013 was the year that cloud apps became mainstream, and few more so than Netflix, the video service that's taken over our TVs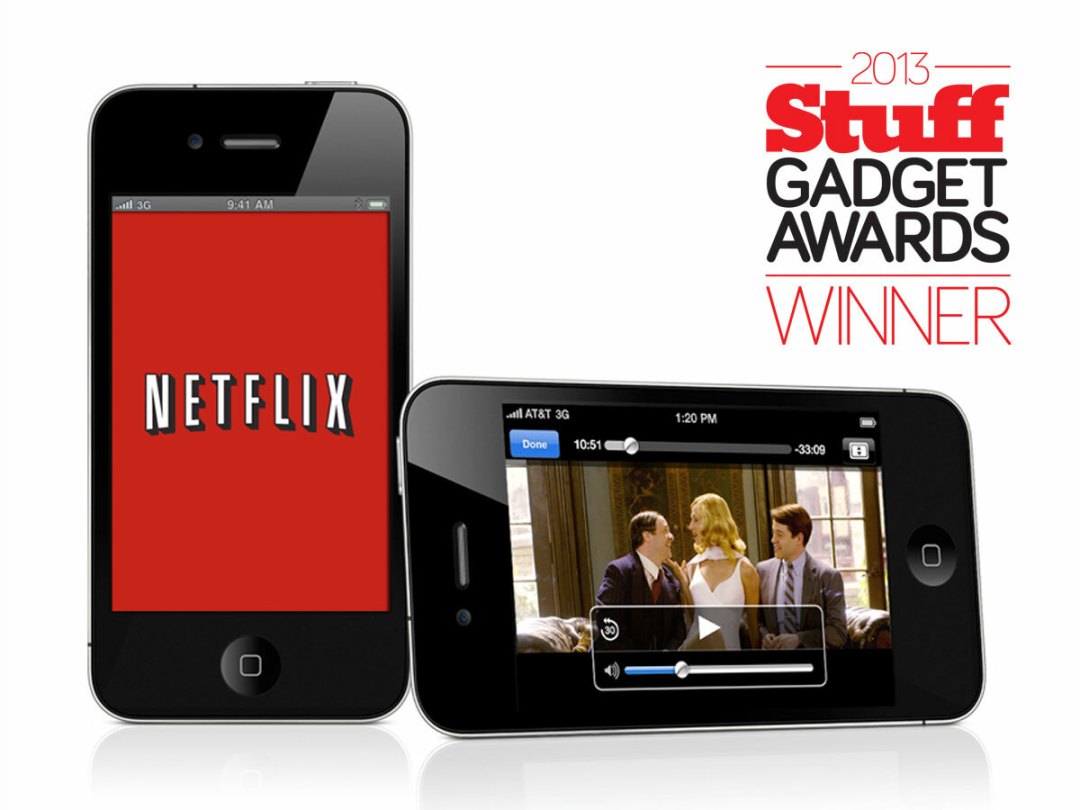 Cloud apps are the things you use everyday and rave about to your friends – who don't understand the magic till they use it themselves. Well, here we are raving about the beauty of RSS readers and er, Spotify. But the most essential cloud app of the year by some margin is Netflix, the video streaming service that's changed the way we watch telly.
Winner: Netflix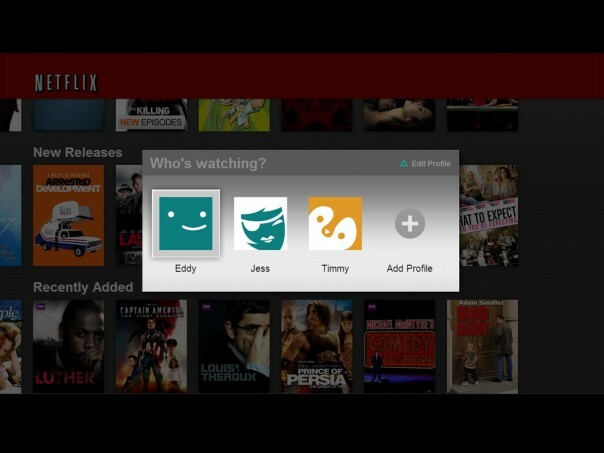 If we dug into our internet stats, the percentage of time we spend on Netflix would make a Kevin McAllister of all of us. Why the addiction? This year, we've had Breaking Bad on Netflix as it's broadcast in the States, the Netflix-commissioned fourth season of Arrested Development, Emmy awards for House of Cards and a ton of other TV shows, documentaries and old faithfuls to rattle through. With Netflix cleverly looking at what we pirate to decide what to add, 1080p streaming on the Nexus 7 and iPads, 4K streams in the pipeline and a spot on Google's ludicrously cheap Chromecast internet TV dongle, that £6 a month is becoming scarily essential. We won't give up watching rom-coms on our flatmate's profile just yet, then.
Runner-up: Songkick Detour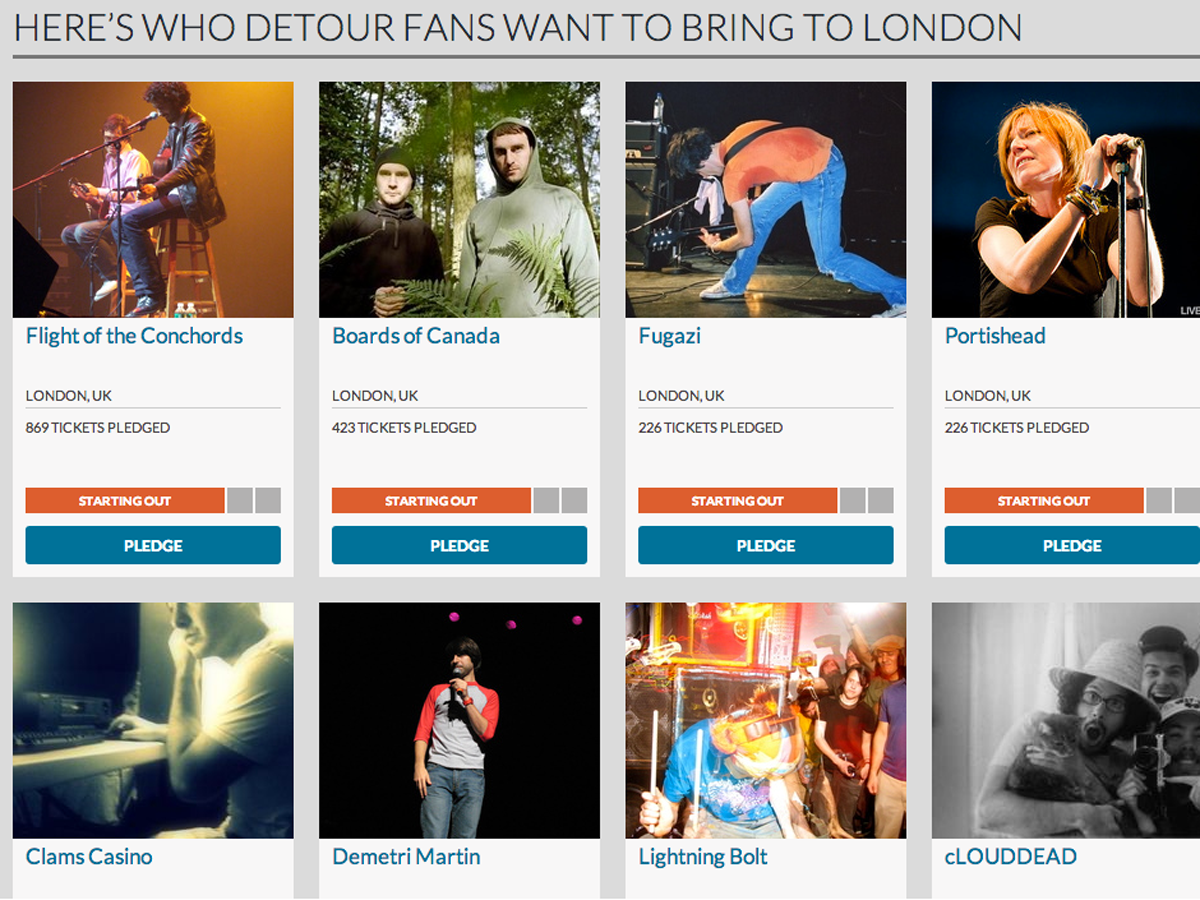 Equal parts annoyed and smug that people don't comment on the obscure band glaring out from your T-shirt? Try Songkick Detour. This 'Kickstarter for gigs' comes from the people behind the brilliant, music-library-scanning-calendar app.
It's now in eleven cities in the UK and pledging money to bring Glassjaw, Rhye or Superchunk (we know, right) to you takes a matter of minutes, with no hidden fees. You won't be charged if you can't make the date or the gig doesn't happen and there are email updates to keep superfans in the loop. It's genius and it's already working with comedians and authors too. We salute you, Songkick. Again.
Runner-up: Feedly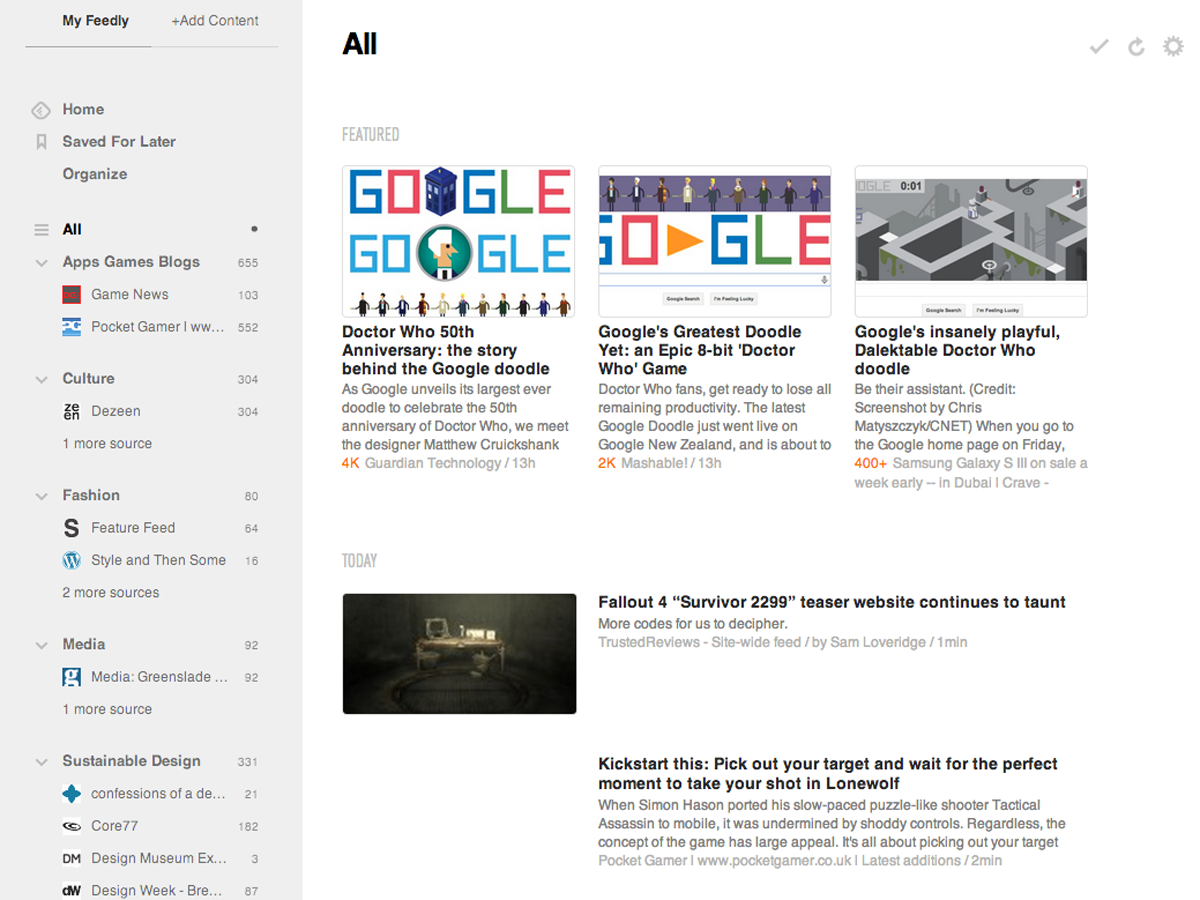 Remember at school when Big Phil got tonsilitis and the new kid stepped up to take his crown without missing a beat? So it is with Feedly, the free RSS feed reader that's gobbled up almost all of Google Reader's users without so much as taking an eye off that last muffin in the canteen.
It looks glorious on Android tablets. That's right, we said it looks glorious on Android tablets. But it's plenty useful for keeping up to date with news on the desktop too and transfers all your old feeds for you. Search requires a Feedly Pro account but it's such a killer cloud app, we don't begrudge them asking for a few pennies from power users.
Runner-up: Pocket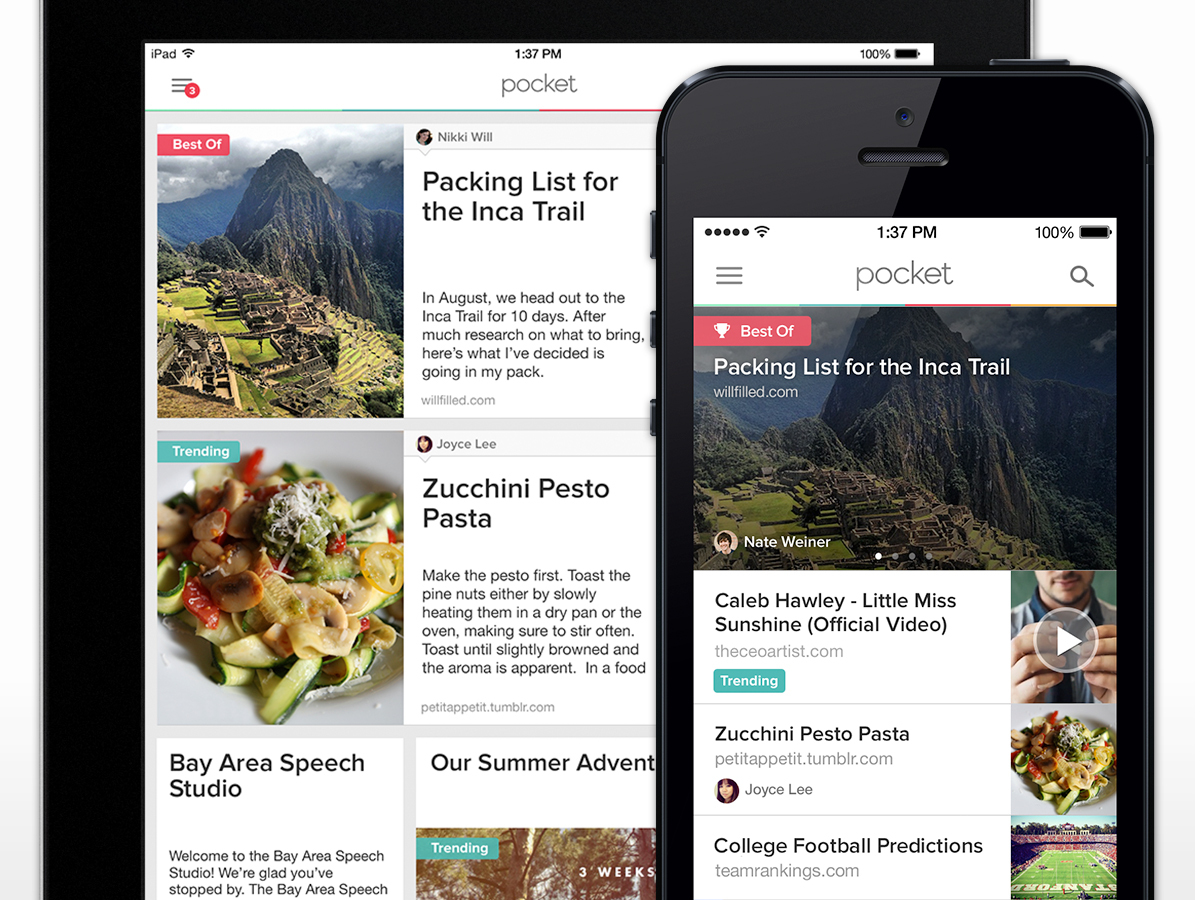 Feedly might take care of organising your news feeds and providing at-a-glance web hits but Pocket is just as essential. Its rival-slaying trick is saving articles from the web to read later – so if you have a Wi-Fi only tablet, and don't want to faff about with tethering, it's an absolute life-saver. Ditto Tubes, planes, you get the picture. So if you don't quite have time to kick back with that mammoth review or in-depth feature, you can save them for when you do.
Runner-up: Fitocracy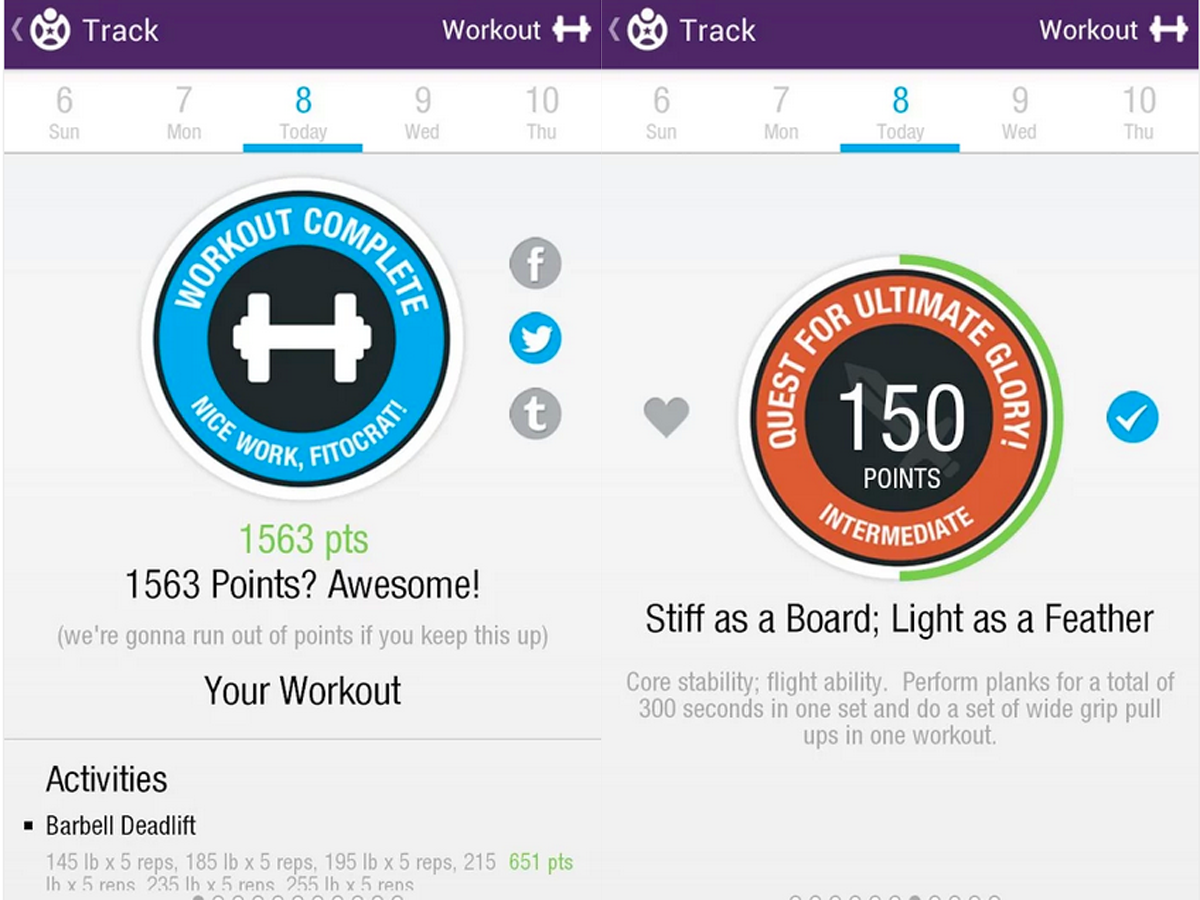 Oh my word. It's… a fitness social network. Panic, sweat, run for the hills. But wait – Fitocracy is actually a brilliant idea that taps into the problem with most of our exercise routines: motivation.
With apps for iOS and Android, Fitocracy might be too chirpy for some but with badges, challenges and levels to unlock, it's done the best job yet of gamifying those crunches, jogs and gym sessions. The guys behind it know that a fitness tracker alone isn't going to banish the bulge; having goals that don't make you want to cry are tons more important.
Runner-up: Amazon AutoRip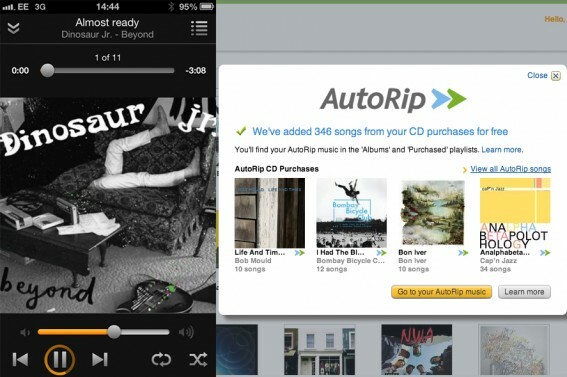 Amazon continues its battle to become the World's Only Store by merging digital and IRL worlds like never before. AutoRip is a simple idea but a seriously awesome one for music fans: get digital MP3 copies of every CD and record you've bought on Amazon.
CD addicts don't need to make the decision between an instant album in their ears or waiting for the fancy artwork, and vinyl fans don't have to pay twice. Potentially even more wonderful, but not yet let out of the US, is the equivalent for books – Kindle MatchBook.
Runner-up: Spotify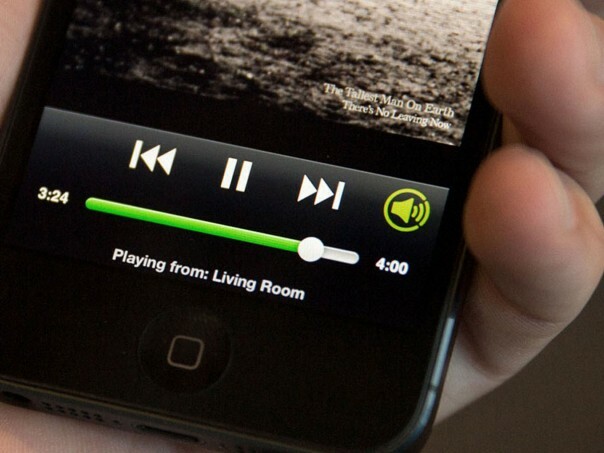 We're really at the bleeding edge of cloud apps here with Spotify, dominating music streaming since 2008. We jest, of course, but Spotify's not resting on its laurels and has in fact been tinkering on some rather special projects in 2013. First there's Spotify Connect, which is its own take on Airplay – wirelessly streaming Spotify tracks around the home via the button on desktop and mobile apps.
New music discovery apps like BBC Playlister have popped up too and Spotify's dipping a toe into music history with Landmark, a web show series on influential albums and their creation which kicked off in style with Nirvana's In Utero. Grab some novelty slippers and put your feet up Spotify! Oh no wait, you're still the App everyone wants on their mobile OS, smartwatch and face computer. Ah well, maybe next year, ey?
Runner-up: BFI Player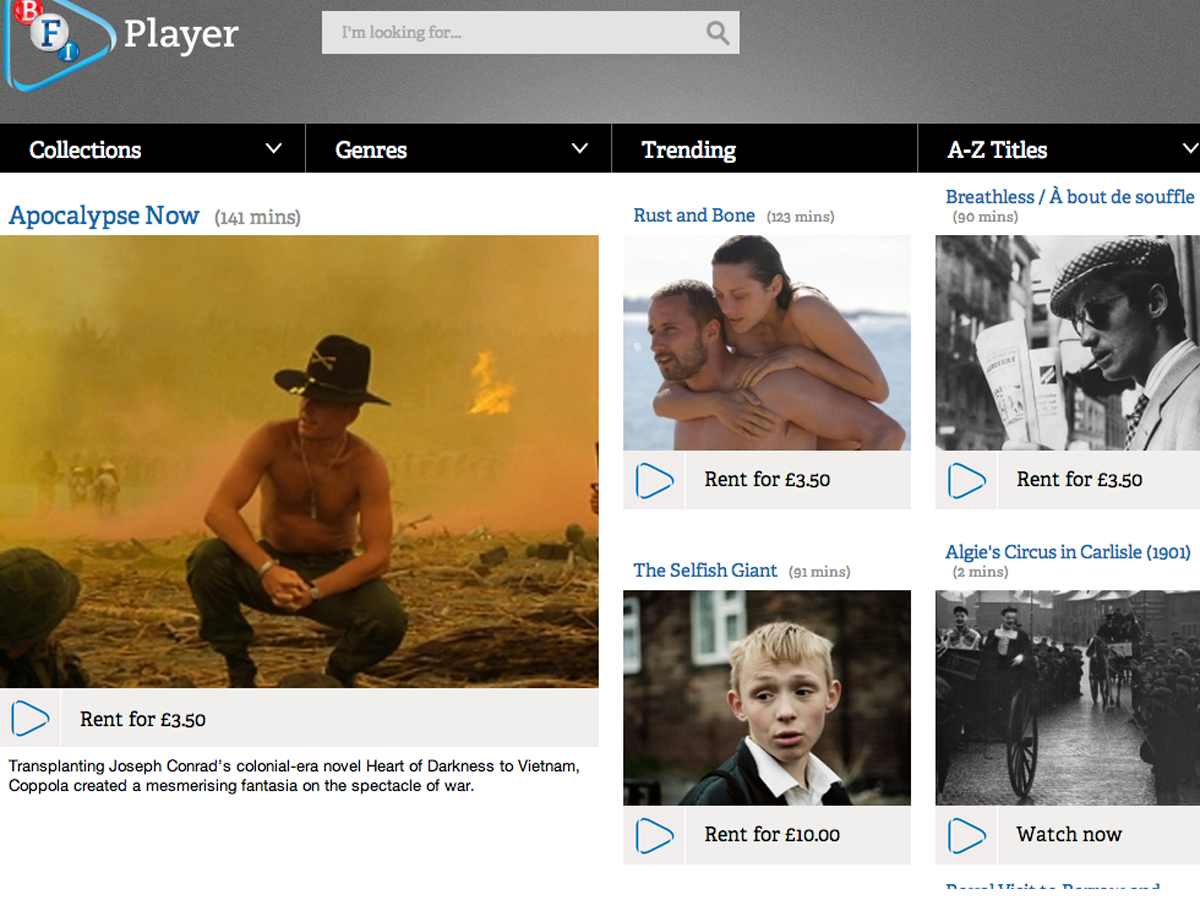 Film buffs may have been feeling a bit left out in the cold by movie streaming services. DVD extras, director's commentaries and highbrow arthouse films have been left by the wayside as the likes of Netflix and Lovefilm strive to recreate the experience of browsing the cheap DVD shelves in Tesco.
But no more – the BFI Player is here to redress the balance with a mix of free and pay-per-view movies, from British classics to brand new BFI-funded cinema releases and short films. There's also behind-the-scenes access to the likes of the London Film Festival and a wealth of documentaries, interviews and behind-the-scenes features for cinephiles. Available on PCs, Macs and with an iOS app, there's now no excuse to ever watch Now You See Me again.