Best running and workout headphones 2023: wireless earphones for sport reviewed
Add a soundtrack to your sprints with the best headphones for running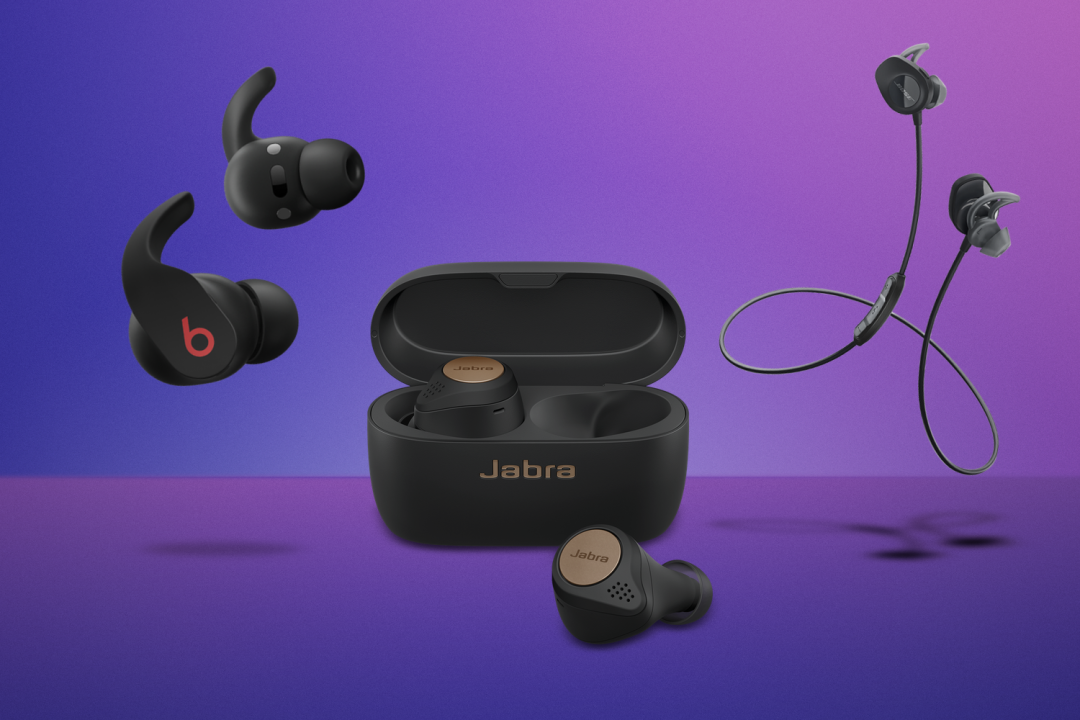 Training might improve your pace, but sometimes it takes a killer playlist to power past your PB. Want sweet beats while you pound the pavement? The best running headphones are built to go the distance – and deliver musical motivation all the way.
Don't worry if you're not sure wireless earbuds are the best fit for your sprinting style: from lightweight 'buds to sturdy neckbands, the list below features our pick of the top headphones for every sort of jogger.
Whether you're working towards an endurance race or switching off with a few loops around the park, you'll find your perfect pair of headphones in our buying guide. The playlist's up to you.
If you're looking to fully upgrade you're running tech, then you can check out Stuff's guide to the best GPS sports watch for top-tier trackers for activity and fitness.
---
What are the best running headphones?
We think the Jabra Elite 7 Active (check price) earbuds are the best earbuds for most people. Lightweight and contoured to fit the ear, a rubberised coating keeps them firmly in place while the bassy audio adds a punch to your workout playlist.
---
Other running headphone recommendations
---
The best running headphones you can buy today: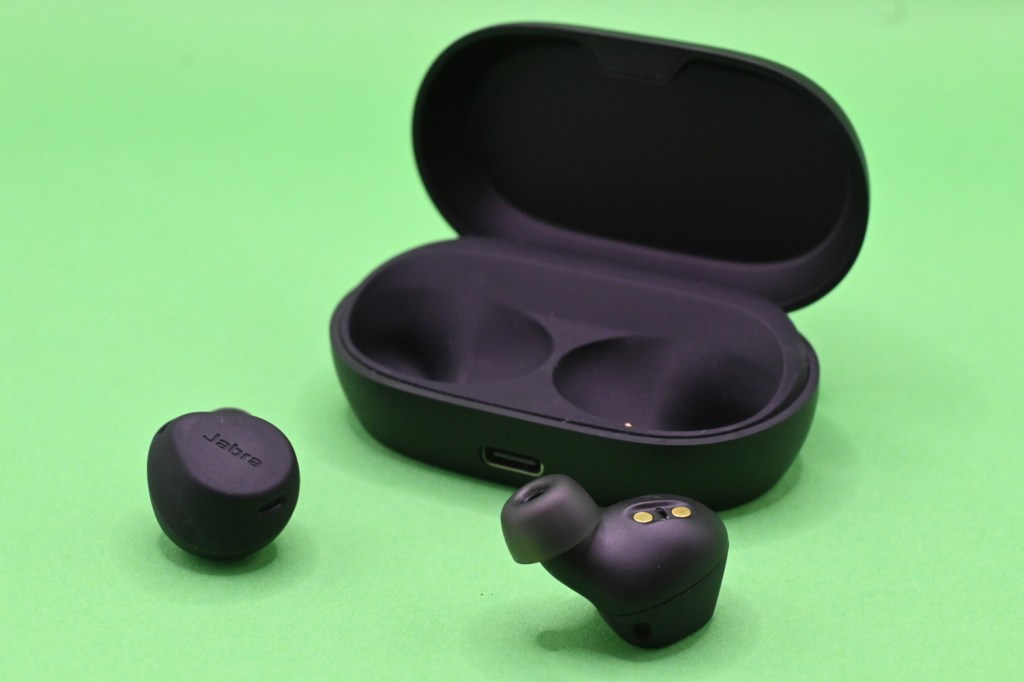 1. Jabra Elite 7 Active
Stuff Verdict
Durability, endurance and a secure, wing-free fit: these bassy fitness 'phones offer plenty for the price – even if their ANC is beaten by the best
Pros
Comfy fit that stays put while exercising
Worthwhile companion app
Cons
Out-the-box sound profile a little unrefined
ANC not the most effective
| Jabra Elite 7 Active specs | |
| --- | --- |
| Battery | 8 hours (earbuds), 22 hours (case) |
| ANC | Yes |
| Driver size | 6mm |
| Weight | 5.5g (per earbud), 44g (case) |
| Connectivity | Bluetooth 5.2 |
| Water-resistance | IP57 |
Like a determined heptathlete, these Jabra earbuds try to do it all. Lightweight and contoured to fit the ear, a rubberised coating keeps them firmly in place, without the use of silicone wings. Taking on the steeplechase? IP57 water-resistance means they're good for dunking.
The sound signature is bassy out of the blocks, but fire up the Sound+ companion app and you can balance things a bit. Warm and punchy by default, the Elite 7 Active give your PB playlist plenty of low-end energy, even if the overall presentation lacks a little nuance.
Passive noise isolation is good, with ANC on hand to hush background rumble even further. Transparency works as intended, with the option to tweak ANC levels via the app. That said, the Elite 7 Active deal less well with infrequent sounds.
Staying power is impressive: eight hours is stretched to a total of 30 with the charging case, which puts battery life up there with the best in this price bracket. You can find better-sounding earbuds for similar cash, but not without sacrificing sweat resistance. For the money, the Jabra Elite 7 Active are a well-made, well-rounded pair of true wireless in-ears that get plenty right.
---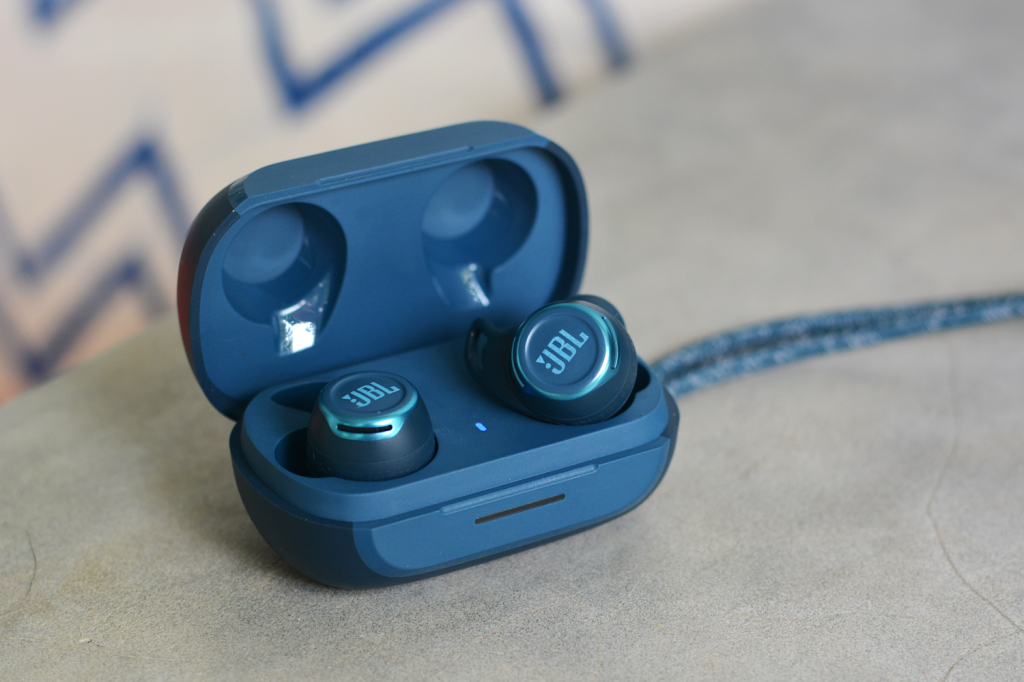 2. JBL Reflect Flow Pro
Stuff Verdict
With a secure fit, spacious sound, smart features and solid noise-cancelling, the JBL Reflect Flow Pro are up there with the best headphones for sporty sorts
Pros
Firm, secure fit
Dynamic, balanced sound
Cons
Case is a little large
Slightly plasticky finish
| JBL Reflect Flow Pro specs | |
| --- | --- |
| Battery | 10 hours (earbuds), 20 hours (case) |
| ANC | Yes |
| Driver size | 6.8mm |
| Weight | 7g (per earbud), 63g (case) |
| Connectivity | Bluetooth 5.0 |
| Water-resistance | IP68 |
When it comes to sporting audio, JBL's Reflect Flow Pro deliver in every meaningful respect. They might not be the sleekest earbuds, but they are lightweight and water-resistant. Find the right combo of tips and fins and the Reflect Flow Pro will reward you with a twist-lock fit that's surprisingly comfortable yet reliably secure.
Capacitive touch surfaces are perfectly responsive, and protected from accidental inputs by raised rims. Controls can be customised through the partner app, where you'll also find voice assistant settings, a fit test and EQ adjustment options. The earbuds also benefit from auto-pause smarts.
The audio is spacious and dynamic by default, balancing rich bass with crisp mids and treble tones. They don't lack low-frequency oomph, but nor do they drown out the details – leaving room for your tunes to breathe. ANC helps a lot, hushing background noise with minimal hiss, while Ambient Aware gives the option to let the outside in.
Switch off ANC and you'll get a test-winning 10-hour battery life. The charging case is larger than most and weighty at 63g, with a lid that feels less than premium. But it does harbour a further 20 hours of juice – and supports wireless charging for easy refuelling.
---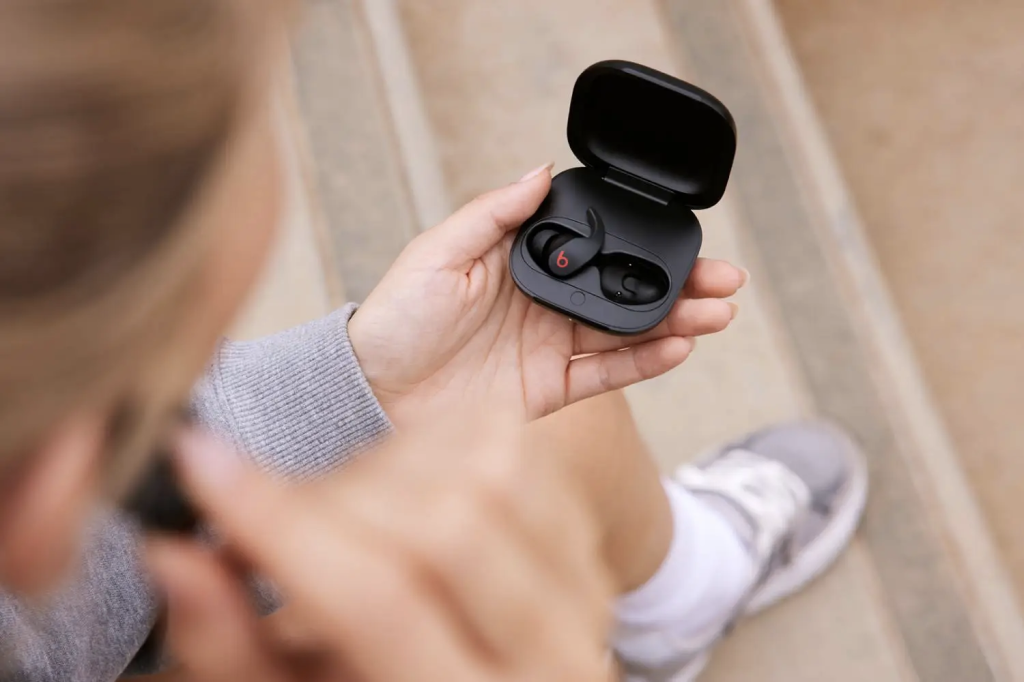 3. Beats Fit Pro
Stuff Verdict
Competitive battery life, rich sound and a lock-tight fit put the Beats Fit Pro among the best running headphones around
Pros
Good battery life & fast rapid charge
Excellent stay-put fit
Cons
Lacks customisation
No off switch on the buds
| Beats Fit Pro specs | |
| --- | --- |
| Battery | 7 hours (earbuds), 23 hours (case) |
| ANC | Yes |
| Driver size | 9.5mm |
| Weight | 5.5g (per earbud), 54g (case) |
| Connectivity | Bluetooth 5.0 |
| Water-resistance | IPX4 |
Combining AirPods tech with a fitness-friendly fit, the Beats Fit Pro are some of the finest running headphones you can buy. Ditching the ear hooks of the Powerbeats Pro, they adopt a flexible wingtip and gel combo that's designed for optimal comfort in any ear. It works brilliantly, creating an unshakeable fit that can withstand vigorous sprints.
With Apple's H1 chip and 9.5mm drivers inside, sound quality is excellent. You get the same ANC and transparency modes as the AirPods Pro, plus an Adaptive EQ that tailors sound to your environment. There's support for spatial audio too, which adds an immersive sense of dimension to the soundscape. Volume isn't quite as loud as some rivals, but there's punchy bass to move you, paired with crisp clarity.
Battery life is competitive at 30 hours, while wear-detect sensors prevent the Beats from playing in your pockets – although the absence of an off button means you'll usually want to return them to their case. Connectivity with iOS devices is seamless, while the Android app also offers some customisation.
---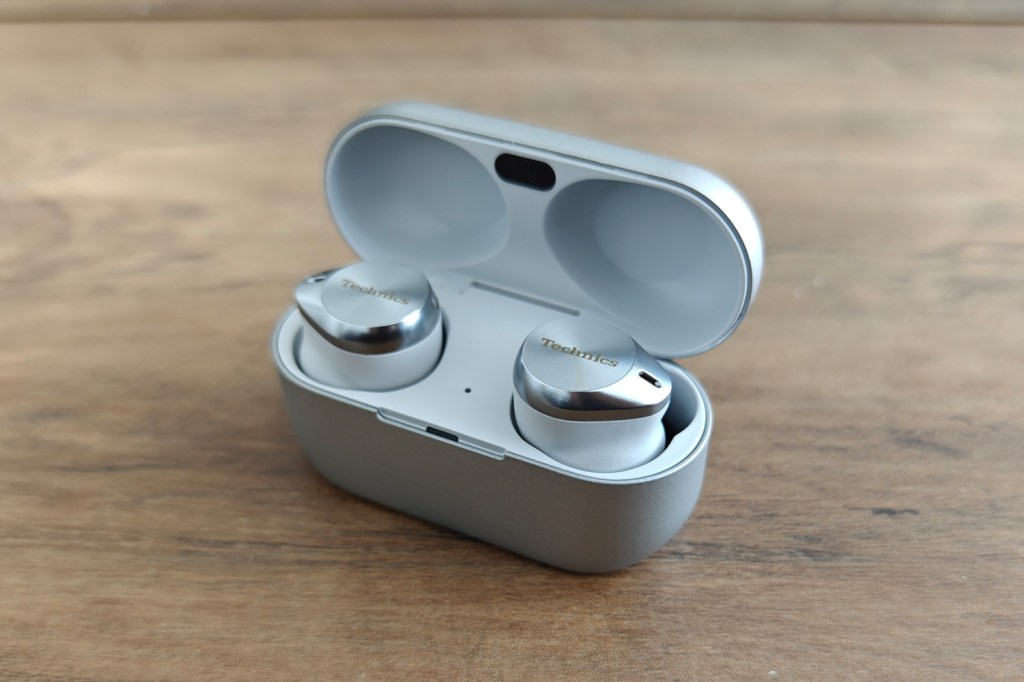 4. Technics EAH-AZ80
Stuff Verdict
Excellent all-rounder wireless in-ears that balance clean sound with convincing ANC, and deliver a secure yet comfortable fit.
Pros
Punchy yet balanced audio
Effective noise cancelling
Cons
ANC on battery life not the greatest
LDAC and multipoint don't play nicely together
| Technics EAH-AZ80 specs | |
| --- | --- |
| Battery | 4.5 (buds) 16 hours (case) (ANC) |
| ANC | Yes |
| Driver size | 10mm |
| Weight | 7g (buds) 50g (case) |
| Connectivity | Bluetooth 5.3 |
| Water-resistance | IPX4 |
OK, so the AZ80 aren't primarily designed for running or workouts – but their unique shape and fit make them a fantastic choice all the same. We could comfortably jog or head to the gym without them falling out, and the extensive selection of silicone ear tips in the box ensures all ear shapes and sizes should be able to get the same experience.
They're otherwise well equipped, with effective noise cancelling, wind-reducing microphones that make for clear voice calls, multipoint Bluetooth and respectable battery life. LDAC connectivity and excellent sound quality make them brilliant for at-home listening, too.
---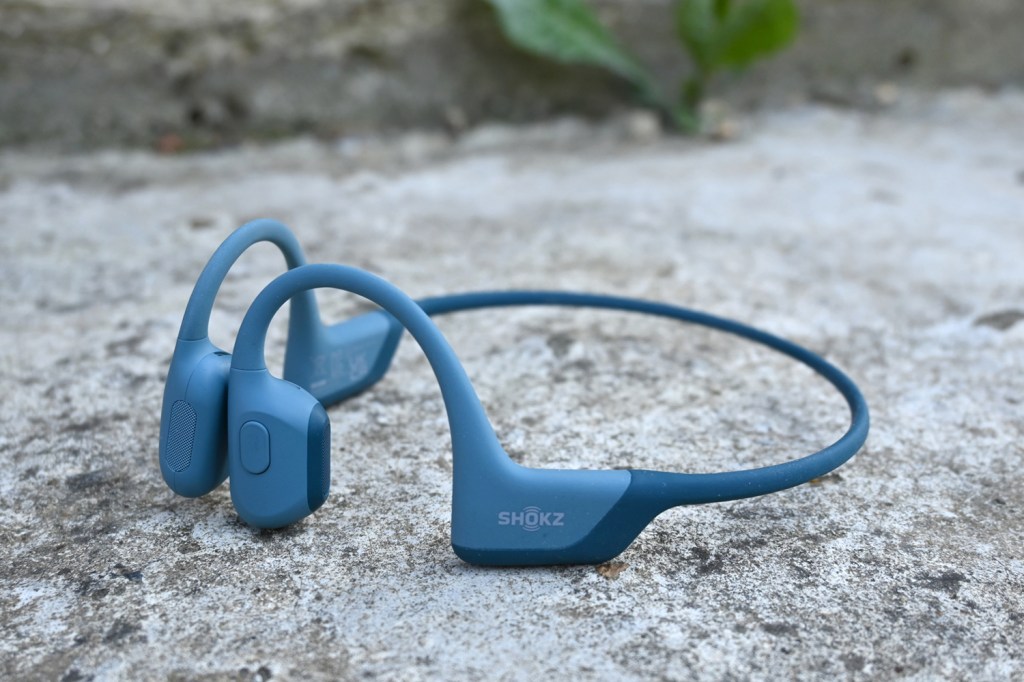 5. Shokz OpenRun Pro
Stuff Verdict
Delivering better audio than any bone-conducting rival, the OpenRun Pro also go the distance on battery life and lightweight comfort
Pros
Ultra light and comfortable for exercise
As good as bone conduction sound gets
Cons
No fit adjustment
Proprietary charging cable
| Shokz OpenRun Pro specs | |
| --- | --- |
| Battery | 10 hours |
| ANC | No |
| Driver size | N/A |
| Weight | 29g |
| Connectivity | Bluetooth 5.1 |
| Water-resistance | IP55 |
With an open-ear design, bone-conduction headphones are safer for running and riding on city streets. Normally, that greater awareness requires you to sacrifice sound quality. But while the OpenRun Pro can't compete with the very best in-ears on clarity, they narrow the gap by delivering the best audio of any bone-conduction 'phones you can buy.
Following the familiar Shokz formula, the OpenRun Pro use vibration drivers built into over-ear hooks. At just 29g, the whole package is exceptionally light. And despite sitting loose behind your head, the slim band holds firm at full sprint.
There's still an inescapable muddiness to the audio, but the mid-range benefits from more presence than previous efforts, while high notes have improved definition. There's no low-end rumble, but bass enhancers add more weight to round out the sound, while a dedicated Vocal EQ mode can be activated through the app to sharpen speech.
Cranking up the volume results in the best bass, but also a mild tickle and notable sound leakage. Still, with eight hours of battery life achievable when listening at 90% volume, the OpenEar Pro represent a step up from rivals – and closer to the par set by sporty wireless in-ears.
---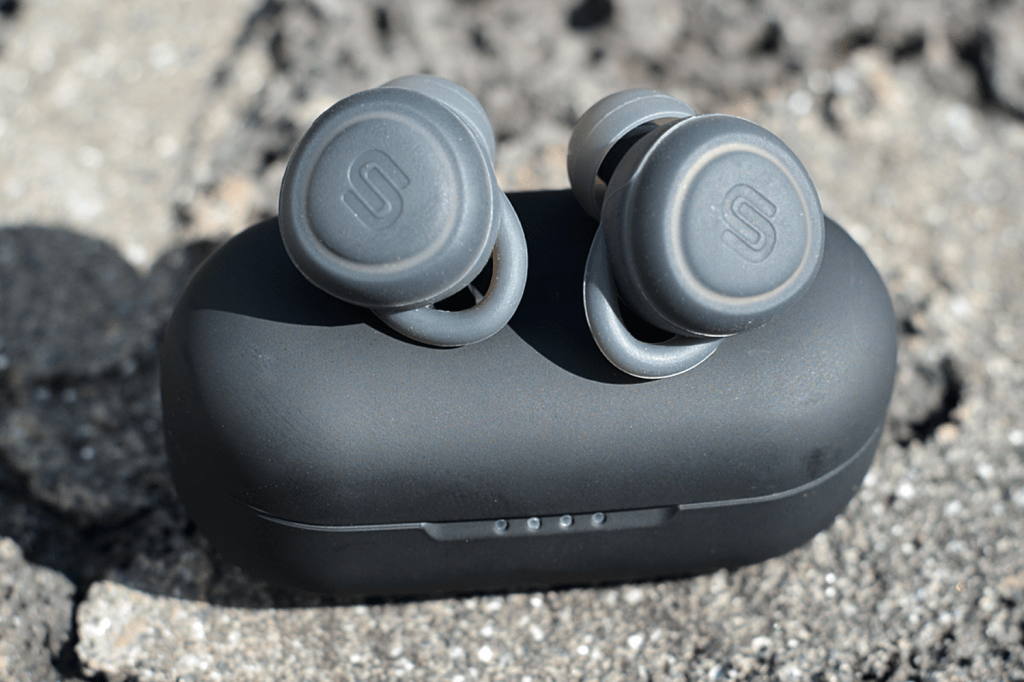 6. Urbanista Athens
Stuff Verdict
Rugged, punchy and packing plenty of charge, these active earbuds might lack a transparency mode, but they still deliver a lot for their price tag
Pros
Tough shell is swim-proof
Superb battery life
Cons
Weighty bass will be too strong for some
No transparency mode
| Urbanista Athens specs | |
| --- | --- |
| Battery | 8 hours (earbuds), 24 hours (case) |
| ANC | No |
| Driver size | 6mm |
| Weight | 6g (per earbud), 39g (case) |
| Connectivity | Bluetooth 5.0 |
| Water-resistance | IP67 |
Wrapped in a rubberised shell, Urbanista's rugged 'buds state their intentions clearly: with IP67 waterproofing and a sturdy silicone finish, durability is the order of the day. Yet despite the tough build, they stop short of chunky. Spend some time finding the right pairing of tips and wings and you'll be rewarded with a fit that's comfortable and secure on the move.
Accompanying the Athens is a 50g case that extends the eight-hour battery life by another 24 hours, which is up there with the best of any wireless running earphones. The flip side is that you don't get rapid or wireless charging. Buttons on the back of each earbud require a firm press, which is no bad thing: they remove any risk of accidental inputs while you run.
In the ear, you'll find the Athens deliver a consciously meaty sound profile. Yes, the soundstage could be more expansive and the strong bass can sometimes overwhelm the mids. But paired with highly effective passive noise isolation, these earbuds deliver a sonic experience that gets you moving – and they're among the most affordable earphones on this list.
---
7. Jaybird Vista 2
Stuff Verdict
Built tougher than the original Vista 'buds, these second-gen Jaybirds also sound better, last longer and now do a decent job of cancelling background noise
Pros
Good battery life & fast rapid charge
Excellent durability
Cons
Unimpressive ANC / Surround Sense
Bit pricey
| Jaybird Vista 2 specs | |
| --- | --- |
| Battery | 8 hours (earbuds), 16 hours (case) |
| ANC | Yes |
| Driver size | 6mm |
| Weight | 7g (per earbud), 44g (case) |
| Connectivity | Bluetooth 5.0 |
| Water-resistance | IP68 |
Jaybird's got form when it comes to top running headphones and the Vista 2 sticks to a proven formula: big battery life, solid sound and a secure, comfortable fit. But there are notable improvements, too. The tweaked tweeters now come with improved playback time, upgraded durability and ANC with hear-through smarts, making the Jaybirds a compelling proposition for runners.
Double-tap on the customisable button controls to flick between active noise cancellation and ambient awareness – although there's not a huge difference between the two when music is playing. Audio performance is rich, full and not lacking in bass, while custom EQ controls in the app mean you can create and store several sound profiles.
With an IP68 rating, the Jaybird Vista 2 are fully resistant to sweat and water, while the charging case is IP54 weatherproof. That container can boost the 8-hour earbud battery life by another 16, plus rapid charging is as good as it gets: five minutes equals an hour of playback time – ideal if you've forgotten to charge your earphones before a 5K.
---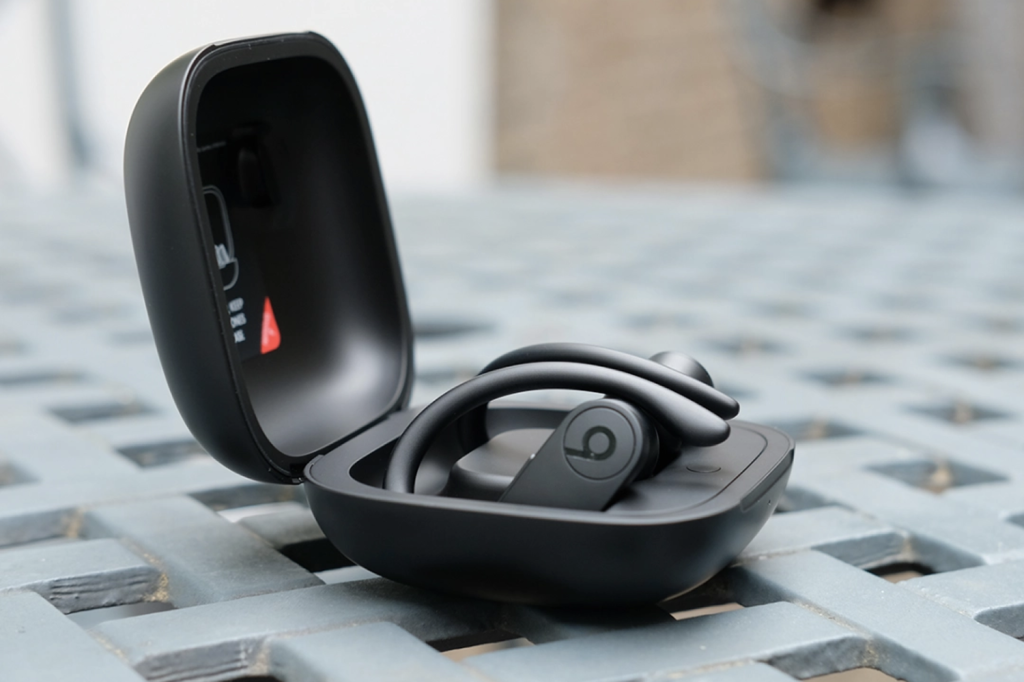 8. Beats Powerbeats Pro
Stuff Verdict
With grown-up sound, a smooth interface and secure fit, these are the best running headphones for Apple smartphone owners – and seriously tempting for everyone else
Pros
Apple's innards
Grown up sound
Cons
Bulky charging case
No USB-C
| Beats Powerbeats Pro specs | |
| --- | --- |
| Battery | 9 hours (earbuds), 24+ hours (total with case) |
| ANC | No |
| Driver size | 12mm |
| Weight | 21g (earbuds), 130g (case) |
| Connectivity | Bluetooth 5.0 |
| Water-resistance | IPX4 |
Long top of the list for audiophiles on the run, the Powerbeats Pro remain a stellar option for those who prefer an unshakeable ear hook fit. That design does mean the Powerbeats require a chunky charging case. And given the size, it's a shame the container doesn't include wireless charging, relying instead on a Lightning connector.
Still, the headphones and case both feel premium. So does their functionality: from setup to sprint, the whole process is broadly flawless. Wear sensors power auto-pause smarts, while an H1 chip inside makes it a cinch to sync with iOS devices. In a progressive move, each earbud benefits from full-function controls, rather than one serving as the dominant commander.
While that over-ear approach won't be for everyone, it ensures a snug and secure fit. Noise isolation isn't the greatest, but the Powerbeats Pro do offer one of the most rounded and refined soundscapes of any Beats device. There's still plenty of bass, but it no longer suffocates the mids and treble. Plus you get a class-leading 9-hour battery life.
---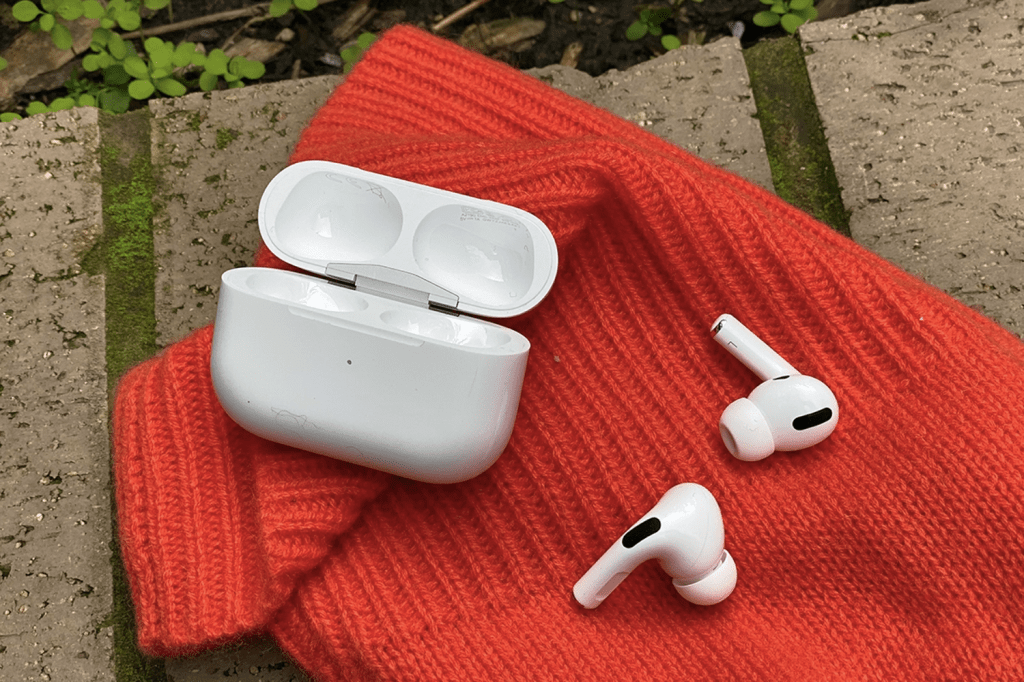 9. AirPods Pro
Stuff Verdict
Comfortable to wear and intuitive to use, Apple's top-spec wireless 'Pods do a stellar job as running headphones – especially with transparency smarts in the mix
Pros
Comfortable and secure fit
Decent noise cancellation
Cons
Expensive
No colour options
| AirPods Pro specs | |
| --- | --- |
| Battery | 5 hours (earbuds), 24 hours (with case) |
| ANC | Yes |
| Driver size | 11mm |
| Weight | 5.4g (per earbud), 46g (case) |
| Connectivity | Bluetooth 5.0 |
| Water-resistance | IPX4 |
Wearable every day, Apple's top-spec AirPods do a solid job as running headphones – especially if you're an iPhone owner. Shorter stems and silicone tips mark them out from Apple's standard earphones. Paired with a lightweight build, those same design elements also mean they sit pretty in the ear. Rivals with hooks or wings will lock in more securely, but for joggers about town, the AirPods Pro generally feel secure.
IPX4 waterproofing isn't the toughest, but it's enough for the AirPods Pro to survive a shower. Capacitive stem controls make it easy to enable ANC and transparency modes on the fly. Both are impressive, whether you want the world to disappear or let just enough noise in to stay safe on the pavement.
Less impressive is the battery life: with ANC and transparency enabled, longevity is limited to 4.5 hours. But stick the AirPods Pro back in their wireless charging case and you'll get another 19. Plus just five minutes of rest delivers an hour of juice.
Sound quality is solid, courtesy of Apple's adaptive equaliser. There are more balanced, dynamic options out there, but the AirPods Pro are a package that's easy on the ears – in more ways than one.
---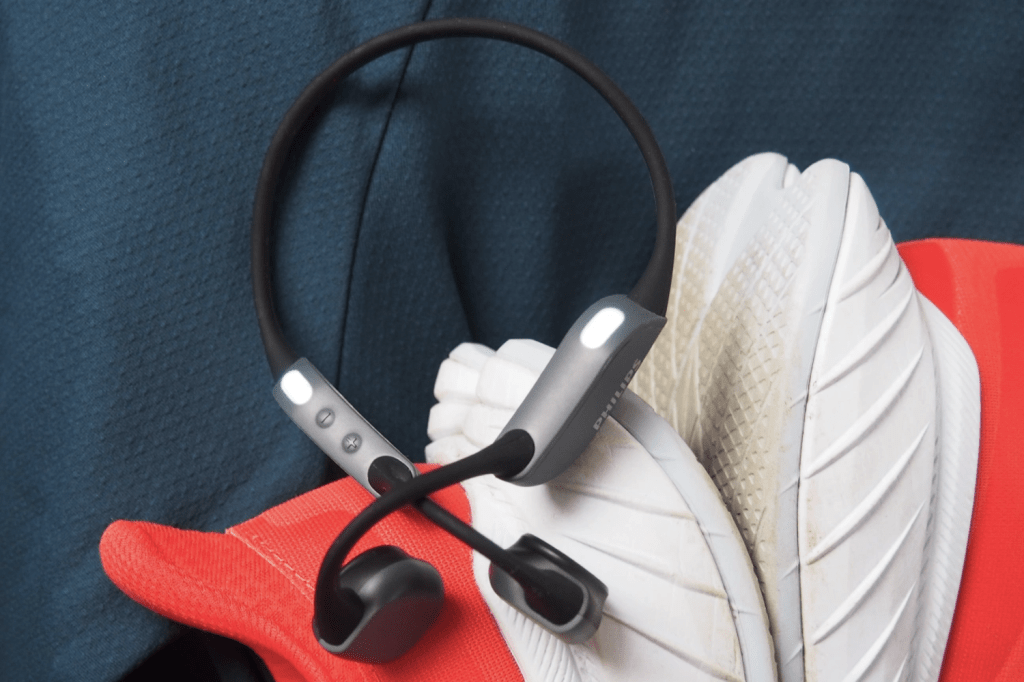 10. Philips TAA6606BK
Stuff Verdict
Sacrificing some battery in favour of bass, these bone-conduction earphones deliver punch without drowning out the world – plus integrated running lights mean you'll be seen
Pros
Bassy sound
We like the lights
Cons
Battery life not the best in bass mode
Controls take a bit of getting used to
| Philips TAA6606BK specs | |
| --- | --- |
| Battery | 9 hours |
| ANC | No |
| Driver size | N/A |
| Weight | 35g |
| Connectivity | Bluetooth 5.2 |
| Water-resistance | IP67 |
Bone conduction headphones send vibrations through your jaw, leaving your ears open to the world around you. Sounds weird, but it works. The common downside is that low vibrations are tricky to transmit – something these Philips 'phones go some way to addressing.
Sacrificing a bit of battery life in favour of bass, they can deliver beefy beats without drowning out the world. Head to the partner app and you can tailor the sound profile to your liking. Enable the bass mode and you'll see longevity drop from the claimed nine hours to around five. Sound quality still won't rival a set of in-ears, but this set does manage to elevate audio to something warmer and more rewarding, with low-end when you want it.
Adding to the sporty appeal are LED lights integrated into control mounts, which can blink or glow for increased visibility. Despite adding some bulk to the otherwise slim neckband, the mounts themselves don't weigh it down. The whole package also has an IP67 rating, so it can survive sweat, dust, rain and the rest.
If you want running headphones that deliver decent sound and a comfortable fit without blocking your ears, these are well worth a look.
---
How to choose the best running headphones
When buying running headphones, there are several key factors to consider that can enhance your running experience and ensure you choose a pair that suits your needs.
As you'll likely be wearing these while running or working out, there are a few different features that you'll need to look out for that set these apart from the best wireless earbuds.
As such, you'll want to opt for headphones specifically designed for running or sports activities, as these lightweight and ergonomic designs will provide a secure and comfortable fit when active.
This means they will, hopefully, stay in place during your exercise without causing discomfort or falling out.
As running is a sweaty activity, you'll want to choose headphones that offer sweat or water resistance. Look for an IPX4 or higher rating, which ensures they can withstand sweat and light rain.
Finally, if you plan to run outdoors, consider headphones with safety features such as ambient noise passthrough or earbuds that allow some external noise to be heard (such as bone-conducting headphones). This will help you stay aware of your surroundings and potential hazards while running, such as cars approaching from behind.
How we test the best running headphones
We've reviewed dozens of running headphones over the years, so you can trust our recommendation when it comes to deciding which pair to buy.
We usually spend a week or longer reviewing a set of running headphones, testing out the comfort and fit, sound quality, battery life and connectivity. We'll take them when we go out running or to the gym, to see how secure the fit is, and whether they really are up to the rigours of a workout.
We'll also tech out any new software features, such as EQ customisation, virtual assistants and transparency modes to see if they're worth the extra money they're no-doubt commanding.
Once we've experienced every aspect of the earbuds, we'll compare them with rivals, give them a star rating and add them to this buying guide (if they deserve a place).
For more information on Stuff's rating and review process, read our page on how we test products.