Technics EAH-AZ80 review: audio all-rounder
Comfort, comms and clean audio. Can these true wireless in-ears do it all?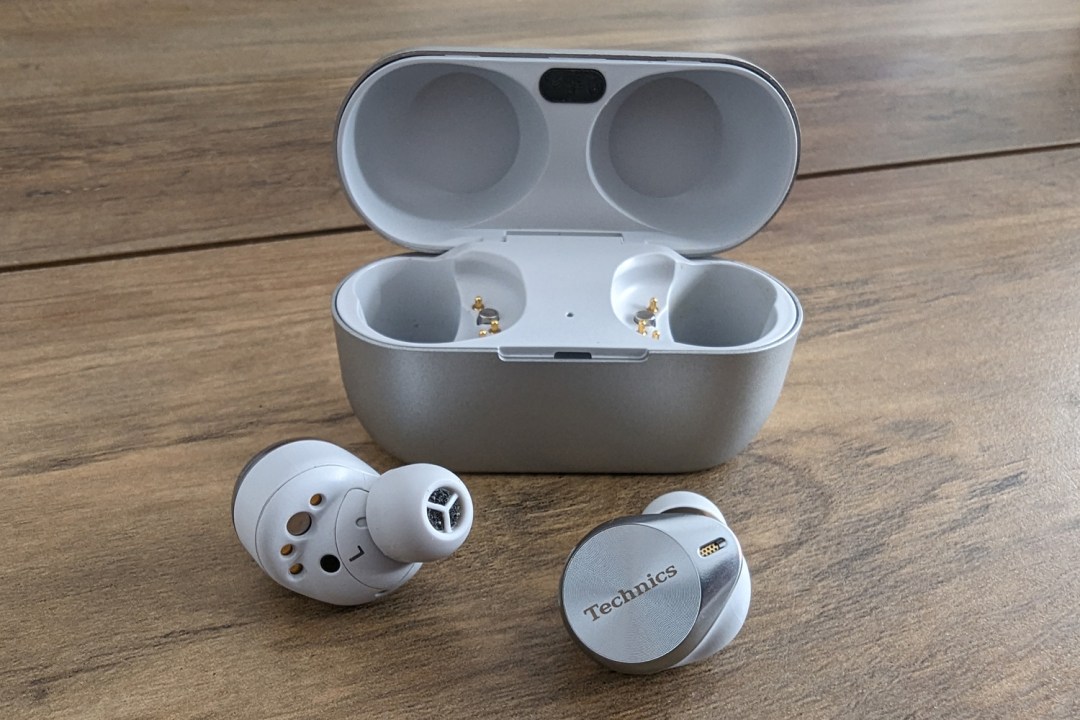 Pop quiz time. How many pairs of headphones do you own? According to Technics, most of us have at least three – with different sets for different jobs. That means one pair to wear to the gym, another to tackle the office commute with, and another for kicking back at home. Even we think that's a bit excessive – despite having best headphone lists for almost every eventuality. Why not just have one pair that can do it all? That's the thinking behind the new AZ80.
These top-tier true wireless in-ears promise a firm fit that isn't exercise-averse; effective ANC for silencing your trip to work; crystal clear mics for making voice calls; and of course excellent audio. Technics makes no secret it is out to beat the Bose QuietComfort Earbuds II for both noise cancelling and comfort – meaning it wants a place among some of the best true wireless earphones on sale right now. Do they manage it?
Design & comfort: almost made to measure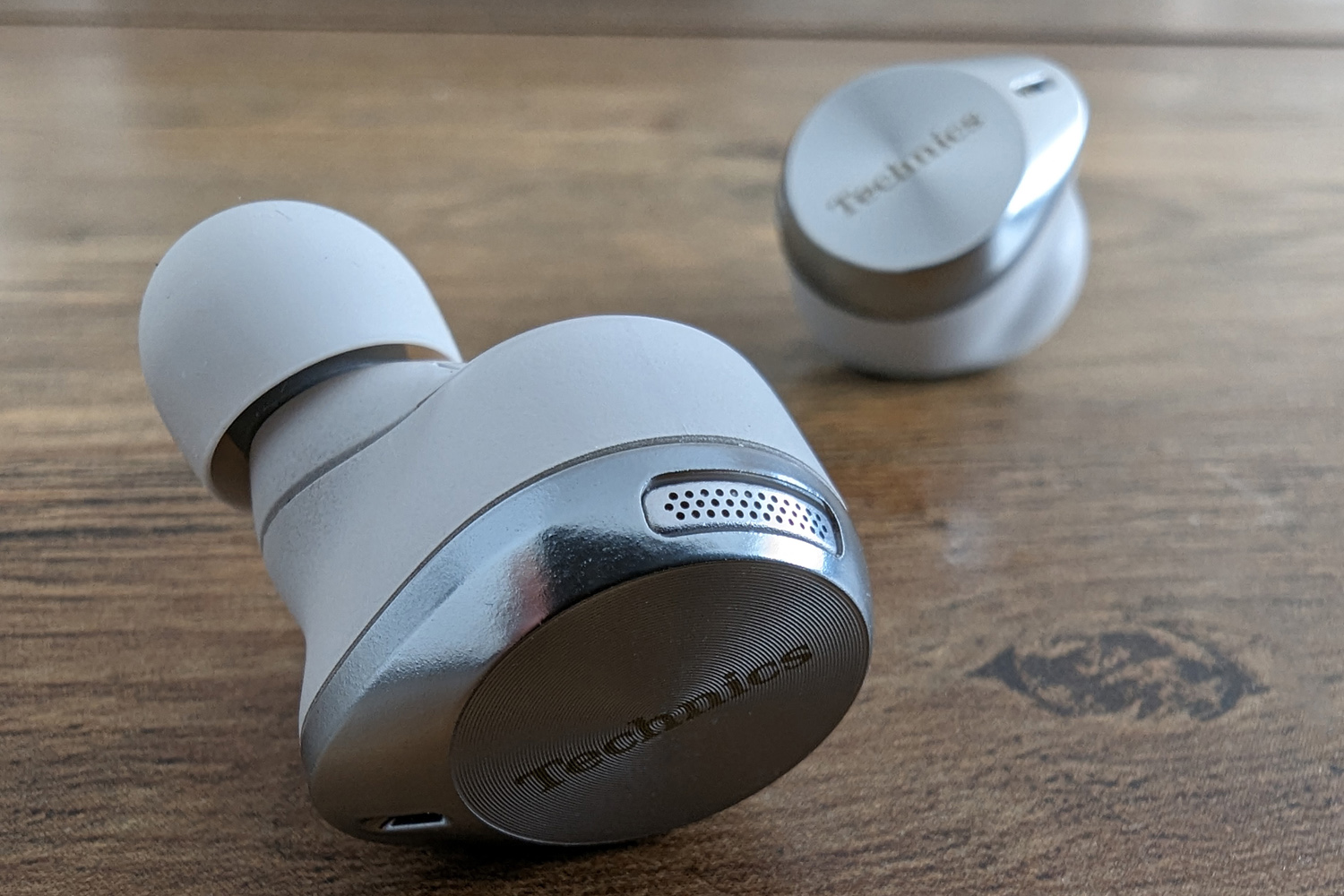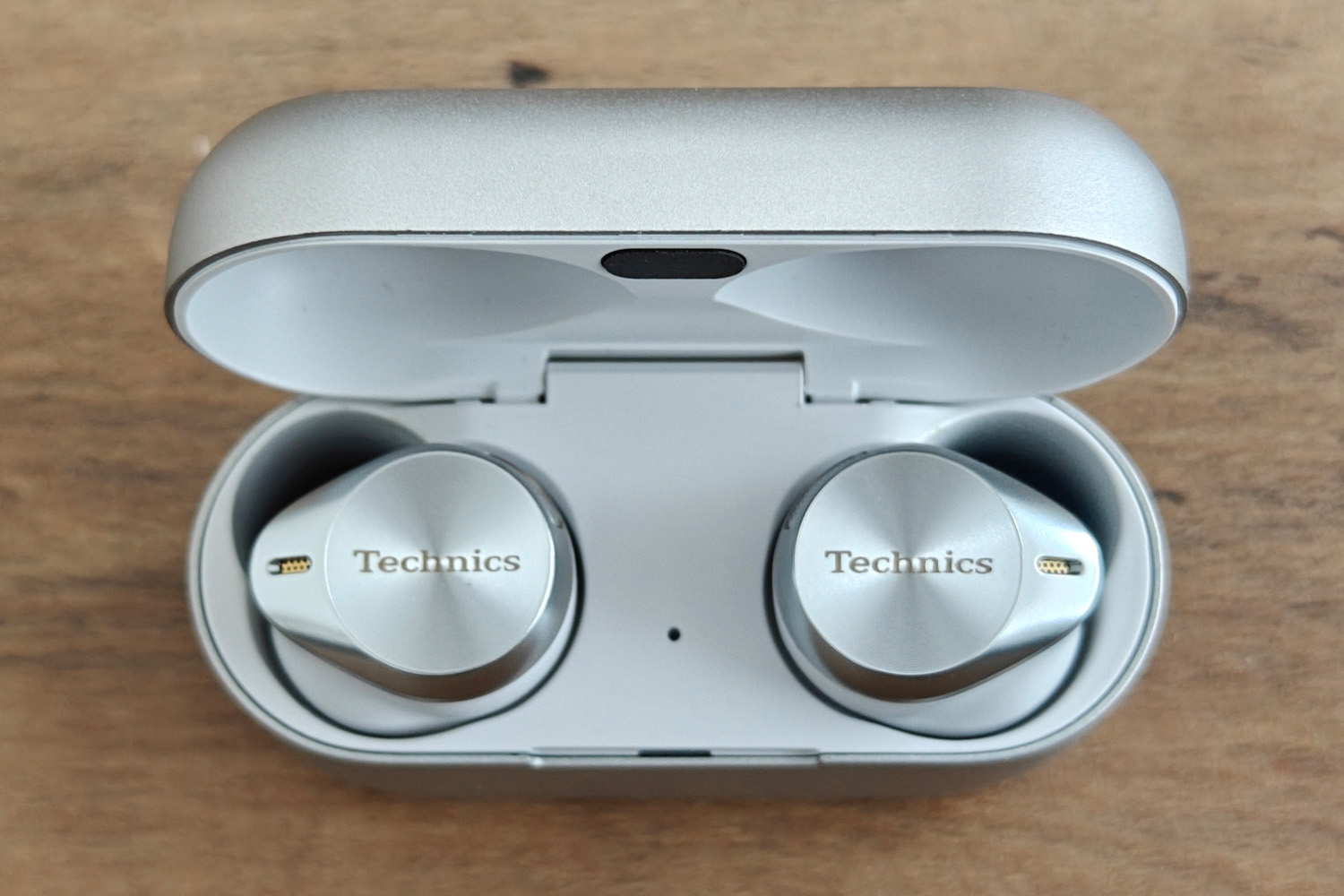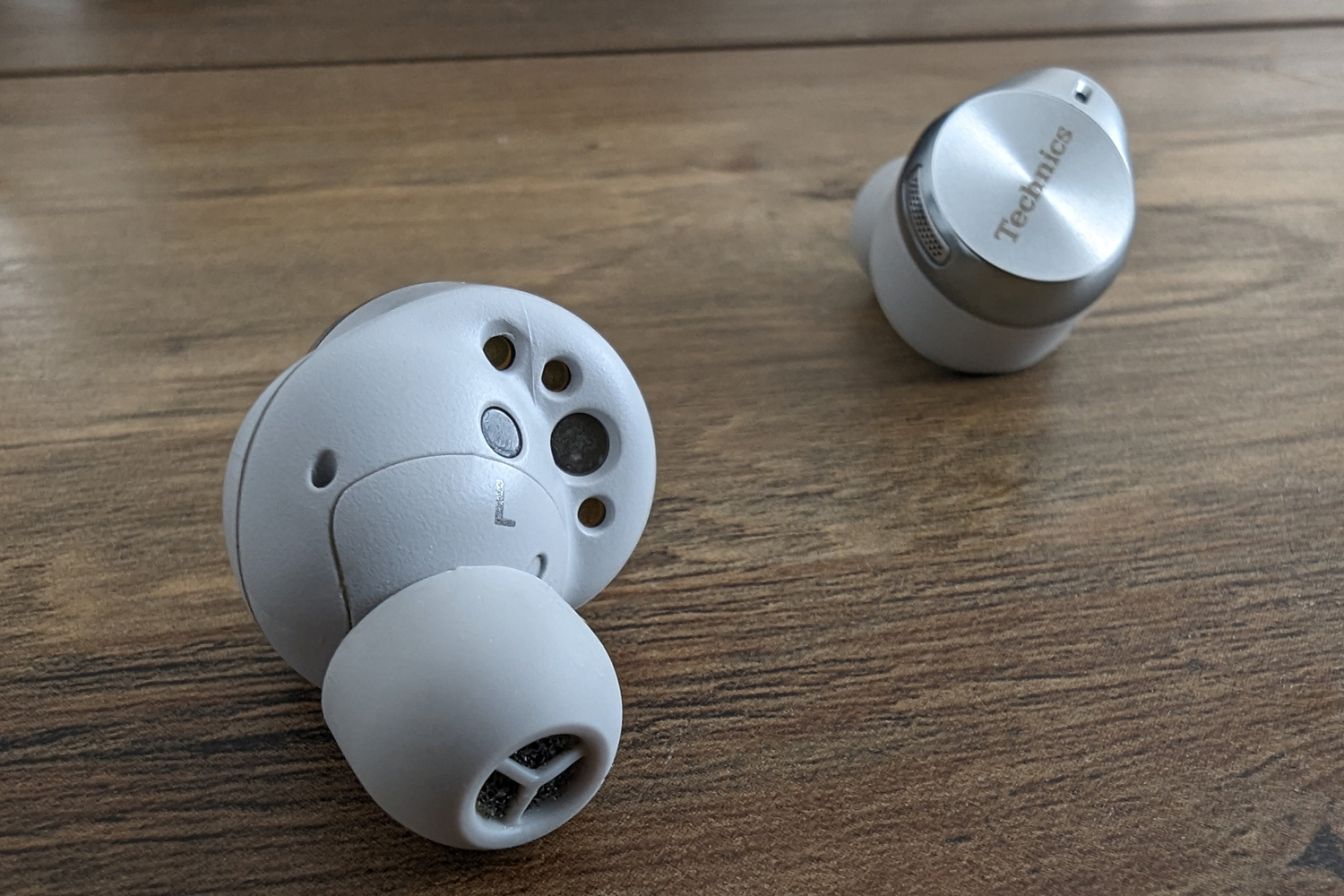 Take one look at the AZ80 and you can tell they mean business. Whether you go for the subtle black version or the more eye-catching silver tested here, the brushed metal finish and subtle gold ventilation grilles make them look every bit the top-tier earbuds. The compact charging case has been given a similar treatment, with a metal top plate that's cool to the touch and etched with a gold Technics logo.
The rest of the case is made from plastic, but avoids feeling cheap. It's not super-small, but slips in and out of a pocket easily enough. A tiny activity LED lets you know how much battery is left when you flip open the lid: you're good on green, but should think about plugging in when you hit orange or red.
Instead of simply cramming 2023 tech inside one of its older in-ear efforts, Technics has redesigned the 'buds with a focus on comfort. They have bulbous inner portions which slip comfortable into the concha of your ears, and a sculpted outer part that stops them from moving around while you do. We've recently tested a series of true wireless in-ears that would constantly wiggle themselves loose while we were walking, but the AZ80 stayed securely in place.
That's partly down to the generous seven pairs of silicone ear tips Technics includes in the box, letting you get a fit that's equal parts secure and comfortable. We happily wore them for hours at a time, and even took them running without worrying they would fall out.
These aren't the biggest buds we've tested, but they don't sit completely flush to your ear, so you might find them a little cumbersome if you sleep with your earphones in.
Features & battery life: clarity or longevity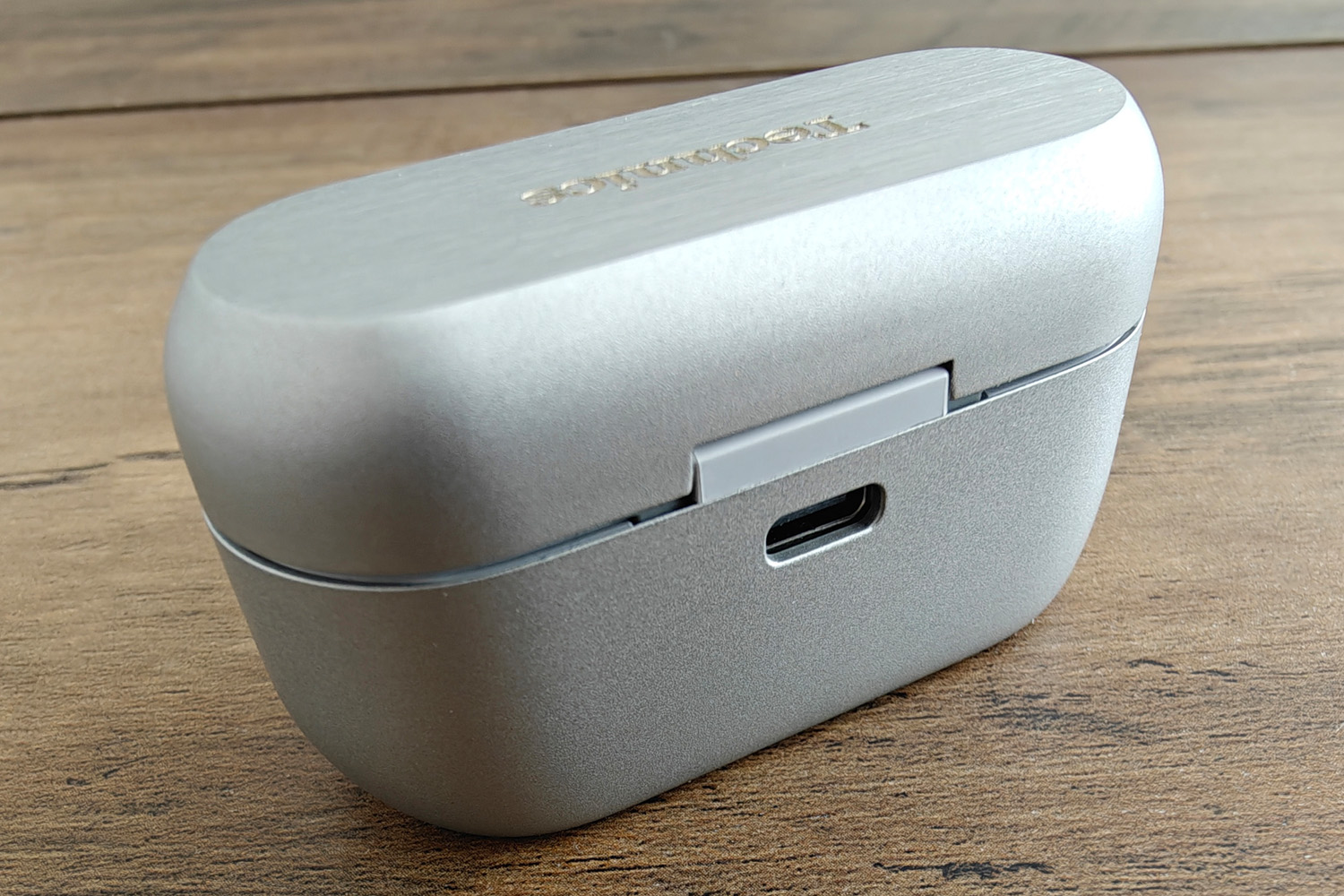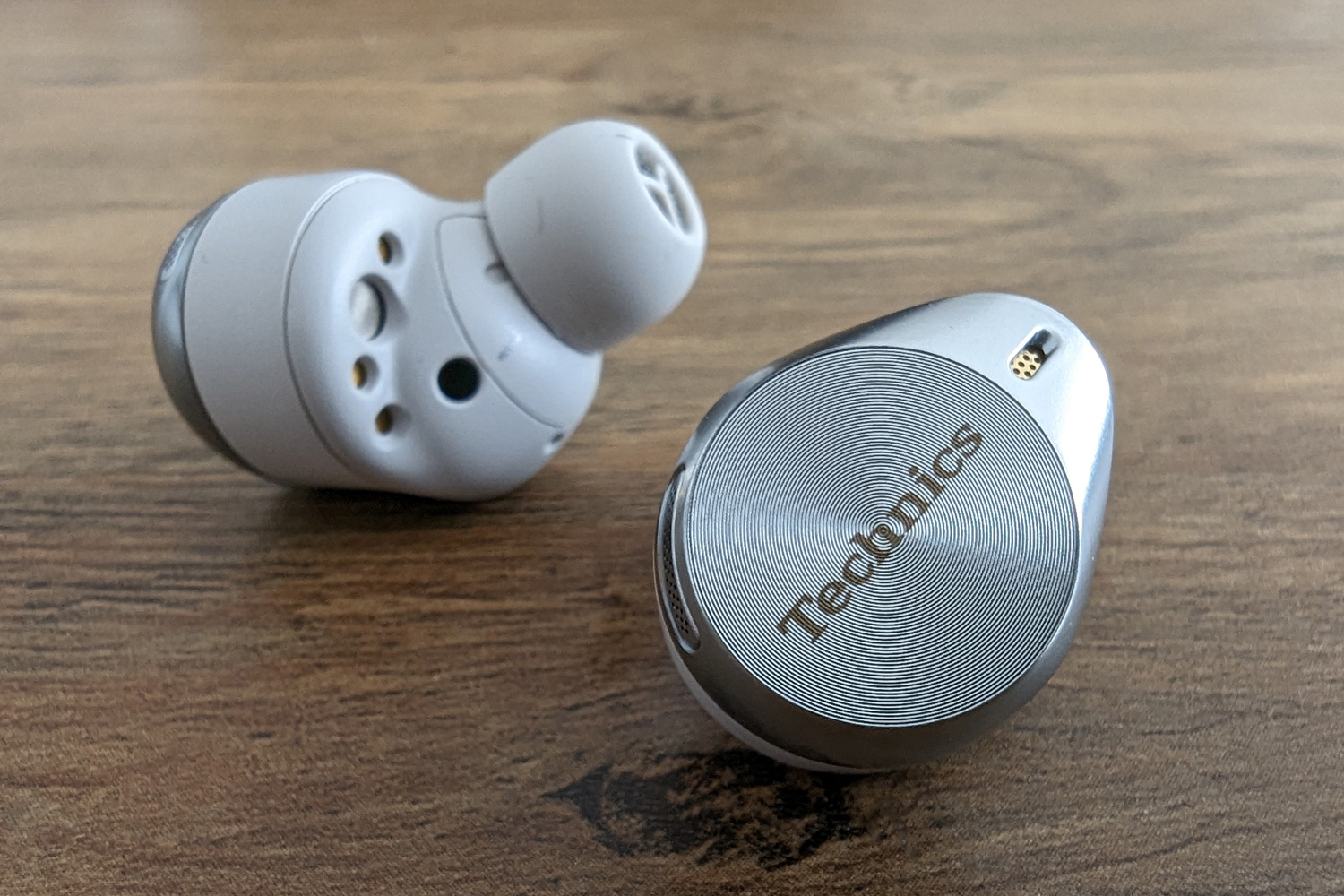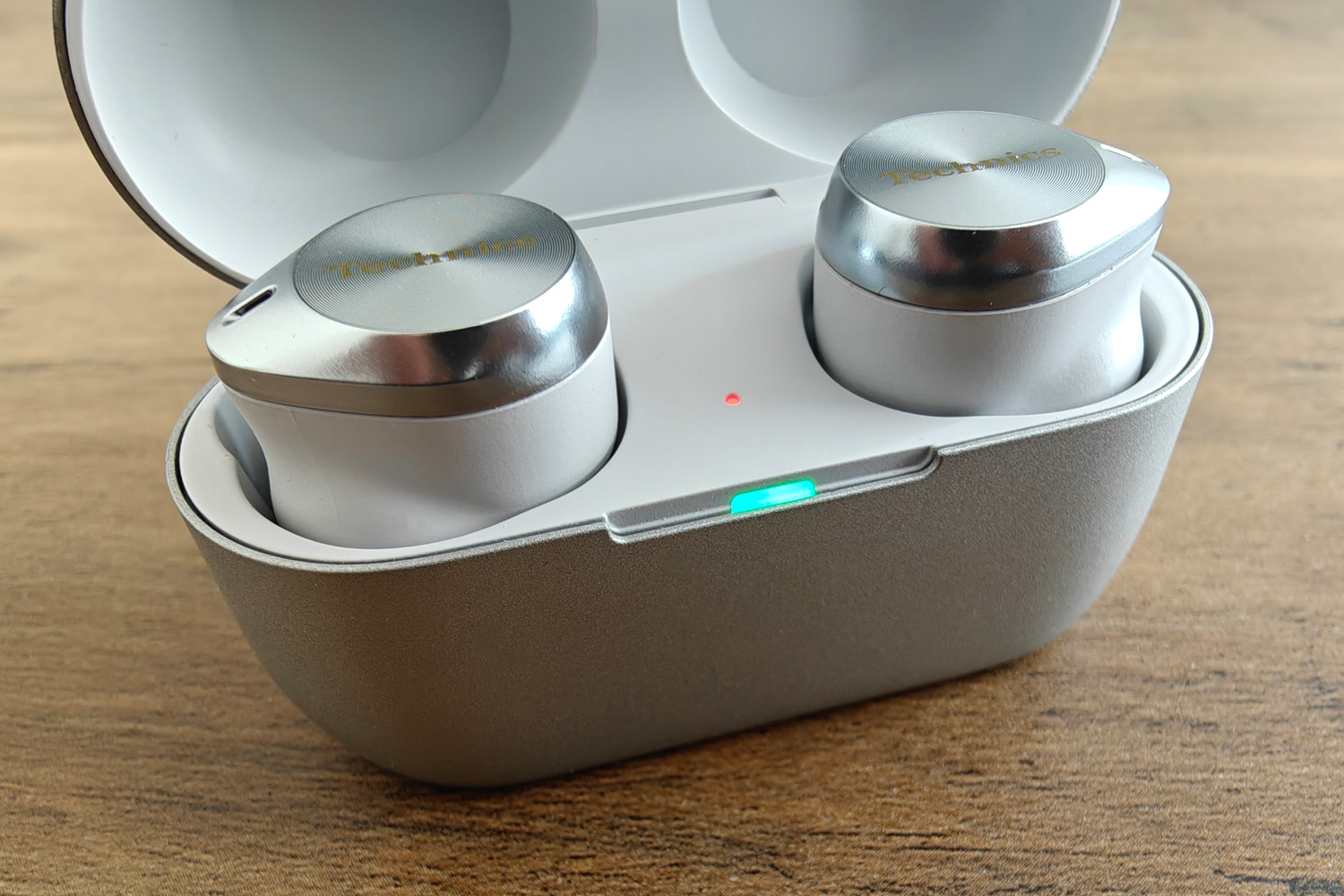 Technics has managed to cram four microphones into each earbud, using both feed-forward and feed-back listening for the on-board active noise cancelling. Software called JustMyVoice also draws from parent company Panasonic's experience with cordless phone tech for clearer voice calls. Beam-forming focuses on your voice while the other mics isolate wind noise, so you don't need to shout over the sound of passing cars.
We made many calls during testing and the people on the other end of the line could always hear us clearly. How well you come across on a video chat depends on your device's bandwidth, but for voice chat even blustery days and a traffic-filled walk around the city weren't a cause for concern. The AZ80 is comfortably up there with the best in this regard.
Naturally Technics has made sure to pack at least one high quality wireless codec, with LDAC Bluetooth appearing alongside the standard SBC and AAC codecs. As long as your phone supports LDAC you can enable it through the companion app (more on that below), although there are a few caveats. LDAC streaming is more prone to dropouts in areas with lots of signal interference (think a busy train station during commuter hours), and while we didn't notice any major playback problems during morning rush hour, your mileage may vary.
LDAC also can't be used with the AZ80's other party trick: three-device multipoint connectivity. This is the only pair of in-ears we've tested with the option to pair with three different gadgets at the same time, but you have to accept a standard Bluetooth bitrate to do it. That's a minor trade-off if you're using kit that doesn't have LDAC support, though.
The AZ80 puts in a decent showing when it comes to battery life, managing more than six hours of listening during our testing with ANC enabled. Switching off noise cancelling doesn't bring a major boost, but you might eke another 45 minutes before the buds need a trip to the charging case. That has enough juice for three full recharges before it also needs topping up, which can be by either USB-C or Qi wireless pad.
Those numbers were only when using AAC Bluetooth; figures drop to around four hours and 16 hours respectively for the buds and the case when swapping to LDAC. That puts them behind the very best true wireless in-ears, but at least you have the option to quickly swap between codecs when battery life is a priority.
App & interface: mostly minimal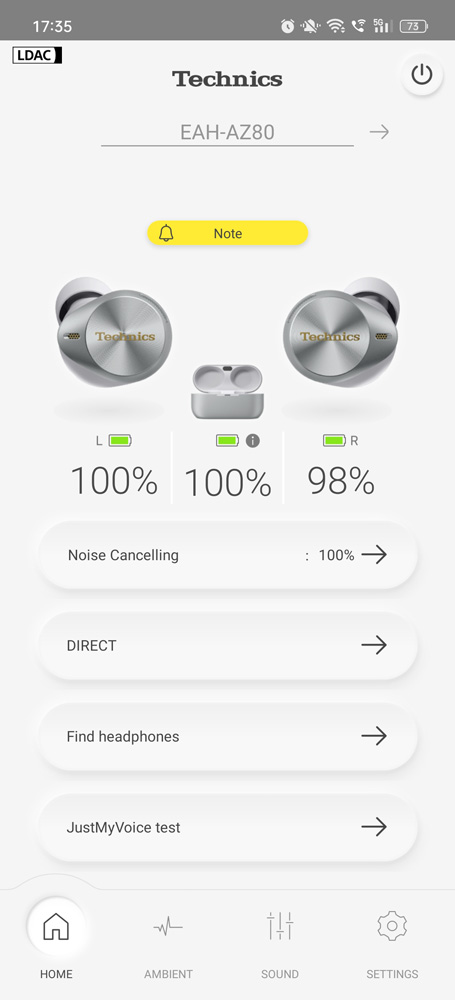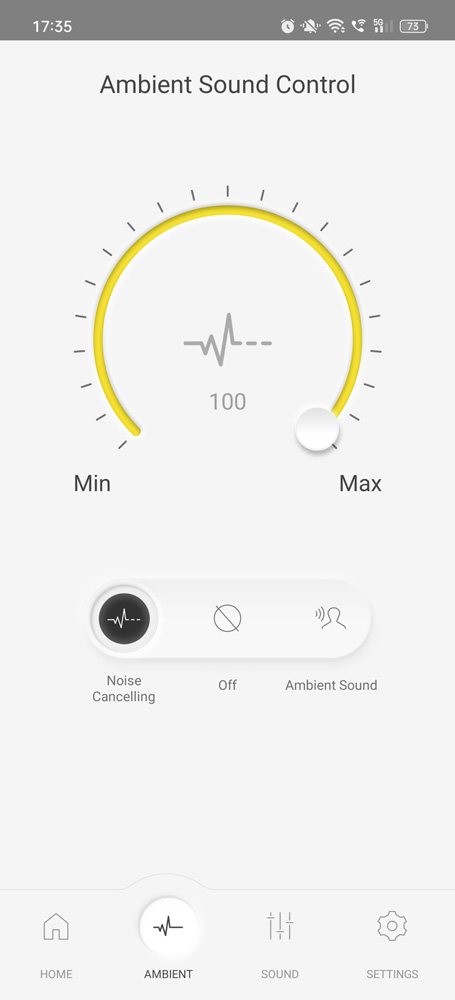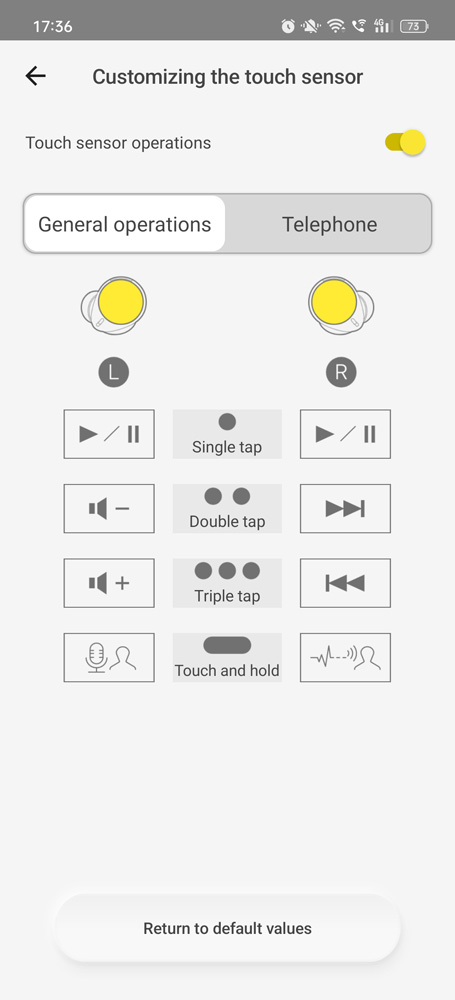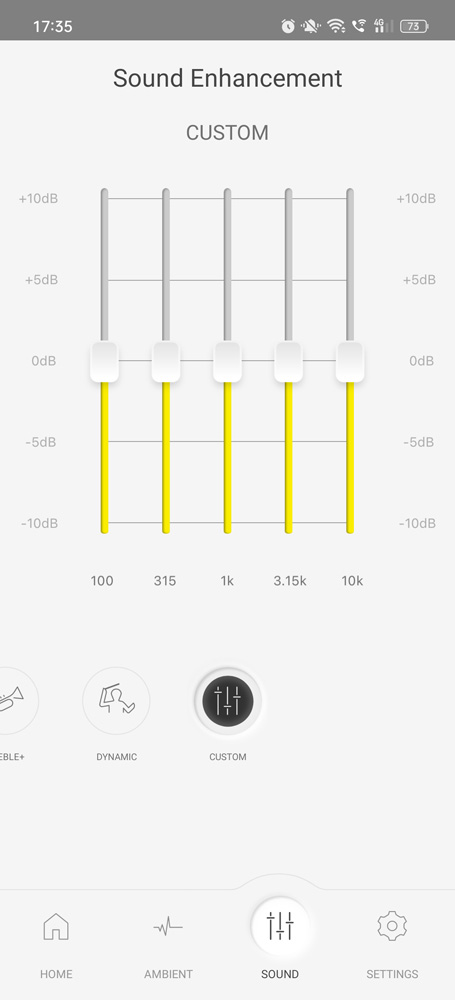 The Technics companion app is well worth an install, as it gives fine-grain control over noise cancelling, microphone sensitivity and EQ settings, as well as the usual control customisations and over-the-air firmware updates.
Everything is cleanly laid out, with the most important features given their own dedicated tabs at the bottom of the home screen for quick access. The fiddly advanced stuff is largely hidden from view, so you've got to go digging if you want to adjust the number of active multipoint devices or increase the gain on the ANC microphones.
There are a handful of EQ presets to pick from, with names like super bass+ that make it obvious what part of the frequency range they boost rather than claiming to be best for certain music genres. There's also a custom preset, but the five-band equaliser doesn't give the fine-grain control we'd expect from a firm with such a long history in high-end audio.
There's no listening-based hearing test either – something we've seen on plenty of rival in-ears recently, including the Nothing Ear 2 and JBL Tour Pro 2 – although as we'll explain in the next section, we don't feel the AZ80 especially needs one. An ear fit test would have been more useful, given the number of tips Technics includes in the box, and how important the perfect fit is for comfort, sound isolation and sonic performance.
Sound quality & noise cancelling: high fidelity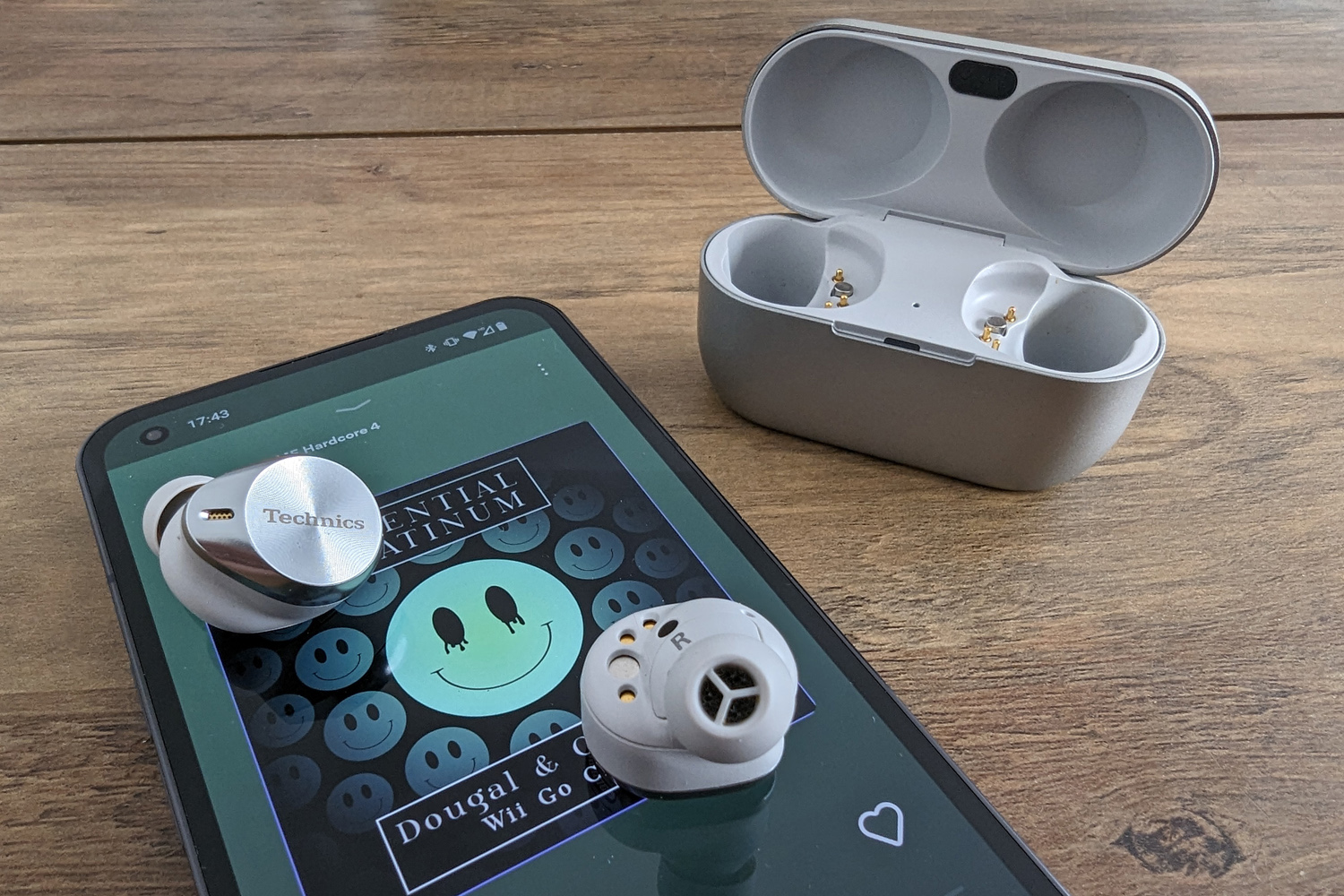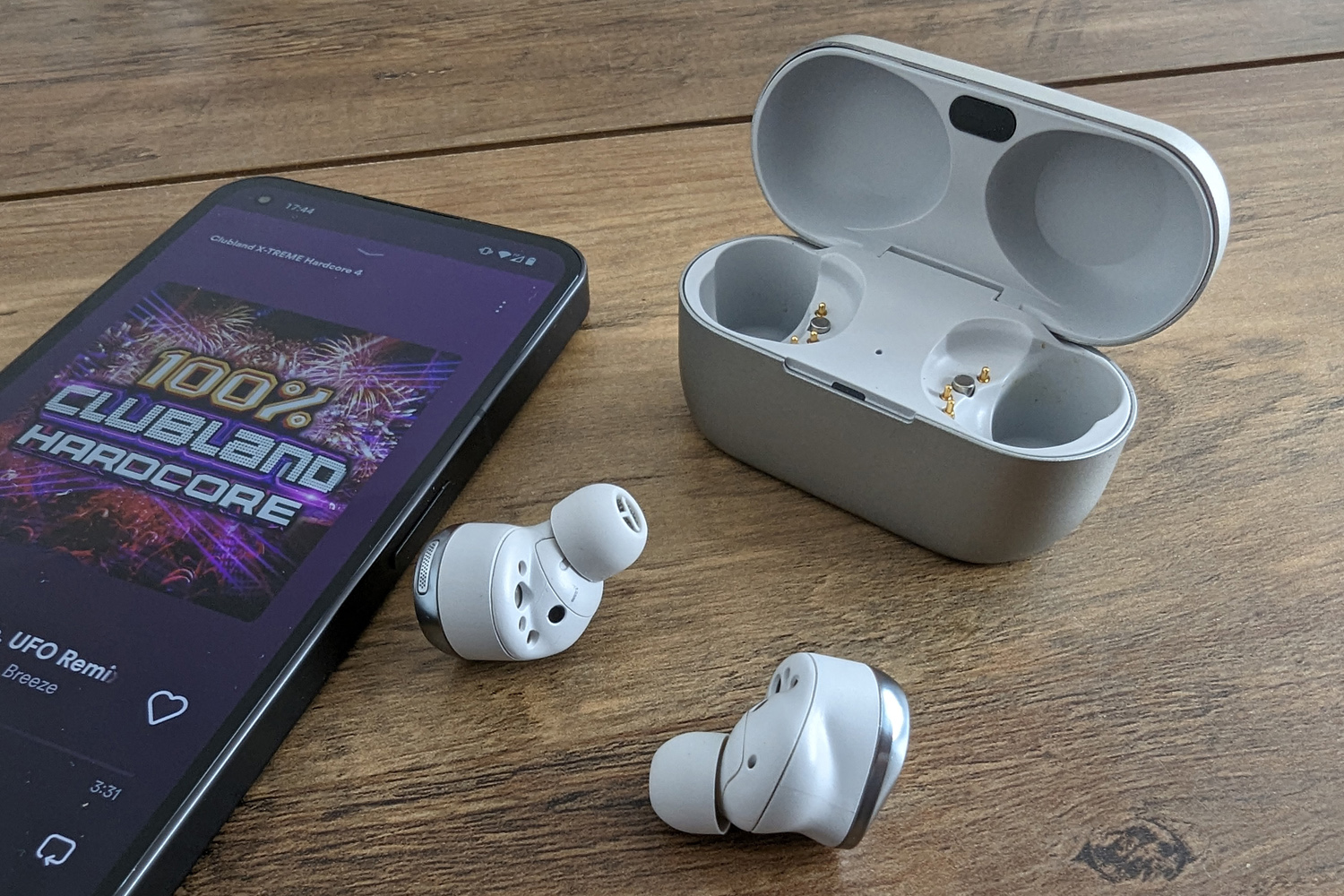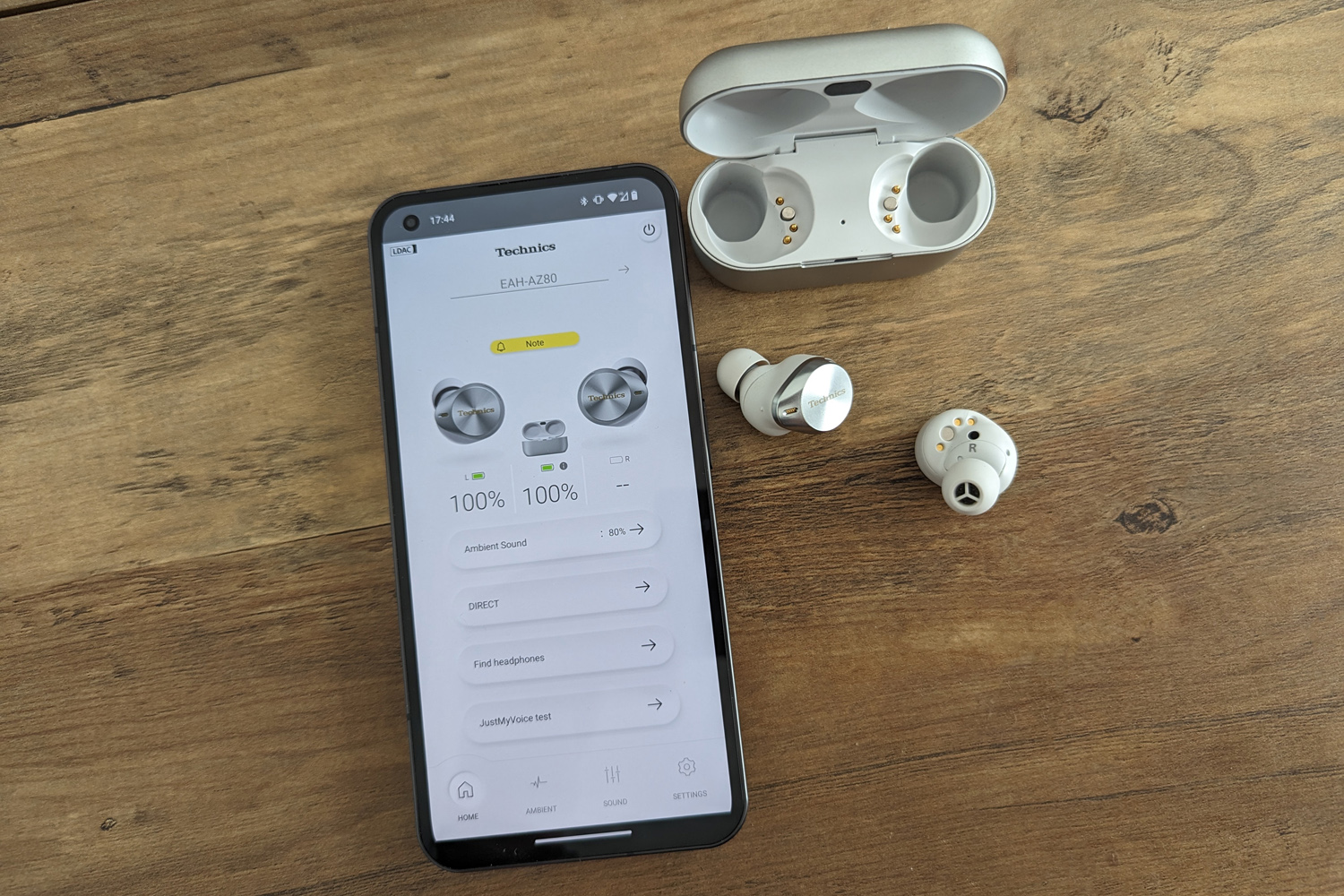 There are no clever adaptive ANC modes that dial down the cancellation effect when you're in a quiet space: you can either turn it on or off using the buds themselves, or ambient sound to get a better sense of your surroundings. The companion app lets you dial in the strength manually, but we found it easier to leave on 100% and just toggle on and off as we needed it.
Technics does a great job of stripping out background chatter, quietening vocal frequencies that can cut through other ANC in-ears. The AZ80 had no trouble silencing the low-end drone of a train carriage, and while car noise still seeps through while walking on busy streets, it's nowhere near to the same degree of lesser rivals. These are up there with the top tier of noise-cancelling earphones, if still a half-step behind the Sony WF-1000XM4 and Bose QuietComfort Earbuds II. But the gap is much narrower than it was in previous generations.
The AZ80's impressive sound helps make up the difference. It uses 10mm dynamic drivers to produce satisfyingly detailed audio, striking a great tonal balance across every musical genre we listened to. Bass has plenty of impact in tracks where it should be prominent, such as the Prodigy's frenetic Wild Frontier, yet doesn't dominate the mix on more reserved songs. The bass guitar on the acoustic version of Alice in Chain's "Would?" lives in the background, giving the other guitars and vocals room to breathe.
It's a similar story at the opposite end of the frequency range. Top-end notes and percussion have a crispness to them, but never tip over into harsh territory. Instead of a flat sound curve meant to please audiophiles, or one so v-shaped the bass would rattle your skull, there's a happy middle ground to be found here long before you start tweaking EQs manually.
While the soundstage isn't as expansive or airy as a pair of over-ear headphones, it doesn't feel at all tight or enclosed. Instruments aren't tightly laid over one another, which also helps cut down on listening fatigue. Combined, there's a sense of dynamism and engagement that wasn't present on Technics' previous efforts, and they compare very favourably to similarly-priced rivals.
Technics AZ80 verdict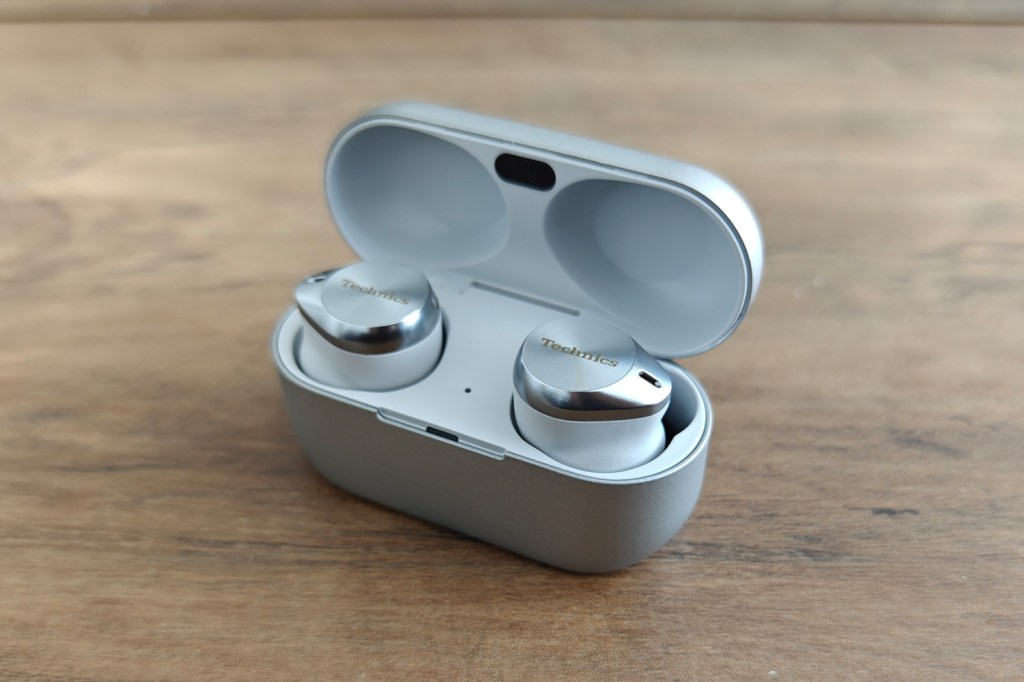 Technics already made some cracking wireless earphones, but the AZ80 is now the best of the bunch. Equal parts secure and comfortable, with potent ANC and audio that's even more dynamic than previous efforts, they're a very easy listen indeed.
Although battery life isn't fantastic when using LDAC Bluetooth, having the option to choose longevity over audio fidelity is a smart move. Given Technics' high-end audio experience we'd like some more advanced EQ options, and smarter switching between multipoint and LDAC might be nice too.
Even with those minor quibbles, they are a proper alternative to Sony's ageing WF-1000XM4, and genuinely can take the place of however many pairs of earphones are sat in your desk drawer right now.
Stuff Says…
Excellent all-rounder wireless in-ears that balance clean sound with convincing ANC. A secure yet comfortable fit mean the AZ80s are impressively versatile 'buds too.
Pros
Punchy yet balanced audio
Effective noise cancelling
Comfy and secure fit
Cons
ANC on battery life not the greatest
LDAC and multipoint don't play nicely together
Custom EQ options could be more expansive
Technics AZ80 technical specifications
Drivers
10mm dynamic
ANC
Yes
Bluetooth version
Bluetooth 5.3
Codec support
SBC, AAC, LDAC
Durability
IPX4
Battery life
4.5 hours/16 hours (ANC on, LDAC codec, buds/case)
7.5 hours/25 hours (ANC off, AAC codec, buds/case)
Dimensions
22x27x24mm, 7g (buds)
69x36x29mm, 50g (case)