The best apps for kids (of all ages)
Parents! Welcome to your emergency school holidays survival kit...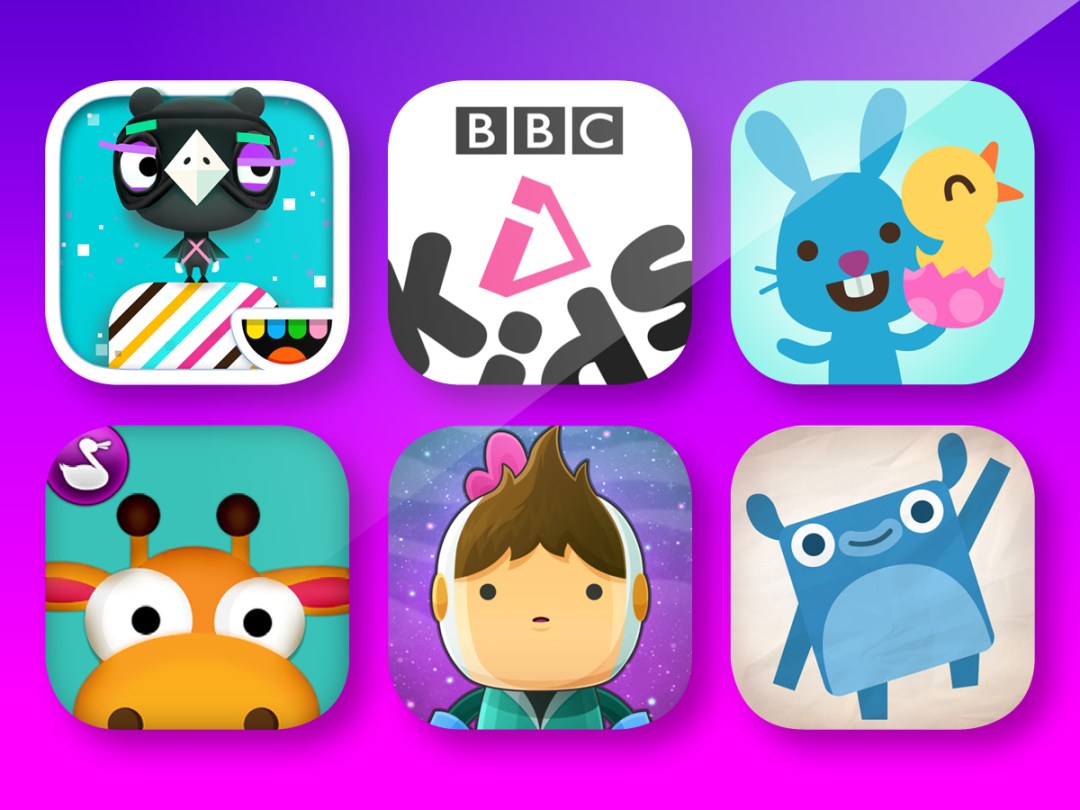 One of the hardest things about being a parent these days is not being consumed with jealousy at all the best apps for kids. Plus there are some really great games, too. Perfect if you've got one of the best cheap phones on sale and don't mind handing it to your child.
Of course, the flip-side to the boom in fun-ducational (and just plain fun) apps is that the options for keeping 'mini you' entertained on long holiday journeys are seemingly infinite.
Yet not all kid-focused apps and games are made equal. That's why, after weeks of testing on the Stuff team's eventual successors, we've narrowed down the most absorbing, ingenious apps for all age groups, from pre-schoolers and primary school kids, to bigger kids – including you.
Automatoys
There's a point where every kid eyes up a marble run and gives their parent/guardian 'big eyes'. Then, shortly after receiving the marble run, said kid gets bored with how little they can do with it. Hence: Automatoys.
We're not going to pretend there's a lot of educational value here. Automatoys is almost gleefully simplistic with its one-thumb interaction model, a tap simultaneously activating all of a machine's moveable components.
But this game/toy is lots of fun. There's so much imagination in each colourful contraption. There's genuine skill and timing in getting the marble to the goal. And at two quid for the full set of a dozen virtual toys, it's a whole lot cheaper than any pile of plastic parts.
Download Automatoys for iOS (£free or $1.99/£1.99)
Download Automatoys for Android (£free or $1.99/£1.99)
Chantlings
If you've a youngling that finds it tough to find their voice, Chantlings might be able to help. It's an endearing singing app, but rather than demand you laboriously croon scales or blast out pop songs, it has you coax sounds out of mysterious adorable creatures peering through the leaves of a forest clearing.
If you just use a device, the app has a call-and-response vibe, responding after a brief pause to a sound taken in through the mic. But add headphones and the critters harmonise in time with whatever they hear. Interaction is simple – tap any Chantling to turn it on or off.
In all, this is a cartoonish but magical slice of musical interaction a kid can have fun with while building confidence.
Download Chantlings for iOS ($2.99/£2.99)
Dino Dino
If you've a youngling of 4 and up who's obsessed with stompy monsters that used to roam the land millions of years ago, Dino Dino's a must-have. It tasks you with finding 21 dinosaur cards by completing educational mini-games.
These games aren't dry and dull fare. Instead, you entertainingly get to match a dinosaur's weight by plonking it on a colossal set of scales and comparing it with diggers and elephants. Other games include colouring in, feeding time, and digging up fossils in seconds by using a finger. (Sorry, palaeontologists – we realise things aren't quite so simple in the real world!)
Note: If this one kicks off in German, scroll the nav bar to the left and tap the rightmost button to switch language.
Download Dino Dino for iOS (£free + IAP)
Download Dino Dino for Android (£free + IAP)
Labyrinth City
Hiro Kamigaki's Maze Detective books are joyful creations – imaginative finding books packed with intricate details. Surprisingly, this videogame adaptation doesn't follow the example of Hidden Folks and replicate that experience on screen. Instead, it marries pathfinding and observation.
Each level tasks you with directing the titular maze detective around mazes, in hot pursuit of nefarious types. Along the way, you can explore your surroundings and find clues, secret treasures and mini-games.
For adults, there's less here than a straight port of the books would have created. But our resident school-age tester has been glued to the screen for some time, suggesting this one's ideal for its target market.
Download Labyrinth City for iOS ($4.99/£4.99)
Super Robot Bros
Kids today are growing up in a world where they're surrounded by technology. Having them well-versed in logical thinking therefore provides a useful and relevant foundation for many areas of learning.
With this app, they drag actions to a playback bar, in order to direct robots towards a goal. This is a sneaky way of teaching them sequences, loops, events and conditions. And when your nipper's mastered all those, they can work on their own challenges using a built-in level designer.
Download Super Robot Bros for iOS ($4.99/£4.99)
Download Super Robot Bros for Android ($4.99/£4.39)
Townscaper
Most kids love to build, whether that's with piles of plastic bricks or pixel-based equivalents in the likes of Minecraft. Townscaperprovides a meditative and thoughtful alternative, giving your child a huge expanse of water and just letting them play.
There's no goal. The game's all about discovery and joy, and its basic controls (tap to build; long-tap to delete) are simple enough for young children to master. They'll love the surprises too, when figuring out how to create different building types, coax pigeons on to rooftops, or even make a structure fly.
Download Townscaper for iOS ($4.99/£4.99)
Download Townscaper for Android ($4.99/£4.49)
Serial Reader
Convincing kids to read the classics can be a challenge. Dusty old tomes on shelves hardly feel exciting in an era of TikTok. But Serial Reader cunningly repackages old books as bite-sized fare, serving them up as daily snippets that can be digested in around ten minutes.
This isn't going to get anyone through War and Peace in a hurry. (In fact, by default, it would take a whopping 235 days.) But it'd let an older child armed with a phone check out War of the Worlds or Frankenstein across a few weeks, cunningly gamifying the process to the degree they might end up with several stories on the go at once. Just be ready when they ask whether you've read them too.
Download Serial Reader for iOS (£free)
Download Serial Reader for Android (£free)
Seterra Geography
Apps have had a big impact on rote learning. Rather than using valuable classroom time to commit facts to memory, kids can play out exercises on a screen. In the case of Seterra Geography, there is limitless scope to dig into countries and flags.
The app includes a wide range of pre-canned quizzes, which you can customise and save. It's then a case of blazing through questions given in speedrun style, aiming to crack the high-score table.
Its pace and immediacy makes it a good bet for kids – but we'd argue this app is ideal for parents wanting to brush up on geography too. After all, are you quite sure where Kyrgyzstan is, or what Bhutan's flag looks like?
Download Seterra Geography for iOS (£free)
Download Seterra Geography for Android (£free)
Swift Playgrounds
It's laying it on a bit thick to suggest coding will be the most important second language for any current schoolkid. But there's also no doubt that an understanding of coding is beneficial, whether or not your kid has designs on topping the App Store charts themselves, or is just keen on logic and new challenges.
With Swift Playgrounds, Apple opens its programming language to all by way of split-screen lessons that feature interactive code on the left and a 3D world on the right that your commands directly affect. But this app is no mere toy: it's in fact a mini Xcode, with enough features to build an entire app and submit it to the App Store.