Stuff's IFA Awards 2022: the best phones, laptops and gadget highlights
All the best new tech from Berlin
We're back in Berlin, baby! After an interrupted two years, Europe's biggest consumer tech expo is finally in full swing again. And IFA 2022 has certainly delivered: from smartphones and laptops to TVs, tablets and smart home kit, we've seen heaps of fresh tech revealed by big names and newcomers alike.
Want a shortcut to the best new gear announced in the German capital? Our expert team's been walking the halls of ExpoCenter City, in search of the most exciting gadgets unveiled at IFA 2022. Besides setting record step counts, their roaming reportage has helped to assemble this highlight reel of innovation.
In the list below, you'll find our favourite devices from this year's Berlin showcase – all worthy winners of Stuff's coveted IFA 2022 Awards.
---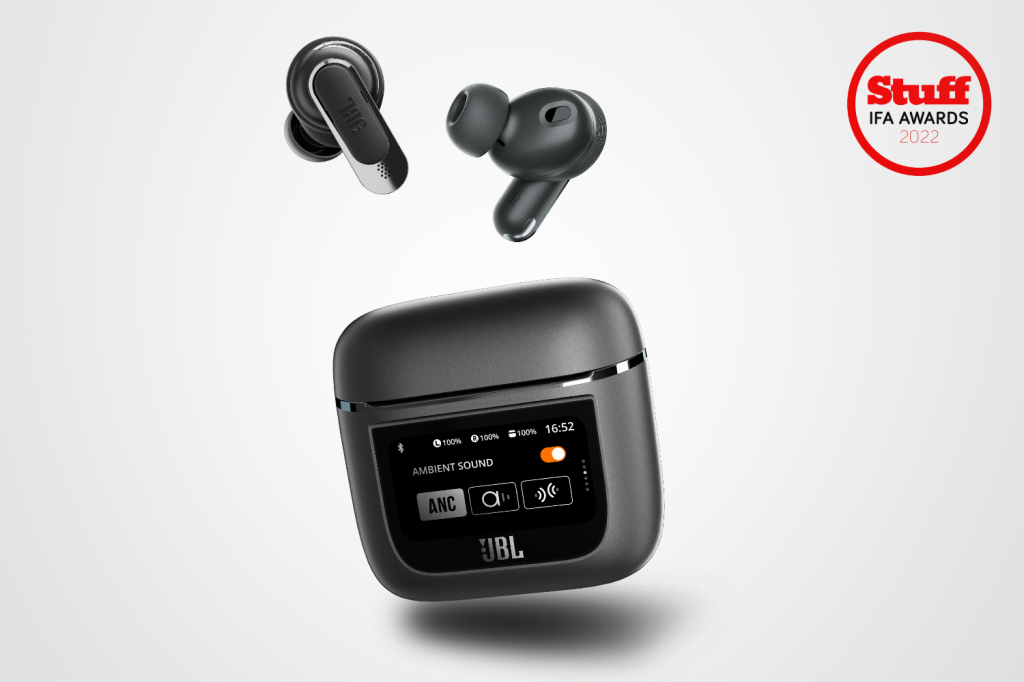 JBL Tour PRO 2
Earphones might be smarter than ever, but there's one feature missing from every pair: a touchscreen built into the charging case. That changes with the JBL Tour Pro 2, a set of true wireless in-ears with a 1.45in LED touchscreen on the front of their container. Besides displaying the battery status of both earbuds and case, the screen lets you easily switch ambient sound settings. Paired with your phone via Bluetooth, it can also be used to pause playback, answer calls and display notifications. Which beats doing everything by ear. As for the 'phones, each earbud comes equipped with a 10mm driver, three mics for ANC duties and a cell good for ten hours of standalone listening. The case can add another 30 – although that number presumably drops if you keep tinkering with its touchscreen. Gimmick or ground-breaking, they still get the gong for going where no others have before.
---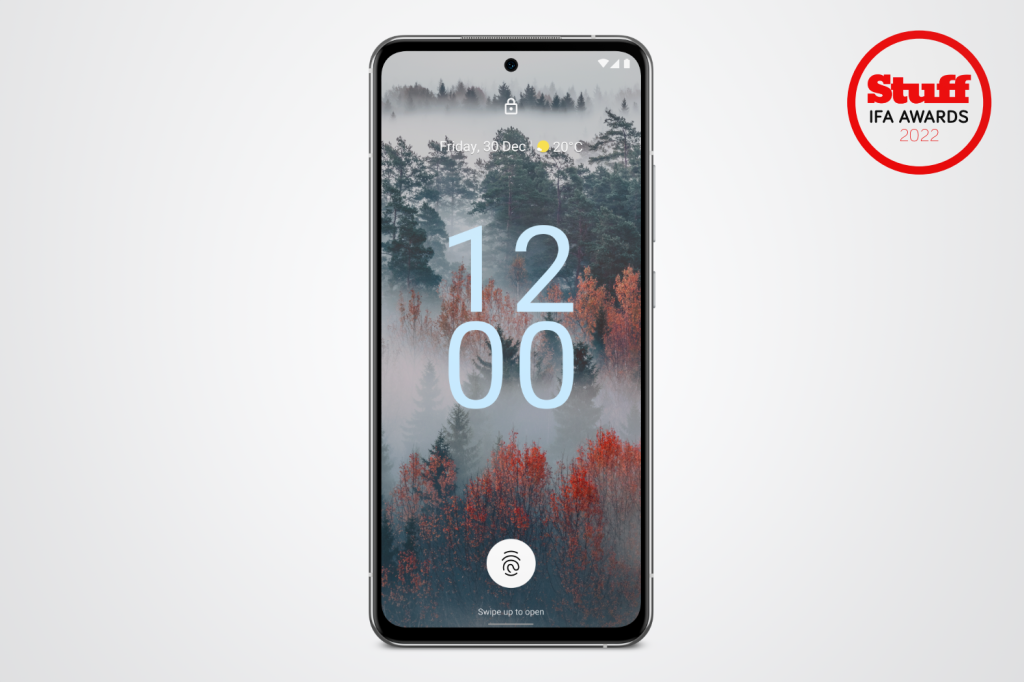 Nokia X30 5G
With all the resources that go into smartphones, buying a brand-new handset isn't brilliant for the planet. Buying one every year? That's an eco no-no. Nokia is championing a greener approach. First, the new X30 5G is its most sustainable handset ever: the frame is 100% recycled aluminium, while the polycarbonate rear uses 65% recycled plastic. Designed for longevity, the mid-ranger is set to receive three generations of OS updates, while its battery is rated for a generous 800 cycles. You don't get a charger, either. And because the environmental issue won't be solved by a single smartphone, Nokia is also launching Circular: a monthly rental service which motivates you to keep your mobile for longer. You earn "Seeds" while you're subscribed, which support sustainable initiatives, such as removing plastic waste from rivers. And when you do switch to a new Nokia, your old one will be re-used or recycled.
---
Yamaha WS-B1A
Yamaha's made heaps of musical equipment over the years, but it's taken until 2022 for the sonic maestro to have a bash at a portable Bluetooth speaker. Predictably understated, the WS-B1A ships with a grown-up look in three shades of grey. Standing 10cm tall and just 8cm square, the classy cuboid's single 5.5cm driver is touted to deliver Yamaha's realistic "True Sound" acoustic on the move. And if you do go walkabout with the WS-B1A, its 490g weight won't strain your satchel, while an IP67 rating should see it through showers and sandy moments. A 12-hour battery life is competitive enough, with the CC-T1A charging base an option to keep it boosted and ready to boogie. Or you can wall-mount it for a setup to suit Yamaha's Hi-Fi roots. Either way, it promises solid value at £99. At that price, it's easily one of our Hi-Fi highlights from IFA 2022.
---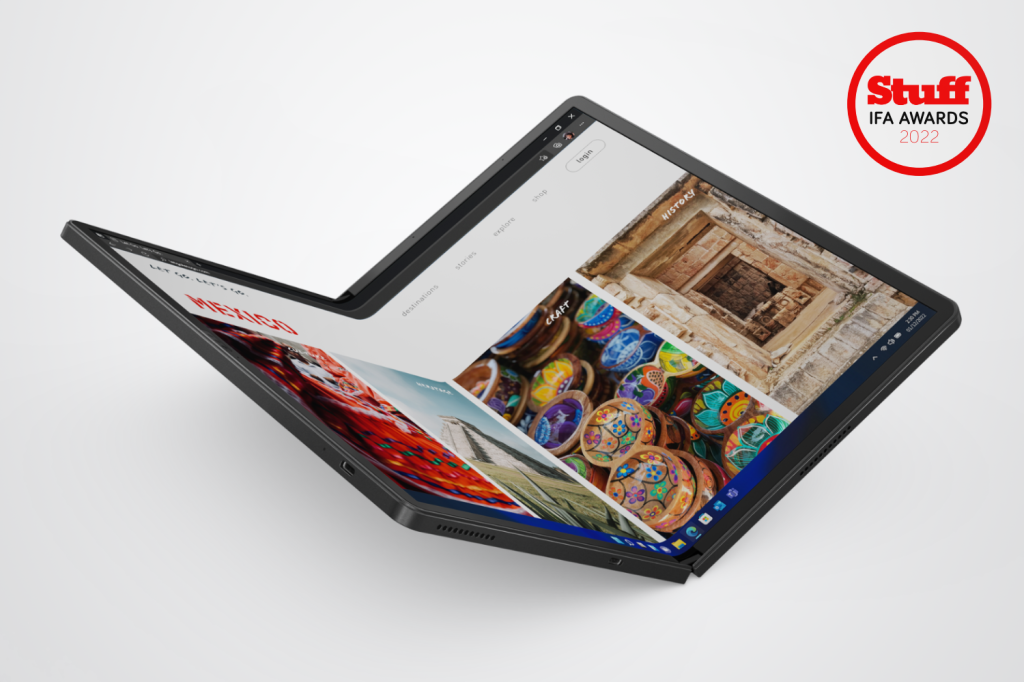 Lenovo ThinkPad X1 Fold 2
All laptops can fold, but most don't let you bend the screen. Lenovo first went flexible with the ThinkPad X1 Fold, an all-screen notebook akin to a giant folding tablet. Its successor wins honours from us for refining the recipe. Despite sporting a 16.1in screen, a new hinge design sees the second-gen Fold slim down to just 8.6mm when unfurled. In clamshell form, that means you get a 12in main display with touch keys below. Or you can dock it with Lenovo's optional Bluetooth keyboard for big-screen productivity. Either way, the OLED panel isn't compromised: it pumps out 600 nits peak brightness and a decent 2560×2024 resolution. Folding graphite sheets inside keep the cores running cool, as low-voltage 12th-gen Intel CPUs and up to 32GB of RAM whizz through Windows 11. And despite its slender dimensions, there's still room for two Thunderbolt 4 ports, one USB-C and a nanoSIM tray.
---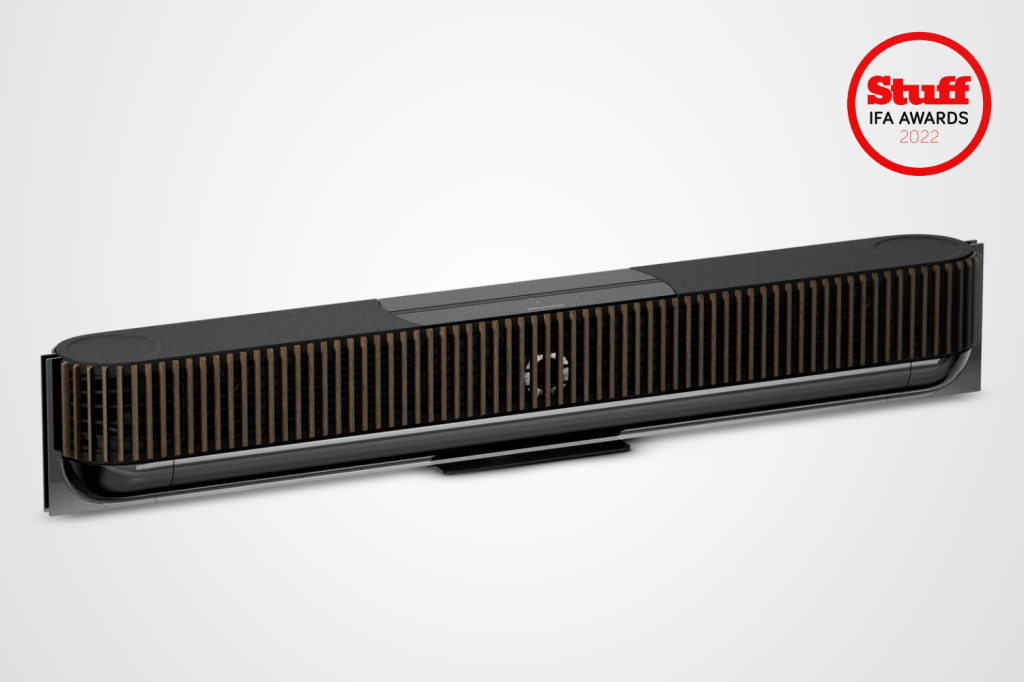 B&O Beosound Theatre
Aping the grille of Fifties Chevrolet, Bang & Olufsen's statement soundbar is a sonic showstopper. The audio equivalent of a hot-rod, it delivers a whopping 800W power output through 12 separate speakers. Aligned to fill your cinema room, the domed dozen can decode Dolby Atmos audio for spatial immersion, while a bespoke bass system asks every driver to collaborate on low-end rumble. The Beosound Theatre is also the first unit to ship with B&O's Roomsense tech, which uses an external mic to measure the distance from soundbar to listener and compensate accordingly. Floating beneath your TV on a motorised mounting bracket, the bar can serve as hub for a full 7.1.4 home cinema system, with seven outputs supporting up to 16 separates. The only downside? For a harmonious light-oak aesthetic, you'll have to buy the whole lot from B&O. Which will sting, given the £5590/$6890 ask for the Theatre alone.
---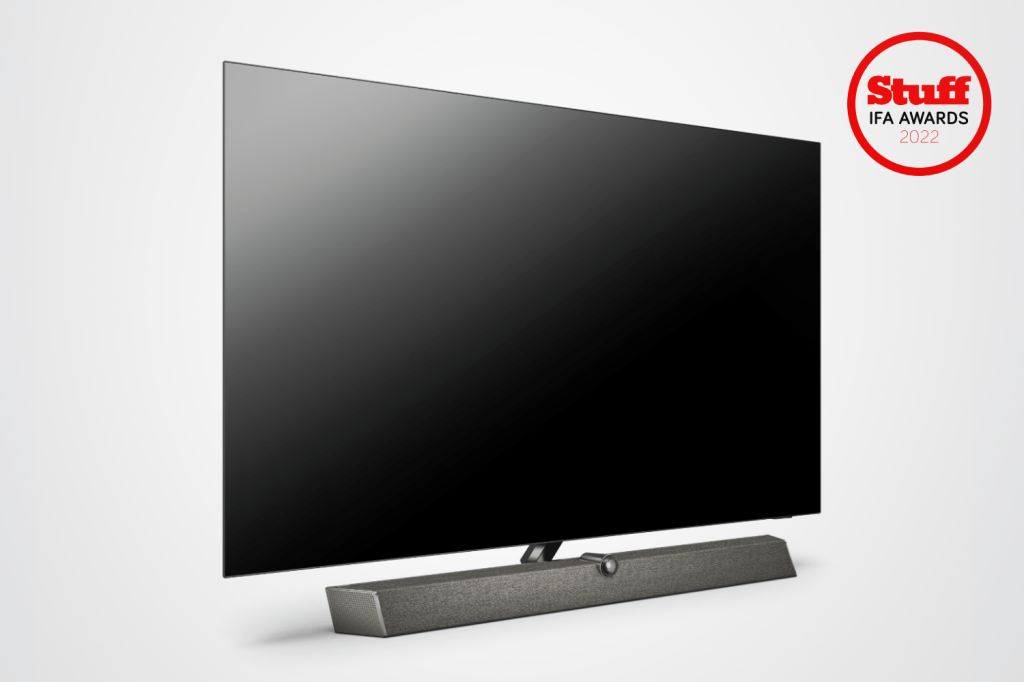 Philips OLED+937
If there's an award for consistency, Philips is the deserving winner: its flagship sets continue to set the bar. It's the OLED+937 which leads the pack at IFA 2022, with a spec sheet that exhausts superlatives. Available in 65in and 77in dimensions, the telly comes fronted by one of LG's top-end OLED EX panels. Capable of achieving peak brightness of 1300 nits, the TV comfortably eclipses the brilliance of its closest OLED rivals. The display is driven by a dual-engine version of Philips' sixth-gen P5 picture processor, which can optimise HDR settings based on ambient lighting. Enhanced ambilight tech complements the viewing experience: backlighting can now more accurately match action on-screen, illuminating individual LEDs with a wider palette of colours. And to complete the cinematic package, a Bowers & Wilkins soundbar lives beneath the screen – running a 5.1.2 system with 95W power output. You can't ask much more than that.
---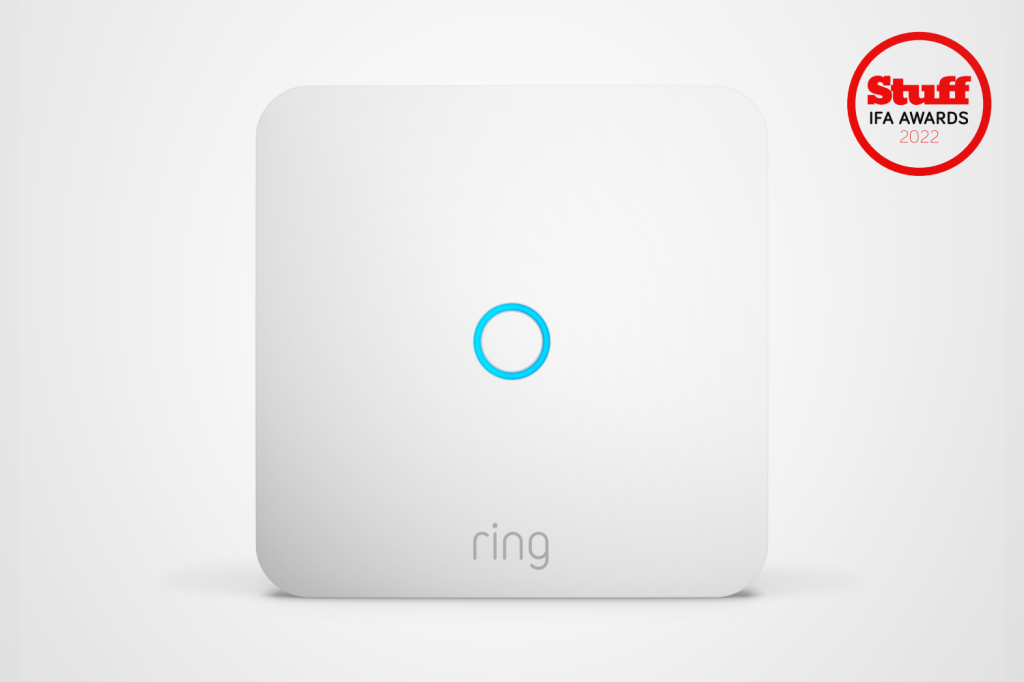 Ring Intercom
Upgrading to a smart doorbell might reduce your rate of missed deliveries, but not everyone can – or wants to – ditch their pre-installed intercom. For dwellers wed to an existing system, Ring's Intercom is the answer: simply attach its battery-powered base station to the handset by your door and, voila, you've got a digital doorman. Your old intercom will continue to function as it did before, but alerts will now be delivered to the Ring app as well, allowing you to answer doorstep callers from anywhere. The system also supports remote unlocking, so you can grant access to guests and couriers from afar. Connected to your Wi-Fi, it works with Amazon Echo speakers for notifications and easy answering at home, while the auto-verify option can let Amazon deliveries in automatically. For embracing the fact that flats can be smart homes too, Ring's latest ding dong wins an IFA gong from us.
---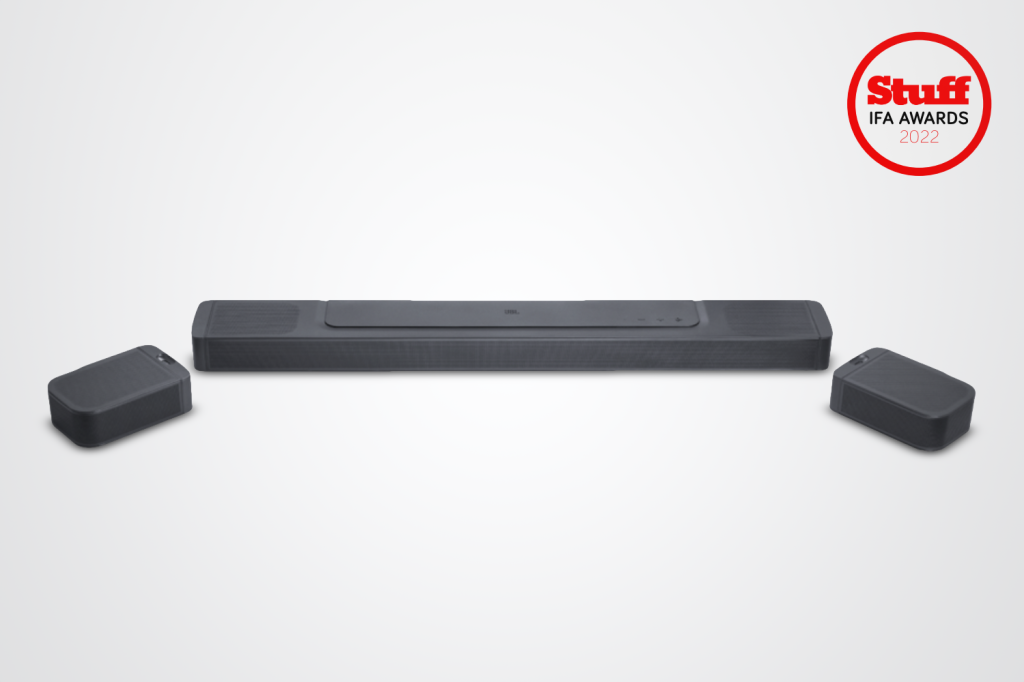 JBL Bar 1000
Party tricks usually have no place in a home cinema. But the JBL Bar 1000 has a hidden skill that will vastly improve your movie nights: its ends pop off for more immersive audio. Where most soundbars struggle to produce convincing surround sound, its moveable units promise proper positional audio. Battery-powered and wireless, the removable rears recharge from the main bar. There they can stay for everyday viewing, before deploying for spatial audio when the content demands it. Flagship of JBL's four-strong family of Atmos-ready soundbars, the 7.1.4 soundbar sends a hefty 880W to an array of seven front-facing speakers, four upward-firers, plus a wireless sub. Priced to match its moniker, the Bar 1000 is arguably worth a grand just to surprise your cinephile friends.
---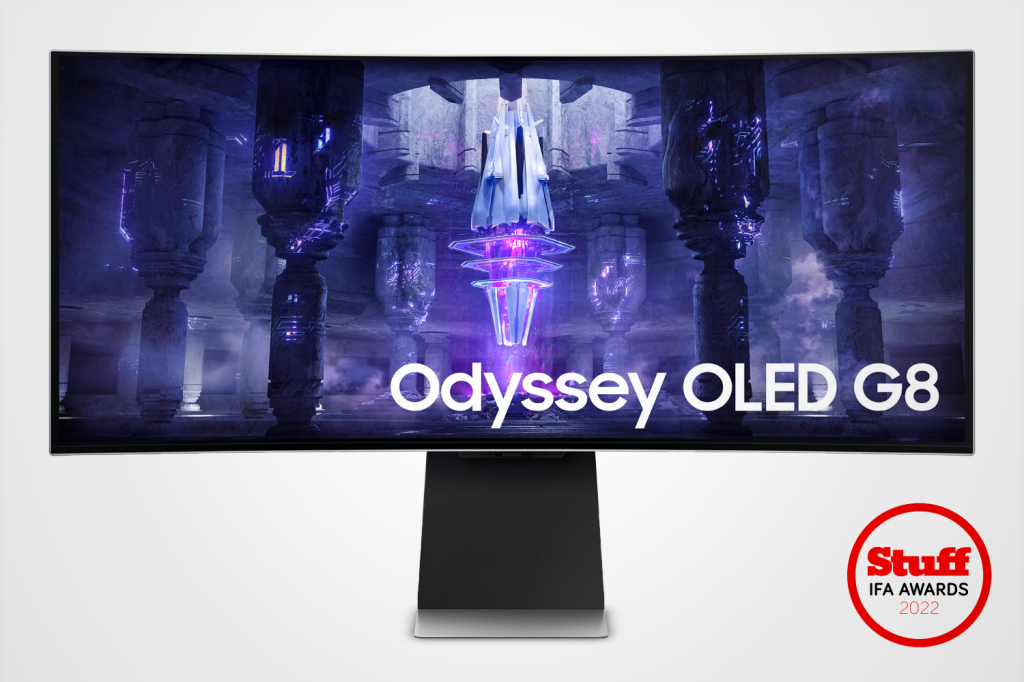 Samsung Odyssey OLED G8
Wide enough that we had to move our awards logo, this 34in display is something special. Samsung's first OLED gaming monitor, the G8 is a sliver of visual excellence. With a 21:9 aspect ratio and QHD resolution, it adopts a gentle curvature of 1800R to maintain an optimal viewing distance as you pan and pew-pew. And despite measuring just 3.9mm at its slimmest point, the G8 packs a whole lot of display tech into its slender chassis. You get 100% colour volume, DCI-99.3% colour gamut, million-to-one static contrast and True Black certification. Don't speak jargon? It should look incredibly punchy, vivid and accurate. Courtesy of 0.1ms response times and 175Hz refresh rates, lag shouldn't leave you exposed either. And to round out the optical feast, Core Lighting+ on the rear promises to sync ambient lighting with your gameplay. All of which makes the G8 a clear contender for gaming glory.
---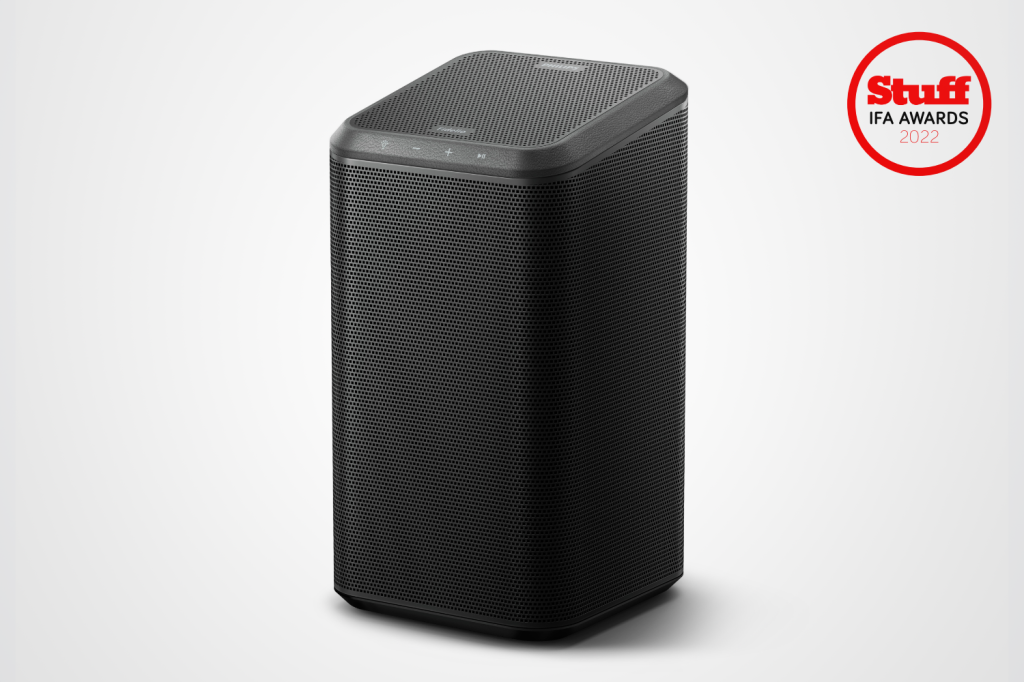 Philips Fidelio FS1
Philips first revealed its Sonos rival back in January. Dubbed Fidelio Wireless AV and built around DTS Play-Fi, it promises hi-res playback across a room-spanning array of audio devices. Spearheading the range is the Fidelio FB1, a low-profile Dolby Atmos soubdbar with 15 drivers inside. Pair it with the FW1 sub for extra low-end oomph from its 8in woofer. But arguably the most interesting member of the Fidelio family is the FS1: a wireless speaker which can work as a standalone unit, in a stereo pair or as one of several satellites. It's home to a 1in tweeter, 3.5in woofer and 2.5in up-firing driver for Atmos duties around the room. What really sets it apart are the LEDs that live on the rear, which can sync with certain Philips TVs to extend the Ambilight effect into the far reaches of your living room. Which sounds like an award-worthy glow show.