Samsung Galaxy Z Flip 5 vs Flip 4: what's the difference?
New meets old; is there a clear winner?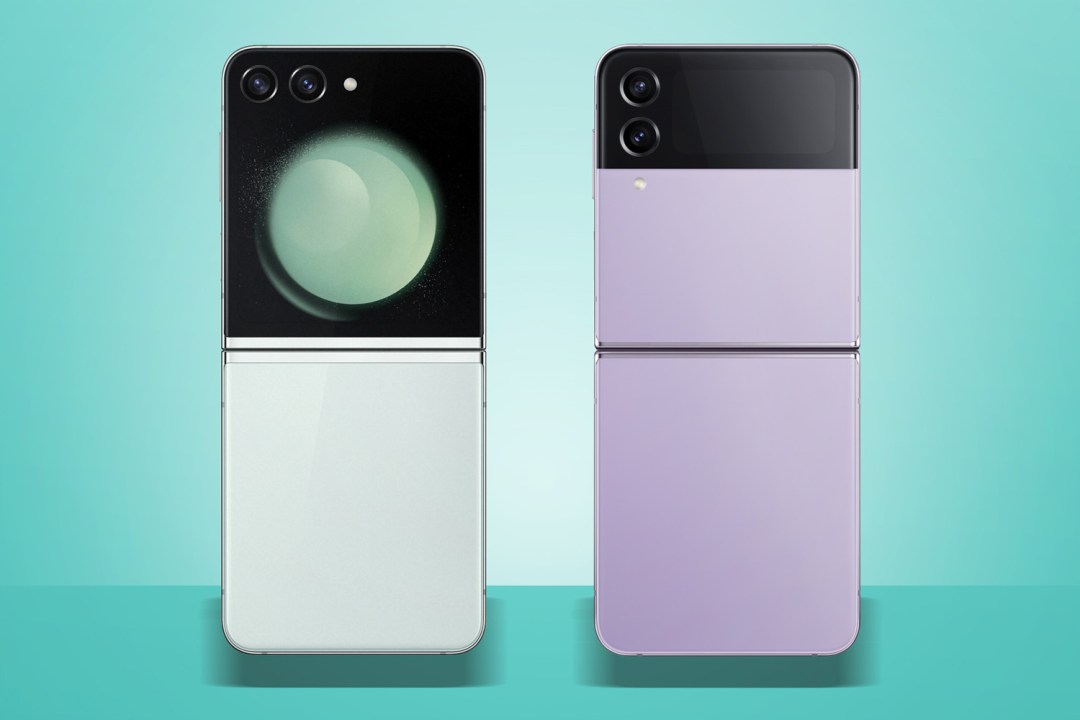 Samsung has pulled out all the stops for the Galaxy Z Flip 5, in order to compete with the best foldable phones currently doing the rounds. Motorola, Oppo and others have made big inroads with clamshell-style foldables, but ultimately it'll be Samsung's own previous-gen effort that needs dethroning. The Z Flip 4 is as popular as flip-style foldables get.
So what's new for 2023, and are the upgrades meaningful enough to make the new phone a slam dunk when it comes to sales? We've not spent a whole lot of time with the Z Flip 5 just yet, so will hold out on giving a final verdict, but there's plenty to talk about in the meantime.
Design & build: full screen dream
Samsung has eliminated the gap for its latest flip phone, giving the Galaxy Z Flip 5 a waterdrop-style hinge which lets it close completely for the first time. It's still able to stay open at wide angles, yet won't put up too much resistance when you go to unfold it fully. Ditching the gap has also shaved 2mm off the phone's thickness when folded, so it'll slip that little bit easier into a pocket.
The Z Flip 5 also has a massively upgraded Flex Window outer display, which adds enough room for a full onscreen keyboard. You'll be able to reply to incoming notifications without unfolding the phone first. The Galaxy Z Flip 4's rectangular 1.9in display looks positively diddy in comparison, and isn't quite as adept at interacting with widgets or notifications. The Flip 5 is a much slicker phone as a result, and you won't need to be looking closely to tell which is which.
Screen aside though, the two phones are still very similar. They both have polished aluminium frames, rear panels covered in matte glass, and two camera lenses which protrude out from the main body. They're stacked horizontally for the Z Flip 5, and vertically for the Flip 4. Both have a selection of pastel-hued colours to choose from, including Graphite, Lavender and Cream. Mint green is new for the Flip 5, in place of the Flip 4's baby blue.
Screens: bigger and better
The Z Flip 5's 3.4in Flex Window is a whopping 278% larger than the Flip 4's 1.9in screen. At 720×748 it has more than enough pixels for clear text and well-defined images, and the 60Hz AMOLED panel delivers vibrant colours. Viewing angles appear to be excellent based on our early testing, and the geometric cutout around the camera lenses ensure no part of the screen is obscured.
Unfold both phones and you won't find a whole lot of difference. They each have a 2640×1080 flexible AMOLED panel, with a 120Hz adaptive refresh rate and equally punchy colours. Apparently Samsung has slimmed the bezels down a little for the Z Flip 5, but we'd need to break out the tape measure to prove it – they look very similar in person.
While the Z Flip 4 had a handful of useful widgets that were optimised for the outer screen, the Flip 5 looks like it'll go further with support for third-party apps and a larger selection of Samsung-built widgets. That should mean you're able to. spend less time with the phone unfolded, and ultimately means it's a healthy upgrade over the last-gen phone.
Cameras: two to tango
There haven't been any big generational changes when it comes to camera hardware, with both the Z Flip 5 and Z Flip 4 using a pair of 12MP rear snappers. The lead lens has an f/1.8 aperture, dual pixel PDAF autofocus, optical image stabilisation, while the ultrawide gets an f/2.2 aperture lens and 123-degree field of view. Each also gets a 10MP, f/2.2 punch-hole selfie cam on the inner display.
Samsung has swapped the lens glass out for 2023, which should mean the Z Flip 5 is able to better cope with light flaring than the outgoing model. Improved image processing also promises less noise in low-light photos and videos, but until we get a Flip 5 in for testing we won't know whether things have improved dramatically.
The Flip 4 can still take a satisfying snap, of course. Samsung's image processing goes big on dramatic HDR lighting and vibrant colours, which might not always be true to life but are very easy on the eye. But on paper, the Flip 5 should have the advantage.
Performance & battery: power by the hour
The Z Flip 5 lands with a Snapdragon 8 Gen 2 for Galaxy processor; it takes what was already the quickest Qualcomm mobile CPU doing the rounds and tweaks it for extra performance. Paired with 8GB of RAM and 256 or 512GB of onboard storage, it shouldn't leave you wanting for power.
The outgoing Z Flip 4 used an off-the-shelf version of the Snapdragon 8+ Gen 1, which was flagship-grade silicon last year, but now plays second fiddle in terms of outright performance muscle and energy efficiency. Memory options are a match for the Z Flip 5, and it also had an entry-grade 128GB storage option. It won't suddenly feel antiquated once the Z Flip 5 goes on sale, but will begin to lag behind flagship rivals, and won't be able to match that phone for frame rates in games.
Both phones have 3700mAh batteries, but because the Z Flip 5 has a more efficient CPU, we're expecting it to last slightly longer between charges. The Z Flip 4 was able to last a full day away from the mains, and with the Flip 5's larger exterior screen saving you from opening it up quite so often, it might stretch into a second.
Charging speeds are identical, at 25W over USB-C, and 15W using a Qi wireless charging pad. They both support reverse charging for your other tech, too.
Galaxy Z Flip 5 vs Flip 4 verdict: which should you choose?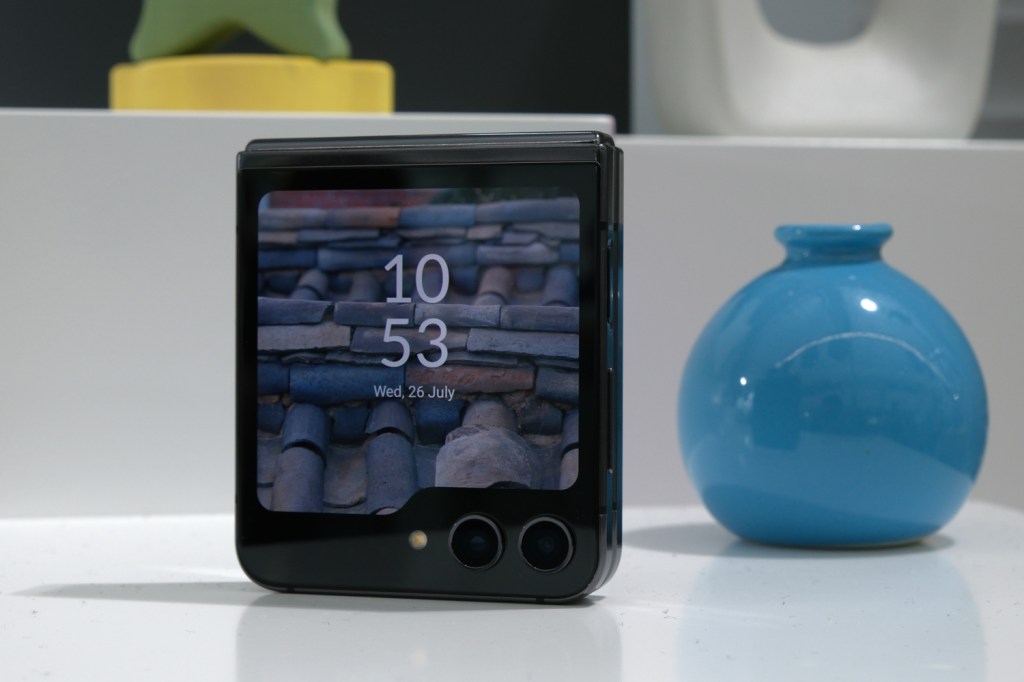 Samsung has brought some meaningful upgrades to the Z Flip 5, most notably that giant exterior display. It's great to see the gap finally being banished, and the new-gen CPU promises both performance and efficiency improvements. It's the obvious choice if your wallet will stretch that far.
With no entry-level 128GB model this generation, either, anyone on a budget should check out the Z Flip 4: there are some real SIM-free bargains to be found, and on paper there's very little in it when it comes to the inner display or camera image quality.
On the other hand, if you've got a recent device to trade in, the newer Z Flip 5 might not be as pricey as you imagine. In the UK, Vodafone will sell you a 256GB model for £49 upfront and £17 per month on a 36-month contract, and take that old handset off your hands for recycling or refurbishment. Retailers and networks are offering equally peachy deals in other territories, too, so it pays to shop around.