Best foldable phone 2023: folding smartphones reviewed and rated
The flip phone is dead, long live the flip phone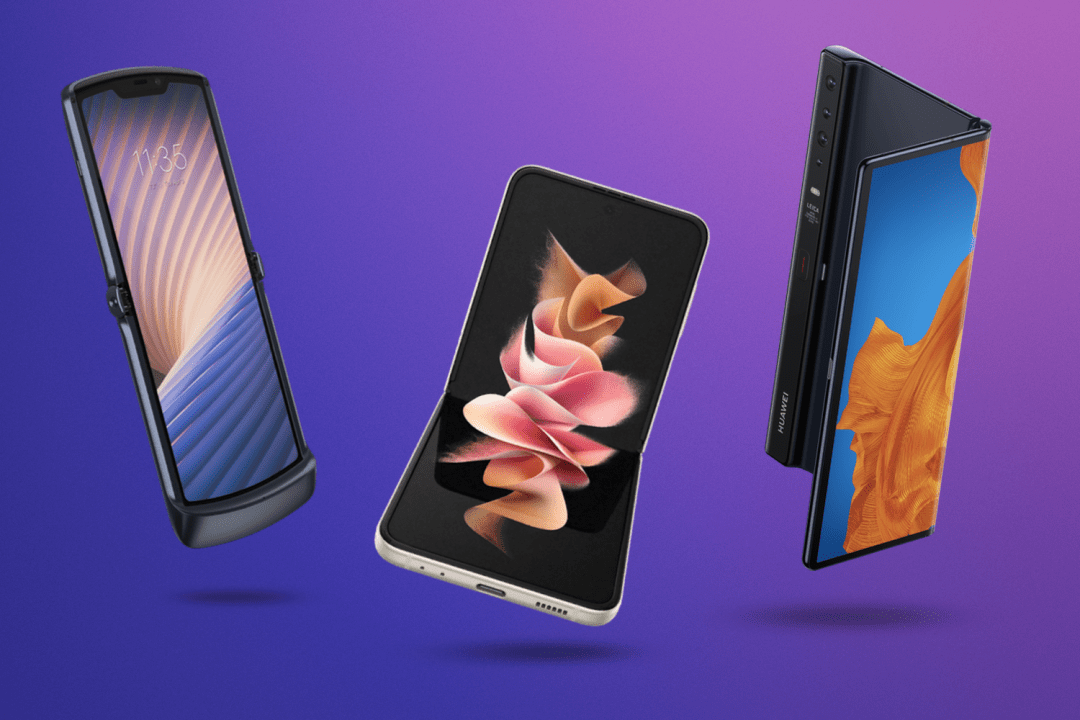 With enough force, almost every phone can fold in half – not even the best smartphones on sale are immune from brute strength. But only a few can do it without suffering terminal damage.
Think folding phones are just a hinged gimmick? Think again: the best foldable phones are about as versatile as handsets get these days and there are more on the way in our best upcoming phones list, too.
From retro clamshell revivals to smartphones that transform into sizeable tablets, all but one of the blowers below feature bendable screens. And besides the obvious wow factor, each offers innovative flexibility that could change the way you use your mobile.
But with price tags that make other flagships look cheap, is it worth buying a folding phone? Or should you wait for a next-gen foldable which might iron out some of the compromises? We've tested the best options to find out, as well as highlighting the upcoming foldable models to look out for.
---
The best foldable phones you can buy today: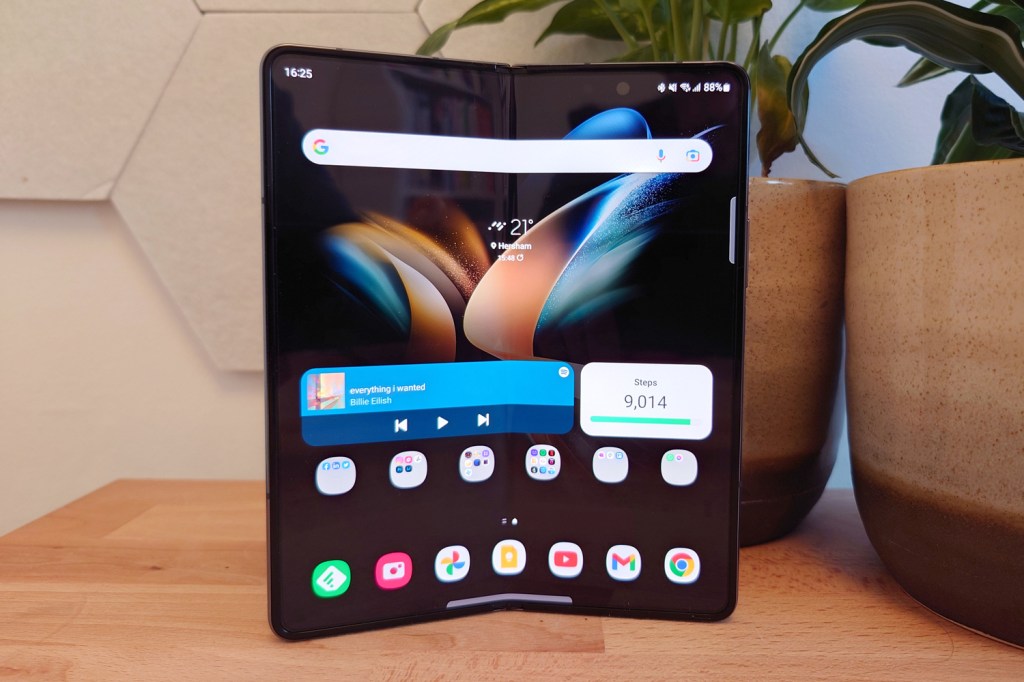 1. Samsung Galaxy Z Fold 4
Stuff Says…
Streamlined styling, improved cameras and slick software upgrades make Samsung's latest flagship the premium foldable to beat
Tech spec:
Cover display: 6.2in 2316×904 AMOLED 120Hz • Main display: 7.6in 2176×1812 AMOLED 120Hz • Cameras: 12+50+10MP (rear), 4MP (front), 10MP (cover) • Processor: Qualcomm Snapdragon 8+ Gen 1 • Battery: 4400mAh • Storage: 256GB-1TB • RAM: 12GB • Dimensions: 155.1×130.1×6.3mm (unfolded) • Weight: 263g
There's no escaping its astronomical price tag, but Samsung's latest foldable flagship sets a new bar for folding smartphones. Visually the spit of its predecessor, the Z Fold 4 is marginally more manageable in the hand, yet reassuringly sturdy and as stylish as you'd expect.
Performance from the Snapdragon 8+ Gen 1 processor is predictably impressive, delivering eye-blink speeds. Longevity gains are a little more modest, relying on increased chip efficiency to squeeze more life out of the same 4400mAh cell.
Bigger wins are found in productivity features borrowed from desktop software: a slick in-app taskbar means side-by-side multi-tasking is effortless on the bright, sharp and slightly wider main display. That panel now suffers from a less noticeable crease as well – although it's still there if you go looking for it.
Inheriting the camera setup from the Galaxy S22 also gives the Fold 4 top-tier shooting skills. There's impressive consistency across all lenses: detail from the main sensor is seriously good, while zoom clarity with the telephoto is similarly superb. Low-light results are stand-out, too.
Naturally, Samsung doesn't sit still, so a fifth-gen Fold will almost certainly make an appearance in August 2023.
---
2. Oppo Find N2 Flip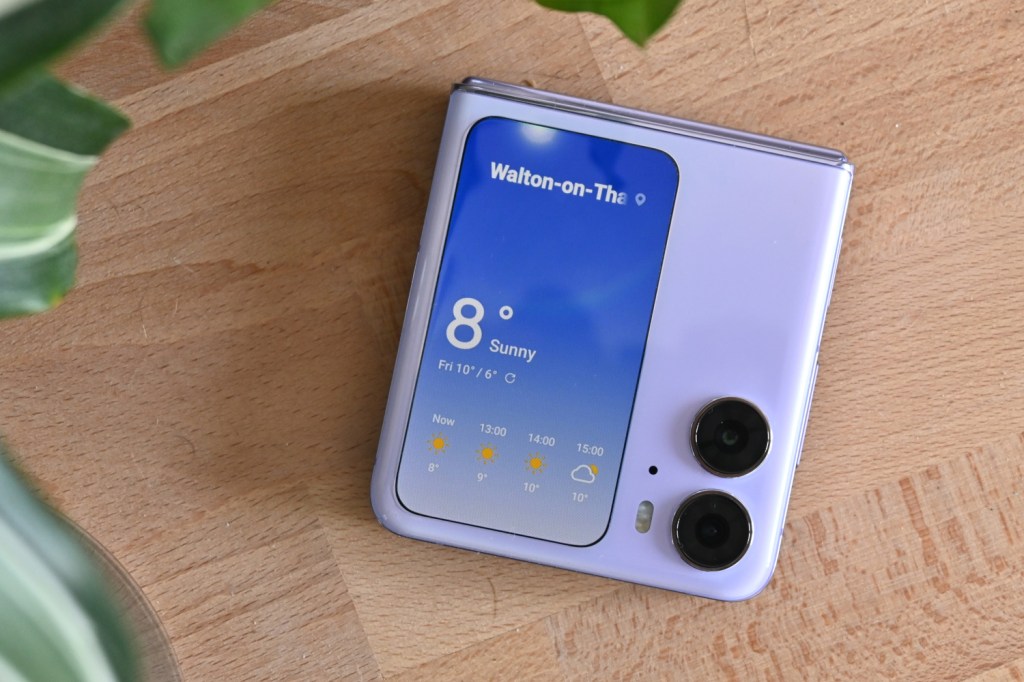 Stuff Says…
A slick flip phone that delivers on design, packs a sizeable outer screen, and long-lasting battery – at a very competitive price.
Tech spec:
Cover display: 3.26in 720×362 AMOLED • Main display: 6.8in 2520×1080 AMOLED 120Hz • Cameras: 50+8MP (rear), 32MP (front) • Processor: Mediatek Dimensity 9000+ • Battery: 4300mAh • Storage: 256/512GB • RAM: 8/12/16GB • Dimensions: 86x75x16mm (folded) 166x75x7.5mm (unfolded) • Weight: 191g
Oppo wasn't in a rush to bring a foldable phone to foreign markets, but its first attempt already looks set to shake up the market. The Find N2 Flip clamshell is a very close rival to the Galaxy Z Flip 4, yet costs a fair bit less.
It has a gorgeous design, giant external display and a pair of decent (though not class-leading) rear cameras. Add in one of the biggest batteries you'll find on a flip phone and rapid 44W wired charging, and you're looking at a near-complete package.
The lack of wireless charging is a bit of a downer, and Oppo's version of Android can be a little too aggressive when it comes to power management, but otherwise, clamshell customers need to think long and hard over who deserves their cash.
---
3. Google Pixel Fold
Stuff Says…
A fantastic form factor and streamlined software, but our first impression is that the Pixel Fold feels like a first effort in several key areas.
Tech spec:
Cover display: 5.8in, 2092×1080 OLED 120Hz • Main display: 7.6in, 2208×1840 folding OLED 120Hz • Cameras: 48MP+10.8MP+10.8MP (rear), 8MP+9.5MP (front) • Processor: Google Tensor G2 • Battery: 4821mAh • Storage: 256-512GB • RAM: 12GB • Dimensions: 158x140x5.8mm (unfolded) • Weight: 283g
The Pixel Fold is an impressive debut effort from Google. It offers a more compact design compared to its competitors, and its rear cameras are outstanding. Perhaps the best thing here though is how the optimized version of Android takes full advantage of the internal display.
Even when folded, the Pixel Fold retains all the functionality of a regular phone, without any compromises.
It's not perfect, though, with the Pixel Fold falling short in terms of battery life and charging speeds, which are not particularly impressive compared to other flagship smartphones out there.
It also lacks some of the advanced photography capabilities found in the Pixel 7 Pro, which costs half the price. While it comes close, it doesn't quite match the outgoing Galaxy Z Fold 4 in terms of features and price (it's missing the optional stylus support and reverse wireless charging).
Nevertheless, for those enamoured with the idea of a folding Pixel smartphone, the Pixel Fold is a very impressive first attempt worth considering.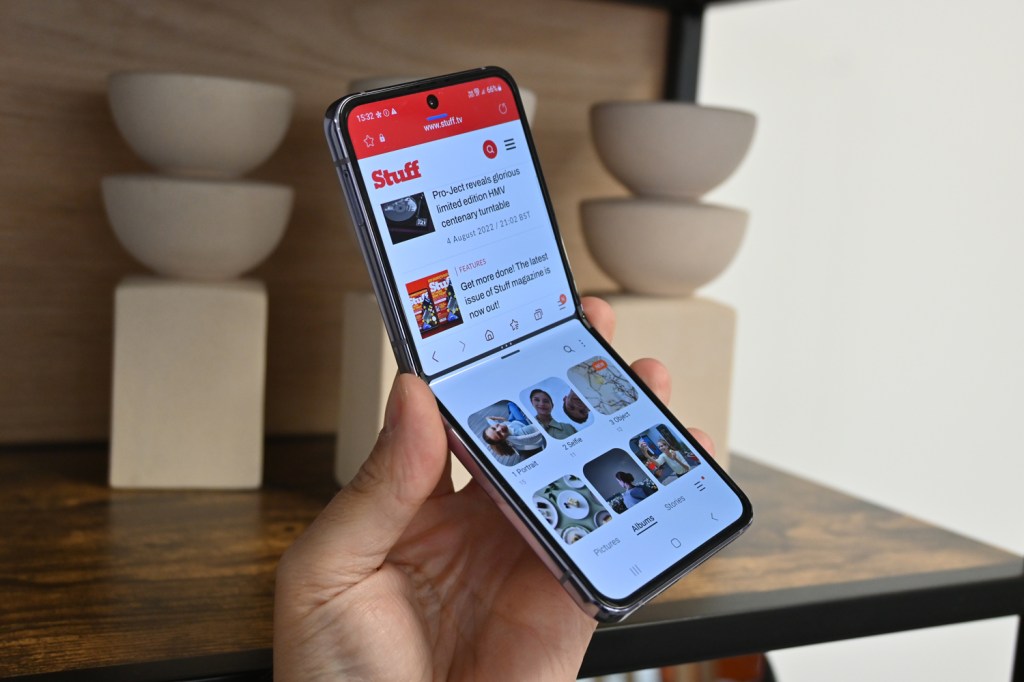 4. Samsung Galaxy Z Flip 4
Stuff Says…
With upgraded specs and fresh customisation options, the Z Flip 4 shapes up as a stylish folding alternative to Samsung's Galaxy S22
Tech spec:
Cover display: 1.9in 512×260 AMOLED • Main display: 6.7in 2640×1080 AMOLED 120Hz • Cameras: 12+12MP (rear), 10MP (front) • Processor: Qualcomm Snapdragon 8+ Gen 1 • Battery: 3595mAh • Storage: 128–512GB • RAM: 8GB • Dimensions: 165.2×71.9×6.9mm (unfolded) • Weight: 187g
Sorting some its predecessor's snags while retaining the same pocketable proportions, Samsung's Galaxy Z Flip 4 looks like a winning foldable for the mainstream. Virtually the twin of the Z Flip 3, it remains a well-made, water-resistant clamshell – now with a slightly flatter frame.
Flipped open, the main 6.7in OLED panel is sharp, detailed and bursting with colour. And Samsung's done plenty to improve its multi-tasking potential: a two-finger swipe opens multi-window, while third-party apps have been optimised for the folding screen. The dinky external display is also more useful, mirroring your theme and offering more widgets.
Camera hardware hasn't changed from the Z Flip 3. Only real-world testing will tell whether processing tweaks will help the Flip 4 keep pace with flagship rivals. A clearer upgrade comes from Qualcomm's Snapdragon 8+ Gen 1 processor, which first impressions proved to be as potent as you'd expect.
Battery life is also decent for a clamshell foldable, with a 400mAh increase in capacity over the old phone. The Z Flip 4 could be the top folding option for most people. There's still a few months before Samsung is set to reveal its successor, too, meaning prices could be at historical lows.
---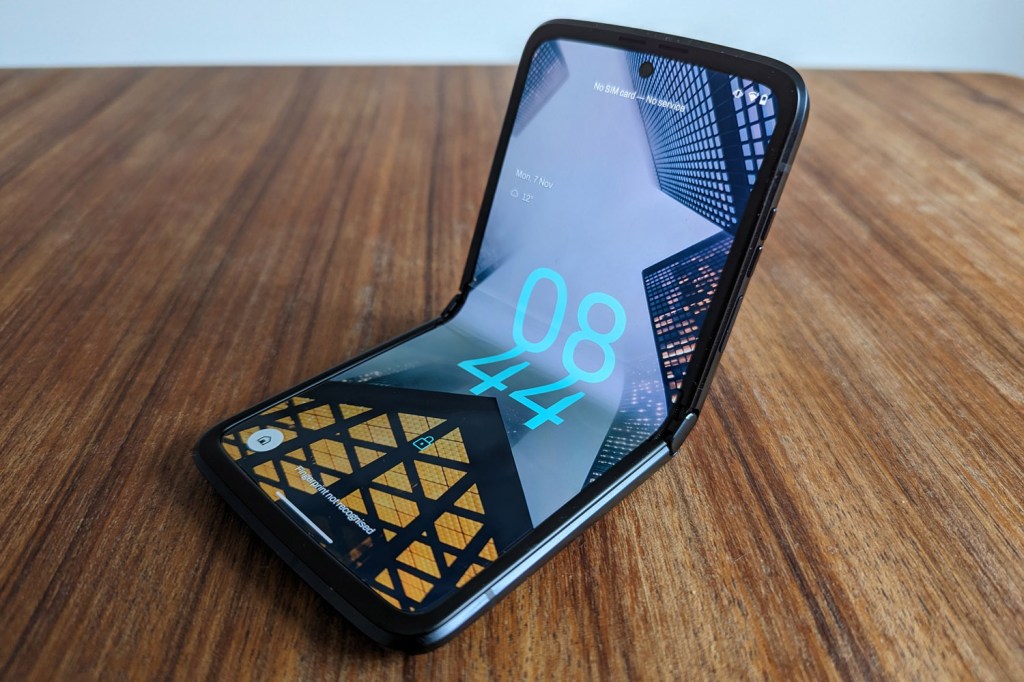 5. Motorola Razr (2022)
Stuff Says…
An impressively well-rounded foldable, and Motorola's best effort yet, although it doesn't fully use the form factor to its full advantage.
Tech spec:
Cover display: 2.7in 800×573 OLED • Main display: 6.7in 2400×1080 OLED • Cameras: 50+13MP (rear), 32MP (front) • Processor: Snapdragon 8+ Gen 1 • Storage: 256GB • RAM: 8GB • Dimensions: 167x80x7.6mm (unfolded) • Weight: 192g
Motorola's first effort at reviving the iconic Razr handset in 2019 had its fair share of foibles. The second-gen attempt addressed a few of those, but it would be 2022 edition that would properly raise the bar. It further streamlines the throwback design, while retaining the nostalgia value of an all-screen smartphone that you can flip shut.
Fully deleting the chin, eliminating the gap when folded, and adding a much bigger cover display really do make for a refined device, while uprated internals aren't to be sniffed at either. It's got a flagship chip now, instead of mid-range silicon, and the battery can usually cope with a full day of use.
Its cameras are still a step behind the likes of Samsung and Oppo, though, and Moto hasn't done a huge amount with the form factor on the software front. But if you prefer a more stock Android experience, this foldable should be near the top of your list.
More exciting is news that Motorola is working on a 2023 edition, with a reveal likely for June. It'll bring an even larger cover screen, according to the latest rumours.
---
6. Oppo Find N
Stuff Says…
Well-built, responsive and easier to pocket, Oppo's first foldable proves that folding phones don't have to be huge. Or it would, if you could actually buy one
Tech spec:
Cover display: 5.49in 988×1972 OLED • Main display: 7.1in 1792×1920 OLED • Cameras: 50+13+16MP (rear), 32+32MP (front) • Processor: Snapdragon 888 • Storage: 256/512GB • RAM: 8/12GB • Dimensions: 132.6×140.2×8.0mm (unfolded) • Weight: 275g
Oppo's first foldable makes the case for pocket-friendly folding phones. It's not tiny: the AMOLED centrefold measures 7.1in and the Find N remains substantial at 275g. And while it snaps shut satisfyingly, the package still feels like two smartphones stacked together. But at 133mm tall, it's significantly shorter and more manageable than the Z Fold 3.
Its sturdy hinge design does a solid job of hiding the screen's crease, while the panel itself is wonderful – even if its squared aspect ratio results in black bars sandwiching videos. Peak brightness hits 1000 nits, with LTPO tech allowing refresh rates to span from 1 to 120Hz for enhanced efficiency.
Power's not a problem: a Snapdragon 888 chip zips through tasks, helped by 12GB of RAM. Oppo's simple, attractive ColorOS interface also sits light on Android 11, while battery capacity is par for the course at 4500mAh.
The serviceable triple-cam setup is led by a familiar 50MP Sony sensor. It captures sound results without much fuss, although images tend towards over-processed. Identical 32MP sensors mean selfie performance is the same whether the Find N is open or shut.
It has since been superseded by the Find N2, although it remains exclusive to Chinese markets for now.
---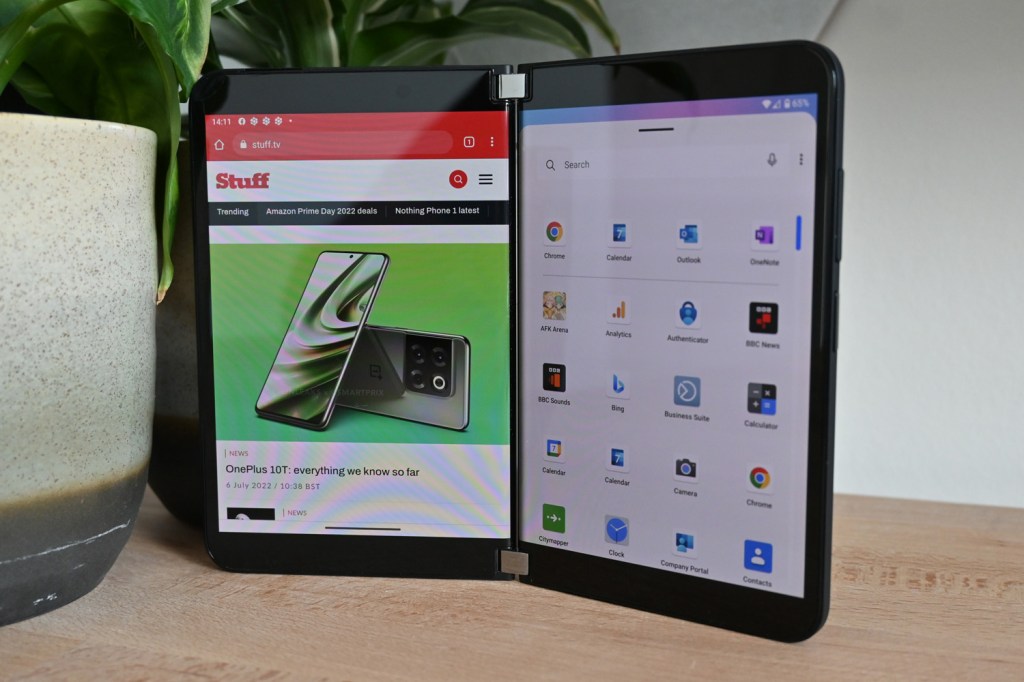 7. Microsoft Surface Duo 2
Stuff Says…
Improved with regular updates, Microsoft's split-screen foldable remains a niche, pricey device, but one that nails its multi-tasking brief
Tech spec:
Single displays: 5.8in 1344×1892 AMOLED • Main display: 8.3in 2688×1892 AMOLED • Cameras: 12+12+12MP • Processor: Qualcomm Snapdragon 888 • Storage: 128/256/512GB • RAM: 8GB • Dimensions: 184.5×145.2×5.5mm (unfolded) • Weight: 284g
Software updates have transformed Microsoft's second-gen Duo into a solid productivity tool, if not something to replace your personal smartphone. Performance from the Snapdragon 888 CPU isn't flagship spec, but it provides enough grunt to load apps quickly and make multi-tasking slick – meaning the Duo 2 broadly fulfils its business brief.
Like the first version, the Duo 2 sports two 5.8in screens held together by a sturdy hinge. Folded flat to create a 'single' 8.3in panel, there's no crease in sight, but a narrow gap to look past instead. Bezels have been strategically slimmed, although they remain chunky top and bottom.
Glass front and back gives it a premium feel, while thin halves render the Duo 2 just small enough to slip in a pocket. OLED screen tech is sumptuous to look at, while 90Hz refresh rates make scrolling a smoother experience. A new glance bar shows notifications without flipping it open, too.
Three rear cameras can produce reasonable snaps, but noting to trouble the latest handsets. Likewise, battery life falls short of most flagships – although there's enough fuel to get you through an average work day, which is what the Duo 2 will spend most of its time doing.
---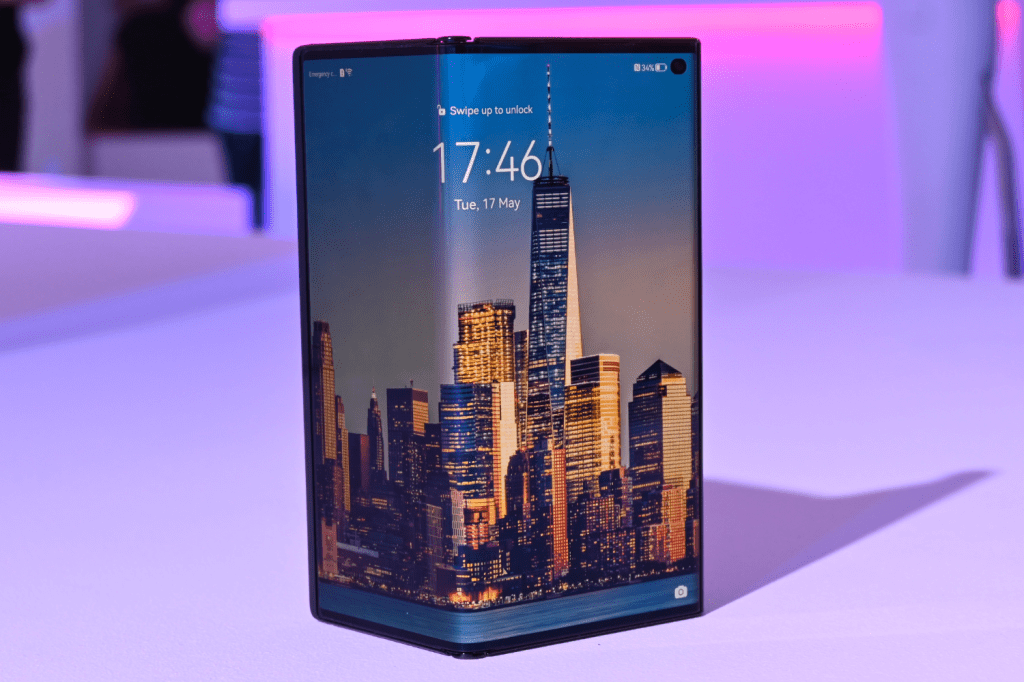 8. Huawei Mate Xs 2
Stuff Says…
Slimline and neatly designed, the Mate Xs 2 is a distinctive fold-out phone held back by mediocre battery life, outdated hardware and a painful price
Tech spec:
Display: 7.8in 2200×2480 OLED • Cameras: 50+8+13MP (rear), 10.7MP (front) • Processor: Snapdragon 888 • Storage: 256/512GB • RAM: 8/12GB • Dimensions: 156.5×139.3×5.4mm (unfolded) • Weight: 255g
Huawei's Mate Xs 2 is complicated. Its outward-folding design deftly bridges the gap between smartphone and tablet. But it's held back by trade sanctions which limit hardware and software. Given its high price, most will be better served by cheaper, more user-friendly alternatives.
But for well-heeled tinkerers, there's still a lot to love. Folded, the Xs 2 is slimmer than an iPhone 3G. Unfurl the wraparound panel and the package becomes a paper-thin yet rigid slate. Contrast is excellent, brightness is good and the crease subtle. Camera quality is likewise impressive: detail, colour accuracy and noise control proved competitive across all three rear cameras, even in low light.
What you don't get is Google Play Store support, 5G or the latest silicon. Its Snapdragon 888 chip packs enough grunt to zip through most apps, but it's beaten in benchmarks by many of its contemporaries. Huawei's home-grown Android overlay does make it easier to realise the screen's potential with swipe gestures, but you'll need to side-load titles missing from the App Gallery. The pixel count also impacts battery life, which is bottom of the foldable table.
---
Are there any other folding phones available?
The foldables above aren't the only models in production – just the ones we've tested and rate highly. Most of the alternatives aren't officially available in the UK, with China having the lion's share, but there are a few of note:
Honor will very shortly be launching its first UK-bound foldable, the Magic Vs, after first going on sale in China late last year. It was really just a minor upgrade on the original Magic V, and the Qualcomm Snapdragon 8 Gen 1 CPU powering it might feel a little old hat by the time we get our hands on it. The three 50MP rear cameras aren't quite as impressive as the pixel count suggests either – but if Honor gets the price right, it could still be one of the more affordable book-style foldables.
Huawei has the Mate X3, an ultra-slim foldable with a trio of rear camera lenses, including a periscope telephoto – which is pretty munch unheard of in the category. It's a seriously special smartphone – one which proves that foldables can be both awesome and durable. It's well-made and has stunning screens, but it's also crippled by a lack of Google software support, making it difficult to justify the expense outside of China.