Samsung Galaxy Z Flip 4 review: new face of foldables
Skinny and streamlined clamshell takes aim at the mainstream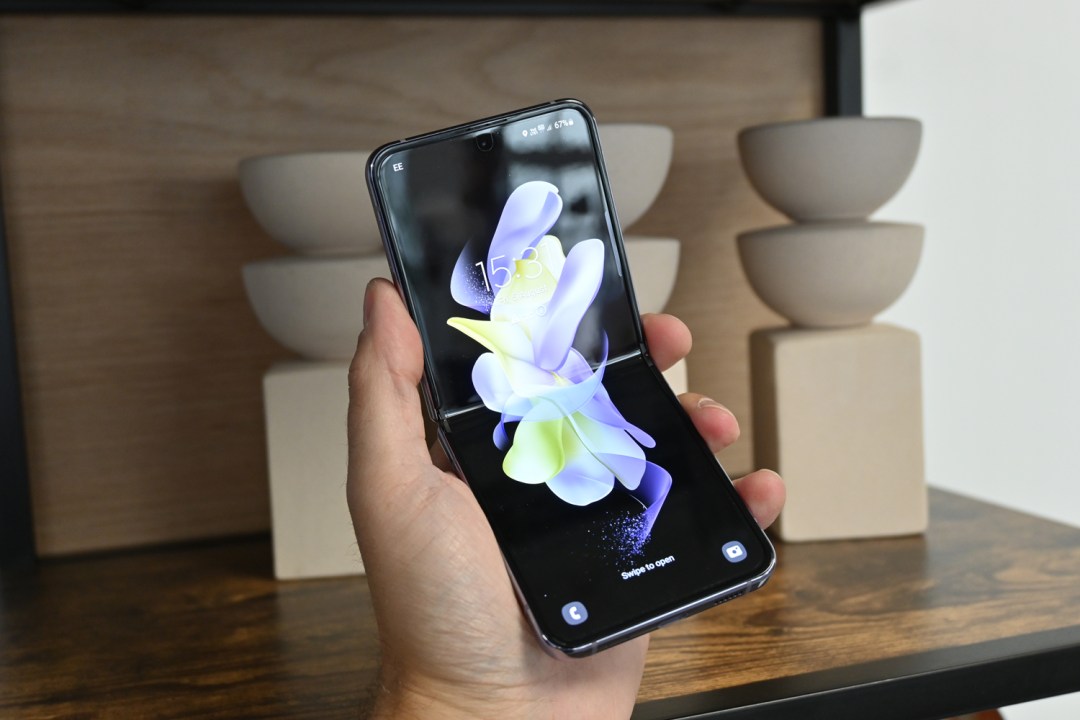 As the more modest of Samsung's two foldable phones, the Galaxy Z Flip series always seemed destined for mainstream success. The cutesy clamshell put a modern spin on the old-school flip phone, and proved popular enough that if you've seen any kind of foldable in the flesh, it was likely one of these. Now it's back for a fourth go round.
The Samsung Galaxy Z Flip 4 seems closer than ever to ironing out the kinks, even if it doesn't make any sweeping changes to what came before. Instead, it tries to fix what didn't blow us away about last year's Galaxy Z Flip 3. Think a bigger battery, more multi-tasking, and a few extra features to make better use of the smaller cover screen. Those upgrades might just be enough to turn it from tech showcase into daily driver material.
Review originally published 13 September 2022
Design & build: Flat's how you do it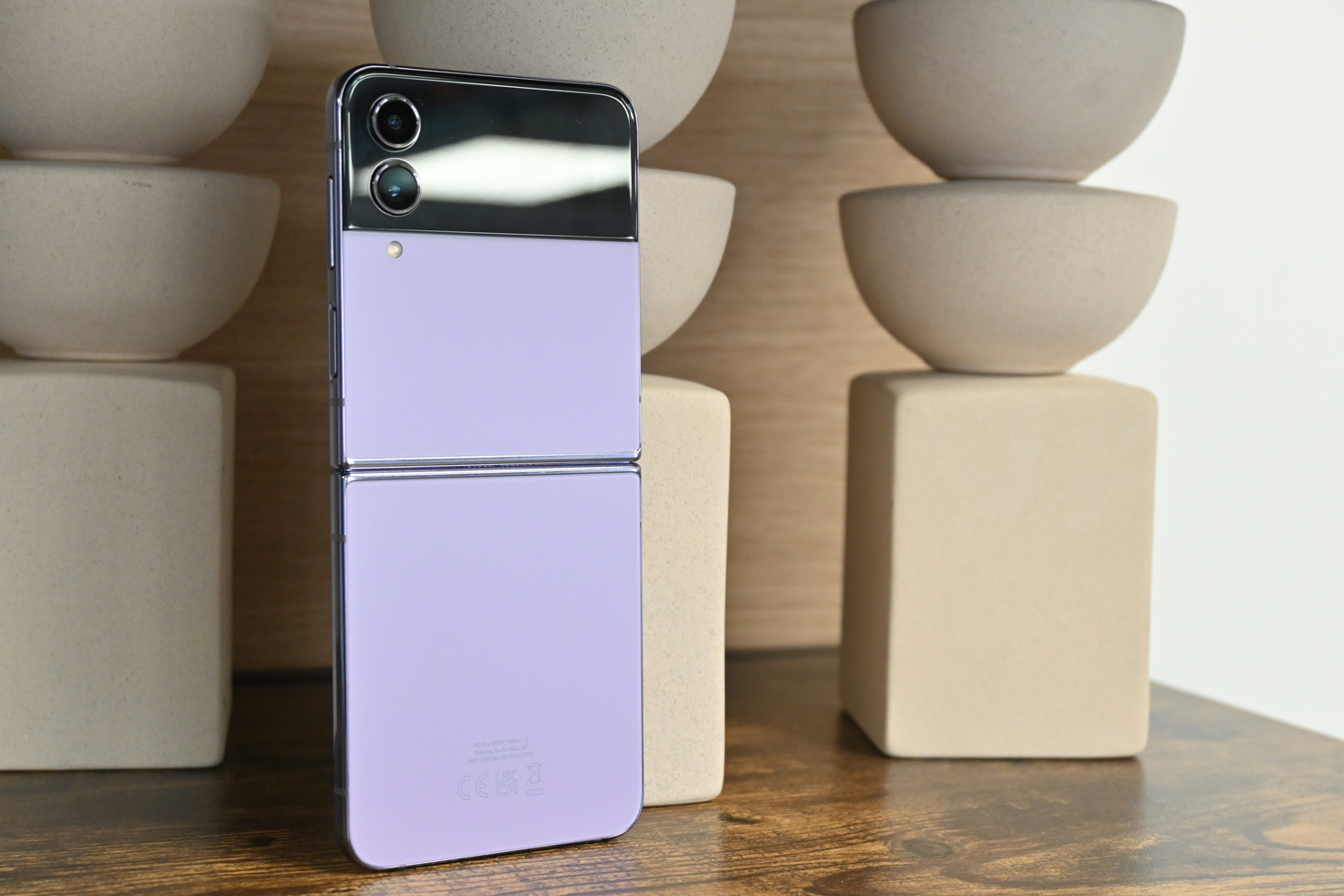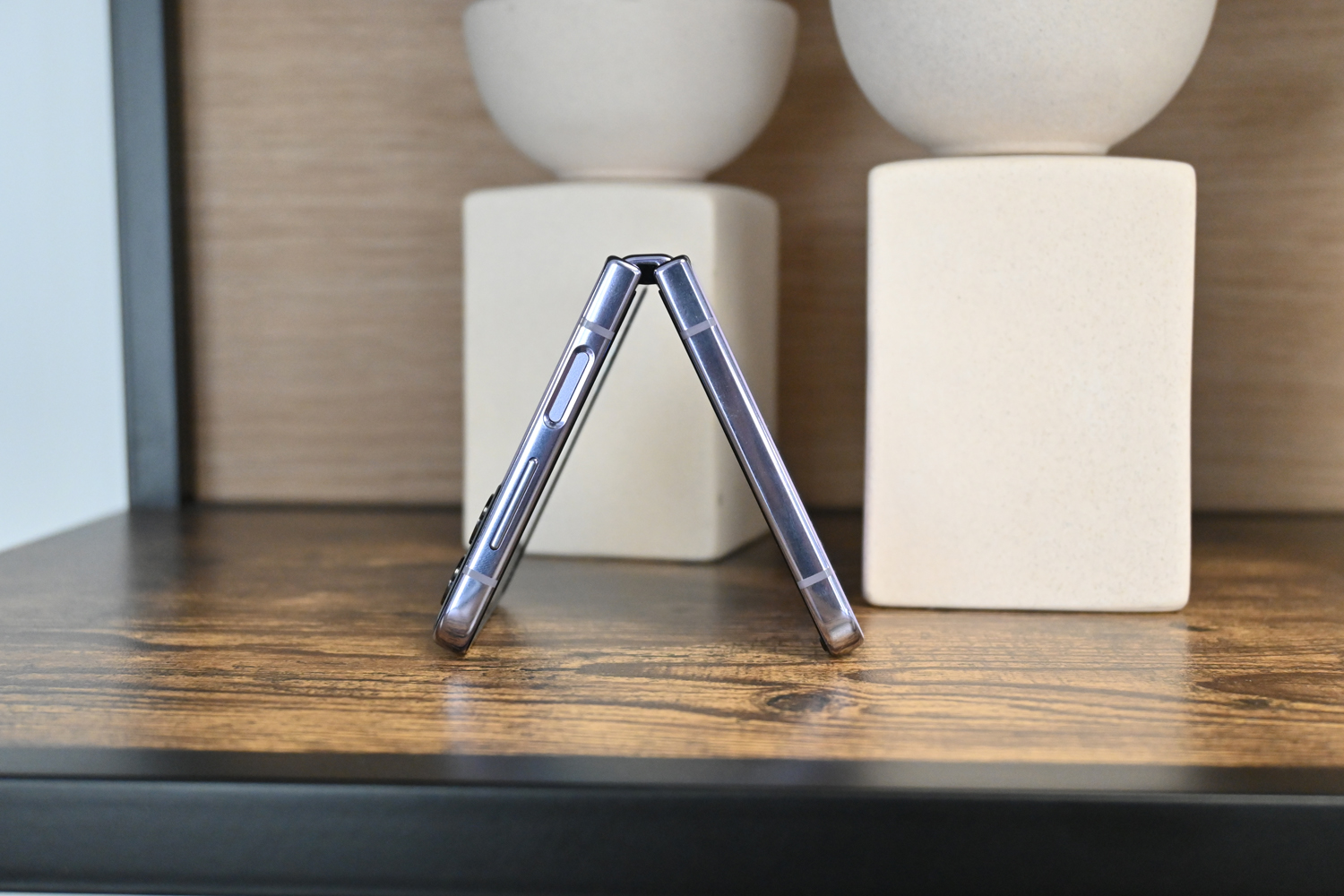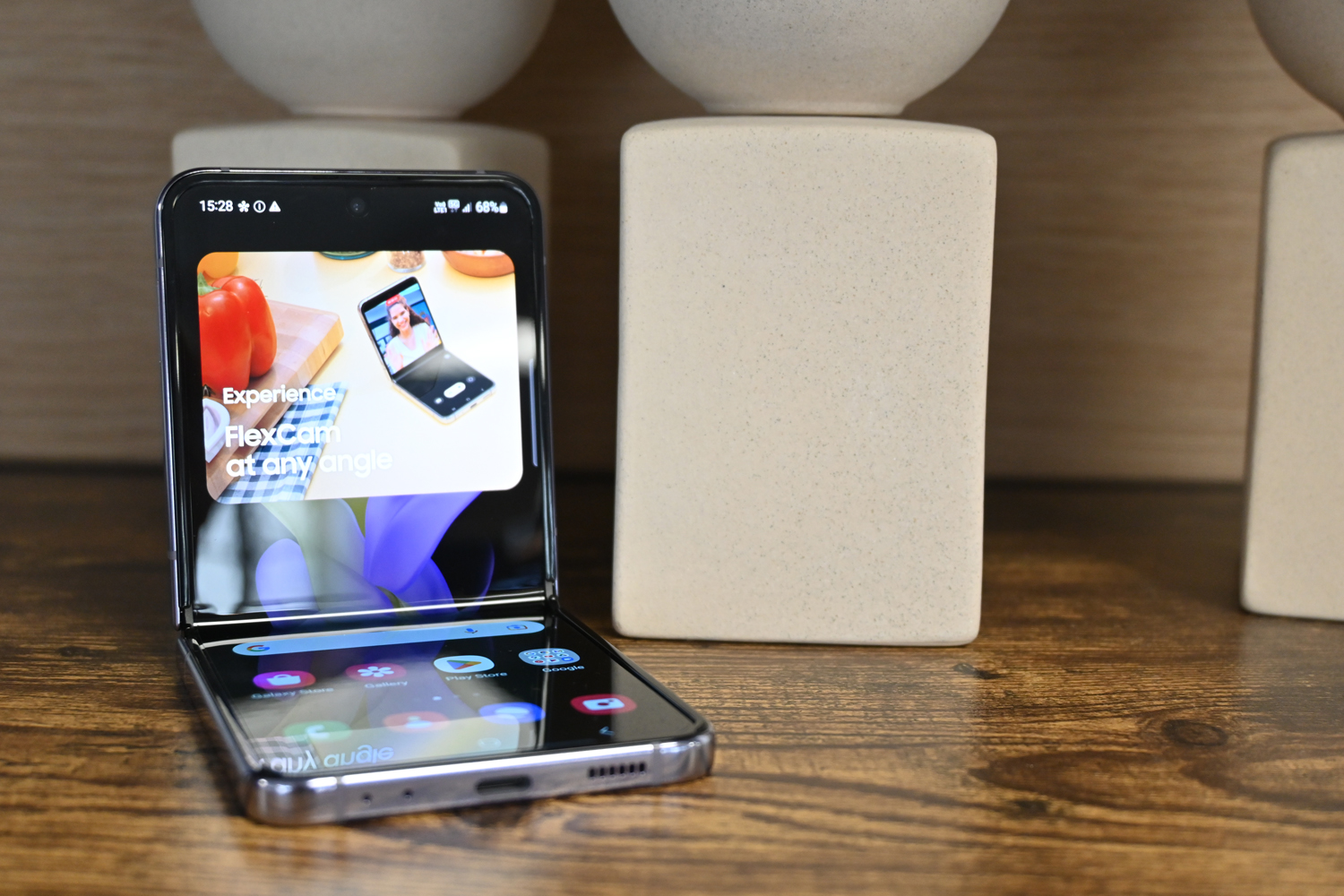 Does the Z Flip 4 look familiar? Samsung has used an especially light touch when it comes to design tweaks, opting for a slightly flatter frame and matte glass for the outer cover, but you'll need to look closely to tell it isn't actually a Z Flip 3. There's still a slight curve to the edges, so we're not talking iPhone-levels of sharpness, but it fits comfortably in the hand whether unfurled or not.
It's still perfectly pocket-sized, with Corning Gorilla Glass Victus on the front and back to protect it from scratches when chucked into a bag or purse. The black part of the two-tone outer cover holds the 1.9in cover display, which disappears into the glass when not powered on.
The new Bora Purple colour is especially distinctive, with Pink Gold and Blue close behind, and Graphite being the most subtle option. The personalised Bespoke Edition returns, too, with up to 75 different combinations of front panel, rear panel and frame/hinge materials if you want to stand out. And don't mind so much about resale value. It's only available through the Samsung web store, and adds three or four weeks to shipping times, but doesn't cost any extra over the standard colours, which is neat.
The side-mounted fingerprint sensor is perfectly placed for easy reach if you're right-handed, and the skinny screen means lefties don't have to stretch too far either. It's quick enough to detect your digits, if not quite as cutting edge as an in-display scanner. Connectivity is limited to a solitary USB-C port at the bottom, with no headphone port.
The hinge feels reassuringly secure, opening and closing with just the right amount of force. It can be opened to any angle and will largely stay in place, unless you're seriously waving the thing around. Samsung says it was tested for 200,000 folds, which should cover the entire usable lifespan of the phone. We had no issues during our testing.
The entire thing is IPX8 water resistant, so should survive a brief dunking in fresh water, but it's not protected against dust. Teeny brushes inside the hinges should help stop debris making its way inside, but how well isn't clear based on our limited testing.
Screen & sound: crease me up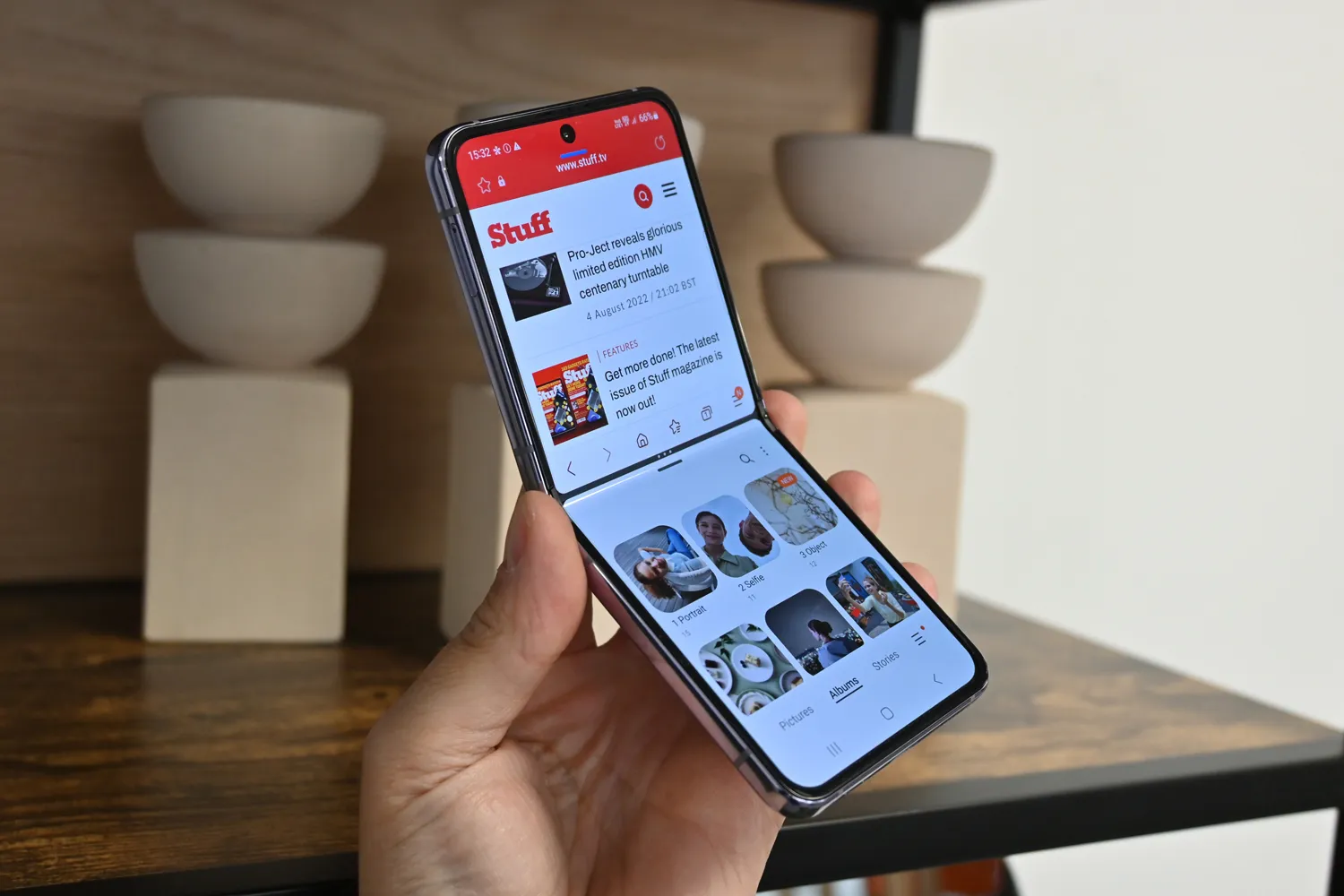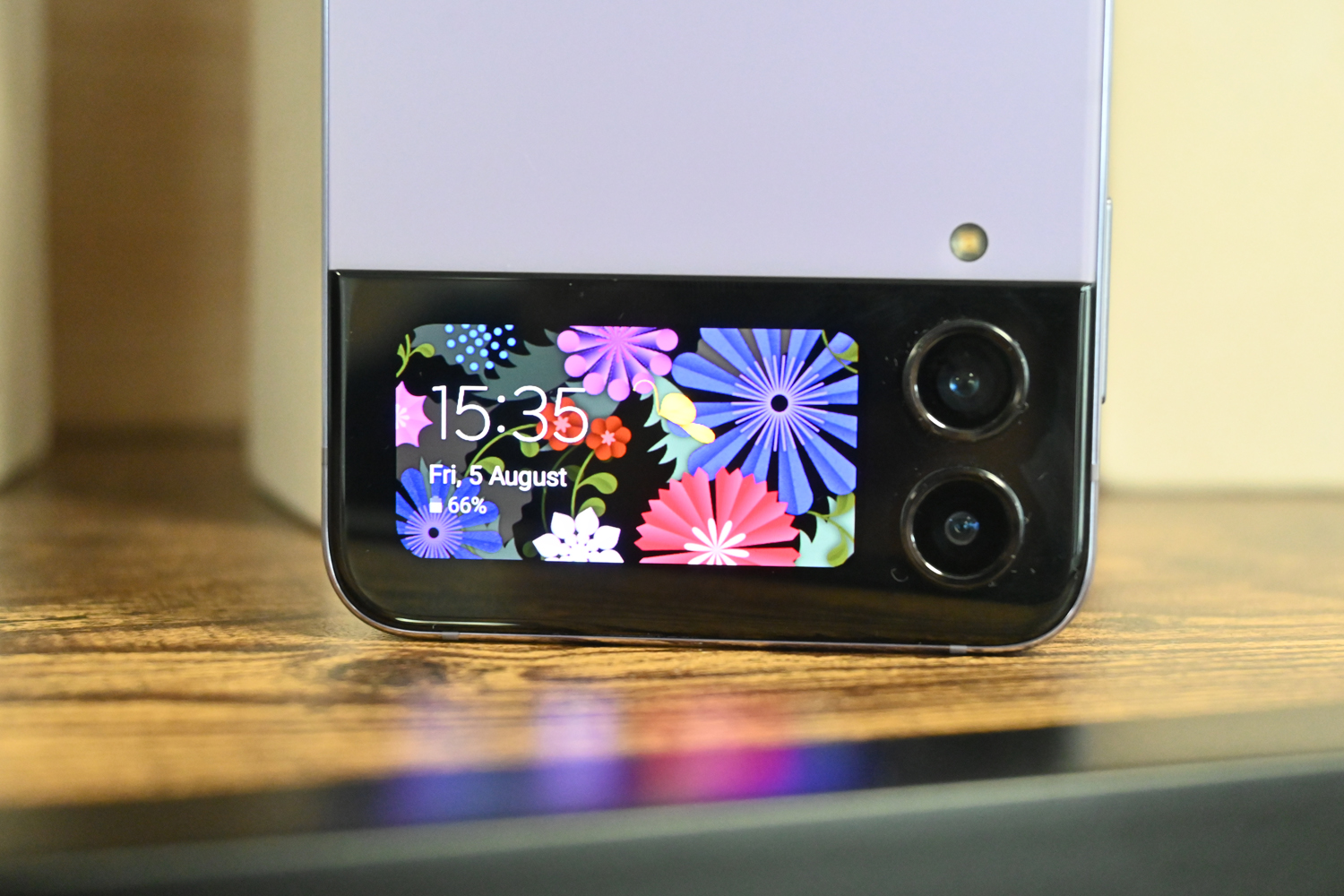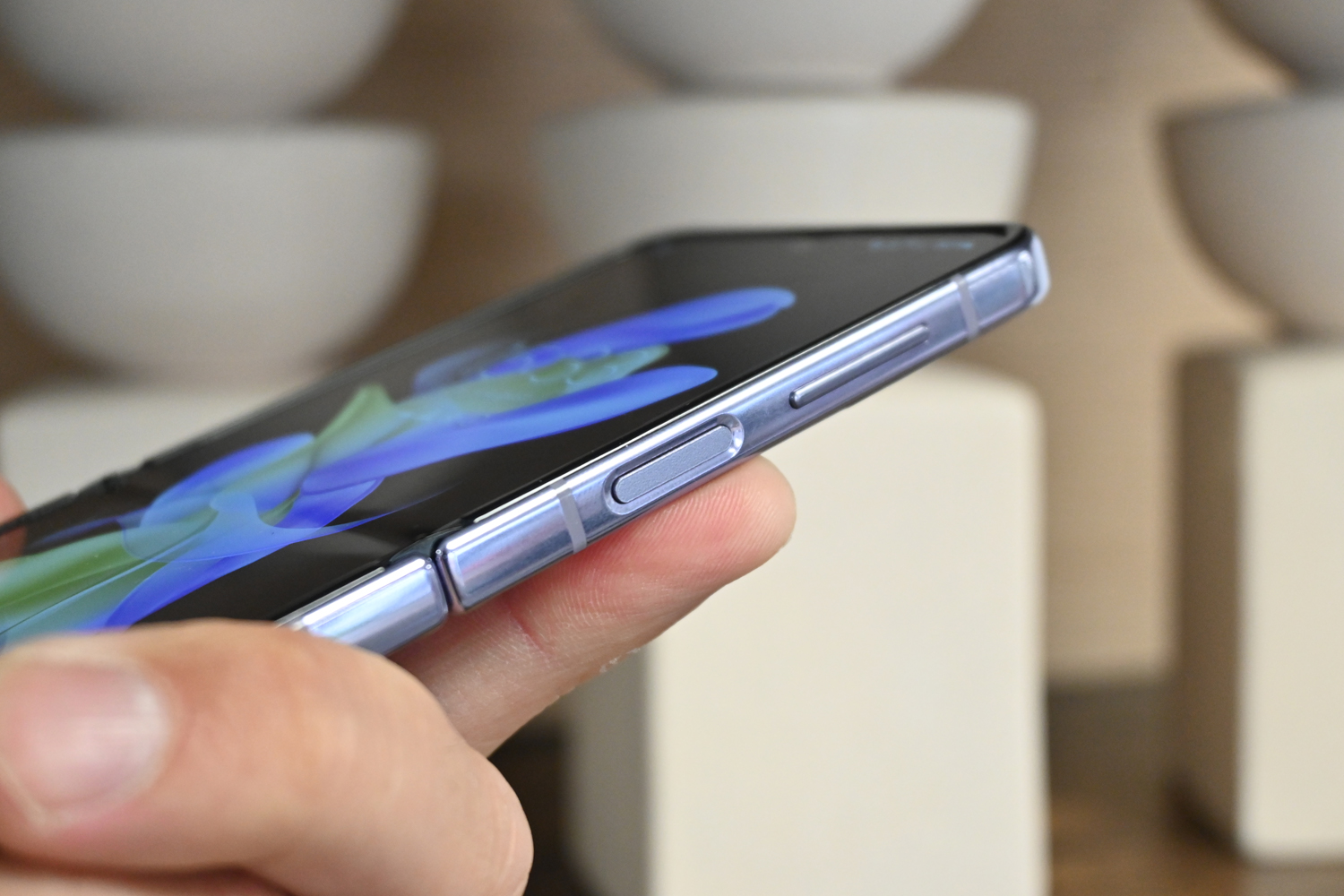 If you've seen a Galaxy Z Flip 3 in the wild, you'll know roughly what to expect here: a 1.9in, 512×260 resolution outer screen for notifications, widgets and the like, along with a 6.7in, 2640×1080 flexible OLED inside. Both are sharp, detailed and bursting with colour, as is the norm for Samsung screens.
The crease is still visible if you go looking for it, but is by no means distracting when using the Z Flip 4 like you would a regular phone. Viewing angles are great and it gets plenty bright. Even in direct sunlight, there are no visibility issues – Samsung's OLEDs regularly get brighter than anything else in the Android world, and the Z Flip 4 is no different. That makes all the difference to HDR10 content too; be ready to binge streaming services with one of these in your pocket.
The main screen has a 120Hz adaptive refresh rate, so everything looks beautifully smooth as you swipe between homescreens or scroll through websites. There's no option to force it on all the time, which would have been nice, but it's pretty good at working out when to dial the refresh rate up and down.
There's plenty of punch from the stereo speakers, which get loud enough to appreciate YouTube videos without instantly reaching for a pair of headphones. It's Bluetooth only for critical listening, as there's no 3.5mm headphone port – and Samsung doesn't include a dongle in the box.
Galaxy Z Flip 4 Features & software: cover model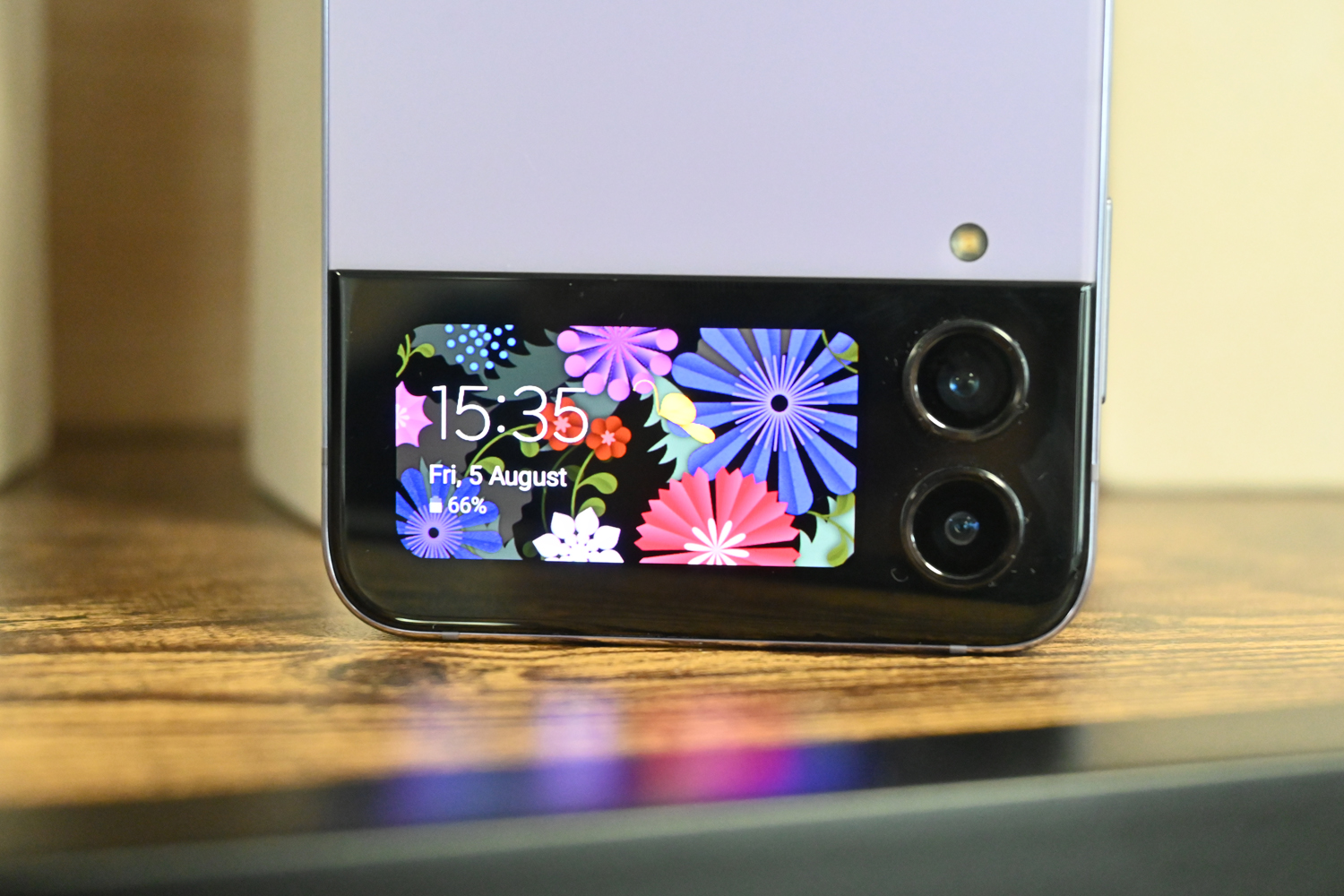 Once unfolded, it doesn't look all that different from a traditional phone, but Samsung has made sure to add plenty of multitasking prowess to take advantage of a display that bends in the middle. A two-finger swipe from the bottom of the screen now launches multi-window, which is a lot more convenient than the old method.
Samsung's own apps already played nicely with the folding screen, with the camera app filling the top half with the viewfinder and the bottom half with all the controls and shooting modes. Now though, third-party apps have been tweaked as well. YouTube, for example, keeps the video up top, while comments sit below the fold.
There's also a Flex Mode for apps that don't natively support the vertically folding screen – which is quite a few. It puts a touchpad on the bottom half, and is handy for propping the phone up in an L shape on a desk for hands-free use. The top half of the screen quickly gets cluttered, but usability is still pretty good.
The 1.9in outer screen has seen the biggest additions. Themes applied to the main screen now also change the outer one, putting a lot more colour onscreen and really drawing in the eye. Being able to pick between a load more widgets is also nice, saving you from opening the phone up to dial a favourite contact or reply to a message.
It still acts as a viewfinder for taking selfies with the outer cameras, with swipes swapping between lenses and camera modes (including portrait mode now), and a double-tap showing the actual aspect ratio of your shots, rather than simply filling the diddy front screen.
Cameras: Seeing double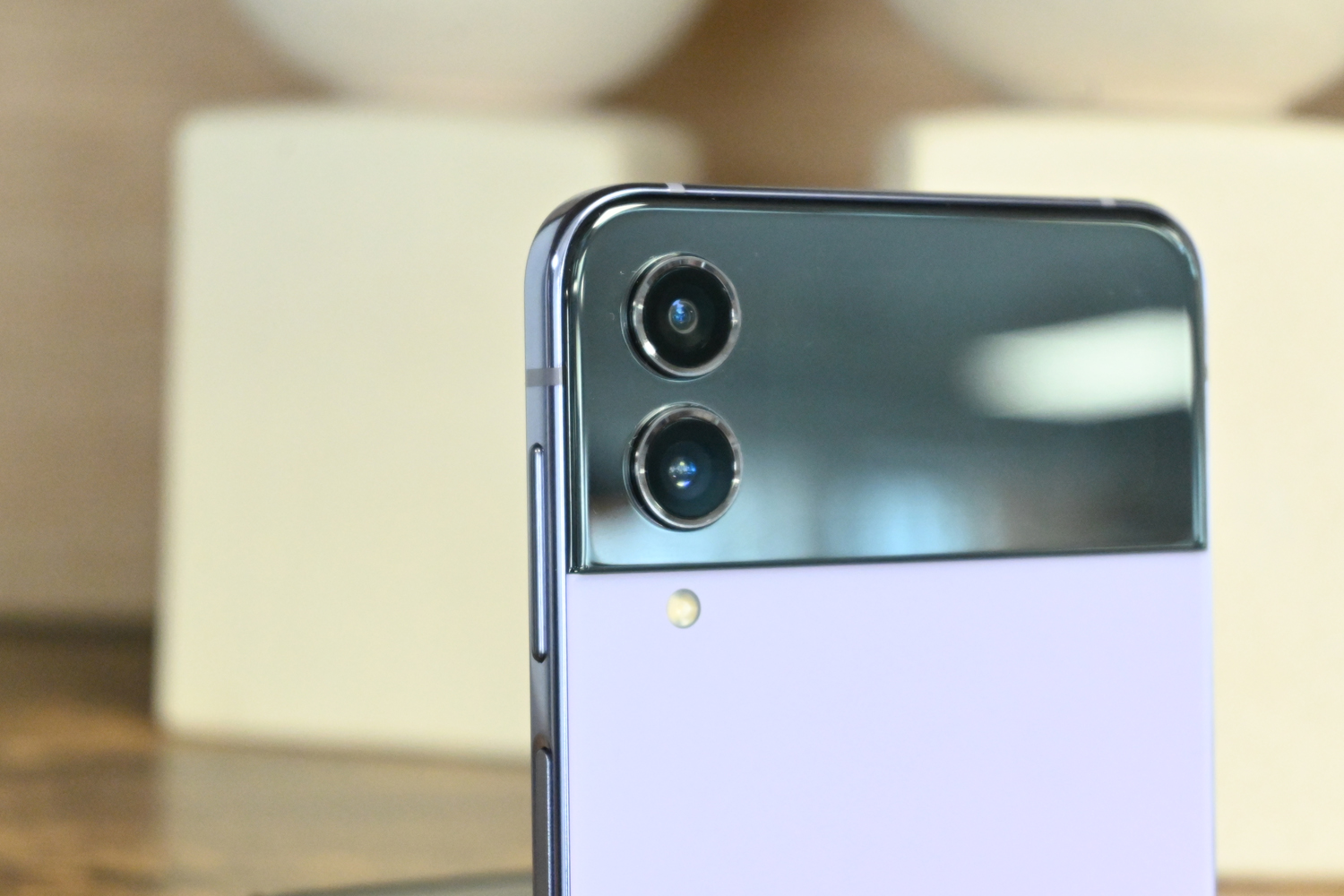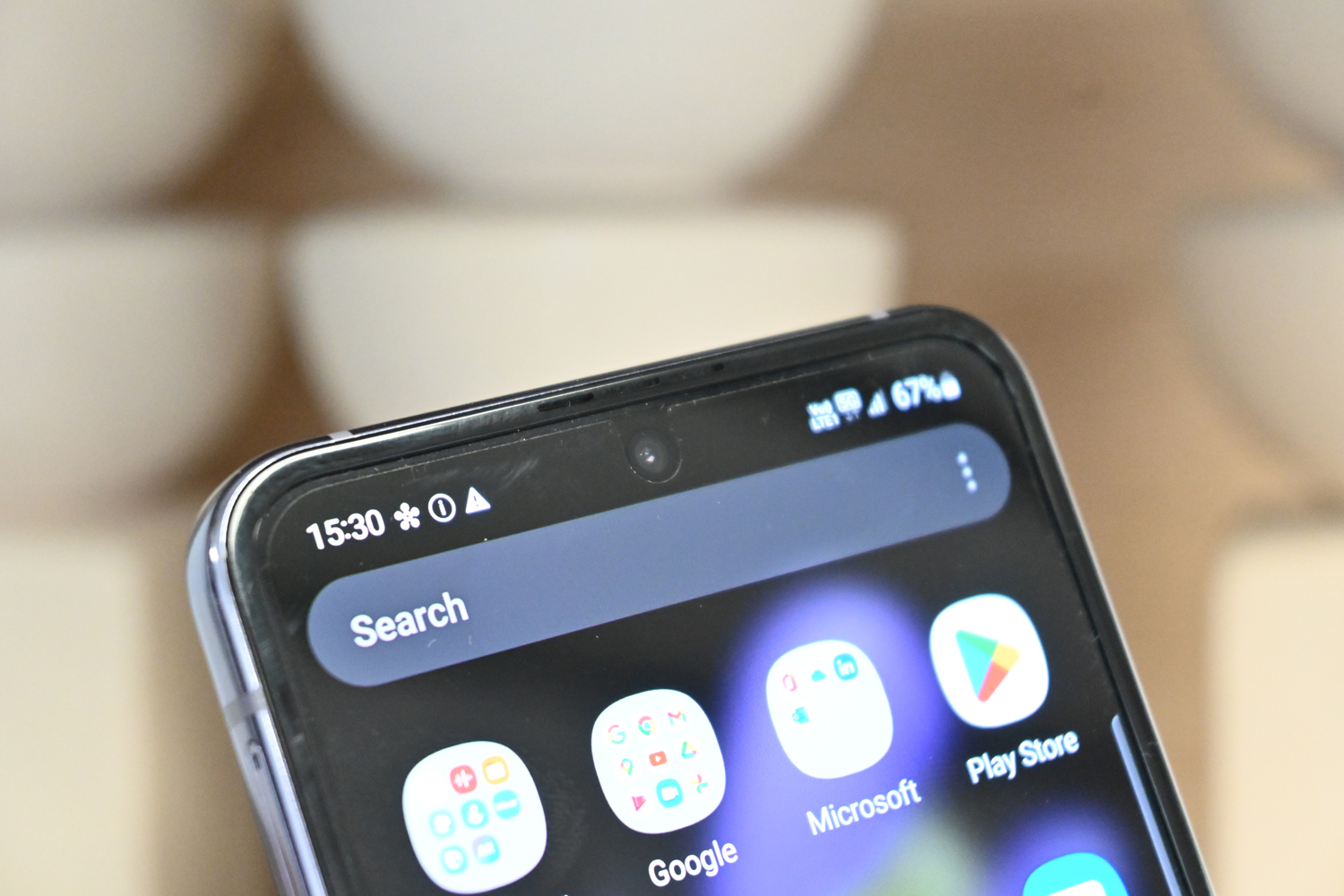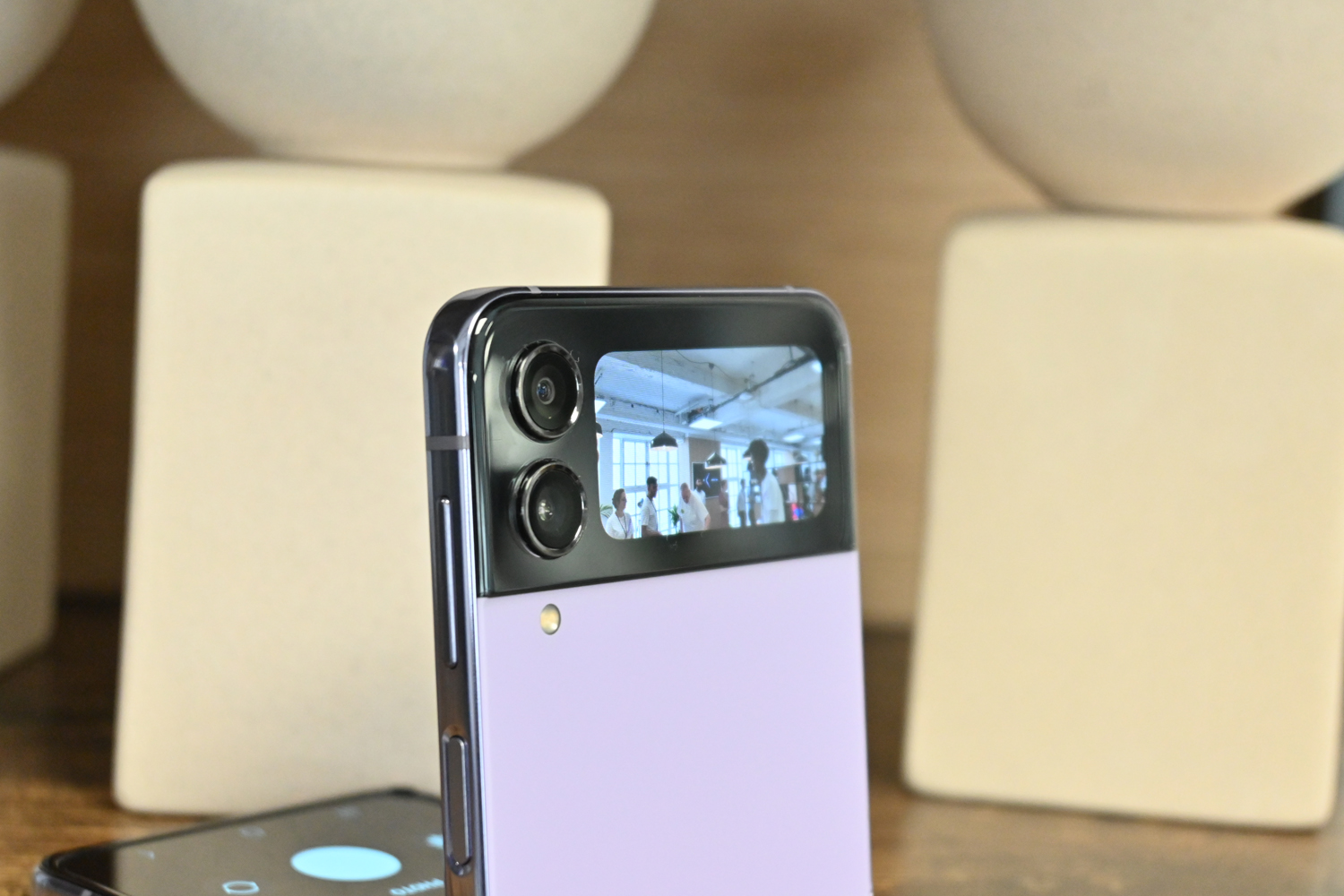 On the hardware front, it would seem little has changed between last year's Galaxy Z Flip 3 and the new Flip 4. Both phones have a dual-lens setup on the outside, with a 12MP, f/1.8 main snapper and 12MP, f/2.2 ultrawide, joined by a 10MP f/2.4 punch-hole camera on the interior. The main camera gets optical image stabilisation, as before.
Given the Z Flip 3 was perfectly capable of taking good photos, it's no bad thing Samsung hasn't mixed things up too much, but with no dedicated telephoto it means you're again limited to digital zoom. Flagship rivals in the £1000 space have seriously stepped up their photography game recently, and the Z Flip 4 doesn't work too hard to keep up.
Image quality is about what we'd expect from a high-end phone, but it falls short of the truly top-tier competition. Well-lit scenes have that familiar Samsung treatment, with overly saturated colours and at times rather liberal use of HDR. There's no shortage of definition, and noise is kept to a minimum. Foliage, brickwork and other fine detail are also slightly better preserved here than they were on last year's model.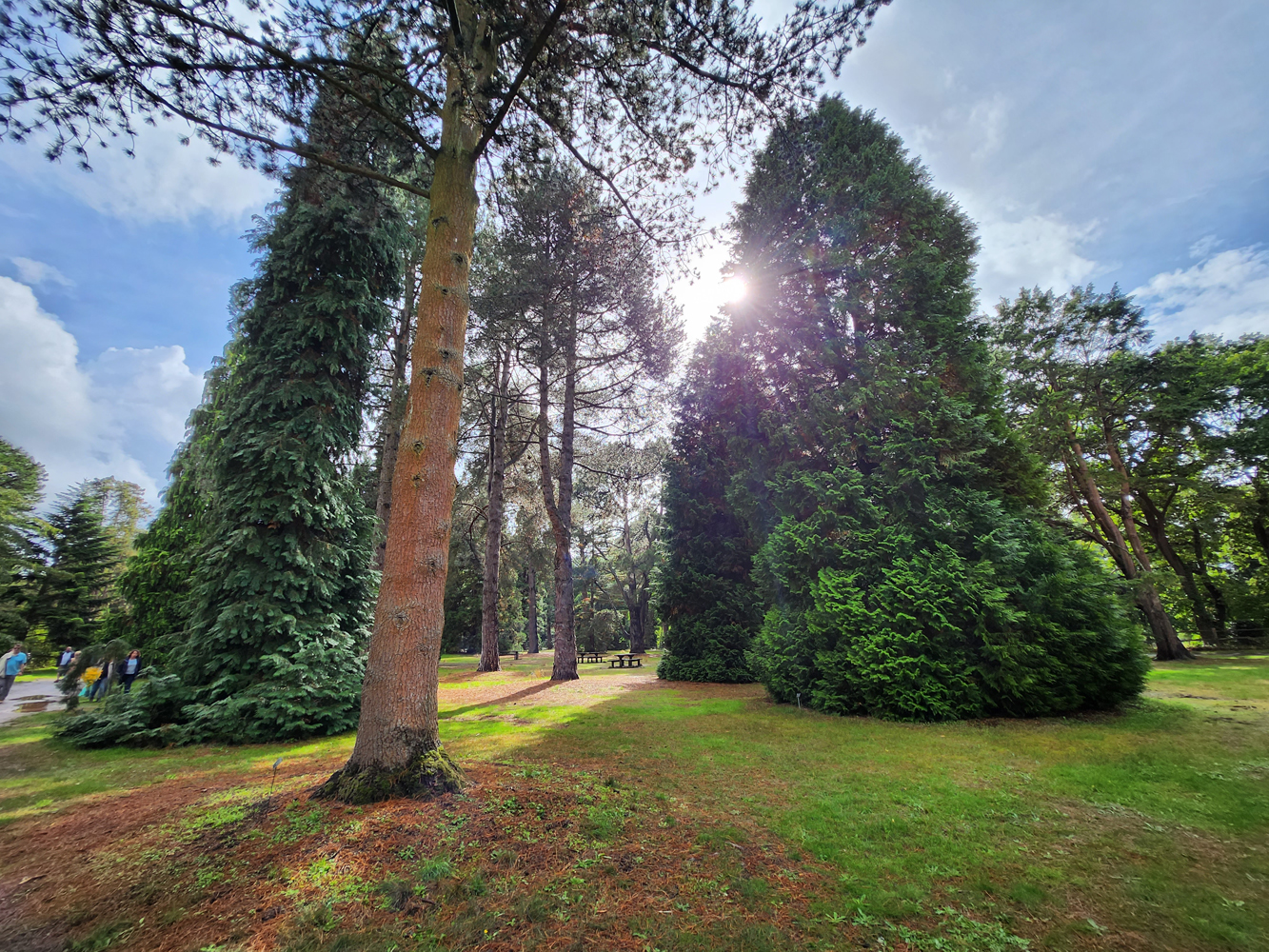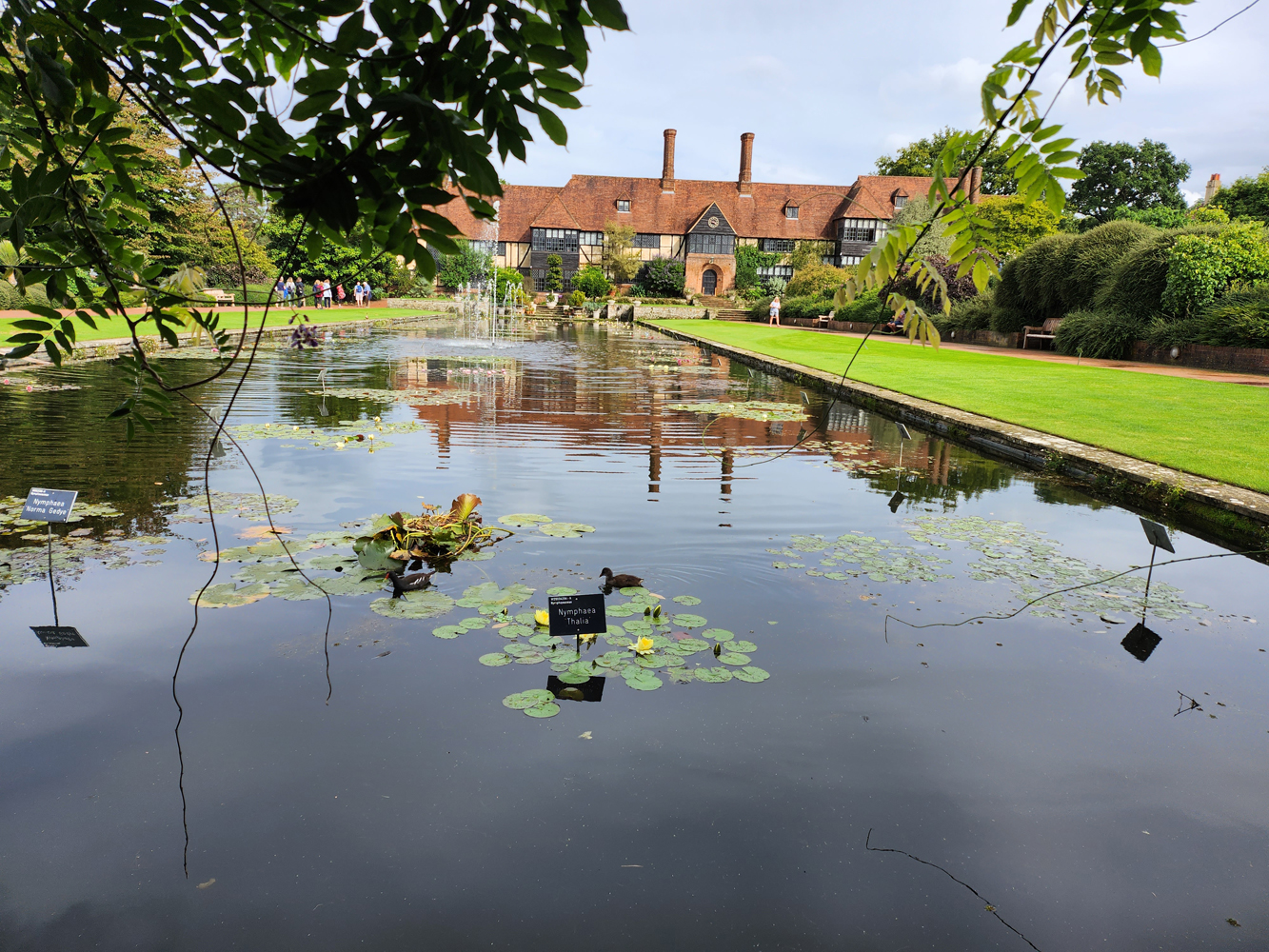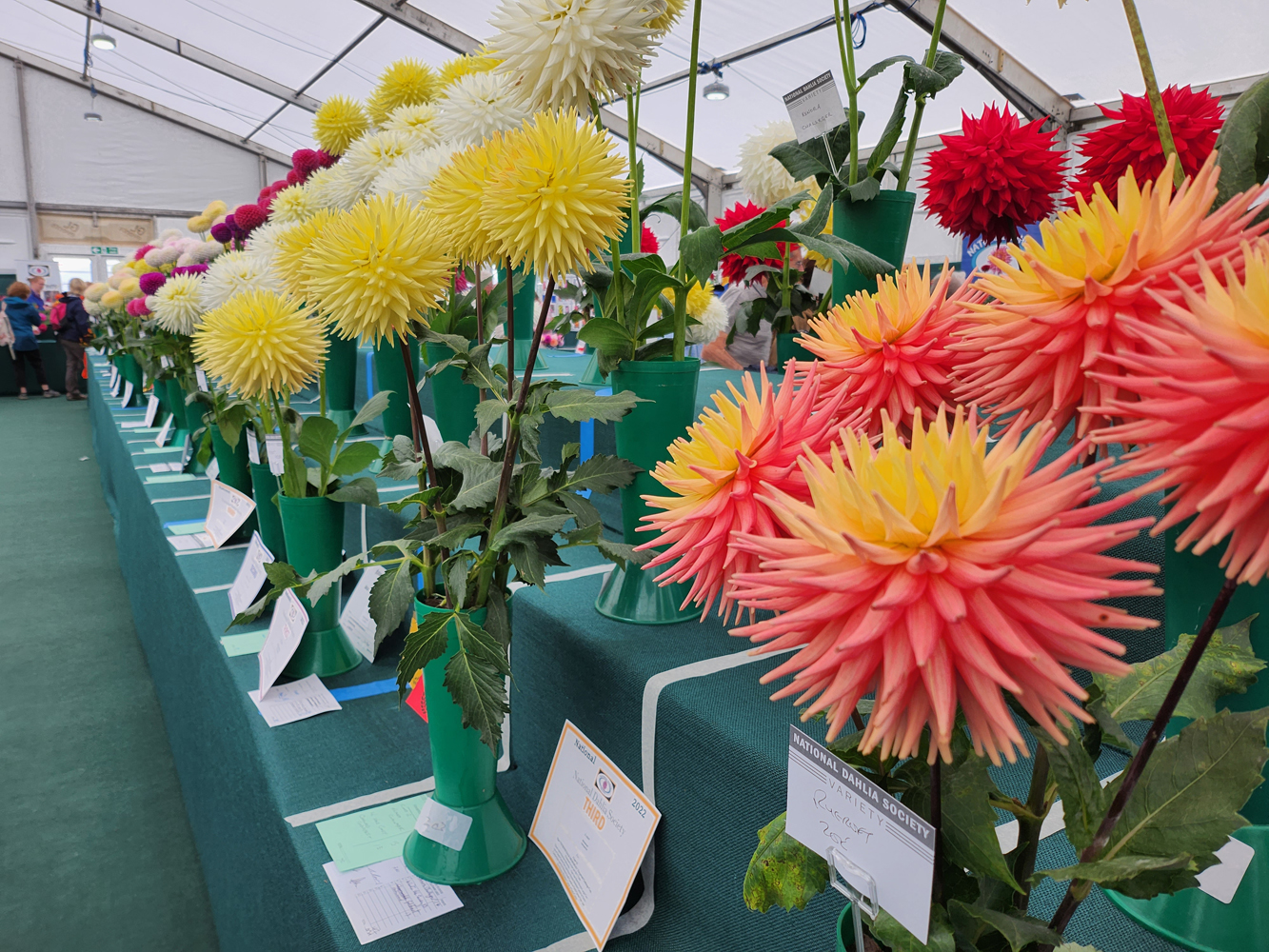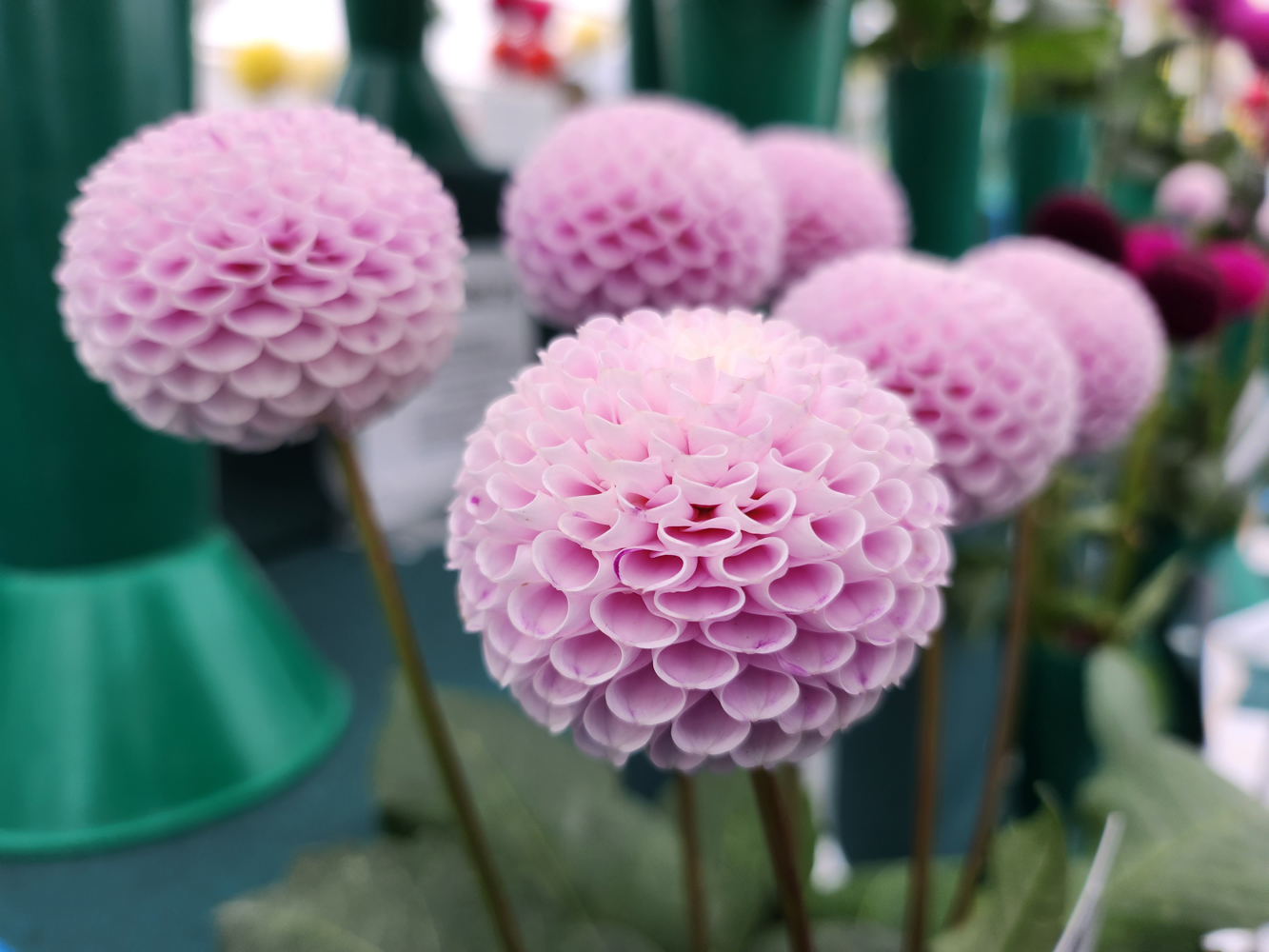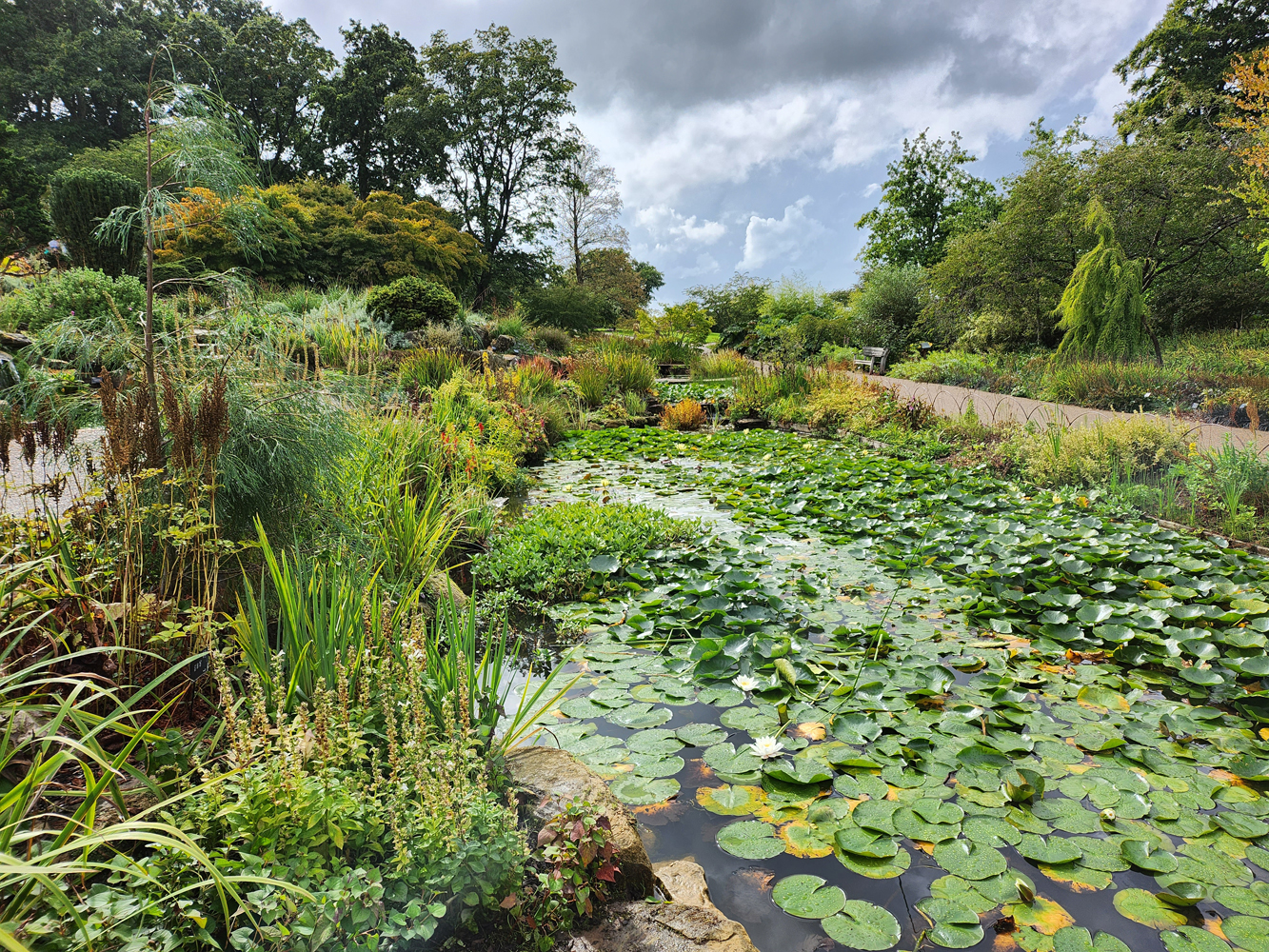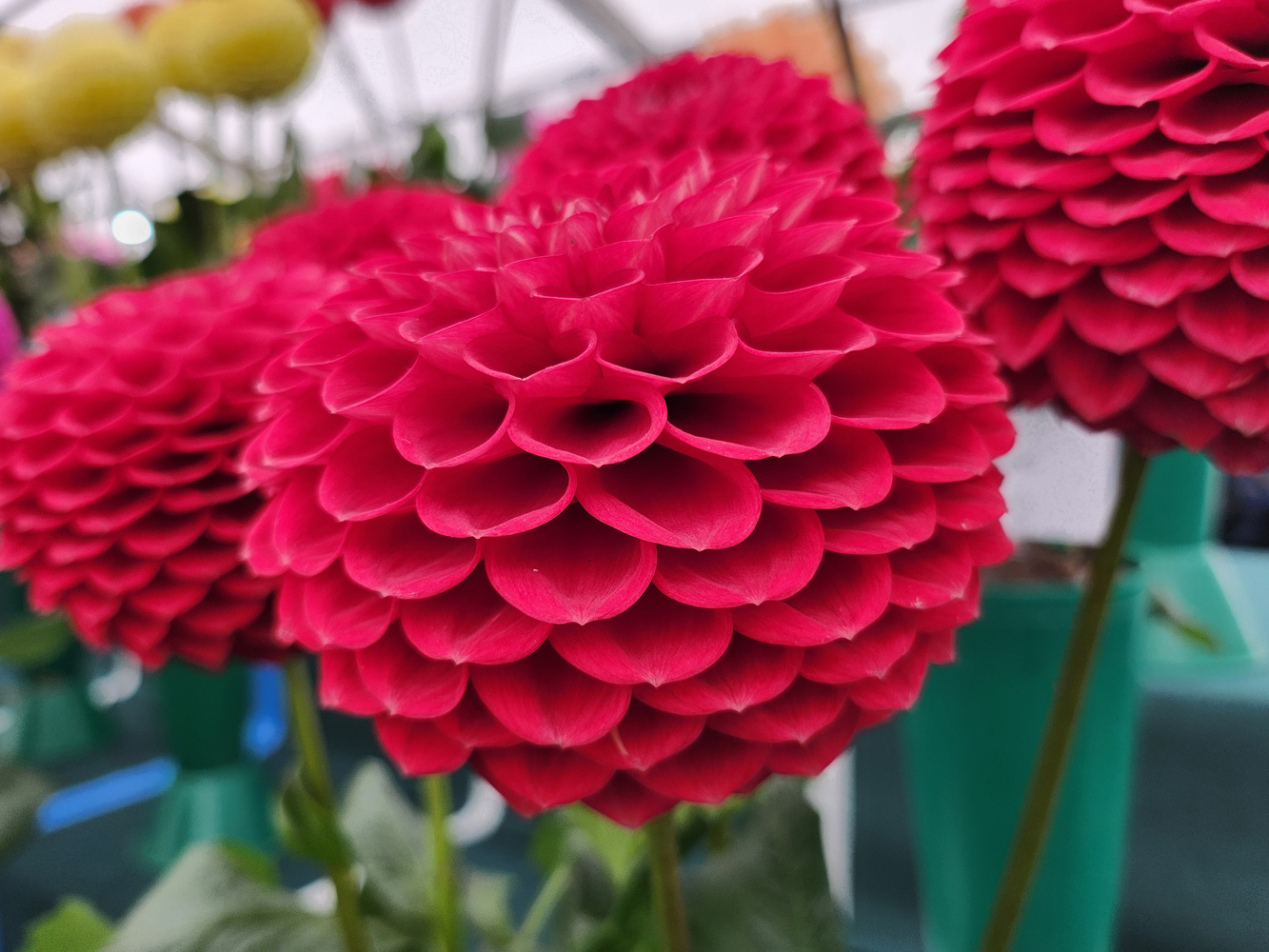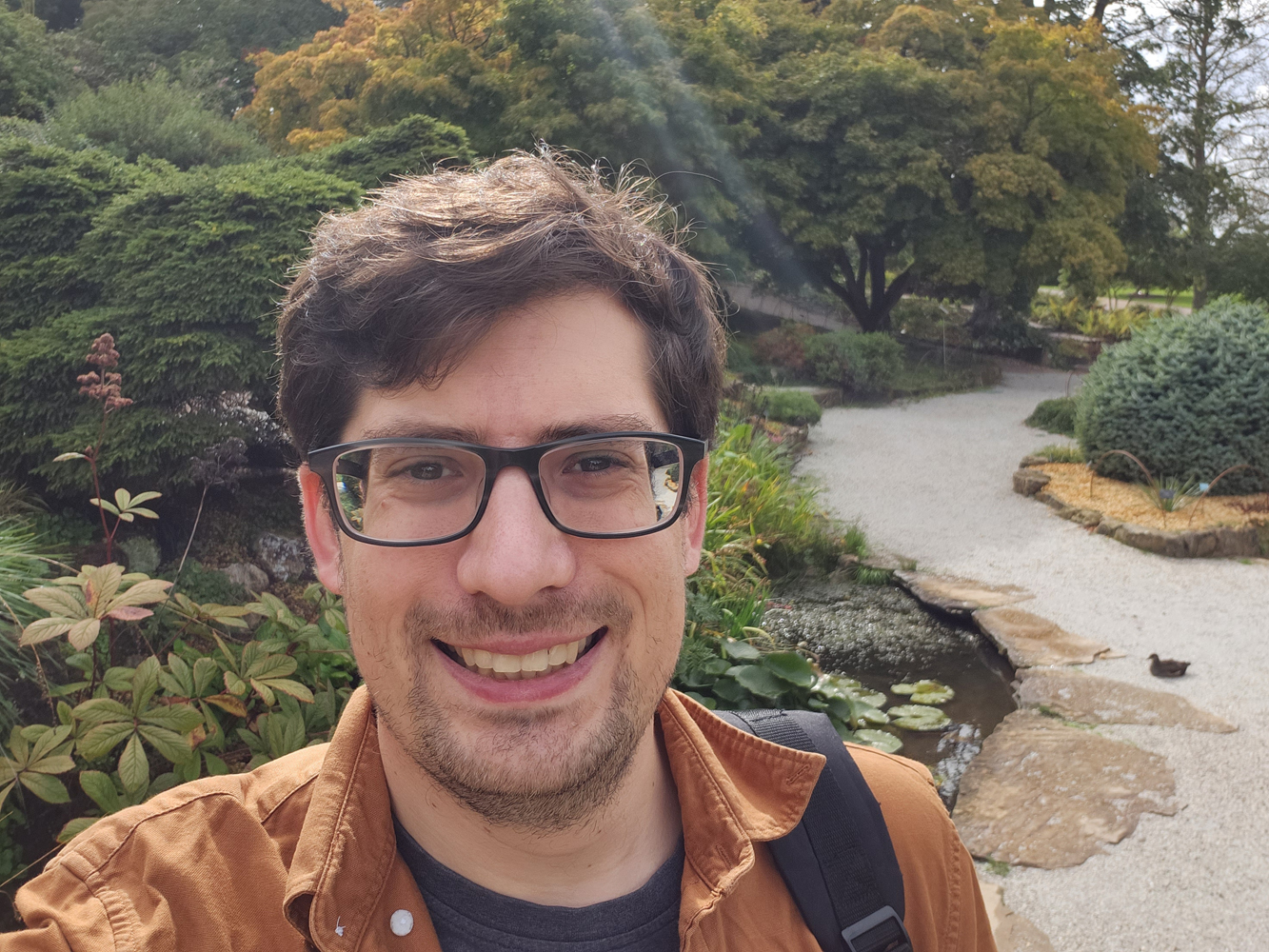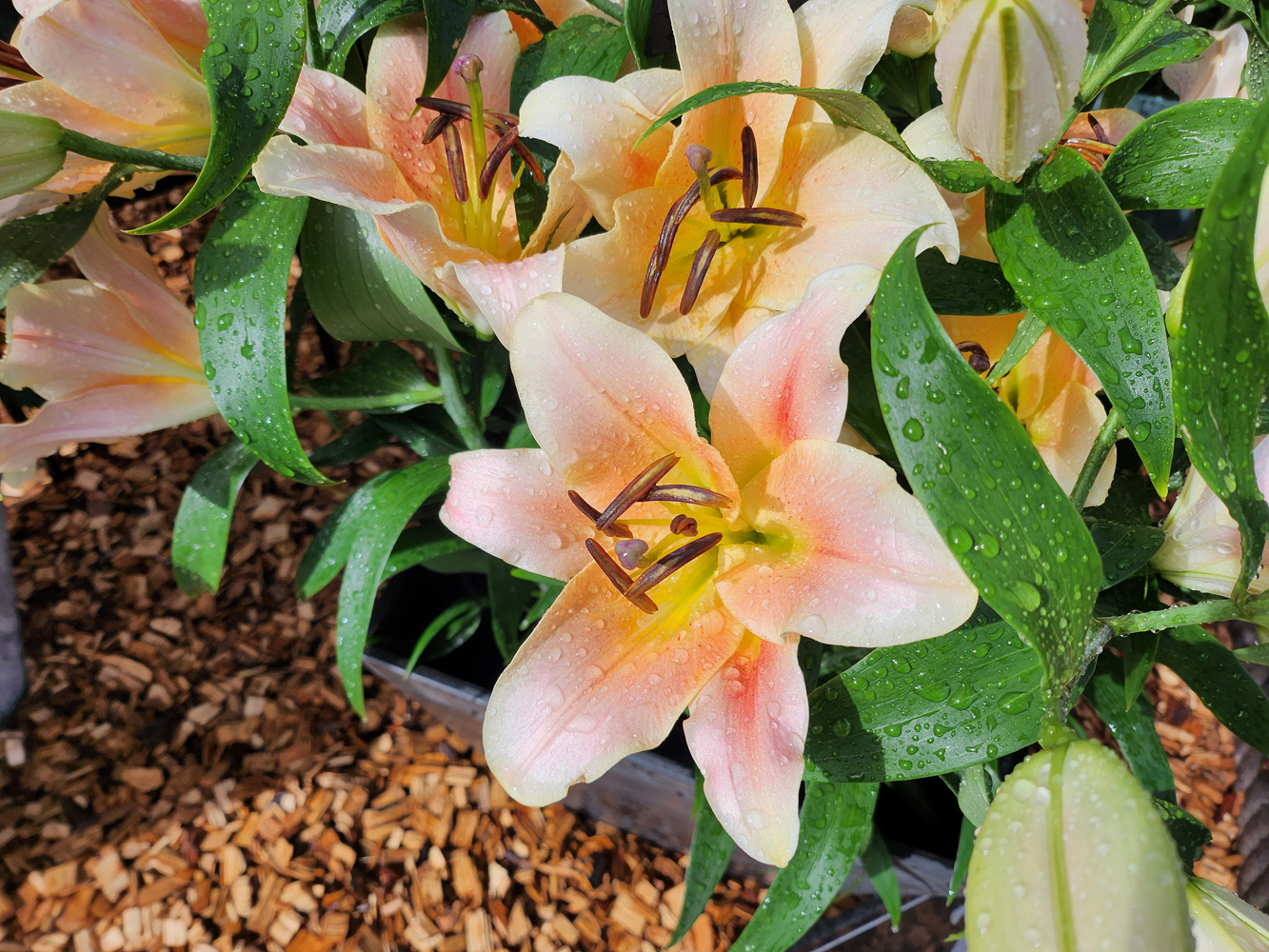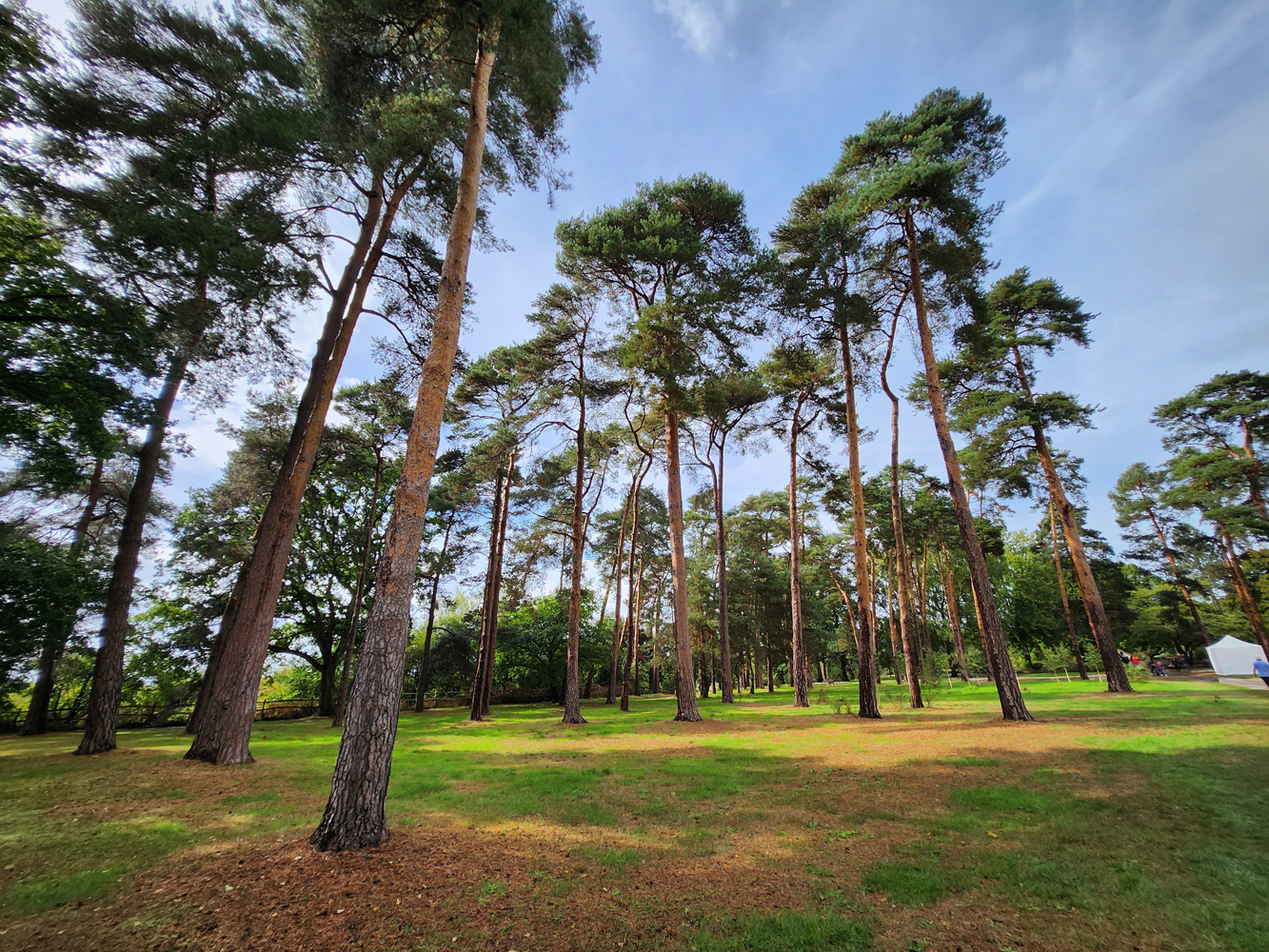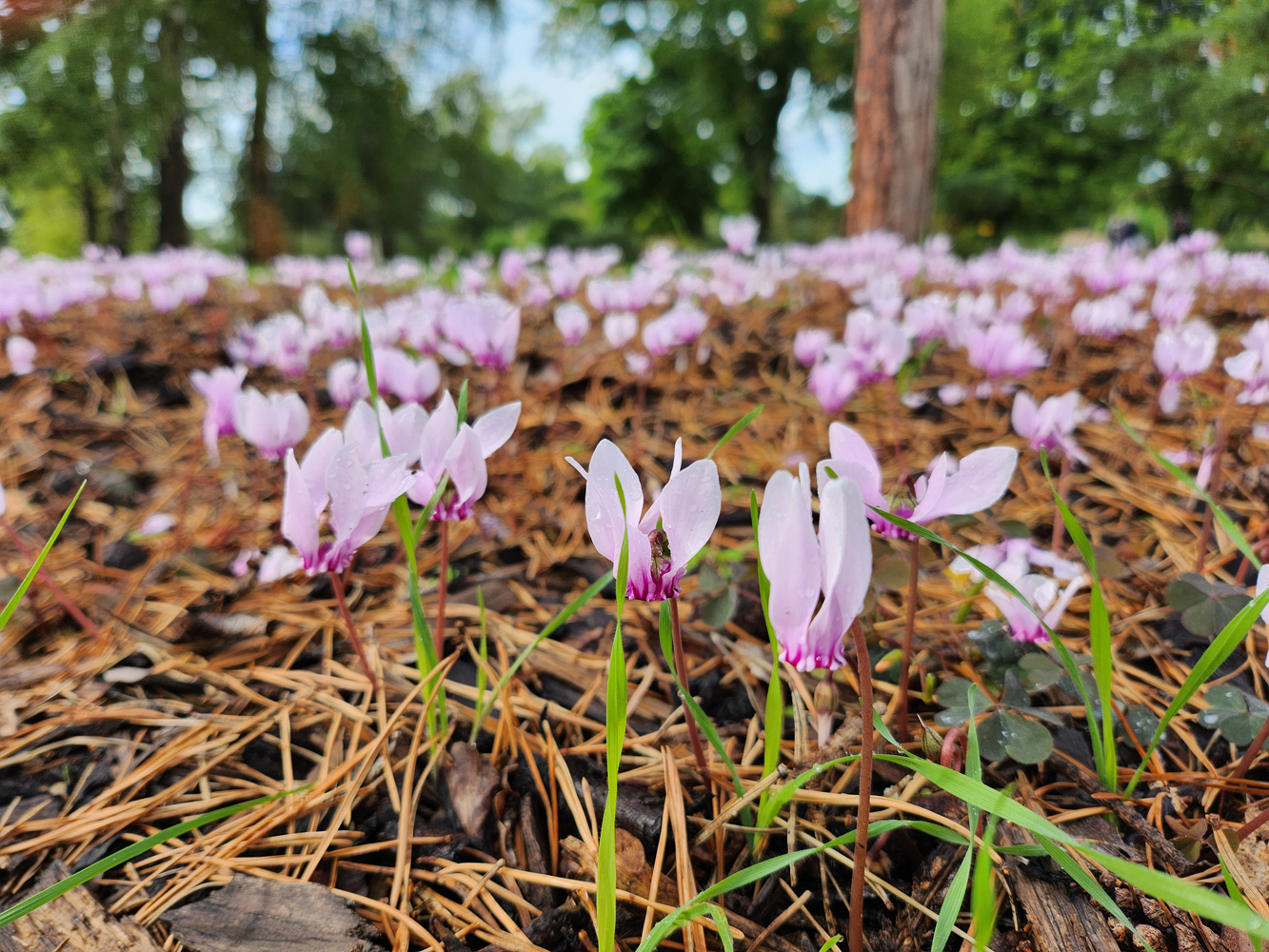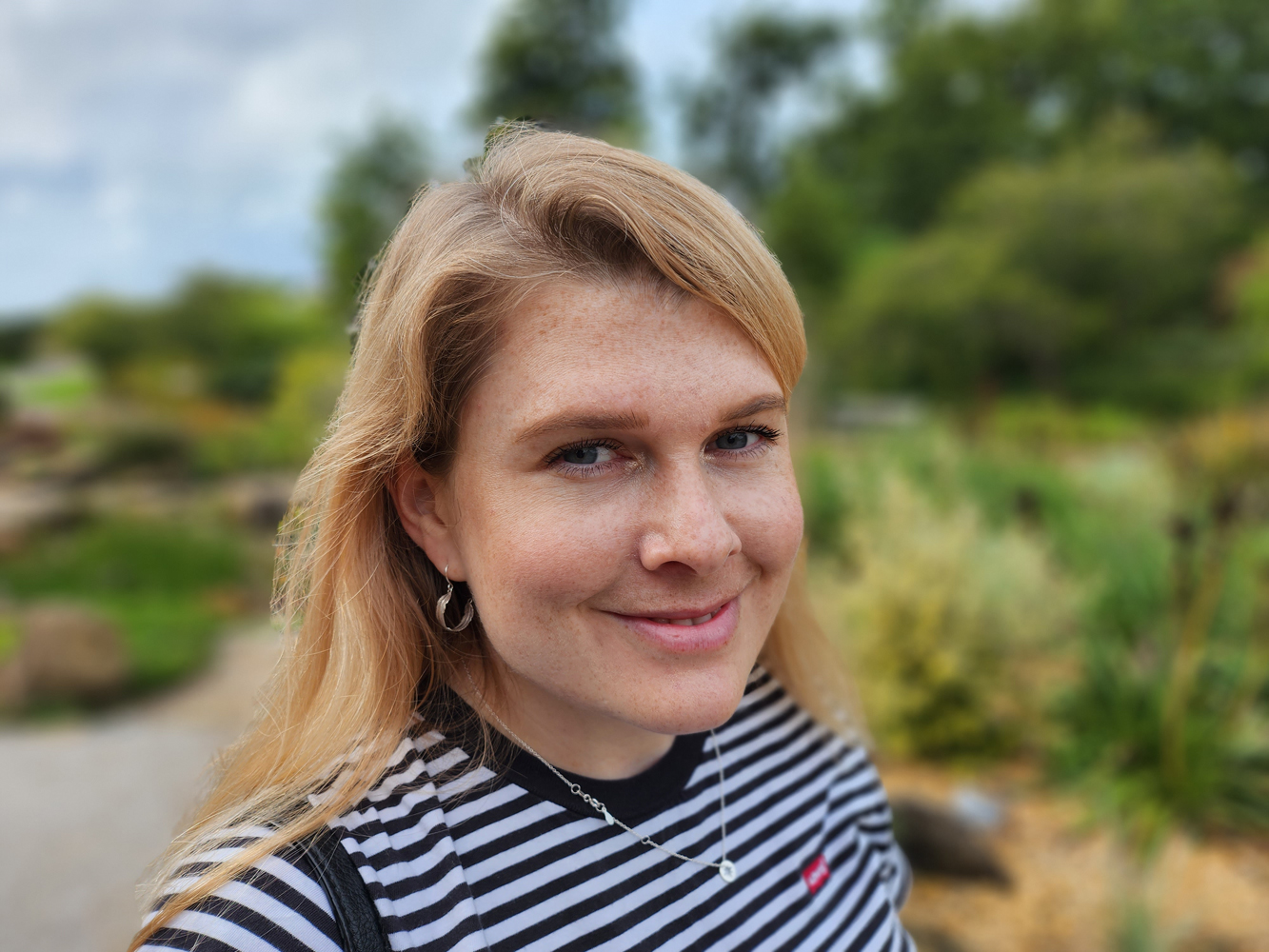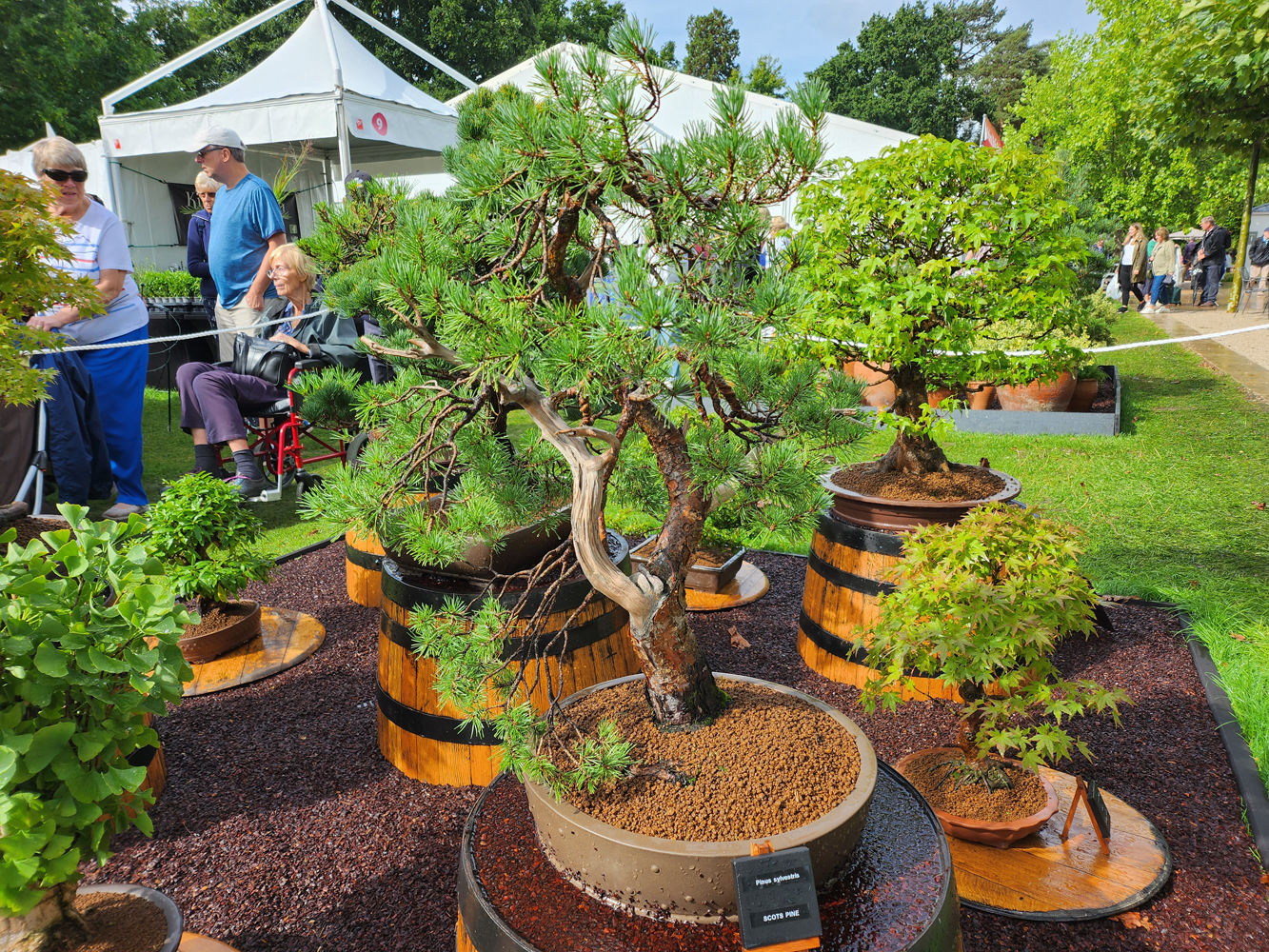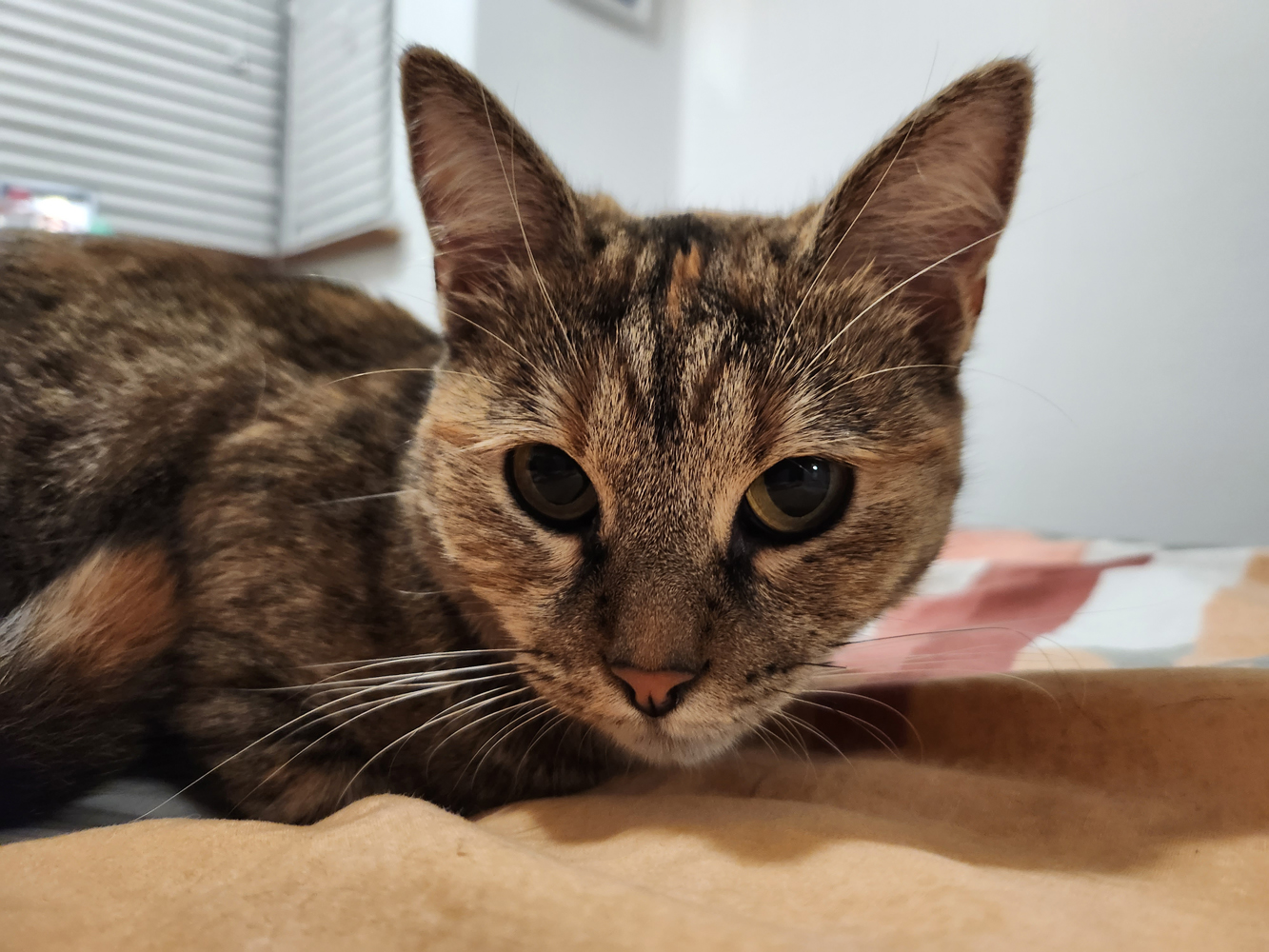 The ultrawide holds up well in comparison, with similar exposure and colour treatment keeping things consistent between lenses. There's some sharpness drop-off towards the edges of the frame, but the lens correction otherwise does a great job.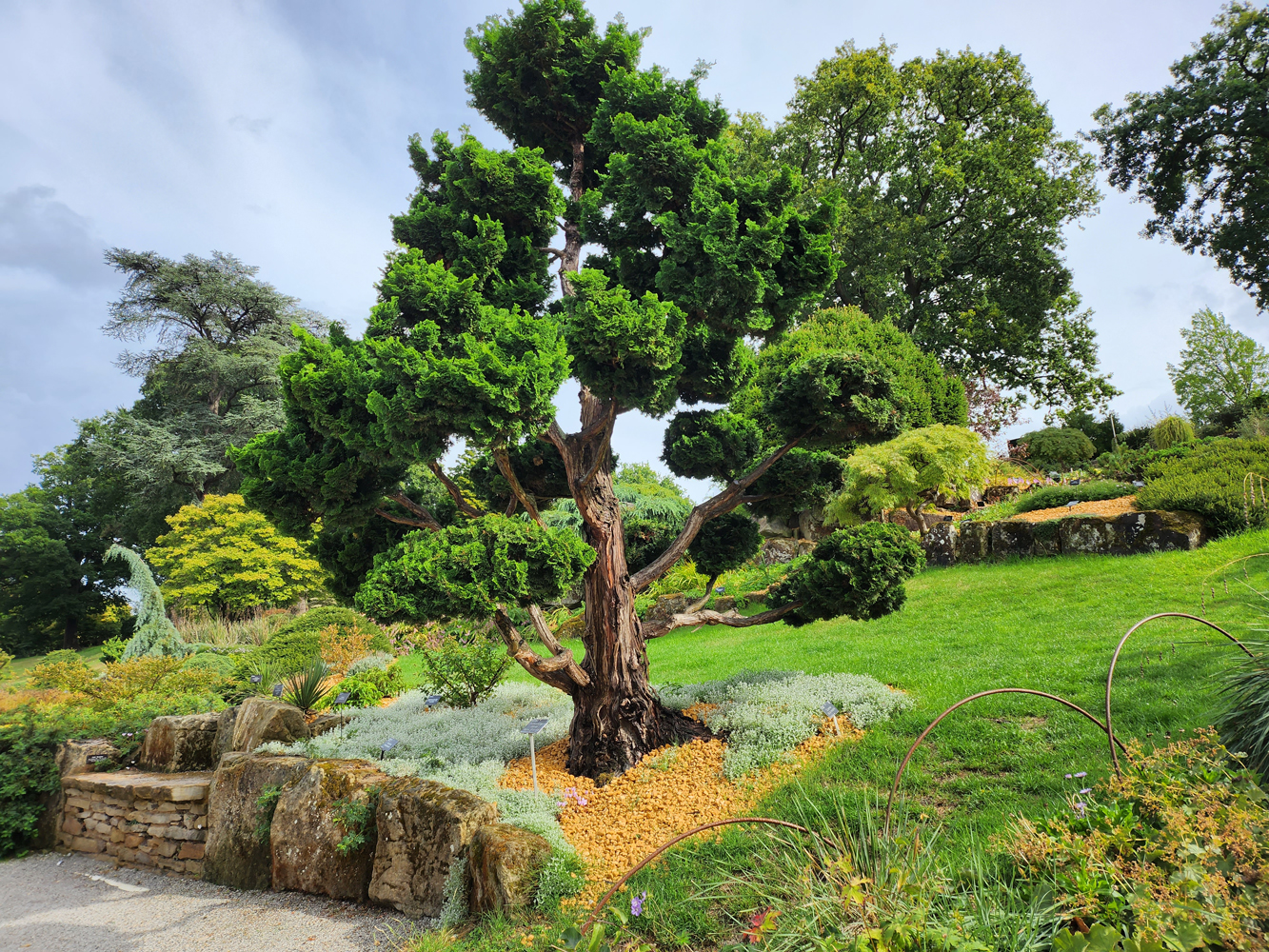 Auto night mode kicks in once the light drops, and manages to keep noise in check while preserving a decent amount of detail. You get more realistic colours by disabling night mode and having a steady hand, but both methods produce decent results. There's greater sharpness and clarity here than you'd find in a Z Flip 3, although the ultrawide can't quite keep pace with the main sensor and has greater drop off in noise.
Bigger changes have been made on the software front, with wider third-party support for the half-folded Flex Cam mode. Open up Instagram, for example, and the viewfinder only fills the top half of the screen, leaving the bottom half to display the shutter button – letting you give your photos some funky angles using the folding screen. It really changes how you frame your shots, and can really help you get creative – or even go hands-free with timer shooting, using the hinge like a tripod.
Performance & battery life: Snap it up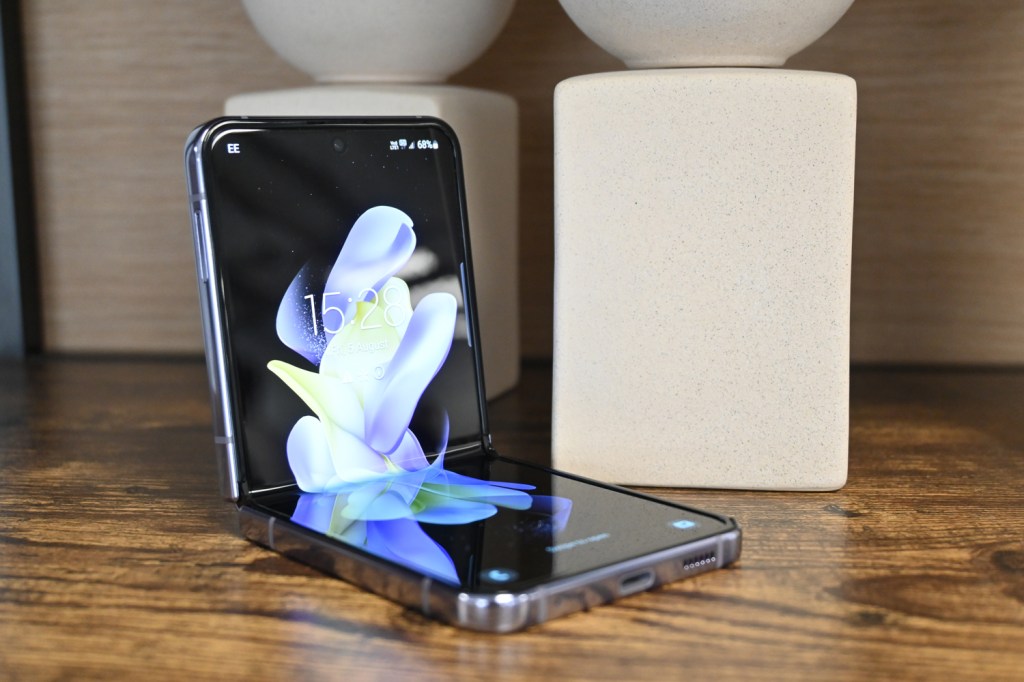 With Qualcomm's cutting-edge Snapdragon 8+ Gen 1 CPU and 8GB of RAM, the Z Flip 4 is every bit as potent as you'd expect a top-end phone to be. Apps open in a flash, animations are silky smooth, and dual-window multitasking wasn't enough to make it sweat.
Samsung's spin on Android 12 isn't the lightest, but OneUI still ran stutter-free. Demanding 3D games are no problem either, running at high frame rates with most detail settings cranked to the max. Extended play can see the phone get a little toasty, and has a negative impact on battery life.
A 3700mAh cell isn't on par with the latest traditional flagship phones, even if it is a respectable 400mAh increase over the outgoing Z Flip 3. That phone would just about manage a day of typical use, but here you're able to last well into a second before it'll need topping up. That is, as long as you stick to the usual mix of web browsing, social scrolling and picture taking, rather than all-day gaming sessions and lots of 4K video recording.
25W fast charging is modest compared to flagship phones coming out of China right now, but you do get more convenient wireless charging. It'll reverse charge gadgets like the Galaxy Buds 2 Pro, too.
There's no shortage of storage – if you're willing to pay for it. Like the Z Flip 3 there's no microSD card support, so you'll have to buy the capacity you need up front, but Samsung does give the choice of 128, 256 and 512GB. The latter is all-new for the Z Flip line-up, but boosts the price to a heady £1199.
Samsung Galaxy Z Flip 4 verdict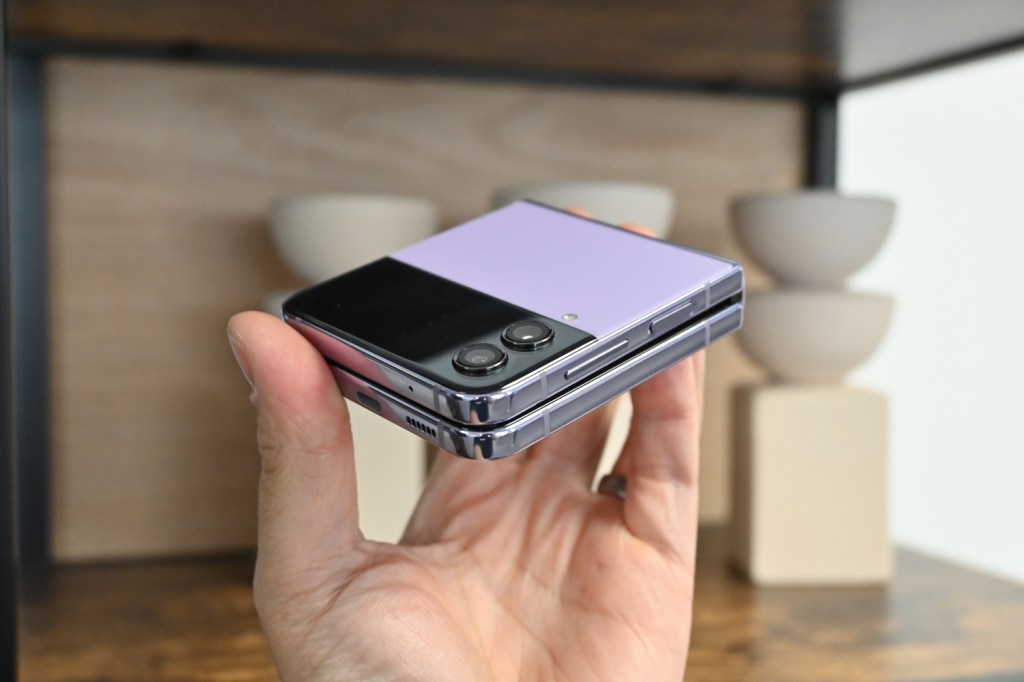 The outgoing Z Flip 3 was the everyman foldable phone: not as eye-wateringly expensive as the Z Fold, but with more power and better cameras than the clamshell competition. The Z Flip 4 has ironed out that phone's weak points and doubled down on design, while keeping performance on par with the best the year has to offer.
It isn't quite ready to replace the non-folding S22 as our go-to Galaxy, given its less versatile set of cameras and more limited battery life. Also, there's always going to be a question mark over how much life expectancy a folding display really has in daily use, even with Samsung's rigorous testing.
Then again, nothing beats the spectacle of unfolding that screen every time you take the Z Flip 4 out of a pocket. It's not perfect, but the wow factor goes a long way to make up for it.
Stuff Says…
The best Flip yet is all the evidence you need to know foldable phones have a big future. It falls behind flatter alternatives in a few places, but delivers on camera quality, performance and battery life
Good Stuff
Streamlined design makes the most of that foldable screen
Cover display more useful than before
Stellar everyday performance
Bad Stuff
Camera versatility not as good as regular Galaxy line-up
Long-term durability an unknown
Is this really the best foldable form factor?
Samsung Galaxy Z Flip 4 technical specifications
Screen
6.7in, 2640×1080 folding AMOLED w/ 120Hz refresh rate
1.9in, 512×260 AMOLED cover display
CPU
Qualcomm Snapdragon 8+ Gen 1 octa-core
Memory
8GB RAM
Cameras
12MP, f/1.8 w/ dual pixel PDAF, OIS + 12MP, f/2.2 rear
10MP, f/2.4 front
Storage
128/256/512GB
Operating system
Android 12 w/ One UI 4.1
Battery
3700mAh w/ 25W wired charging, 15W wireless charging, 4.5w reverse charging
Dimensions
165x72x6.7mm (unfolded) / 85x72x15.9-17.1mm (folded), 187g