Samsung Galaxy Z Flip 3 review
The world's most affordable folding phone has officially arrived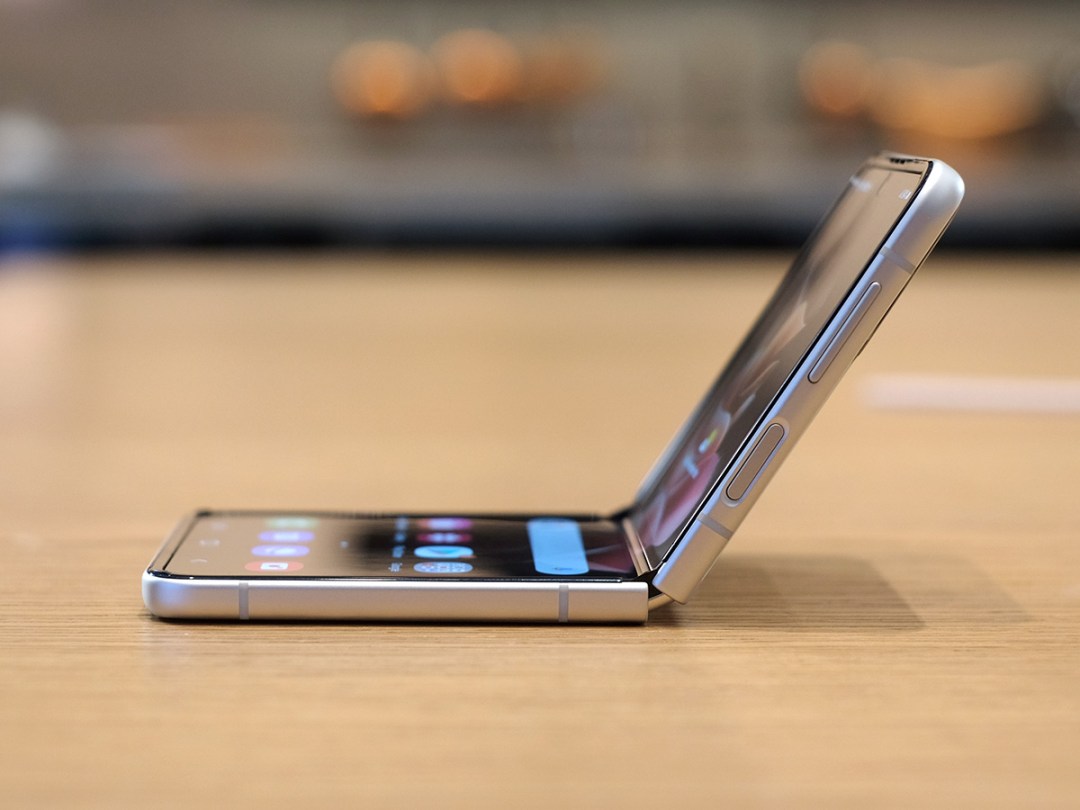 Most phones are boring. There. We said it. Oh how we miss the pre-smartphone days where the Nokias, Motorolas and Samsungs of the world experimented with crazy form factors. From circular keypads to slide out screens and rotating doohickeys, the Wild West of phone design was, in today's terms, a vibe.
Enter the Samsung Galaxy Z Flip 3 which, despite the moniker, is only the second clamshell handset in Samsung's folding lineup. Starting from £949 it's the most affordable folding phone we've seen to date, offering an entry point that's more accessible than that of its pricier Fold 3 smartphone-cum-tablet brother.
Improvements over its successor include a range of swanky colour finishes, a more robust build (which miraculously includes waterproof powers), and a larger 1.9in front display for selfies, music controls, notifications and more.
Elsewhere, things have the potential to disappoint. The dual main camera setup and battery capacity is the same as that found on the original Z Flip, and it's met with the same design conundrum — why would you have a phone that's double the thickness in your pocket when folded, without gaining any extra screen real estate for your trouble?
Because it looks cool, of course.
Is that a good enough reason to buy the Z Flip 3? It's time to find out.
Samsung Galaxy Z Flip3: Design
There's no two ways about it — the Z Flip 3 is a handsome devil. Our review unit's two-tone black and cream rear stands out without being too fussy, but it's the folding form factor that'll really knock people's socks off. Resembling a totally normal smartphone when open, it can magically fold horizontally in half, transforming it into a square bit of tech that's reminiscent of an old school Nintendo Game Boy Advance SP or compact mirror.
While the novelty of folding phones has slightly worn off, it's still a sight to behold. Thanks to some design improvements and sturdier materials (one of which is Samsung's new super-strong aluminium), this is also one of the sturdiest folding phones we've come across to date. Not only that, but the original model's single speaker has been upgraded to a louder, clearer stereo affair, though we still prefer using headphones to get our Spotify fix.
In the hands it feels as solid and as premium as you'd expect, but you will notice things are a little tighter in the pockets as you're effectively doubling the thickness of the phone itself. It's not a dealbreaker, but it is something to think about if you've got a penchant of skinny jeans.
Display: sharp, slick, and functional
The Flip 3's main 6.7in 1080 x 2640 folding AMOLED screen is a beaut. It's crisp, with vivid colours and rich blacks — everything you'd expect from a Samsung display. It's a 120Hz affair too, which means it feels buttery smooth beneath your fingertips, with nary a stutter or hang up to be seen. The narrower 22:9 aspect ratio makes it ideal for black bar-less movies too, which is a boon to regular video-watchers.
On the outside, the smaller outer 1.9in screen is almost twice the size of the original Flips', which is a big (not to mention, welcome) improvement. It's now large enough for more comfortable selfies using the main rear cameras, displaying your notifications, controlling music, keeping on top of your fitness stats, and more — all without having to flip the main screen open. It's something that's now a genuinely useful addition to proceedings and should serve you well, especially when you're on the move, as the main screen can't easily be opened with one hand.
Camera: capable, but not mind-blowing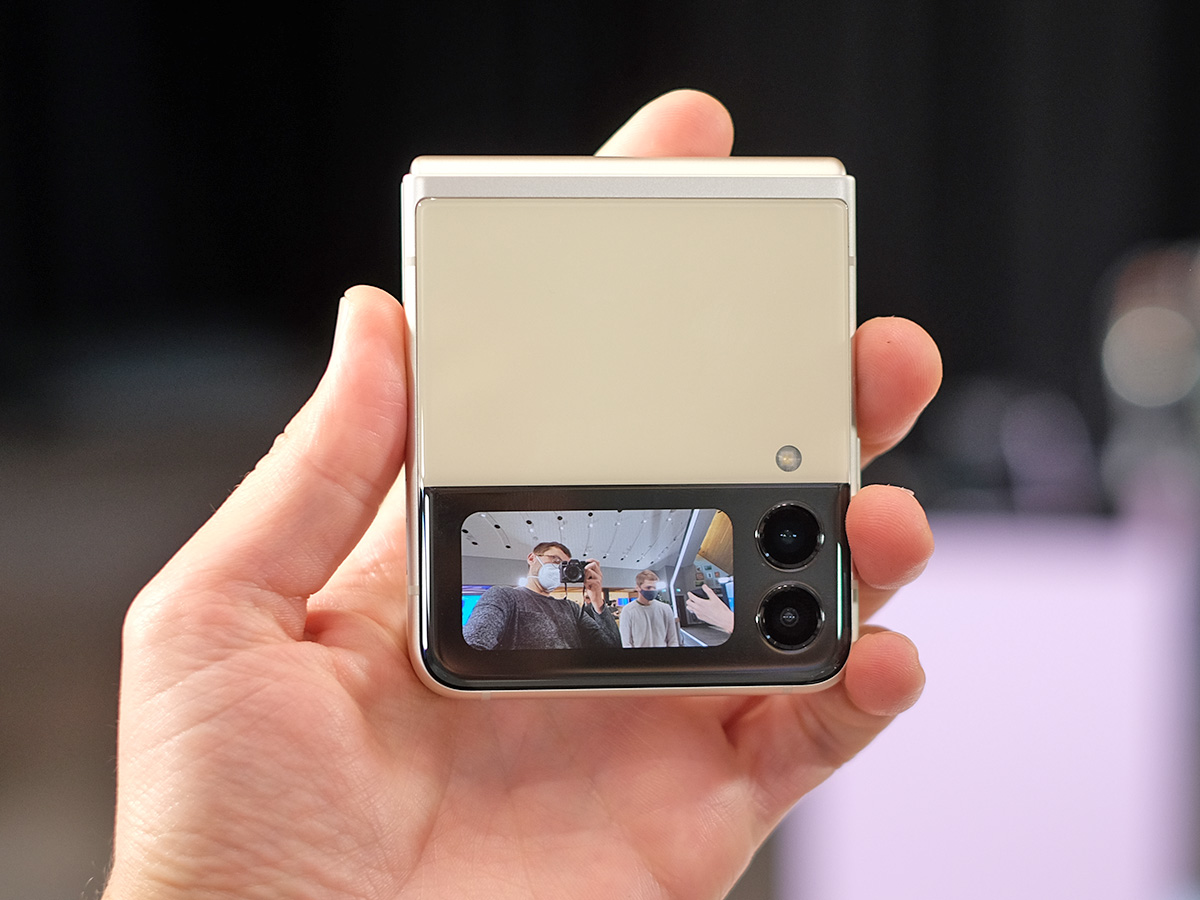 The Z Flip 3's dual 12MP wide and ultra-wide main cameras are perfectly capable, but not excellent. Shots excel in good lighting, with the usual slightly over-saturated Samsung colours that most people know and love. If you're happy with pointing and shooting in bright conditions, you're sorted, and portrait lovers will be in good stead too, especially as the outer display can be used to show your subjects what they look like while you're snapping their face. If you're looking for those extras that make a good camera great though, you'll be left searching. Disappointingly the camera setup is the same as that on the original Z Flip, which means you've only got access to the same paltry 2x optical zoom. If you're a fan of things like architectural photography like we are, this is a fairly substantial limitation. You can use digital zoom, of course, but detail drops off pretty fast, especially if you're dealing with dimmer conditions. Things falter a little at night too. While the cameras brighten up dark shots with admirable results (especially when you half fold the handset and use its stable base as a tripod), even the brighter results tend to lack detail. Overall, you can certainly find a long list of flagships with better camera results than those served up by the Z Flip 3, but that doesn't mean it's bad per se — it's just firmly in the 'could/should do better category.
Power and performance: coming in hot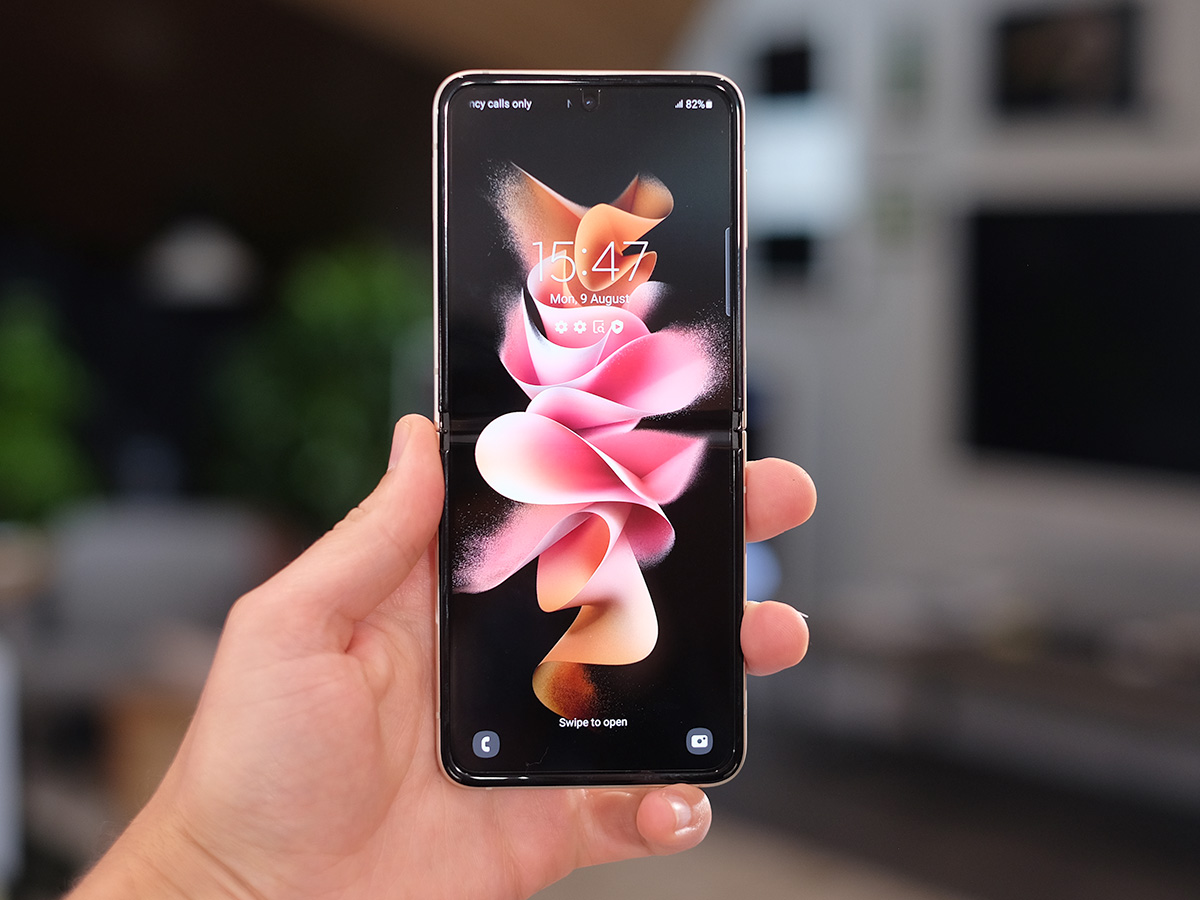 The Flip 3's specs will satisfy even the most enthusiastic benchmark fiends. With a blisteringly fast Snapdragon 888 processor, 8GB of RAM and up to 256GB of storage, it easily handles everything you'll care to throw at it. From breezing through AAA games like Call of Duty Mobile, to streaming and more, you won't be left wanting for more. One thing we have noticed, however, is how warm the rear of the device can get after a while. We're not sure if this is due to the fact that, when unfolded, the Z Flip 3 is actually quite thin and therefore has less space for cooling, or if it's a bug, but it doesn't appear to have affected its performance so far. We've seen similar hotspots from the likes of the Xiaomi Mi 11 Ultra, so it's not entirely uncommon. We'll update this review accordingly if anything changes on this front. In terms of software tricks, Samsung's Android flavour remains one of our favourites, thanks to its clean, clever UI, designed for easier one-handed use. There are a few limited apps that also utilise Flex Mode — a feature which splits the interface in half putting the view on top and controls at the bottom. At the time of writing, the most useful thing you can do with this is use the part-folded base as a tripod for long exposure night shots and hands-free video calls (the latter of which we found incredibly useful).
Battery: built for a day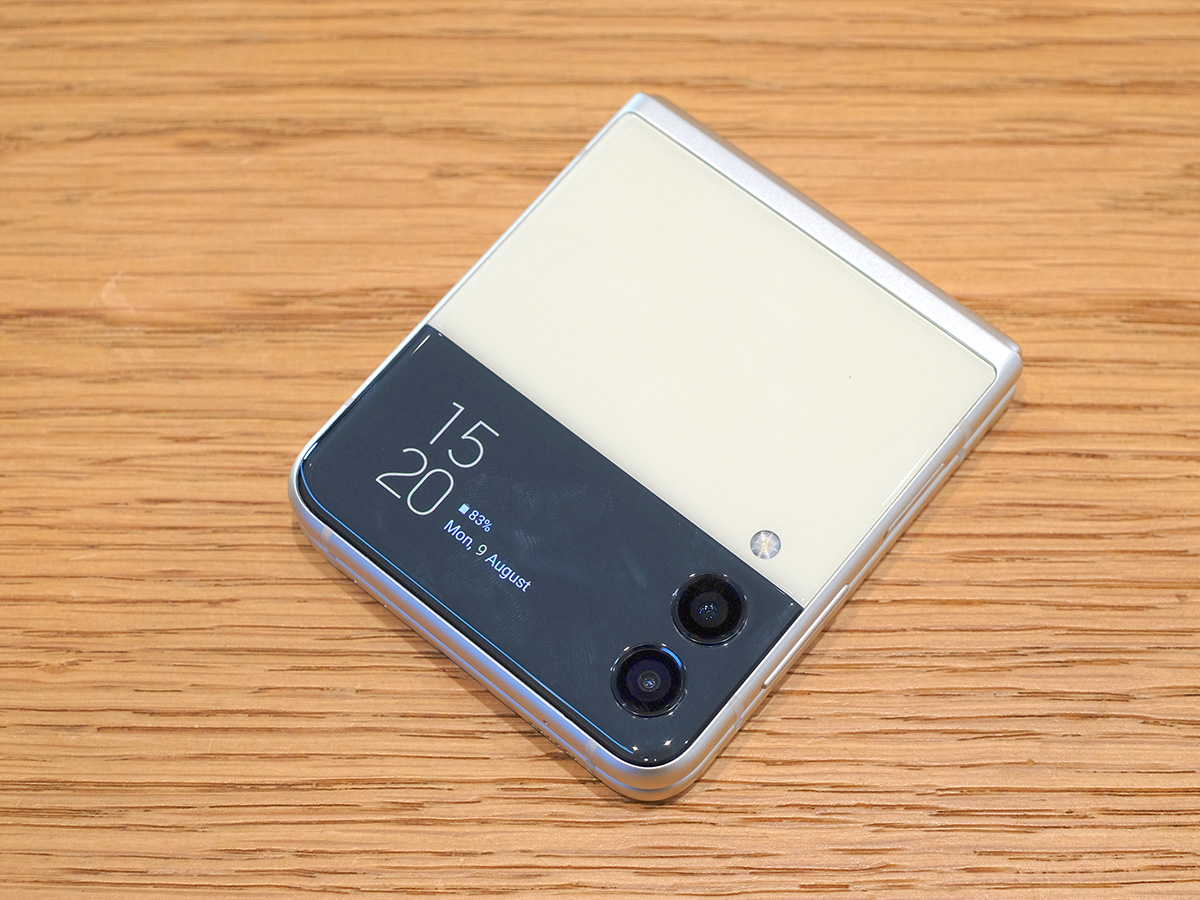 With regular use, the Z Flip 3's 3,300mAh battery will last you a day. During the first few days of our review with heavy testing we might have pushed this a bit, but despite its smaller capacity (compared to a fair few other flagships), you can rest easy in the knowledge that you'll get a full day's use out of the Z Flip 3.
Its 15W fast charging is, despite its name, very slow compared to other handsets from the likes of Huawei, OnePlus and Xiaomi, which have spoiled us with blisteringly fast charging speeds in excess of 66W.
Comparisons
Is the Samsung Galaxy Z Flip3 that different from the Galaxy Z Flip? Contrary to what you might guess, there was no Z Flip 2 between this new phone and the flippy original. They are pretty similar, but the Samsung Galaxy Z Flip3 has a much better chance of at least modest mainstream success. It arrives at £300 less. You only get half the storage, but that price drop is a big deal. This is a better-looking phone, and the oldie doesn't have the Samsung Galaxy Z Flip3's neat selfie camera screen, just a tiny wee 1.1in one for notifications.
How about the Motorola Razr? No contest, the Samsung Galaxy Z Flip3 wins again. It's cheaper, more powerful, and you could argue the Motorola took its throwback approach a little too literally. Motorola's Razr is based on the original Razr feature phone from 2004, you see. It may have appealed to gnarly tech reporters in their 30s and 40s, who pine for the 2004 days when pints cost tuppence and penny sweets really did cost a penny, but the Flip3 is more likely to appeal to those who already consider Lady Gaga retro.
The Samsung Galaxy Z Flip3 looks way more modern, particularly in the way the screen blends into the outer design when not lit.
Verdict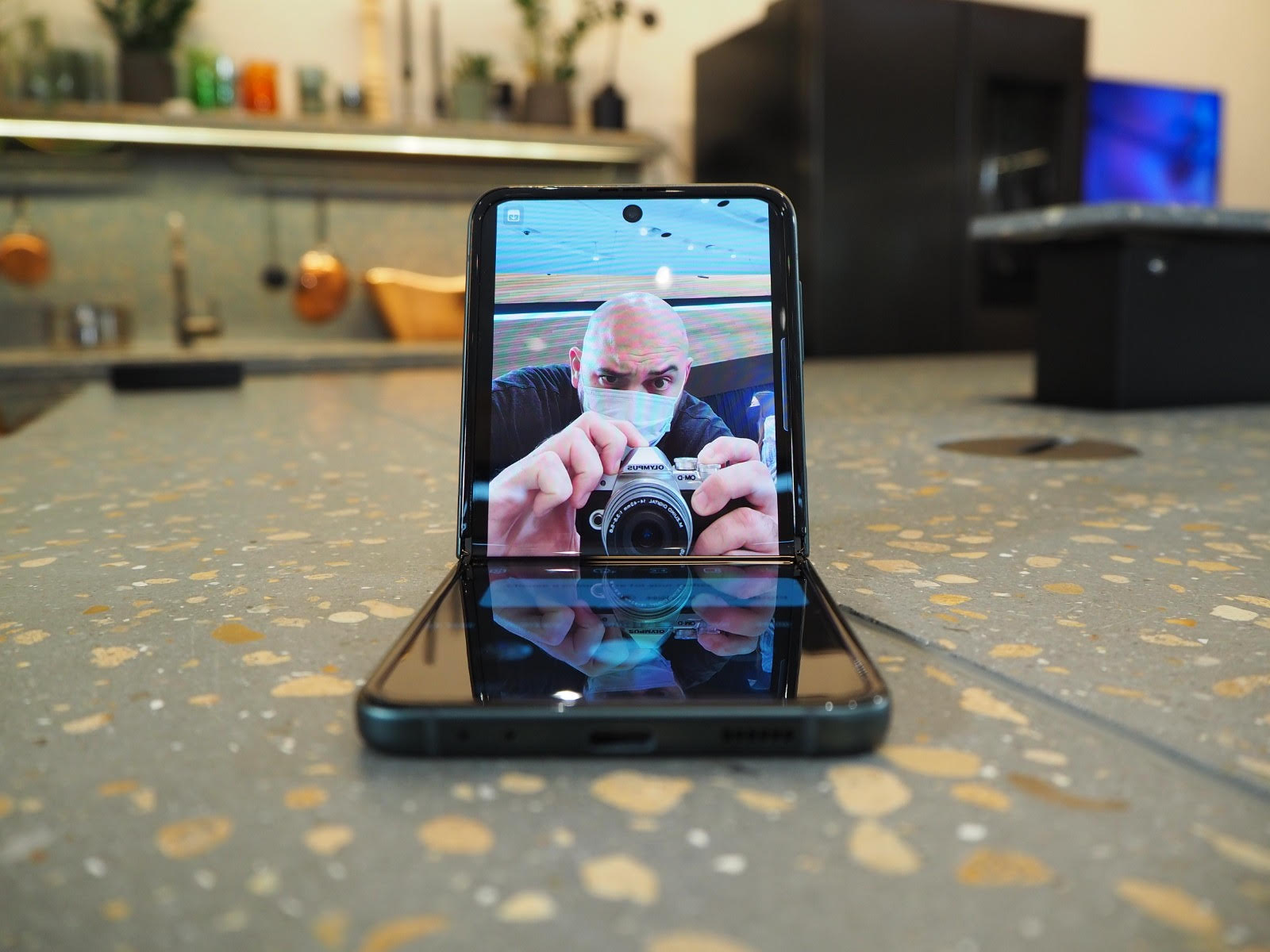 At comfortably less than a grand, the Z Flip 3 is a more affordable gateway to the world of folding phones, which is a great thing (and might also explain the lack of an upgraded camera setup). If you're after something that has a beautiful, bold design that will draw eyes the second you whip it out and unfold it, then you'll be very happy. It nails the basics too, with a capable camera, oodles of power, and all-day battery life.
If you're looking for more function over form though, you might be better off waiting for a future iteration that has a beefed up camera and a larger, faster-charging battery. Or, if you've got the cash, pay a premium for something like the Z Fold 3, which justifies its in-pocket thickness and higher price tag with a larger screen that transforms into a tablet.
We like where this is going though, Samsung, and we're excited to see more.
Stuff Says…
Beautifully made and delightfully quirky, the Flip 3 is an accessible folding phone that puts design first
Good Stuff
Folding screen is a lot of fun
Attractive design
Accessible price (for folding phone)
Powerful specs
Bad Stuff
Unexciting camera
Battery could be bigger
Screen is no larger than most smartphones