OnePlus 6 vs Samsung Galaxy S9: Which is best?
Is the Galaxy S9 really worth all of that extra cash?
Over the last few years, Samsung and OnePlus have consistently owned spots near the top of our best smartphones list. And that's true again today.
It's a classic battle. Samsung's Galaxy phones typically represent the pinnacle of high-end Android design, loaded with flagship gloss and bonus perks you might not find elsewhere. Meanwhile, OnePlus delivers handsets that nearly match the full-bodied flagships on most of those points, but manage to trim a big chunk of the price tag in the process.
Sometimes Samsung prevails and sometimes OnePlus edges it out – but what about the battle between the new OnePlus 6 and this spring's Galaxy S9? Here's what we think, now that we've reviewed the OnePlus 6.
Design: They're close
The Galaxy S9 made no huge design strides this year: it's nearly a carbon-copy of last year's bold Galaxy S8 reinvention, albeit with the much-appreciated movement of the rear fingerprint sensor to a more comfortable location. In short, that means a tall, curved screen, very little top and bottom bezel, and all glossy glass on the back. It's pretty nice, but familiar in its second edition.
The OnePlus 6 can't help but also look a bit familiar, albeit with the big exception of the top, iPhone X-inspired screen notch. That look is in vogue for new Androids this spring, and love it or hate it, that approach does make the screen look deliciously immersive.
With OnePlus also embracing glass on the back this time around, the 6 looks pretty similar from the rear. All told, they're pretty close – Samsung has more curves but also more bezel, while OnePlus opts for the notch. Pick your poison.
Verdict: Draw
Screen: Samsung's still got it
It's all AMOLED here, no matter which handset you choose. But there are some key differences here.
The most obvious one is the notch. Like the iPhone X, LG G7 ThinQ, and Huawei P20, the OnePlus 6 opts to wrap its screen around the camera module. You can "hide" this cutout via a software setting that puts the black status bar on either side, but it's still physically there on this large 6.28in display at a 19:9 aspect ratio.
Meanwhile, the Galaxy S9 is curved on the sides but opts against the notch with its 5.8 in 18.5:9 display. Both look pretty fabulous, but given Samsung's Quad HD resolution bump over the 1080p screen of the OnePlus 6, we have to give the Galaxy S9 the edge here. It's still the best smartphone screen on the market today.
Verdict: Samsung Galaxy S9
Camera: Familiar results
Flagship contenders need bold new thinking, which is why Samsung's Galaxy S9 camera added something new – and no, it's not a second back camera. It's an adjustable aperture, which automatically switches from the default ultra-wide f/1.5 setting to a tighter f/2.4 when you have plenty of light available, thus providing potentially more detail.
The Galaxy S9 definitely sees improvements in low-light shooting over its predecessor, and overall this 12-megapixel shooter is excellent all around. Shots have well-judged exposure and plenty of detail in strong lighting, as well. Huawei's P20 Pro tops it on camera quality (and quantity, no less), but the S9 is still near the top of the class.
As for the OnePlus 6, it settles for a pretty good camera setup, much like its predecessors. Here, you'll find two f/1.7 cameras on the back: a main 16MP one and a 20MP secondary camera alongside. The larger sensor and optical image stabilization on the main camera are nice additions, plus you get the portrait/bokeh perks of a dual-camera array.
Shots are punchy and detailed with nice handling of skin tones, and low light shots are solid. But we found the colours to be punched up a bit much, and didn't see a way to enable more natural snaps. Paired with some exposure issues, the OnePlus 6 isn't quite as accomplished of a shooter as the Galaxy S9. But it's not that far off, either.
Verdict: Samsung Galaxy S9
Performance: They're powerhouses
Both of these phones pack a real wallop when it comes to power. The Galaxy S9 opts for Samsung's own Exynos 9810 chip in the UK and many other countries, or the slightly less powerful Qualcomm Snapdragon 845 elsewhere. And it's the Snapdragon you'll find in the OnePlus 6, no matter where you are.
Yes, the Snapdragon comes up a little short on benchmark testing, but in real-world usage you won't tell a difference at all. They're both super fast, and we're especially fans of the near-stock version of Android Oreo used on the OnePlus 6. You can even toss on the Android P beta right away, if you don't mind the bugs.
The OnePlus 6 also offers up more RAM, with 6GB in the base model or 8GB in the pricier edition, although the 4GB RAM in the Galaxy S9 seems like plenty for a speedy smartphone in 2018.
Verdict: Draw
Battery and perks: Galaxy perks galore
When it comes to battery life, both of these phones are built for a day or so of solid usage. You'll find a 3,000mAh battery pack in the Galaxy S9 and 3,300mAh in the OnePlus 6, which has a larger, albeit lower-resolution screen. You might get a smidge more from the OnePlus, but honestly, we didn't feel like there was any big gulf between them.
Only the Galaxy S9 has wireless charging here, though, even with the glass backing of the OnePlus 6. Still, they'll both do wired fast charging for quick top-ups.
When it comes to storage, each ships with 64GB within on the base model, with 128GB and 256GB options available for more money. But the Galaxy S9 also lets you toss in a microSD card for even more, while the OnePlus 6 lacks that option.
And both of these still have a 3.5mm headphone port, thankfully. That hasn't gone from either of these 2018 flagships, unlike some of their compatriots.
But then Samsung slathers on more perks, including Gear VR support, the optional DeX Pad for a PC-like desktop experience, and even animated emoji (hat tip to Apple). You're paying extra for those benefits, of course, but that's part of the reason why people crave a Galaxy phone. It's loaded to the brim with extras.
Verdict: Samsung Galaxy S9
Verdict: Value makes a difference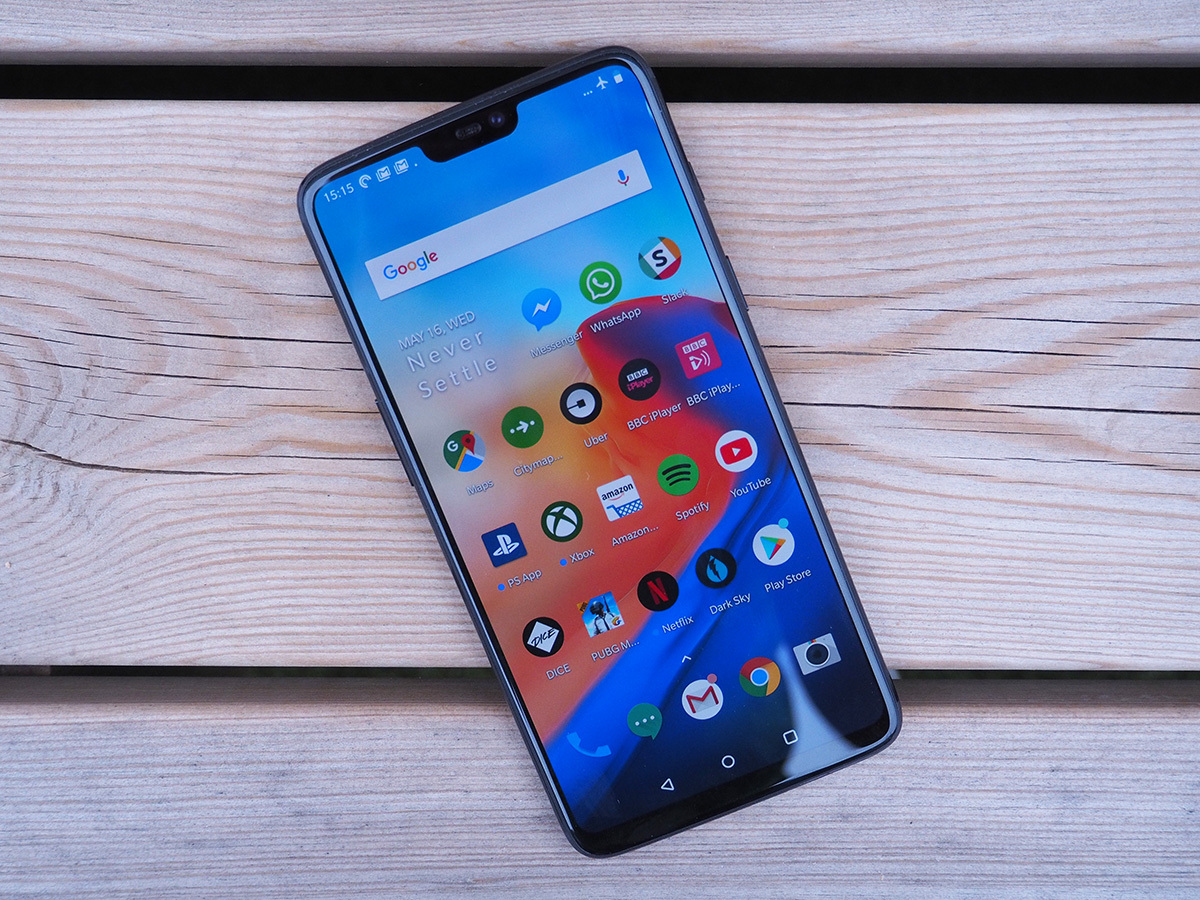 But at the end of the day, do you really need all of those extras? More importantly: are you willing to pay for those extras?
If so, then by all means, spring for the Galaxy S9. It was briefly the top phone on our list, following a full-year reign from the Galaxy S8, and it's a fantastic Android phone that packs in plenty of power, flagship beauty, and lots of nice-to-haves. But at £739 for the base model, it sure isn't cheap.
The £469 OnePlus 6 isn't cheap either, and it's the priciest OnePlus to date – but it's a lot less than the Galaxy S9. Samsung's camera is a bit more consistent, the screen is sharper, and it has handy benefits like microSD support and wireless charging. Given the soaring costs of other flagships, it can't help but feel like a top-end deal.
But when you get down the core of what these phones can do, both are plenty speedy and powerful, both have awesome screens, and both take pretty good photos. In our view, that extra £270 isn't necessary – value puts the OnePlus 6 ahead in this comparison, albeit just slightly so.
Winner: OnePlus 6