Laptops supertest: Apple MacBook Pro vs Microsoft Surface Book vs Dell XPS 13 vs HP Spectre 13 vs Razer Blade Stealth
What matters more in a laptop: style, stamina or being able to play Skyrim with all the effects? Read this before you buy one…
Laptops are changing. They're getting smaller, lighter and smarter. And this isn't just the inevitable march of tech in action: they're fighting to survive, as more of us use phones and iPads for tasks we'd have been relying on a laptop for a couple of years ago.
Judging by these five contenders, however, we won't be hearing any death rattles just yet.
Each of the laptop giants has adopted a different survival tactic. Apple is starting to merge iPhone and MacBook, weaving Siri into the laptop's hardware, adding a Touch ID scanner and a cleverly dynamic OLED touch-panel.
Microsoft has tried to make its Surface Book the only device you need, bar a phone anyway. Its screen pops off for tablet fun, there's a pressure-sensitive stylus, and a special Nvidia GPU boosts its gaming chops.
Then there's the blinged-out HP Spectre, gaming-minded Razer Blade Stealth and slinky-screened Dell XPS 13. All great, but which is right for you?
The contenders
Apple MacBook Pro 13 with Touch Bar | from £1749
Pricier editions of the MacBook Pro have a fancy OLED touch-panel where the function keys used to be.
Dell XPS 13 | from £1249
Dell's 'virtually borderless' InfinityEdge screen makes the XPS 13 significantly smaller than the average 13in laptop.
HP Spectre 13 | from £1199
One of the slimmest, lightest laptops in the world, the Spectre is the most eye-catching computer HP has made to date.
Microsoft Surface Book | from £999
An ambitious hybrid with pressure-sensitive stylus and a custom gaming processor by Nvidia.
Razer Blade Stealth | from £1549
The Blade Stealth is a slim ultraportable. Hook it up to the Core desktop module with a good GPU and it turns into a gaming rig.
APPLE MACBOOK PRO WITH TOUCH BAR (FROM £1749)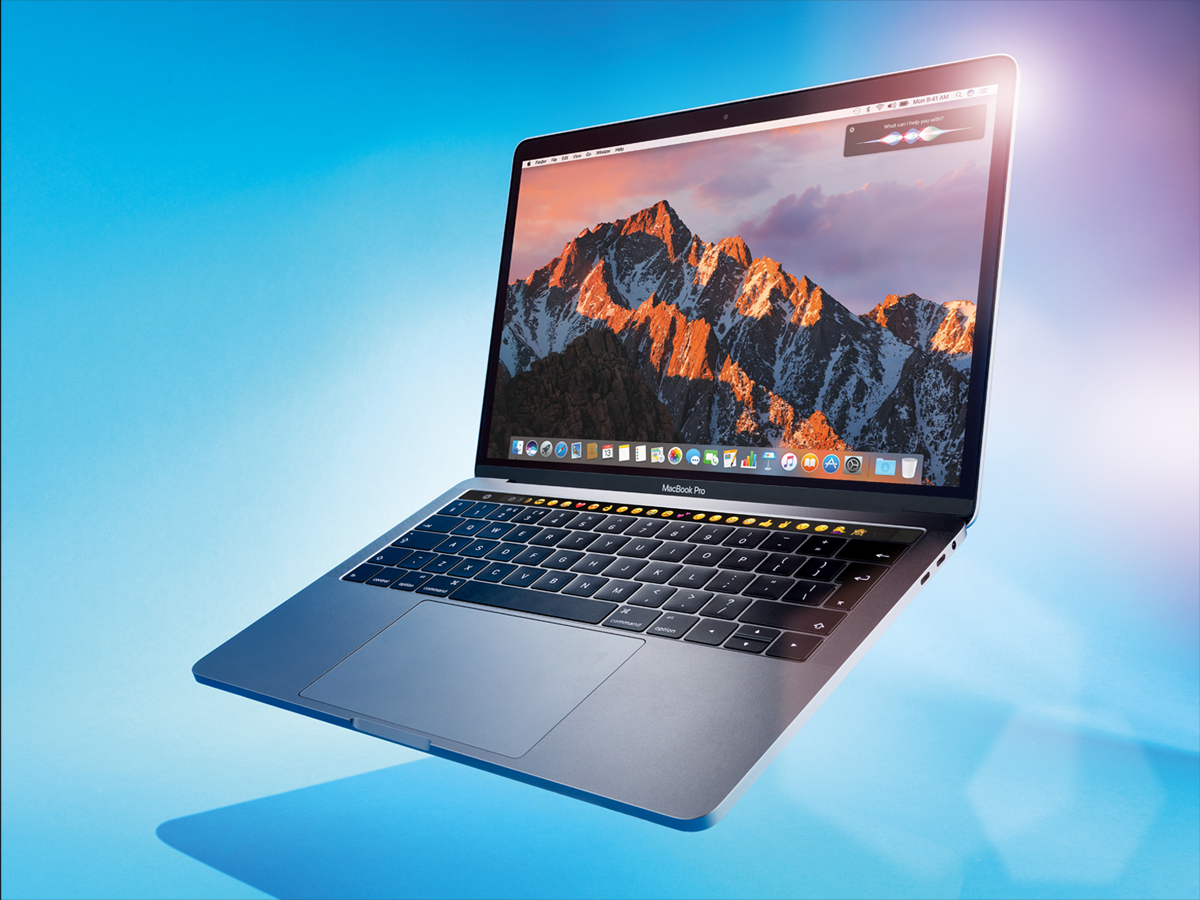 The MacBook Pro has been a favourite of designers and, well, pros for years, but Apple's latest laptop has caused a bit of a stir. This new version chucks away 'old' features such as normal USB ports and a memory card reader in favour of an OLED touch-panel replacing the F keys.
It's the only touchscreen you'll find on this laptop, but its virtual buttons automatically change to suit the app running – you're not stuck with emojis. Play a video and you get a progress bar; in Safari you get teeny, tappable versions of your open tabs; and in Pages you get word suggestions popping up as you type, just like an iPhone keyboard.
So the MacBook Pro is getting more iPhone-y, and not quite in the way we imagined. A few people might recoil in horror, particularly as the Touch Bar reduces the battery life by a considerable amount – and Apple has added the same love/hate wafer-thin keyboard you get on other new MacBooks. But it really is something we don't see often in laptops: a new and exciting feature.
Crafty devs can use this bar as they like. In the coming months it could morph from a fun, if horribly expensive, gimmick into a crucial feature that makes Windows PCs look like they're stuck in the 1990s. And even if it doesn't, this is still a brilliant portable buddy for those who prefer their laptops to speak macOS.
USE IT WITH…
Pixelmator | ★★★★✩
Photoshop costs a fortune and doesn't support the Touch Bar at launch. Pixelmator is a fraction of the price, does nearly everything Adobe's image editor can, and allows you to customise that clever OLED panel.
The detail
Design
The new MacBook Pro looks like the older version if you squint, but in reality it's totally different. Skinnier screen surrounds in every direction make it a lot smaller, and somehow Apple has managed to cram in a ridiculously large touchpad on to a 13in model. As on the 12in MacBook, Force Touch lets you hard-press the pad for a deeper look into apps and bits of data without having to touch the keyboard. MacBook veterans might find it hard to get on with the new ultra-shallow keyboard and USB-C connectors, though. Get those adaptors ready. 9/10
Features
It finally happened: Apple is starting to squish iPhone and MacBook together, in preparation for the single iDevice endgame. To the far right of the new touch-panel is a Touch ID finger scanner just like the iPhone's – and right next to it is a Siri button. The MacBook easily has the loudest, beefiest speakers of this entire test, a whopping 13dB louder than the Microsoft Surface Book's. The high-spec Thunderbolt (USB-C) ports should future-proof its connectivity, even if they can be a pain right now. Still, at least this model has four USB-C ports; the version without Touch Bar (from £1449) has just two. 8/10
Performance
This MacBook is powered by last-generation Intel Skylake CPUs rather than the latest Kaby Lake type. They're a smidgeon less fast. Battery life isn't the best either, with a 90-min film draining away 21% of its life. 8/10
Screen
The MacBook Pro 13's screen is beautiful. There's slightly deeper colour than before, but the tone remains natural. It's not the peppiest-looking screen here, but might be the best if you're not after Candy Crush-grade colour saturation. The new Touch Bar, meanwhile, gets OLED screen tech and therefore looks great – and just as black as the keys it sits above. It's not Retina-grade, but you won't notice unless you're up close. 9/10
Stuff says: ★★★★✩
As ever, Apple has aced the desirability factor with a fancy touch-panel and fingerprint scanner, but the high price and iffy battery life count against it
Tech specs
Screen 13.3in, 2560×1600 LCD • CPU Intel Core i5/i7 Skylake generation • RAM 8GB • GPU Intel Iris 550 • Battery 49.2Wh • Dimensions 304x212x15mm, 1.4kg
DELL XPS 13 (FROM £1249)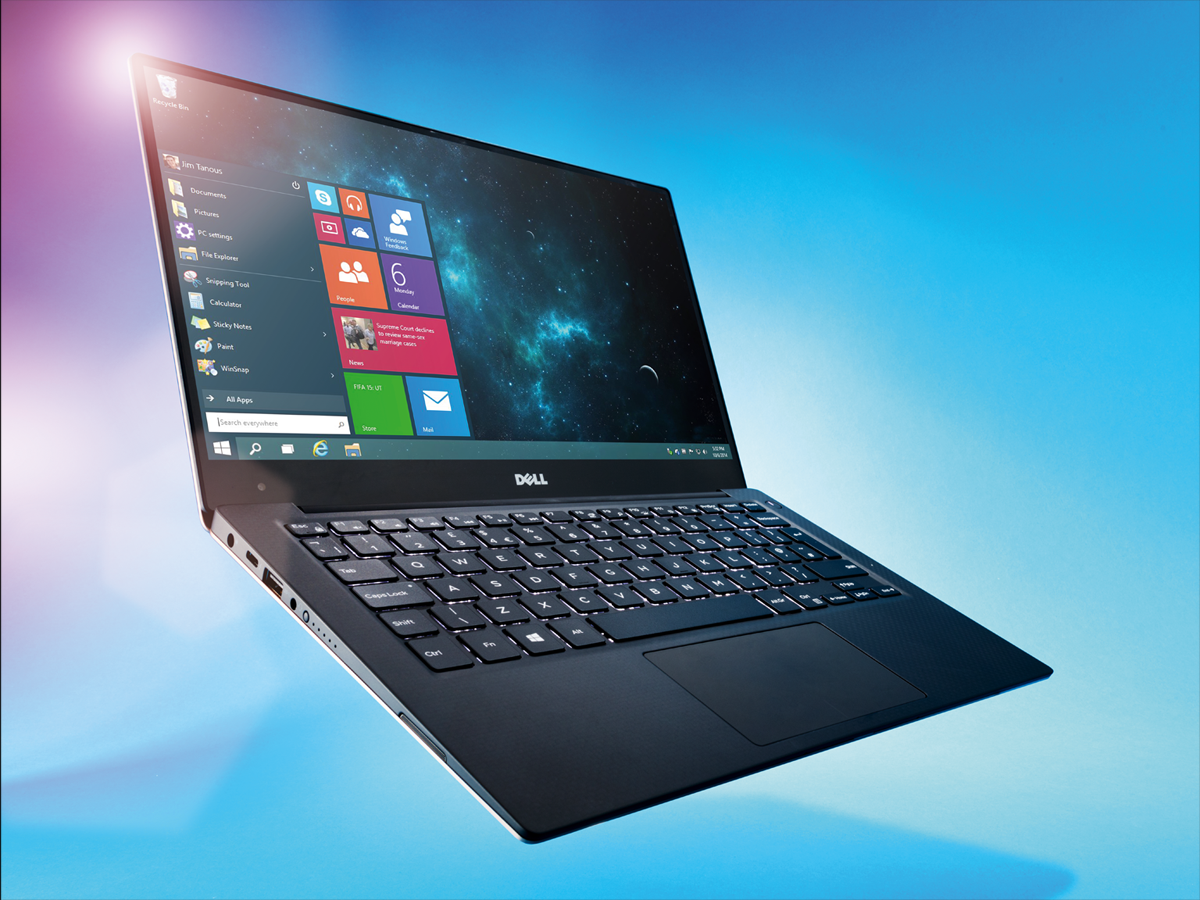 Want a laptop you can take anywhere and always rely on? With features that look as though they've been nicked from a sci-fi film, maybe this Dell isn't for you. But if you care more about how sleek the thing is to use than how 'safe' it looks, step right up.
The new Dell XPS 13 is the perfect storm of portability, stunning screen quality and battery life that makes the fanciest MacBook Pro seem like it's powered by AAs from a pound shop. It's the screen that should get jaws dropping first, though. Just look at it: there's so little surround, this would have seemed like a teenager's impossible Photoshop concept design a few years ago. This makes the XPS 13's footprint tiny even though it has a 13.3in display and full-size keyboard.
The result is that it'll fit in a bag with no trouble, which is important considering a laptop's signature skill is portability. Sure, it's not as light or slim as the HP Spectre, but when you get almost double the battery life into the bargain, we don't mind.
It lasts for up to 12.5 hours of movie playback, which is bloomin' brilliant considering it has an Intel Core i5 processor. This will get you through a day's work and let you play a bit of The Sims 4 on the way home. And you get a touchscreen too, which is still not a given.
USE IT WITH…
VLC Media Player | ★★★★★
You probably watch most of your videos on YouTube and Netflix, but what are you going to do when your Wi-Fi connection goes down? VLC will play anything you throw at it, including 360° videos.
The detail
Design
This ain't no flouncy laptop made just to look good on a magazine page. The Dell XPS 13 feels as if it's built to withstand a beating, and uses a soft-touch interior to give your hands somewhere comfy to rest. The killer USP is that, while it's not the lightest, this is the smallest 13in laptop going – and that kind of portability is a real a bonus if you'd rather carry a smaller bag. So it's super-practical, but also not without flair, thanks to a choice of gold or silver aluminium highlights on its lid and underside. 9/10
Features
Apple has gone 'our way or the highway' with its latest laptops, but Dell tries to please as many people as possible. You get old-style USB connectors as well as the new USB-C and, thank the heavens, an SD card slot. There's a touchscreen for a modern feel, but also a proper keyboard you can tap away on all day without your fingers complaining. It's low on feature fluff but top-quality all round. There is one neat extra: a little LED indicator that'll tell you the battery level even while the laptop is asleep and closed. 9/10
Screen
The screen stretches out to the edges of the laptop, leaving a few millimetres of surround – a feature which Dell calls 'InfinityEdge'. It's the secret to making a 13in laptop close in size to an 11in one, and right now Dell is the only laptop maker pushing this tech. The screen itself is a super-sharp 3200×1800 LCD with great contrast. The MacBook Pro and Razer Blade Stealth have deeper colour, but it's still a stunner. 9/10
Performance
You get the new Intel Kaby Lake Core i5 CPU here: no special gaming skills, but enough power to do just about anything else. Battery life sets it apart, a 90-min film using up just 12% of charge. 9/10
Stuff says: ★★★★★
The clever InfinityEdge screen is the standout feature, but the Dell XPS 13 nails every other element too. This is a near-perfect ultraportable laptop
Tech specs
Screen 13.3in, 3200×1800 LCD • CPU Intel Core i5 Kaby Lake generation • RAM 8GB • GPU Intel HD 620 • Battery 60Wh • Dimensions 304x200x15mm, 1.2kg
HP SPECTRE 13 (£1199)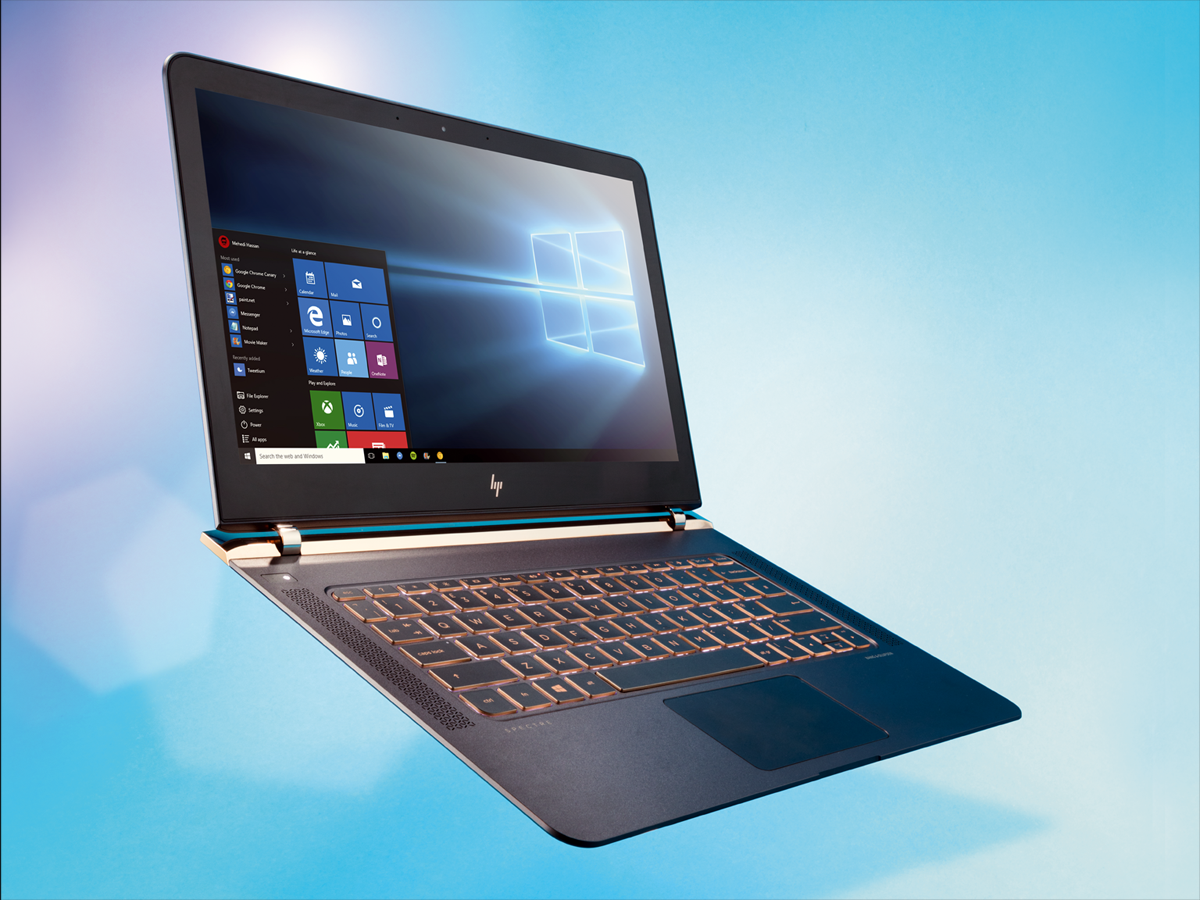 Most HP laptops are solid, reliable machines that focus on getting you bang for your buck. So when the Spectre showed up and became the most instantly recognisable laptop of the year, it was a bit of a surprise.
Gone is the familiar silver and black of your everyday laptop. The Spectre 13 has a bling-tastic chromed gold hinge that looks like the computer equivalent of fancy jewellery. It makes all the others here look plain.
This machine's real claim to fame is its thinness: the Spectre 13 is a mere 10.4mm thick and weighs only 1.1kg. It's essentially a laptop-shaped prescription for curing cricked necks and sore backs across the world.
This is an uncompromising vision of a laptop primed for the future. All of its connectors are USB-C type, and even with the included adaptor you may have trouble using some of your accessories – these USB-Cs are not designed to power things like old external drives. It really doesn't get on well with other hardware. Plus those connectors all sit on the back, which isn't handy.
But all of that will fade into the background if you just want something to work and play on. Its keyboard has a deeper, more responsive feel than some rivals, and while the trackpad is absolutely tiny compared to a MacBook's, it feels great.
USE IT WITH…
FL Studio Groove | ★★★★✩
This miniature sequencer has an entire studio's worth of built-in synths, sounds, melodies and loops. Mix 'em together on the piano roll or drumkit, then record and export them.
The detail
Design
Slim. Light. Stylish. That sums up the aluminium and carbon-fibre HP Spectre. As a result, the ports live on the back, the screen hinge doesn't fold back that much, and HP totally redesigned its cooling system to fit. 9/10
Features
No silly gimmicks, no stylus, no touchscreen. It's a laptop, and that's it. We're down with that, although day-to-day the lack of a memory card slot and those picky USB-C slots on the back may get on your nerves. The speakers are made in association with Bang & Olufsen, but they're nothing on those of the MacBook Pro or Razer Blade Stealth. At least they're stereo. 6/10
Screen
The Spectre has a good screen, but it doesn't come close to the other contenders. It's a 13.3in 1080p display – not as sharp as its rivals. Plus, colour tones just aren't as deep and punchy as the best here. 7/10
Performance
It's as slim as you like, but the HP Spectre still has a proper CPU, an Intel Core i7-6500U. That's not as up-to-date as the Razer Blade Stealth's, but this older CPU isn't insta-KO'd. It'll have a crack at anything. 7/10
Stuff says: ★★★★✩
The slimmest and lightest laptop in the group also makes the boldest style choices, but it lacks the super-sharp screen and features of some of the others here
Tech specs
Screen 13.3in, 1920×1080 LCD • CPU Intel Core i7-6500U • RAM 8GB • GPU Intel HD 520 • Battery 38Wh • Dimensions 325x229x10mm, 1.1kg
MICROSOFT SURFACE BOOK (FROM £999)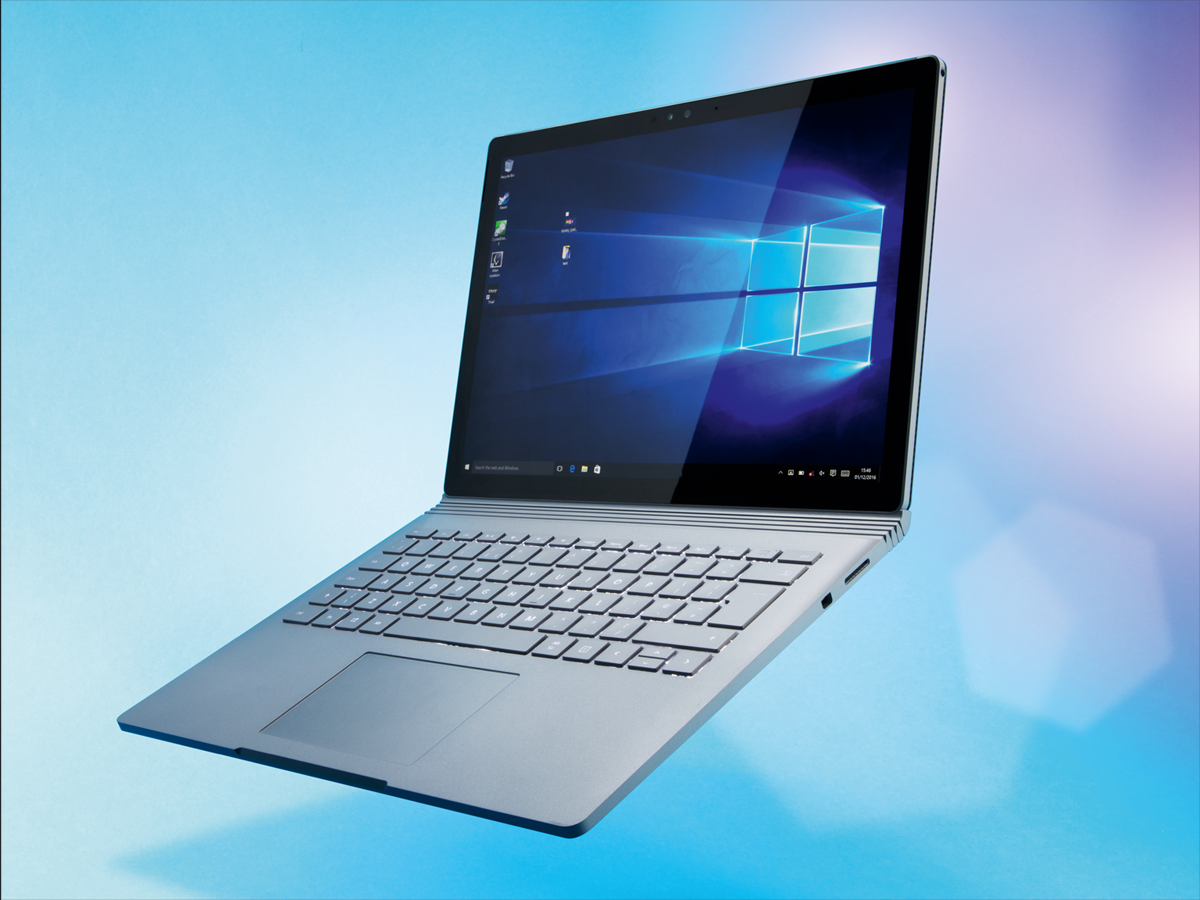 Say what you like about Microsoft – it certainly is trying. The Surface Book is one of the most versatile, feature-packed laptops in the world. Strap in.
You can pull off the screen to use this as a giant 13.5in tablet, and it has clever 'muscle wire' switches that lock the display firmly in place when it's rolling as a laptop. You get a stylus with pressure-sensitivity too, so you can use the Surface Book as a scarily expensive sketchpad.
This is also easily the best roving gaming machine in our test, thanks to a special graphics chipset cooked up by Nvidia. While it's not a patch on a proper gaming PC, you'll still get far better results than with anything else here. Playing Thief at 720p you get 41fps – a whopping 17fps more than the HP Spectre, turning compromise into pleasure. Sure, 720p is not optimum resolution, but this was never meant to be a true gaming PC.
So why isn't this the best laptop in the universe? Well, it's a lot thicker and heavier than anything else here – weighing 50% more than the HP Spectre that it beats so easily in a gaming drag race. The Surface Book also just isn't very cool, despite that sci-fi-grade hinge. It's very angular, it feels like it's going to tip over on your knees, and the 3:2 aspect is just a bit weird.
Still, its multitasking skills are mighty impressive and it's really useful for those creative types. This is a true nerd-pleaser.
USE IT WITH…
Sketchable | ★★★✩✩
Put the Surface Pen to good use with this digital sketchbook. It's got all the brushes and tools you'll need, plus layers for more complex designs, and it'll work with Microsoft's Surface Dial when it arrives.
The detail
Design
This is the one laptop in our mega-test made of magnesium rather than aluminium. It's not cool to the touch and it isn't shiny, but this helps keep the weight sensible and makes the Surface Book super-rigid. To release the screen for tablet conversion you press a button in the Windows 10 software, rather than just releasing a catch – it's smarter than the average hybrid. And while the Surface Book may be a bit plain in this crowd, its hinge is mesmerising, folding up like the plates of an arthropod. That earns it a few more geek points. 7/10
Features
A pressure-sensitive stylus, a decent GPU, a detachable tablet screen and a keyboard deep enough to write a novel on: what more could you want? It is a bit chunky, though – nothing like the super-slim HP Spectre. 10/10
Screen
The Surface Book's 13.5in screen has more of a tablet vibe than most thanks to its squarer 3:2 aspect ratio. As long as you don't mind this it's great, with 3000×2000 resolution, good contrast and solid colour. 8/10
Performance
This Surface Book uses last-gen Intel CPUs rather than new Kaby Lake ones, yet only the Razer with the Core add-on beats it for gaming. It also outlasts all but the Dell, a 90-min movie slicing just 12% off the battery. 9/10
Stuff says: ★★★★✩
The only hybrid on test, the only stylus-enabled laptop and the best at gaming on the go – but be aware that it's not the lightest or skinniest of machines
Tech specs
Screen 13.5in, 3000×2000 PixelSense • CPU Intel Core i5 Skylake generation • RAM 8GB/16GB • GPU Nvidia custom GPU • Battery 70Wh • Dimensions 312x232x23mm, 1.5kg
RAZER BLADE STEALTH (FROM £1549)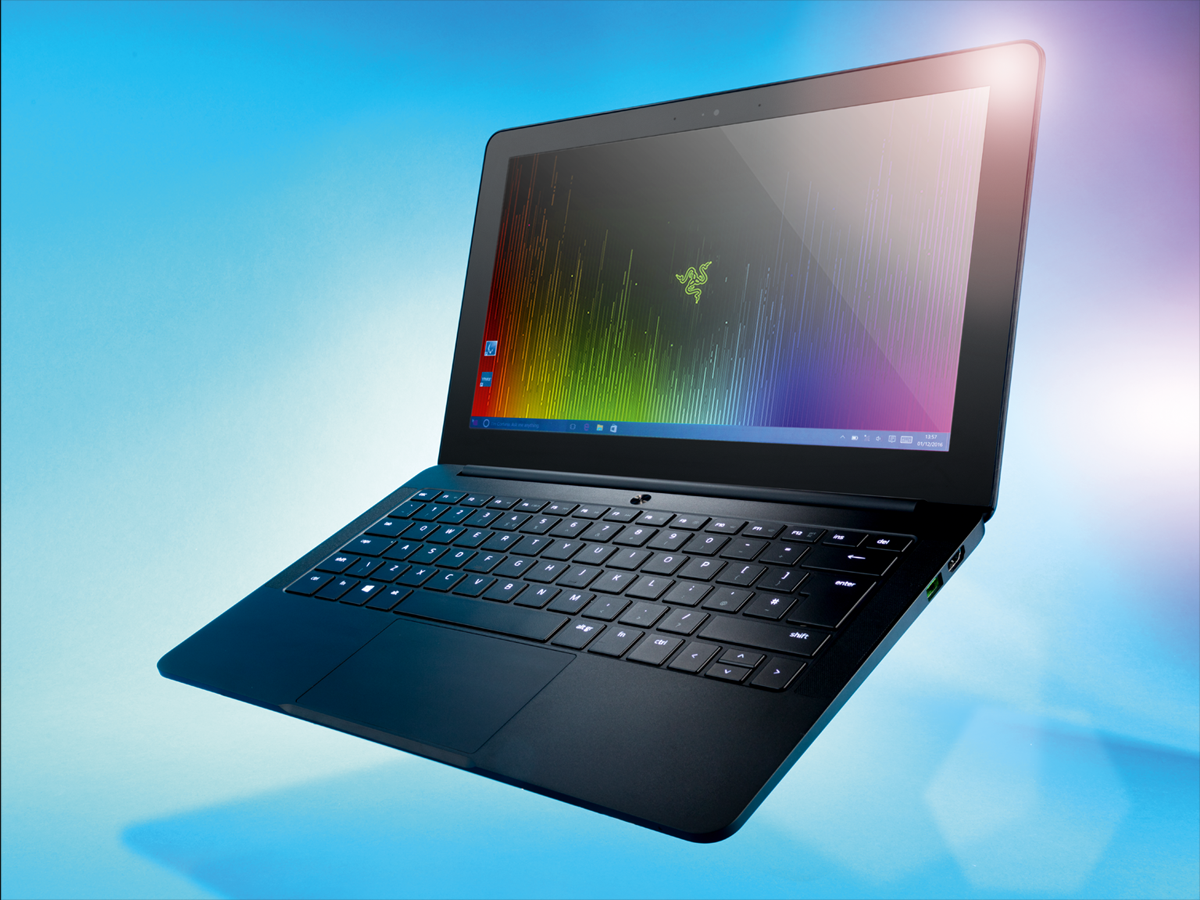 Forget silver, forget rose gold. This is the Stealth bomber of ultraportable laptops. It's black, it's slim, it's made of aluminium. It is not initially what you might expect to see from gaming maestro Razer, though.
On its own, the Blade Stealth is a pretty regular slim and light computer. You could whip it out in Starbucks without looking like a one-person LAN party – as long you toned down the Technicolor rave that is the LED-backlit keyboard first. Gotta keep the gamers happy, right?
There's no great big graphics card inside to weigh it down, but if you can afford the £399 upgrade for the Core module you can turn the Blade Stealth into a gaming powerhouse. This box plugs into the Thunderbolt port on the side and is a bit like a tiny PC case that only holds a graphics processor. Warn your wallet, though, because the Core doesn't come with such a card. A top-end Nvidia GTX 1080 costs an extra £600 or so, on top of that £399. Yee-ouch!
It's still a smart way to get a high-end gaming rig without burdening your house with one of those giant PC towers, though. In the trade-off you also get a laptop only slightly larger than a MacBook Pro that's a fair bit cheaper and looks a bit different to just about everything else that's out there. Just make sure you like black, because that's the only colour on offer. It could be the MacBook's evil twin, and we like it.
USE IT WITH…
Steam | ★★★★★
Quite simply the best game storefront you can get. Steam has thousands of games plus built-in chat to keep in touch with your mates, and you can hook it up to your telly with Big Picture mode to turn your laptop into a console.
The detail
Design
This is what you get when you take gaming PC DNA and insert it into an Ultrabook embryo. The Blade Stealth is slim, light and all-aluminium but has touches you don't see in style laptops. There's a green lightup Razer logo on the back (yes, you can turn this off) but the best bit is the backlighting of the keyboard. You can set it to any colour of the rainbow to take the brutish edge off all that black, or make it fire off a light show using one of the many in-built profiles. It'll even mimic the colours of a roaring fire. How cosy. 8/10
Features
Razer hasn't thrown out the old in favour of the new like Apple has. You still get two trusty old USB ports here as well as a full-size HDMI, making it a doddle to hook up your TV or a monitor. There's just the one USB-C Thunderbolt socket, used to connect the Core gaming module, and thankfully this add-on will power the laptop while connected. At home you'll probably want to use proper speakers, but the Blade Stealth is still the second best here, with only the MacBook Pro topping it for sound. 8/10
Screen
This models of the Blade Stealth has one of the highest-spec displays seen on a laptop: 4K, with 3840×2160 pixels. Contrast is fab and it's easily the most colourful here. One look is enough to raise your blood sugar level. If that's all a bit too much for your needs, there's a QHD version available from £999. 9/10
Performance
Without an external GPU, the Blade Stealth lacks top-class gaming power. Still, the latest Intel Kaby Lake CPUs and Core i7 specs make it a solid enough performer and battery life matches the MacBook Pro, with a 90-min film eating 21%. 8/10
Stuff says: ★★★★✩
A gaming laptop at home, a simple ultraportable when you're not – the Stealth is a two-faced beast. It's not cheap in its 4K incarnation, but it is something rather special
Tech specs
Screen 12.5in, 3840×2160 IGZO LCD • CPU Intel Core i7-7500U • RAM 8GB/16GB • GPU Intel HD 620 • Battery 53.6Wh • Dimensions 321x206x13.1mm, 1.3kg
The winner: Dell XPS 13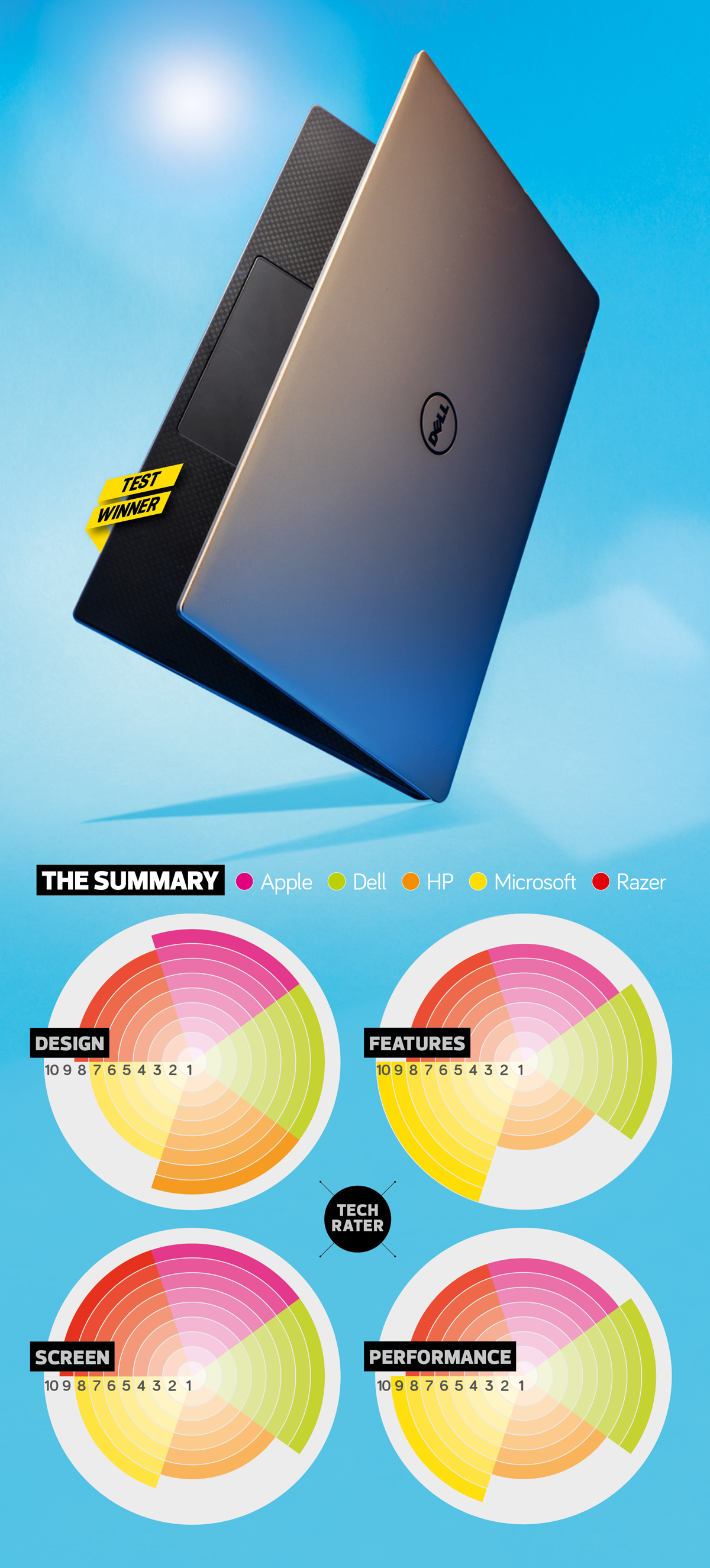 In a year or two we might look back and wonder how we ever got by without a MacBook Pro Touch Bar. But for now we'll put £500 back in our pockets and shack up with the Dell, thanks.
It's tiny for a 13.3in laptop thanks to the amazing InfinityEdge display panel, which is handy for lugging it about, and there are no compromises inside. You get all-day battery life, enough power for video editing rather than just the time-wasting most of us do with our laptops, and Dell hasn't tried to drop-kick us into the future with ports that none of us use yet.
There's not much to dislike, and if you're happy with 1080p resolution there's a cheaper version available for £999.
What's next?
Is everyone going to start copying Apple by putting display touch-panels into their laptops? Some critics aren't loving the new Touch Bar, but as long as the new Pro isn't a sales disaster you can expect to see plenty of copycats popping up. But there's no system-level support yet for such hardware in Windows 10, and manufacturers will have to put extra work in to make such bars useful.
One revolution that's already happening, though, is USB-C. Good old USB3.0 ports are slowly disappearing from top-end laptops, and we'll soon see cheaper models start to follow. USB-C can use Thunderbolt 3, a standard so powerful it can fling 5000MB of data a second, and just one port can hook up several peripherals. We do need to see a few more useful USB-C peripherals arrive on the scene though in order to not remain mired in adaptor hell.
On the CPU front, efficiency is the order of the day – and that's what we'll get from Intel's next major CPU generation, Cannonlake. It's due in late 2017 and promises, as always, more power and better battery life. We can live with that.