Asus Zenbook Pro 14 OLED review: confidently creative
Pro-grade hardware in a portable package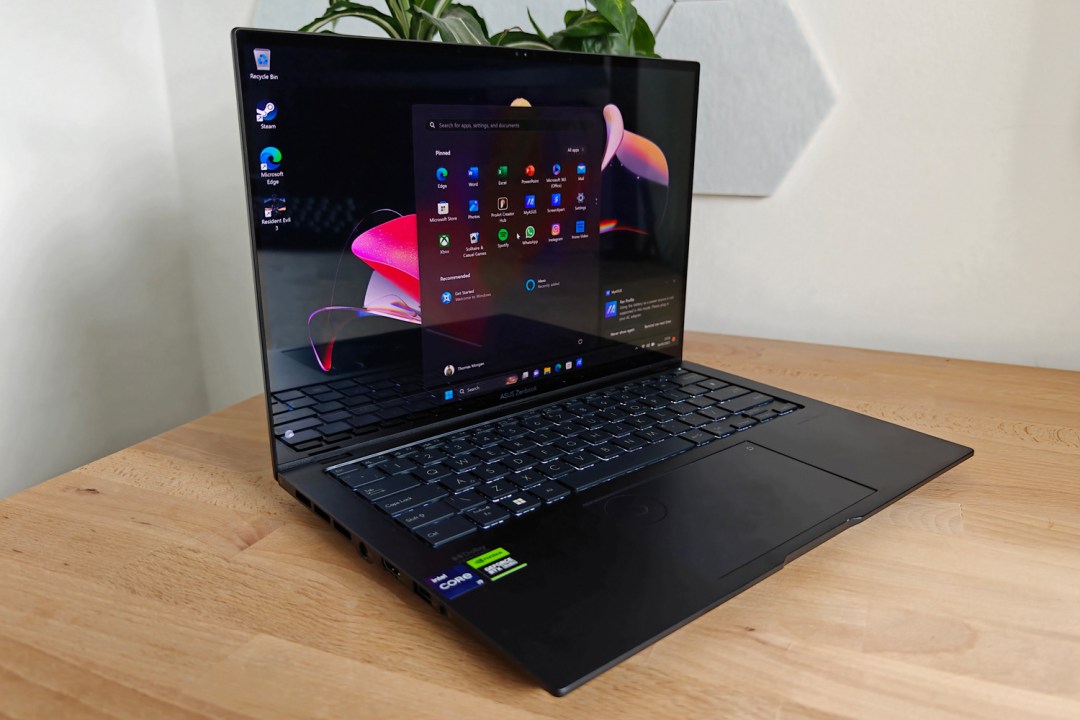 In some corners of the tech world, the term "Pro" has been diluted down more than a watery glass of Robinsons orange squash. But when it comes to do-everything laptops, Asus would argue it still very much applies. The Zenbook Pro 14 OLED is the firm's latest no-compromise machine aimed at creative sorts, with a high resolution, high refresh rate OLED display and ample connectivity.
An Intel Core i9 CPU and Nvidia dedicated graphics are the sort of hardware that'd worry many desktop PCs – only here they've been crammed into a pleasantly portable chassis. Does that make it the Windows alternative to a fully-loaded MacBook Pro?
Design & connectivity: plenty of ports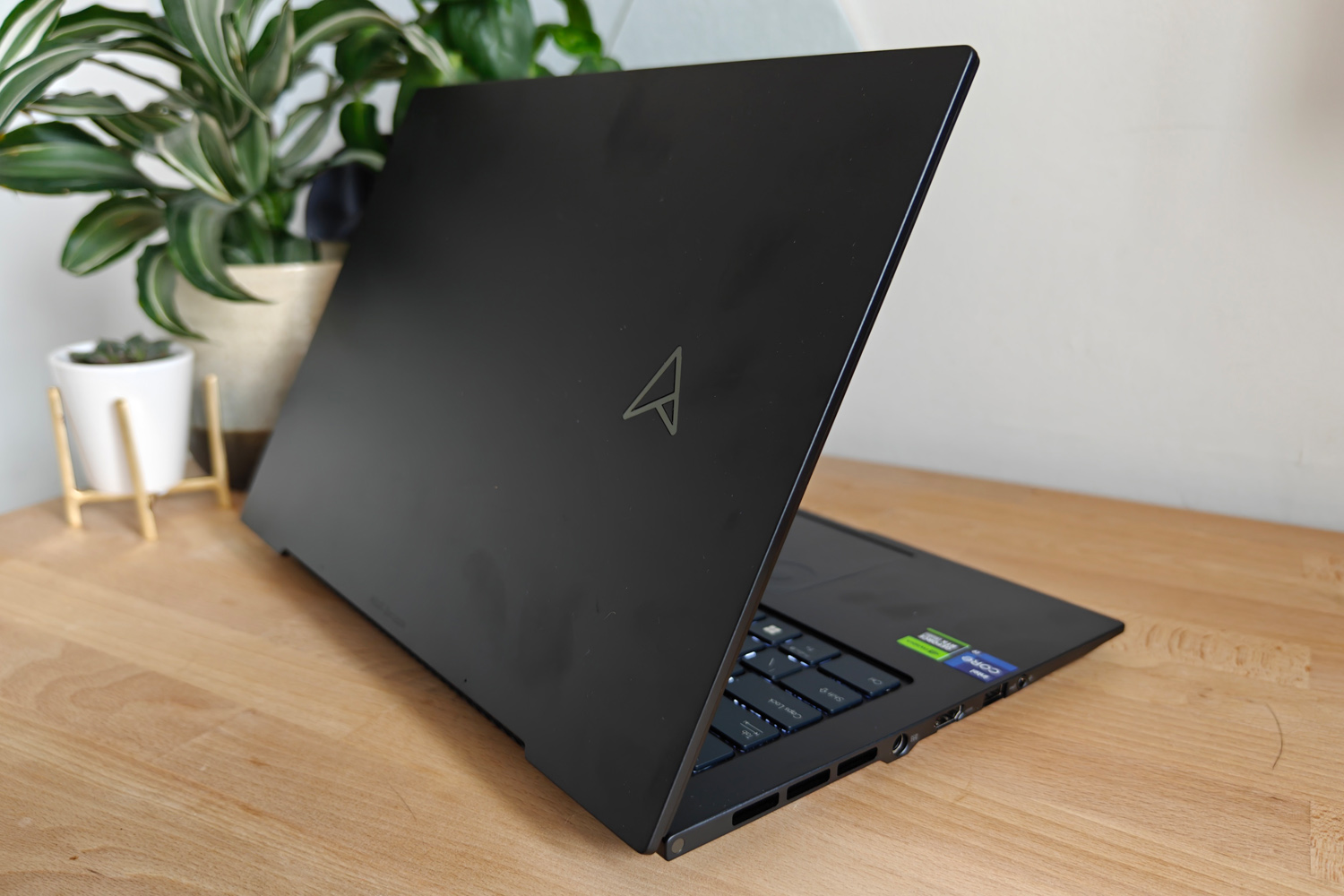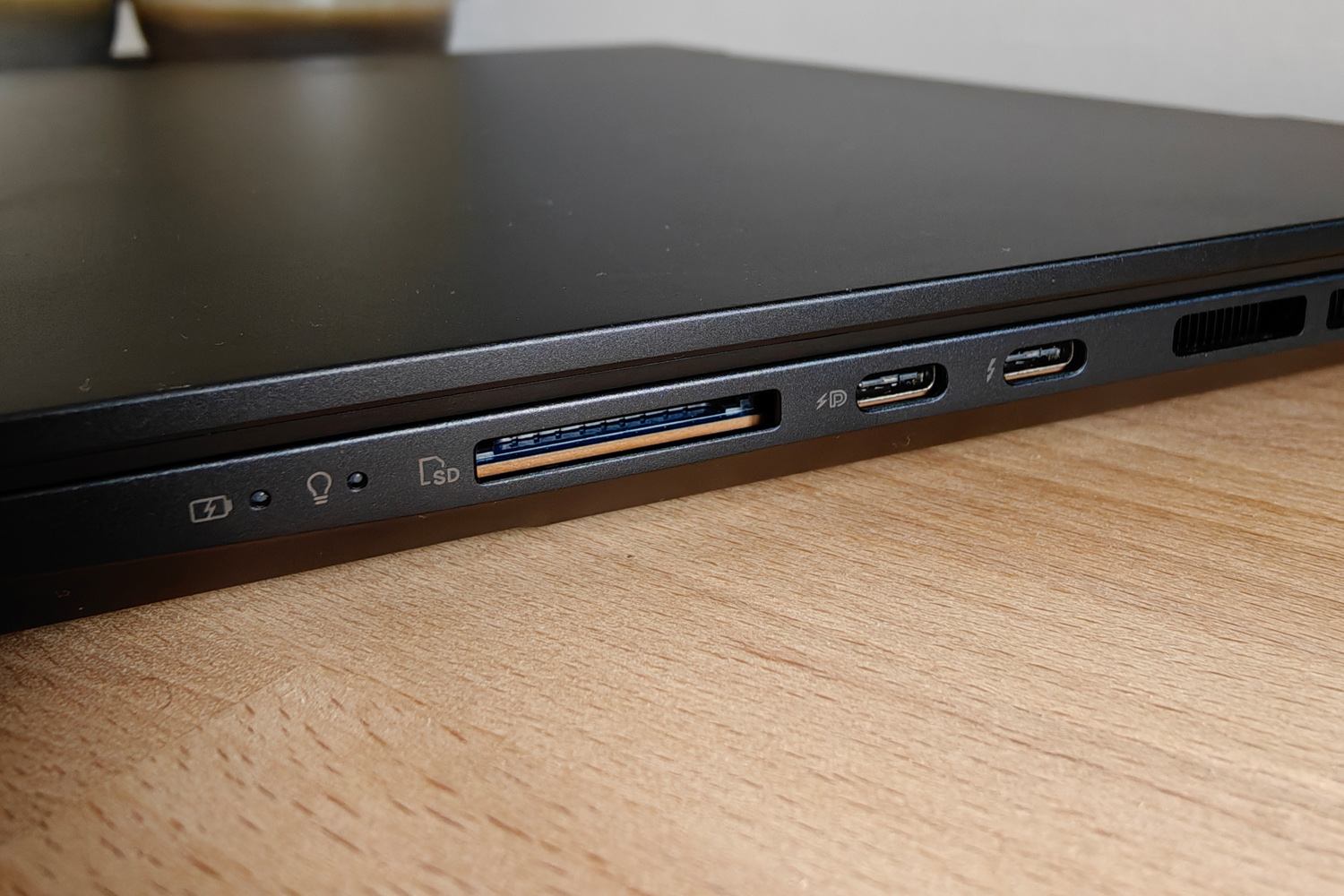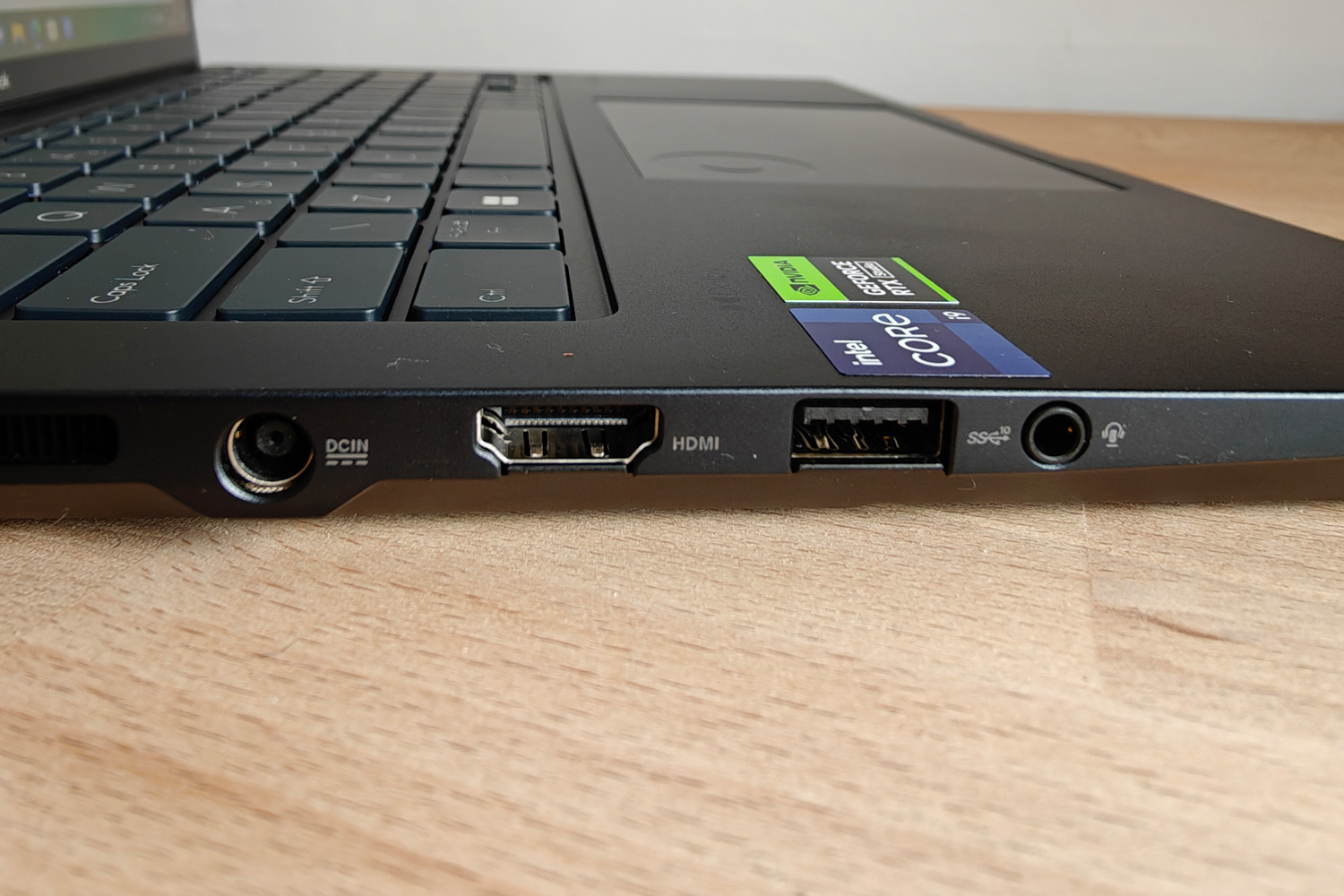 The Pro 14 OLED is an all-new addition to the Zenbook line-up – sort of. It succeeds the Zenbook Pro 14, which swapped a traditional touchpad for a touch-sensitive second display. There's no dual screen cleverness here, although the touchpad does have a trick or two of its own (more on that later).
With subtle Asus branding on the lid and a gunmetal grey finish, this is a satisfyingly sleek machine. It measures a mere 17.9mm at its thickest point, so is fine to sling in a backpack. At 1.65kg without the accompanying power brick it isn't the lightest laptop going, but is still more svelte than the gaming machines that would normally pack this much performance muscle.
It's machined from aluminium, so feels reassuringly stiff in all the right places, and every bit the premium device you'd expect given the high price. Asus reckons it also conforms to military grade toughness tests, so should be fine in extreme heat or cold temperatures.
There might only be a single USB Type-A port, but it's joined by a pair of Type C connections. One can handle video output and the other supports Thunderbolt 4 data transfers. There's also an HDMI 2.1 output for hooking up to an external 4K display, a full-size SD card slot to save photographers from messing around with dongles or adapters, and a 3.5mm headphone port for private listening.
Screen & sound: simply stunning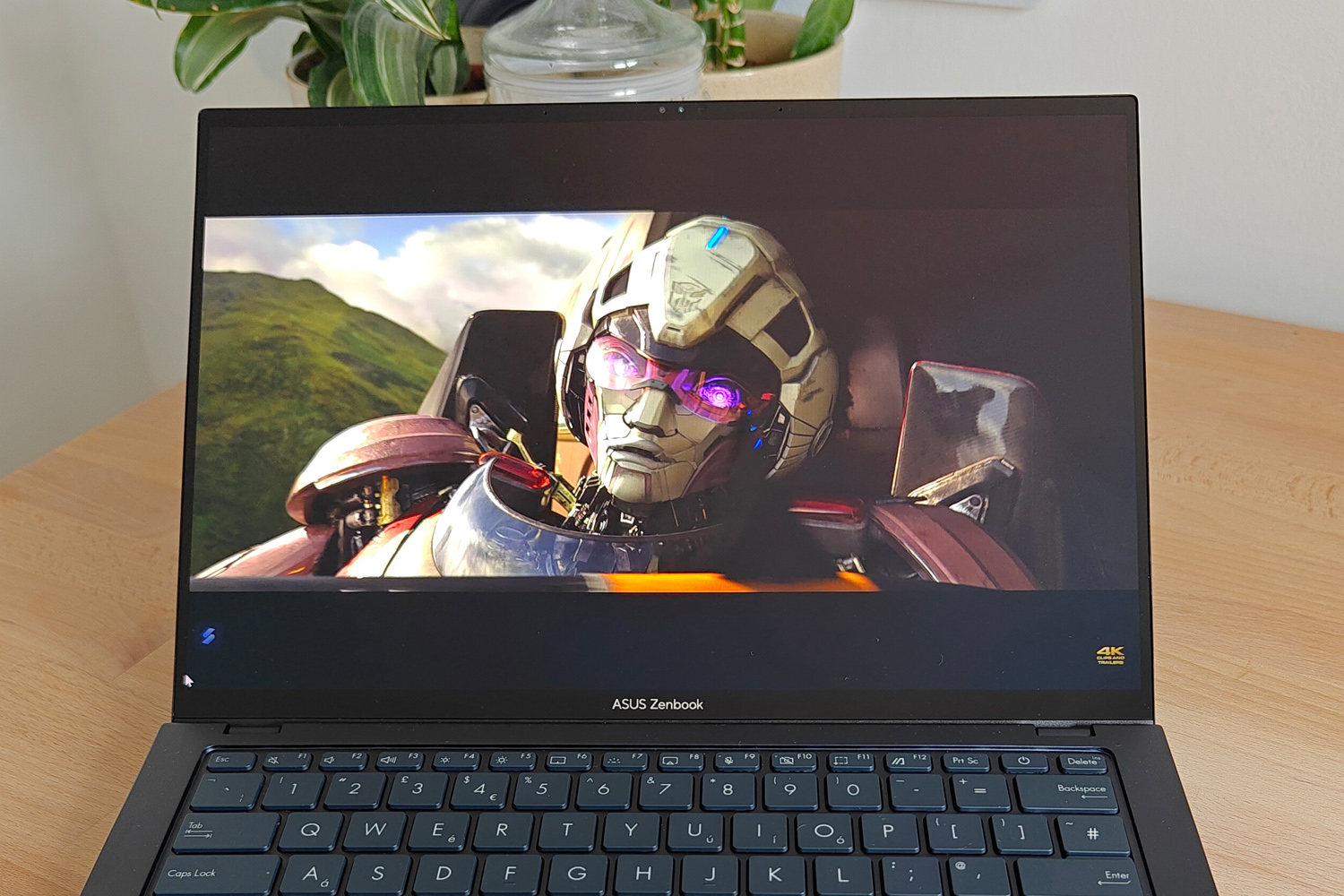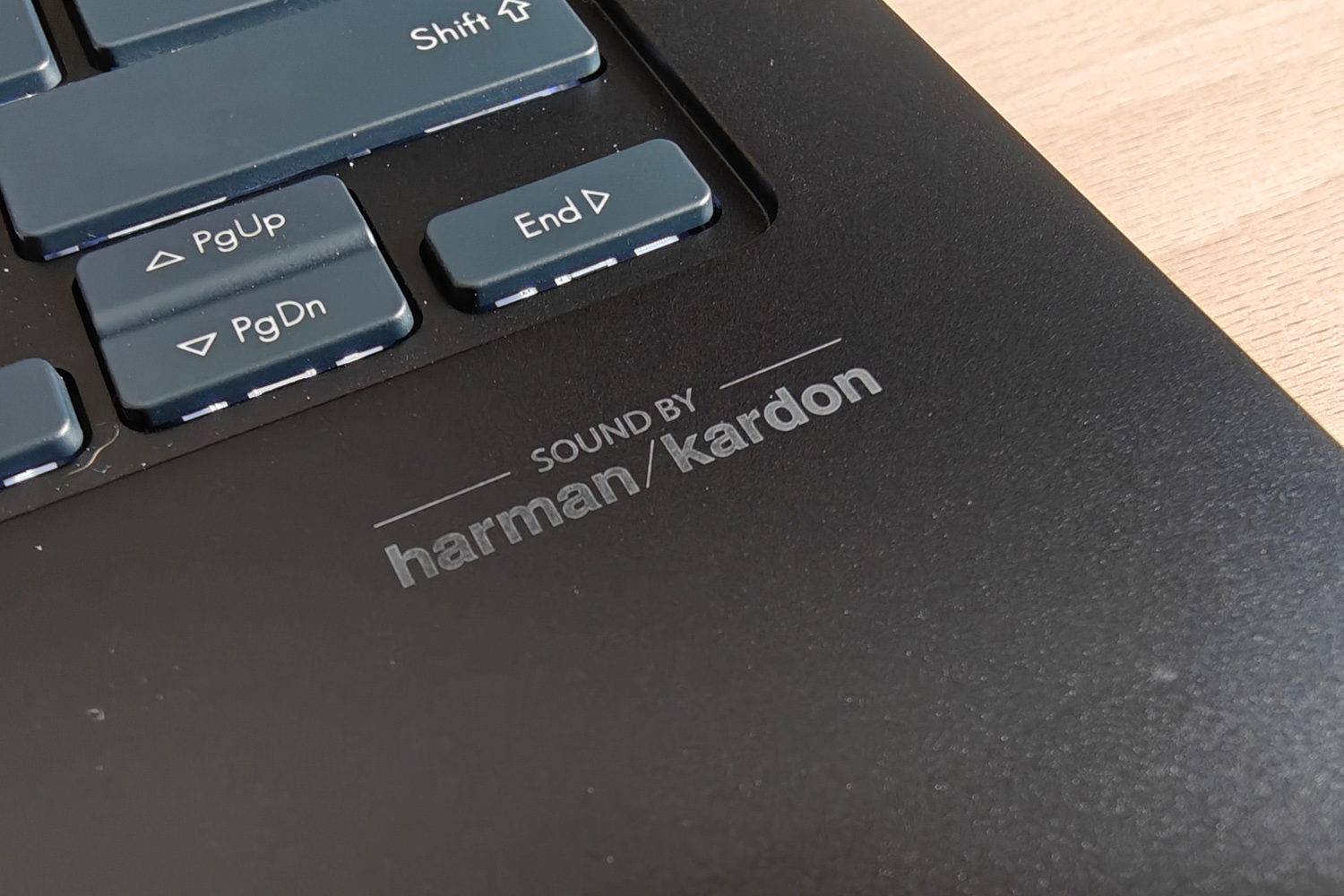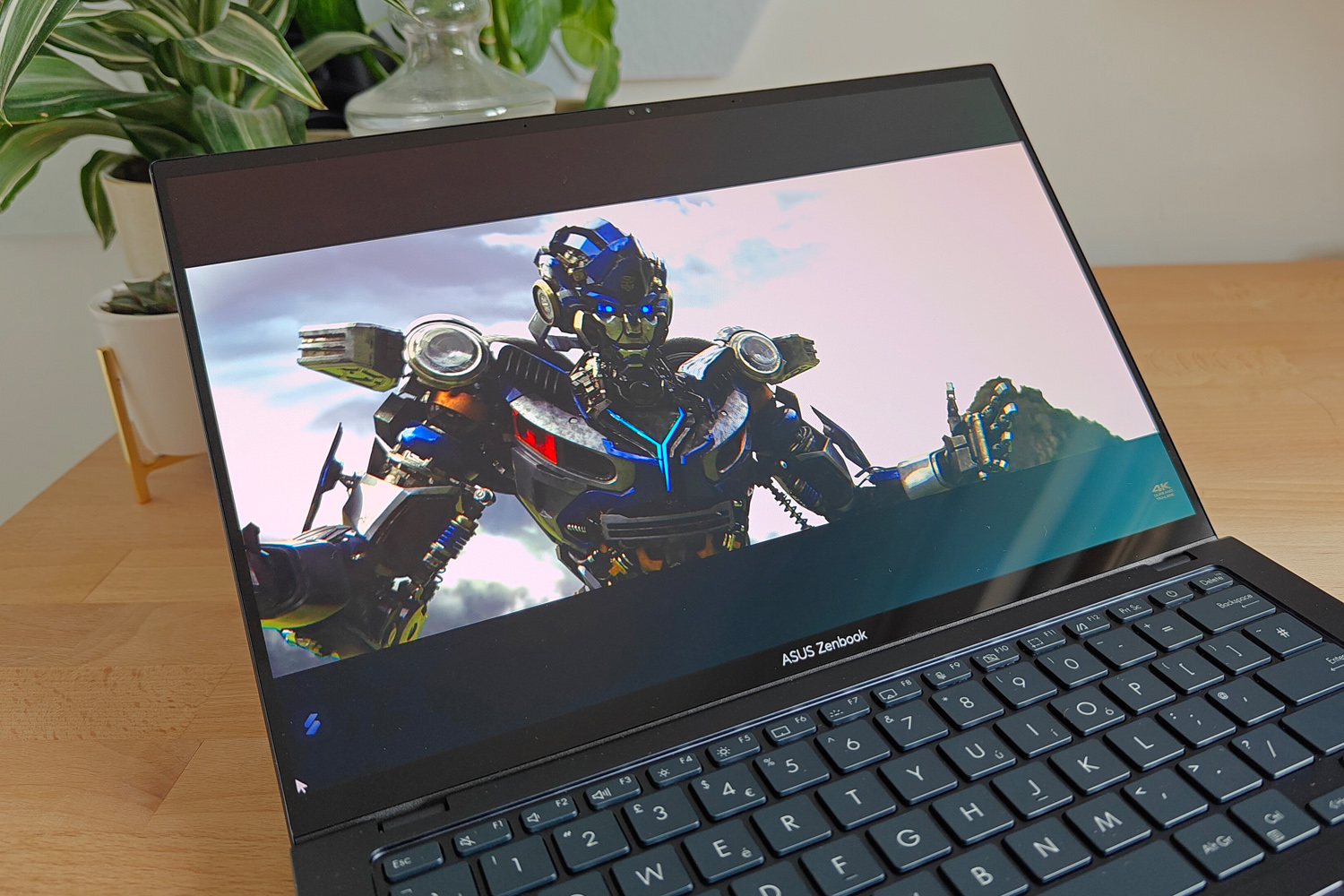 Asus has been all-in on OLED with its premium models for a while now, and the Zenbook Pro 14 OLED delivers another winning panel. At 14.5in you get considerably more physical space than a 13in machine, while not taking up quite so much desk or bag space as a 15in model. The 16:10 aspect ratio is also all the rage among 2023 laptops, adding extra vertical space over a 16:9 screen to cut down on web page scrolling and better fit multiple documents side-by-side.
The 2800×1800 resolution is cut-yourself sharp, and the 120Hz refresh rate guarantees smooth scrolling. It's enabled out of the box, too, so you don't have to worry about digging through menus to get the best picture. While the screen hinge doesn't rotate to a flat 180 degrees there's still plenty of tilt, and viewing angles are exceptional. It's comfortably one of the best mainstream laptop displays out there right now.
As we expect from OLED tech, contrast is truly exceptional, giving HDR and Dolby Vision content incredible depth along with vibrant colours. It covers the entire DCI-P3 colour space, and has a handful of colour presets including sRGB for colour-accurate work. Brightness in HDR hits a peak 600 nits, and while SDR content tops out at a slightly lower figure, we still had no trouble seeing what was onscreen while working in bright sunlight. It's a touchscreen, too, with support for Asus' digital stylus.
The Harman Kardon tuned, Atmos-approved stereo speakers aren't quite the perfect match to the display, sounding a little harsh when cranked to high volumes and lacking a little in the bass department. A MacBook Pro still comes out on top here.
Keyboard and touchpad: the write stuff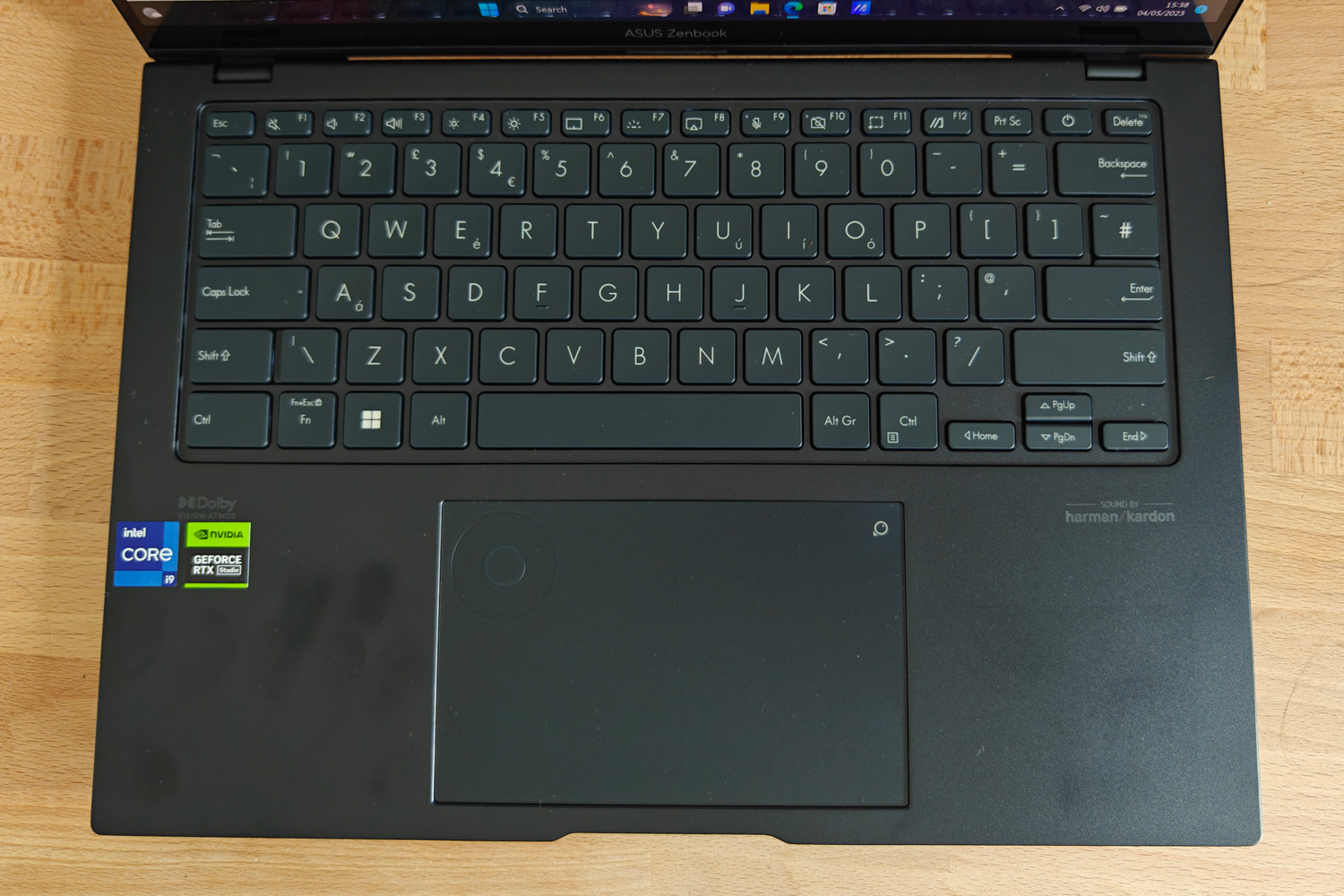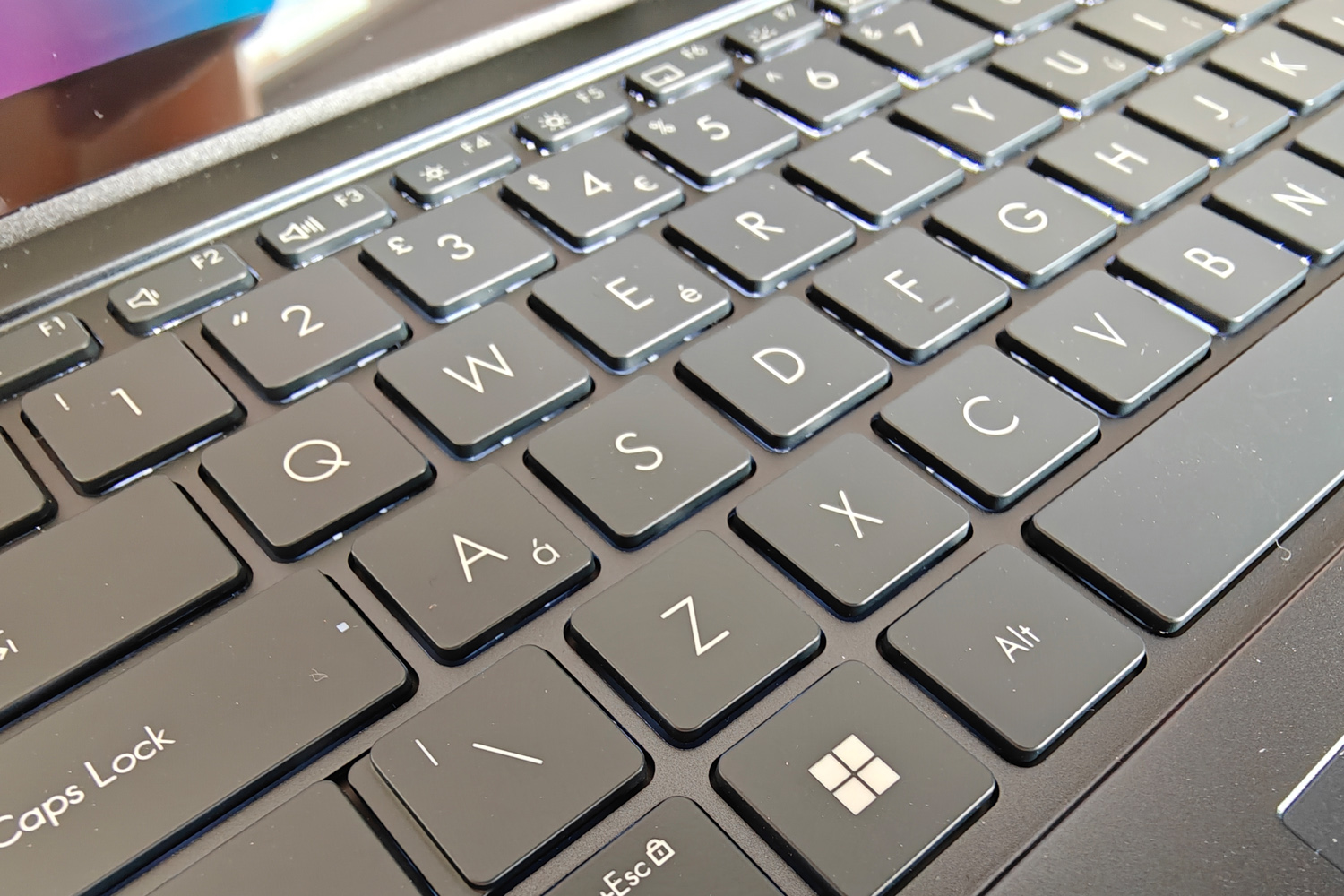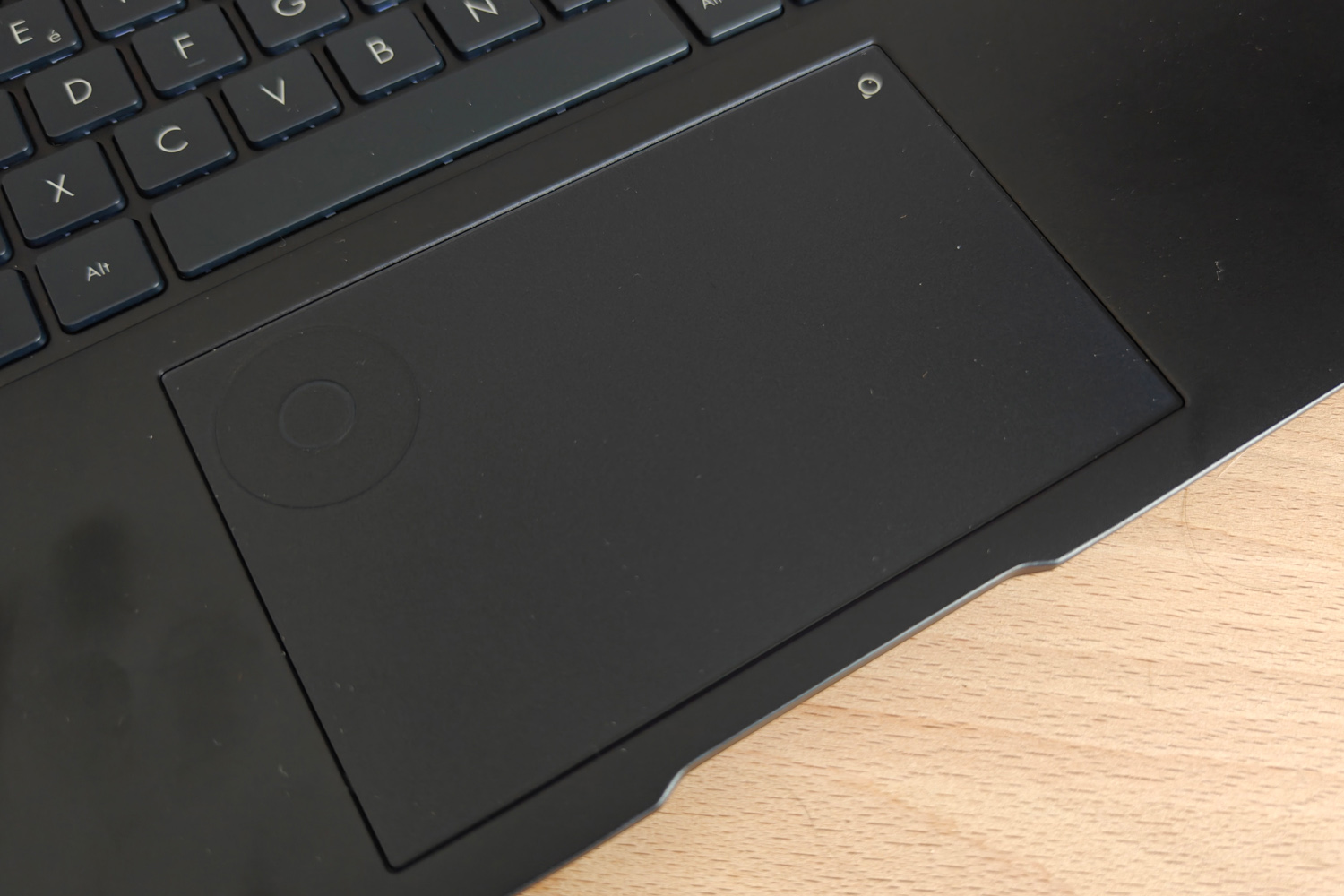 The Zenbook Pro 14 OLED's full-size, island-style keys are satisfyingly springy to type on, bouncing back quickly after each press. They don't have a huge amount of travel, but you've got to be really hammering them before they'll bottom out. The half-height enter key and half-width left shift key might throw off those used to a UK layout, and the arrow keys are particularly tiny, but we were typing at full speed after just a short time with the laptop.
A white LED backlight makes typing at night a breeze, and the white text on black keycaps mean they're perfectly legible during the day too. Asus has also shifted the power and activity LEDs to the laptop's right side, so they aren't distracting while you're trying to get work done.
A unique rotary DialPad is indented into the glass touchpad, for speedy scrolling and activating custom shortcuts through Asus' ProArt software. We didn't find it got in the way, being stashed in the top left corner of the fairly expansive pad, but you can toggle it off easily enough if you like. It's very handy once you customise it for your most frequently used apps, and puts useful toggles like screen brightness and volume just a tap and swipe away.
There's no fingerprint security here, but the built-in Full HD webcam supports Windows Hello facial recognition. It was quick to detect our face during the day, and the IR was effective at night too.
Performance & battery life: hours of power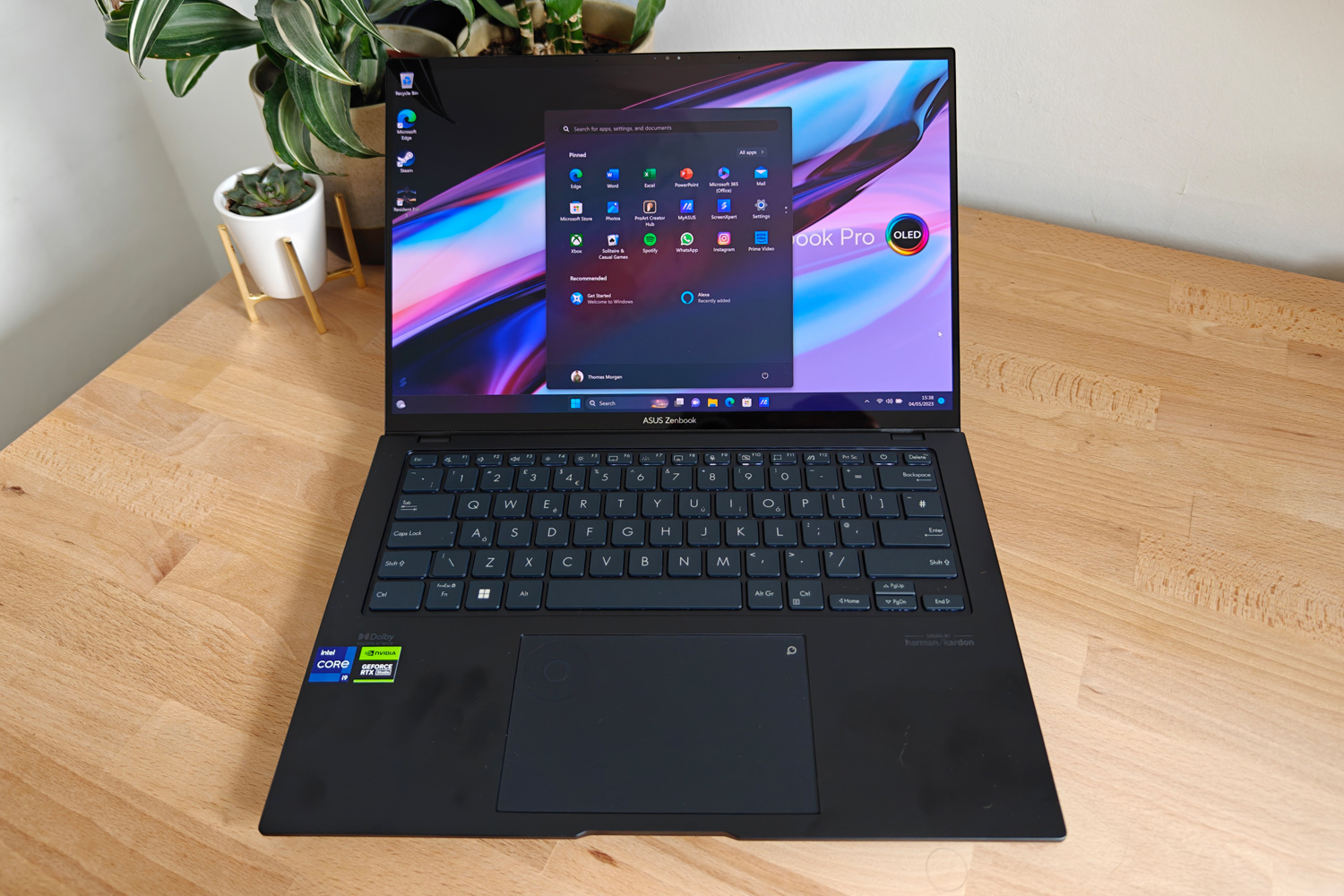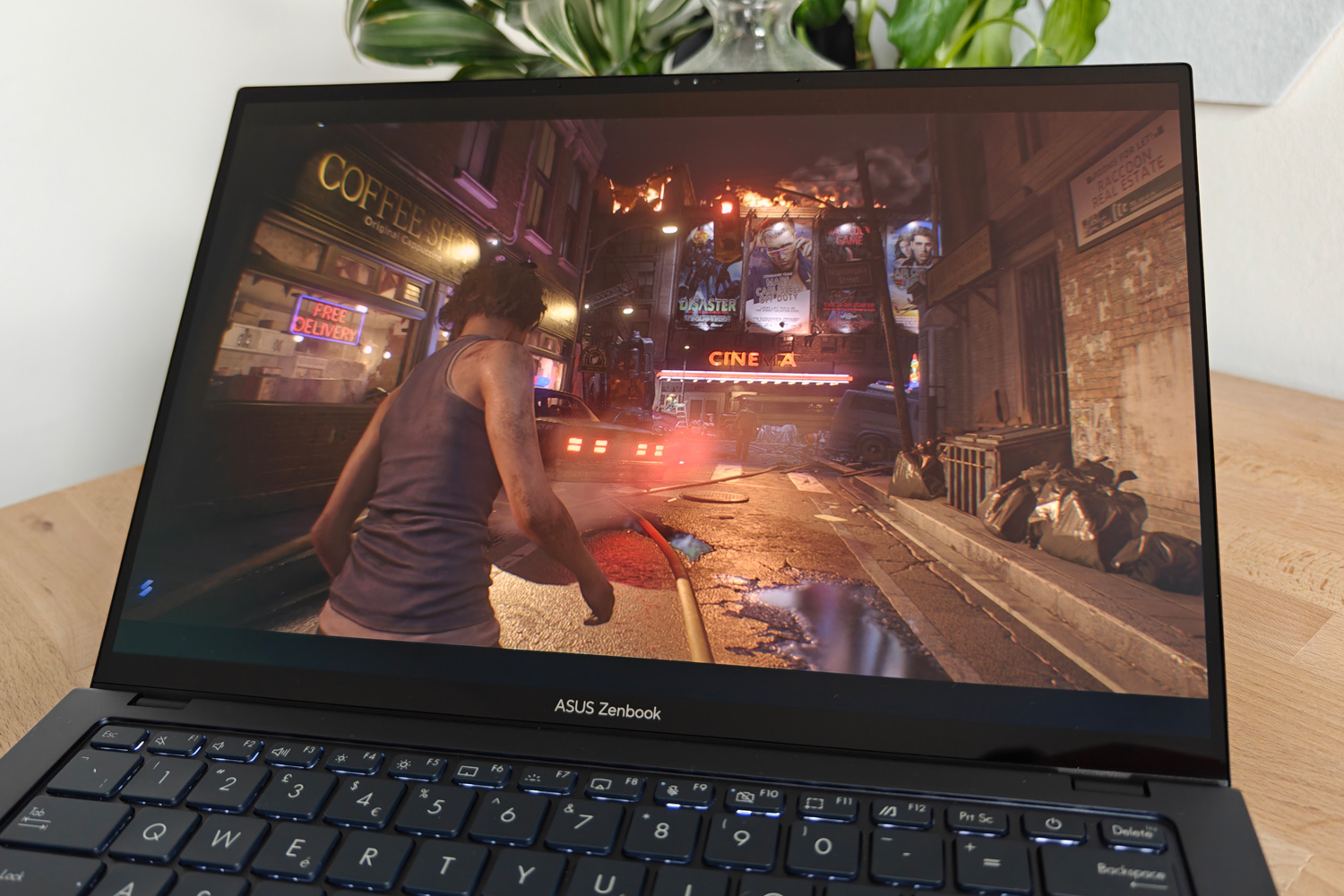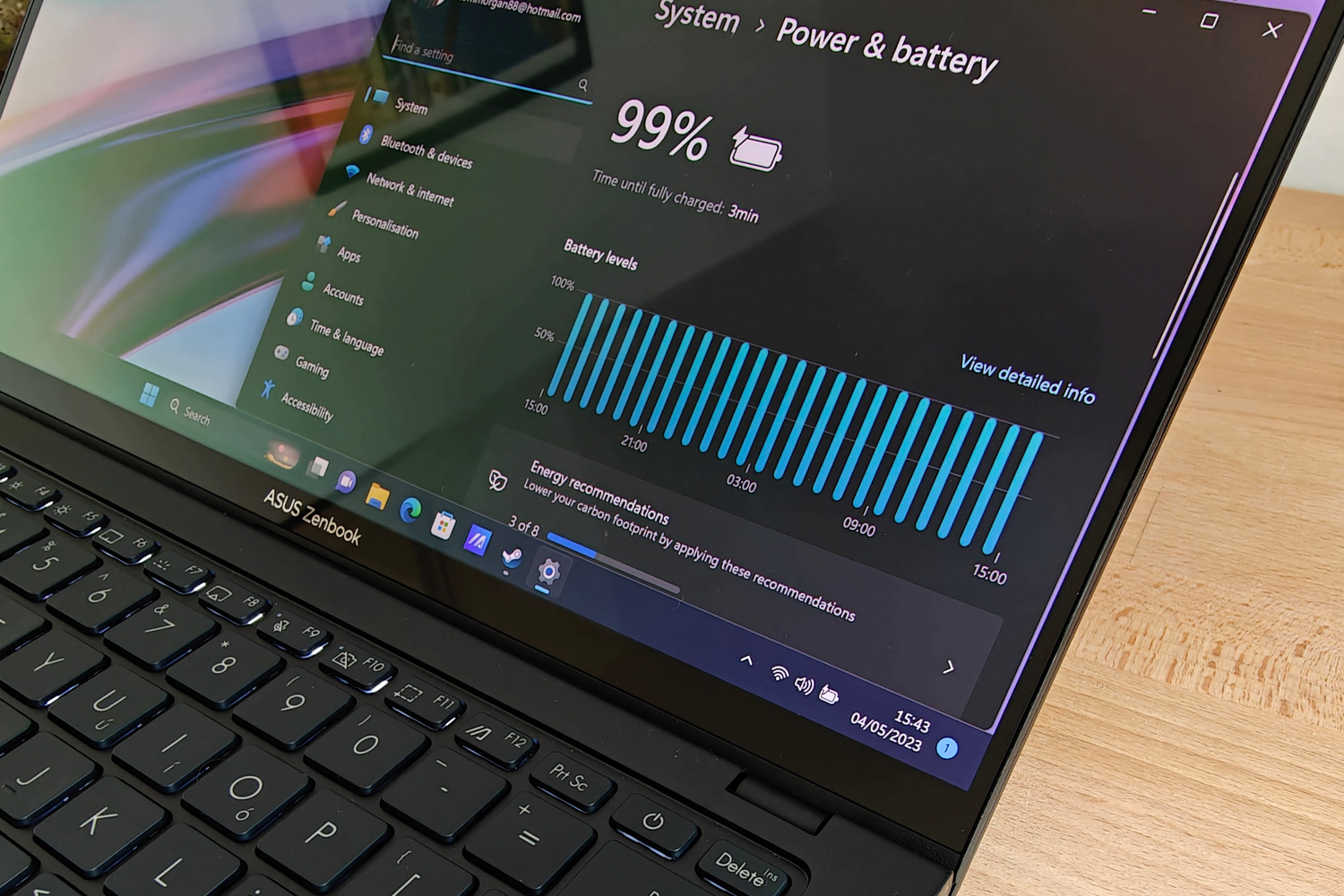 Asus will happily sell you a Zenbook Pro 14 OLED with a Core i7 CPU and RTX 4050 graphics, but the model we've tested is the whizz-bang, all-boxes ticked version. It gets a Core i9-13900H processor, 32GB of RAM, a 2TB PCIe SSD and an RTX 4070 dedicated GPU. That's the Studio-certified version of the 4070, meaning it gets bespoke drivers guaranteed to play nicely with industry standard software – although it'll still happily run games as well.
A somewhat restrained power ceiling means this isn't going to deliver the sort of frame rates a dedicated gaming machine with even more effective cooling can, and the a laptop 4070 will be outpaced by a desktop 3060 Ti from the previous generation in many titles. That said, it still proved to be quite the performer in our testing. Resident Evil 3 remake ran wonderfully smoothly at max settings, without having to rely on DLSS to boost frame rates. It's a useful tool for games that make heavy use of ray tracing, like Cyberpunk 2077, helping keep the average frame rate consistently above 60fps.
A hardware MUX switch automatically swaps between the dedicated and Intel's onboard graphics on the fly without rebooting, which is a welcome timesaver when you're working remotely and just need to plug into mains power to render out a video or 3D project. Either way, the built-in fans quickly pick up speed (and noise) when you run demanding tasks or play games. It's dramatically loud, despite the abundance of air vents around the laptop's rear and sides, so you'll want to use headphones to drown it out. Simpler stuff like web browsing is whisper quiet, though.
You can charge the 76Wh battery over USB-C if you have a beefy enough power brick, but you'll need to use the bundled adaptor and its barrel jack connection to get full performance from the CPU/GPU combo. It's good for somewhere between eight and nine hours of juice for daily duties, but put any real demand on the high-end hardware and that figure tumbles quickly.
Zenbook Pro 14 OLED verdict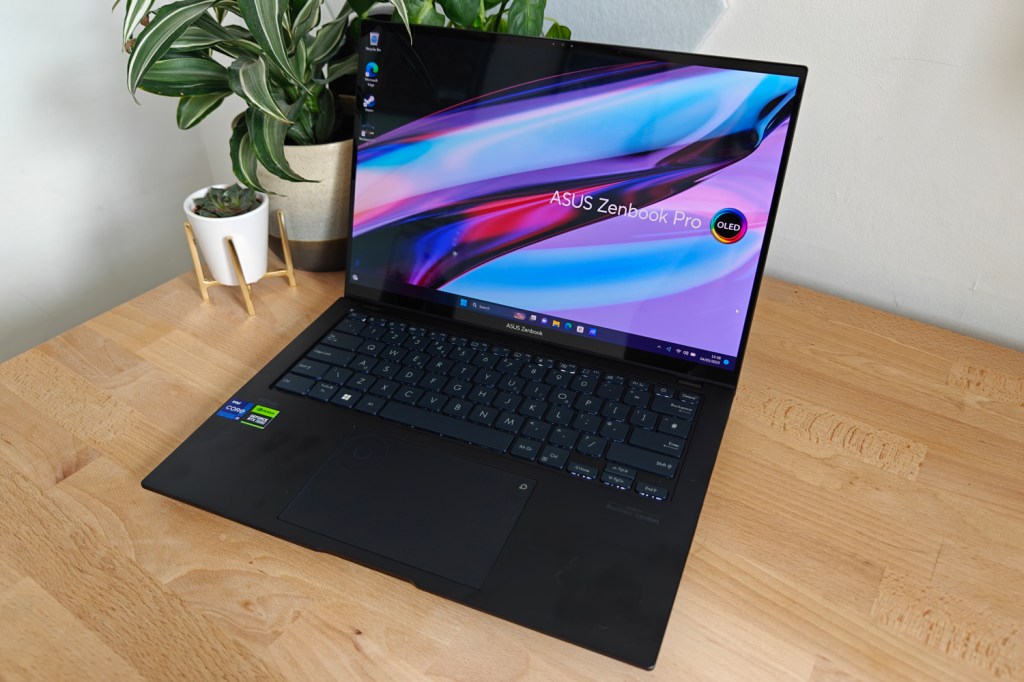 There's no questioning the Zenbook Pro 14 OLED's potency. It's a seriously punchy machine in both desktop and 3D tasks, and the OLED screen that hardware is paired with is simply stunning. The keyboard is comfortable, there are plenty of connectivity options and decent (though not spectacular) battery life make it an ideal portable creator machine.
It can't outmuscle dedicated gaming machines with more effective cooling, and it's undeniably pricey – but significantly undercuts a MacBook Pro with equivalent memory and storage. There aren't many boxes this laptop doesn't tick. For on-the-go video or photo editing, 3D rendering and gaming at high detail settings, this is an excellent choice.
Stuff Says…
A superbly powerful (and pricey) portable built for creatives, but one that can game and entertain too.
Good Stuff
Superb performance for a 14in machine
Gorgeous, high refresh rate OLED display
Great connectivity
Bad Stuff
Speakers not the clearest
Demanding hardware gets hot and loud
Asus Zenbook Pro 14 OLED technical specifications
| | |
| --- | --- |
| Screen | 14.5in, 2880×1800 OLED w/ 120Hz, HDR |
| CPU | Intel Core i9-13900H |
| Memory | 32GB RAM |
| Storage | 2TB SSD |
| Graphics | Nvidia GeForce RTX 4070 |
| Operating system | Windows 11 |
| Connectivity | Thunderbolt 4, USB-C, USB 3.2 Type-A, SD card reader, HDMI, 3.5mm headphone port |
| Battery | 76Wh |
| Dimensions | 17.9mm, 1.6kg |