Google Nexus 6P vs iPhone 6s Plus
How will the Android enormo-phone fare against Apple's own phablet?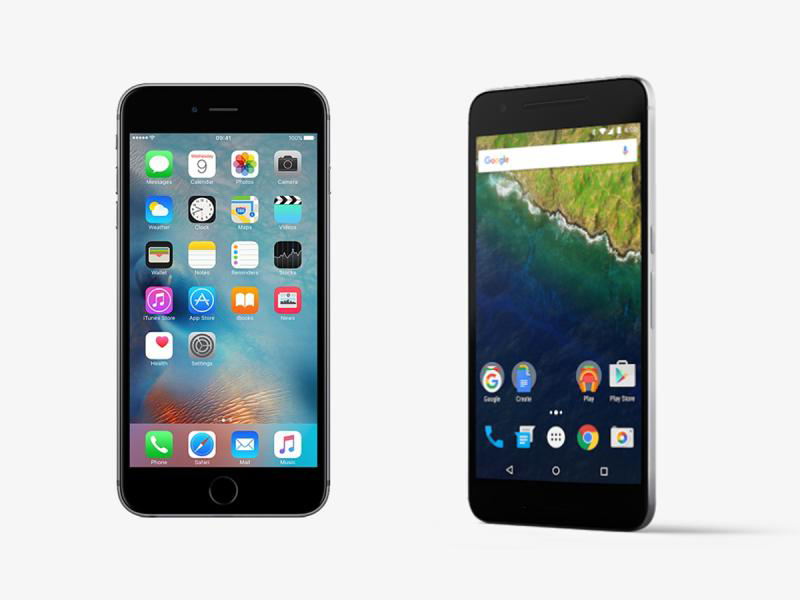 What difference do two letters make? B&Q can sure make a difference to your house. P&O can take you to France. But P&S? They don't have all that much in common. Until now…
Take a Google Nexus 6P, put it next to an iPhone 6s Plus. Can you tell the difference? Really? Oh. Actually, so can we.
Both are range-topping flagships, pack high-end hardware and both are fabulous bits of smartphone kit.
But that's where the similarities end: 6P vs 6s is a classic fight between Apple and Android; camera hump and camera bump; front fingerprint scanner and rear fingerprint scanner. That last one might not sound life-changing, but the 6P is a phone that really takes the fight to the 6s Plus' phablet domination.
Read on to found out which phone is truly worth your wonga.
Metal body solid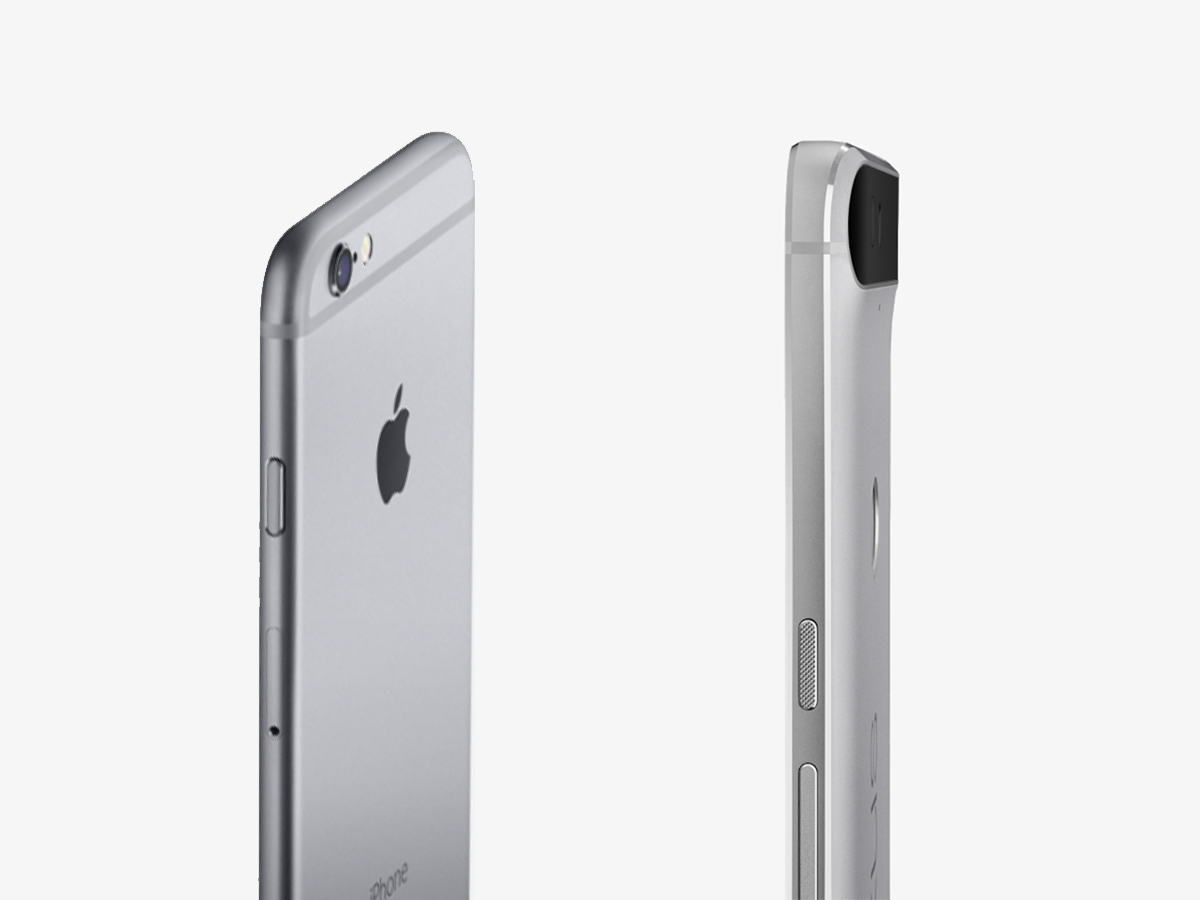 As soon as you scoop up the Nexus 6P, you'll be struck by just how svelte its slim, aluminium shell feels to hold. Happily for Huawei, which makes the handset, it's no longer the awkward manufacturer intern at the flagship smartphone design party. Sure, the 6P isn't Samsung Galaxy S6 sleek, but 7.3mm thick is good going for a 5.7in range-topper.
What's more, whilst the 6P looks nondescript from the front, love it or hate it, that camera bump on the rear really does make it stand out. Though be careful shoving it straight in a pocket with your keys: that dark aluminium finish is a real scratch-magnet.
With buttons stuck where your thumbs will love them, the 6P just feels like a good cookie to clutch. Is it more manageable than the iPhone 6s? Apple's oversized offering is quite the whopper and we found small-pawed phone users will struggle with the extremities of its visage.
Still, at least the 6s is good to look at (and almost identical to the 6 Plus). That 7000 series aeroplane-grade aluminium makes it tough as nails, whilst the metallic shell and rounded-edges do just enough to distinguish it from the rest of the slab o' glass smartphone pack.
Deciding which is better is like choosing between a matte-black Mercedes and a sleek n' shiny BMW. Both have appeal, both are good to use and both will divide opinion. We're staying out of this one.
Winner: Draw
Touching displays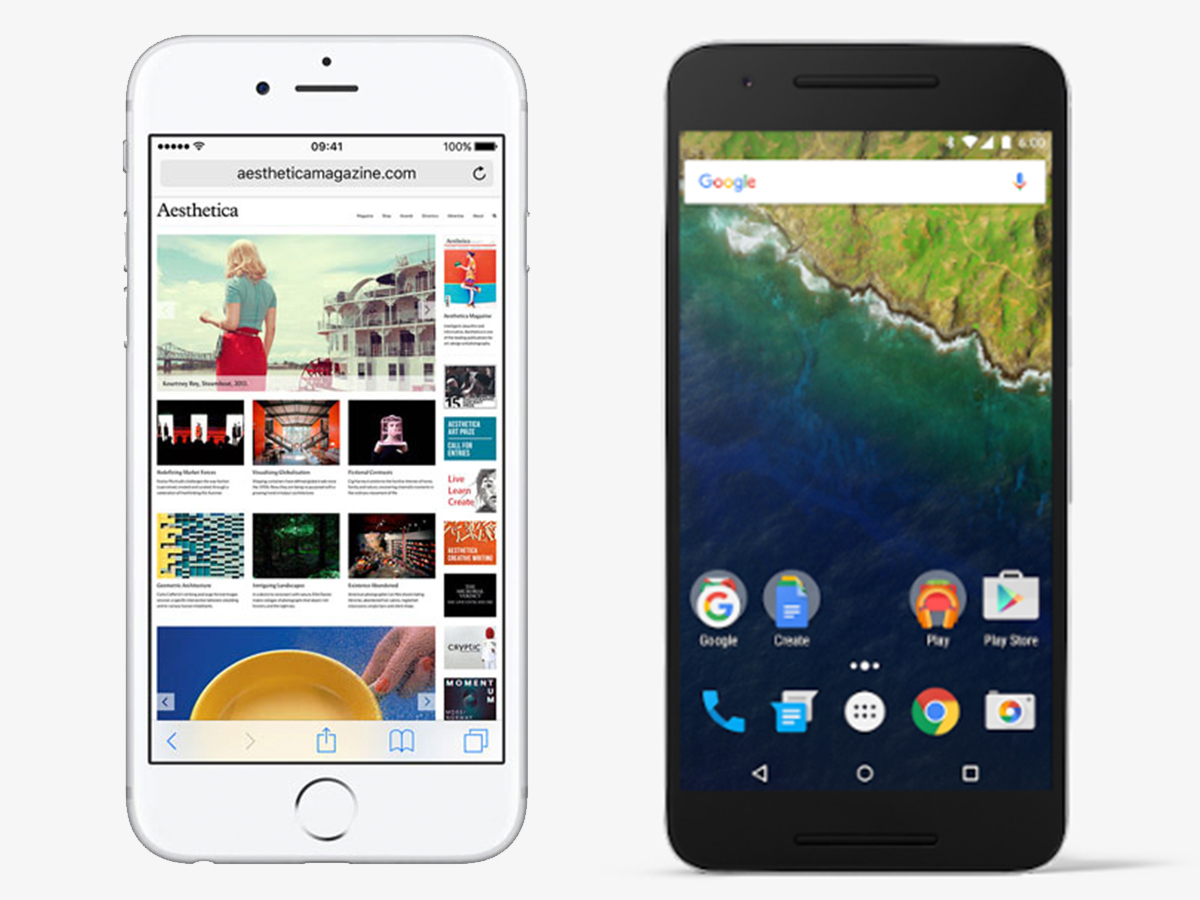 How about those super-scaled visages? The 6P's 5.7in Super AMOLED display packs 2,560×1440 pixels, and is very similar to the panel we saw in the Samsung Galaxy Note 5. What does that mean in real life? It means a very big, very sharp and bright screen with brilliant contrast.
Sure, it doesn't offer the Note 5's extreme colouraccuracy, but it's a great display for day-to-day use. Does it pack Apple's secret weapon – 3D Touch? The easy answer is, obviously, no.
As good as Android 6.0 Marshmallow on the Nexus 6P is, there's just no equivalent to the vibration feedback and pressure menu-management offered by Apple's Touch tech.
OK, so the iPhone 6s Plus' 5.5in display pushes fewer pixels at 1920×1080 and lacks the pin-sharp clarity of the 6P, but the real-world usability offered by the press-and-hold options of 3D Touch go completely unmatched by the Nexus.
Also, Apple has always got the best out of its displays with natural colours and none of the colour-pop of AMOLED, meaning the 6s Plus is a super screen to use.
Most high-end Android phones nowadays pack in decent displays – and that includes the 6P – but nothing has a shout against the classic Cupertino-made innovation that is 3D Touch.
Winner: iPhone 6s Plus
Chips be cookin'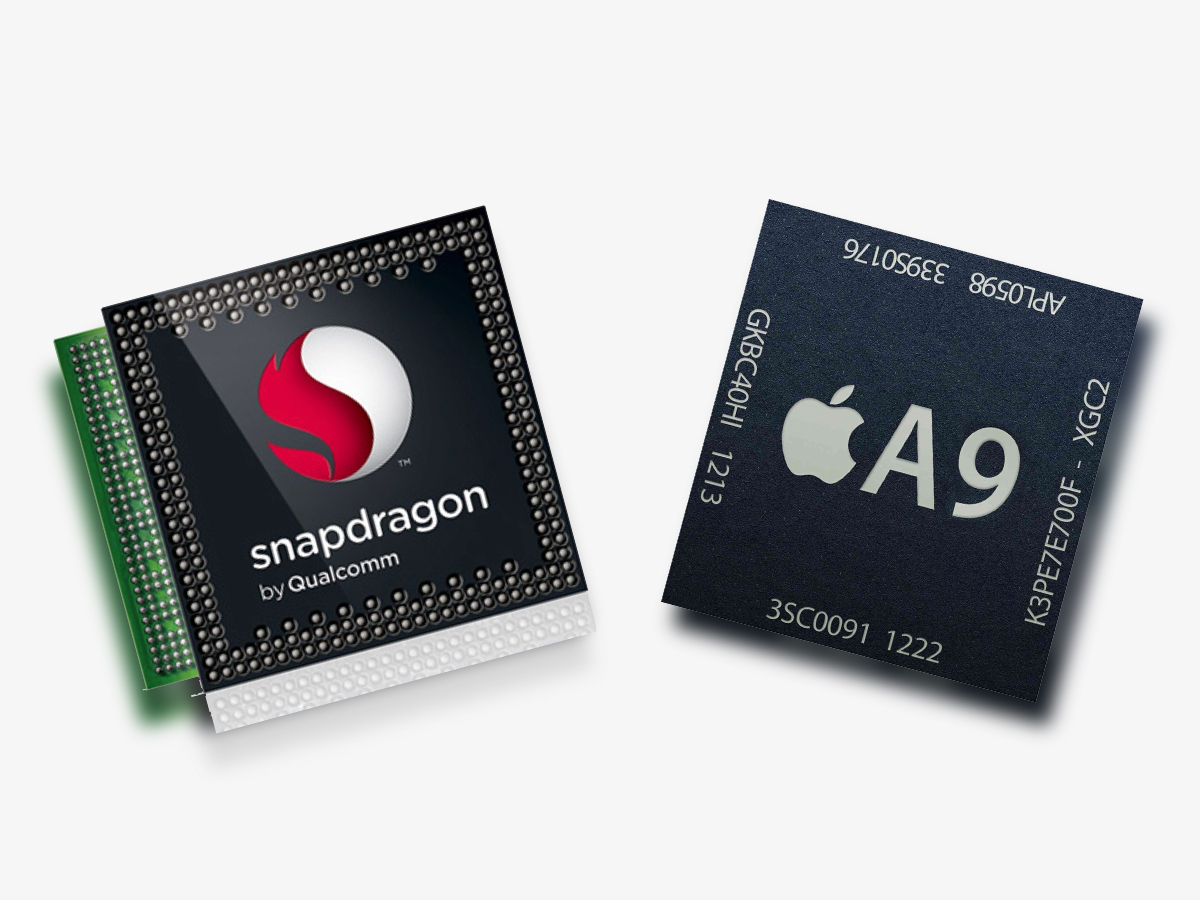 Things are different, though, in the performance stakes. Like a stack of gravy-coated, potato-skinned snacks, the chip in the Nexus 6P is delicious.
Some might scoff at the Snapdragon 810 and its history of overheating, but it's an octa-core dream in the Marshmallow world of the 6P – especially when it's backed up by 3GB of DDR4 RAM.
It might not top the Geekbench charts, but in actual use it's fast – the snappiness of its scroll is something Windows Phone would be proud of. Yes, it does get a little warm under processing pressure (especially when using a data connection) but it's not overly bothersome.
Does it top Apple's A9 core? Well, the 6s Plus does rank lower than Apple might like in benchmarking tests, but the day-to-day usage is equally stutter-free and, if anything, a little cooler. The Plus will handle Crossy Road and all your emails without taking so much as a pause for breath.
Given that both processors are powering pixel-pushing displays it's impressive that neither lags – but, for us, the slickness of Android 6.0 on the 6P just edges it.
Winner: Nexus 6P
Will work for juice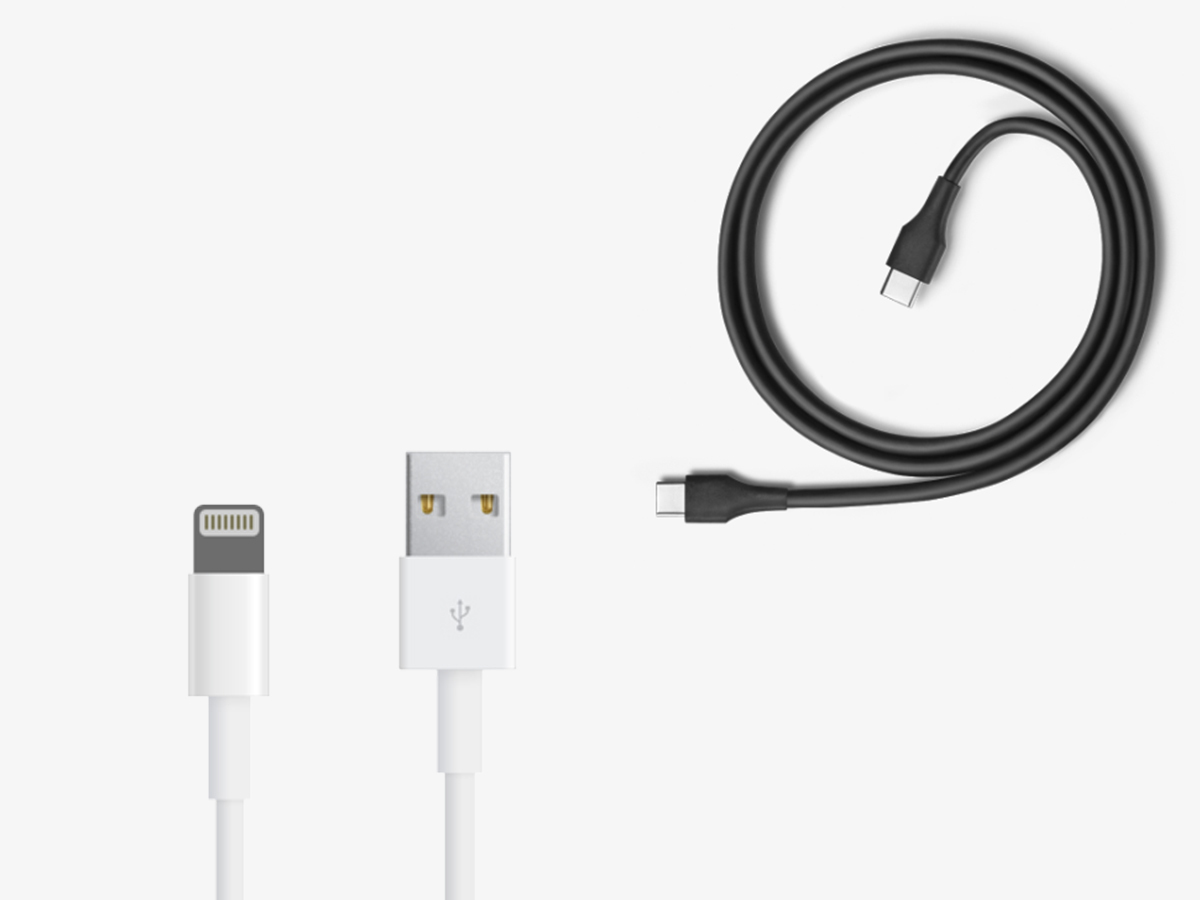 Sadly, neither of these two handsets delivers more-than-average battery life.
Yes, the Nexus has a 3450mAh juice pack but the hardware demands and that comparatively inefficient Snapdragon 810 mean you'll get a day's use out of it at best. That said, its lifespan is slightly more predictable than other Android flagships, without any sudden drop-offs. Unless you start live-streaming Arrow whilst bluetoothing videos to your Mum in real-time.
Sounds like the 6s Plus might edge it, then. Oh, but wait: its fuel cell has 5% of less capacity than the iPhone 6 Plus'. Why? To make space for 3D Touch, of course. While the 6s Plus does significantly outlast the standard iPhone 6s, it'll peak at seven or eight hours of videos and surfing – though Apple's intuitive Low Power mode does save it a few blushes.
With neither handset being a particularly long-living slab (and neither having a removable battery), you might want to stick close to a plug – and, if you've got the 6s Plus, you'll be there for a while: this slow-sipper has no answer to the fast-charging USB-C port of the 6P, which can charge from flat-to-full in around 2 hours.
Whilst Apple's lightning port is just as reversible (we tried) as the Nexus', a few minutes at the wall will do little to dent a dead battery.
Winner: Nexus 6P
Suffering for space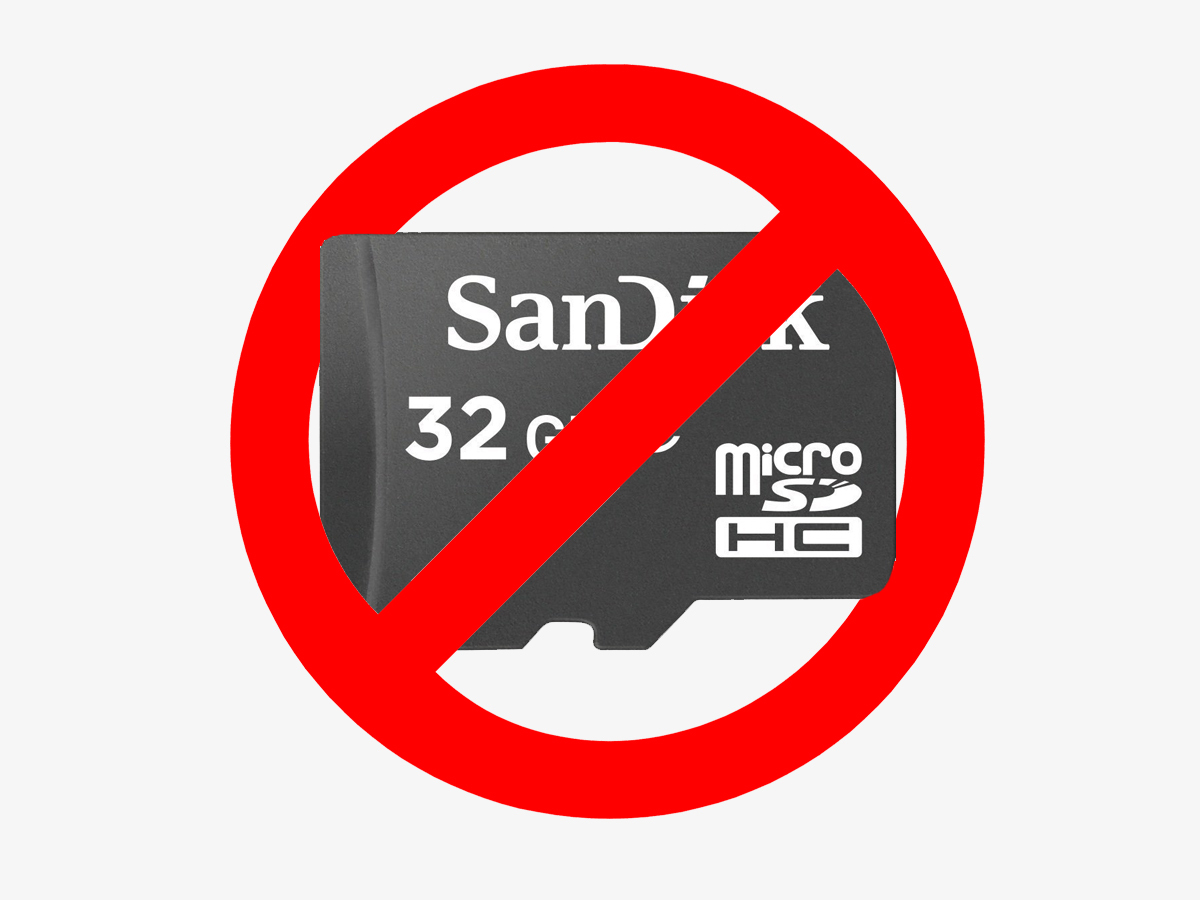 Even when fully charged, media hoarders need be beware: neither device has expandable memory. Yes, like the death of a lead Game of Thrones character, we've come to expect this – but it's still a frustration that manufacturers are sticking so resolutely to fixed storage capacities thse days.
Which handset is more attractive has to come down to pricing and that's where the 6P has the Plus nailed: the entry level 32GB Nexus will set you back £450 and the highest-capacity 128GB model a not unreasonable £580.
Apple's offering, on the other hand, won't be so kind to your bank balance. With no 32GB device, the cheapest configuration is 16GB at a wallet-emptying £620. Want 128 gigs on your Plus? You might want to sit down first: it'll take 790 of your English Pounds. Yep, you could almost buy two 6Ps for that.
Sure, iCloud is an option, but so is Google Drive on Android and its competitive price plans. In this storage war, the Nexus nicks it.
Winner: Nexus 6P
Power print performers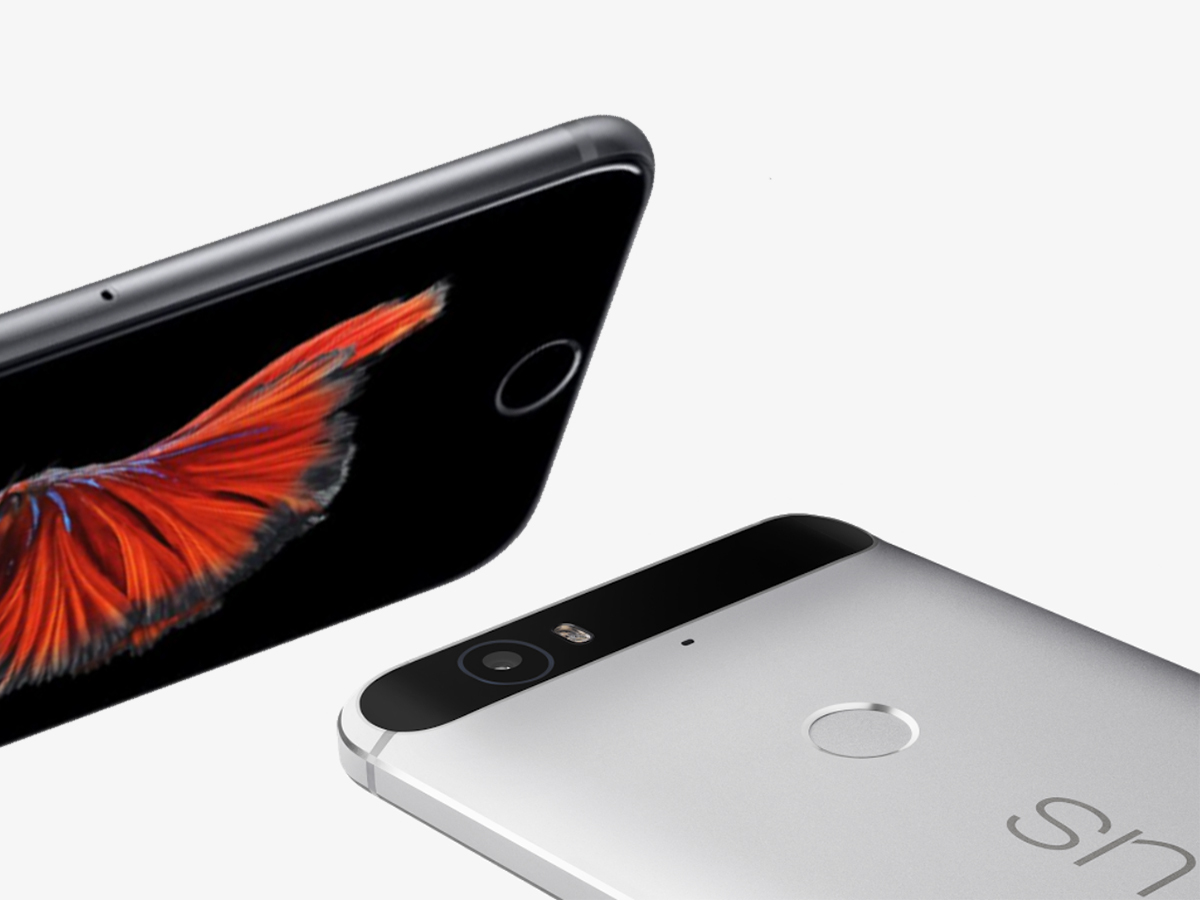 Still, whilst you might run out of space pretty rapidly on the Plus you certainly won't be left locked out(side alone). Touch ID is blisteringly quick and perfectly placed on the handset's home key, which does a lot to counter the unwieldy size of the 6s' bigger brother.
Just how quick is quick? You'll be into iOS before you've finished pressing the Home button to wake your Plus, no matter how clammy your mitts.
Can the 6P hold a candle to pro print package? You bet it can. OK, so maybe we shouldn't get so excited about fingerprint scanners, but the seconds shaved off every wake-up and passcode not entered make for a revolutionary mobile experience.
Huawei has bunged the 6P's reader on the back of the handset, and it actually works – no stretching required. In fact, it's one of the best: quick, accurate and works even when your digits are damp, which is great news as Android Pay begins to roll out.
In reality, which is better will depend on the person. Thumb chums will want the iOption, first-finger funsters the Nexus – neither is a slouch. Scantabulous.
Winner: Draw
Software wars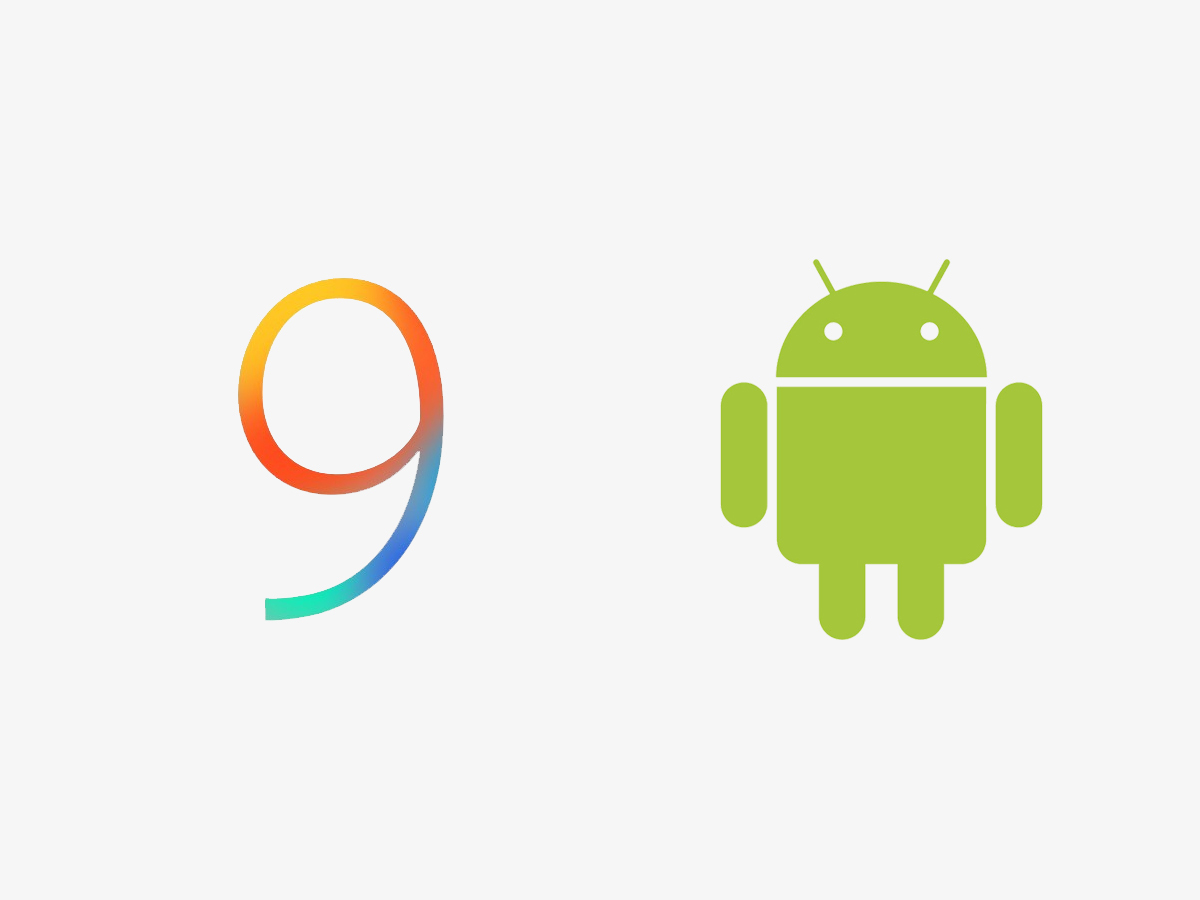 Oh no, not this one again. Stuff is as divided as the next man over the relative rewards of iOS over Android, Android over iOS – and that doesn't change in this clash of titans.
Huawei's hardware is here to show off Android 6.0 Marshmallow to the fullest extent. Bloat-free and entirely as Google intended, it's sharp, quick and very well integrated.
Google Now's had a turbo-boost in its war against Siri, too, so it can now scan whatever's on screen and fling related cards in your general direction. Sure, it's not a million miles away from Lollipop before it, but that's hardly a horrid starting point.
Siri, though, isn't taking the fight lying down. iOS 9 gives always-on PA power to everyone's favourite robo-buddy, as well as streamlining a few rough iOS edges and implementing more powerful search tools and suggestions.
We couldn't possibly pick a winner. Choosing an OS is like choosing a pet: you know it won't be perfect, but you want to look at it every day, pet it, love it, and for it to know how you feel without you asking and lick your silly face. Oh – just us on the last one? Sorry. But you still have to choose for yourself.
Winner: Draw
Happy snappers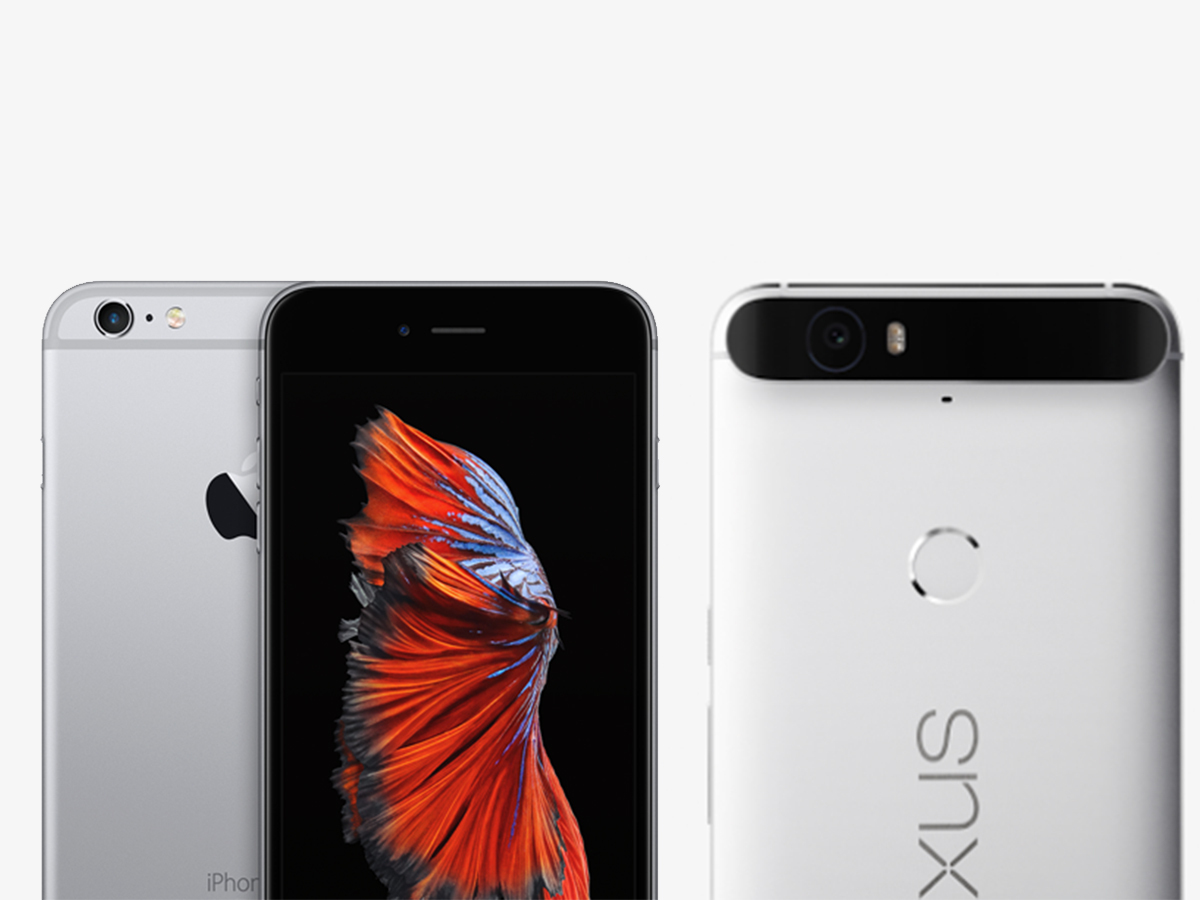 Finally, to the smart cappers. Both pack plenty of megapixels – 12 on the 6s Plus, 12.3 on the Nexus 6P – but one is unquestionably superior.
Despite its nomenclature, the Nexus is hardly the pinnacle of smartphone photography. Yes, it has a larger sensor than most (complete with larger pixels) and packs a two-tone flash, but its metering is often more than a bit off. Overexposed, underexposed or just plain slow – like every new series of Doctor Who, you never quite know how things are going to turn out.
Worse still for the new Nexus, the 6s Plus has a stunning shooter – and that isn't just because Apple finally boosted the megapixel count. An f/2.2 aperture might not be the widest, but effective optical image stabilisation means the Plus all but guarantees sharp shots. Add to that superb 4K video capabilities and you're left with quite the iPowerhouse.
It won't challenge the likes of the Galaxy S6 or the LG G4, but Apple's offering is leaps ahead of the Nexus in both speed and accuracy.
HDR mode on the 6P does rectify things a little, but it's slower than normal snapping and takes a good five seconds to process images after the fact. It's not terrible and the app experience is much lighter than previous versions – but it simply can't lay a shutter snap on the 6s Plus' framing skills.
Winner: iPhone 6s Plus
Google Nexus 6P vs iPhone 6s Plus verdict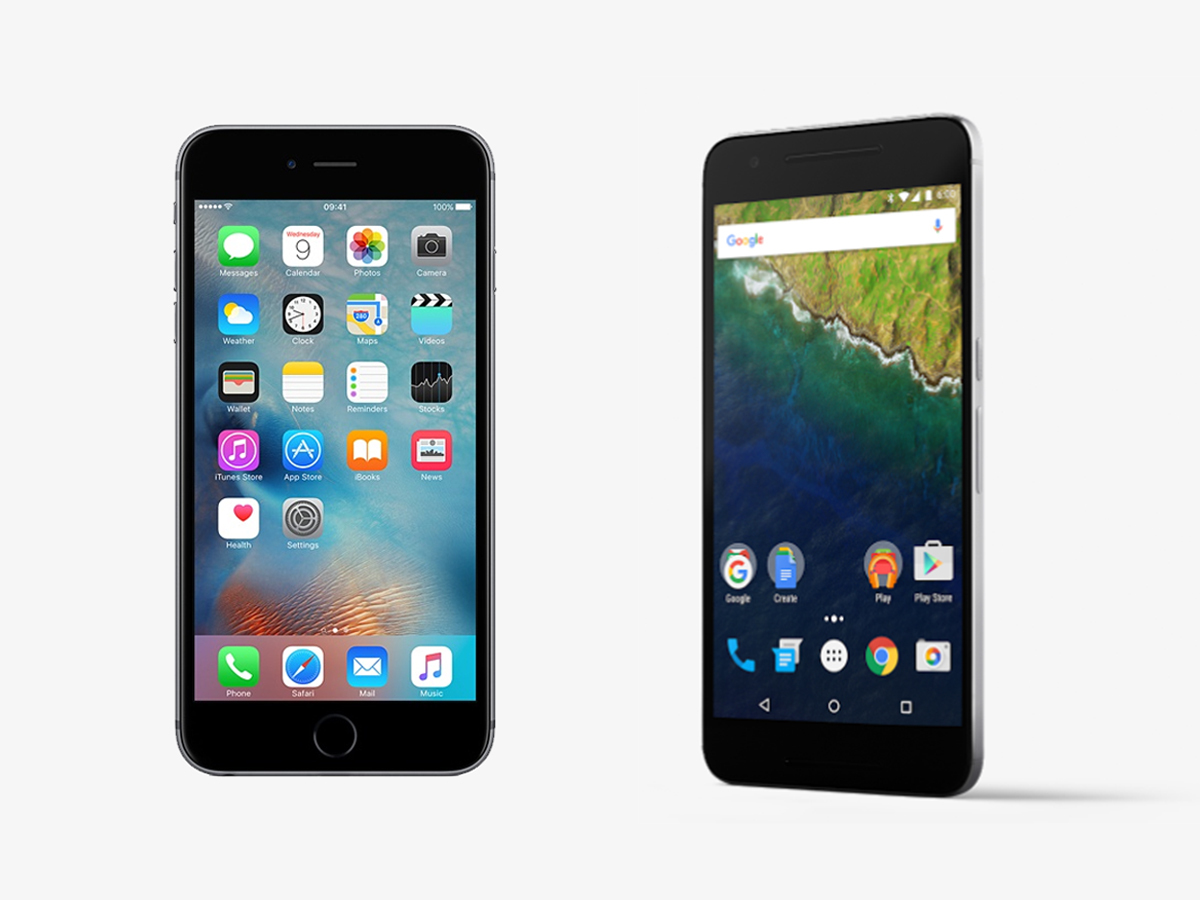 Here we are, we made it to the end. Do we have a winner? Well, sort of.
In so many ways Huawei's 6P has lived up to be the Nexus phone we hoped for: well-styled, smooth-running and, best of all, reasonably-priced. On so many counts, it draws level with the 6s Plus.
Yet, despite its cracking set of front-facing speakers and a surprisingly good selfie shooter, we're still not sure we could outright recommend this Nexus over Apple's phablet.
Sure, if price per performance stat makes the difference, the 6P is the clear victor. In fact, it's a very real alternative to the cream of the Samsung and LG crop of range-toppers. But it's just a little wide of the premium mark pinned up by the iPhone. By our mark, Apple's handset has a both better screen and camera – two of the most important features in a smartphone.
Want the cop-out answer? As level-pegged as these two titans are, they are incredibly different. It's like that Mercedes vs BMW all over again.